This Starbucks copycat Java Chip Frappuccino is frosty cold, and the coffee and chocolate flavors play so well together. All in all, it's a pretty delicious sweet treat with a buzzy kick.
My husband and I have been known to pick up one of these drinks when visiting Starbucks, particularly in the warmer months. And why not? They're really good! I had long considered them to be a treat that I had to buy, not one that I could make.
However, it turns out that they're actually really easy to make! If you have a blender, you can whip up one of these frappuccinos in no time flat.
Looking for more Starbucks copycat recipes? Try my Iced Vanilla Latte or Salted Caramel Cream Cold Brew!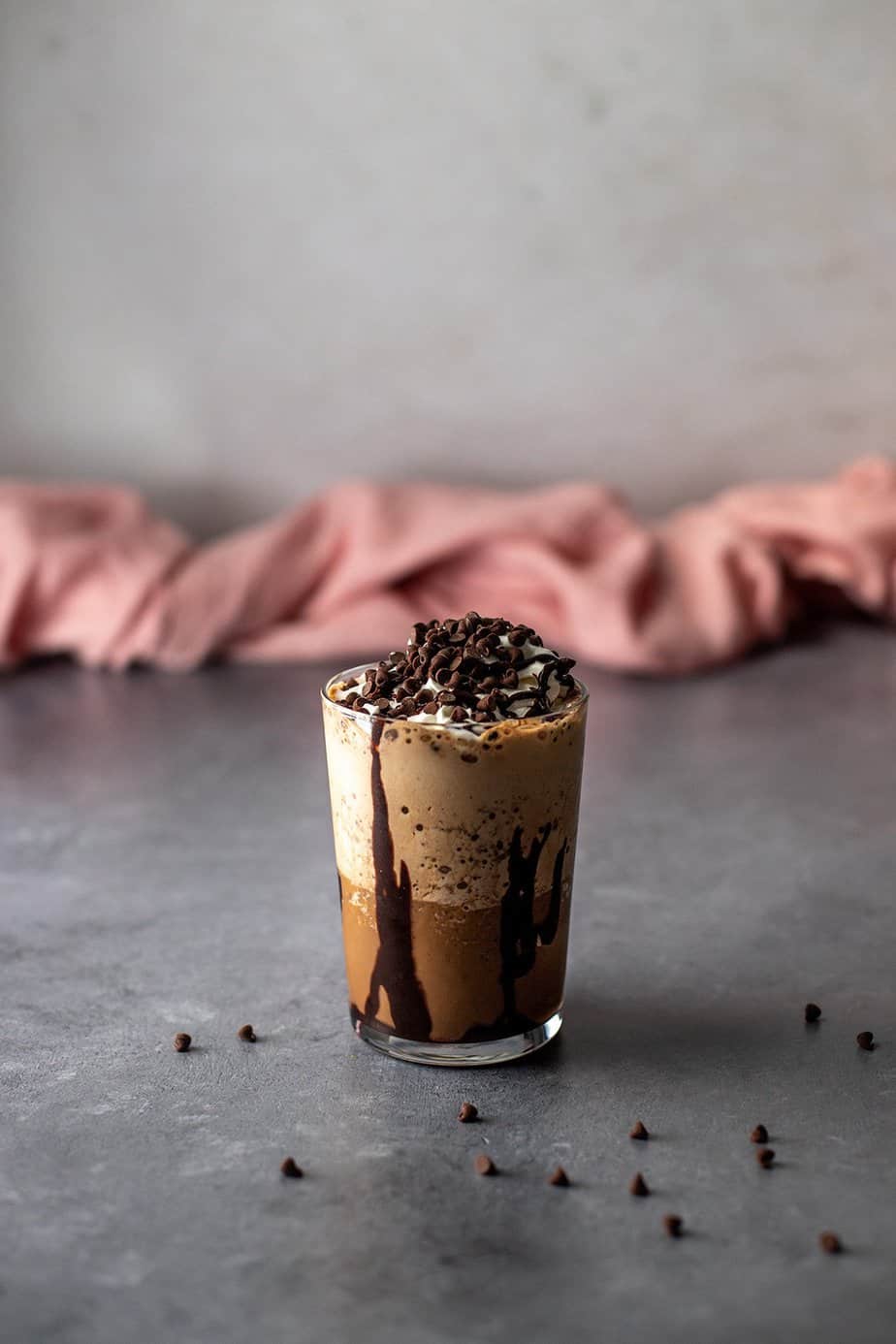 Jump to:
🌟 Why You'll Love This Recipe
It tastes just like the drink from Starbucks. This is a Starbucks copycat recipe, so it tastes just like the Starbucks treat.
It's easy to make. If you can operate a blender, you can make this drink!
It tastes great! It's like a caffeinated milkshake!
💭 What is a Java Chip Frappuccino?
A Java Chip Frappuccino is a blended iced coffee drink make popular by Starbucks. Starbucks' website describes it as a blend of "Frappuccino chips with coffee, milk and ice" that is topped off "with whipped cream and a mocha drizzle to bring you endless java joy."
So there you have it!
📝 Ingredients
Espresso: It all starts with espresso. Delicious, strong, caffeinated espresso.
Milk: I've made this recipe with cow's milk and with oat milk, but can't speak to how it turns out with other non-dairy milks.
Chocolate syrup: Use whatever chocolate syrup you like. I opted for a dark chocolate syrup.
Chocolate chips: I used semi-sweet mini chips. Semi-sweet because I didn't want an overly sweet drink, and mini because they looked cute as a garnish on top of the whipped cream.
Whipped cream: For topping!
Ice: Nothing fancy. Just ice.
👩🏻‍🍳 How do you make a Starbucks Java Chip Frappuccino?
As I said above, this recipe starts with espresso. Ideally, you'd use espresso made with an espresso machine. I have a Nespresso Vertuo and am pretty much obsessed. This isn't an ad, I just really like it. But, you know, get at me, Nespresso. 😉
So, if you don't have an espresso machine, you do have another option: strong coffee. Just use an equal amount of very strong coffee.
Regardless of whether you use espresso or coffee, you'll want to cool it before making your frappuccino. I stash mine in the fridge until it is chilled.
When you're ready to make your frappuccino, take the chocolate syrup and drizzle it around on the inside of the glass you'll be drinking out of. Get artistic with it if you feel like it. My effort wasn't particularly pretty, but meh. It did the trick!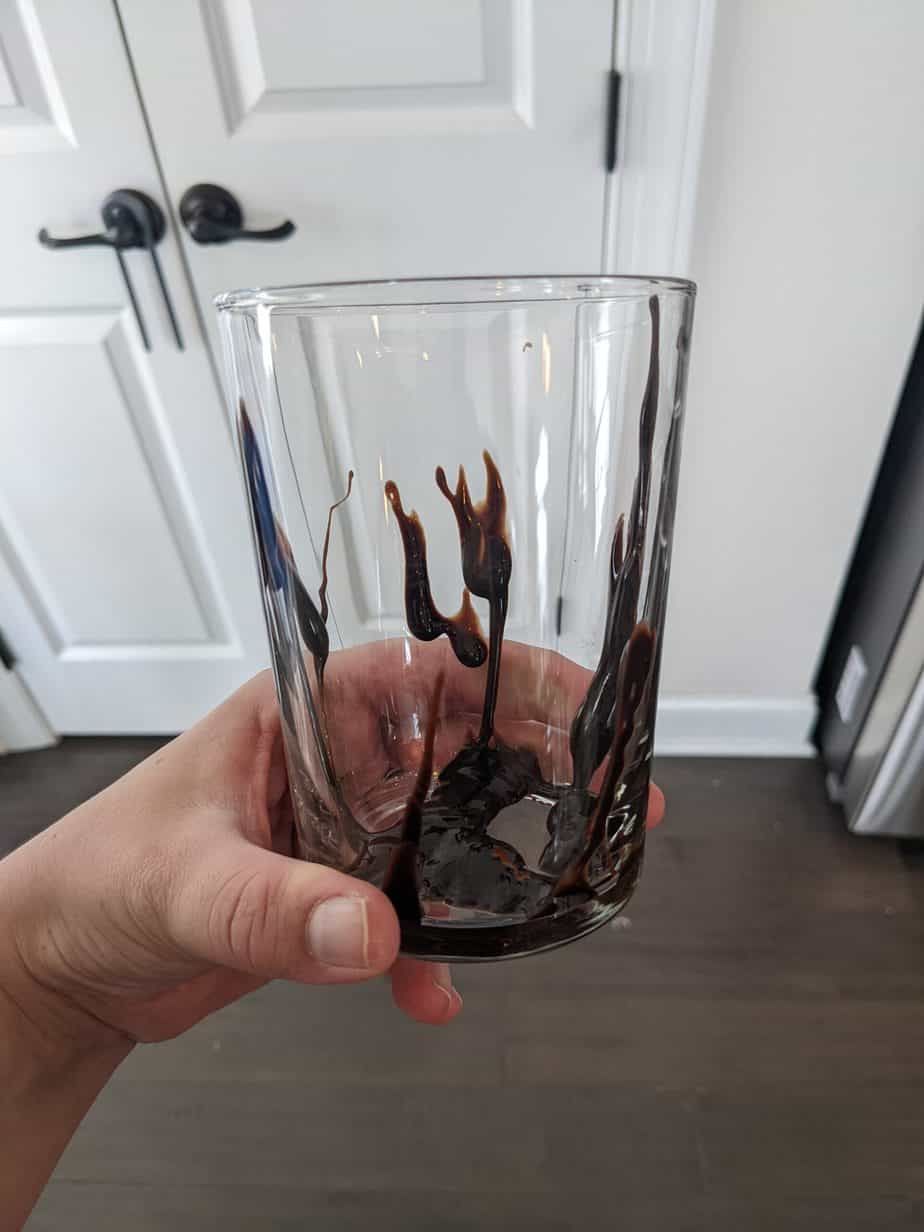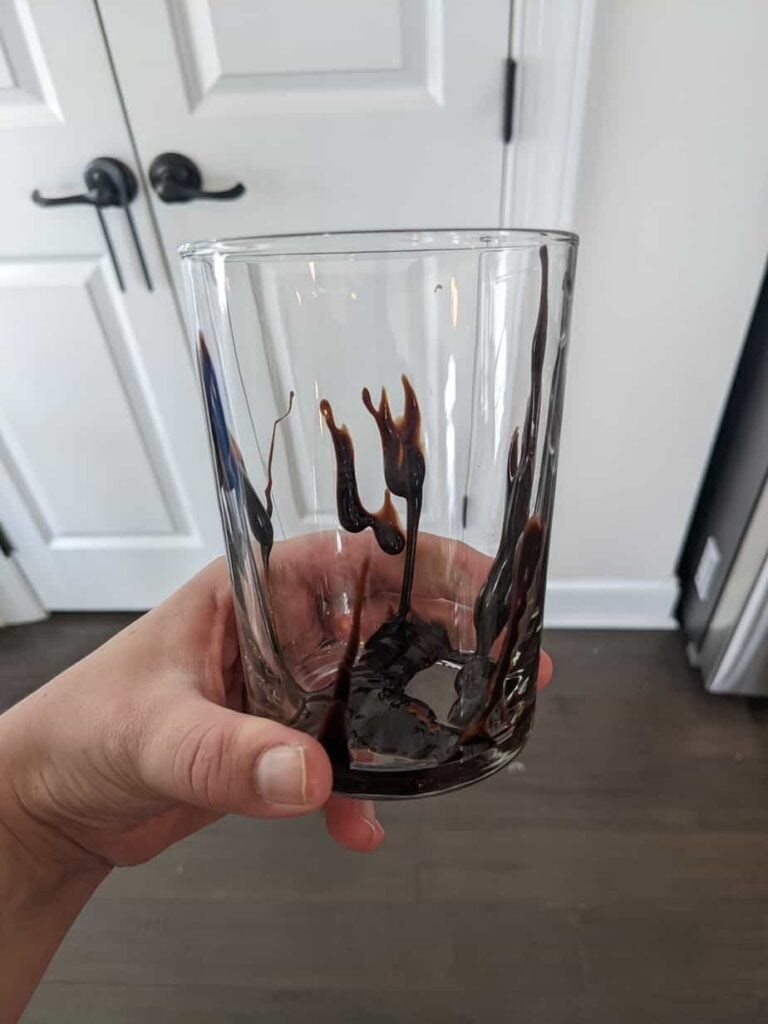 Next, you'll add the espresso, milk, chocolate syrup, chocolate chips, and ice to your blender. You'll want to blend everything on low speed for about 30 seconds, and then on high speed for another 10-20 seconds until everything comes together and is smooth.
After that, just pour the java chip frappuccino into the glass that you pre-drizzled with chocolate sauce.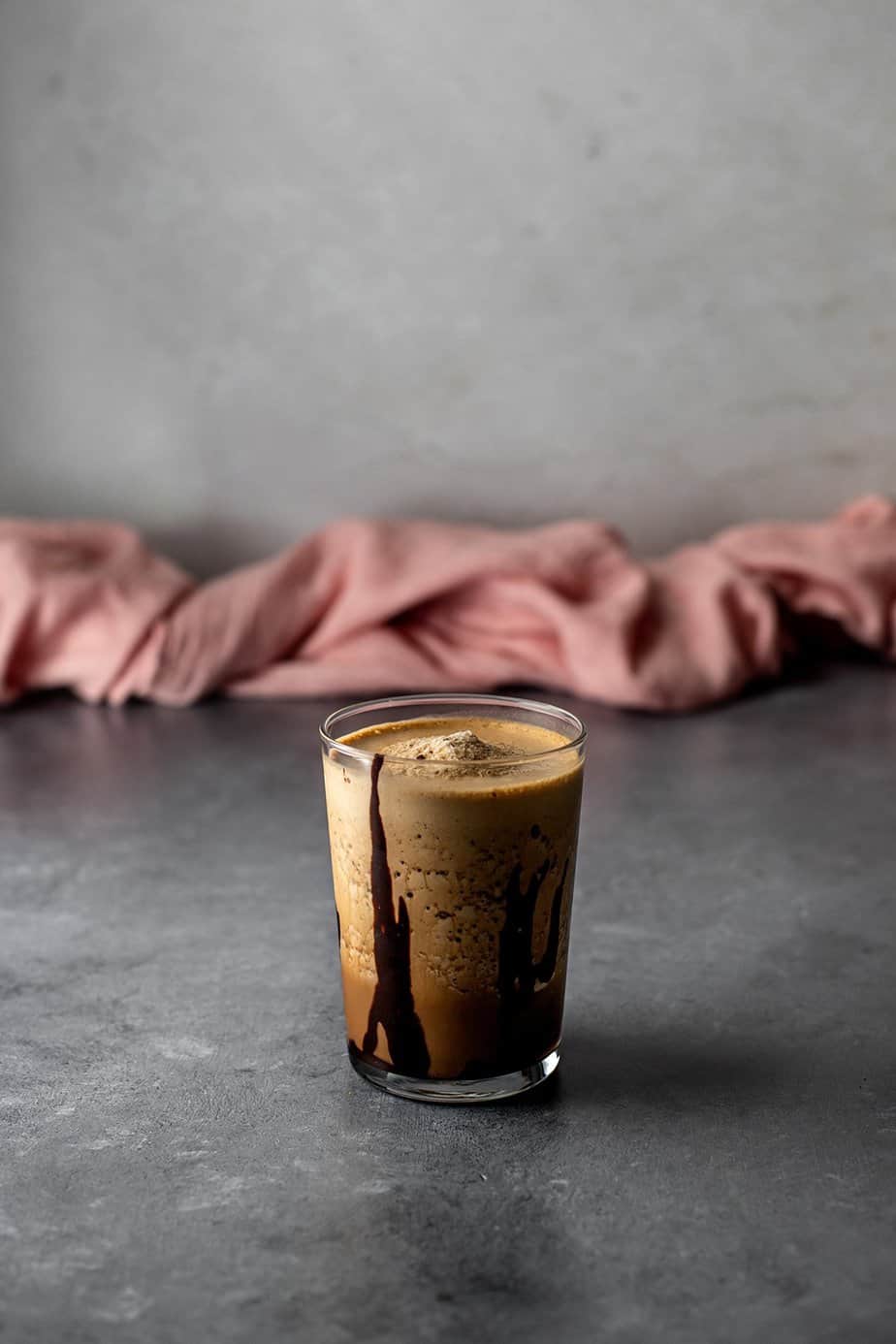 Top that off with a healthy dose of whipped cream.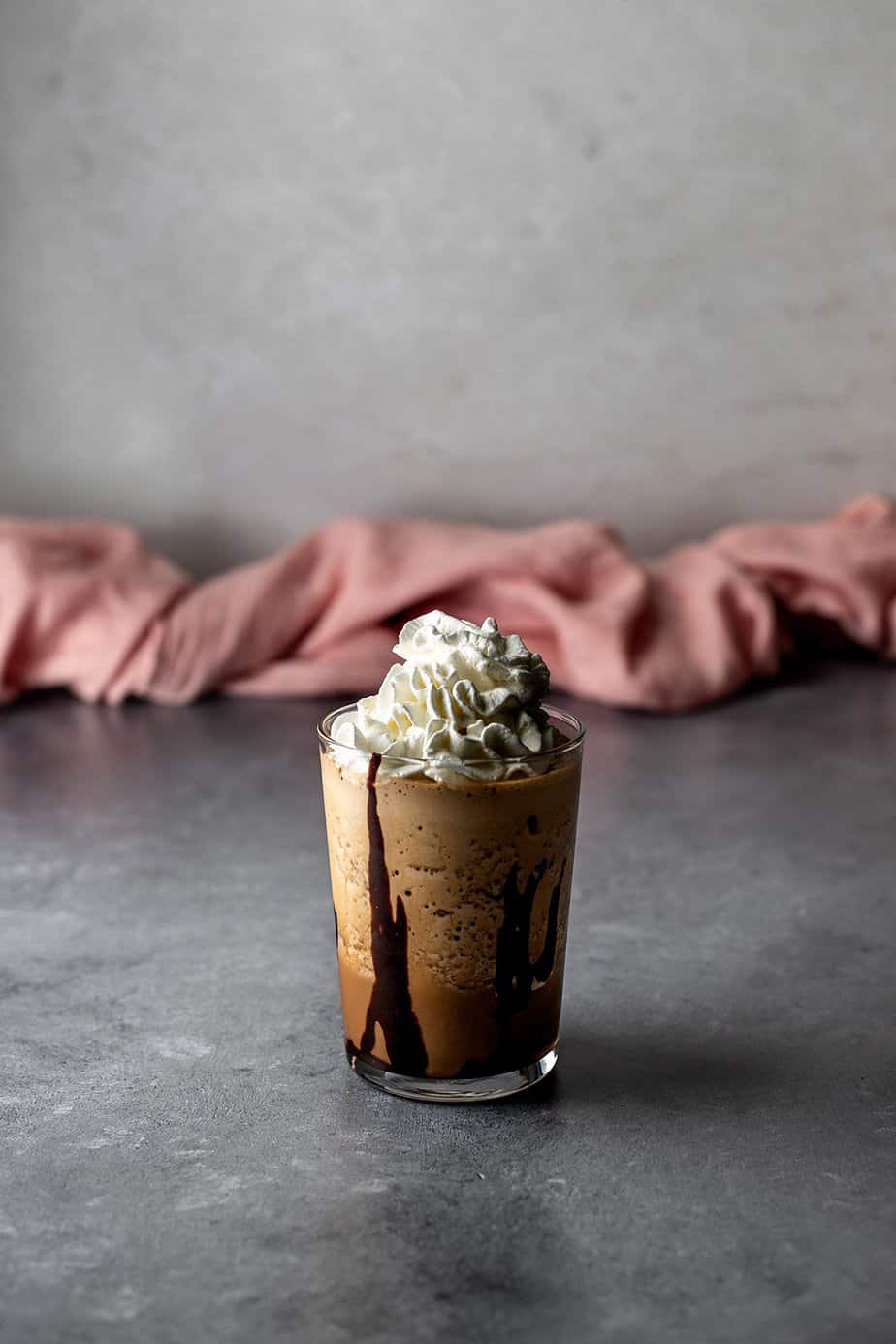 Add a bit more chocolate sauce.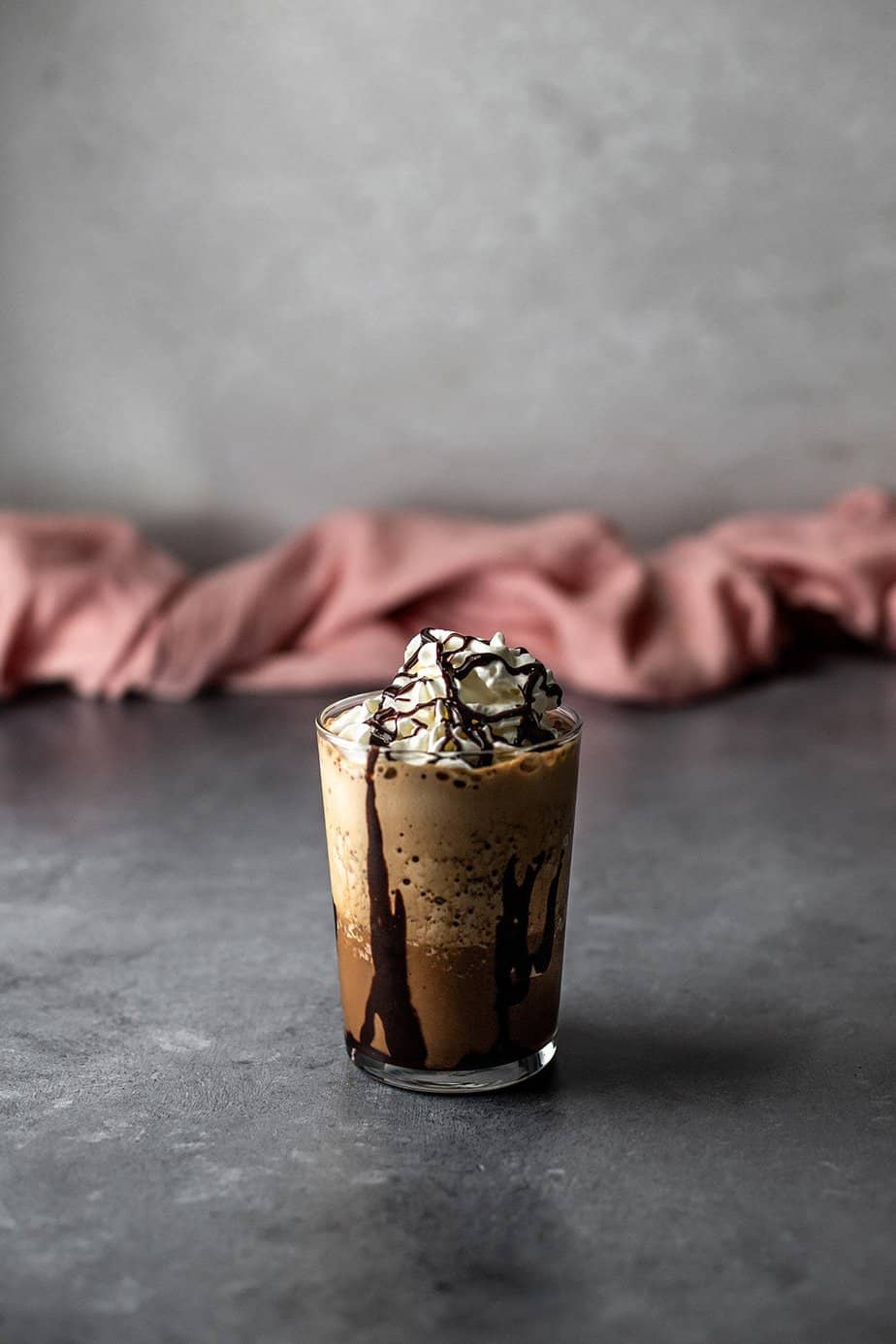 And add sprinkling of chocolate chips on top of that!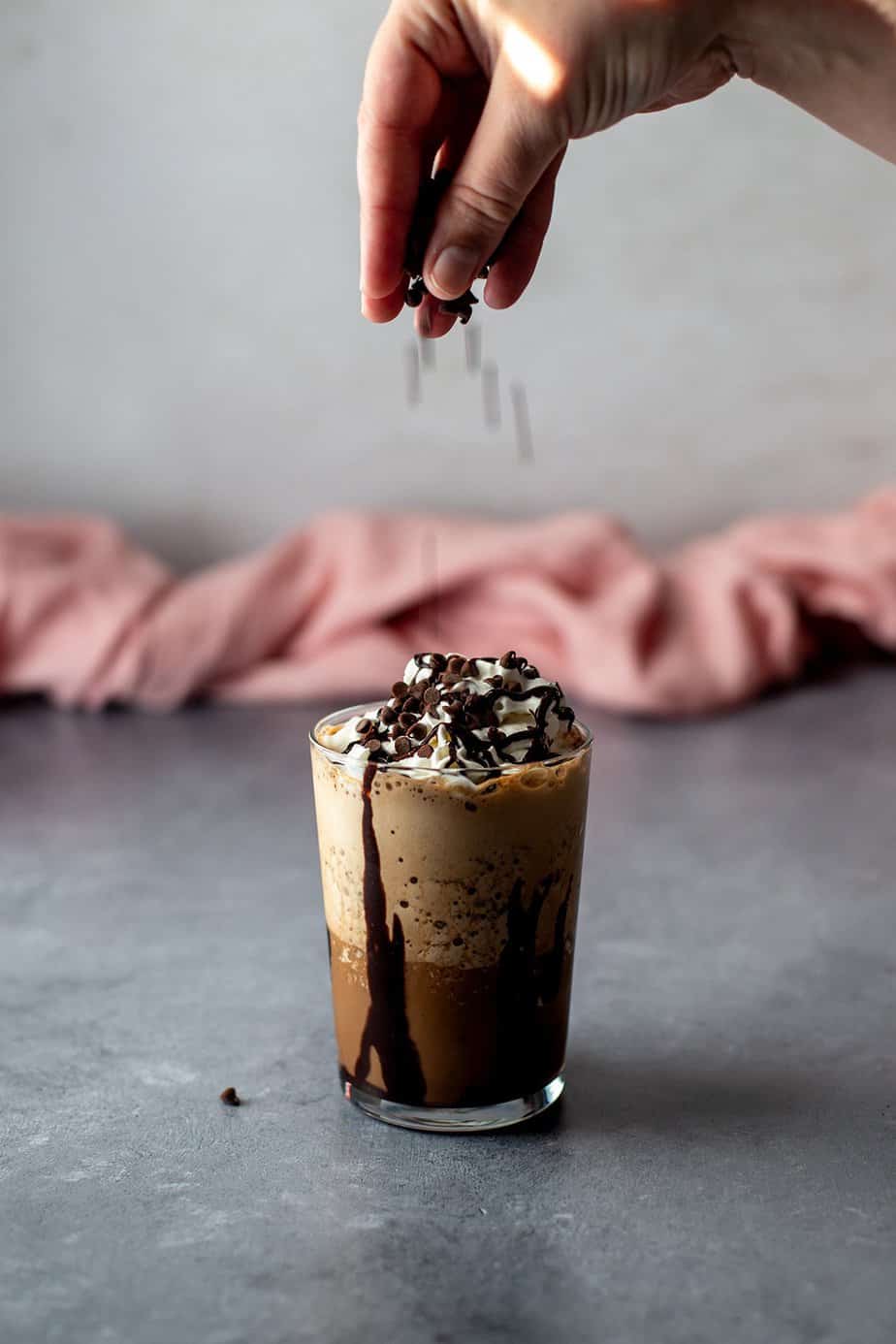 🔗 Other coffee-laden drinks
Any other coffee fiends in the house? I know you're out there. Check out these photos and links - some from me, some from friends - to find more coffee recipes.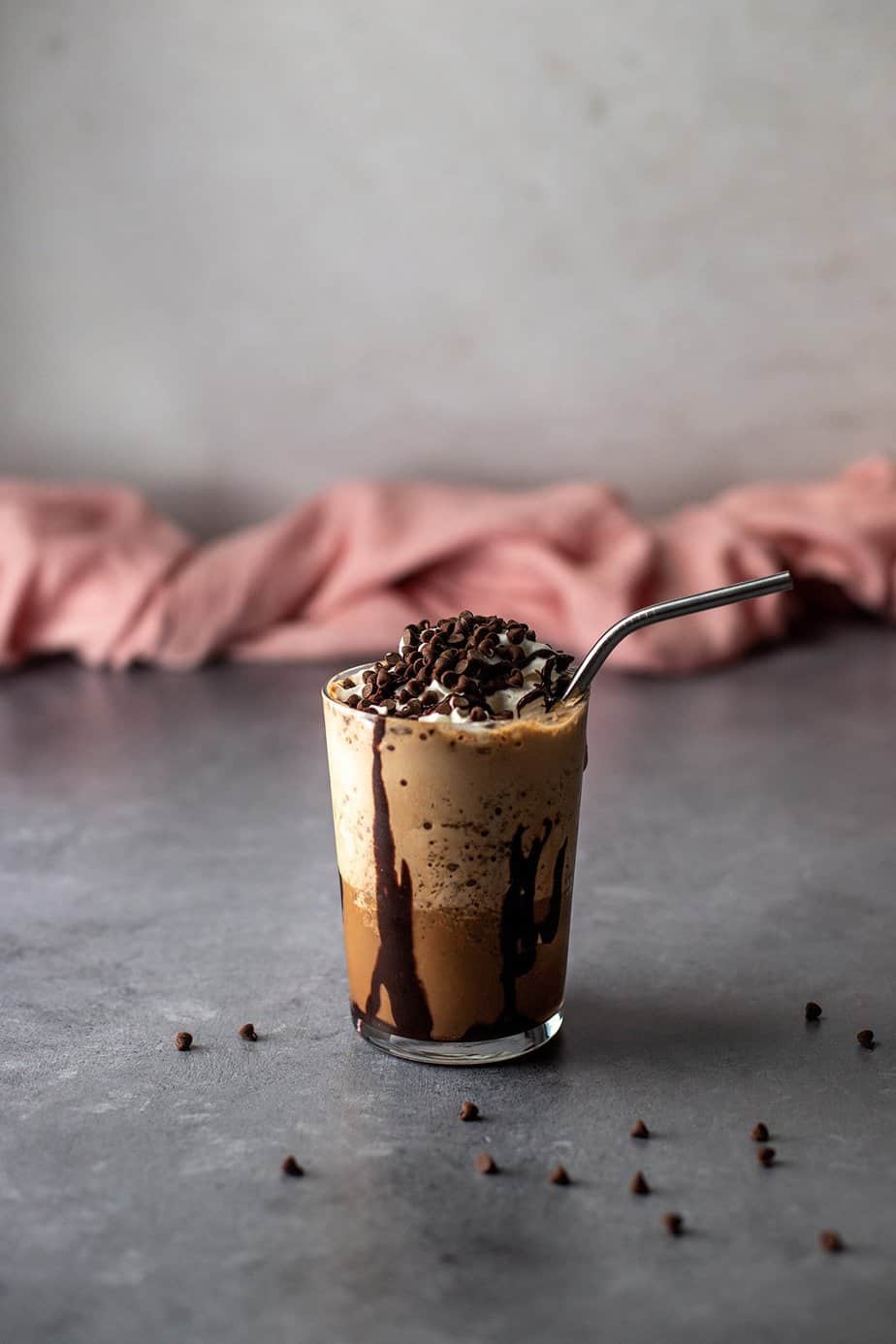 ❓ Frequently Asked Questions
What if I don't have espresso?
You can substitute very strong coffee for the espresso. Just use an equal amount.
Can I make this dairy-free? Or vegan?
Sure, just substitute your preferred dairy-free/vegan ingredients.
What is the difference between a frappe and frappuccino?
There isn't one 🙂 But the same kind of drink may be labelled differently at different coffee shops. Starbucks uses the term "frappuccino." Yet another name is"blended coffee."
Can I get a Java Chip Frappuccino without espresso or coffee?
Sure can! I suggest substituting some more milk and chocolate sauce for the espresso.
🖤 Share your creations and follow me on social media!
Subscribe to the A Nerd Cooks Newsletter to have updates sent straight to your inbox.

I love seeing when you share my recipes! Please tag me on Instagram @anerdcooks so I can enjoy them virtually with you! You can also find me on Pinterest, Facebook, YouTube, and Twitter.

I'd love to know what you thought of this recipe! Don't forget to leave a comment and ⭐️ star rating below!
✨ Recipe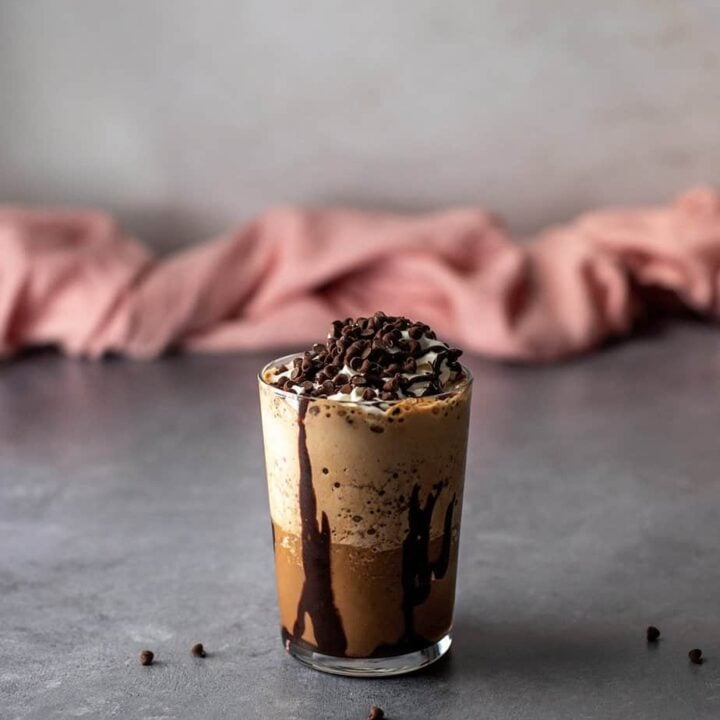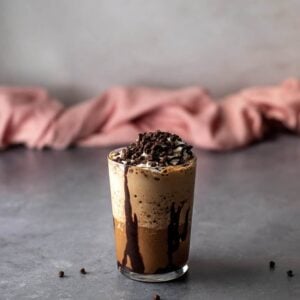 Java Chip Frappuccino
This Starbucks copycat Java Chip Frappuccino is frosty cold, and the coffee and chocolate flavors play so well together. All in all, it's a pretty delicious sweet treat with a buzzy kick.
Ingredients
2

tablespoons

chocolate syrup

plus more for inside the glass and drizzling on top

½

cup

espresso

approximately 4 shots, see notes

½

cup

milk

2

tablespoons

semi-sweet chocolate chips

1

cup

ice cubes

whipped cream

for topping
Instructions
Drizzle a bit of chocolate syrup around on the inside of the glass that you'll be drinking out of.

Pour the espresso, milk, chocolate syrup, chocolate chips, and ice cubes into a blender. Put the lid on the blender and blend on low speed for 30 seconds. Blend again on high speed for 10-20 seconds, until the drink is smooth.

Pour the frappuccino into the prepared glass. Garnish with whipped cream, chocolate sauce, and chocolate chips.
Notes
You can use very strong coffee in place of the espresso, if necessary
This recipe makes approximately one 16 ounce frappuccino
Nutrition
Serving:
1
Calories:
296
kcal
Carbohydrates:
47
g
Protein:
6
g
Fat:
11
g
Saturated Fat:
7
g
Polyunsaturated Fat:
4
g
Cholesterol:
14
mg
Sodium:
113
mg
Fiber:
2
g
Sugar:
37
g
Disclaimer: Nutritional information is a generated estimate and is not guaranteed to be accurate.
📌 Pin this recipe for later!