This Eggnog Latte is sweet, creamy, and oh-so-cozy. It's giving major holiday season vibes. It tastes just like the Starbucks Eggnog Latte, but can be made at home for a fraction of the cost.
Though this latte is definitely decadent, it's also a snap to pull together. You don't even need an espresso machine in order to make it! Read on and you'll find tips and tricks for making this sweet treat with and without an espresso machine, as well as with and without a milk frother.
Looking for more coffee drinks? Try my Lavender Latte or Blonde Vanilla Latte!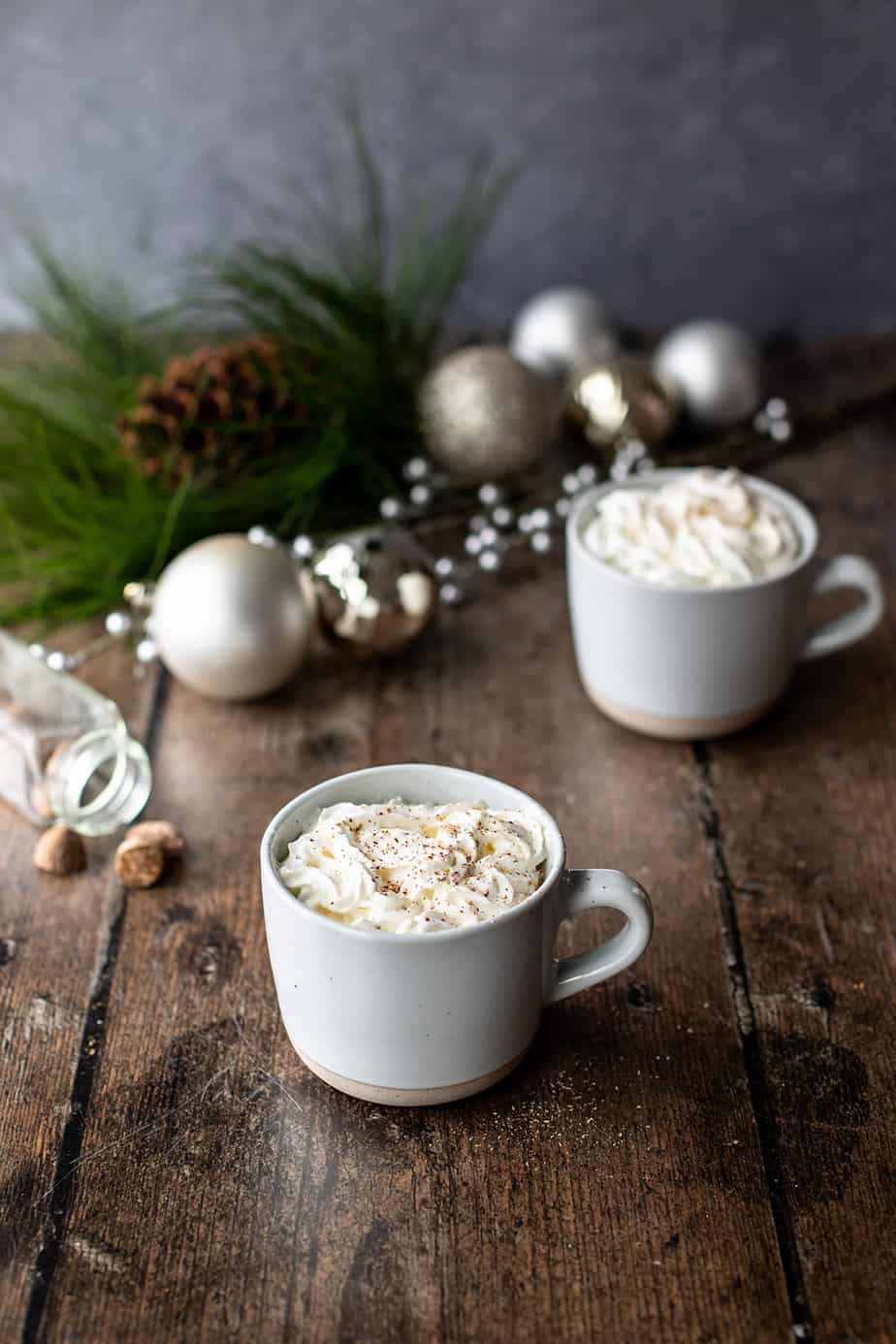 Jump to:
🌟 Why You'll Love This Recipe
It's delicious. Espresso, eggnog, and whipped cream? Sign me up!
It's easy to make. If you can brew some espresso and froth a little milk, you can make this recipe!
It tastes like the latte from Starbucks. This is a Starbucks copycat recipe, so it tastes like the Eggnog Latte from Starbucks.
💭 What is an Eggnog Latte?
Before we get to that... let's define what a latte is. A latte is an Italian coffee beverage made with espresso and steamed milk. While Italian purists will likely only add some sugar, if anything at all, you can also sweeten and flavor your latte with a wide variety of flavored syrups.
An Eggnog Latte replaces some of the milk in a regular latte with (you guessed it) eggnog. The eggnog gets steamed and frothed along with the milk before being added to the espresso (and sweetener). From there, this latte gets topped with some whipped cream and nutmeg.
📝 Eggnog Latte ingredients
Espresso: Ideally, when making this recipe, you should use espresso made using an espresso machine. I have a Nespresso Vertuo, and love it. The next best option would probably be to use really strong coffee. After that, probably the least preferable alternative would be to use instant espresso.
Milk: You can pretty much use whatever type of milk you prefer. I've made this recipe using cow's milk and full fat oat milk (my personal preference), both to great success.
Eggnog: Eggnog is a dairy-based beverage typically made of milk, cream, sugar, and eggs. You can find it in the refrigerated section of the grocery store around the time of the winter holidays. Make sure that you're using the kind without alcohol. Although... if you really wanted a boozy treat, who am I to judge? 😉
Garnishes: Some whipped cream and a dusting of nutmeg really put this latte over the top. You can use either homemade or store bought whipped cream, and pre ground or freshly grated nutmeg, depending upon your preferences.
👩🏻‍🍳 How to make
Making an Eggnog Latte requires a couple of steps, with a few different options for achieving each of the steps. Let's walk through them now.
How to make espresso
With an espresso maker
If you're fortunate enough to have an espresso maker, you should brew a double shot of espresso according to the manufacturer's directions for your particular espresso maker. Like I mentioned above, I have a Nespresso Vertuo machine. So I just pop in my favorite double espresso pod and let the machine do its thing. If you only have single espresso pods, just brew two!
One shot of espresso is approximately 1 fluid ounce, so a double shot would be about 2 fluid ounces.
Without an espresso maker
I realize that ownership of espresso machines probably isn't all that common. But fortunately, there are other options!
The next best choice would be to brew some really strong coffee. It won't be exactly the same, but will work in a pinch.
You could also use instant espresso. It comes in powdered form, and all you need to do is add hot water. It wouldn't be my first choice, but is another option for you to consider.
Frothing the eggnog and milk
With a milk frother
This is my preferred method for frothing milk (and eggnog, in this case). I own a couple of different frothers, including this one that came with my Nespresso. It's nice because it can heat the milk and froth at the same time (but can also froth without heating).
My other milk frother is a stick frother. I'll be honest: I reach for this one more often than not. It's easy to use, requires little cleanup, and is quick to use. The downside? You have to warm your milk separately before frothing.
Without a milk frother
If you aren't the proud owner of some form of milk frother, you can still froth your milk and eggnog for this latte! A couple of options include using a French press or a whisk. Check out this post to learn more.
Assembling the latte
So, now that you know your options for making espresso and frothing the eggnog/milk, let's talk about assembling the latte.
You'll want to brew the hot espresso into a mug; add simple syrup to the mug, as well. Next, you'll warm and froth the eggnog and milk before slowly pouring it into the mug with the espresso.
Now it's time to finish things off with some garnishes. Top the latte (generously) with whipped cream and top that with a dusting of nutmeg. I really like to use freshly ground nutmeg, but pre ground works, too!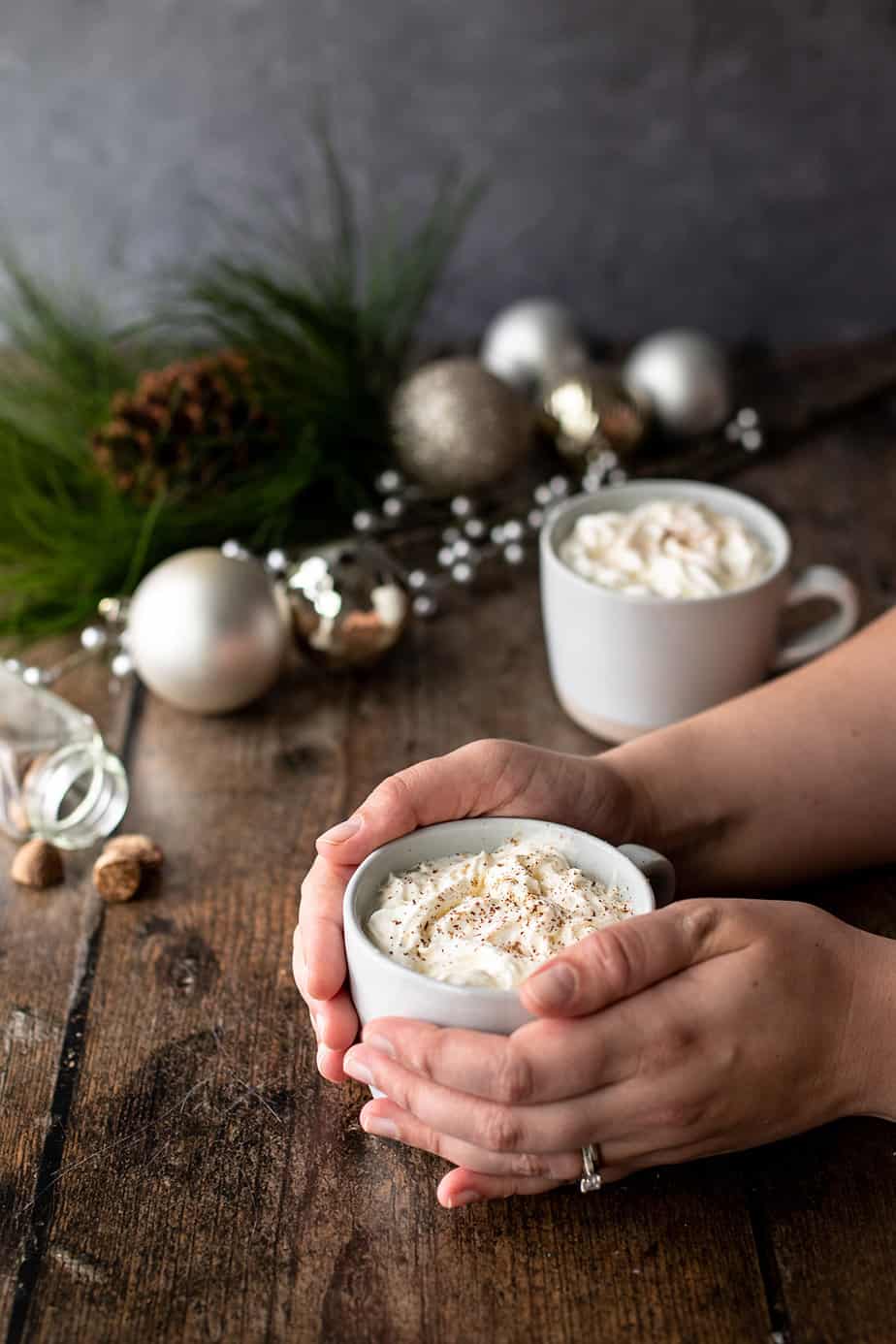 🔗 Other Starbucks and latte recipes
Click through the photos and links below for more Starbucks copycat recipes, along with more lattes!
❓ FAQs/Tips and tricks
Does this eggnog latte have alcohol in it?
No, but I won't tell anyone if you add a shot of bourbon or rum 😉
What if I don't have an espresso machine?
You have a couple of other options: You can use some really strong coffee (probably the next best choice) or instant espresso (not ideal, but could work in a pinch).
What kind of milk should I use?
I have used oat milk (my preferences is Oatly full fat), 2% cow's milk, and whole cow's milk to make lattes. All have worked well. Though I haven't tried it, I imagine that almond milk would work well, too.
How do I froth milk?
You can use a milk frother (like this one that came with my Nespresso), or this stick frother). If using a stick frother, you'll need to heat the milk before frothing. The one that comes with the Nespresso heats and froths at the same time. You can even use a French Press or a whisk! This post can tell you more.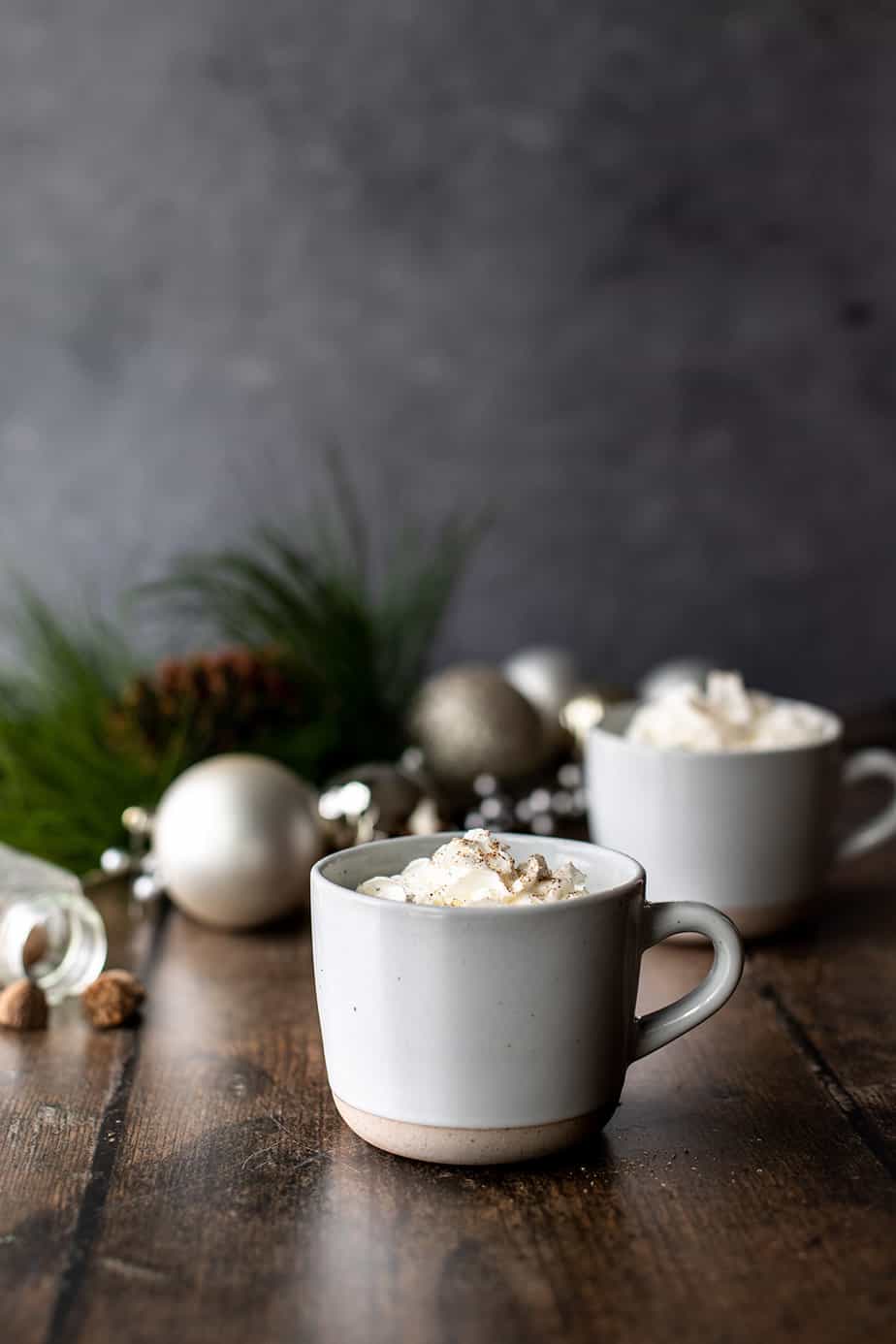 🖤 Share your creations and follow me on social media!
✨ Recipe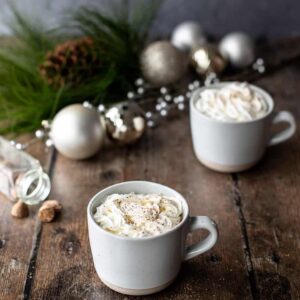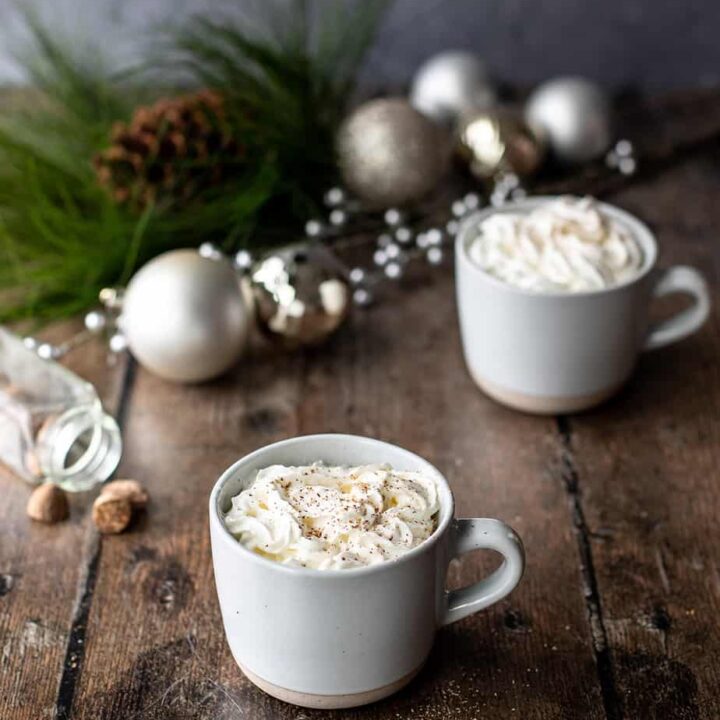 Eggnog Latte
This Eggnog Latte is sweet, creamy, and oh-so-cozy. It's giving major holiday season vibes. It tastes just like the Starbucks Eggnog Latte, but can be made at home for a fraction of the cost.
Ingredients
2

shots espresso

1

ounce

vanilla simple syrup

or to taste

¼

cup

milk of choice

½

cup

eggnog

whipped cream

for topping

ground nutmeg

for garnish
Instructions
Brew the espresso into a mug.

Add the vanilla simple syrup.

Froth and steam the milk and eggnog together. Pour them over the espresso.

Top the latte with whipped cream and a dusting of ground nutmeg.
Notes
Use whatever kind of milk that you prefer
Nutrition
Serving:
1
Calories:
839
kcal
Carbohydrates:
170
g
Protein:
8
g
Fat:
9
g
Saturated Fat:
6
g
Polyunsaturated Fat:
3
g
Cholesterol:
84
mg
Sodium:
116
mg
Sugar:
167
g
Disclaimer: Nutritional information is a generated estimate and is not guaranteed to be accurate.
📌 Pin this recipe for later!