Last Updated on October 12, 2022 by laurenpacek
This post may contain affiliate links. A Nerd Cooks may collect a share of sales or other compensation from the links on this page. More information can be found here.
This Iced Peppermint Mocha is an excellent Starbucks copycat recipe. It's sweet, chocolatey, and refreshingly minty. Save yourself some money as well as time in the drive thru by making your own Starbucks drinks at home!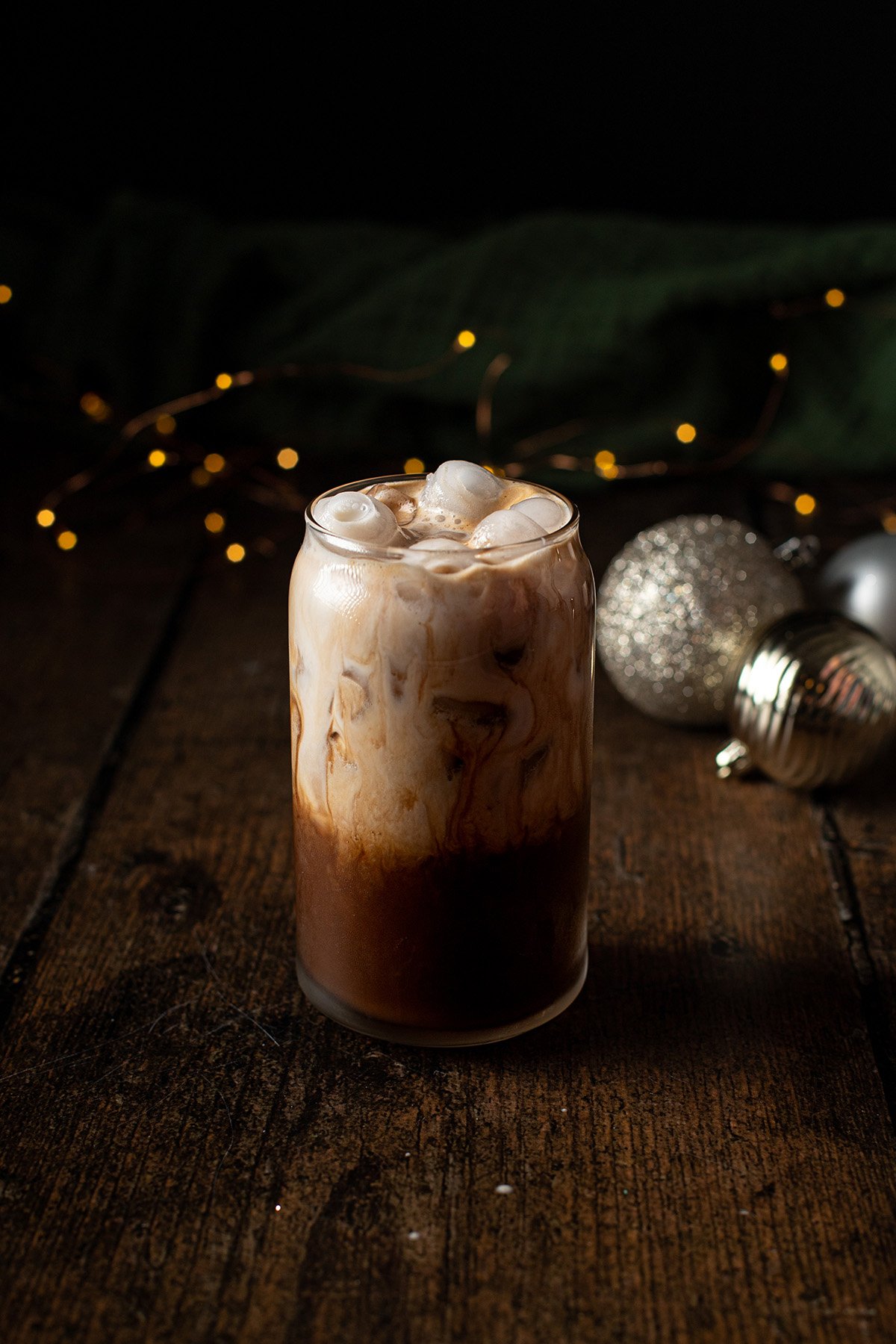 What is an Iced Peppermint Mocha?
A Peppermint Mocha is a hot espresso drink popularized by Starbucks. It's made up of hot espresso, mocha sauce, peppermint syrup, and steamed milk. An Iced Peppermint Mocha is made with all of the aforementioned ingredients, but is served over ice. And the milk is cold, not steamed.
It's a sweet coffee beverage that's full of mint chocolate flavors. It's delicious all the time, but is particularly good during the Winter holiday months. In fact, it's a seasonal beverage Starbucks. So you can only get it during that time of year.
However! If you make your own, you can enjoy it year round.
Ingredients
You only need a few ingredients to make a really great iced peppermint mocha latte. Check out the photo below and we'll talk through the ingredients.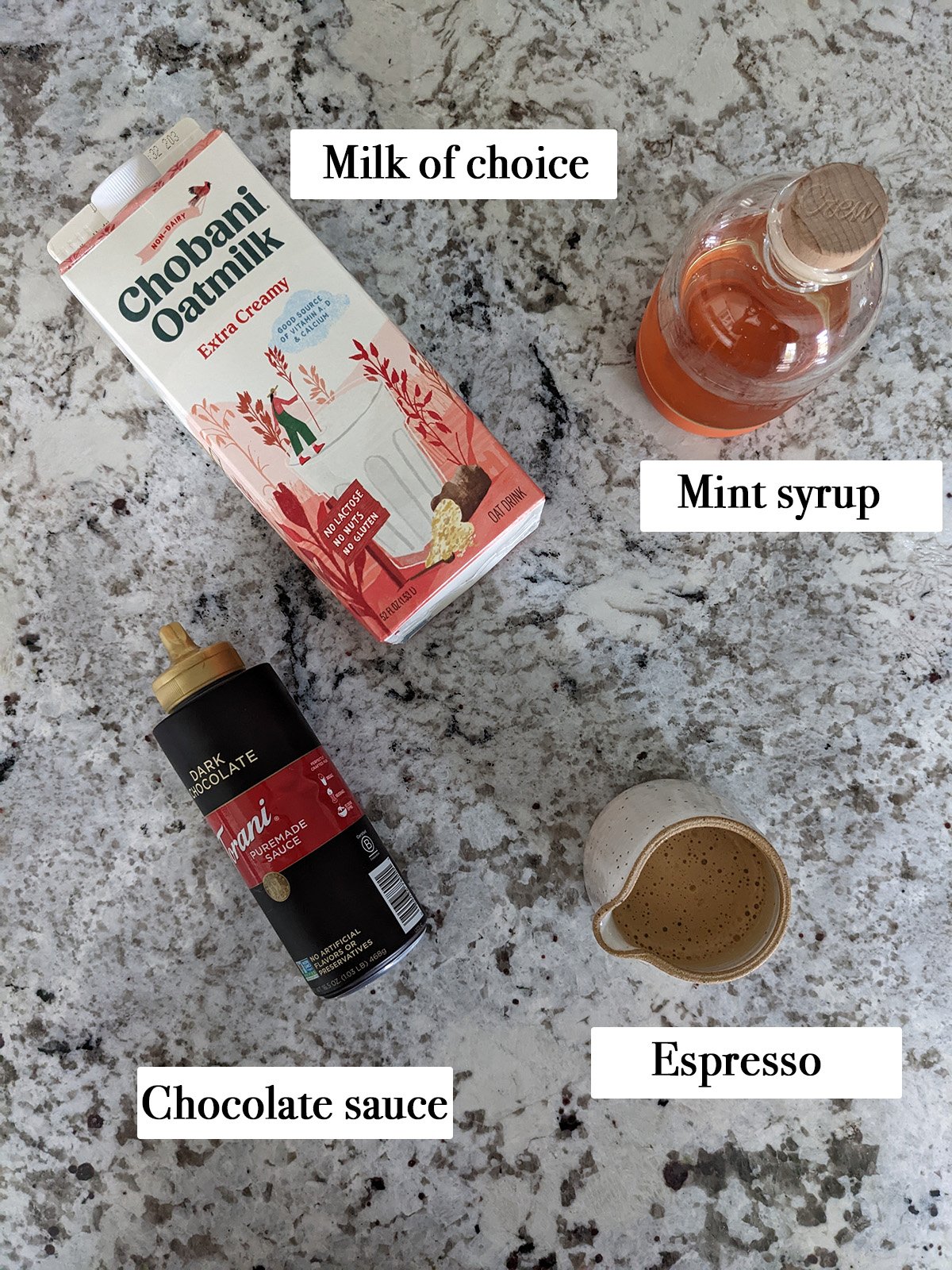 Chocolate sauce: Use a good quality chocolate sauce. I opted for the dark chocolate Torani syrup, but you can use anything that you like.
Mint simple syrup: You can use a store bought or homemade mint simple syrup. It's so easy to make your own, that I recommend making a homemade batch. You can also use store bought or homemade peppermint syrup, as well. Mint syrup is made with fresh mint, while peppermint syrup is made with peppermint extract.
Espresso: When making this recipe, ideally you'll use espresso made using an espresso machine. I have a Nespresso Vertuo, and love it. The next best option would be to use really strong coffee.
Milk: You can use whatever kind of milk that you prefer for this latte. I'm an oat milk kinda gal, but if you like cow's milk or almond milk (or some other variety), feel free to use those.
Optional garnishes: If you're feeling like it, you can garnish your latte with some whipped cream and/or additional chocolate sauce.
How do you make an Iced Peppermint Mocha?
You'll start out by filling a glass (or whatever you plan to drink out of) with ice. Set it aside for a second.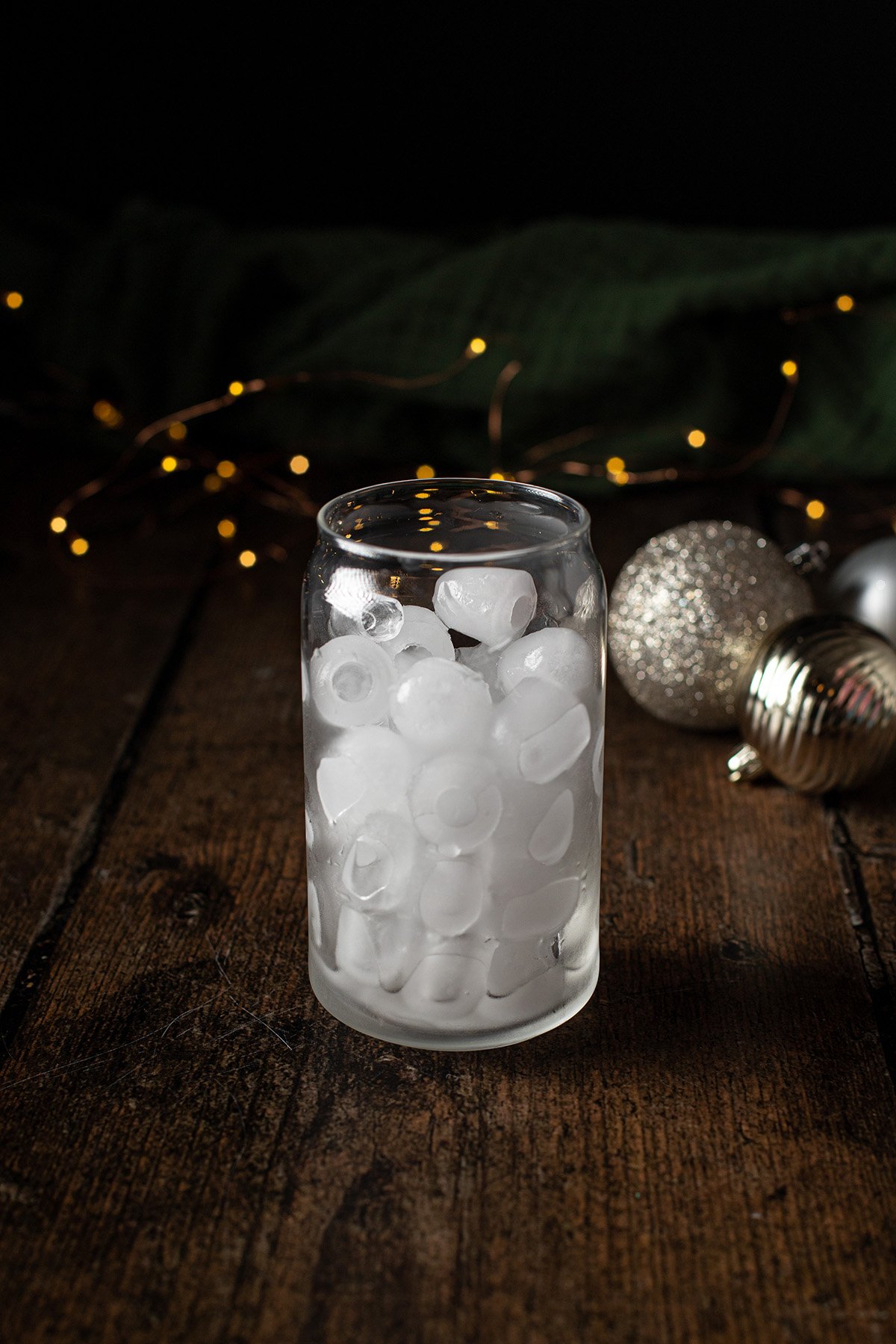 Next, put your chocolate sauce and and mint simple syrup into the bottom of a small cup. Brew your espresso over top of the chocolate and simple syrup. I find that brewing the hot espresso directly over the chocolate sauce enables the chocolate sauce to incorporate with the espresso pretty seamlessly.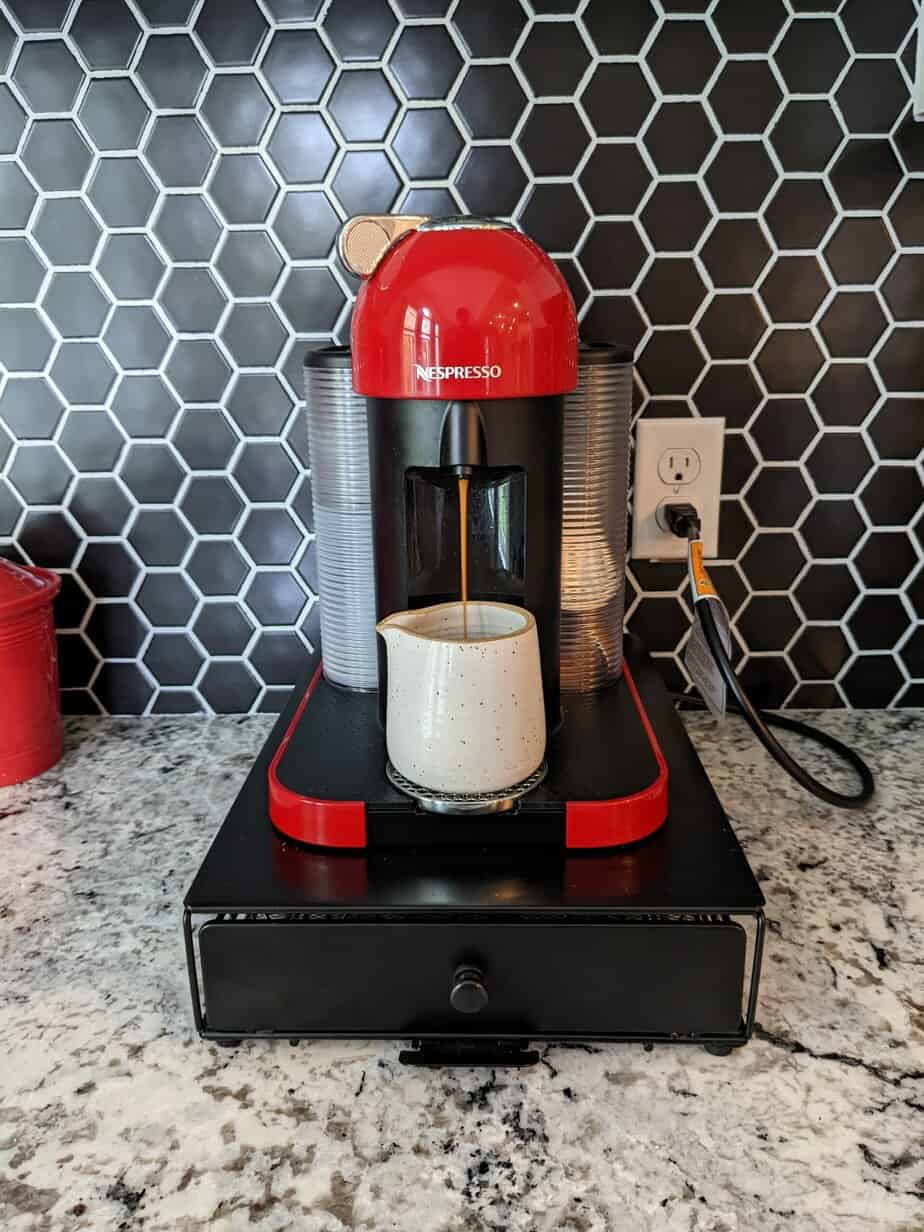 Next, pour the espresso, chocolate sauce, and simple syrup into the prepared cup over ice. It will cool down pretty rapidly.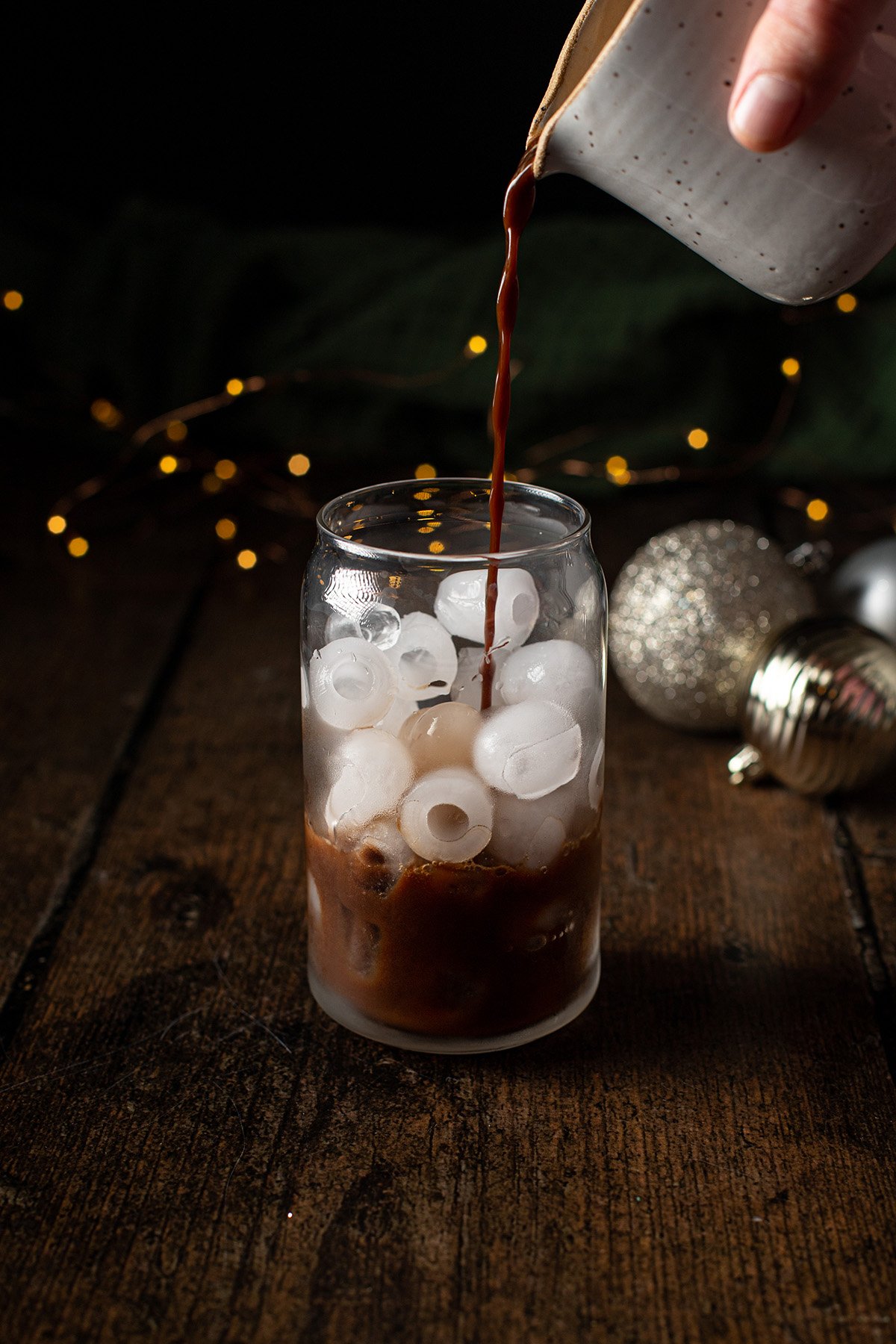 After that, top everything off with whatever milk you like. I almost exclusively use oat milk, but I've also used almond milk and cow's milk. It's all good.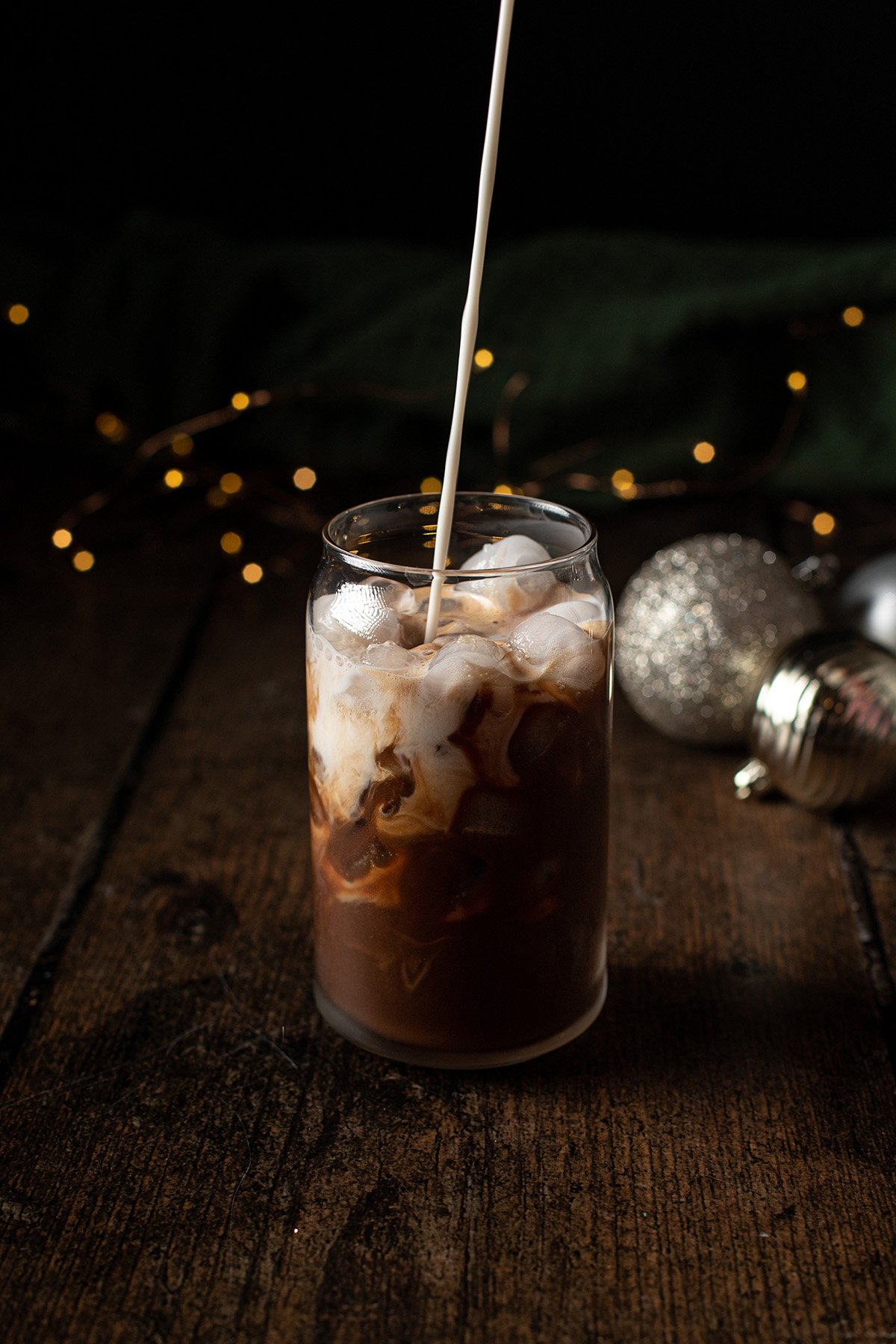 Next, give everything a stir with your straw. That will help to incorporate the espresso/chocolate with the milk.
If you wanted, you could also top everything off with some whipped cream and a little chocolate sauce.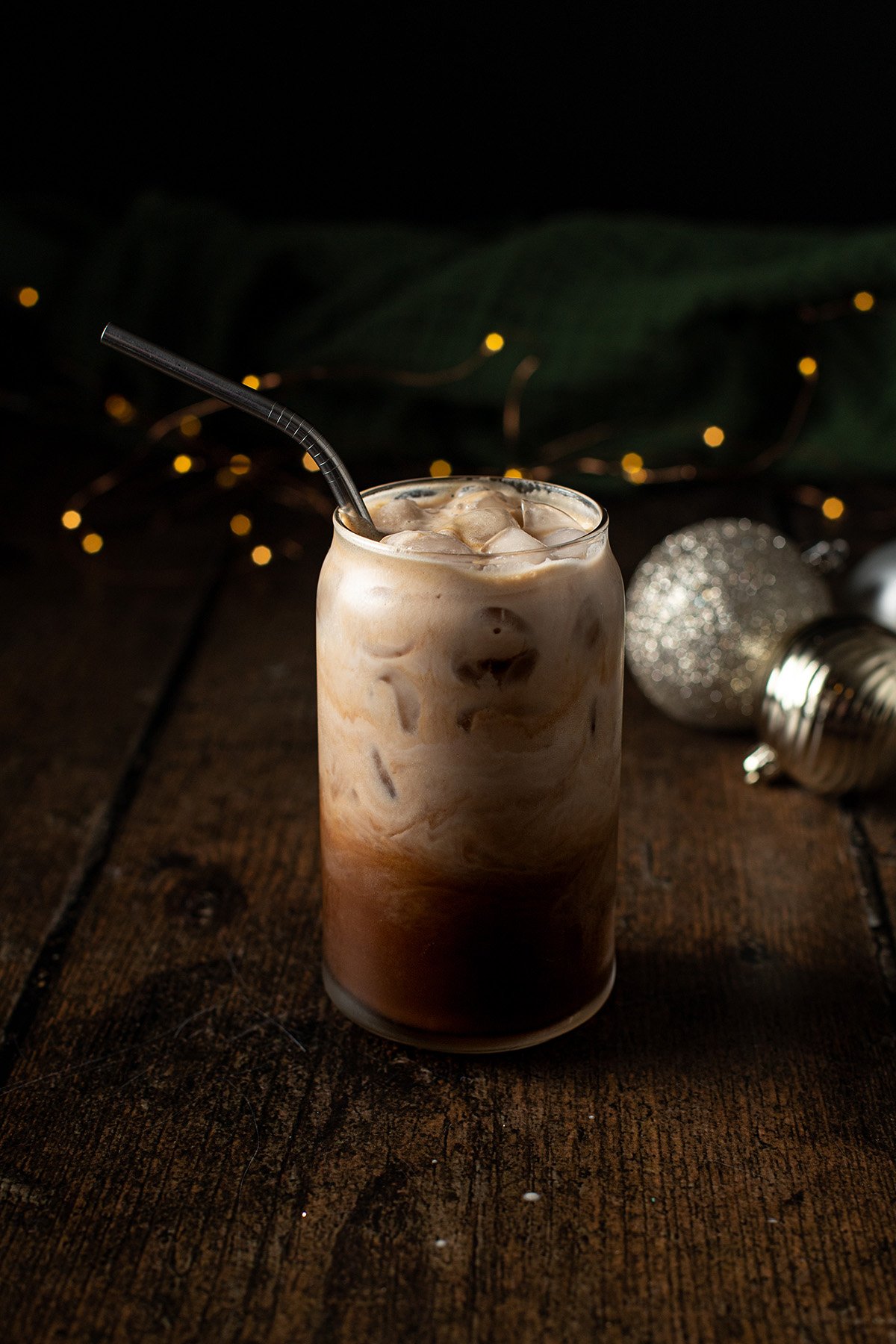 Recommended tools
Other iced latte recipes
FAQs/Tips and tricks
What if I don't have an espresso machine?
You still have a couple of options. You can use some really strong coffee (probably the next best choice) or instant espresso (not the first recommended choice, but could work in a pinch).
What kind of milk should I use?
In short: whatever you like. I have used oat milk (Oatly and/or Chobani full fat/extra creamy) and 2% cow's milk. Both have worked beautifully. Though I haven't tried it, I imagine that almond milk would work well, too.
Can I make this a hot peppermint mocha?
Sure! You'll want to omit the ice and warm and froth whatever milk you're using, instead of adding it in cold.
Will this taste like the iced peppermint mocha from Starbucks?
Yes! It's intended to be a Starbucks copycat recipe, so it will taste like the iced peppermint mocha that you get from Sbux.
Share your creations and follow me on social media!
Subscribe to the A Nerd Cooks Newsletter to have updates sent straight to your inbox.

I love seeing when you share my recipes! Please tag me on Instagram @anerdcooks so I can enjoy them virtually with you! You can also find me on Pinterest, Facebook, YouTube, and Twitter.

I'd love to know what you thought of this recipe! Don't forget to leave a comment and
⭐️ star rating below!
The Recipe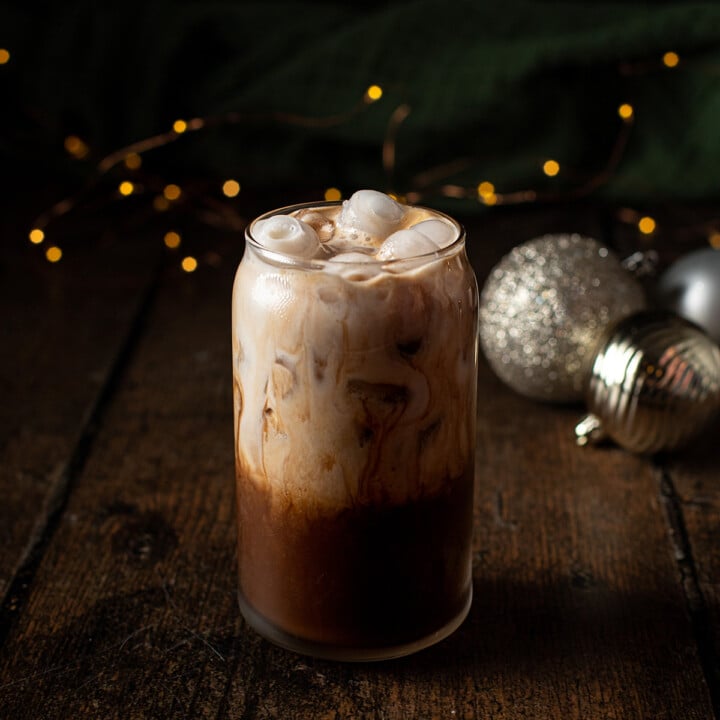 Iced Peppermint Mocha
This Iced Peppermint Mocha is an excellent Starbucks copycat recipe. It's sweet, chocolatey, and refreshingly minty. Save yourself some money as well as time in the drive thru by making your own Starbucks drinks at home!
Ingredients
1 ounce chocolate sauce
2 shots espresso (about 2 ounces)
1 cup ice, approximate
¾ cup milk of choice
whipped cream and chocolate sauce, for garnish (optional)
Instructions
Put the chocolate sauce and mint simple syrup in a small cup. Brew the espresso over the sauce and syrup. Stir to combine.
Pour the espresso mixture over ice.
Top with milk of choice.
Garnish with whipped cream and chocolate sauce, if desired.
Nutrition Information:
Yield:

1
Serving Size:

1
Amount Per Serving:
Calories:

995
Total Fat:

6g
Saturated Fat:

4g
Trans Fat:

0g
Unsaturated Fat:

2g
Cholesterol:

19mg
Sodium:

170mg
Carbohydrates:

233g
Fiber:

2g
Sugar:

211g
Protein:

8g
Pin this recipe for later!