Last Updated on August 2, 2021 by laurenpacek
Making an iced latte at home is so easy! Treat yourself to a delicious caffeine boost and save some money in the process. You can be sipping on a sweet, cold, caffeinated treat in under 2 minutes!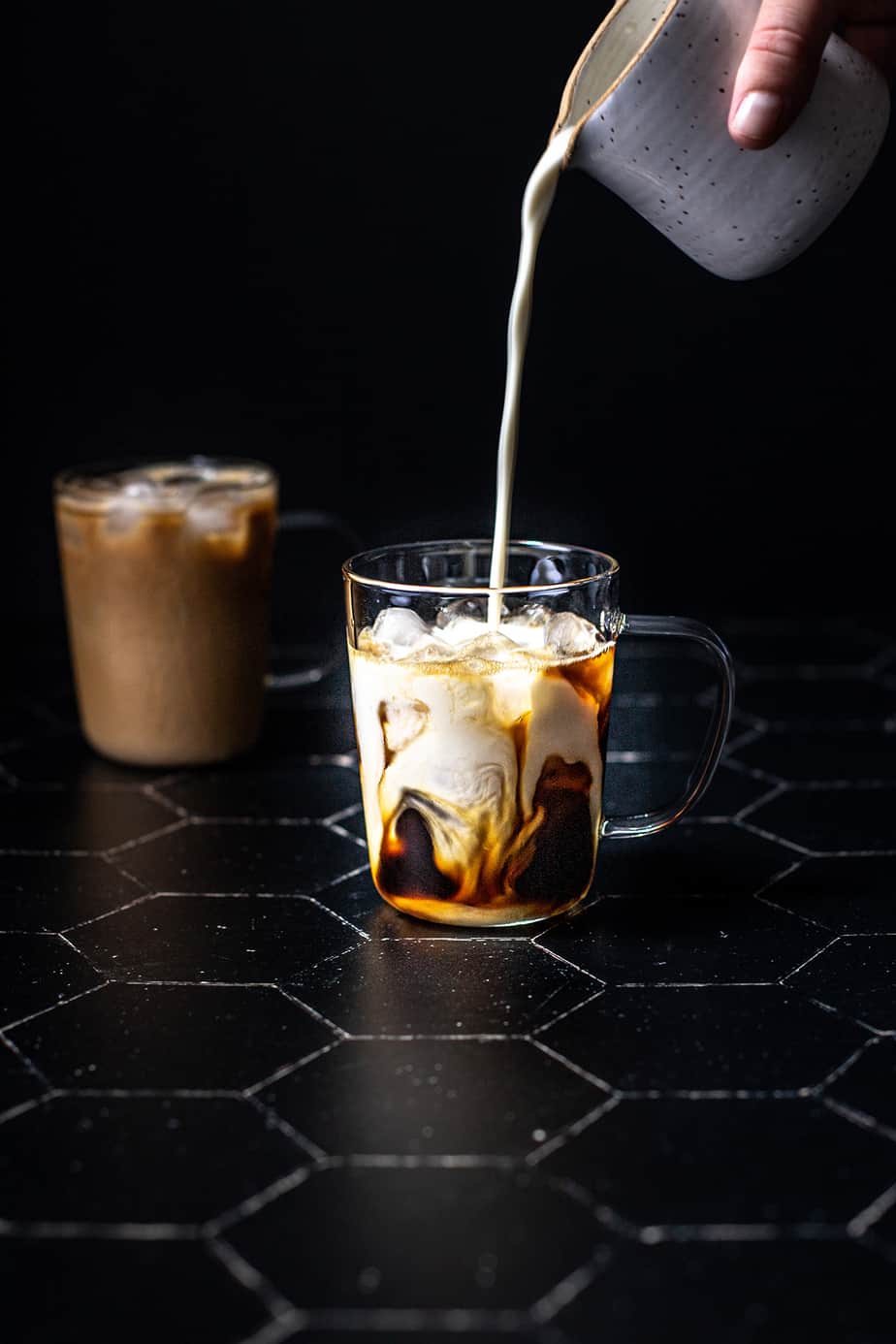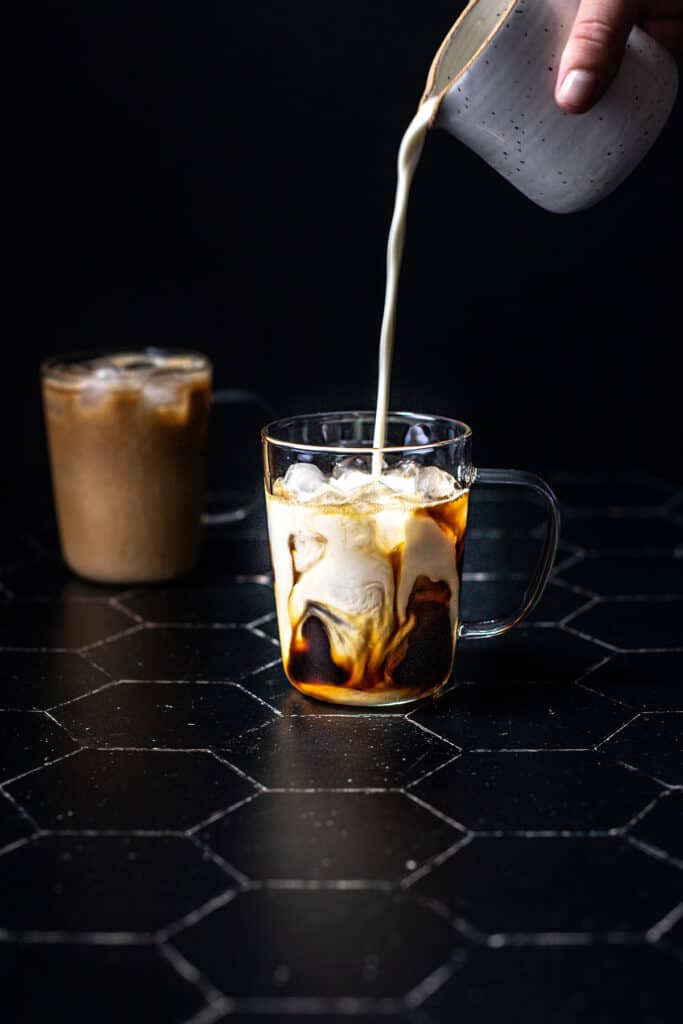 What is an iced latte?
First, let's talk about what a "latte" is.
"Caffè latte," or "caffè e latte," is Italian for "coffee and milk." A caffè latte (or just "latte", as it's often shortened in English) is made up of espresso and steamed milk.
An iced latte is just espresso and milk. No need to steam it since you're looking to make a cold drink.
What ingredients are in an iced latte?
Ice: Normally I don't include ice in a list of ingredients, but ice is pretty integral to making an iced latte. Fill your glass up to the top with it.
Espresso: Ideally, you should use espresso made using an espresso machine. The next best option would be to use really strong coffee. Probably the least preferable alternative would be to use instant espresso.
Sweetener: You don't have to sweeten your iced latte if you don't want to. Totally optional. But you do you.
Milk: Now for the "latte" portion of the iced latte. I used full fat oat milk, but 2% or whole cow's milk would be nice, too. So would almond milk.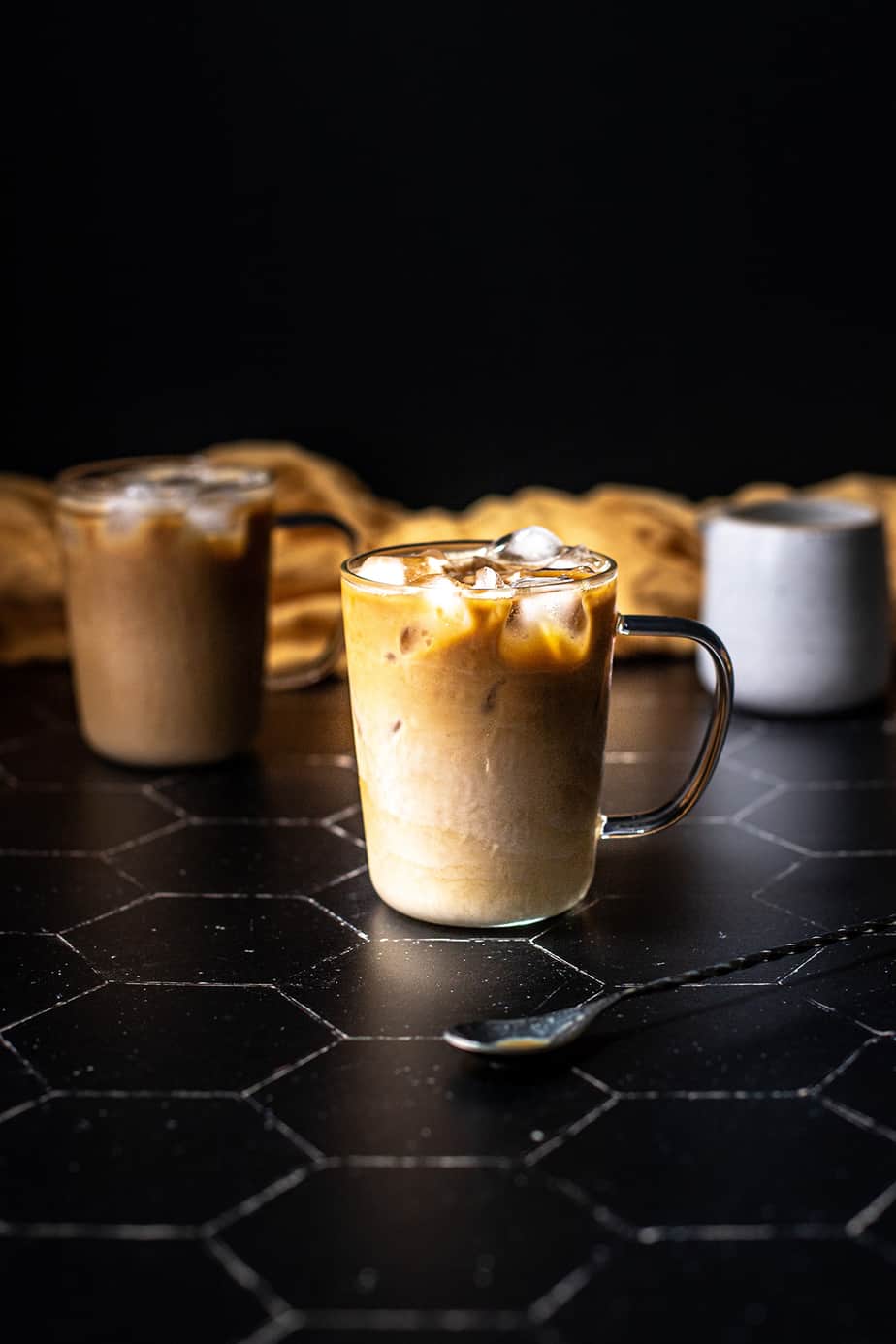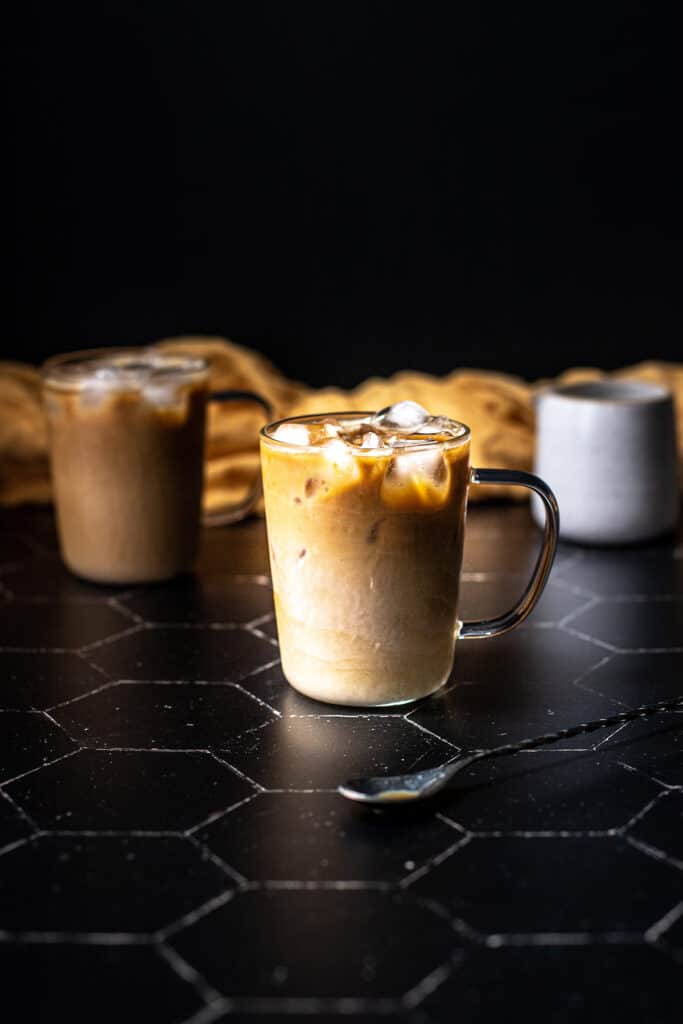 How to make an iced latte
It's not so difficult, really. But let me walk you through it!
1. Fill a glass with ice
Ice is a pretty important ingredient in an iced latte, right? Right.
Don't skimp on the ice!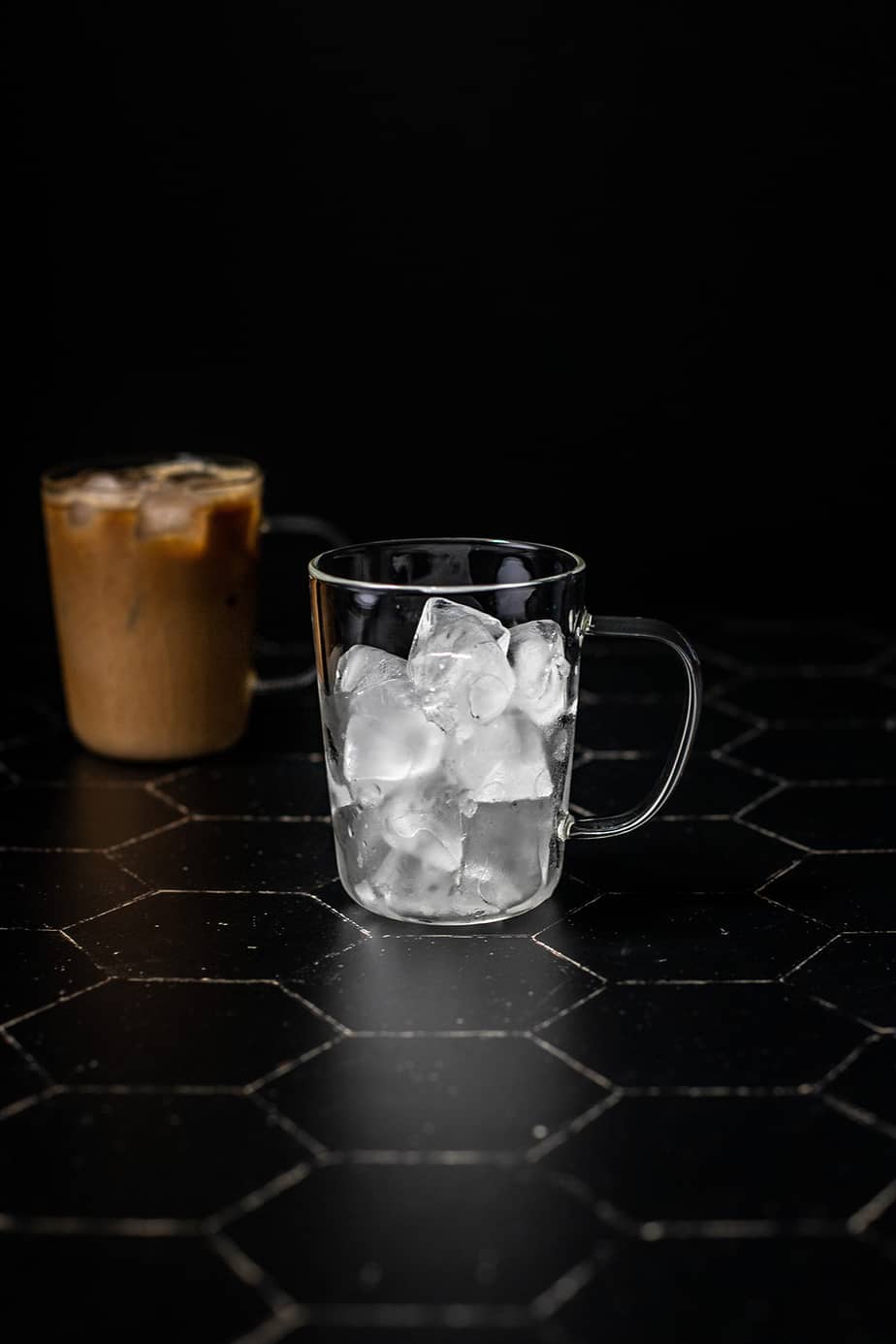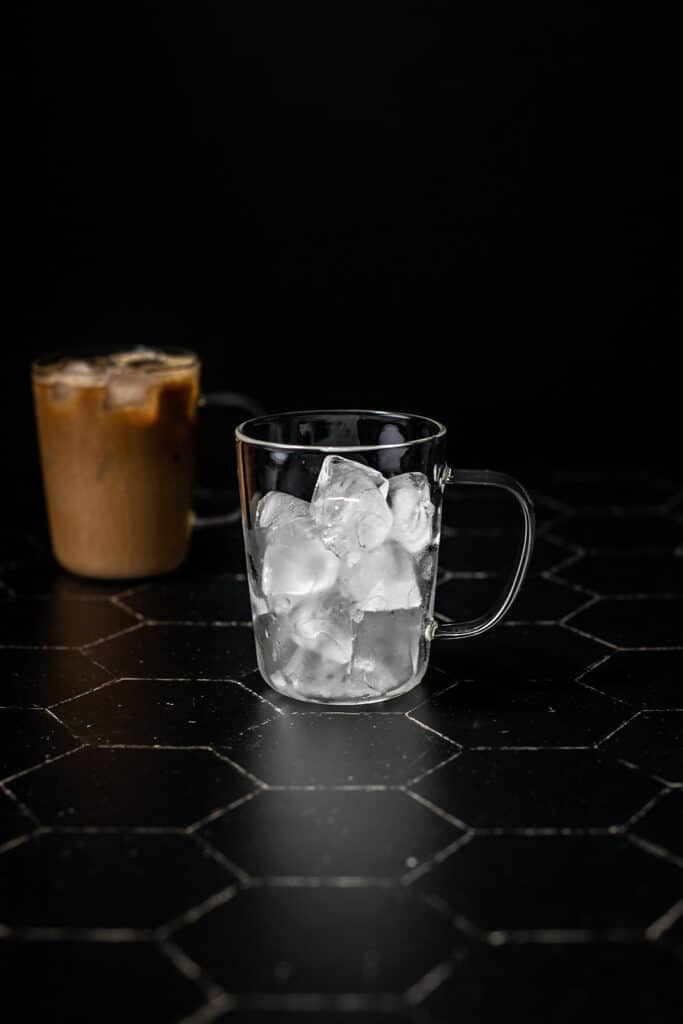 2. Pour espresso over ice
Even if your espresso is freshly brewed and piping hot, the generous amount of ice cubes in your glass will help to cool it down quickly.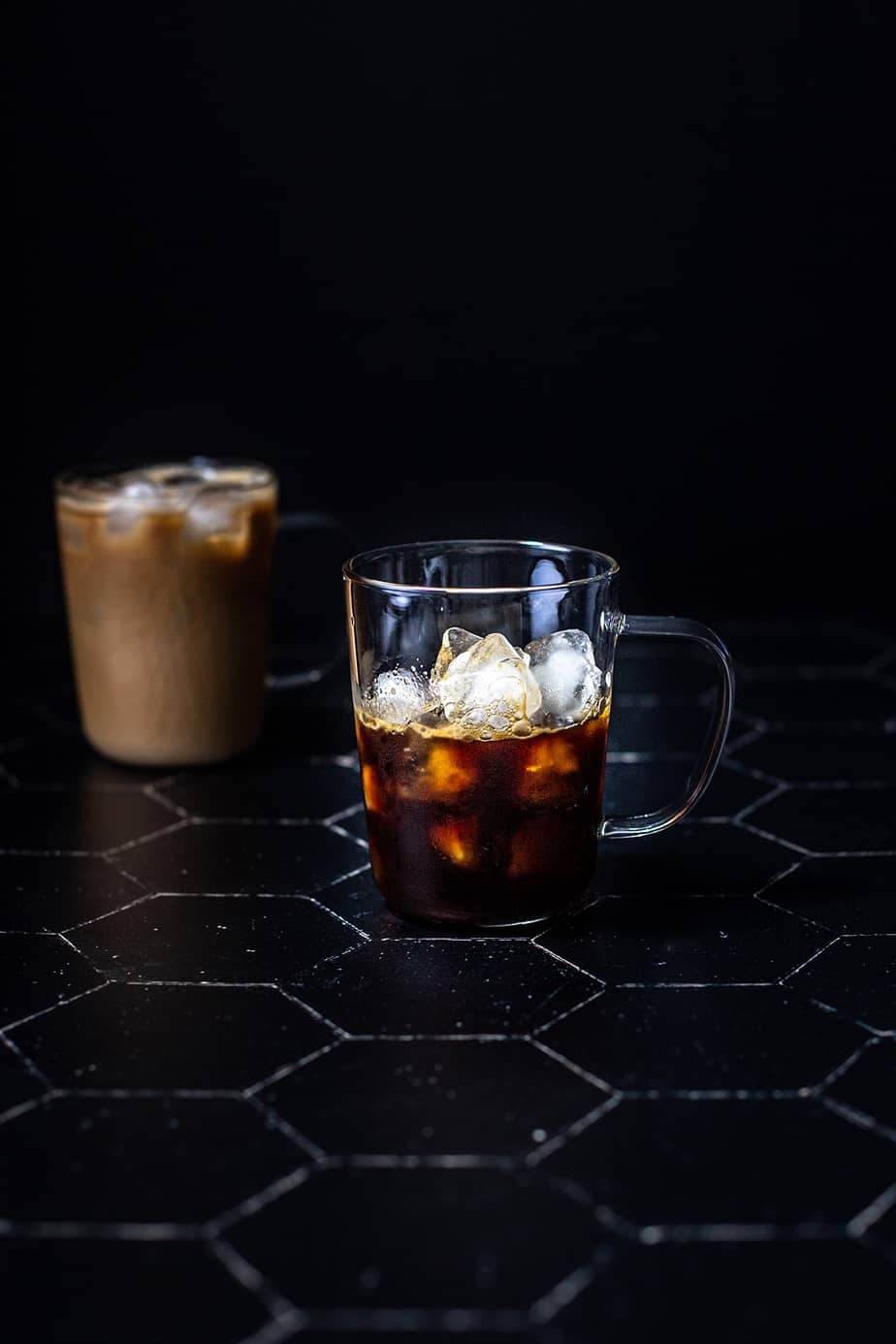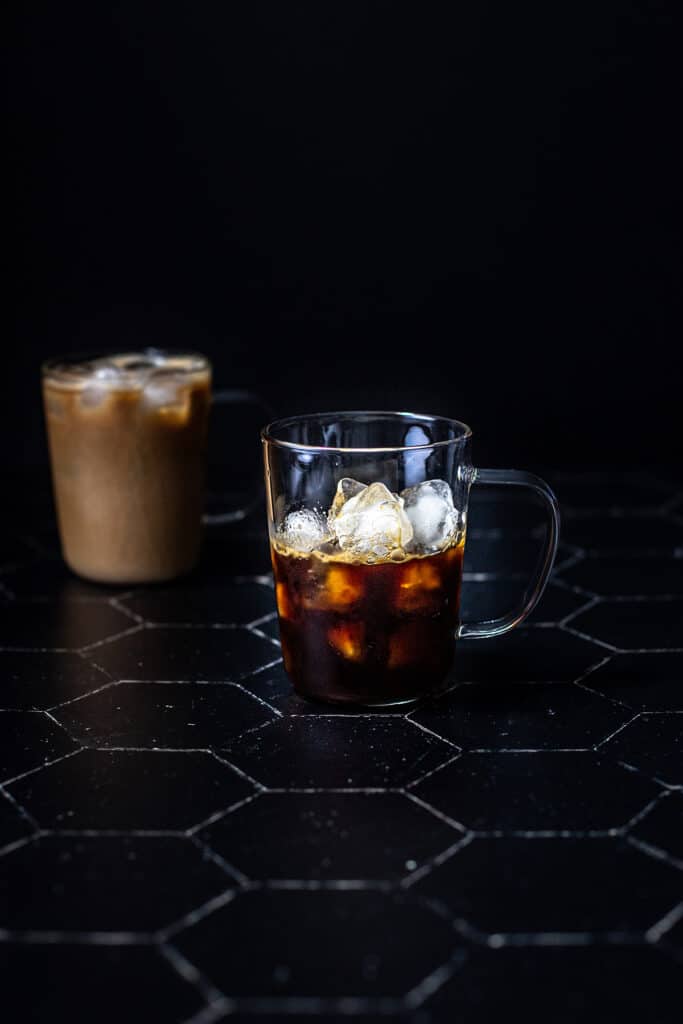 3. Add sweetener, if desired
This step is optional, of course. I'm a big fan of sugar free salted caramel syrup. But you do you.
I just recommend that you use some kind of liquid sweetener (like a simple syrup). That way, the sweetener can dissolve and incorporate into the latte completely. If you use granulated sugar, since the drink is cold, you run the risk of the sugar not dissolving very well and ending up with a gritty drink.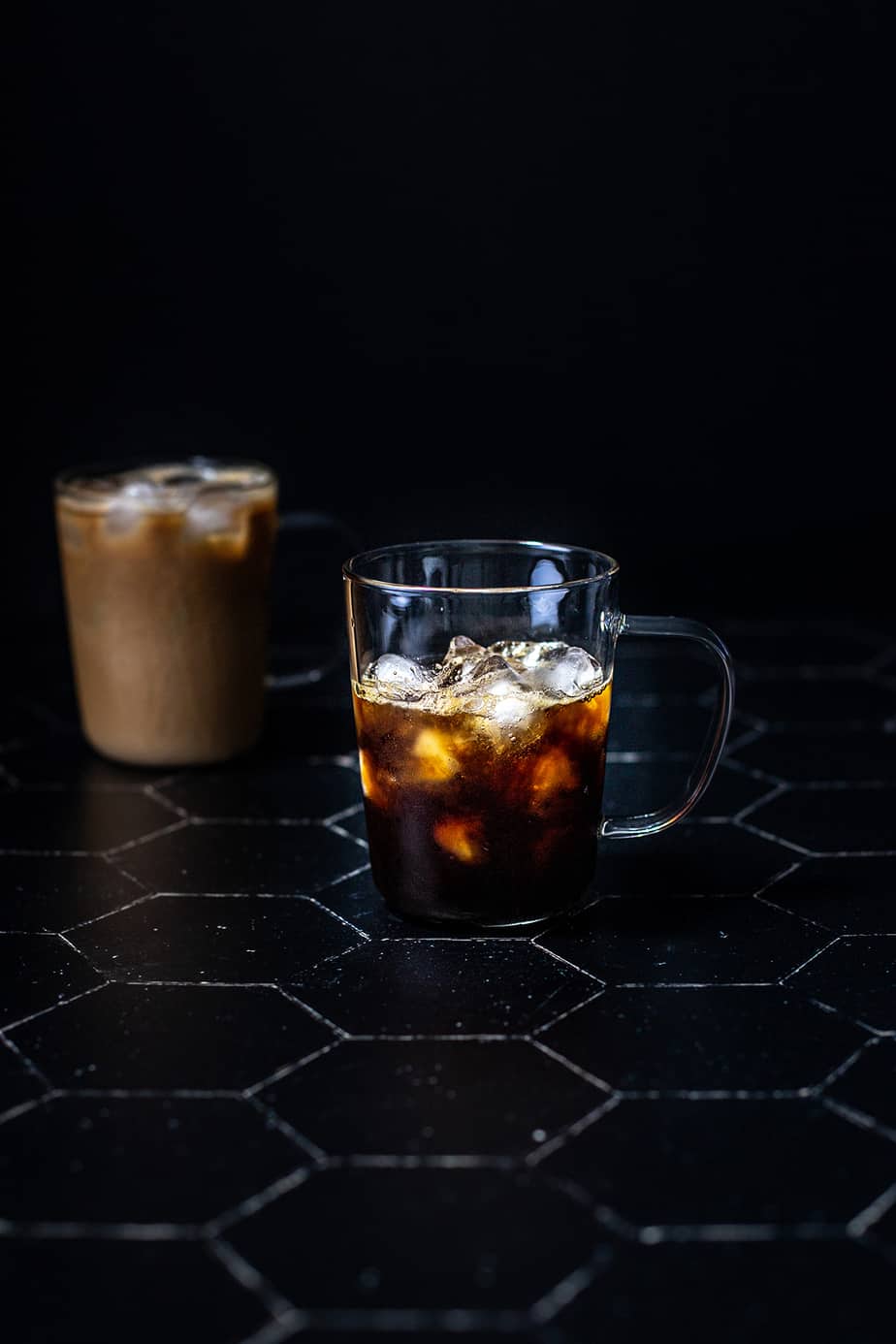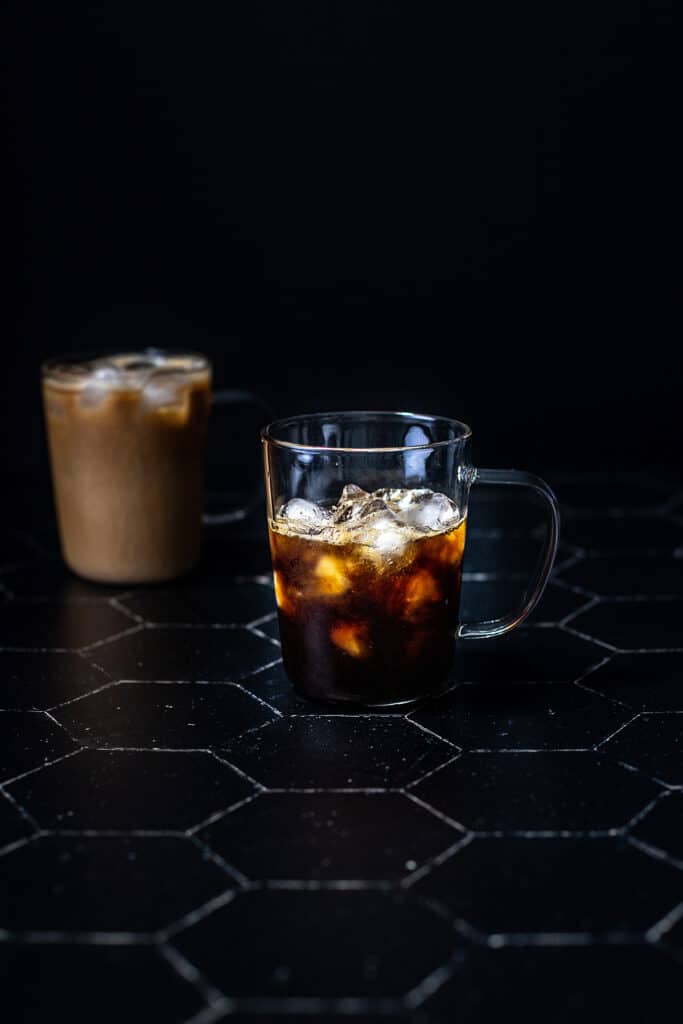 4. Add milk
Pour that milk in and enjoy all of the gorgeous swirling that goes on in your glass. Make sure to check out the FAQs below for my thoughts on which milk to use.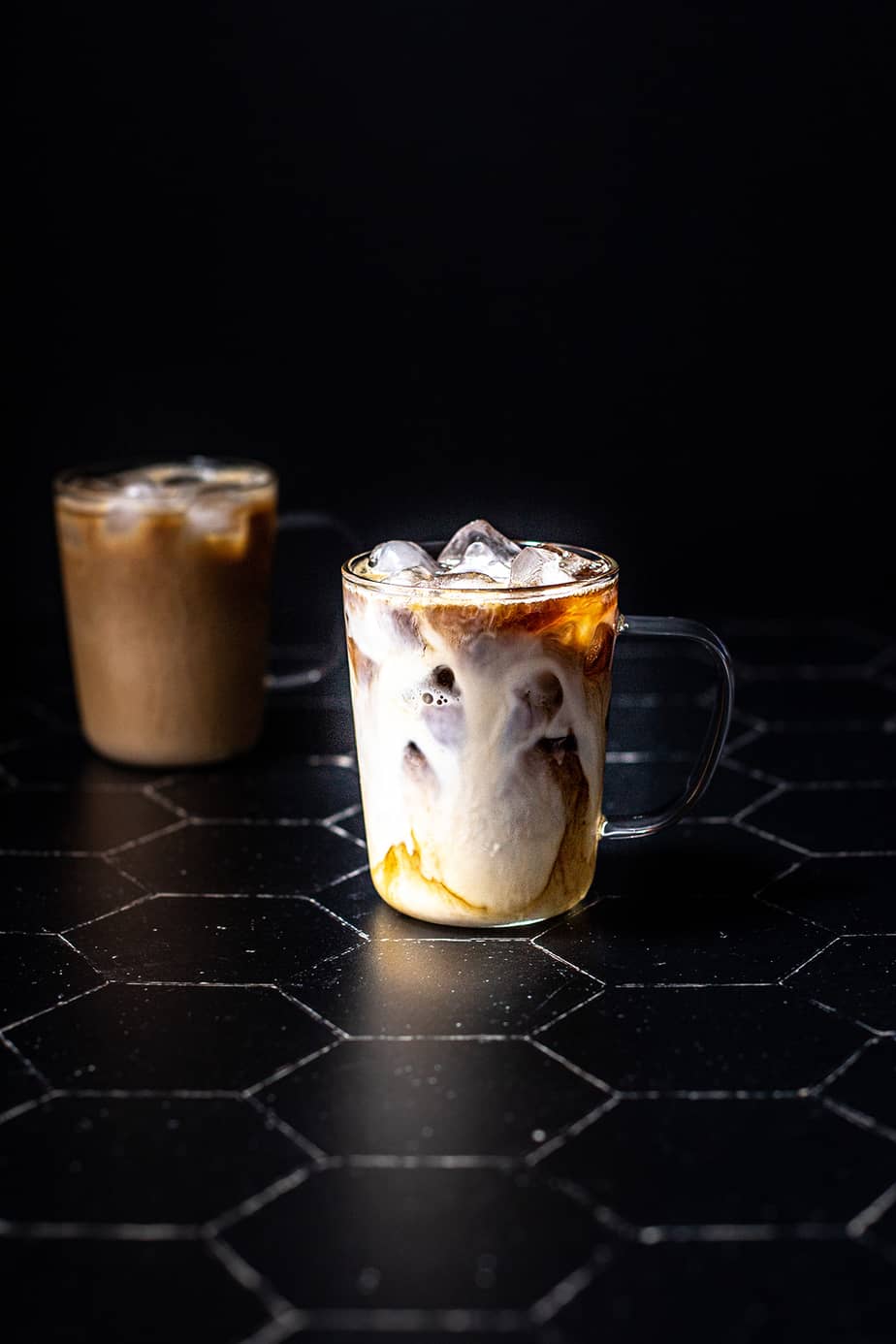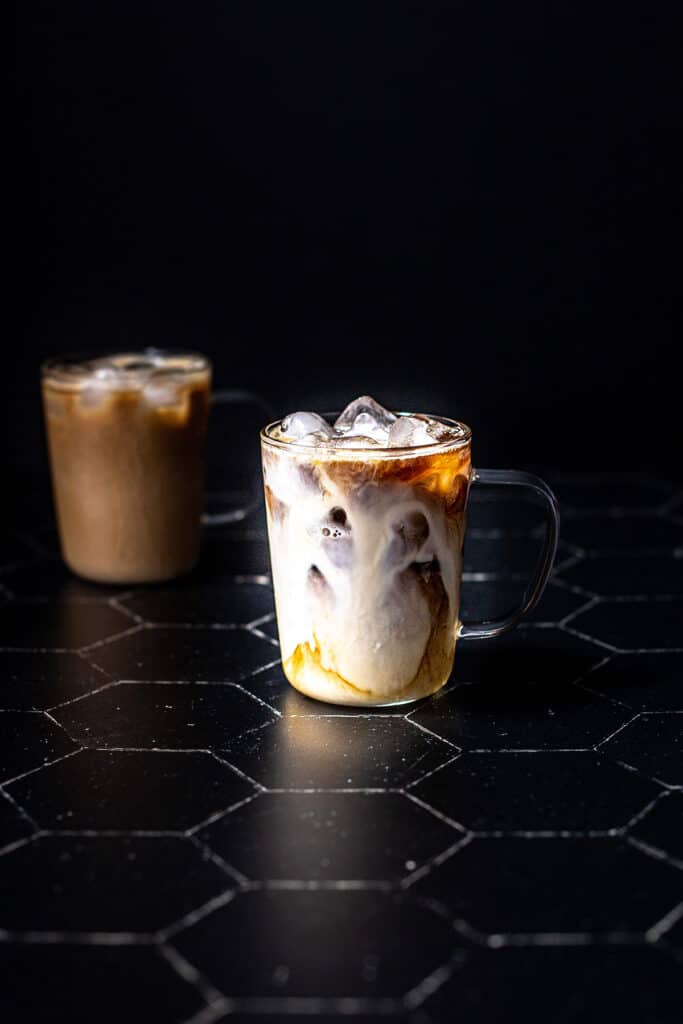 5. Stir it all up!
Stir it all up to combine everything. Then drink!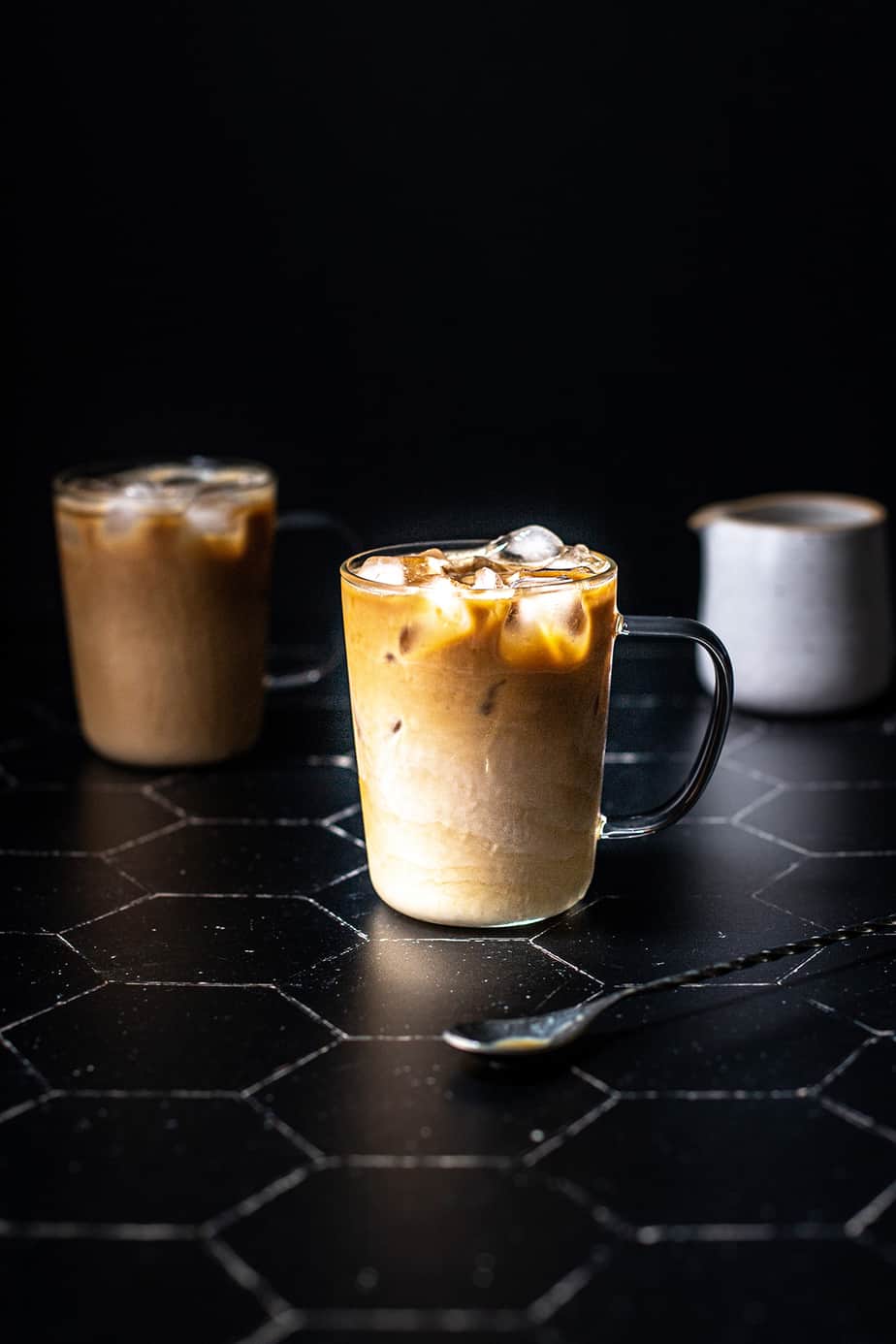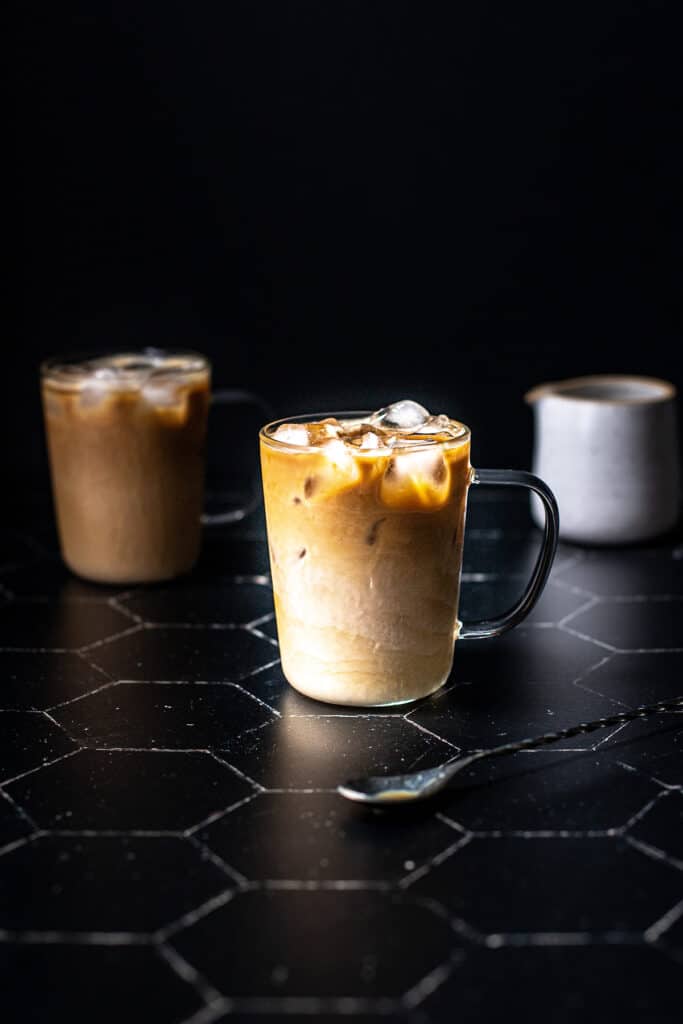 Other coffee drinks
Looking for more coffee drinks? I have a few more of those for you!
If you're in need of a little bit of a boozy pick-me-up, check out my Bailey's Iced Coffee and Espresso Martini recipes.
If you're looking for straight up coffee drinks, my Homemade Cold Brew Coffee is a winner. I make at least a couple of batches a week. And if you're a bit of a basic bitch (like me), my Pumpkin Spice Cold Brew Coffee will speak to you.
If you want a hot latte, check out my Gingerbread Lattes!
My Java Chip Frappuccinos are another cold, sweet coffee treat. I can also show you How to Make Cold Foam and How to Make Sweet Cream Cold Foam for your coffee!
Frequently Asked Questions
What should I do if I don't have an espresso machine?
You have a couple of options. You can use some really strong coffee (probably the next best choice if espresso isn't an option) or instant espresso (not the first recommended choice, but could work in a pinch).
How should I sweeten my iced latte?
You don't have to sweeten your iced latte, if you don't want to. Truly, you do you. However, I've found that using a simple syrup or flavored syrup is a better strategy than using sugar or something of that sort. Because this is a cold beverage, the syrup incorporates seamlessly into the drink, whereas sugar might result in some grittiness.
What kind of milk should I use?
Your choice! I have used oat milk (Oatly full fat) and 2% cow's milk. Both have worked beautifully. Though I haven't tried it, I imagine that almond milk would work well, too. My one recommendation would be to consider avoiding cream and/or half and half, if only from a calorie perspective, because the recipe uses quite a bit of milk.
What's the difference between an iced coffee and iced latte?
An iced coffee is made with, you guessed it, coffee, whereas an iced latte is made with espresso.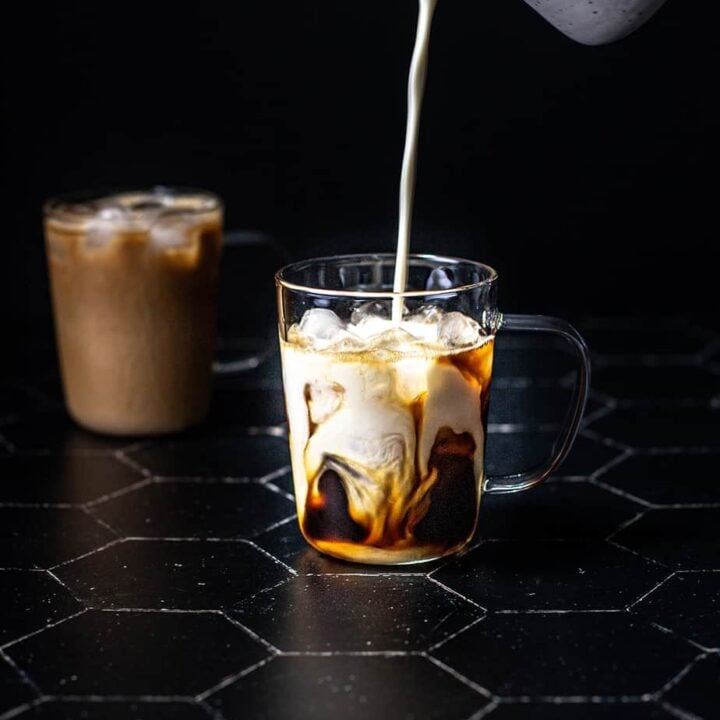 Iced Latte
Making an iced latte at home is so easy! Treat yourself to a delicious caffeine boost and save some money in the process. You can be sipping on a sweet, cold, caffeinated treat in under 2 minutes!
Ingredients
2 oz espresso (see notes)
1 oz liquid sweetener (see notes)
8 oz milk (see notes)
Instructions
Fill a large glass with icee
Pour the espresso and sweetener over the ice
Pour the milk into the glass and stir until everything is combined
Notes
1 shot of espresso = 1 oz; therefore this recipe calls for 2 shots of espresso
Sweetener is optional; also feel free to increase or decrease the amount to meet your preferences
I've used oat milk and 2% cow's milk, but whole milk and almond milk would likely be lovely, too
Nutrition Information:
Yield:

1
Serving Size:

1
Amount Per Serving:
Calories:

226
Total Fat:

5g
Saturated Fat:

3g
Trans Fat:

0g
Unsaturated Fat:

2g
Cholesterol:

20mg
Sodium:

136mg
Carbohydrates:

39g
Fiber:

0g
Sugar:

23g
Protein:

9g
What equipment should I have to make this recipe?
Pin this recipe for later!