This Dirty Chai Latte is sweet, spicy, and has a caffeinated kick! Rich espresso is added to a classic chai latte to create a super cozy treat.
Do you love coffee and tea? Have a hankering for warm, spicy chai, but also need more of a caffeine boost? Dirty Chai Lattes are truly the best of both worlds. They're perfect for enjoying while snuggled up under a blanket as well as for getting your day started.
Sure, you can pick up a Starbucks Dirty Chai Latte (or a Dirty Chai Tea Latte, as Sbux brands them... More on that later.), but those lattes add up ($$$)! This recipe is wayyy cheaper, so easy to make, and makes enough for 4 servings. So you can make 'em all at once, or save some for later in the day or week!
Looking for more tea drinks? Try my Starbucks Medicine Ball or Iced Chai Lattes!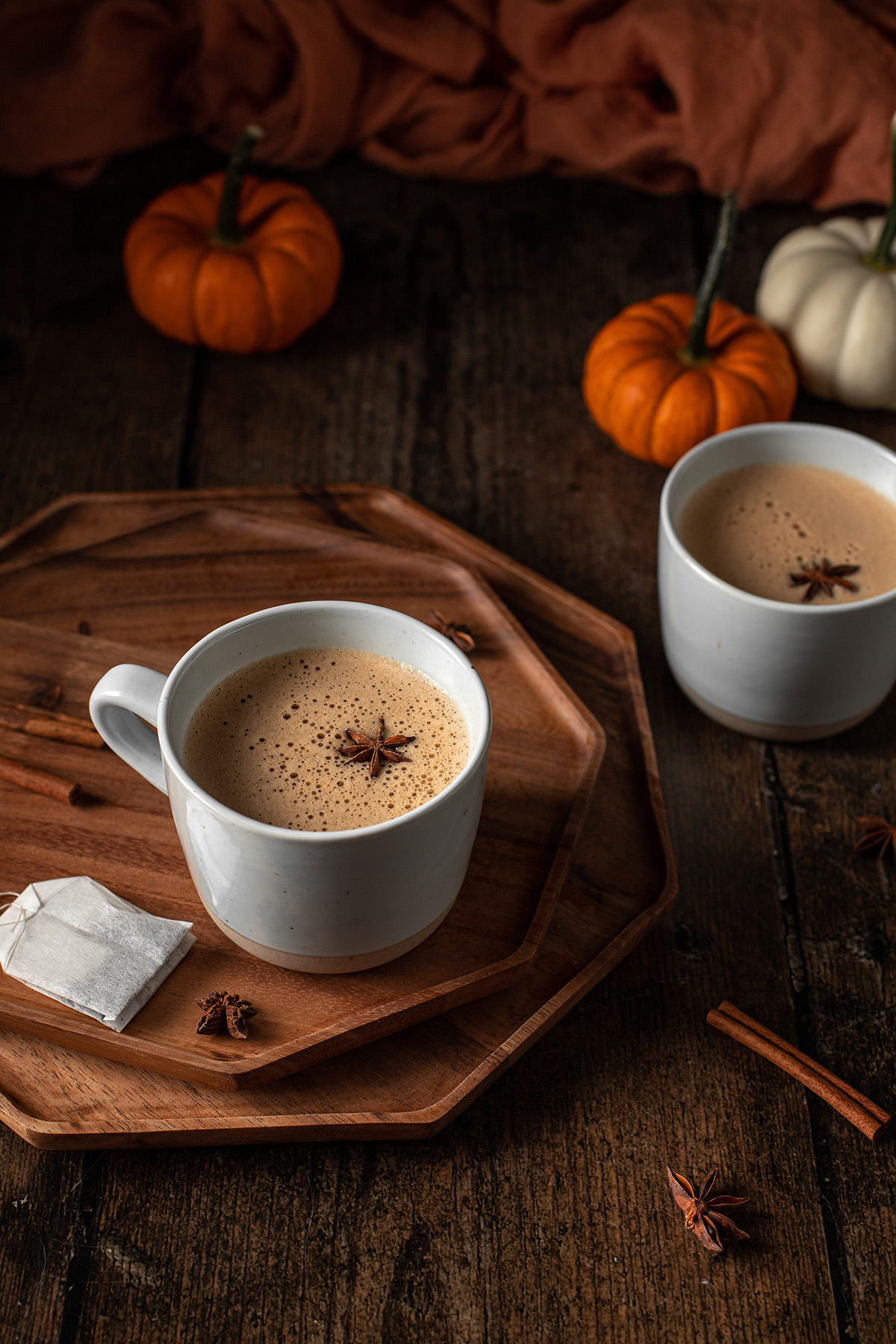 Jump to:
🌟 Why You'll Love This Recipe
It's full of cozy flavors. This drink has all of the warm spicy flavors of chai plus espresso.
It's easy to make. It may look intimidating, but it's quite easy!
It has the caffeine that you need. Chai has caffeine, in addition to the espresso, so it's got the caffeinated kick to get you going.
💭 What is a Dirty Chai Latte?
A Dirty Chai Latte is a Chai Latte with an espresso shot (or two) added to it. It's the espresso that makes the drink "dirty."
But please don't call it a chai tea latte
First of all: It's a Chai Latte. A dirty one, in this case. Not a chai tea latte.
"Chai" means "tea." So, if you're saying "chai tea latte," what you're really saying is "tea tea latte." And that's redundant. And incorrect. And y'all are better than that.
Masala Chai vs. Chai Latte
Shweta from Masala and Chai has a really nice detailed description of what authentic Masala Chai is, as well as the history behind it (and a delicious authentic recipe). But, in short, "masala" means "spice" and "chai" means "tea." So, Masala Chai is tea with spices. And milk. It's extremely popular and enjoyed all over the Indian subcontinent.
Chai lattes, on the other hand, are a heavily Americanized version of Masala Chai. They're typically made of a sweet, black tea concentrate that has been simmered with chai spices (or some variation thereof) and combined with milk. The milk is usually steamed and frothy, and can either be heated and frothed separately or you can also heat the tea and milk up together and froth the whole thing.
You're probably familiar with the Chai Tea Lattes (I know, I know...) from Starbucks. They've been on the menu since, like, the 1990s, I'm pretty sure. You can also get a Dirty Chai (Tea) Latte from Starbucks. Just ask them to add a shot or two of espresso to the drink.
📝 What's in a Dirty Chai Latte?
Tea: The tea in a (dirty) chai latte is typically some kind of black tea. You can use loose leaf tea or tea bags, depending on your preference. Assam, Darjeeling, or English Breakfast are all good options. I went with English Breakfast tea bags, because that's what I usually have in my pantry. one word of advice: don't use anything that's flavored. So, stay away from teas like Earl Grey.
Spices: Though spice blends can be quite varied depending on preference and location, chai spices often include things like cinnamon, cardamom, star anise, cloves, nutmeg, ginger, and black peppercorns.
Sweetener: You can use a number of different sweeteners, depending upon your preference. Various sugars (white, brown, demerara), honey, maple syrup, or even a simple syrup would work well. I used my brown sugar simple syrup to sweeten mine.
Espresso: When making this recipe, ideally you'll use espresso made using an espresso machine. I have a Nespresso Vertuo, and absolutely love it. The next best option would be to use really strong coffee.
Milk: You can use pretty much any type of milk that you prefer. I'm a big fan of oat milk, but have also used 2% cow's milk in a pinch.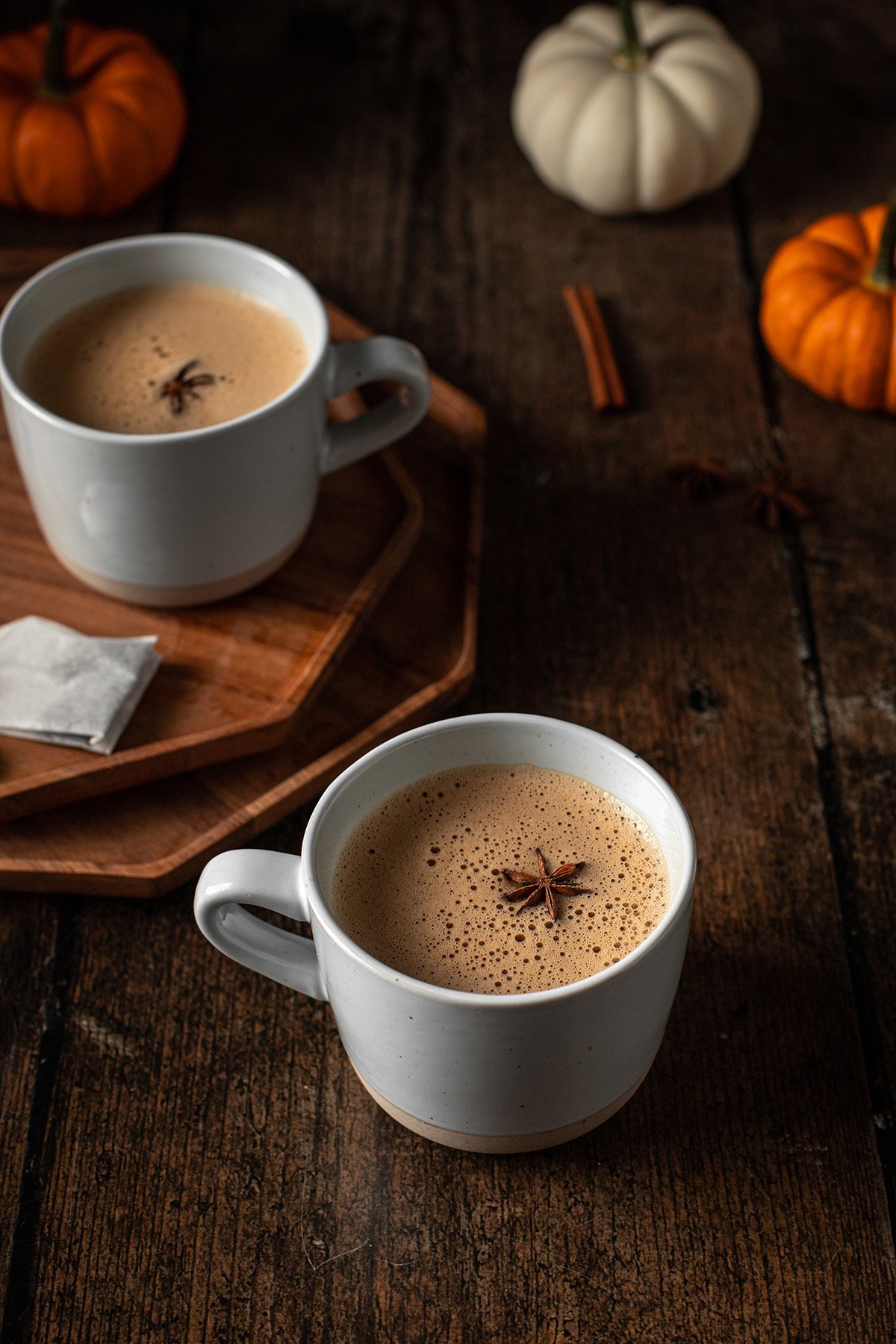 👩🏻‍🍳 How do you make it?
Let's walk through it!
How to make the tea
You'll start out by combining water and chai spices in a saucepan and bringing all of that to a boil, and then reducing the heat until it is at a simmer. After a bit, you'll kill the heat and add your tea, allowing it to steep for a bit.
After that, you'll strain everything out and either use the tea immediately or store the tea in an airtight container in the fridge!
I will also note that you can totally use a chai concentrate if you want to bypass the tea-making process.
How to make espresso with an espresso maker
If have an espresso maker, you should brew a double shot of espresso according to the manufacturer's directions for your particular espresso maker. Like I mentioned above, I have a Nespresso Vertuo machine. So I just pop in my favorite double espresso pod and let the machine do its thing. If you only have single espresso pods, just brew two!
One shot of espresso is approximately 1 fluid ounce, so a double shot would be about 2 fluid ounces.
How to make espresso without an espresso maker
Short of using freshly brewed espresso, your next best choice would be to brew some really strong coffee. It won't be exactly the same, but will work in a pinch.
You could also use instant espresso, if you so choose. I'd probably pick this option as a last resort, though.
How to froth the drink - with and without a milk frother
Last, you'll combine your espresso, warmed chai, and warmed milk, and then froth all of it. The easiest way to do that is with a milk frother. I really like my stick frother. Just submerge the end of the frother into the liquid and let 'er rip.
If you aren't the proud owner of some form of milk frother, you can still froth your dirty chai latte! A couple of options include using a French press or a whisk. Check out this post to learn more. The post is about frothing milk, but the techniques are the same.
How to assemble the drink
Start out by making a batch of chai (using a chai concentrate is fine, too) and combining it with your milk of choice. Heat everything up until the chai/milk is warmed to your liking.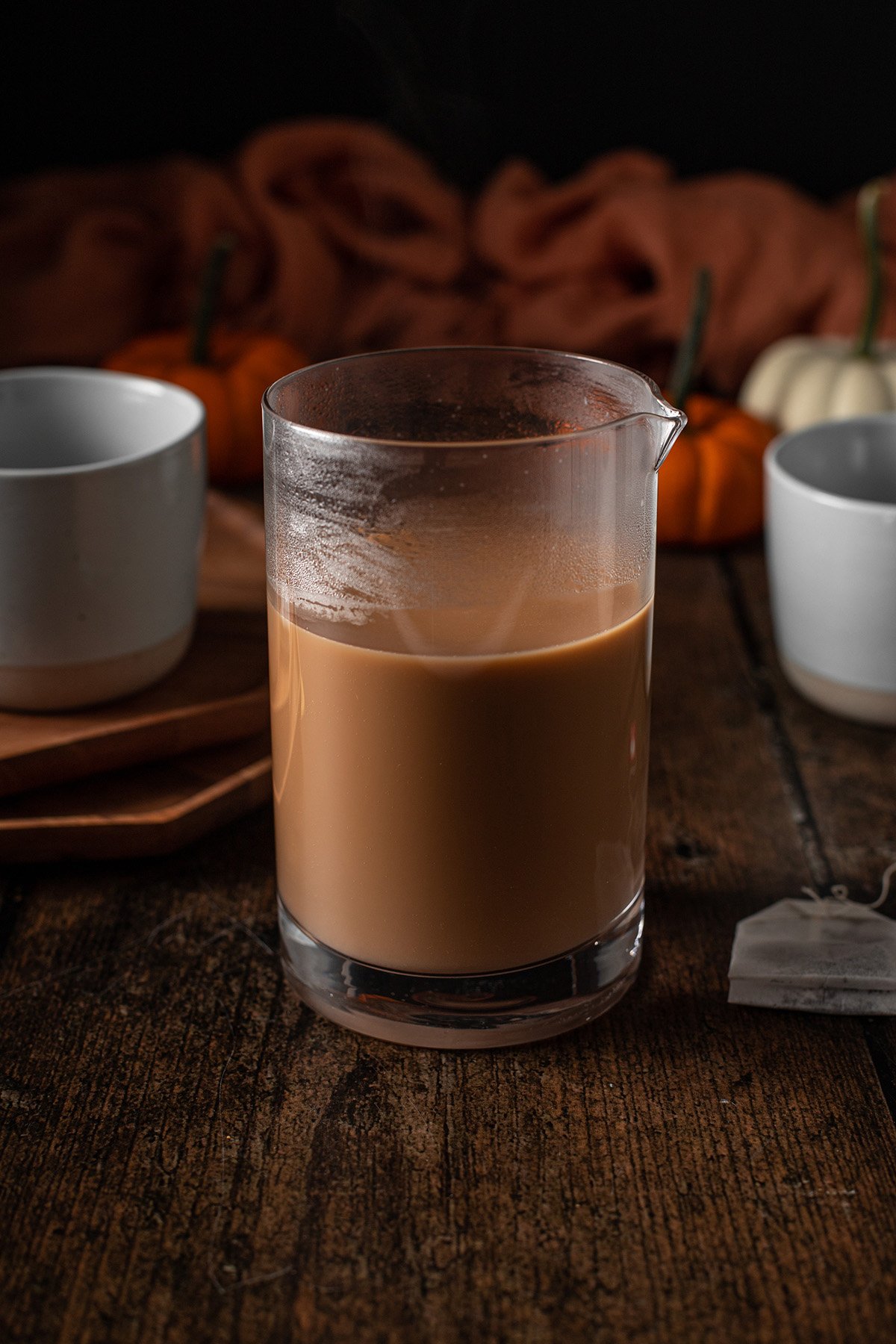 Next, add your freshly brewed espresso to the chai and milk.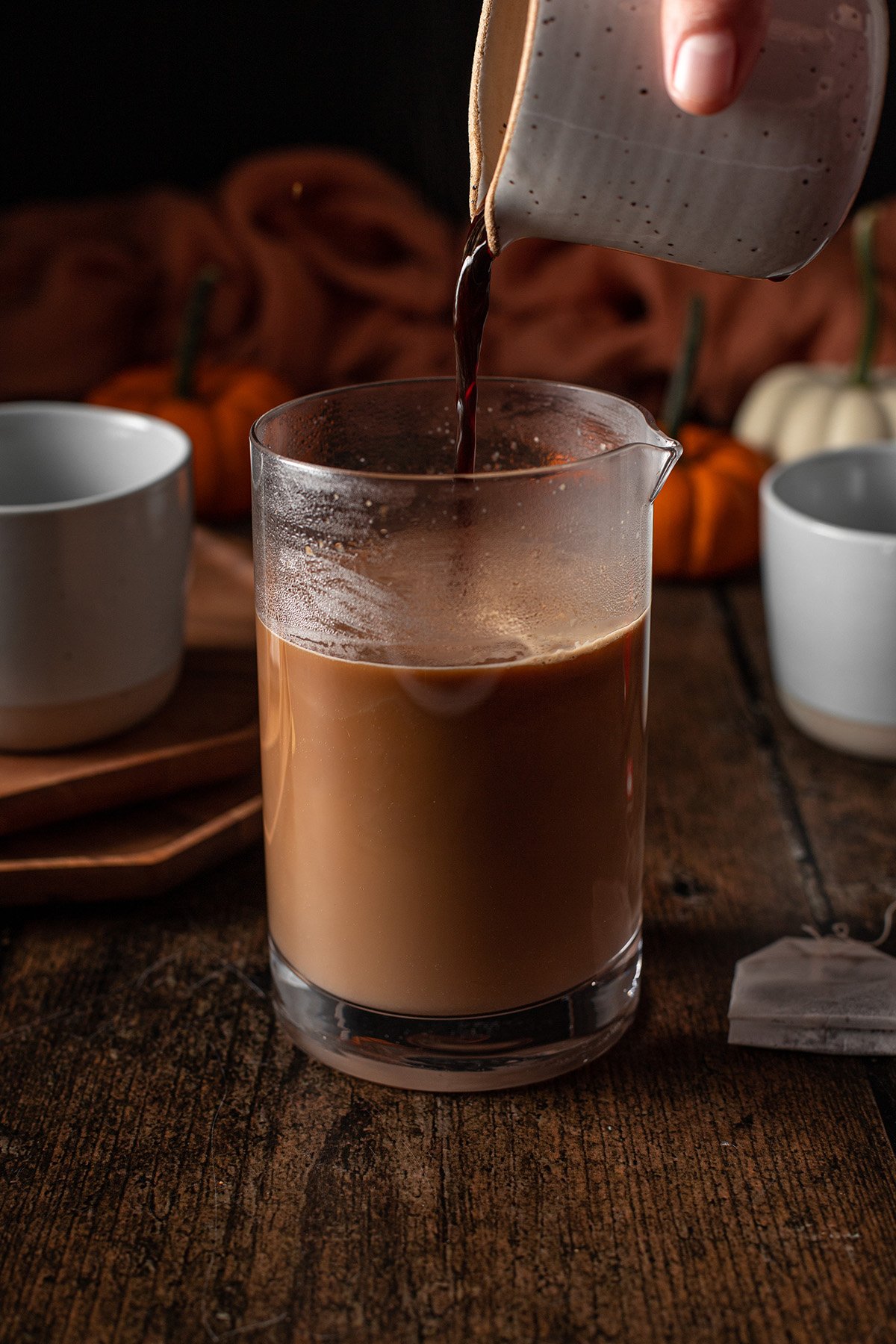 At this point, you'll want to froth everything. I used a stick milk frother. Just submerge the frother into the liquid and turn it on.
You want to create foam on top of the latte. Make sure to use a big enough container, because you can create a decent bit of foam, which will result in an increased volume of liquid in the container. I really should have used something larger than the glass jar in the photos, but alas. I was still able to create some foam!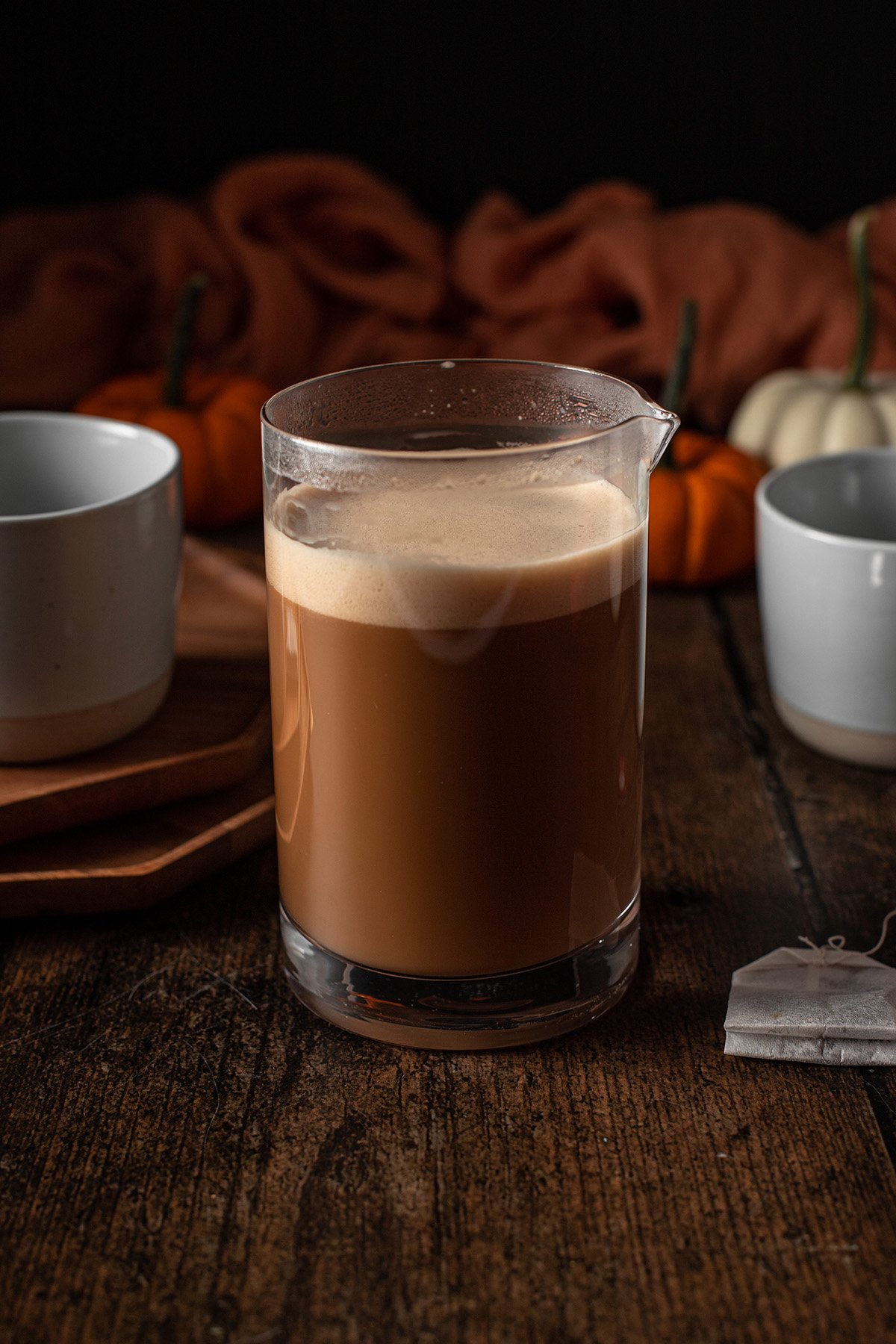 Pour the frothed latte into a mug or whatever vessel you'll be drinking out of. Don't spill it all over the place like I did.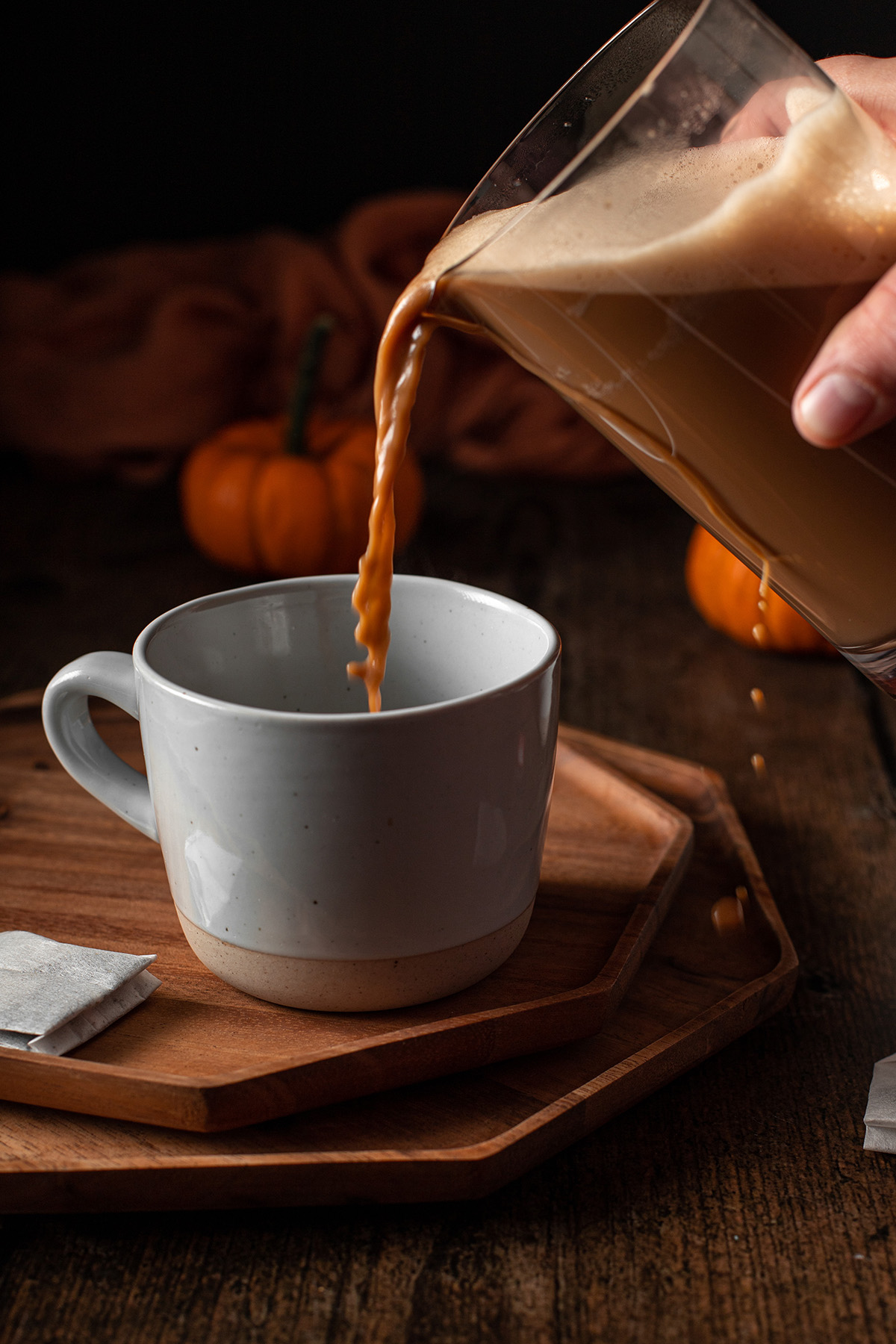 After that, all that's left is to garnish the latte (if you so choose) and drink!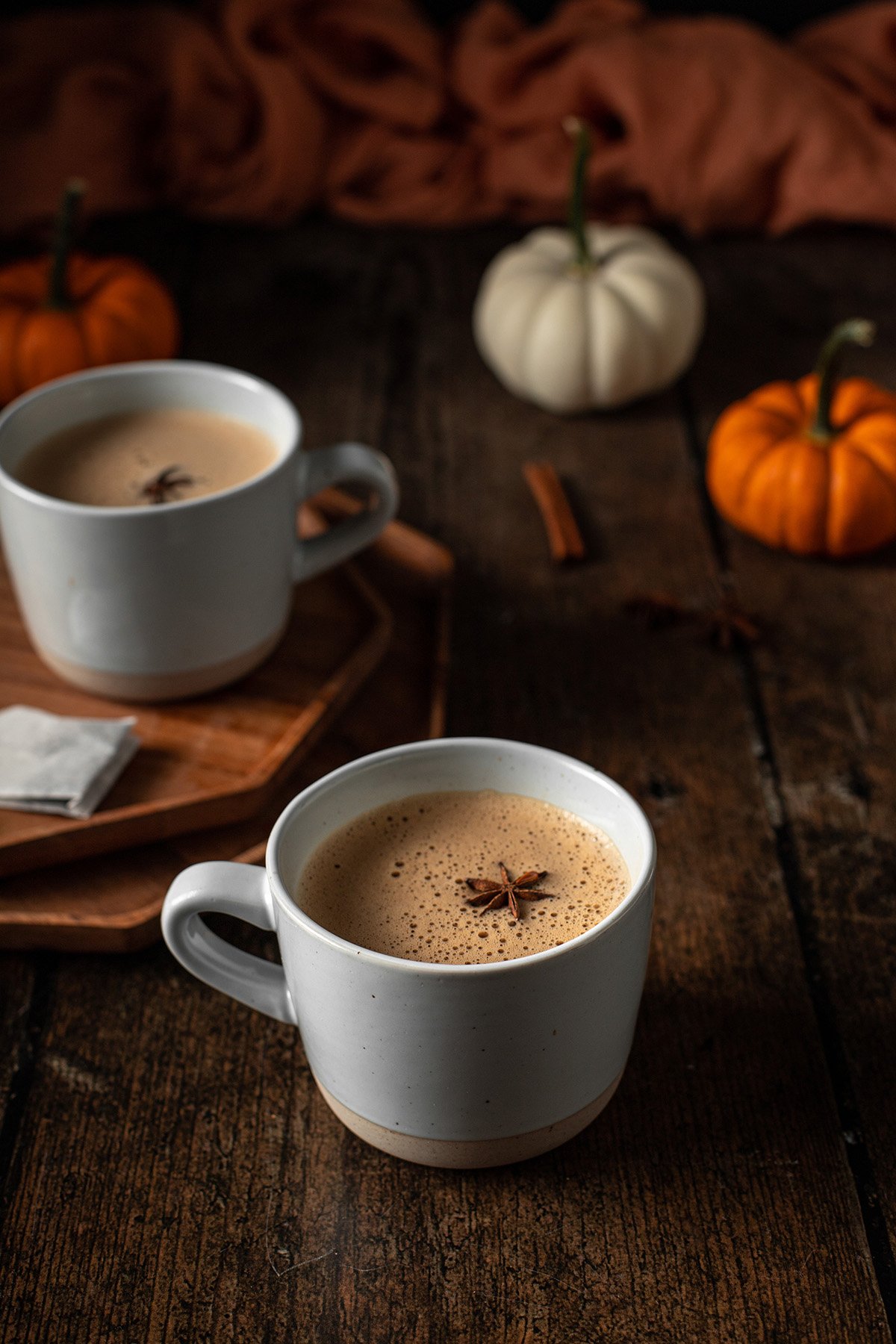 🔗 Other tea drinks
Looking for other tea-based drinks? Check out the photos and links below.
❓ FAQs/Tips and tricks
What's the difference between a chai latte and a dirty chai latte?
A dirty chai latte has espresso in it!
What if I don't have an espresso machine?
You have a couple of other options: You can use some really strong coffee (the next best choice) or instant espresso (not ideal, but could work in a pinch).
What kind of milk should I use?
I have used oat milk (my preferences is Oatly full fat), 2% cow's milk, and whole cow's milk to make lattes. All have worked well. Though I haven't tried it, I imagine that almond milk would work well, too.
What kind of tea should I use?
I'd recommend using black tea. Some options include Darjeeling, Assam, or even good old English Breakfast. You can use tea bags or loose leaf tea, depending upon your preference.
How do I froth this latte?
You can use a milk frother like this stick frother, or you can even use a French Press or a whisk! This post can tell you more.
Isn't it a Dirty Chai Tea Latte?
No, ma'am! It's. Dirty Chai Latte. Chai = tea. So when you say "chai tea" you're saying "tea tea."
Will this taste like a Dirty Chai Latte that I can get at Starbucks?
Yep! It should taste pretty darn close to the Starbucks version.
Can I make this ahead of time?
I'd recommend making a batch of the chai concentrate and storing it in the fridge. That way, whenever you're in the mood for a dirty chai latte, you can just heat up some of the concentrate, milk, and a little espresso.
I'd love to know what you thought of this recipe! Don't forget to leave a comment and ⭐️ star rating below!
✨ Recipe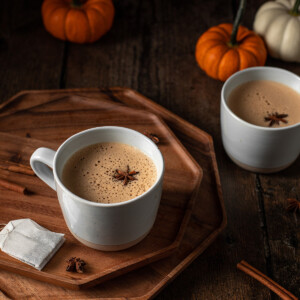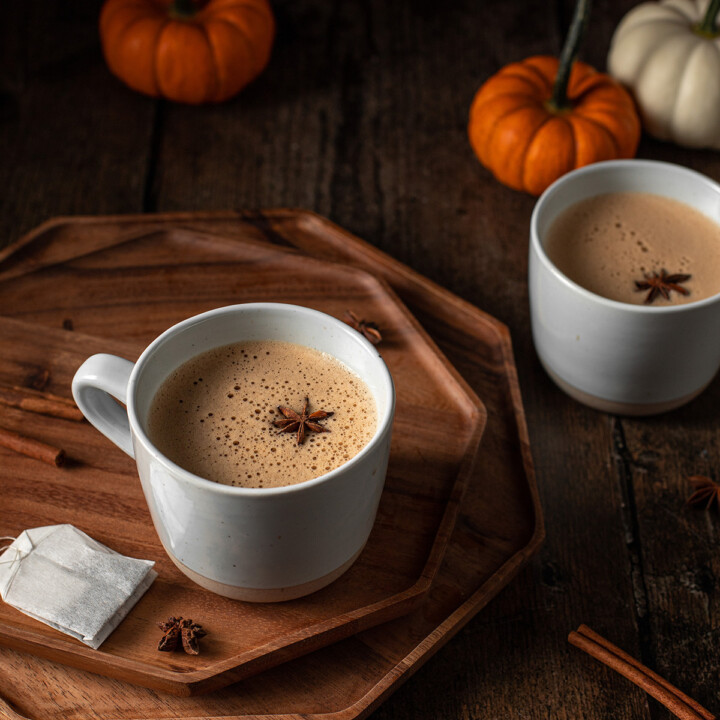 Dirty Chai Latte
This Dirty Chai Latte is sweet, spicy, and has a caffeinated kick! Rich espresso is added to a classic chai latte to create a super cozy treat.
Ingredients
For the Chai Concentrate
2

cups

water

¼

cup

sugar

1

cinnamon stick

1

star anise

½

teaspoon

black peppercorns

5

whole cloves

5

cardamom pods

lightly crushed

½

inch

fresh ginger

peeled

4

bags black tea
For the Latte
2

cups

milk

8

shots espresso

star anise

for garnish (optional)
Instructions
Bring the water, sugar, and spices to a boil in a medium-sized saucepan over medium heat. Once it boils, turn the heat down and allow everything to simmer for 10 minutes.

Turn off the heat and add the tea. Allow the tea to steep for 20 minutes.

Strain out the solids and either use immediately or store the chai in the refrigerator.

Combine the chai and milk and heat to the desired temperature, if needed.

Brew espresso and add hot espresso to the chai and milk.

Froth with a milk frother until the top is nice and frothy.

Divide the latte evenly between 4 mugs. Garnish with a star anise, if desired.
Notes
Very strong coffee can be used in place of espresso
Use whatever milk that you prefer
Nutrition
Serving:
1
Calories:
122
kcal
Carbohydrates:
21
g
Protein:
4
g
Fat:
3
g
Saturated Fat:
2
g
Polyunsaturated Fat:
1
g
Cholesterol:
10
mg
Sodium:
75
mg
Sugar:
19
g
Disclaimer: Nutritional information is a generated estimate and is not guaranteed to be accurate.