Cold Brew Iced Tea is incredibly easy to make and results in a very smooth and sweet iced tea!
It's made by the pitcher, so there's plenty to go around. You can also sweeten it and flavor it however you'd like. Make it your own!
For instance, this recipe serves as a base for my Raspberry Iced Tea and Peach Iced Tea.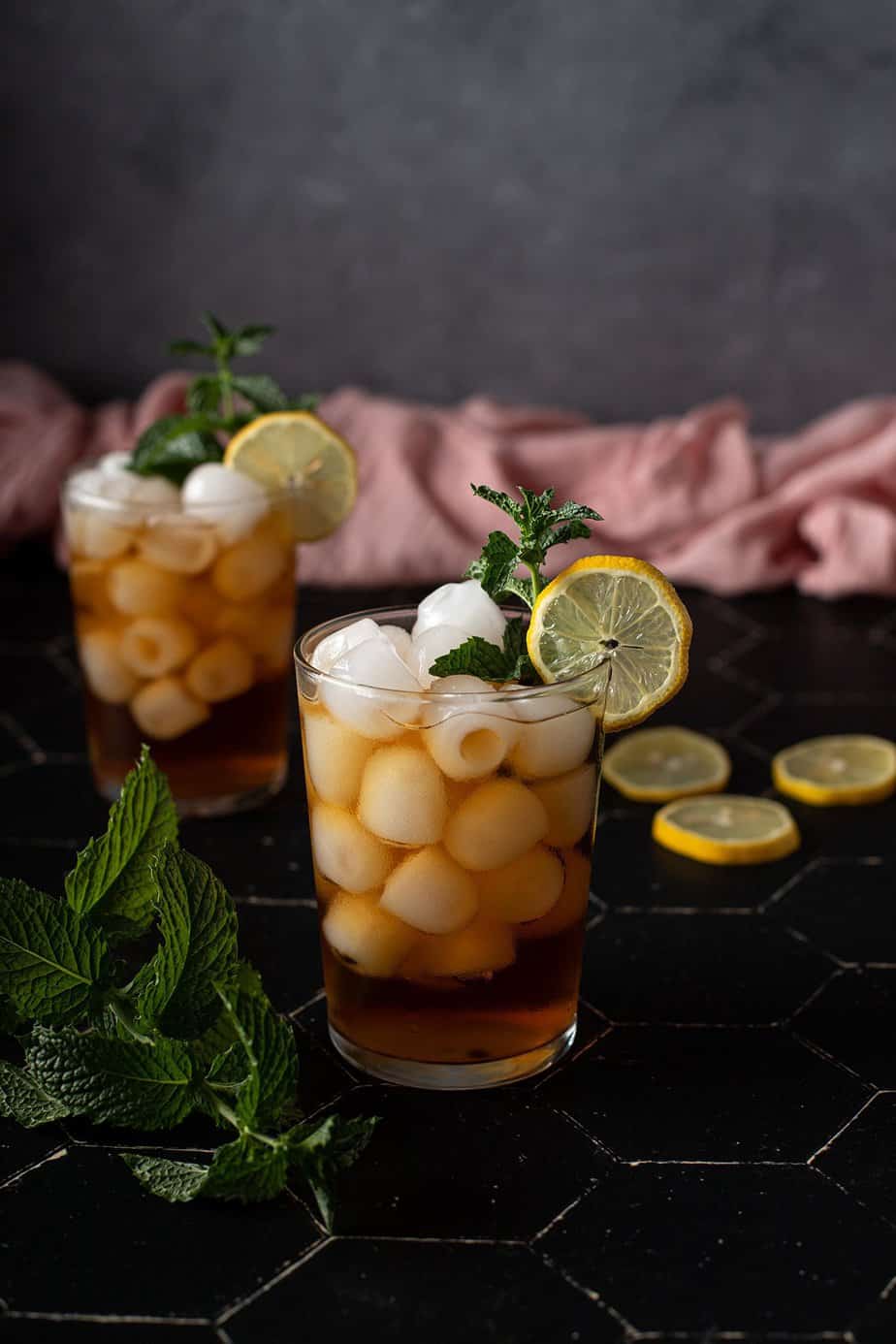 Jump to:
🌟 Why You'll Love This Recipe
It makes a big batch. This recipe makes an entire pitcher of cold brew iced tea, so you'll have plenty!
This recipe is almost entirely hands-off. Seriously. The only work that you have to do is dropping some tea bags into water, and then scooping them out after the tea has brewed.
You can sweeten and flavor this tea any way that you like! If you like your iced tea to be sweet, you can use any kind of sweetener in any sort of flavor that you'd like.
💭 What is Cold Brew Iced Tea?
Conventionally, iced tea is made by first steeping tea in hot water, then cooling it down and serving it over ice. Cold brew iced tea, on the other hand, is iced tea that is allowed to steep slowly in cold water in the refrigerator.
💭 Why use cold brew to make iced tea?
Cold brewing results in a super smooth and sweet iced tea. This is because tea contains tannins--which are bitter--that aren't able to steep out of the tea in the cold water like they do in hot water.
It's also a very easy method of making iced tea, and requires basically no active time for preparation. All you gotta do is plop some tea bags into a pitcher of water and let them do their thing in the fridge.
So, basically, if you want a very smooth, non-bitter, pitcher of iced tea, with preparation that's essentially hands-off, cold brewing is the right method for you.
Cold brew vs. sun tea
Remember sun tea? I have memories of my mom making it in like, the '90s.
Sun tea is made by placing tea bags and water in a clear (preferably glass) container and allowing the tea to steep in the sun. Because it, like cold brew tea, doesn't require the use of boiling (or near-boiling) water, and therefore doesn't result in the release of the tannins in tea, it also results in a less bitter and more smooth iced tea.
Cold brew iced tea is safer than sun tea
However, because sun tea is made in the sun--rather than with boiling water like conventional tea or in the refrigerator like cold brew iced tea--the tea is won't ever get very hot during the steeping process. This is important to keep in mind, because bacteria tend to really thrive in temperatures between 41 and 135 degrees Fahrenheit (they call it "the danger zone!").
So, since sun tea won't exceed 135 degrees in the sun, and it obviously isn't going to get colder than 41 degrees, there's the real possibility that you'll end up with bacterial growth in your sun tea.
Because of this, cold brewing (which is done in the fridge at temperatures below 41 degrees) your iced tea is also a safer option than making sun tea!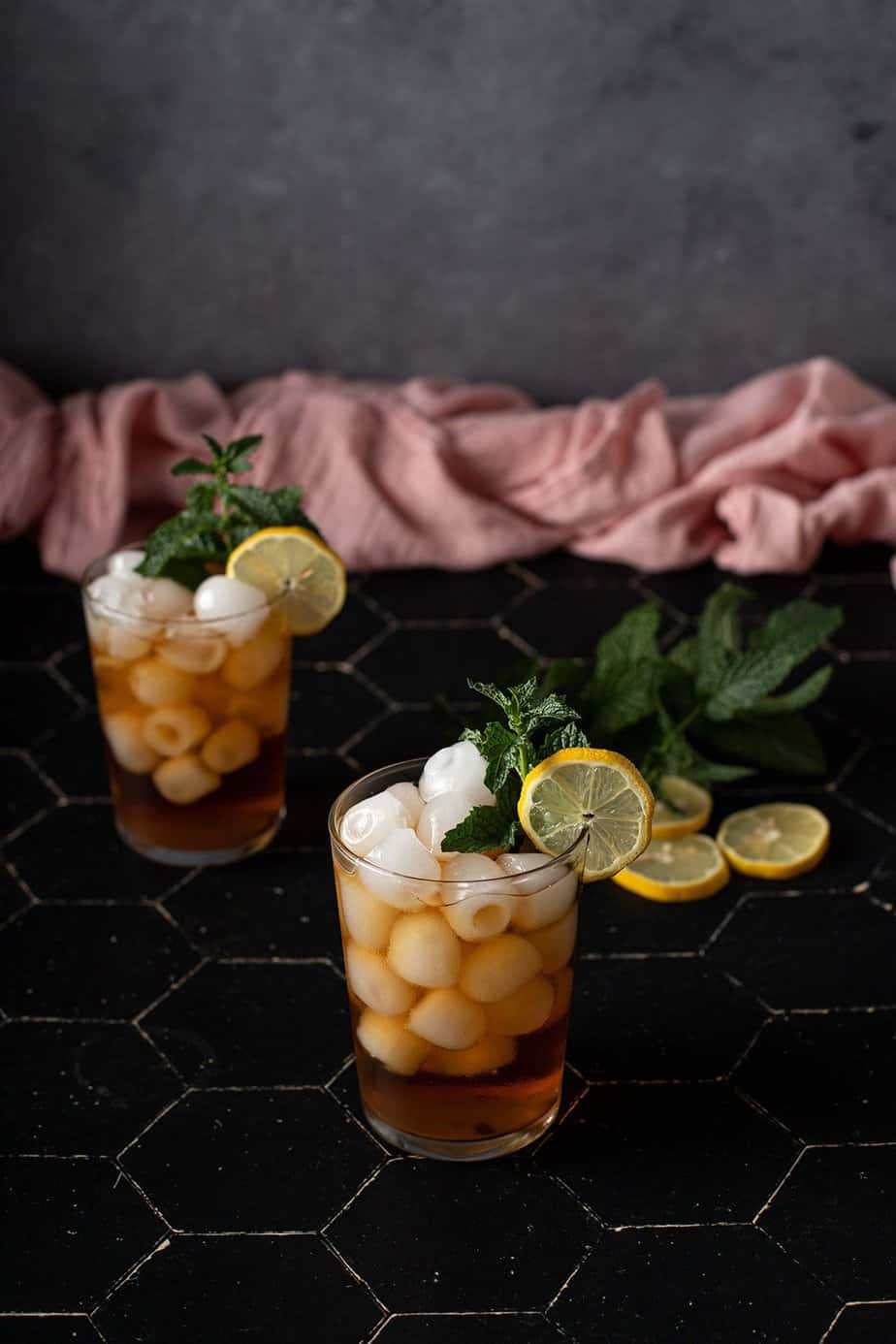 📝 Ingredients
You only need TWO ingredients to make this iced tea! Well, three if you use a sweetener. But still, very few ingredients are required.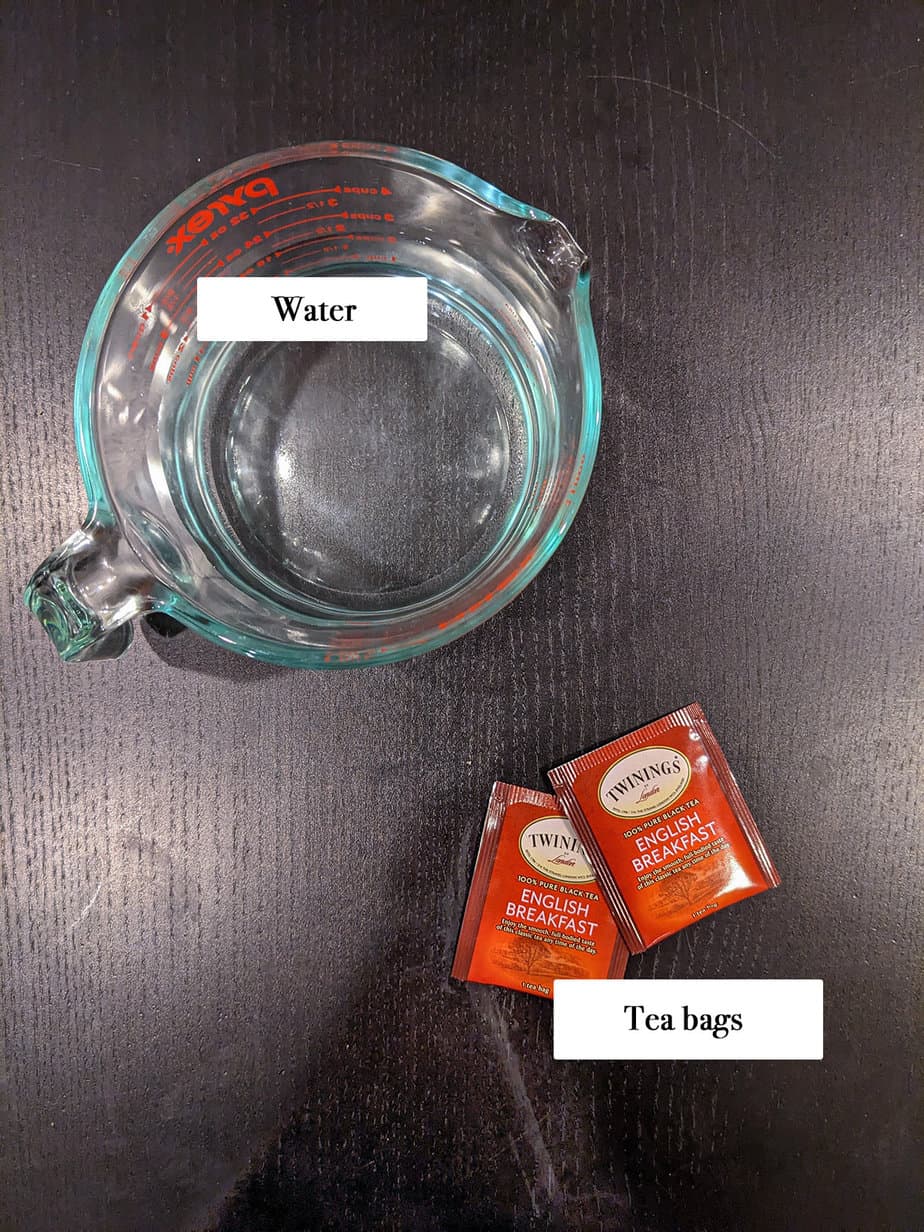 Water: Plain water will do. I'm partial to the filtered water that comes out of our refrigerator, but use whatever you want and like.
Tea: I used black tea (English breakfast) to make this iced tea. But you can use whatever sort of tea that you prefer! I've also made green tea using this method and it worked very well. For the sake of convenience, I also prefer to use tea bags, but you can use loose leaf tea, too.
You may also wish to sweeten your tea. Or not. You do you. If you choose to sweeten it, use whatever you prefer.
👩🏻‍🍳 How to make Cold Brew Iced Tea
Just like homemade cold brew coffee, making homemade cold brew iced tea is a snap! The only difficult thing about it is needing to wait a while for it to do its thing before you can drink it.
All you need to do is fill a pitcher with your desired amount of water. I used 8 cups (or 64 ounces) of water. This is a personal preference, but I also really like to use the filtered water that comes out of the dispenser in my refrigerator. I find that, despite our tap water generally being high quality, using the filtered water results in a better tasting end product.
After that, add either your tea bags or loose leaf tea to the water in the pitcher. Regardless of which you use, make sure to submerge all of the tea into the water. This way it can begin steeping. Or cold brewing. You get it.
After that, all you need to do is stash your pitcher in the fridge for 12 hours.
Once those 12 hours are up, simply remove the tea bags or strain out the loose leaf tea and you have yourself a pitcher of cold brew iced tea!
Now, keep in mind that this is unsweetened iced tea. If you want a sweeter tea, you'll need to sweeten it. My preferred method for sweetening iced tea (or any cold drink, really) is to use simple syrup. Because it's a syrup, and not just raw sugar, you will have a sweet and perfectly liquid drink without any of the grittiness that sugar can impart to cold drinks (because sugar doesn't dissolve as easily into cold liquid). I have a variety of simple syrup recipes on this blog that would do nicely for this purpose.
From there, just serve your iced tea as desired. I like mine over ice with a fancy garnish or two.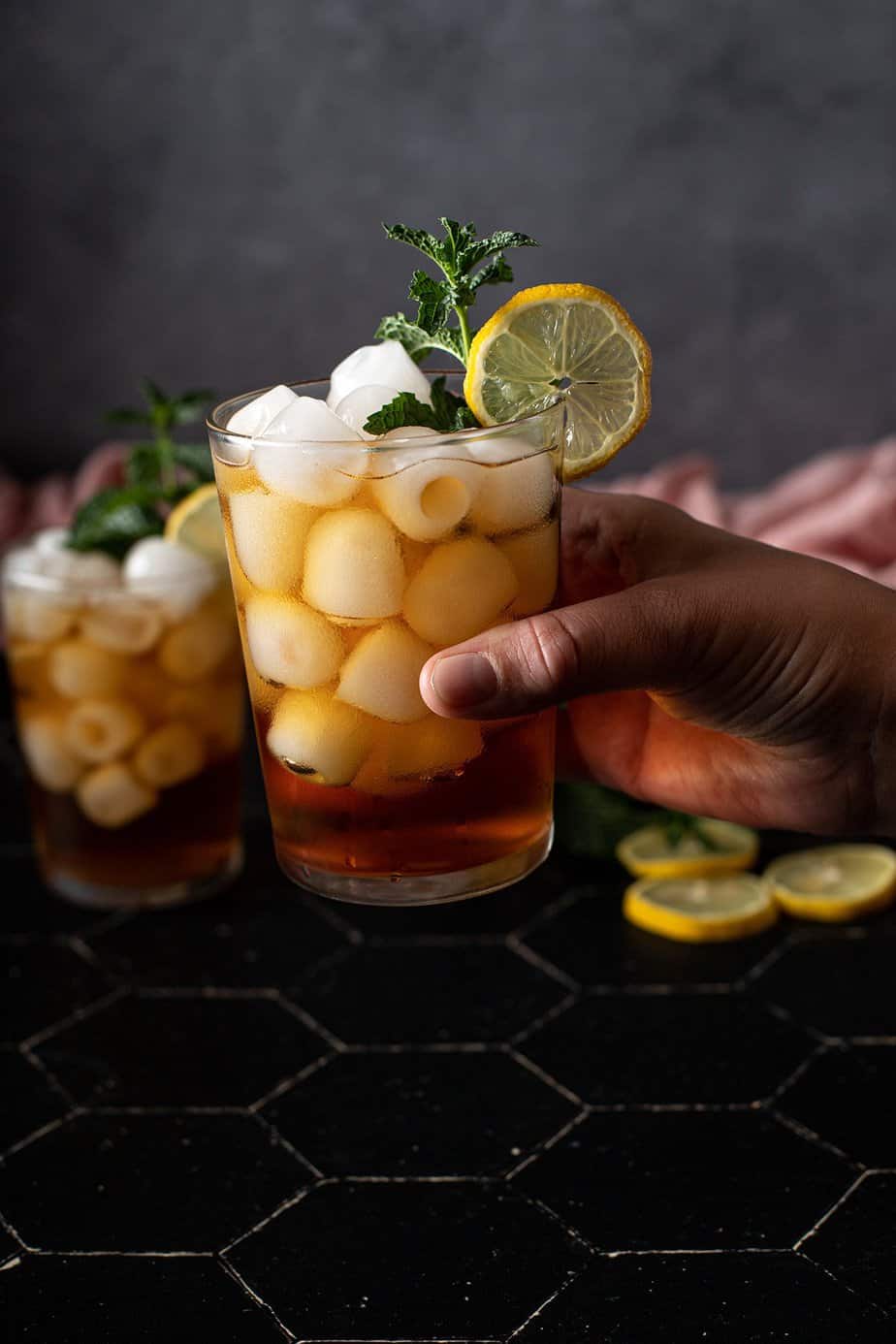 🔗 Other family-friendly drinks
❓ FAQs/Tips and Tricks
Can I use loose leaf tea instead of tea bags?
Yes. Just sub about 2 grams of loose leaf tea for every tea bag that you would have used.
What kind of tea should I use?
Whatever kind you like! I've made cold brew iced tea using black tea (English Breakfast) and green tea bags. Both have come out very well.
What if I want more or less tea?
Not a problem. Just make more or less! Use 1 tea bag (or 2 grams of loose leaf tea) for every 8 ounces of water that you want to use.
How should I sweeten this tea?
I prefer using simple syrup, as it will readily dissolve right into the cold liquid. Feel free to get creative and use a flavored simple syrup if you want to have a flavored iced tea.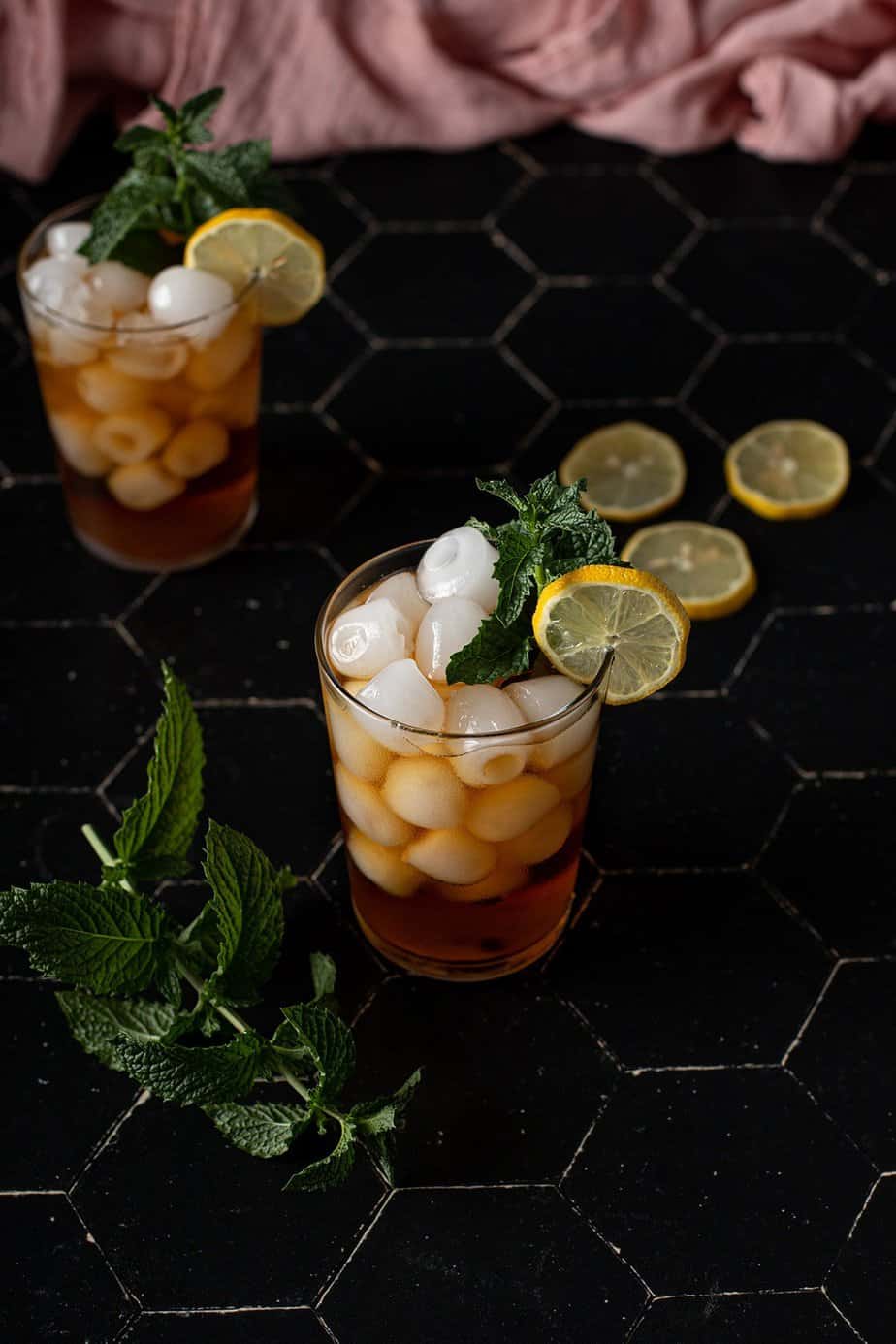 🖤 Share your creations and follow me on social media!
✨ Recipe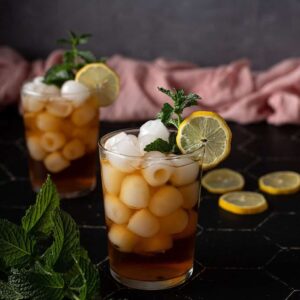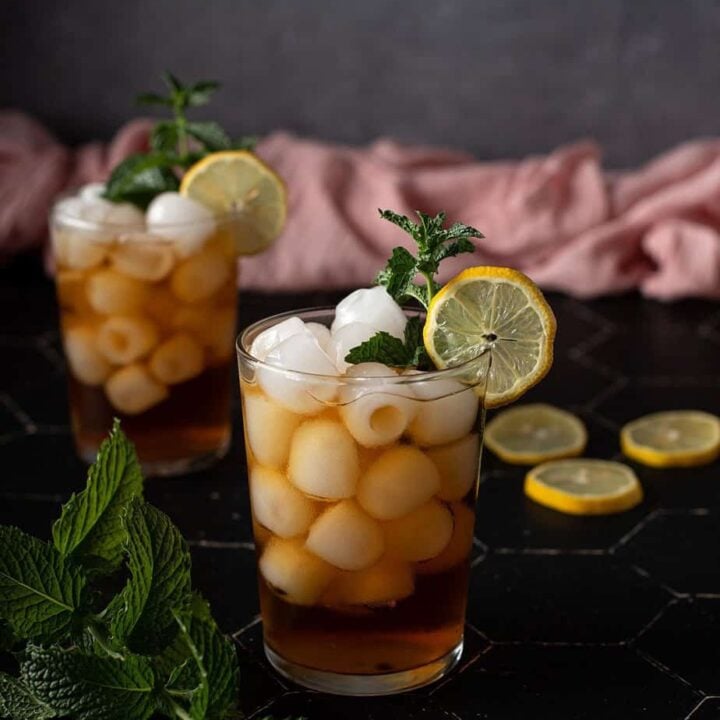 Cold Brew Iced Tea
Cold Brew Iced Tea is easy to make and results in a very smooth and sweet iced tea! Make it by the pitcher, so there's plenty to go around.
Ingredients
8

cups

water

8

tea bags

see notes

1

cup

simple syrup

optional, see notes
Instructions
Fill a pitcher or other large container with 8 cups of water.

Add the tea bags to the water, making sure to submerge them in the water.

Store the pitcher in the refrigerator for 12 hours.

Remove the tea bags and add simple syrup, if desired.
Notes
You can also use loose leaf tea instead of tea bags, depending upon your preference. 1 tea bag = approximately 2 grams loose leaf tea
My favorite way to sweeten iced tea is with simple syrup (flavored or unflavored), but you can sweeten your tea however you like. Or not at all!
Nutrition
Serving:
1
Calories:
113
kcal
Carbohydrates:
31
g
Sodium:
36
mg
Potassium:
27
mg
Sugar:
31
g
Calcium:
13
mg
Iron:
2
mg
Disclaimer: Nutritional information is a generated estimate and is not guaranteed to be accurate.
📌 Pin this recipe for later!