Combine club soda, flavored syrup, and cream to create an Italian Soda. This drink, sometimes called an Italian Cream Soda, is endlessly customizable and fun for the whole family.
Despite the name, this drink actually originated in the United States. In fact, the company that makes Torani syrups is potentially responsible for the popularity of these beverages. Regardless of who popularized it, there's no denying that they're completely delicious.
Kids and adults alike will be enamored with these Italian Sodas. They're cool, sweet, and refreshing. Plus they look fancy as heck. Mix up one or two consider putting together an Italian Soda bar for a party or other gathering! Guests will have a blast creating their own impressive-looking and delicious concoctions.
Looking for more kid-friendly drinks? Try my Roy Rogers Drink or Ocean Water!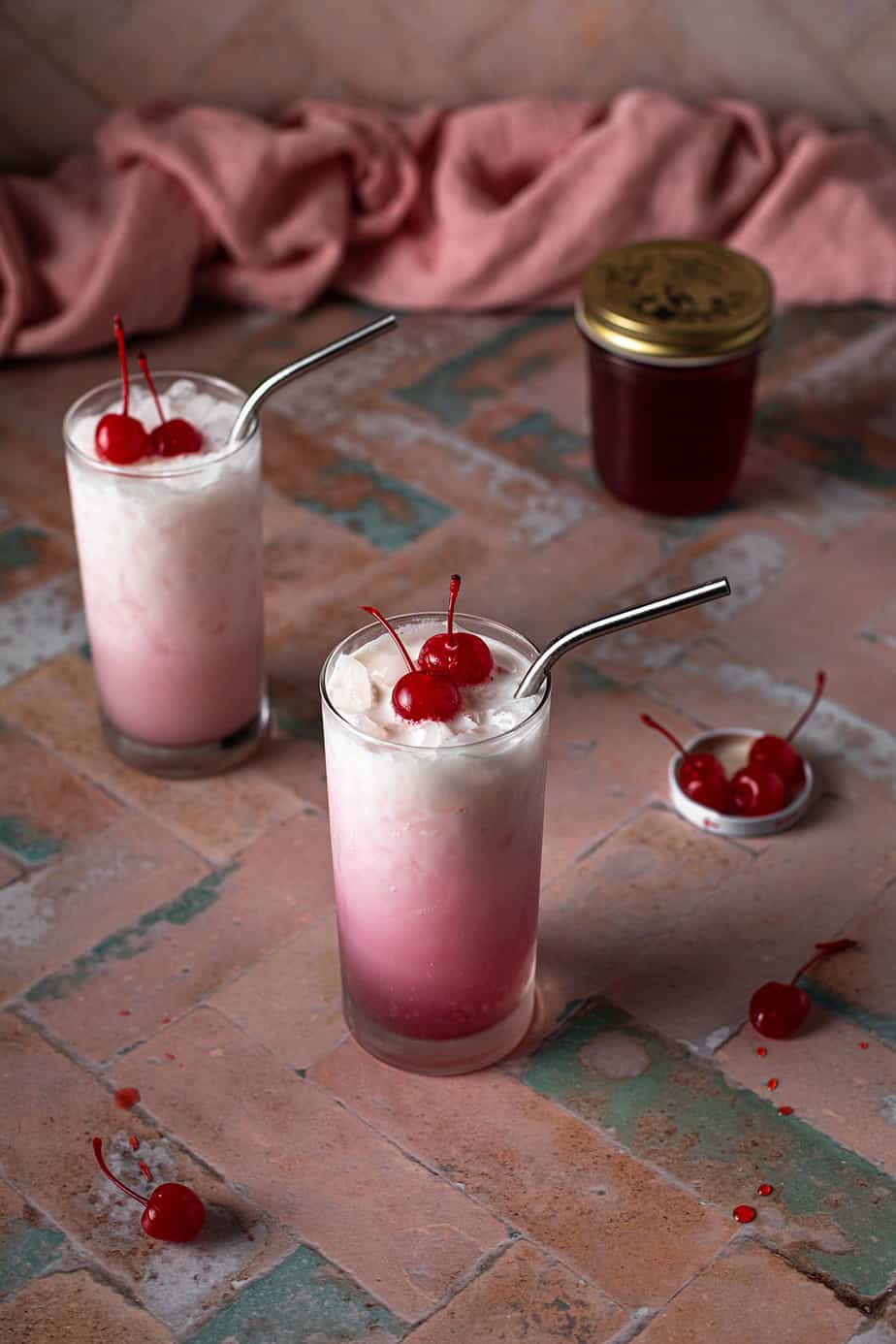 Jump to:
🌟 Why You'll Love This Recipe
It's easy to make. All you need to do is pour a small handful of ingredients into a glass with ice!
It is sweet and creamy. It's a delicious combination.
Kids and adults can enjoy it. It's a kid-friendly drink, but the big kids will love it, too.
💭 What is Italian Soda?
An Italian Soda is a non-alcoholic beverage that's made with carbonated water and flavored syrup. Cream is another common ingredient.
As mentioned above, despite the moniker, Italian Sodas are an American invention. It's believed that they originated in San Francisco, California and were brought to popularity by the company that makes Torani syrups.
📝 Ingredients
Club soda: You want to use a flavorless carbonated water. Your options include things like seltzer, sparkling mineral water, sparkling water, and club soda. Avoid tonic water, please, as it will be quite bitter. I'd probably avoid mineral water, too, as it sometimes comes with pretty pronounced mineral-y flavors.
Flavored syrup: One of the cool things about these Italian Sodas is that you can use pretty much whatever flavor of syrup that you like. Choose your own adventure! I used my homemade cherry simple syrup.
Heavy cream: I know that the inclusion of heavy cream makes it sound like this drink is going to be super heavy and decadent. You don't use much, though. Just enough to make it a bit creamy.
Garnish: Since I made my Italian Soda with cherry syrup, I garnished the drink with a maraschino cherry. I'd recommend using a bit of whatever you've flavored the drink with. You can also top it with whipped cream, if you're feeling a little extra!
👩🏻‍🍳 How to make Italian Soda
In addition to being really delicious and pretty, these Italian Sodas are very easy to make. Let's walk through the steps!
Step 1
You'll start out with a tall glass filled with ice. Crushed ice, to be precise. If your ice maker doesn't have a crushed ice option, you can always put your ice cubes in a zip top bag and smash it up with a rolling pin or meat tenderizer.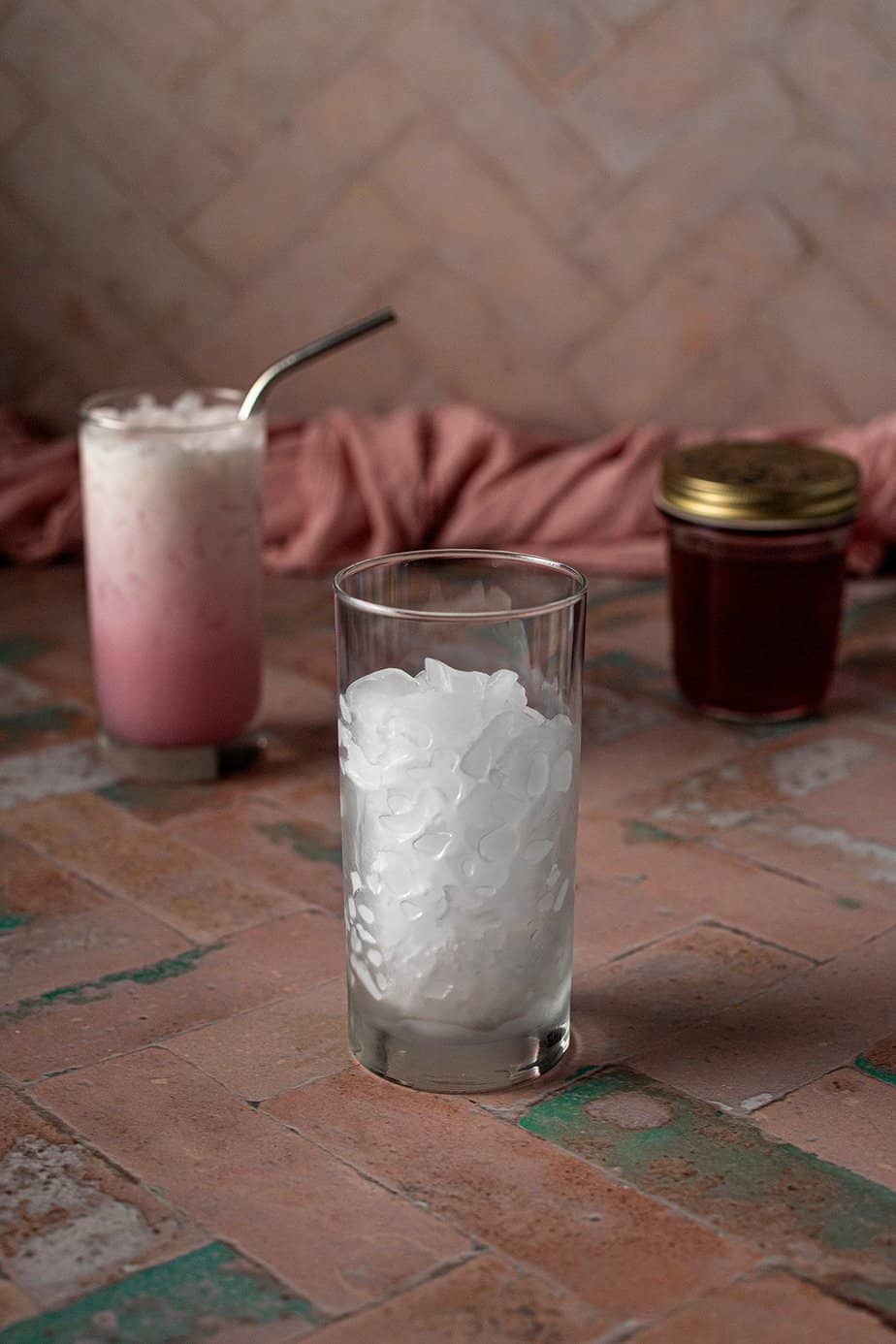 Step 2
Next, you'll fill your glass up most of the way with club soda.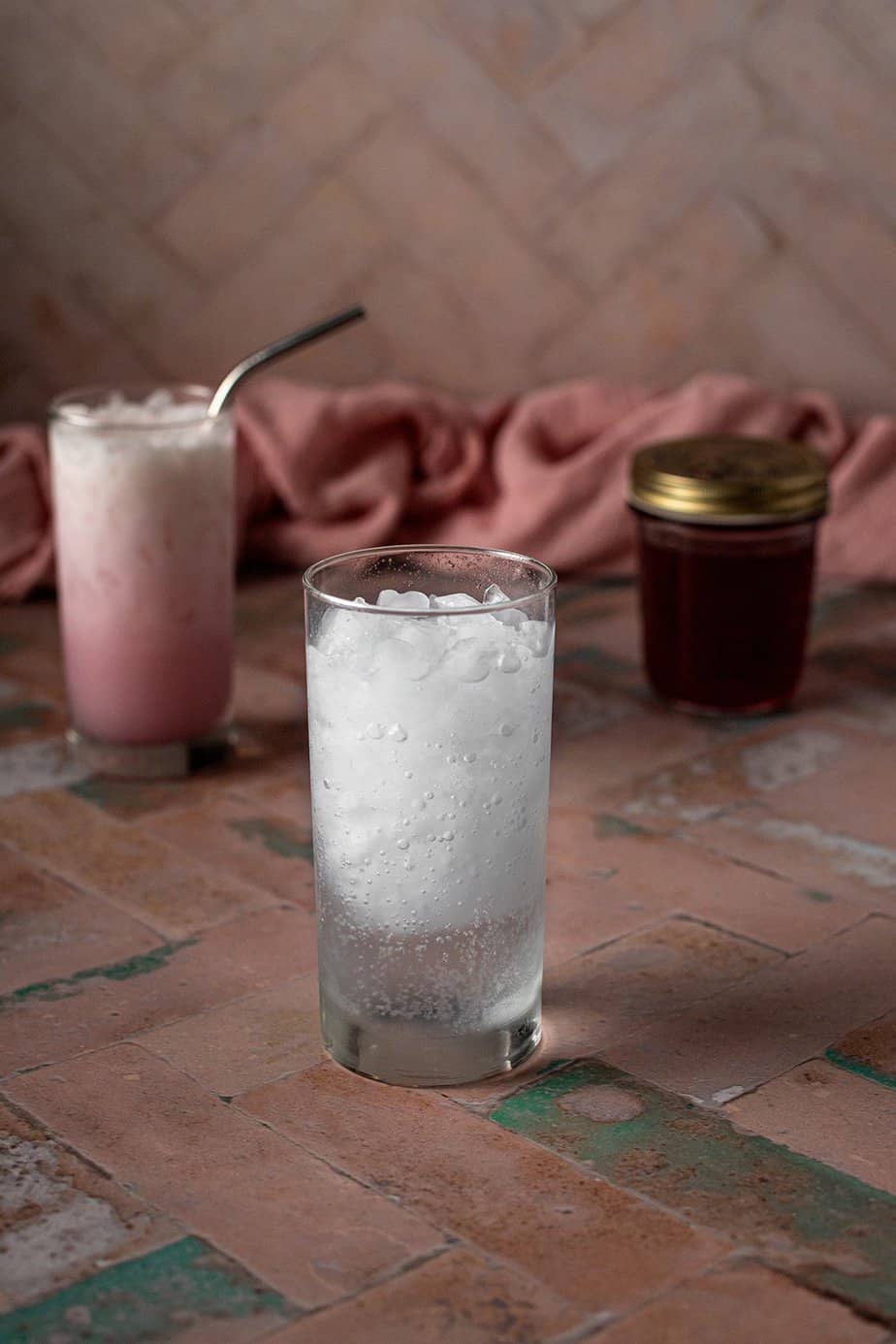 Step 3
After the club soda, you'll add a flavored syrup of your choice. I used my homemade cherry simple syrup. Look at that color!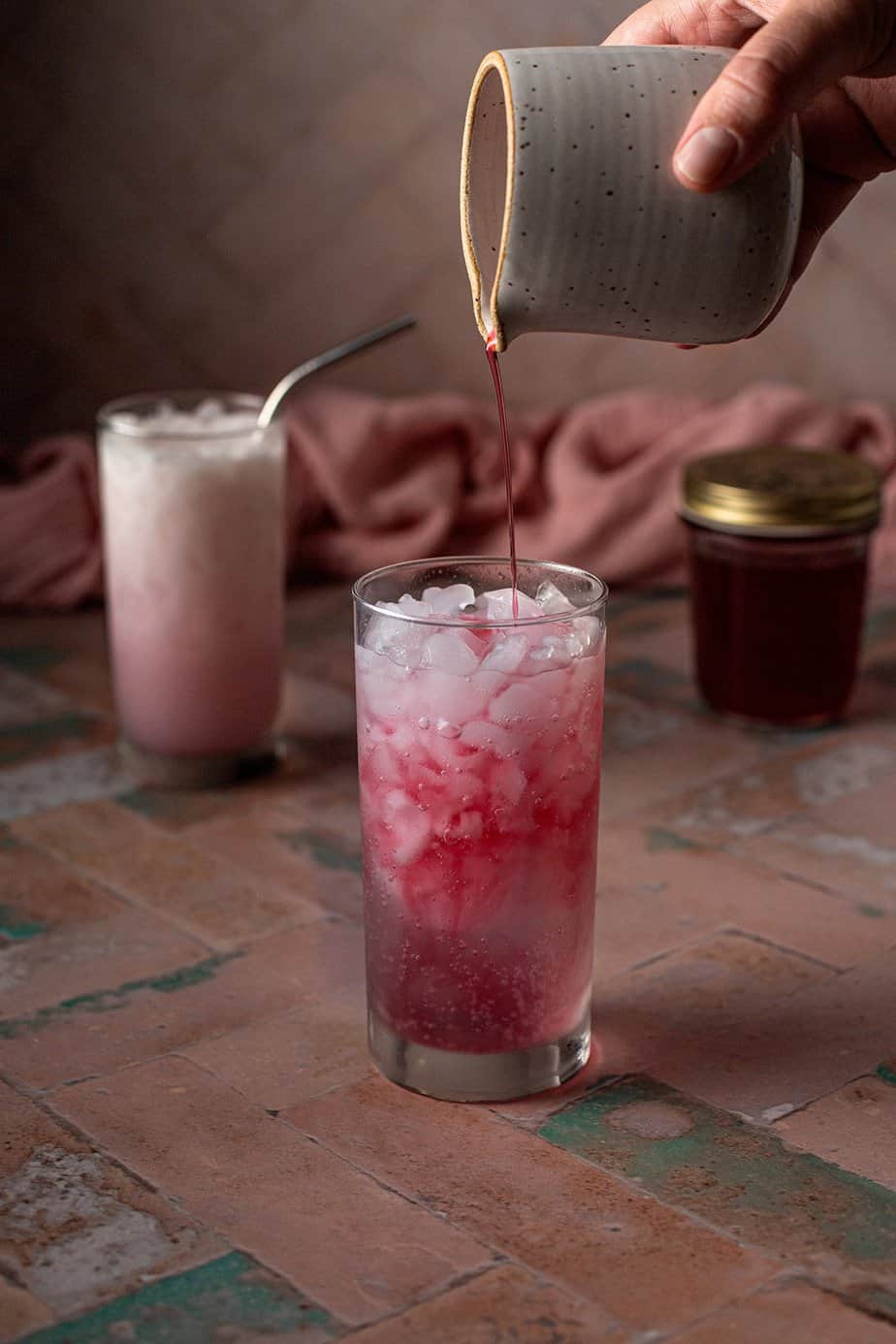 Step 4
Next comes the heavy cream. I know, decadent, right? You don't use much, though. Just enough to make this drink a little creamy.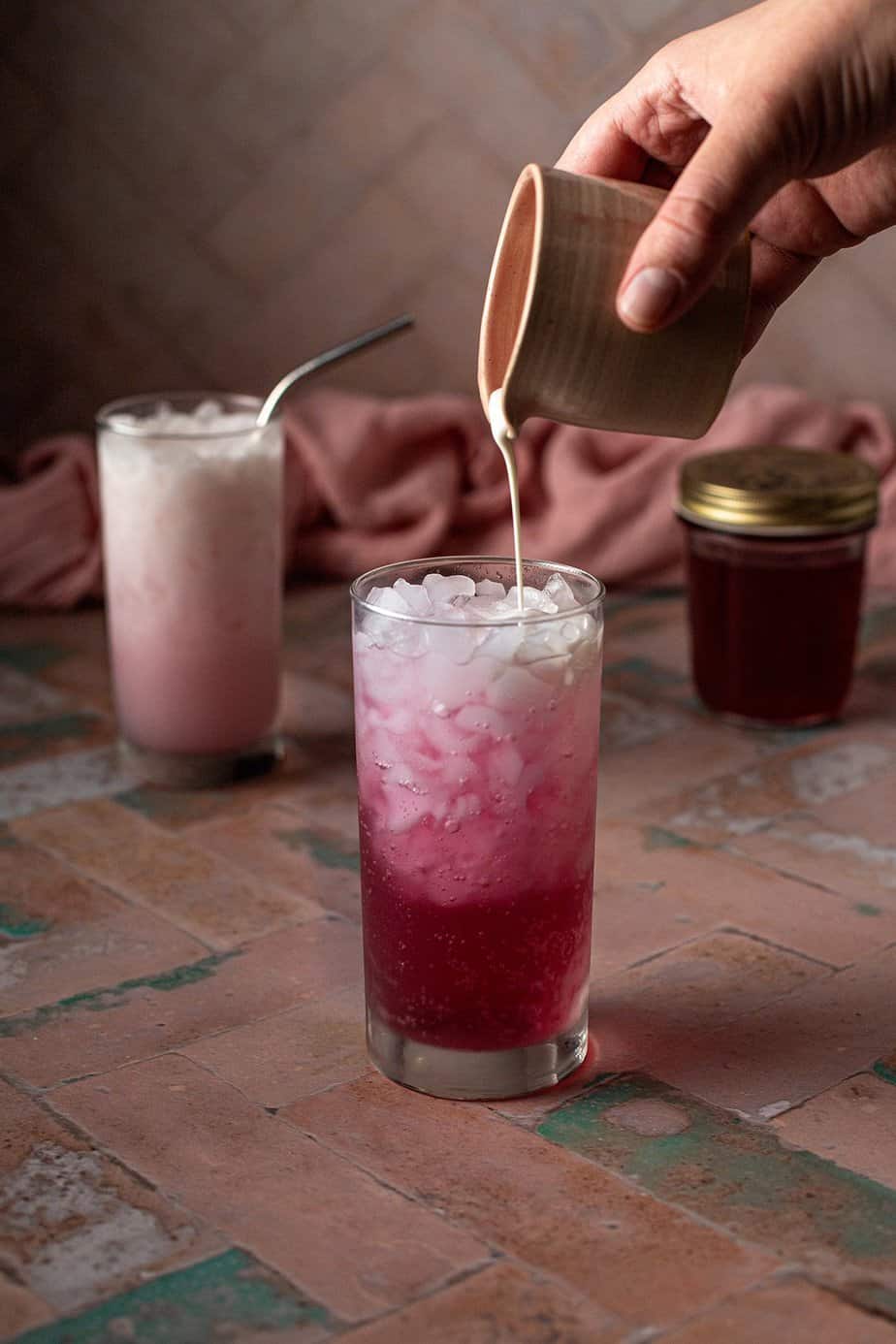 Step 5
The last thing that you need to do is garnish your drink! I think it makes a lot of sense to garnish with whatever flavor syrup you used. It lets whoever is drinking it know what the flavor is before they even take a sip. Plus, it just looks pretty.
Since I used cherry syrup, I plopped a couple of maraschino cherries on top of my Italian Soda.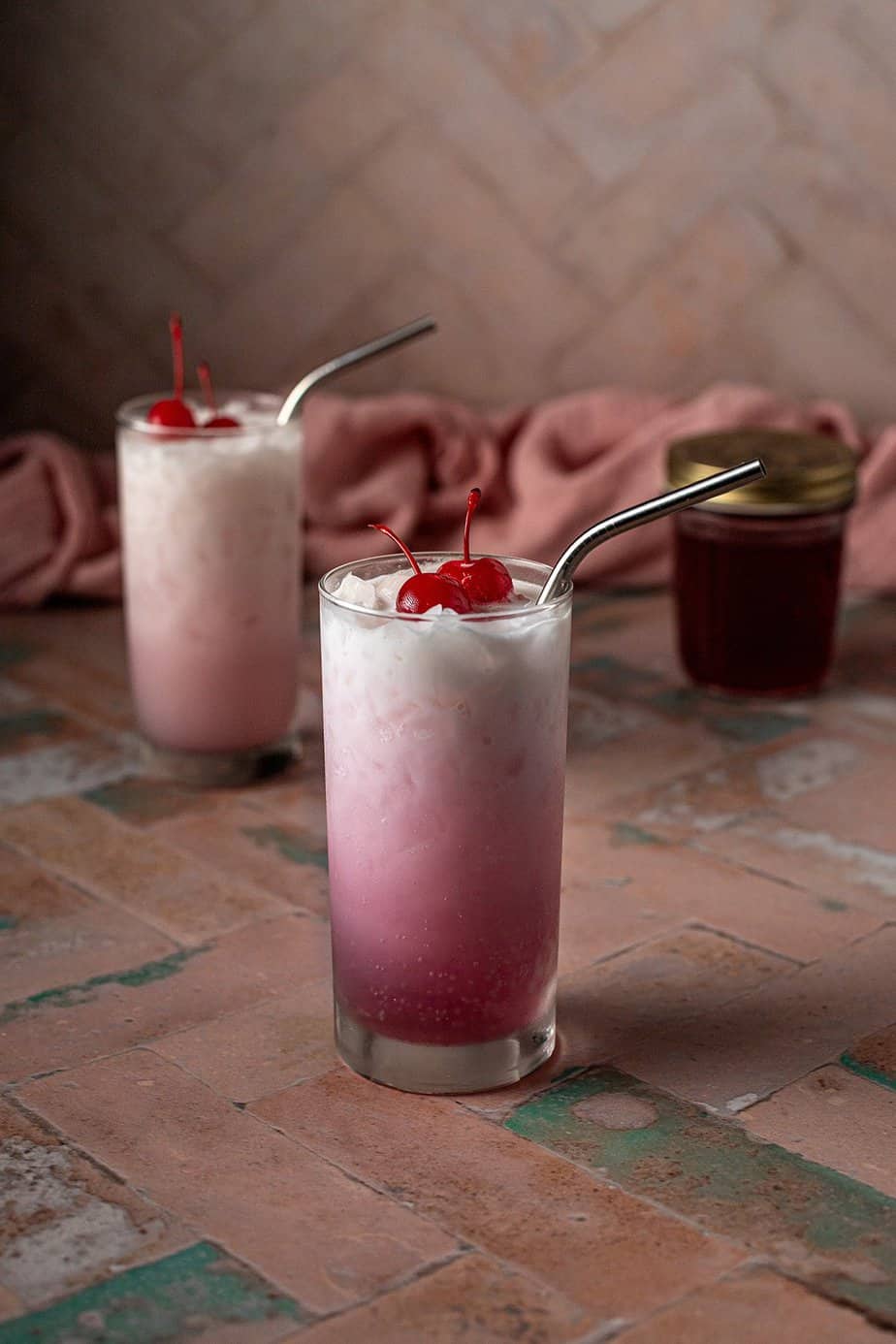 🔗 Other non-alcoholic drink recipes
Looking for more non-alcoholic recipes and drinks? Take a look through the photos and links below.
❓ FAQs/Tips and Tricks
Can I make this drink in different flavors?
Yes! Use whatever flavor of syrup that you'd like. The flavor possibilities are nearly endless.
Can I use store bought flavored syrup?
Yep! I tend to prefer using a homemade syrup, but there are store bought brands out there that will work very well. I really like Torani, and use their syrups in my coffee every morning.
Can I make a big batch of this drink?
You probably could, but I wouldn't recommend it. Given that they're made with club soda, and all of its bubbly goodness, you don't want to run the risk of the pitcher going flat if you make it too far in advance. Plus, like we talked about above, these drinks are so easy to make that you could totally put together an Italian Soda bar for you and your guests to assemble your individual drinks.
Can I make this drink dairy-free?
Yep! You could sub coconut milk for the heavy cream in a pinch.
🖤 Share your creations and follow me on social media
Subscribe to the A Nerd Cooks Newsletter to have updates sent straight to your inbox.

I love seeing when you share my recipes! Please tag me on Instagram @anerdcooks so I can enjoy them virtually with you! You can also find me on Pinterest, Facebook, YouTube, and Twitter.

I'd love to know what you thought of this recipe! Don't forget to leave a comment and ⭐️ star rating below!
✨ Recipe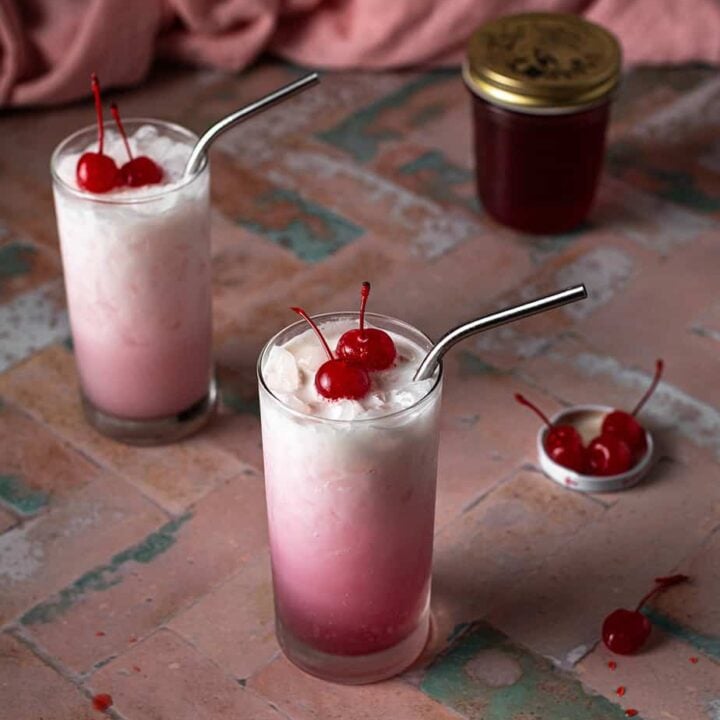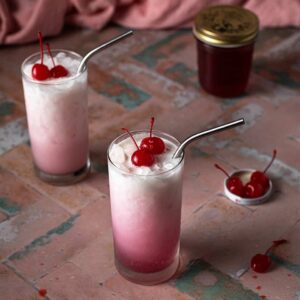 Italian Soda
Combine club soda, flavored syrup, and cream to create an Italian Soda. This drink is endlessly customizable and fun for the whole family.
Ingredients
8

ounces

club soda

1-2

ounces

cherry simple syrup

see notes

½

ounce

heavy cream

maraschino cherries

for garnish (optional; see notes)
Instructions
Pour the club soda into a tall glass over crushed ice.

Pour the flavored syrup into the club soda.

Pour the heavy cream into the glass.

Give the drink a gentle stir to combine the various ingredients.

Garnish with maraschino cherries, if desired.
Notes
You can use pretty much whatever flavor of syrup that you like.
Add 2 ounces of syrup if you want a sweeter drink.
Nutrition
Serving:
1
Calories:
675
kcal
Carbohydrates:
162
g
Protein:
1
g
Fat:
6
g
Saturated Fat:
3
g
Polyunsaturated Fat:
2
g
Cholesterol:
17
mg
Sodium:
10
mg
Fiber:
1
g
Sugar:
159
g
Disclaimer: Nutritional information is a generated estimate and is not guaranteed to be accurate.
📌 Pin this recipe for later!