The sweet flavor and beautiful vibrant color make this Cherry Simple Syrup the perfect addition to your cocktails, mocktails, and more.
Looking for more flavored syrup recipes? Try my Raspberry Simple Syrup and Blueberry Simple Syrup recipes!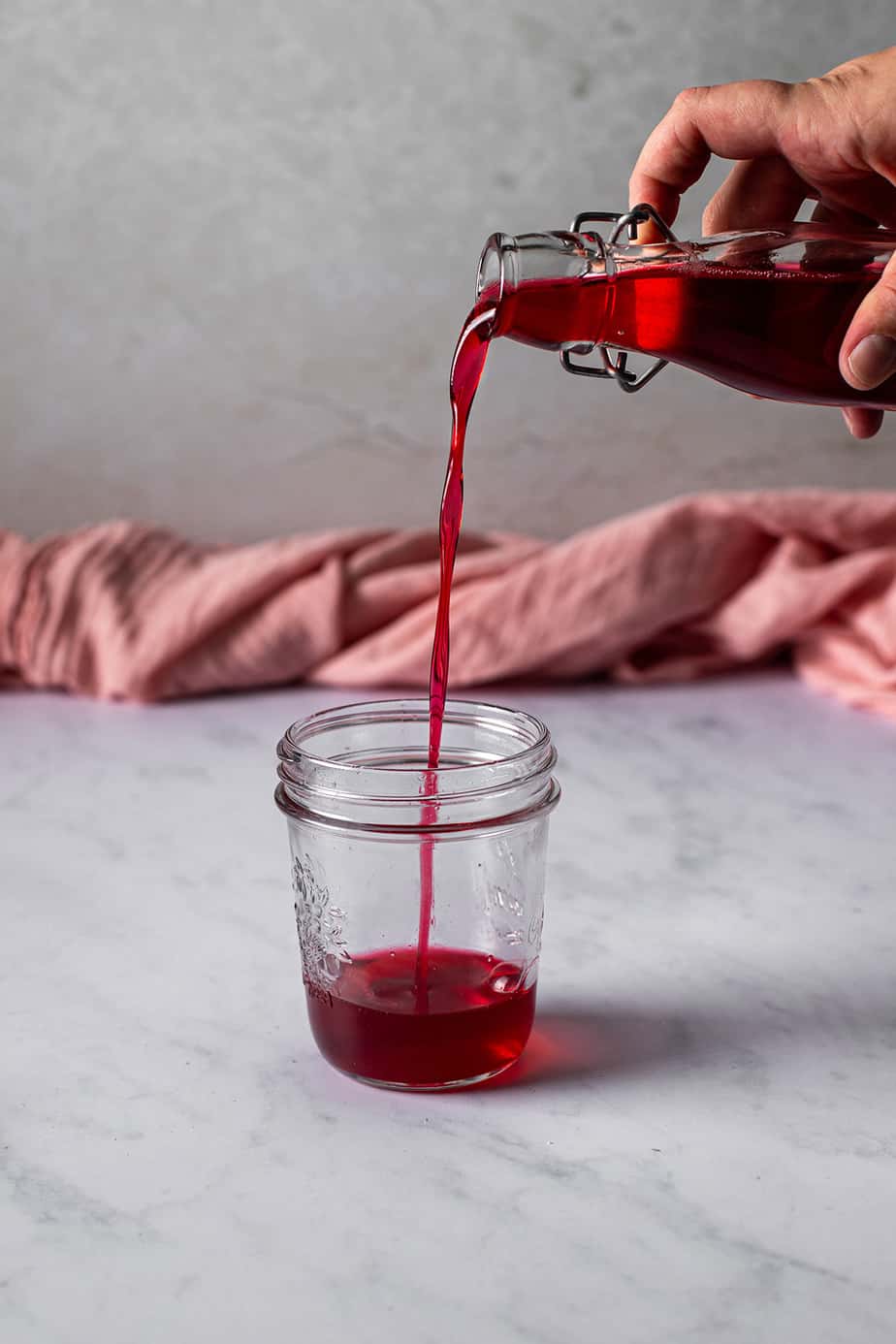 Jump to:
🌟 Why You'll Love This Recipe
It's easy to make. If you can simmer water, you can make this recipe.
It only requires three ingredients. Water, sugar, and cherries. That's it!
It is a delicious addition to drinks. I love to add this syrup to my cocktails and mocktails.
💭 What is Cherry Simple Syrup?
For starters, simple syrup is a syrup that's made when water and sugar are heated and whisked until the sugar is completely dissolved into the water, resulting in a sweet syrup.
Cherry simple syrup is just simple syrup that has been infused with the flavor and gorgeous color of cherries. It can then be used to sweeten and provide vibrant color to pretty much any beverage you'd like.
📝 Ingredients
You only need THREE ingredients to make this cherry syrup.
Water: Just plain old water.
Sugar: I used white granulated sugar. You can use brown sugar or demerara sugar, if you want. But keep in mind that it will change the flavor profile and color of the simple syrup.
Cherries: You can use fresh OR frozen cherries! That's good news if you want to make this simple syrup when cherries aren't at their peak.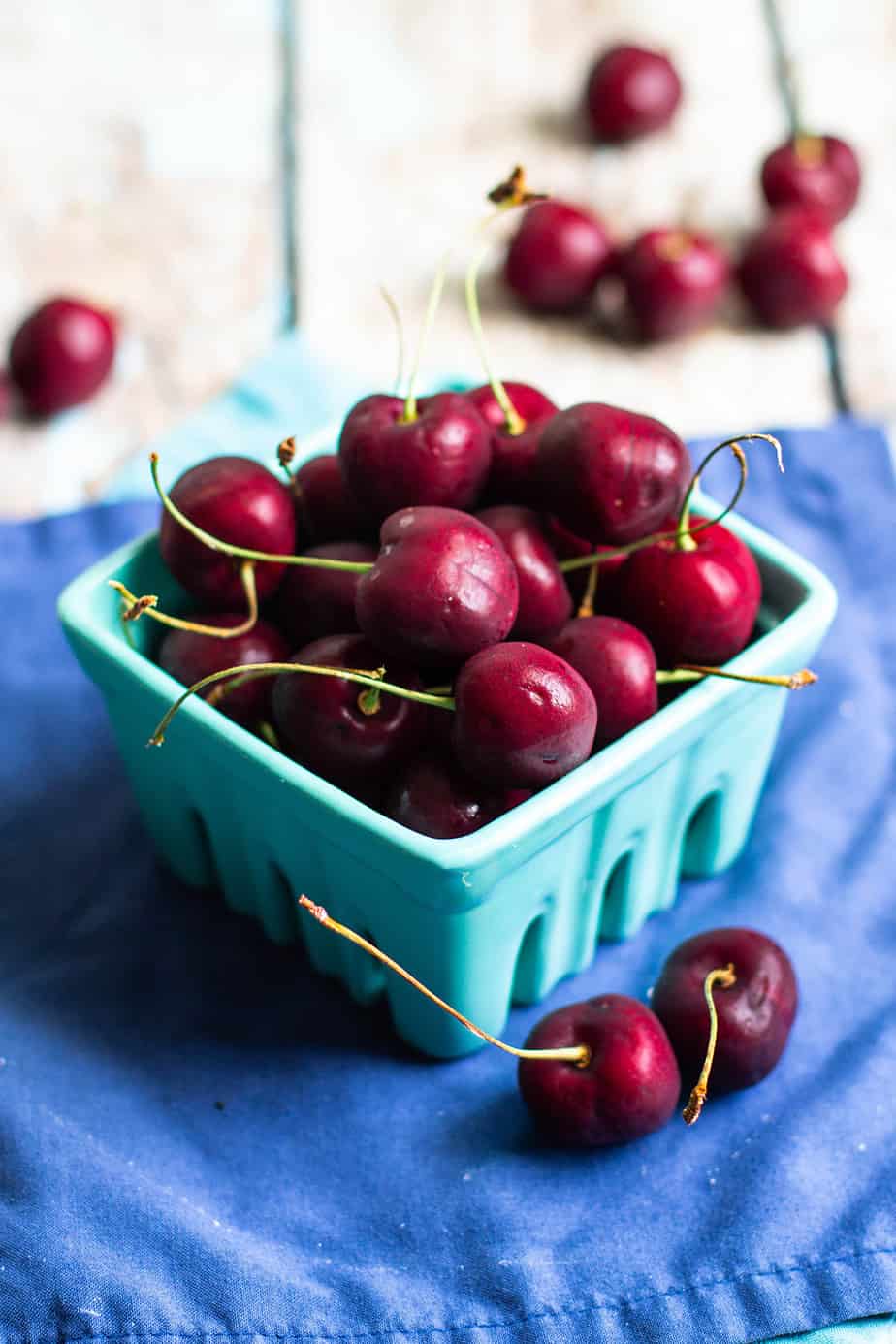 👩🏻‍🍳 How do you make Cherry Syrup?
It's all very, well, simple! Before you know it, you'll have a beautiful, sweet flavored syrup to sweeten all of your beverages.
If you're planning to use fresh cherries, start out by pitting them and removing the stems. Slice them in half, if you'd like.
If you're using frozen cherries, get them out of the freezer. Regardless of whether you're using fresh or frozen fruit, set the cherries aside for a few minutes.
Add your sugar and water to a heavy-bottomed saucepan and give it a whisk to combine everything. Turn the heat to medium and bring the sugar/water mixture to a boil. Once the sugar is completely dissolved into the water you have plain simple syrup!
Knock the heat back a bit until the simple syrup is simmering. Add the cherries to the simple syrup and simmer for about 10 minutes, giving everything a whisk on occasion.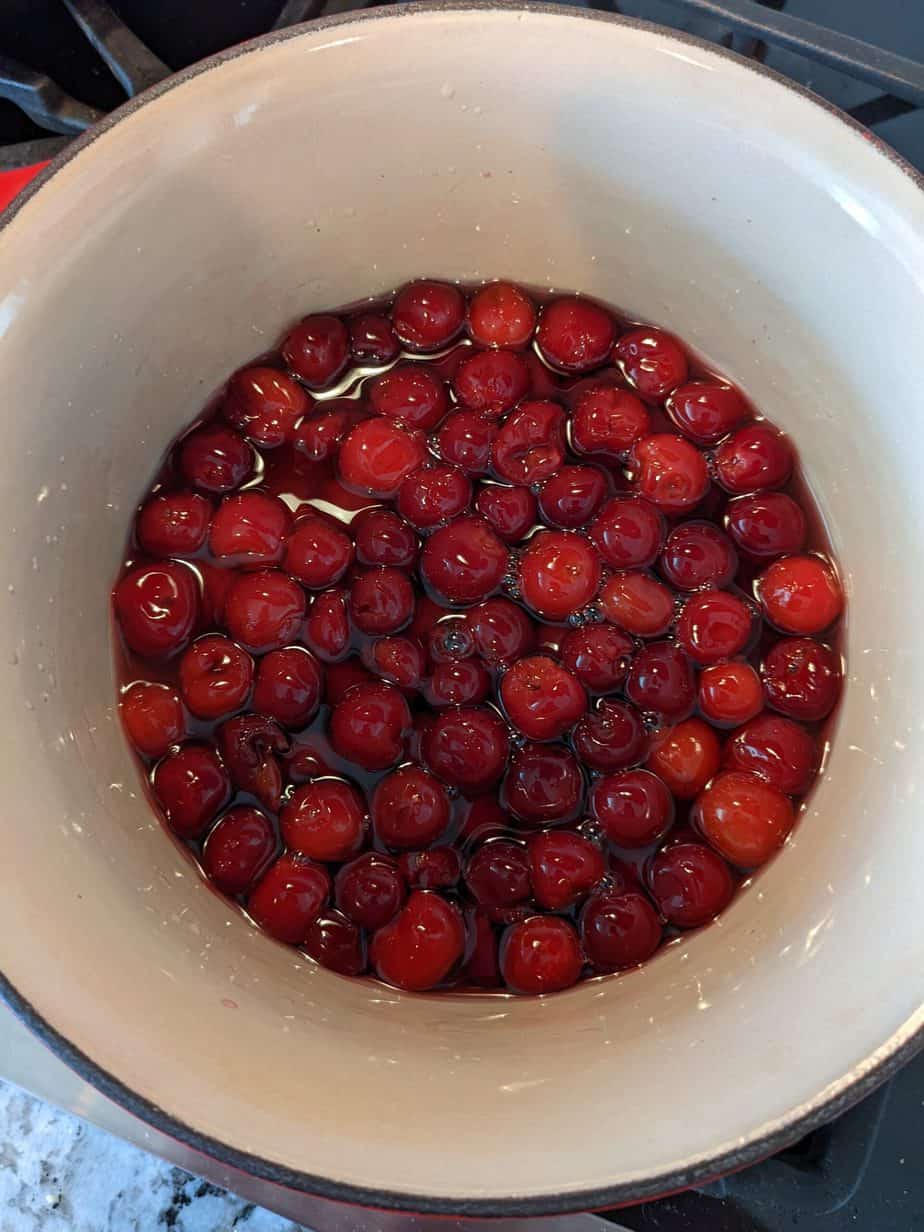 As soon as I saw the color of these tart cherries, I knew that the simple syrup was going to turn out to be a beautiful color.
Allow the infused simple syrup to cool completely before straining the simple syrup into an airtight container. I usually like to keep mine in a little swing top bottle, but also sometimes use a Mason jar or other similar glass jar.
🔗 Other simple syrup recipes
Looking for more flavored syrup recipes? Take a look at the photos and links below for more inspiration.
🛠️ What should you make with this simple syrup?
You can use this simple syrup to sweeten a wide variety of drinks!
I recently shared this Blueberry Lemonade with you all. It's made with blueberry simple syrup, but you could easily swap that for this cherry syrup and have a cherry lemonade! Flavored iced tea is another option that comes to mind.
You can also use it to sweeten cocktails, of course. Think: margaritas, mojitos, daiquiris... The list goes on. Might I suggest my Cherry Vodka Sours and Italian Sodas?
❓ FAQs/Tips and Tricks
Does simple syrup go bad?
Yep, sadly, it does go bad. It should last about a week or two in the fridge if stored properly in an airtight container.
How long does simple syrup last?
About a week or two if stored in an airtight container. You can prolong the shelf life a bit by adding about half an ounce of vodka to the syrup.
Does simple syrup need to be refrigerated?
Yes, it needs to be refrigerated. Make sure to stash it in the fridge in an airtight container.
Can I use frozen cherries?
Yes! I actually used frozen cherries to make this syrup because my grocery store didn't have any fresh cherries in stock when I wanted to make this simple syrup.
🖤 Share your creations and follow me on social media
✨ Recipe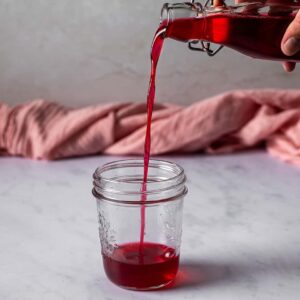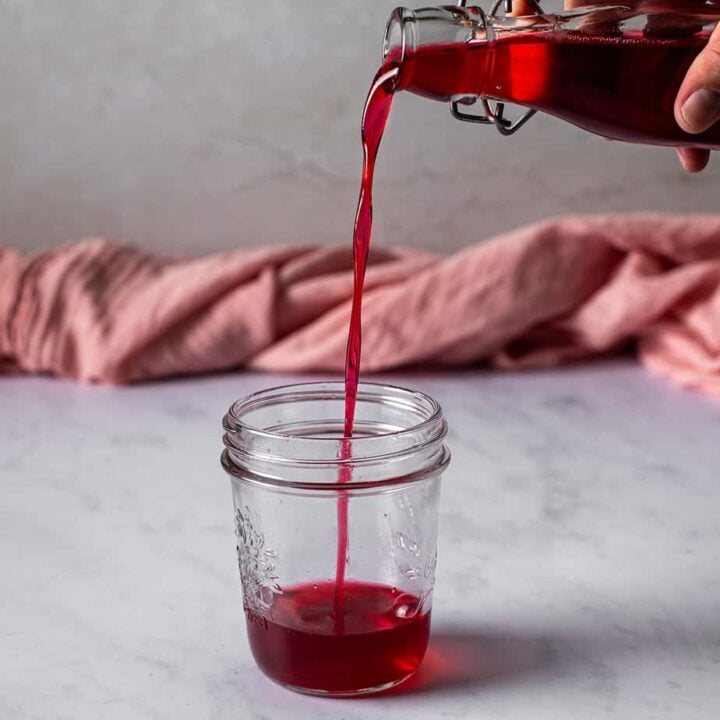 Cherry Simple Syrup
The sweet flavor and beautiful vibrant color make this Cherry Simple Syrup the perfect addition to your cocktails and mocktails.
Ingredients
1

cup

water

1

cup

granulated sugar

12

ounces

cherries

pitted (see notes)
Instructions
Combine the water and sugar in a heavy bottomed sauce pan over medium heat. Stir to combine.

Bring the water and sugar to a boil before turning the heat down until the mixture is simmering.

Add the cherries and stir. Simmer for 10 minutes.

Turn off the heat and allow the mixture to cool.

Strain out the solids and store the simple syrup in an airtight container in the refrigerator.
Notes
I used frozen tart red cherries, but you could use frozen or fresh. And use whatever variety of cherries you prefer! Different kinds of cherries will result in slightly different flavor profiles, but it's all good.
You can add about half an ounce of vodka to this syrup in order to prolong its shelf life a bit.
Nutrition
Serving:
1
Calories:
82
kcal
Carbohydrates:
21
g
Sodium:
1
mg
Fiber:
1
g
Sugar:
20
g
Disclaimer: Nutritional information is a generated estimate and is not guaranteed to be accurate.
📌 Pin this recipe for later!