Last Updated on February 3, 2023 by laurenpacek
This post may contain affiliate links. A Nerd Cooks may collect a share of sales or other compensation from the links on this page. More information can be found here.
This Raspberry Simple Syrup is equal parts sweet and delicious, so easy to make, and totally gorgeous. Do yourself a favor and whip some up for drinks today!
It probably goes without saying that my preferred use for simple syrup is cocktails. You can use it to quickly and easily sweeten and flavor a daiquiri, martini, margarita, etc. But don't forget that you can use simple syrup (flavored and otherwise) in mocktails, lemonades, iced and hot teas, iced and hot coffee drinks, and on and on. It's so versatile!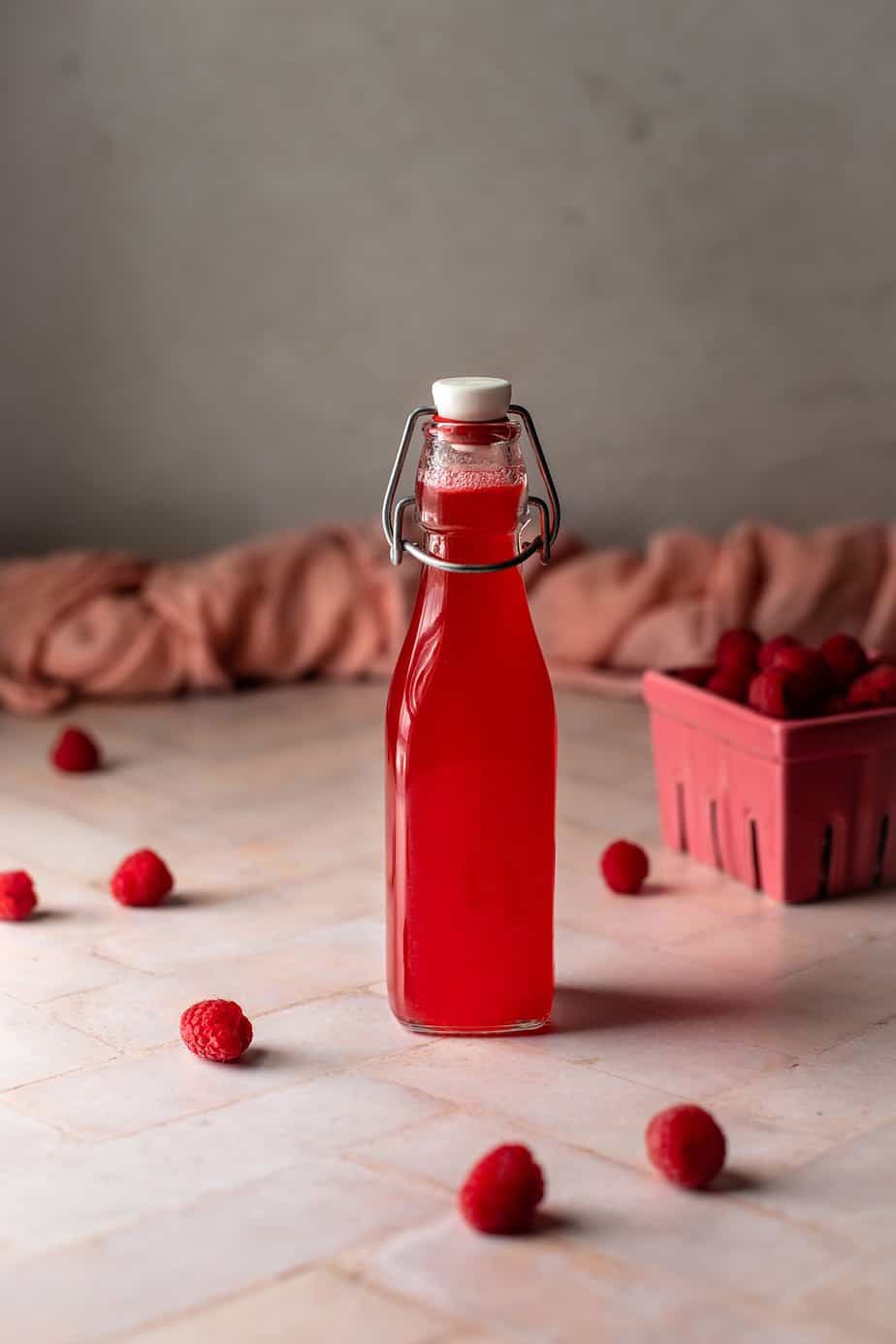 Ingredients
You only need to use three ingredients to make sweet, beautiful, and versatile raspberry simple syrup.
Water: Just regular old tap water will suffice.
Sugar: I prefer white granulated sugar in this simple syrup recipe.
Raspberries: I like to use fresh berries, but if they aren't in season or fresh aren't available at your local grocery store for some reason, you can use an equal amount of frozen berries.
How to make Raspberry Simple Syrup
Just as the name would suggest, making Raspberry Simple Syrup is very simple to do.
Start by adding water and sugar to a heavy-bottomed saucepan on the stove. Turn the heat up to medium and whisk until things are combined.
You'll want to whisk the soon-to-be syrup periodically while it comes up to a simmer. Allow it to simmer for 2-3 minutes before turning the heat off.
Next, you'll add your raspberries to the hot syrup and whisk everything around. The berries might start to break up a bit and that's just fine. Allow the berries to infuse the syrup for 10-15 minutes.
Last, you'll strain out the berries and pour the (now brightly colored) simple syrup into an airtight container. Once it cools completely, stash it in teh fridge. Or use it right away!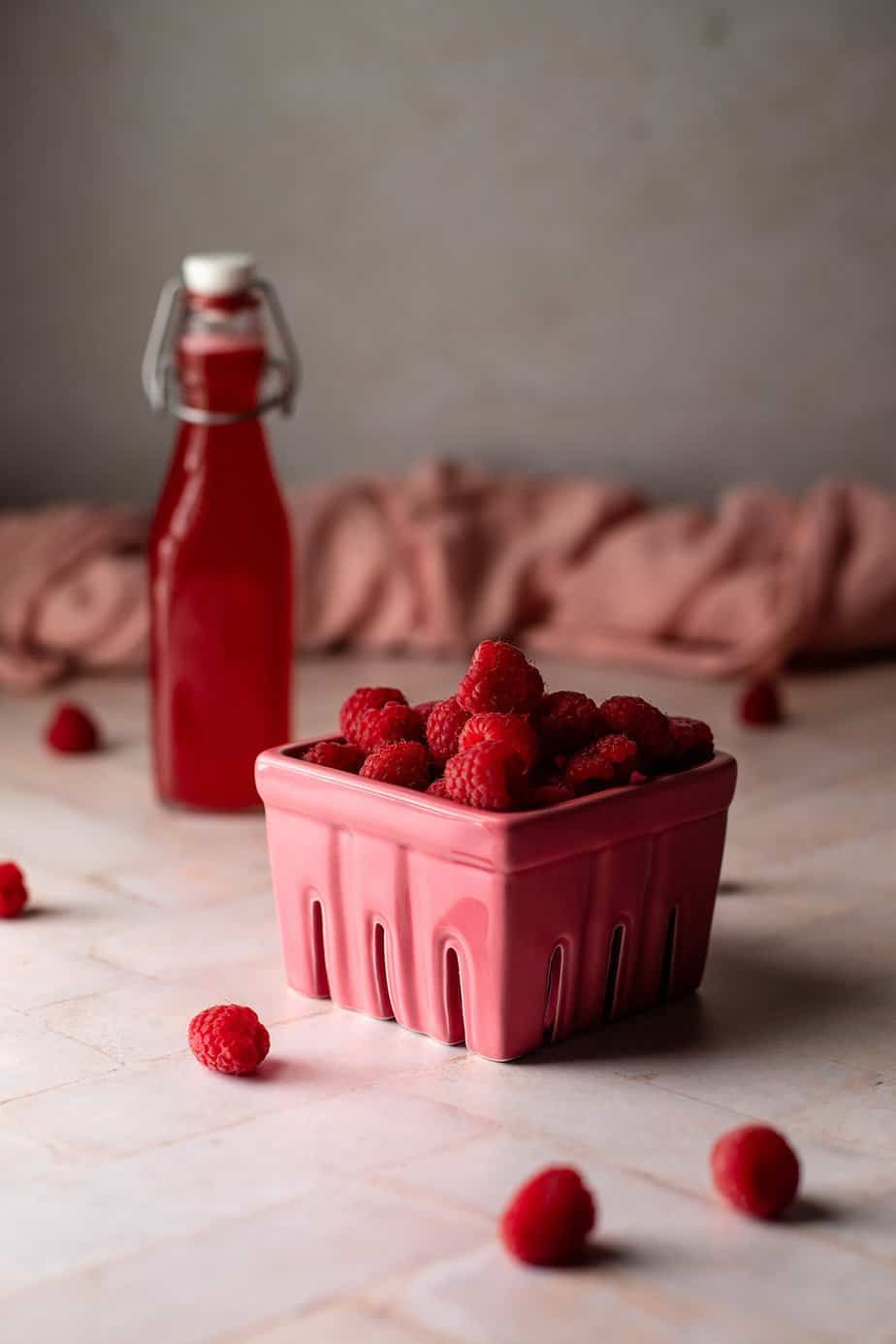 Recommended tools
Other simple syrup recipes
Frequently Asked Questions
Can I use frozen raspberries instead of fresh?
Yes! I love to make fruit-infused simple syrups with fresh fruit when the fruit is in peak season, but you can always use frozen, too. Just use an equal amount of frozen raspberries to make this syrup.
Does simple syrup need to be refrigerated?
Yes, make sure to store your prepared raspberry simple syrup in an airtight container in the refrigerator.
How long does simple syrup last?
About 1-2 weeks when stored properly in the fridge. You can extend the shelf life of your simple syrup by adding about ½ ounce of plain vodka to the cooled mixture.
Does simple syrup go bad?
Unfortunately, yes. If you notice any cloudiness or discoloration within the syrup, it's probably mold, and you definitely shouldn't use it. You can extend the shelf life of this simple syrup a bit by adding ½ ounce of vodka to the cooled mixture.
Don't forget to share your creations and follow me on social media!
Subscribe to the A Nerd Cooks Newsletter to have updates sent straight to your inbox.

I love seeing when you share my recipes! Please tag me on Instagram @anerdcooks so I can enjoy them virtually with you! You can also find me on Pinterest, Facebook, YouTube, and Twitter.

I'd love to know what you thought of this recipe! Don't forget to leave a comment and
⭐️ star rating below!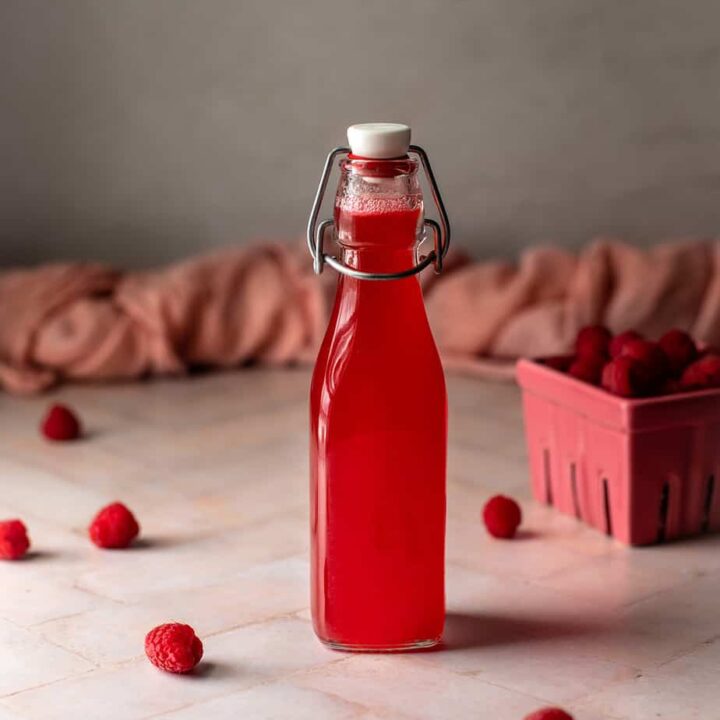 Raspberry Simple Syrup
Ingredients
¾ cup water
¾ cup granulated sugar
6 ounces raspberries, fresh or frozen
Instructions
Whisk the water and granulated sugar together in a heavy-bottomed pot. Turn the heat to medium.
Bring the water and sugar to a simmer, whisking occasionally. Allow it to simmer for 2-3 minutes.
Turn the heat off and add the raspberries to the simple syrup, stirring them into the syrup.
Allow the berries to infuse the syrup for 10-15 minutes before straining them out and storing the simple syrup in an airtight container.
Allow the syrup to cool completely before storing it in the fridge. It will keep 1-2 weeks when stored this way.
Nutrition Information:
Yield:

12
Serving Size:

1
Amount Per Serving:
Calories:

56
Total Fat:

0g
Saturated Fat:

0g
Trans Fat:

0g
Unsaturated Fat:

0g
Cholesterol:

0mg
Sodium:

1mg
Carbohydrates:

14g
Fiber:

1g
Sugar:

13g
Protein:

0g
Pin this recipe for later!