Have you ever wondered how to make cold foam at home? Wonder no longer! It's so easy to make the perfect, foamy addition to cold brew coffee.
Seriously, it takes like 20 seconds and TWO ingredients to whip some of this cold foam up. Not exaggerating. The first time that I made it, I almost couldn't believe just how easy it was to make such a fun, tasty, and impressive looking addition to my cold coffee.
I mean, just look at the volume of that foam! And in addition to being pretty, it tastes great and has a nice texture, too. Froth some up the next time that you have a cold coffee and you'll feel like you hit the drive thru at Starbucks. But, you know, without shelling out all the $$$.
Looking for more Starbucks copycat recipes? Try my Caramel Macchiato or Irish Cream Cold Brew!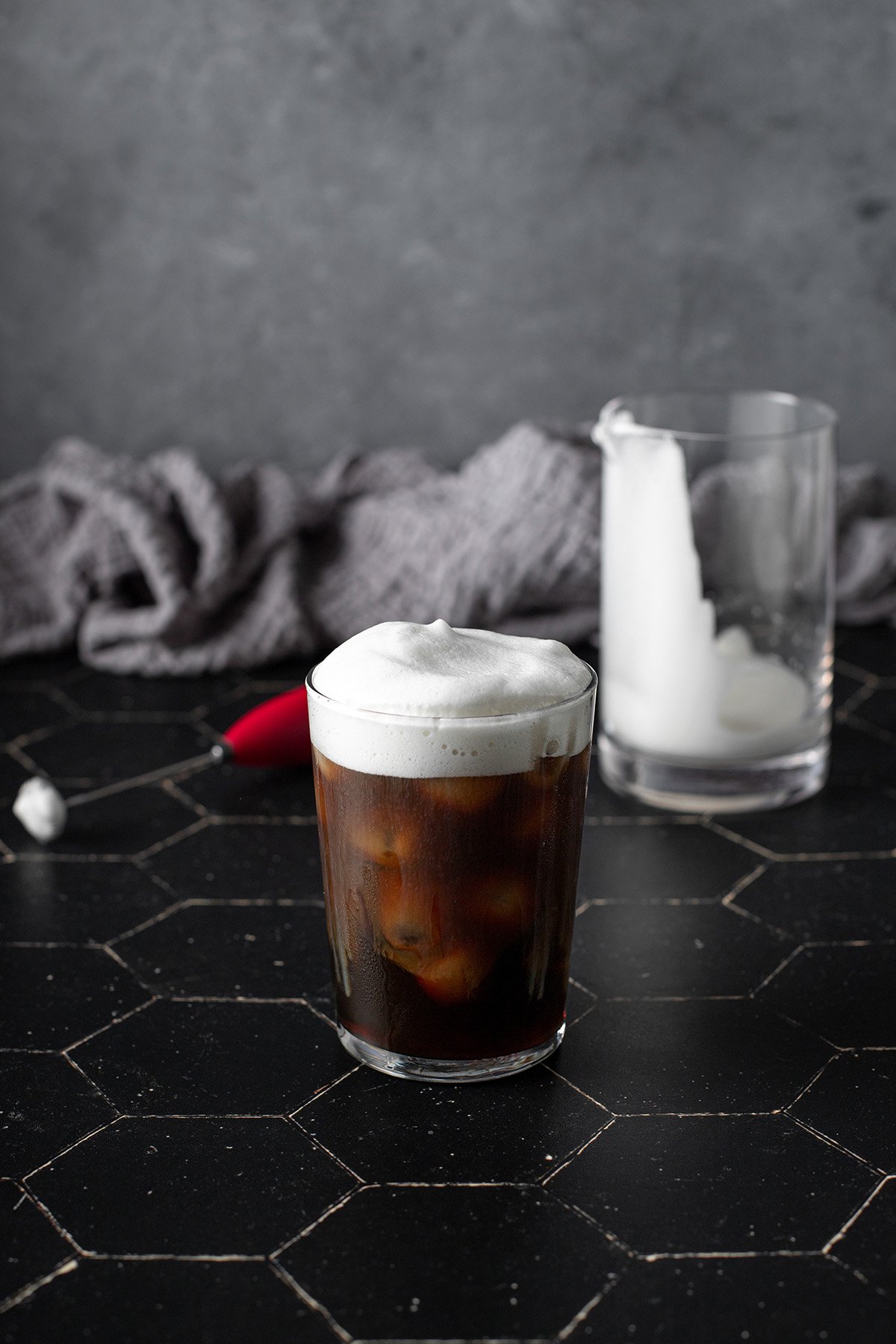 Jump to:
🌟 Why You'll Love This Recipe
It's easy to make. All you need to do is froth a couple of ingredients and pour it onto a cold brew!
It only requires TWO ingredients. That's it! Just TWO ingredients!
It tastes great. This cold foam is light and sweet and has a fantastic texture on top of cold coffee drinks.
💭 What is cold foam?
You know how for hot coffee drinks like lattes or cappuccinos how there's a layer of foamed milk on top? Well, this is the answer to that, but for cold coffee drinks.
Cold foam is super frothy topping for cold brew, iced coffee, and/or iced lattes that's made from frothed nonfat milk. And because it's made with cold milk (instead of hot, steamed milk like in the hot drinks), it won't melt down into the drink. It will float right on top and kind of seep down into the drink over time.
This recipe will produce a cold foam that's just like the Starbucks cold foam recipe.
📝 Ingredients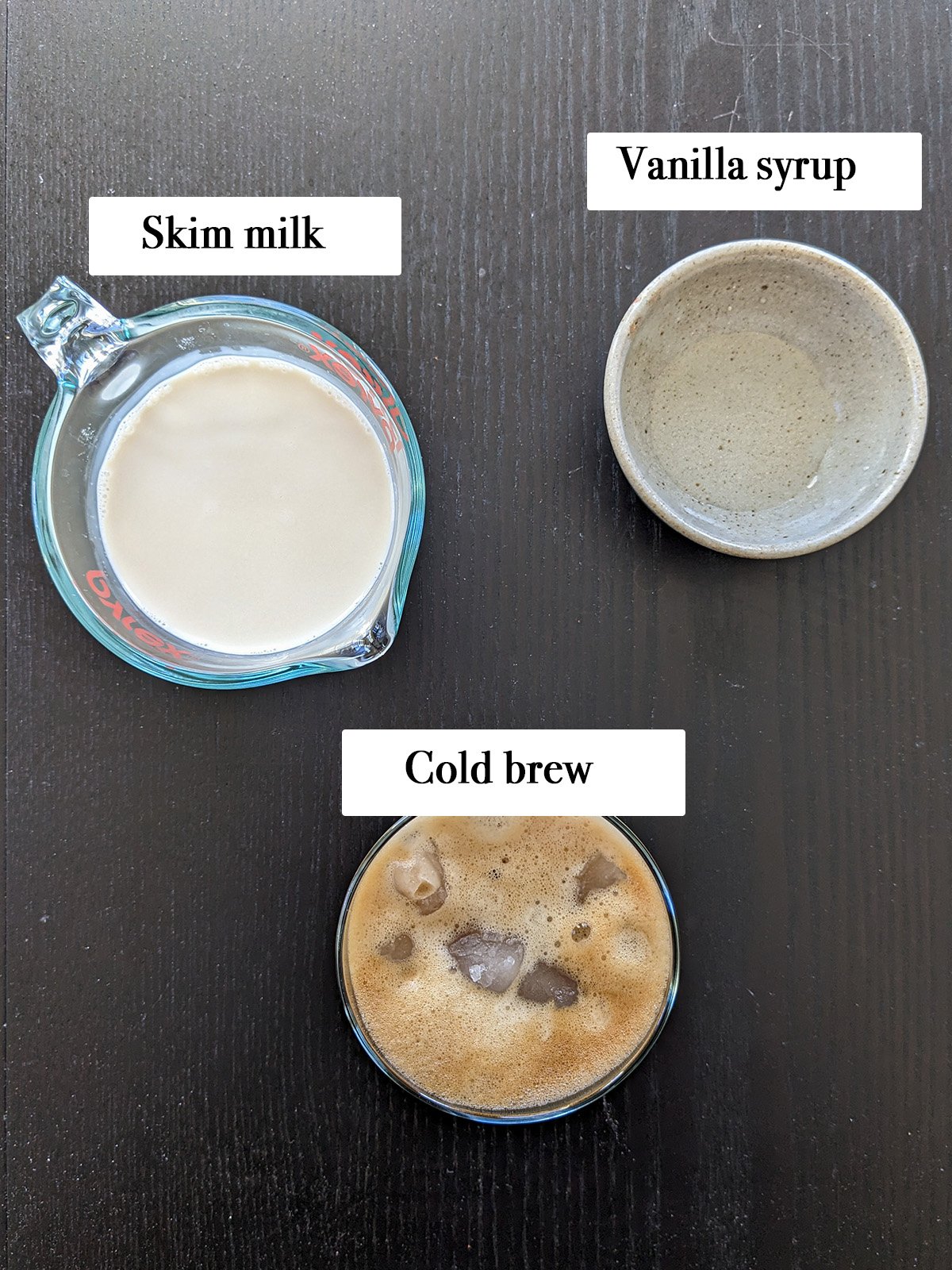 To make the cold foam itself, you only need TWO ingredients!
Skim milk: When you think of foam on top of coffee, skim milk might not be the milk that you initially imagine to be behind all of those glorious bubbles. But, surprise, because it foams beautifully!
Vanilla syrup: The cold foam should be lightly sweetened. You can really use whatever flavor syrup you want, but I've found that vanilla is a really good choice. You can use store bought syrup or make homemade vanilla syrup, too.
Of course, you'll also need your favorite store bought or homemade cold brew coffee, along with any sweetener that you desire.
👩🏻‍🍳 How to make cold foam for coffee
It's so much easier than you think. Let's walk through the steps.
Start by pouring the milk and vanilla syrup into a glass or a cup. I used a cocktail mixing glass. But a Pyrex measuring cup or just a regular glass would also work well.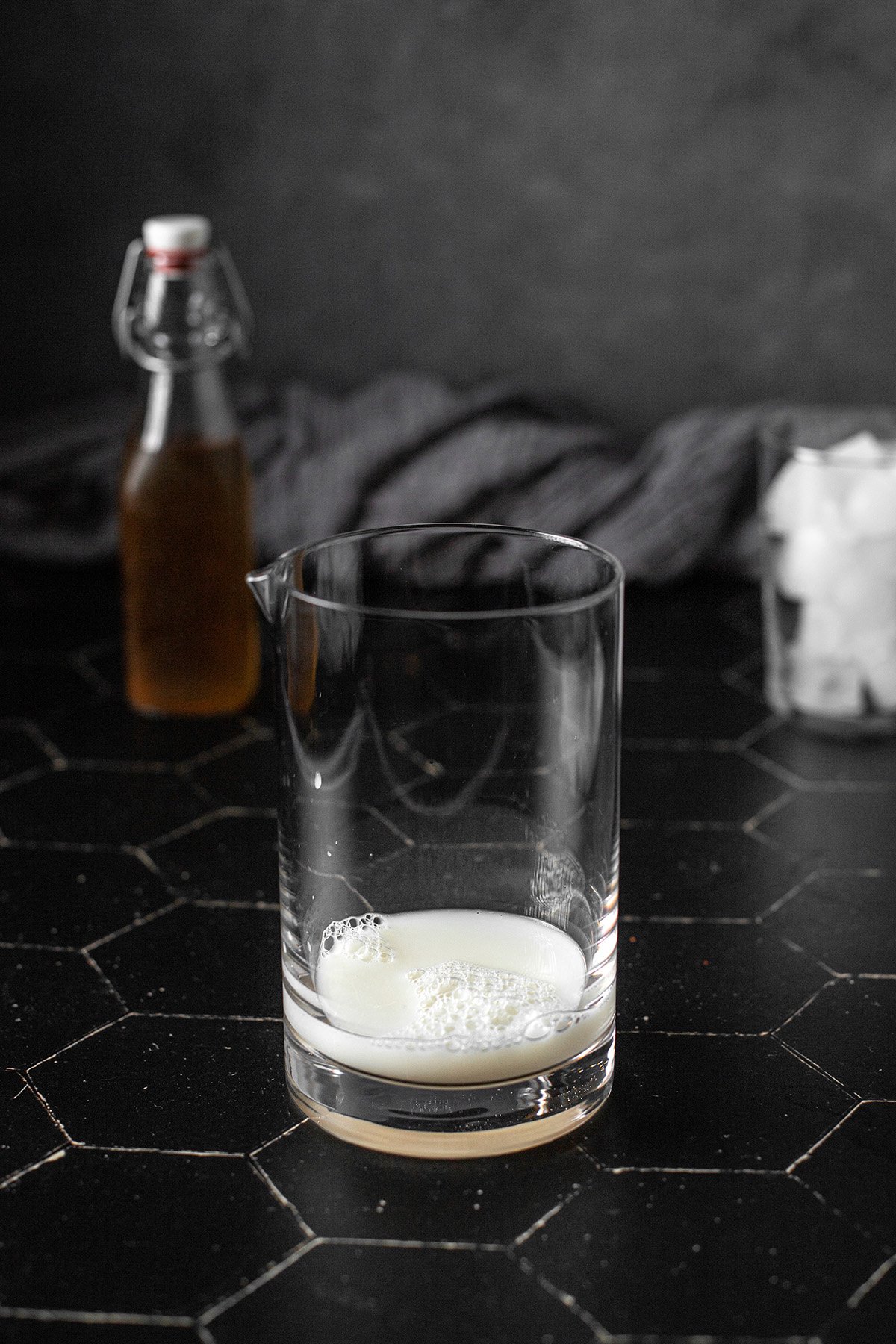 Submerge the end of your milk frother into the milk and simple syrup. Press the button and begin to froth! Froth the milk for about 20 seconds, or until the cold foam has stabilized and it is nice and thick. It happens more quickly than you'd think.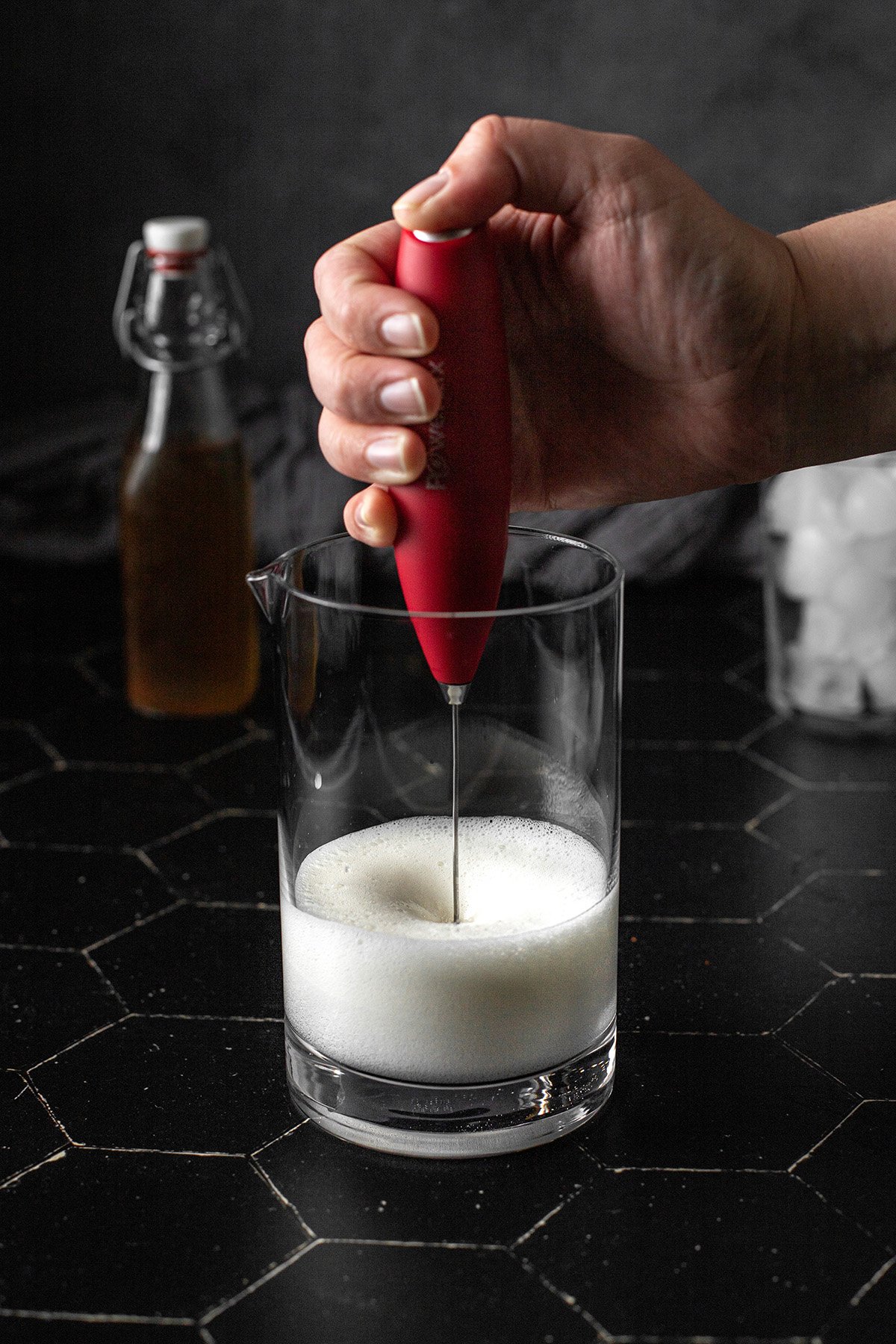 Look at all of that glorious cold foam!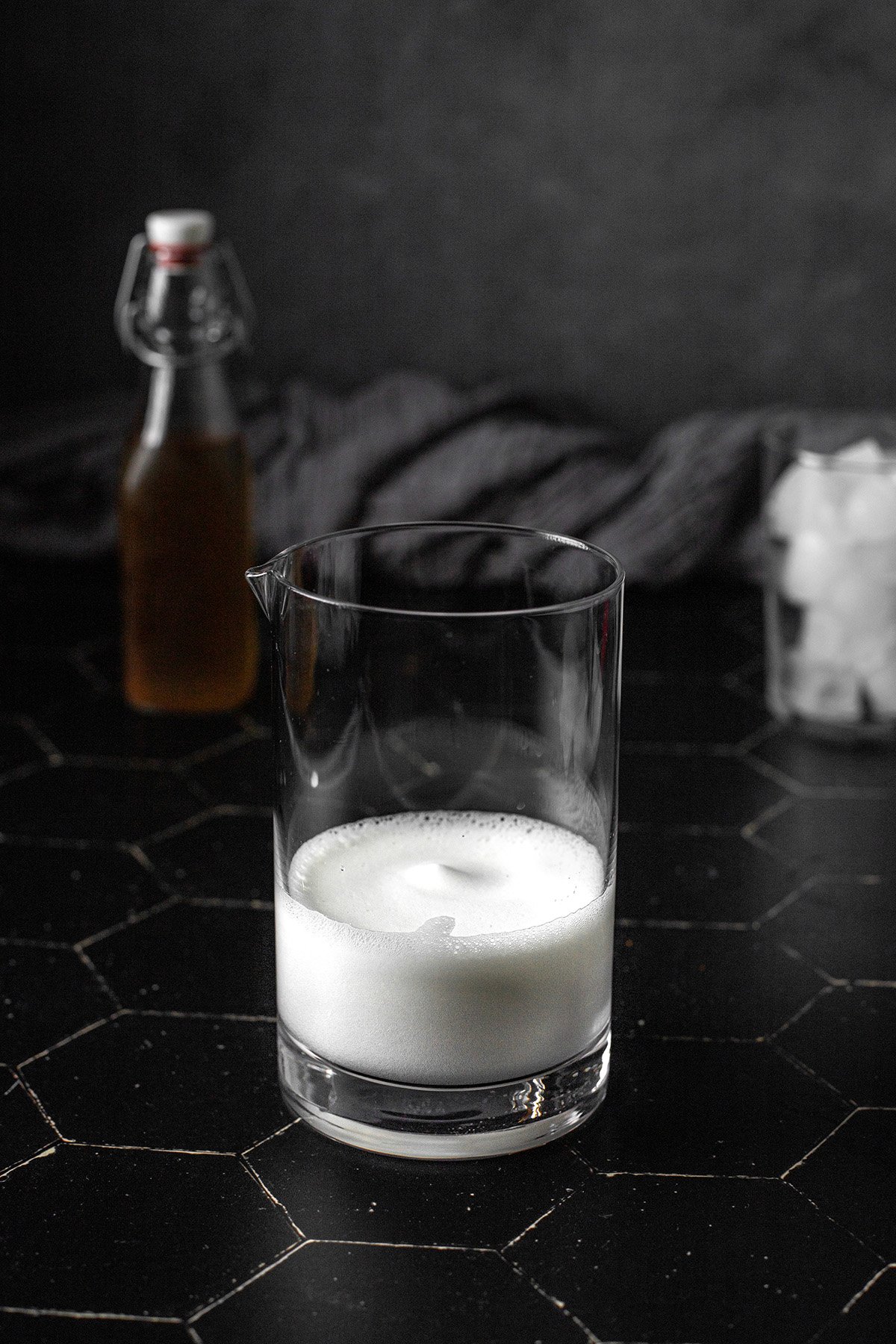 Take a glass of your favorite cold brew (or iced coffee) and pour it into a glass over ice. Sweeten as desired.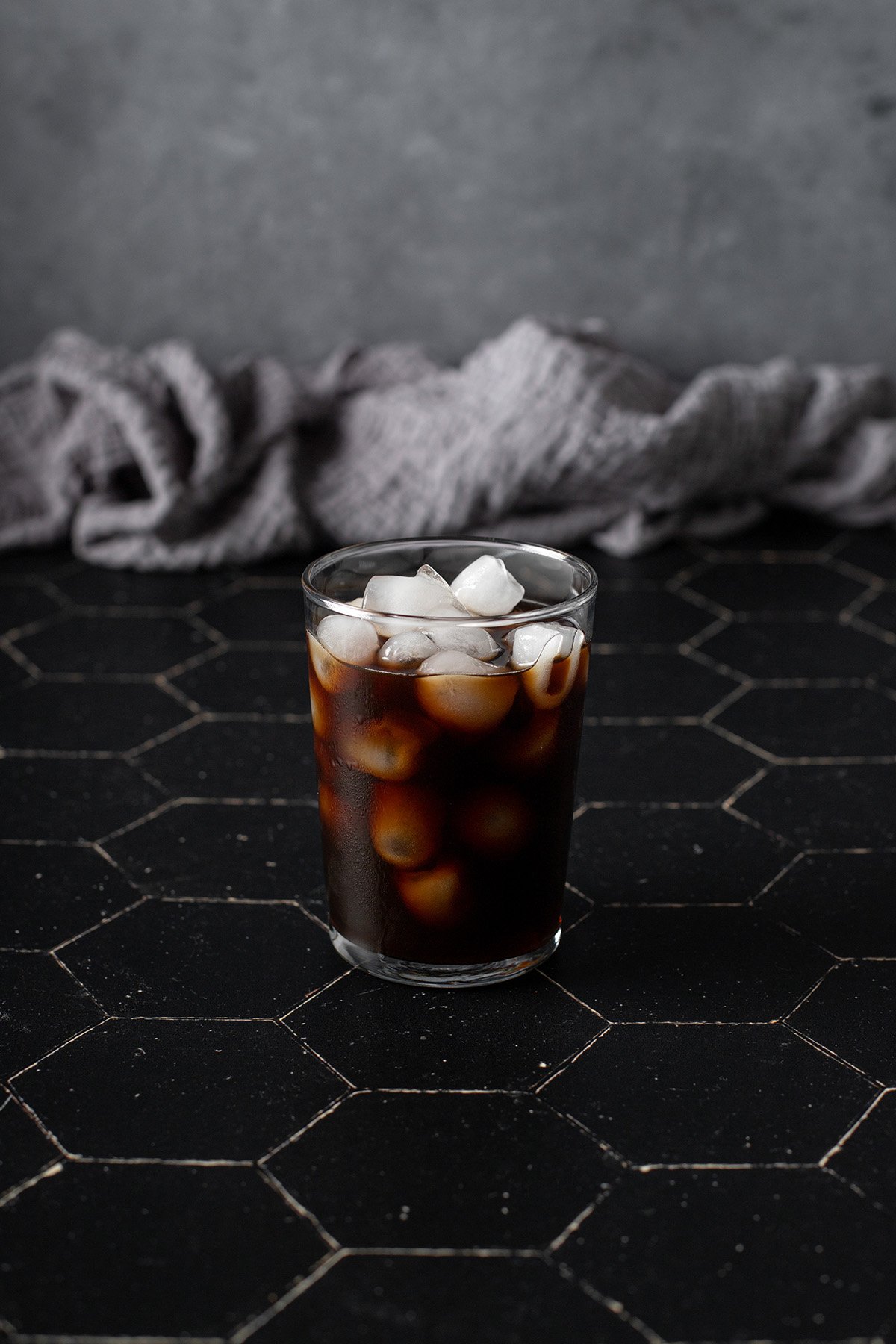 Pour the cold foam onto the top of the coffee. This recipe makes enough cold foam for two cups of cold coffee.
And that's it! Drink up!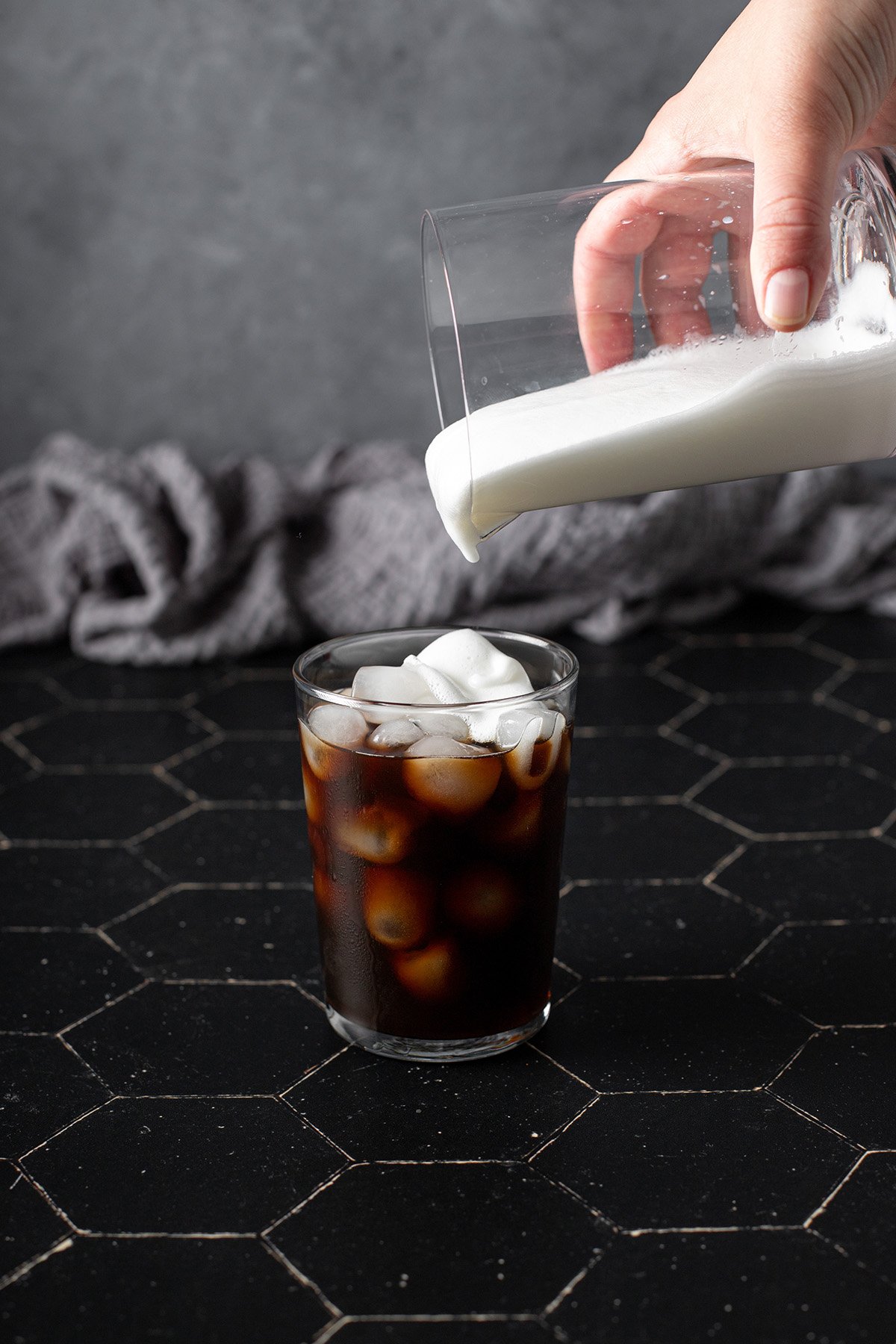 👩🏻‍🍳 How to make cold foam without a frother
Though I think that using a handheld milk frother is the easiest method for making cold foam at home, you do have other options!
One alternative method is to use a French press. All that you need to do is pour the milk and vanilla syrup into the bottom of the French press and pump it using quick and short pumps until the milk begins to foam.
You can also use an immersion blender! This method will be pretty similar to when you're using a frother: just put the milk and syrup into a glass/jar/whatever. Submerge the immersion blender into the milk and let 'er rip. Stop when the cold foam is stabilized and v foamy.
If you're making a large quantity of cold foam, you could also use a regular blender. Just put the ingredients into the blender and blend until the cold foam is voluminous.
🔗 Other coffee drinks
Looking for other coffee drinks? Of course you are. Take a look at the recipes linked below from A Nerd Cooks and other fabulous bloggers. There's a little something for everyone here.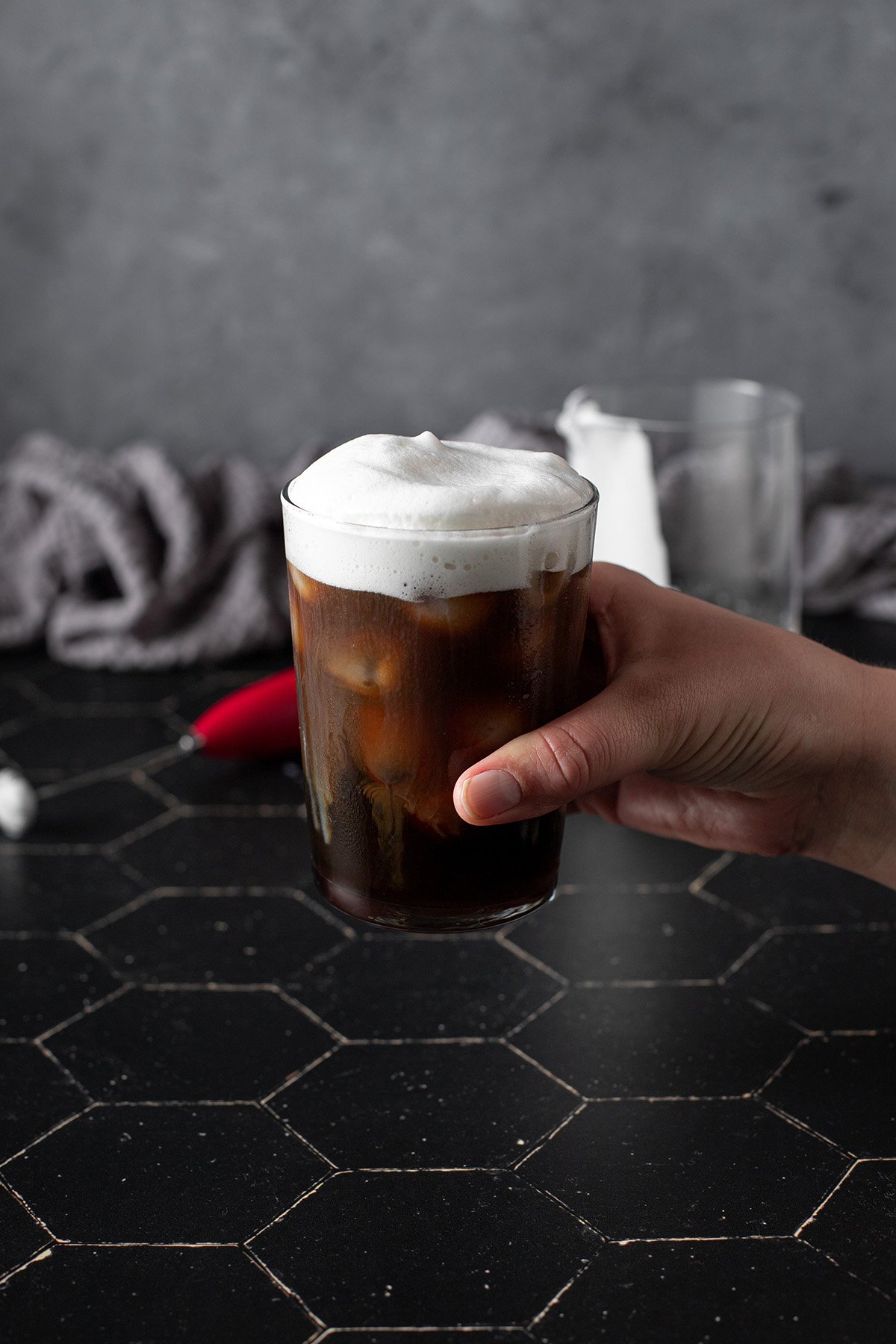 ❓ FAQs/Tips and tricks
Can I make this cold foam without a frother?
Yes! Scroll up to the section titled "How to make cold foam without a frother" for more info!
Will this taste like Starbucks cold foam recipe?
Yes! This is a Starbucks copycat recipe, so it will taste like the cold foam that you get on your cold brew at Sbux.
Can I flavor my cold foam?
Yeah! This recipe uses a vanilla syrup to give the cold foam a little sweetness and flavor. But really, you can choose your own adventure and use whatever flavor of syrup you'd like.
What kind of coffee should I put this cold foam on?
My go-to is always cold brew coffee, but iced coffee and iced lattes are good choices, too!
🖤 Share your creations and follow me on social media!
Subscribe to the A Nerd Cooks Newsletter to have updates sent straight to your inbox.

I love seeing when you share my recipes! Please tag me on Instagram @anerdcooks so I can enjoy them virtually with you! You can also find me on Pinterest, Facebook, YouTube, and Twitter.

I'd love to know what you thought of this recipe! Don't forget to leave a comment and ⭐️ star rating below!
✨ Recipe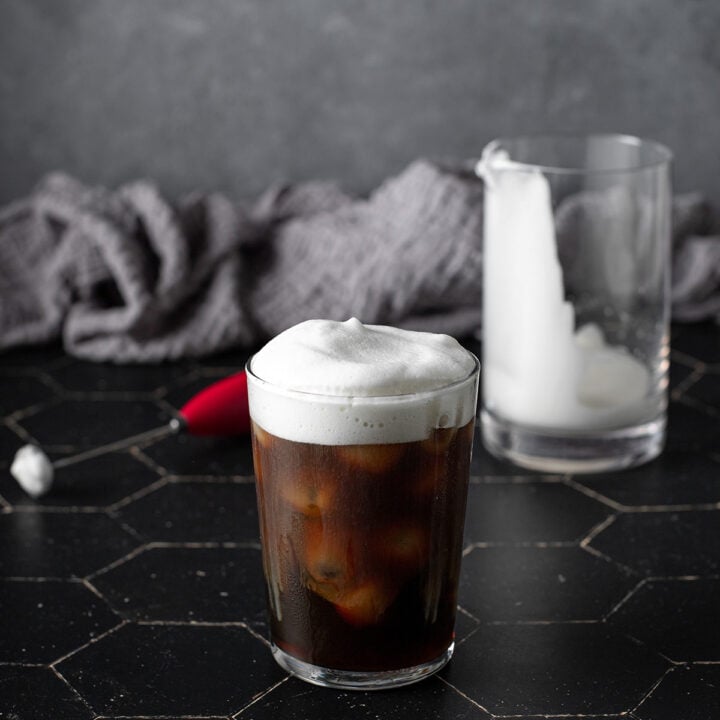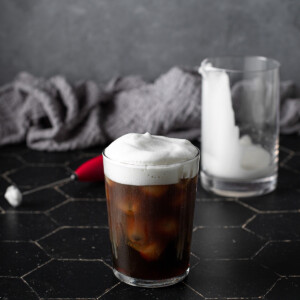 How to Make Cold Foam
Have you ever wondered how to make cold foam at home? Wonder no longer! It's so easy to make the perfect, foamy addition to cold brew coffee.
Ingredients
2

ounces

skim milk

½

ounce

vanilla simple syrup

cold brew or iced coffee

sweetener of choice for coffee

optional
Instructions
Pour the skim milk and vanilla syrup into a glass or jar.

Submerge the end of the milk frother into the milk.

Froth for 20 seconds, or until the foam is nice and thick and stabilized.

Divide the cold foam evenly between two glasses of cold brew; pour it right on top.
Notes
You can customize your cold foam by using any flavor of syrup that you'd like
Nutrition
Serving:
1
Calories:
326
kcal
Carbohydrates:
78
g
Protein:
1
g
Cholesterol:
1
mg
Sodium:
22
mg
Sugar:
78
g
Disclaimer: Nutritional information is a generated estimate and is not guaranteed to be accurate.
📌 Pin this recipe for later!