Last Updated on June 24, 2022 by laurenpacek
This post may contain affiliate links. A Nerd Cooks may collect a share of sales or other compensation from the links on this page. More information can be found here.
This pitcher of Lavender Lemonade is sweet, tart, and has the lovely floral flavor of fresh lavender. It's also as delicious as it is pretty!
It's really very easy to make, too! Just mix up a few very good ingredients together in a pitcher and that's it!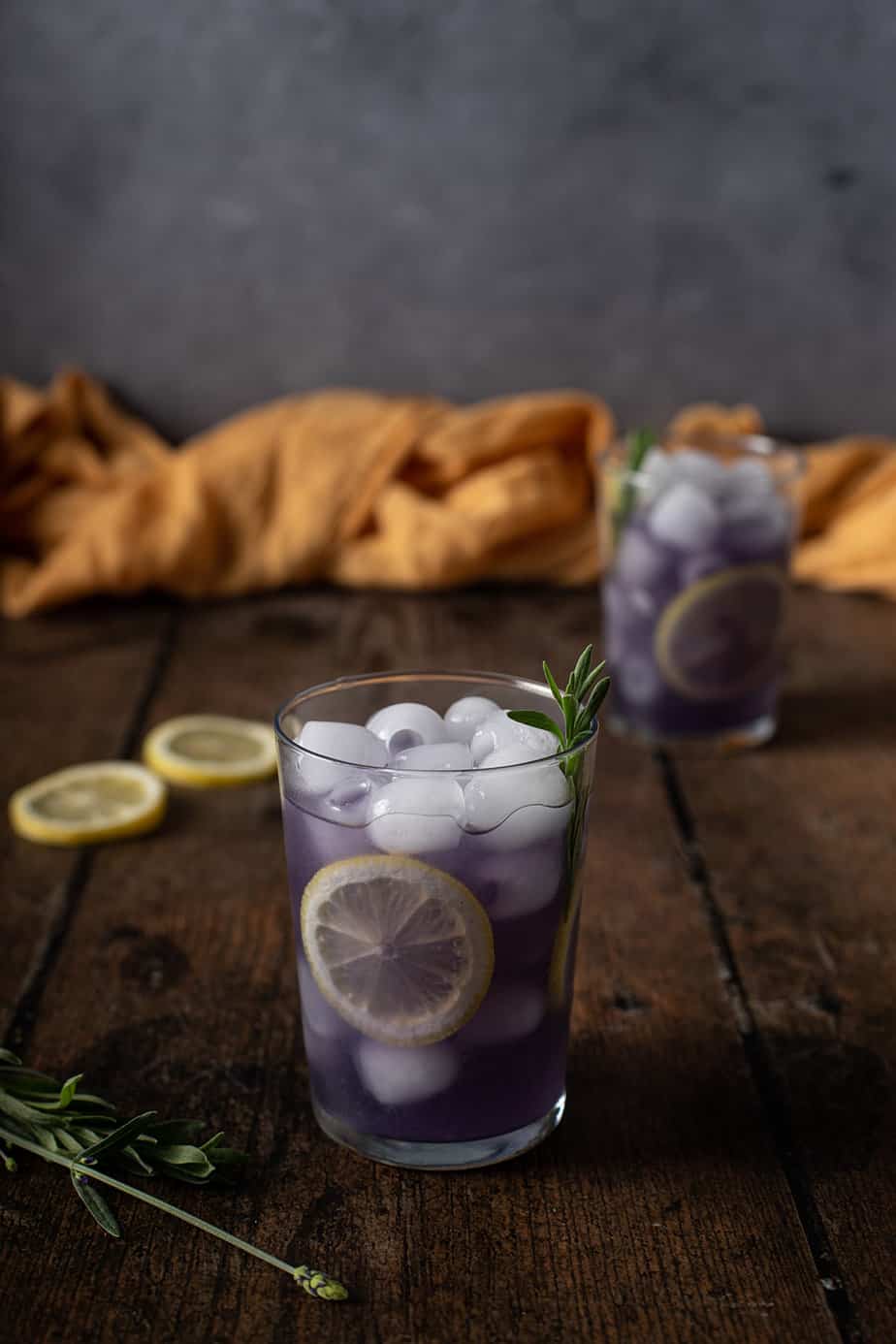 What is Lavender Lemonade?
Lavender Lemonade is just fresh lemonade that has been sweetened with lavender-infused simple syrup. It has the fresh floral flavor of lavender flowers which complements the tart lemonade.
Depending on the syrup that you use, or whether you use some food coloring, your lavender lemonade can also take on the gorgeous purple hue of fresh lavender flowers.
Ingredients
You only need three ingredients to make a pitcher of refreshing, floral lavender lemonade.
Lemon juice: It's gotta be freshly squeezed, please. Fresh lemon juice will taste so much better in your lemonade than the pre-squeezed store bought stuff will. Trust me on this one.
Lavender simple syrup: You can use a homemade lavender syrup or go with a store bought version. If going the store bought route, I like Torani a lot. It is worth noting that the homemade syrup will likely not give you the vibrant purple color that you see in these photos. The Torani syrup will, however. If you use the homemade stuff and want that color, you can always add a bit of food coloring. Totally optional and up to your preferences.
Water: Plain water is all that you need.
Garnishes: As always, garnishes are not obligatory. However, I think that they really take a drink and put it over the top. I used fresh lemon wheels and tucked them down into the glasses. Just use the ice to pin them to the sides of the glasses. I also stuck a couple of sprigs of lavender into the glasses, as well. You could also garnish with lavender flowers, if you so choose.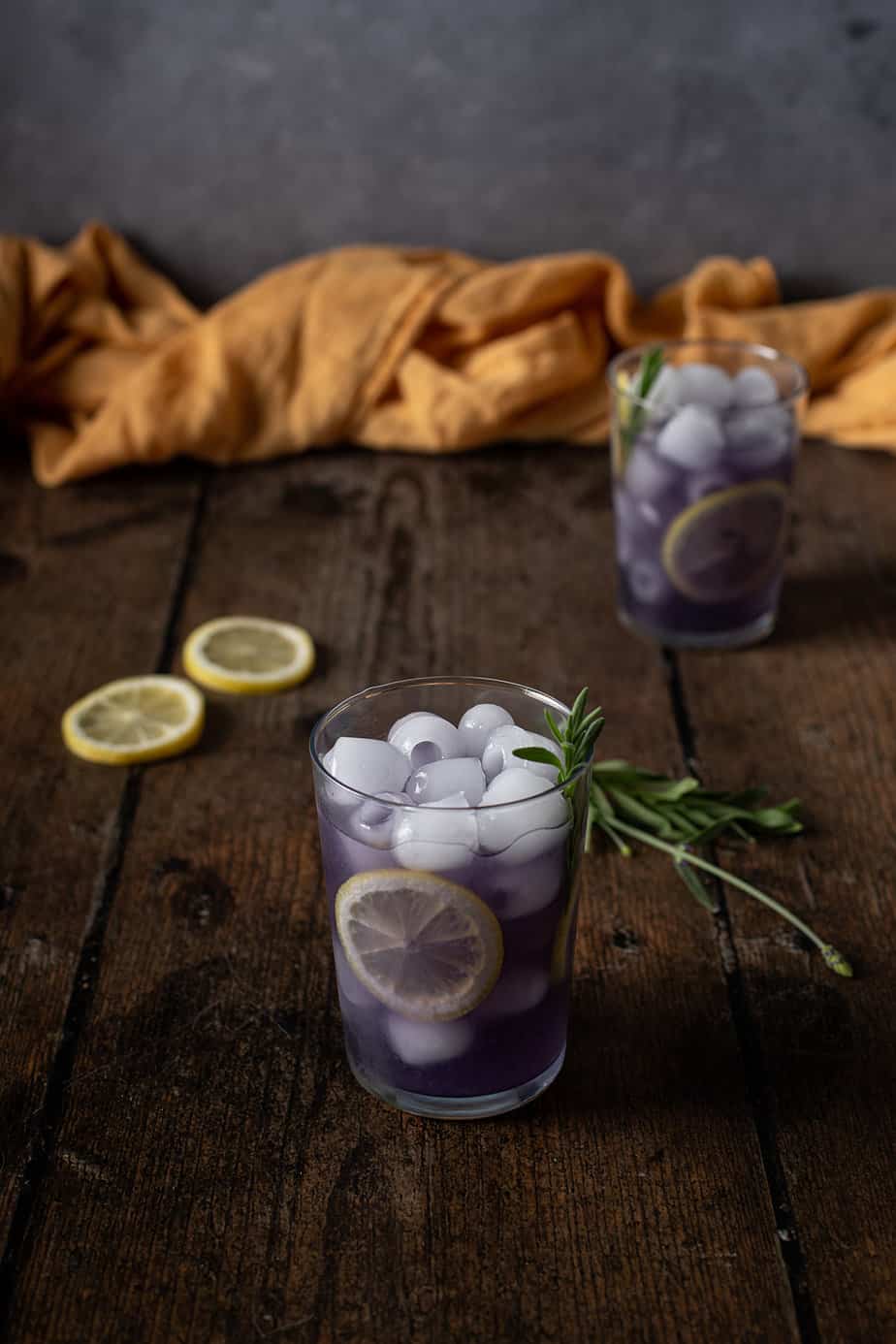 How do you make Lavender Lemonade?
Even though the name sounds a bit exotic, this lemonade is very easy to make.
You'll start by squeezing lemons to get a good bit of fresh lemon juice. Now, I realize that it may be easier for you to head to the store and grab a bottle of pre-squeezed juice. But trust me when I tell you that nothing beats freshly squeezed juice in terms of flavor.
After that, all you'll need to do is combine that juice with lavender simple syrup and some water. And you're done!
Stash your lemonade in the fridge and pour a cup whenever you feel like it. I like to garnish mine with fresh lemon wheels and a bit of fresh lavender.
Recommended tools
Definitely get your hands on a citrus squeezer. This will make your life so much easier when making this recipe. I get so much use out of mine.
A pretty pitcher, since this recipe is made by the pitcher
A large Pyrex measuring cup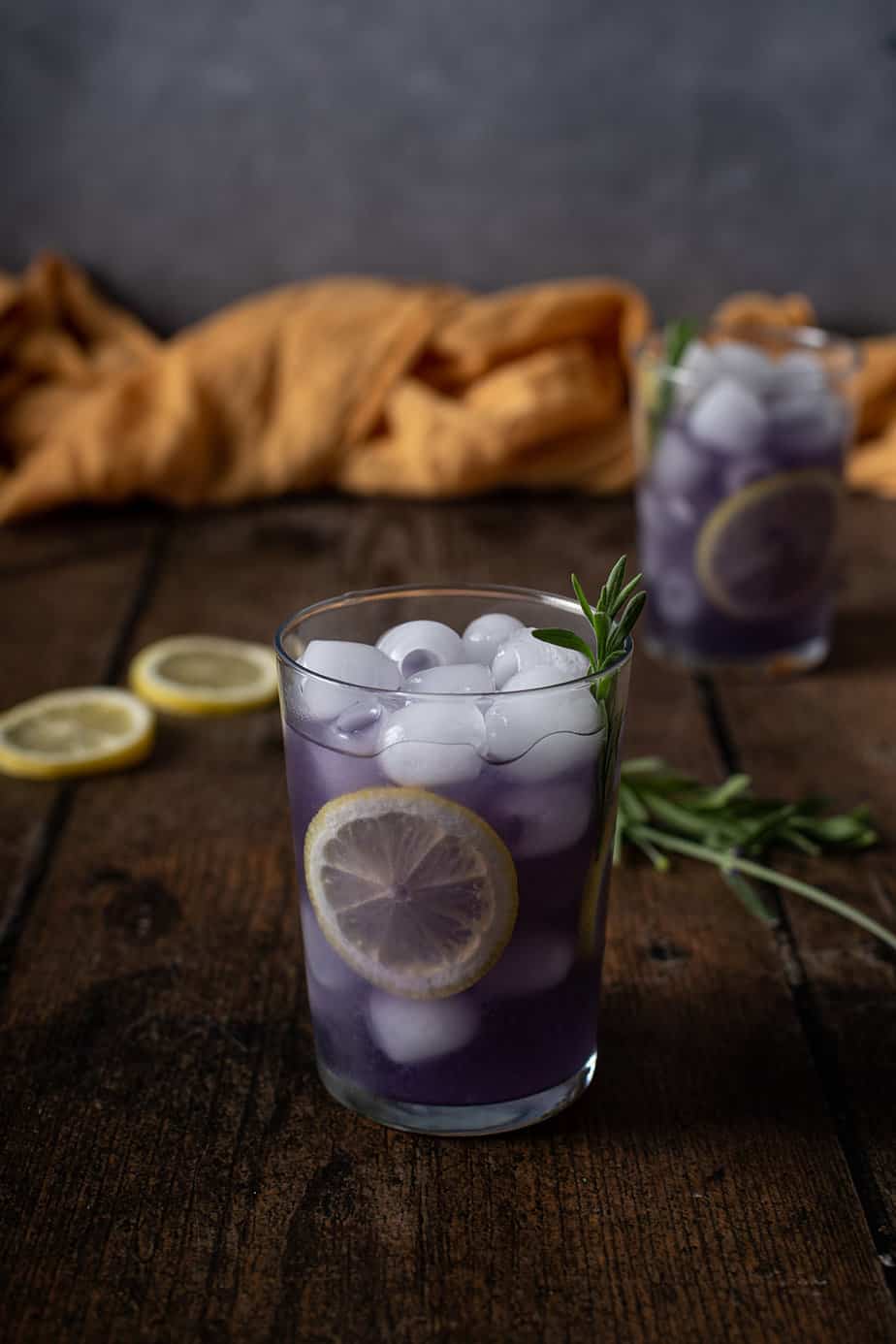 Other lemonade-based recipes
Looking for more lemonade recipes? You can never have enough! I have a few others on this site, which I've listed below along with recipes from other fantastic bloggers.
FAQs/Tips and Tricks
Do I need to use fresh lemon juice?
I mean, technically no. You can use store bought if you really want. However, I strongly recommend using fresh lemon juice. The flavor will be much brighter, fresher, and overall much better.
Can I make this lemonade a different flavor?
Sure, just swap out the lavender syrup for another flavored syrup. Adjust the garnishes accordingly.
Can I make this lemonade ahead of time?
Sure! Make it about a day ahead of time by combining all of the ingredients (minus garnishes) in a pitcher and storing it in the fridge.
Can I add alcohol to this lemonade?
Yes! Add whatever booze you would like, but I'm thinking that vodka or gin would be lovely in this lemonade. Follow your heart when it comes to the amount that you add, but for reference, I added 2 cups of vodka to my pitcher of Strawberry Lemonade Vodka cocktails.
Share your creations and follow me on social media!
Subscribe to the A Nerd Cooks Newsletter to have updates sent straight to your inbox.

I love seeing when you share my recipes! Please tag me on Instagram @anerdcooks so I can enjoy them virtually with you! You can also find me on Pinterest, Facebook, YouTube, and Twitter.

I'd love to know what you thought of this recipe! Don't forget to leave a comment and
⭐️ star rating below!
The Recipe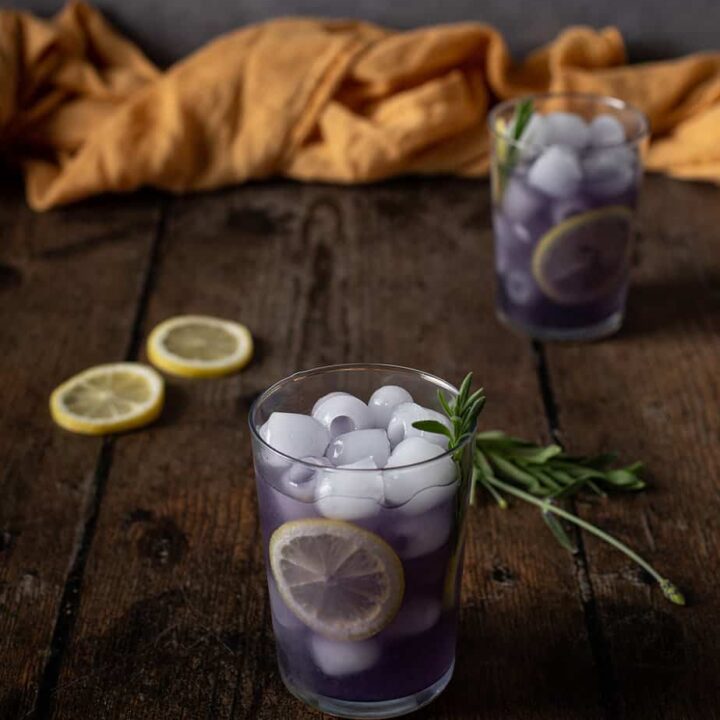 Lavender Lemonade
This pitcher of Lavender Lemonade is sweet, tart, and has the lovely floral flavor of fresh lavender. It's also as delicious as it is pretty!
Ingredients
1.5 cups lemon juice, freshly squeezed
4 cups water
lemon wheels and fresh lavender, for garnish (optional)
Instructions
Pour the lemon juice, simple syrup, and water into a pitcher. Stir to combine.
Pour the lemonade into individual glasses over ice.
Garnish with lemon wheels and fresh lavender, if desired.
Notes
Add more or less simple syrup depending on how sweet you'd like your lemonade to be
Nutrition Information:
Yield:

8
Serving Size:

1
Amount Per Serving:
Calories:

103
Total Fat:

1g
Saturated Fat:

0g
Trans Fat:

0g
Unsaturated Fat:

0g
Cholesterol:

0mg
Sodium:

31mg
Carbohydrates:

26g
Fiber:

2g
Sugar:

20g
Protein:

2g
Pin this recipe for later!