Last Updated on March 26, 2022 by laurenpacek
This post may contain affiliate links. A Nerd Cooks may collect a share of sales or other compensation from the links on this page. More information can be found here.
This homemade Blueberry Lemonade is as delicious as it is beautiful. The flavor and gorgeous color both come from fresh, sweet blueberries.
I mean, just look at that color! It's incredible, if I do say so myself. Though you could definitely enjoy this lemonade year round, I'm thinking it would be absolutely perfect during the warmer months.
Just imagine sitting on your patio, enjoying the warm weather, sipping a frosty cold glass of sweet blueberry lemonade. Pretty darn close to perfection, no?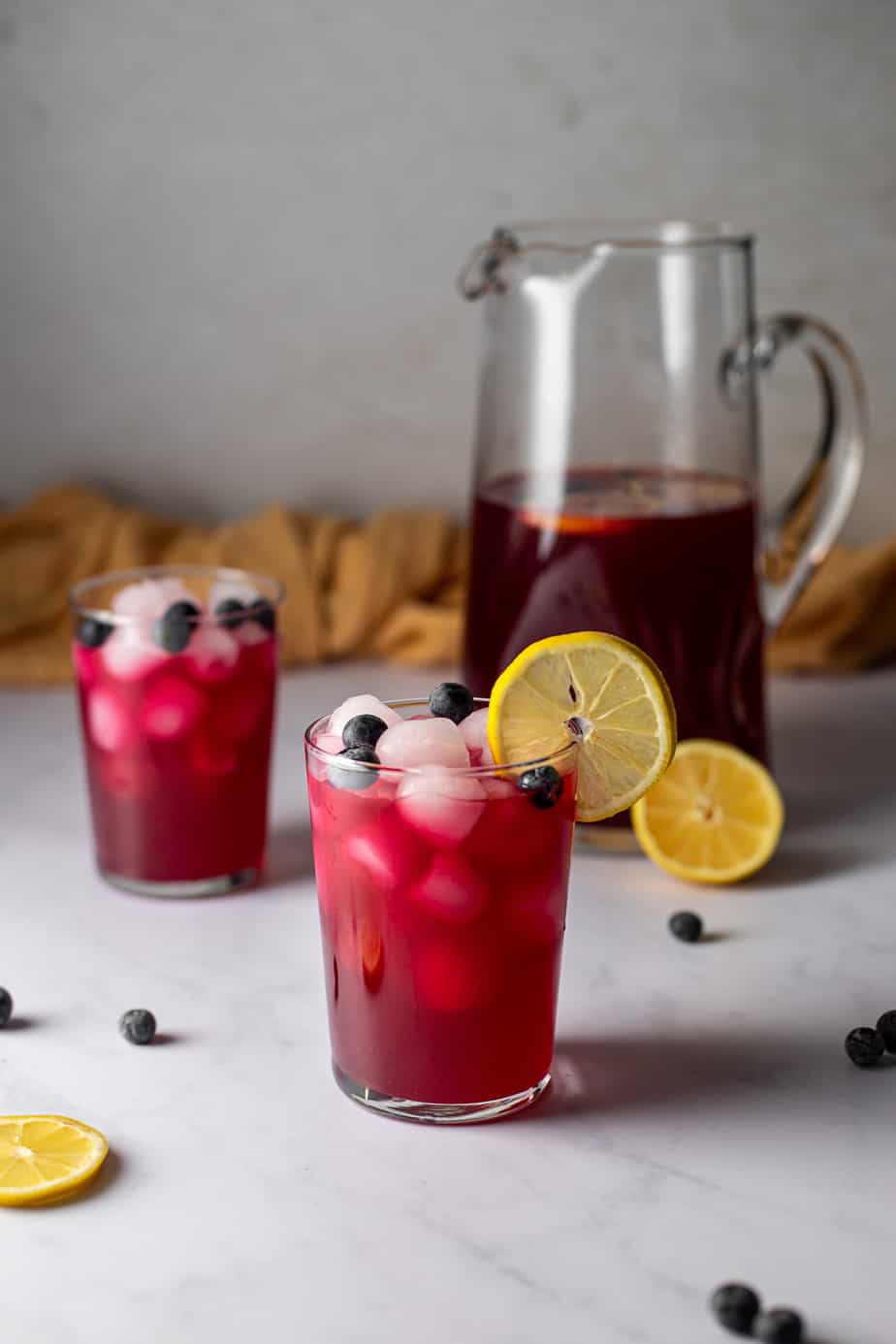 What is Blueberry Lemonade?
Blueberry Lemonade is just regular homemade lemonade that has been sweetened and flavored with blueberries! You can achieve this by muddling fresh blueberries into your lemonade, or by sweetening the lemonade with a blueberry simple syrup (like I did here).
Using a blueberry simple syrup ensures that your lemonade will take on the beautiful and vibrant colors of the blueberries, as well as the flavor.
Ingredients
You only need THREE ingredients (and only four if you are including the ingredients needed to make the simple syrup) to make this Blueberry Lemonade.
Lemon juice: It's gotta be freshly squeezed! Please please do not use bottled juice. It just won't be nearly as good.
Water: Nothing fancy here.
Blueberry simple syrup: Making a batch of this flavored simple syrup only requires three ingredients (one of which is water). It's so easy to make and gives the lemonade great flavor and beautiful color.
Garnishes: These aren't mandatory BUT I think that garnishing your blueberry lemonade with some fresh blueberries, a lemon wheel or two, and maybe some fresh mint really puts your drink over the top.
How do you make Blueberry Lemonade?
It's honestly very easy to make! I used my Homemade Lemonade recipe as the base for this jazzed up version.
Start by juicing a bunch of lemons. The exact number you'll need really depends on the size and overall juiciness of the lemons. But I've found that about 10 or so will usually yield the amount of juice that you need. I highly recommend using a handheld citrus juicer; it will make your job so much easier.
Then simply combine the juice with water and the prepared blueberry simple syrup. If you aren't sure about how sweet you'd like your lemonade to be, start by adding just 1 cup of the simple syrup. Give it a taste and add more if you'd like. I ended up adding all of the two cups. Give everything a gentle mix.
After that, you just need to pour it over some ice and garnish the glass with some blueberries and lemon!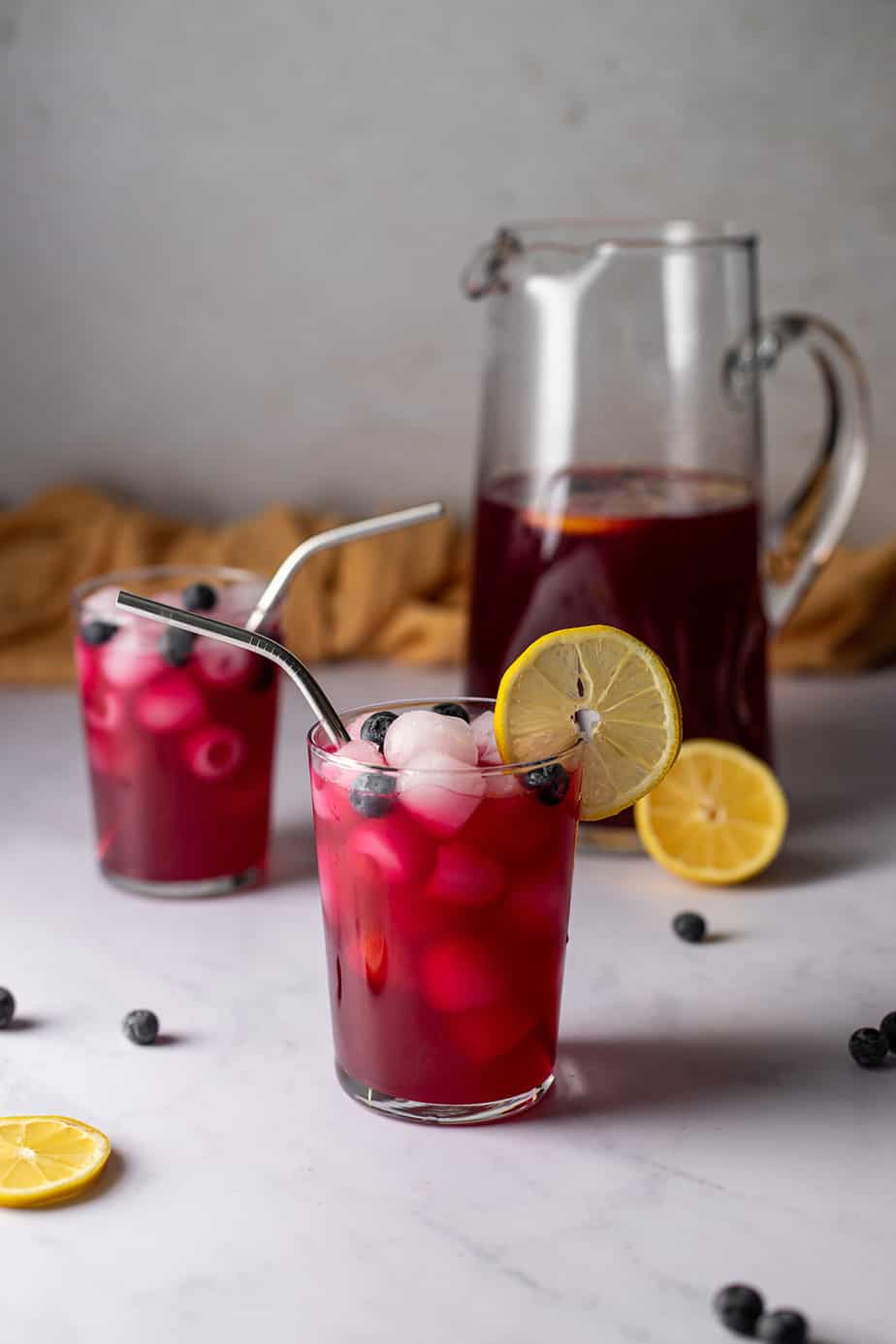 Recommended tools
Other family-friendly drinks
Are you looking for more drinks that the entire family can enjoy? Check out the links below from A Nerd Cooks and other fabulous bloggers. They will not disappoint.
Frequently Asked Questions/Tips and Tricks
Can I use bottled lemon juice?
Technically yeah, but I don't recommend it. Using freshly squeezed lemon juice will make a big difference in flavor. Trust me, it's worth the extra bit of effort.
Can I make this lemonade into a cocktail?
Sure! You do you. One suggestion that comes to mind is to add vodka. A plain or blueberry flavored vodka would be a lovely addition.
Share your creations and follow me on social media!
Subscribe to the A Nerd Cooks Newsletter to have updates sent straight to your inbox.

I love seeing when you share my recipes! Please tag me on Instagram @anerdcooks so I can enjoy them virtually with you! You can also find me on Pinterest, Facebook, YouTube, and Twitter.

I'd love to know what you thought of this recipe! Don't forget to leave a comment and
⭐️ star rating below!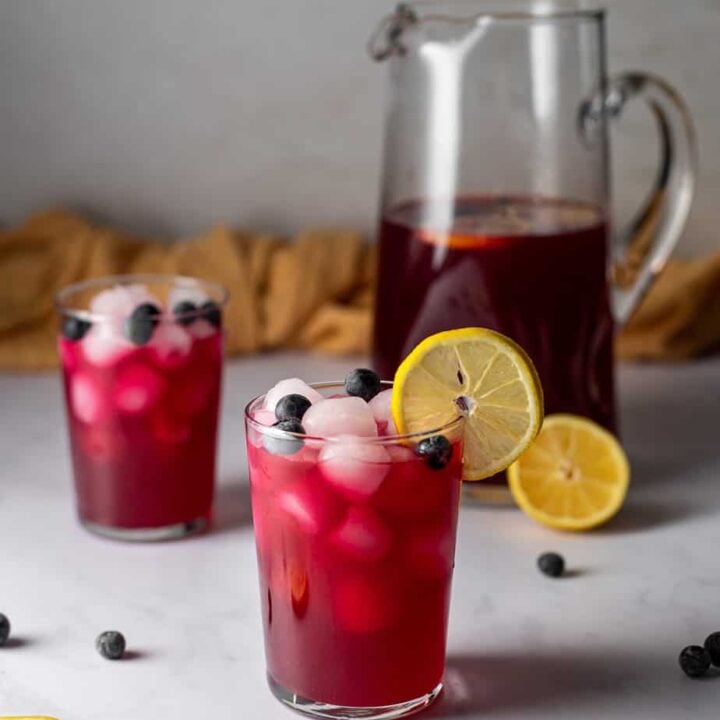 Blueberry Lemonade
This homemade Blueberry Lemonade is as delicious as it is beautiful. The flavor and gorgeous color both come from fresh, sweet blueberries.
Ingredients
1.5 cups lemon juice, freshly squeezed
4 cups water
fresh blueberries, lemon wheels, and/or fresh mint, for garnish (optional)
Instructions
Combine the freshly squeezed lemon juice and water in a pitcher.
Add the blueberry simple syrup and mix to combine.
Pour the lemonade into glasses over ice and garnish with fresh blueberries, lemon wheels, and/or fresh mint, if desired.
Store lemonade in the fridge.
Notes
If you like your lemonade to be less sweet, start by adding 1 cup of blueberry simple syrup to the lemonade. Give it a taste, and add more if desired.
Approximately 8-10 lemons should yield the amount of juice that you need.
Nutrition Information:
Yield:

8
Serving Size:

1
Amount Per Serving:
Calories:

105
Total Fat:

0g
Saturated Fat:

0g
Trans Fat:

0g
Unsaturated Fat:

0g
Cholesterol:

0mg
Sodium:

17mg
Carbohydrates:

28g
Fiber:

2g
Sugar:

23g
Protein:

1g
Pin this recipe for later!