These Gingerbread Lattes are warm, cozy, and delicious. They're like liquid gingerbread in a cup. Caffeinate yourself while embracing the flavors of the Winter season.
If you're like me, you may associate gingerbread and associated flavors with December and the Christmas season. While, yeah, this is a traditional time to consume gingerbread and gingerbread-related treats, please don't limit yourself to the month of December when it comes to sipping one of these delicious gingerbread lattes. They're so good, and are warming and tasty all winter long.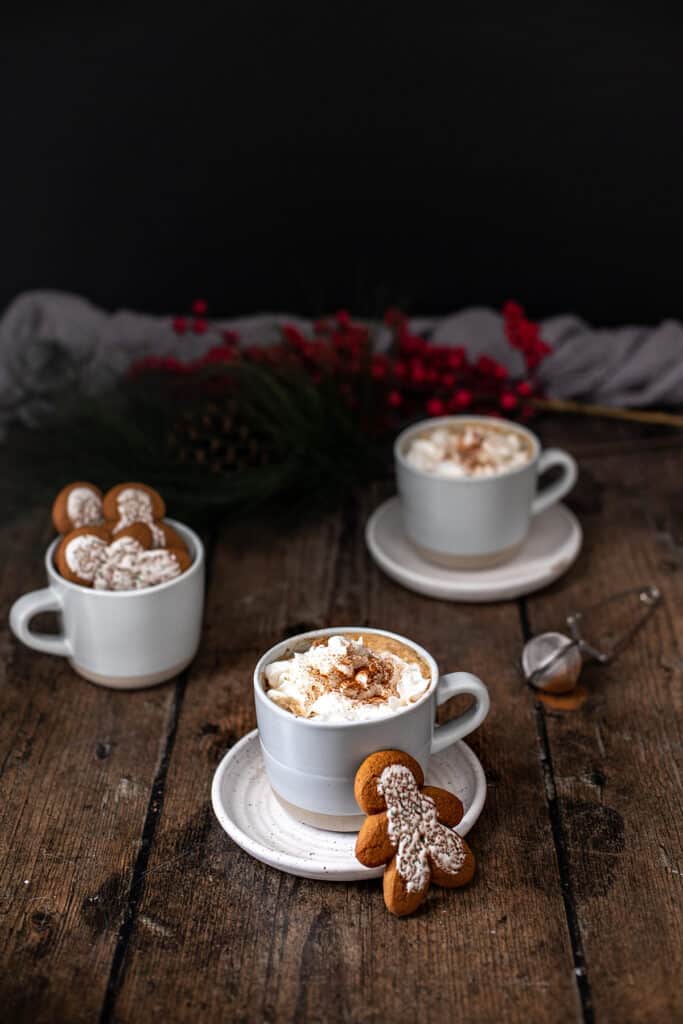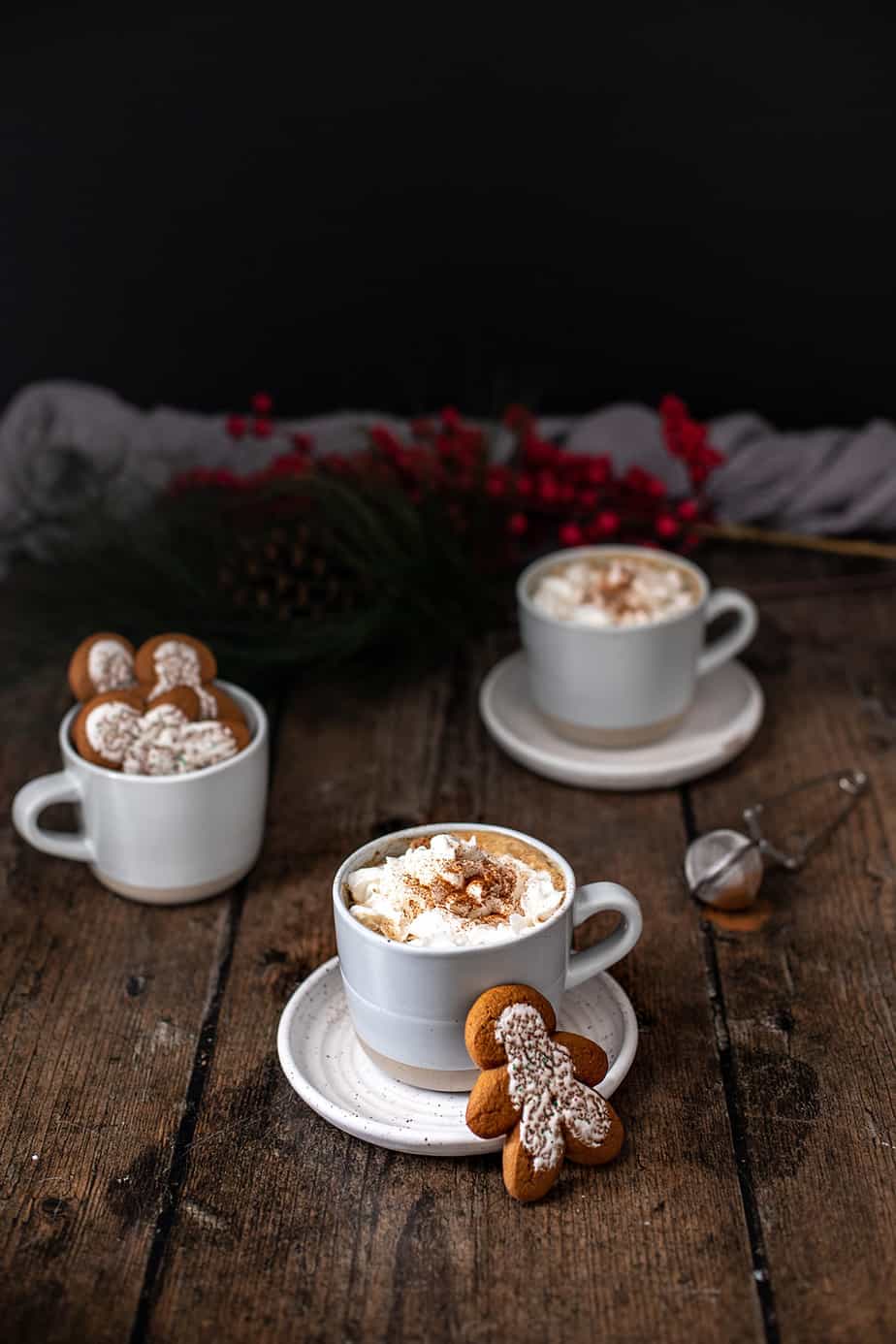 Jump to:
What is a gingerbread latte?
A Gingerbread Latte starts out as a pretty standard latte (espresso + steamed milk). From there, you add an amazingly flavorful gingerbread syrup to the mix. This makes the drink taste just like warm gingerbread in a mug.
Actually, what is gingerbread??
Gingerbread is a pretty broad category of baked goods, usually flavored with spices like cinnamon, cloves, allspice, nutmeg, and ginger (of course). Much of its signature flavor is derived from those spices, but also from molasses.
The most recognizable gingerbread treat--at least in the United States and UK--is probably the gingerbread man. It's a cookie that's rolled out and cut into the shape of a cartoonish-looking person.
However, gingerbread and gingerbread-flavored treats can come in many forms: cookies (both moist and crispy), quick bread, muffins, bundt cakes, etc. AND of course, as evidenced by this recipe, gingerbread flavors can be enjoyed in a latte!
What is in a gingerbread latte?
Espresso: Ideally, when making this recipe, you should use espresso made using an espresso machine. I have a Nespresso Vertuo, and love it. The next best option would probably be to use really strong coffee. After that, probably the least preferable alternative would be to use instant espresso.
Gingerbread syrup: Two kinds of sugar, molasses, and warm gingerbread spices are used to make a simple syrup that tastes and smells just like gingerbread. You can buy some or make your own.
Milk: You can pretty much use whatever type of milk you prefer. I've made this recipe using cow's milk and full fat oat milk (my personal preference), both to great success.
Garnishes (optional): I know that I just said that these garnishes were optional, but come on, folks. You gotta add some whipped cream and a dusting of gingerbread spices to the top of your latte! You just gotta.
How to make a gingerbread latte at home
If you've ever made a regular latte, you can totally make a gingerbread latte. And you know what? Even if you've never made a latte before, you can totally nail this.
Start by brewing some espresso in a mug. Add some gingerbread syrup to the espresso.
Froth some milk (check out the FAQs if you have questions or want some tips) and pour that over the espresso and syrup.
THEN, if you're feeling extra (and you are, I just know it), top everything with a generous dollop of whipped cream and a dusting of gingerbread spices.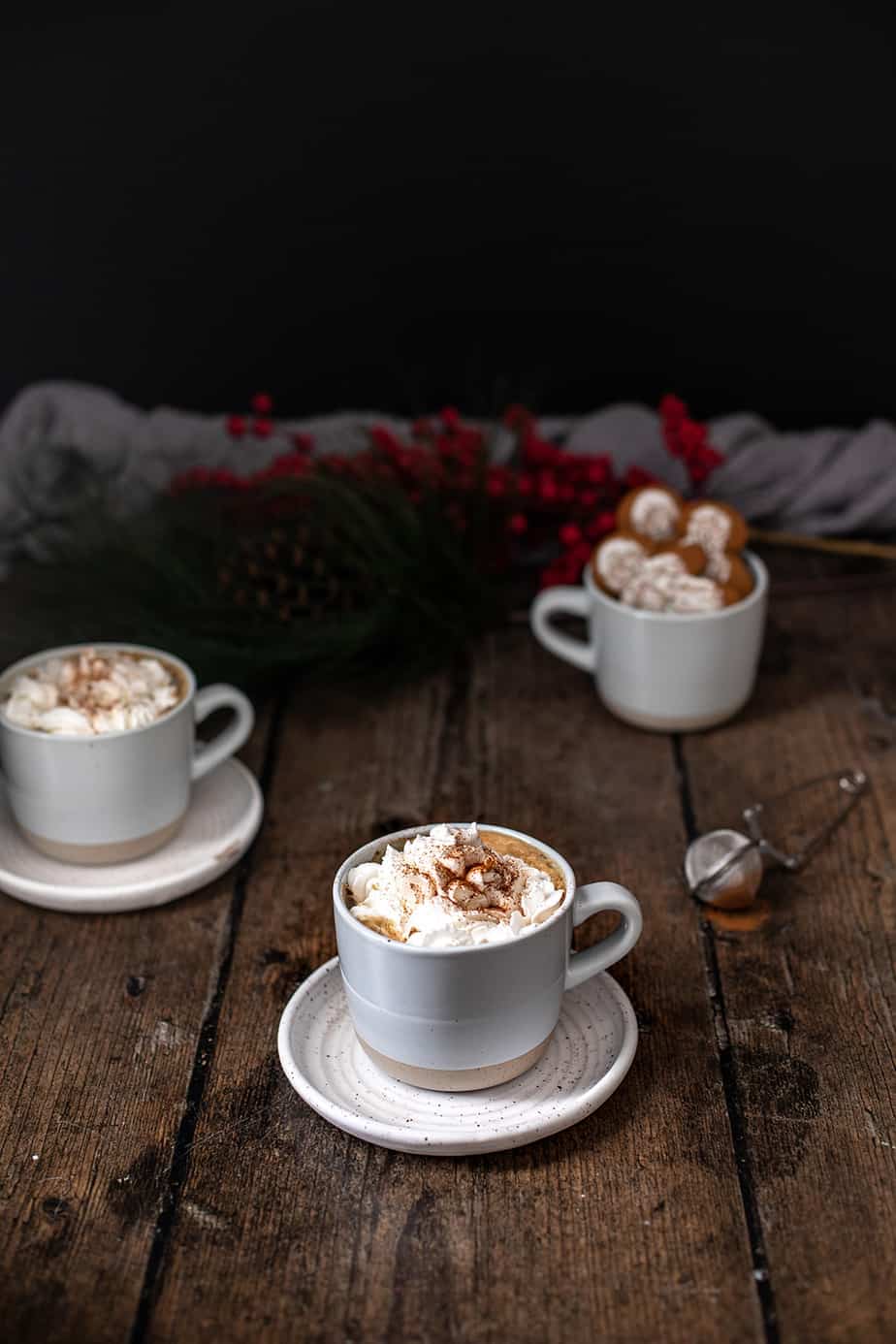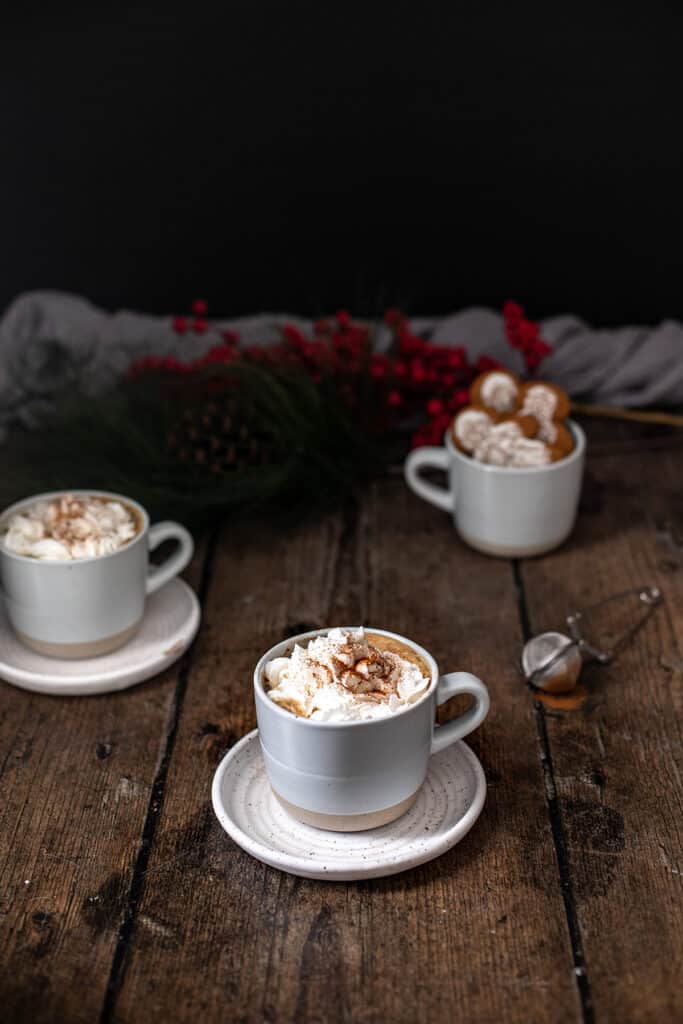 Other coffee drinks on this blog
Looking to make more coffee drinks at home? I can show you how to make an Iced Latte from scratch! I also have recipes for Homemade Cold Brew Coffee and Pumpkin Spice Cold Brew.
These Eggnog Lattes are delicious and festive, too.
If you're looking to add a little bit of an alcoholic buzz to your caffeine... I can help you out there, too. Check out my Espresso Martinis and Bailey's Iced Coffee. You won't regret it.
Frequently Asked Questions
What if I don't have an espresso machine?
Not a problem! You have a couple of options: Use some really strong coffee (probably the next best choice if actual espresso isn't an option) or instant espresso (not the first recommended choice, but could work in a pinch).
What kind of milk should I use?
Choose your own adventure1 I have used oat milk (Oatly full fat; my preference) and 2% cow's milk. Both have worked very well. Though I haven't tried it, I imagine that almond milk would work well, too. My one recommendation would be to consider avoiding cream and/or half and half, if only from a calorie perspective.
How do I froth the milk?
You have a number of options here. You can use a milk frother (like this one that came with my Nespresso), or this stick frother). If using a stick frother, you'll need to heat the milk before frothing. The one that comes with the Nespresso heats and froths at the same time. You can even use a French Press or a whisk! This post can tell you more.
Can I make an iced gingerbread latte?
Yeah! You sure can. Follow the instructions in my Iced Latte recipe, adding the gingerbread syrup in Step 3.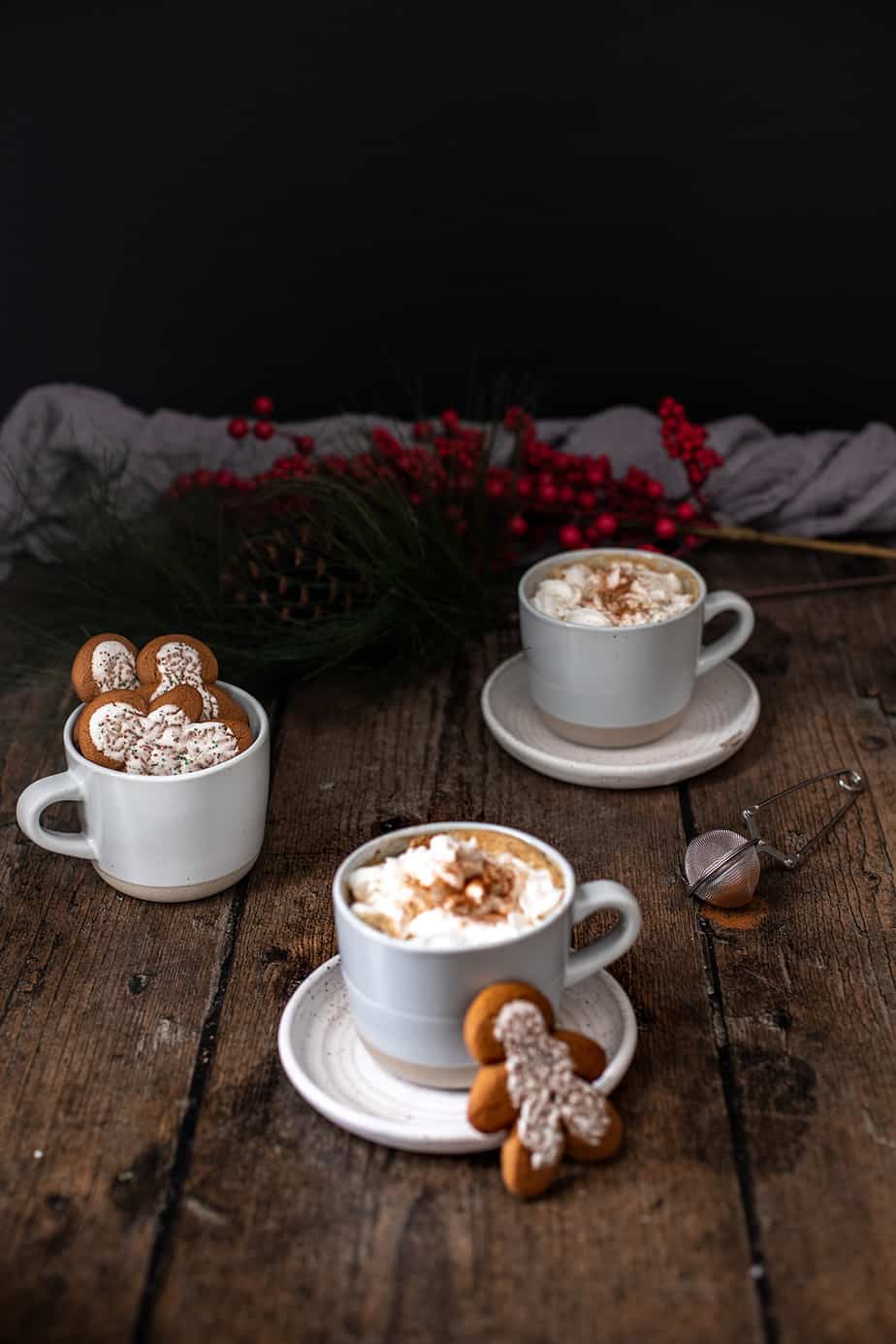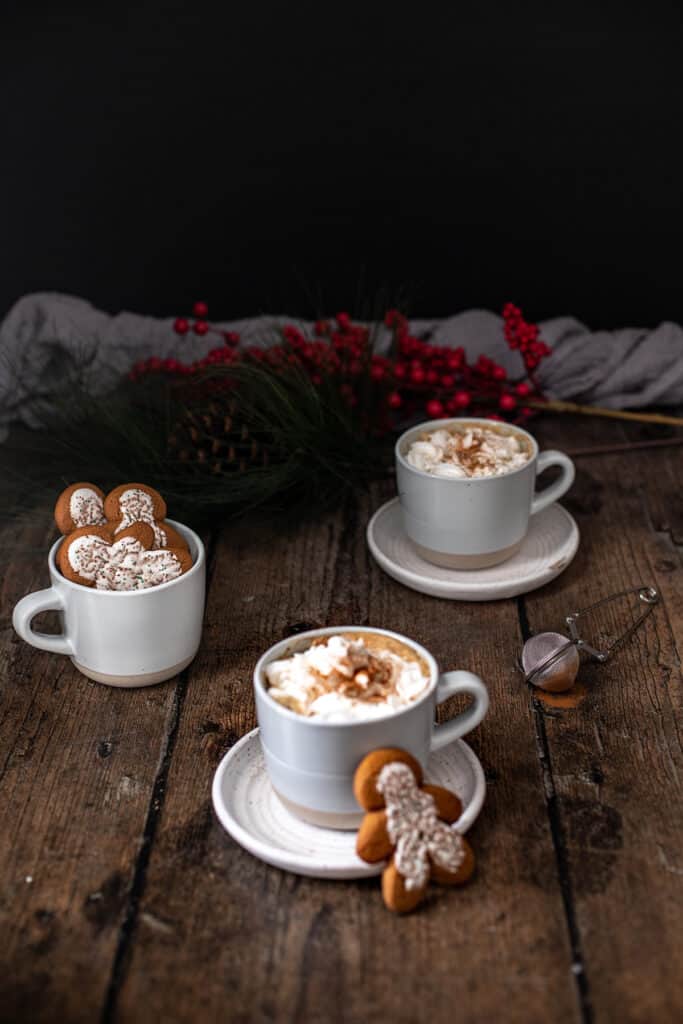 Don't forget to follow me and share your creations on social media!
Subscribe to the A Nerd Cooks Newsletter to have updates sent straight to your inbox.

I love seeing when you share my recipes! Please tag me on Instagram @anerdcooks so I can enjoy them virtually with you! You can also find me on Pinterest, Facebook, YouTube, and Twitter.

I'd love to know what you thought of this recipe! Don't forget to leave a comment and ⭐️ star rating below!
✨ Recipe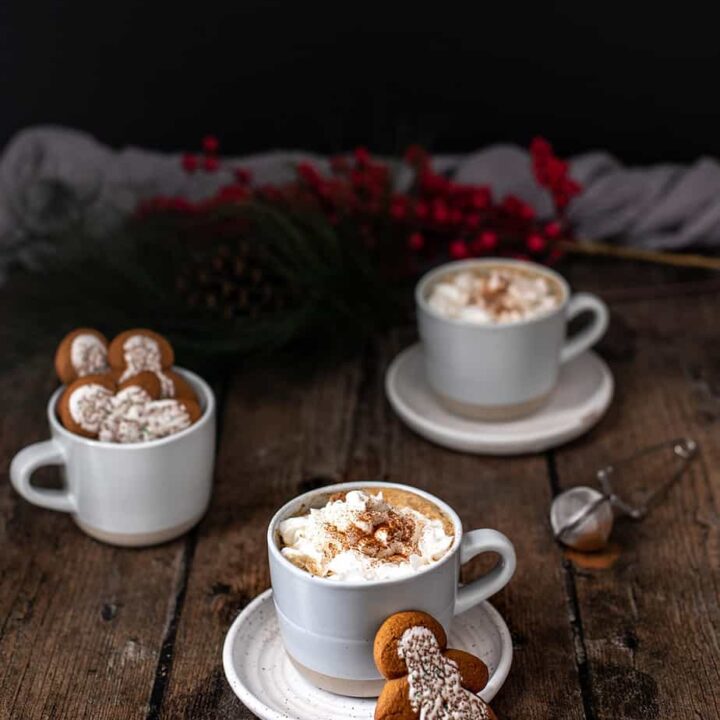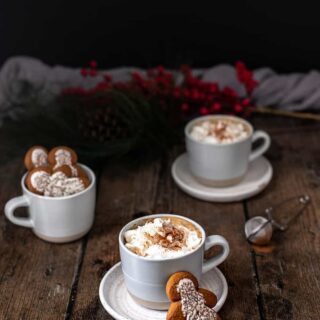 Gingerbread Latte
Gingerbread Lattes are warm, cozy, and delicious. They're like liquid gingerbread in a cup. Caffeinate yourself while embracing the flavors of the Winter season.
Ingredients
Gingerbread Latte
2

shots espresso

3

tablespoons

gingerbread syrup

½

cup

milk

steamed

whipped cream and gingerbread spices

for topping (optional)
Instructions
Add the freshly brewed espresso and the gingerbread syrup to the bottom of a mug.

Pour the steamed milk into the mug.

Top everything with whipped cream and a dusting of gingerbread spices, if desired.

Nutrition
Serving:
1
Calories:
579
kcal
Carbohydrates:
112
g
Protein:
8
g
Fat:
13
g
Saturated Fat:
6
g
Polyunsaturated Fat:
6
g
Cholesterol:
33
mg
Sodium:
376
mg
Fiber:
3
g
Sugar:
67
g
Disclaimer: Nutritional information is a generated estimate and is not guaranteed to be accurate.
What equipment should I have on hand?
Pin this recipe for later!