Try this homemade version of the Starbucks drink, the Caramel Macchiato. Foamed milk, espresso, and caramel drizzle make for a tasty drink.
The Caramel Macchiato is one of the most popular drinks sold at Starbucks, and for good reason. It's rich, sweet, and oh-so-cozy. You can save yourself some $$ and time in the drive thru by making this drink at home.
I have lots of other really delicious coffee drinks on this site, too. My Blonde Vanilla Latte is another great hot coffee drink option, while my Iced Cinnamon Dolce Latte will energize you while keeping you cool.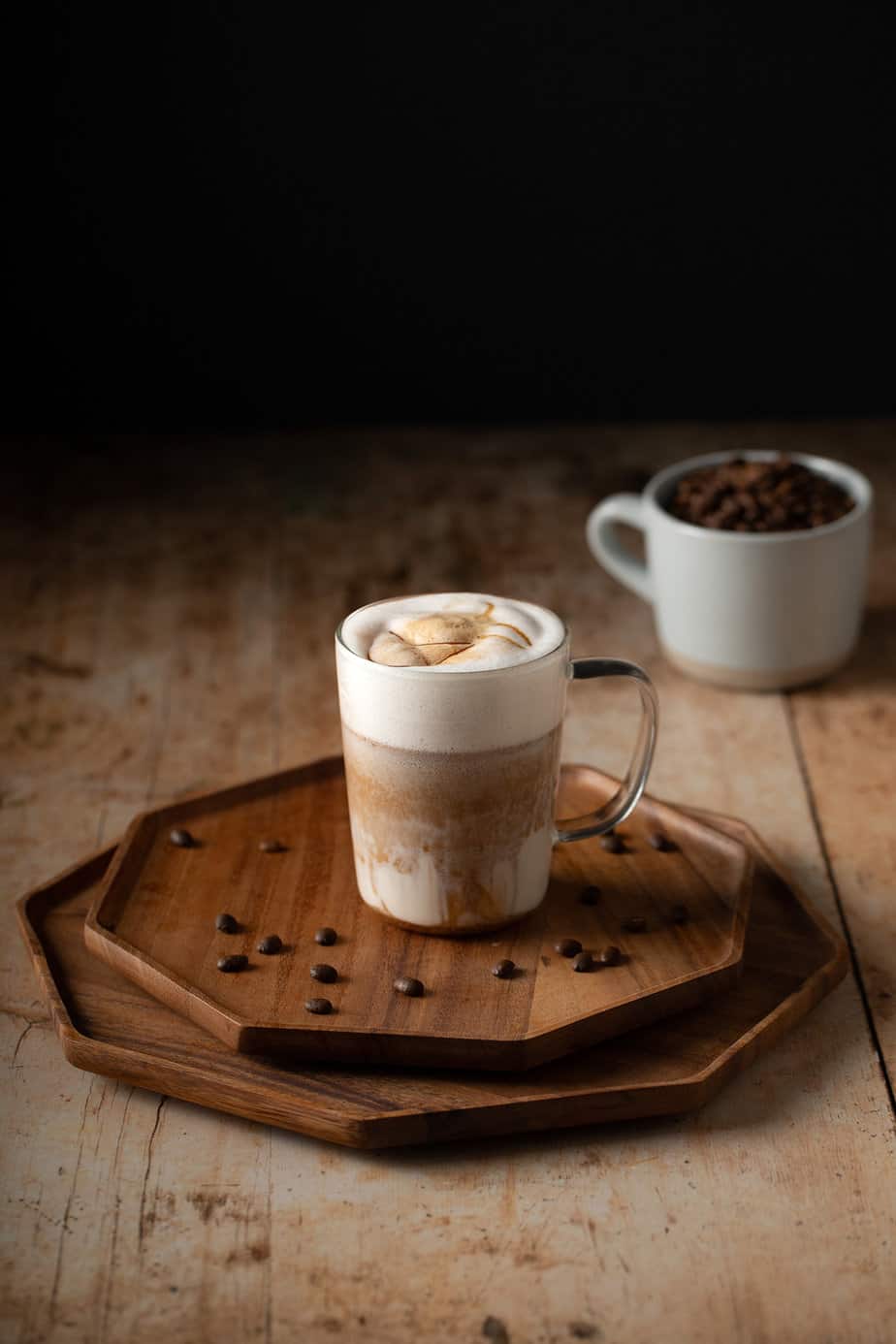 Jump to:
🌟 Why You'll Love This Recipe
It looks fancy, but is so easy to make. Seriously, so so easy. If you can froth milk and pour some espresso into a mug, you got this.
It tastes great. It's warm, cozy, and delicious!
It's a Starbucks copycat recipe. Love Starbucks? Making this copycat recipe at home will save you so much time and money.
💭 What is a Caramel Macchiato?
A Caramel Macchiato is one of the super popular Starbucks espresso drinks, made with steamed milk, vanilla syrup, espresso, and caramel sauce.
Unlike when making a latte, where the espresso goes into the mug first and is topped with milk and foam, you start out making a caramel macchiato by warming and frothing your milk. The espresso then gets poured through the foamy milk, resulting in a dark mark on top of the milk foam. This is where the drink gets its name: "macchiato" means "marked" in Italian.
And, of course, it wouldn't be a caramel macchiato without a nice drizzle of caramel sauce on top of the milk foam.
📝 Ingredients
Though it's a really delicious and impressive looking drink, it requires only 4 ingredients. Let's walk through them.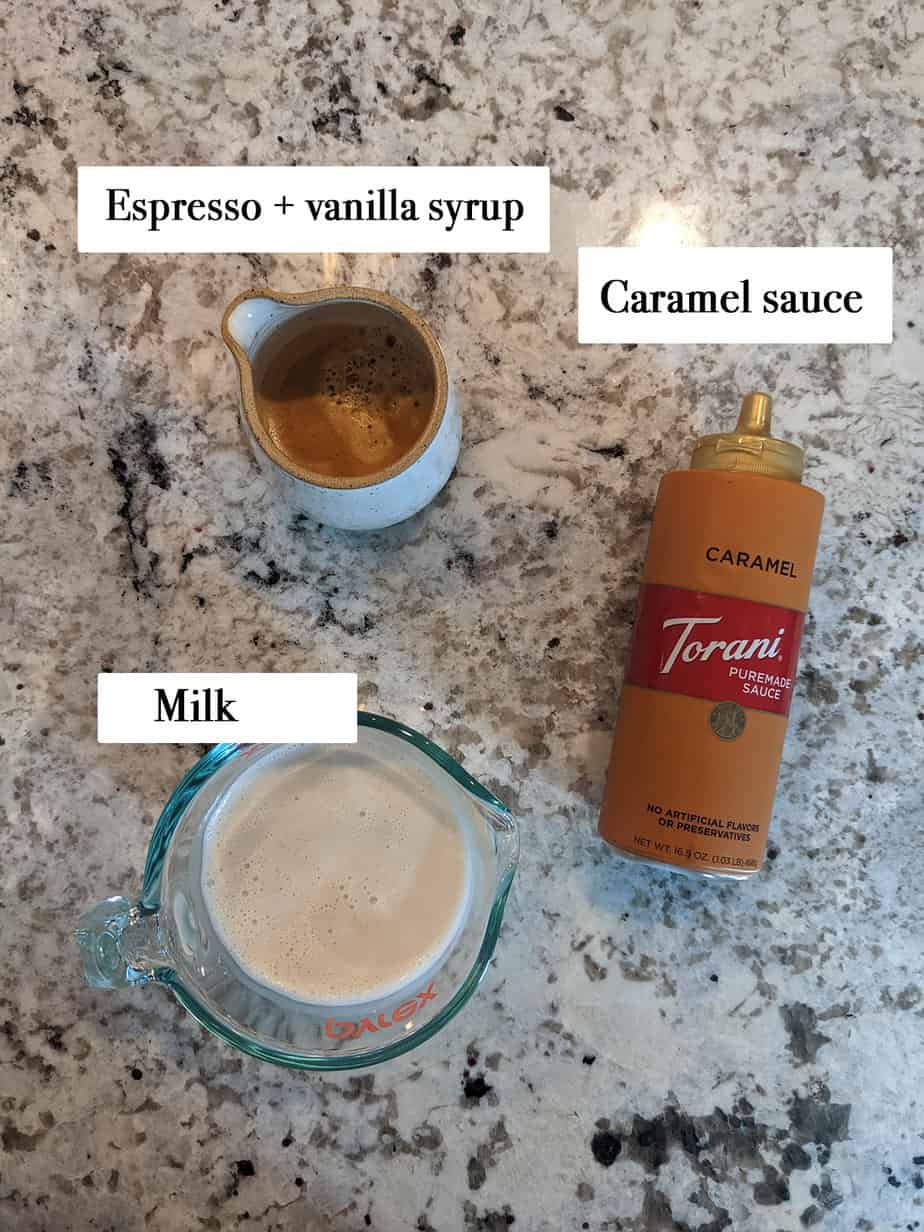 Vanilla syrup: You can use store bought or homemade vanilla syrup. It's so easy to make your own (and it tastes so good) that I recommend that you make your own.
Milk: You can use whatever milk you prefer. I favor oat milk, but almond and cow's milks also work very well in this recipe.
Espresso: You can make your espresso using whatever method you prefer: espresso machine, Moka pot, AeroPress, French press... I use my Nespresso Vertuo machine.
Caramel sauce: If you have a favorite homemade caramel sauce recipe, you can use that. However, I use store bought caramel sauce.
👩🏻‍🍳 How to make a Caramel Macchiato
I'll walk you through how to make a caramel macchiato at home, including instructions for how to do it whether you own a milk frother and/or espresso machine or not.
With a milk frother and an espresso machine
You'll start out by warming and frothing the milk and pouring it into a mug. I used a glass mug so you can see how this drink gets built.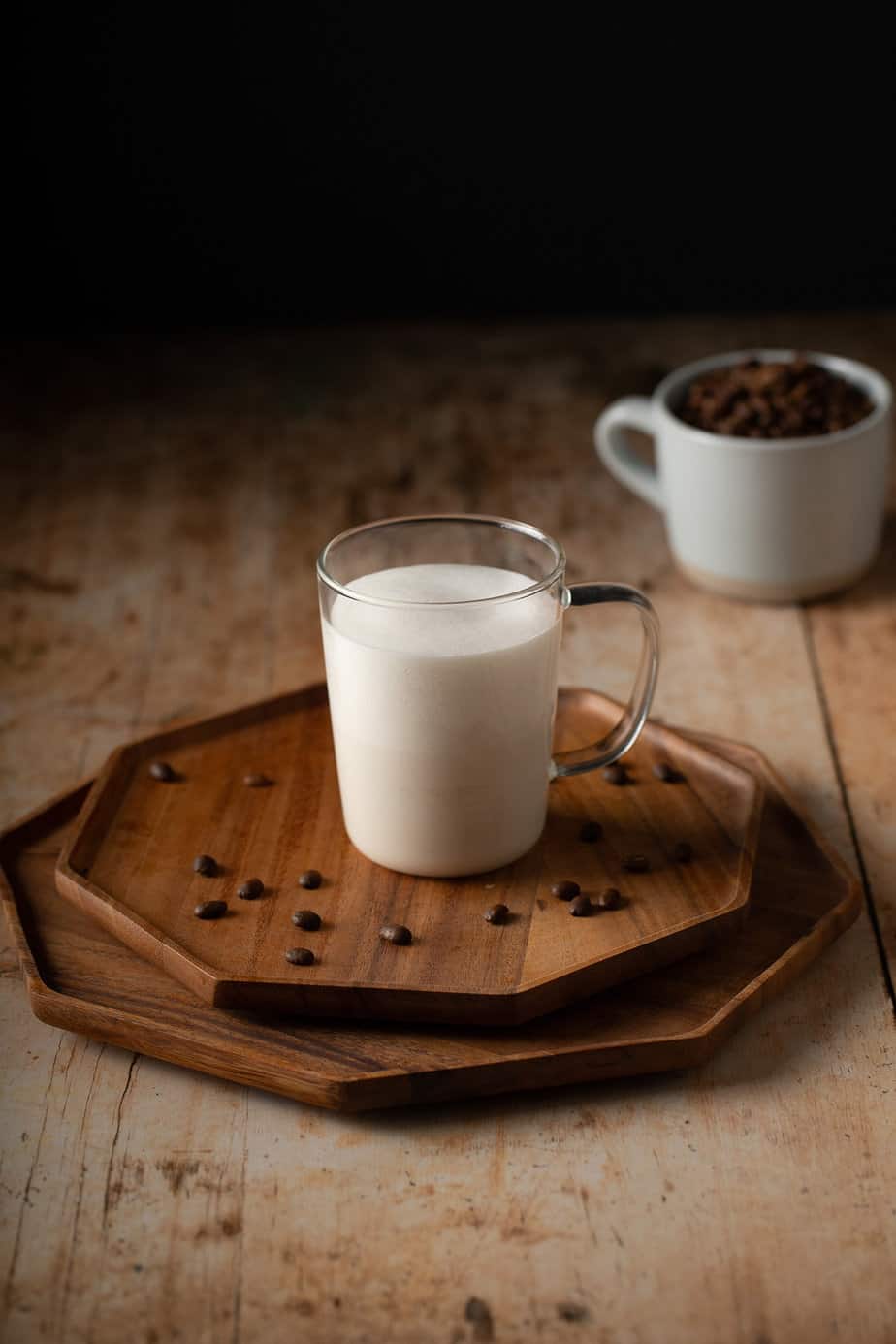 Next, gently pour your espresso into the mug, through the foam. If you use a glass mug, too, you'll see how it creates layers within the drink: milk on the bottom, espresso in the middle, and foam on top.
Note that signature dark mark on top of the foam.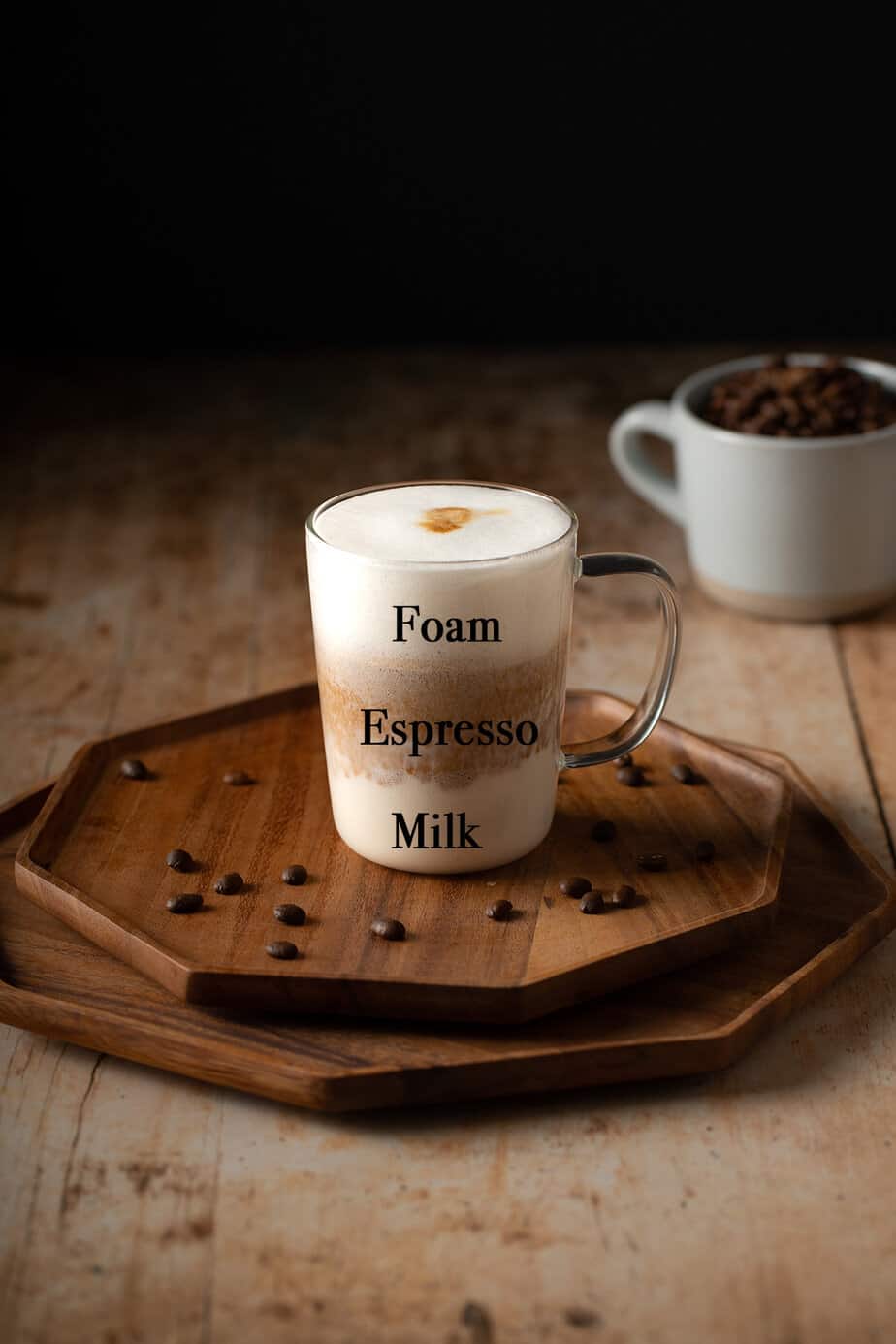 After that, don't forget to drizzle a healthy amount of caramel sauce on top of the foam. Some will sink into the drink, and some will sit on top of the foam, so don't fret.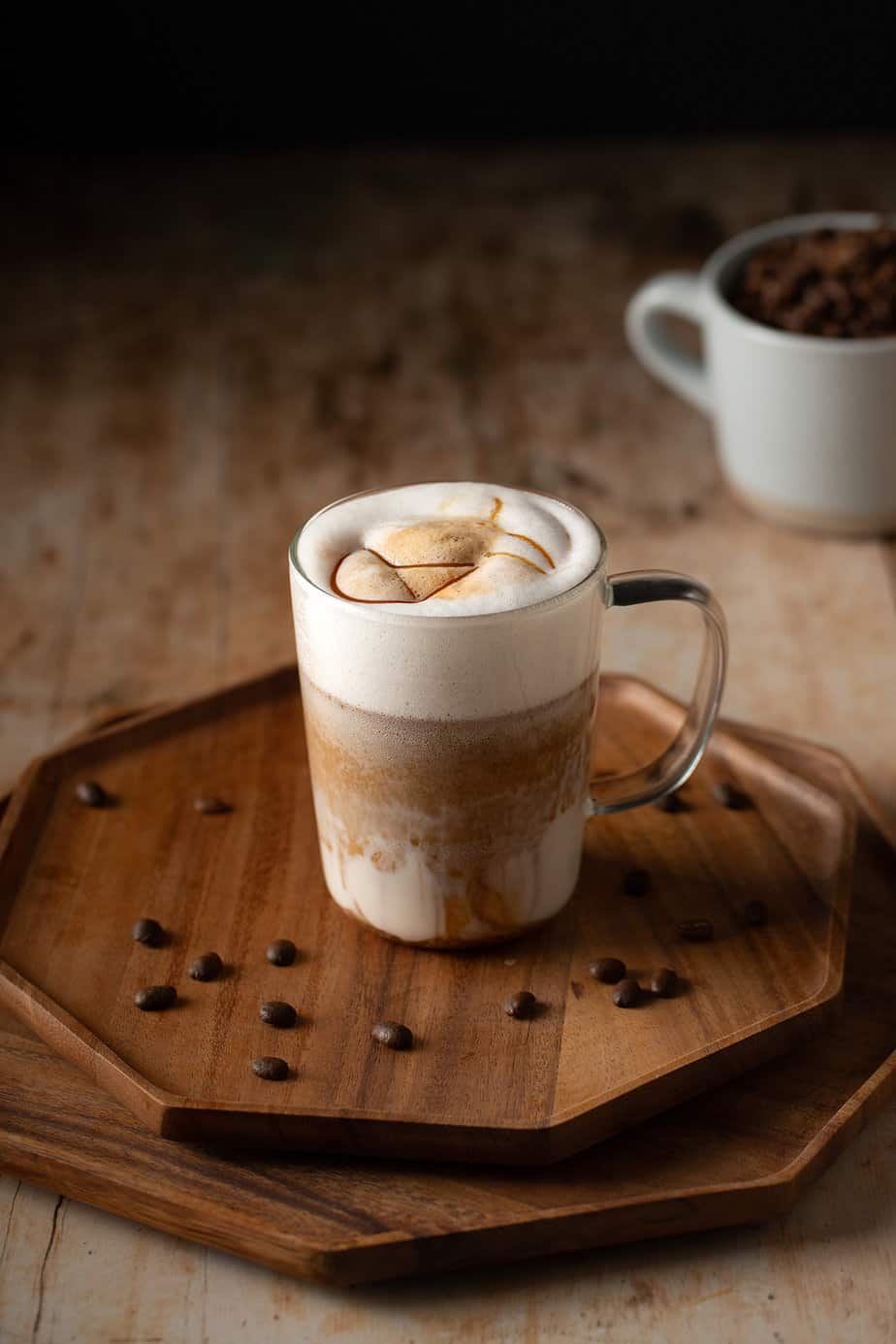 Without a milk frother
If you aren't an owner of a milk frother, you can still froth your milk for this drink! A couple of options include using a French press or a whisk. Check out this post to learn more.
Without an espresso machine
If you don't own an espresso maker, the next best choice would be to brew some really strong coffee. It won't be exactly the same, but will work in a pinch.
You could also use instant espresso. It comes in powdered form, and all you need to do is add hot water. This wouldn't be my first choice, but is another option for you to consider.
🔗 More Starbucks copycat recipes and coffee drinks
I have loads of more Starbucks copycat recipes. Click on any of the photos below to see some of them. The links below will take you to other delicious coffee recipes, too.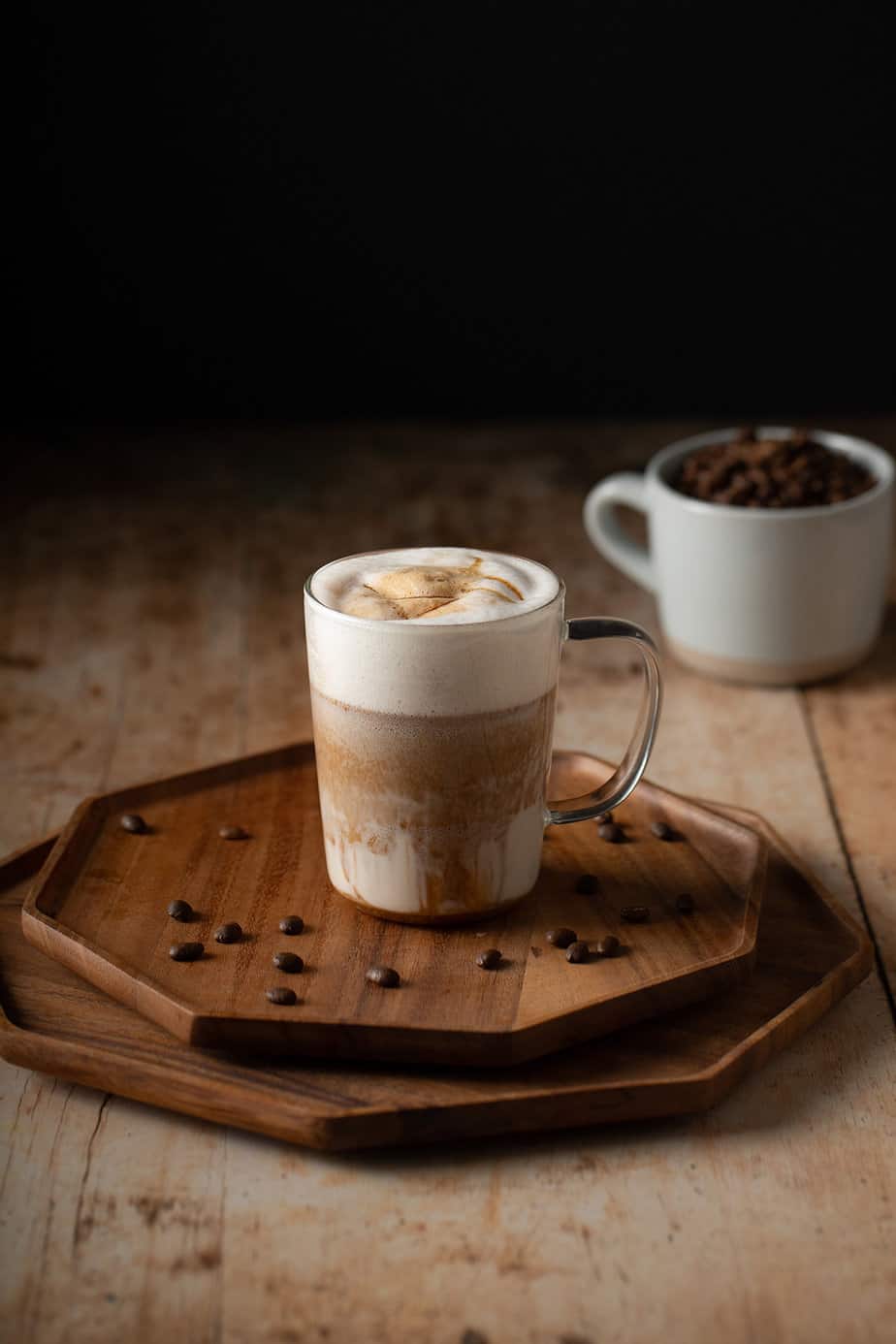 ❓ FAQs/Tips and tricks
How do I make an upside down caramel macchiato?
Start by drizzling caramel into your mug or cup, then follow that with espresso, milk, and then vanilla syrup.
How do I make an iced caramel macchiato?
Follow the same general process as you would to make a hot caramel macchiato, but don't warm the milk, just froth it a bit.
What if I don't have an espresso machine?
You can use very strong coffee or instant espresso, instead.
What if I don't have a milk frother?
Check out this post to learn more.
What kind of milk should I use?
Use whatever milk you prefer. I like oat milk, but use whatever you like.
🖤 Share your creations and follow me on social media!
✨ Recipe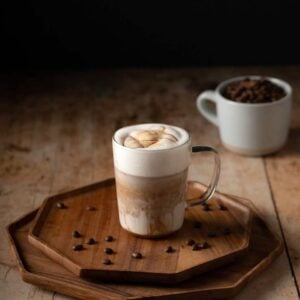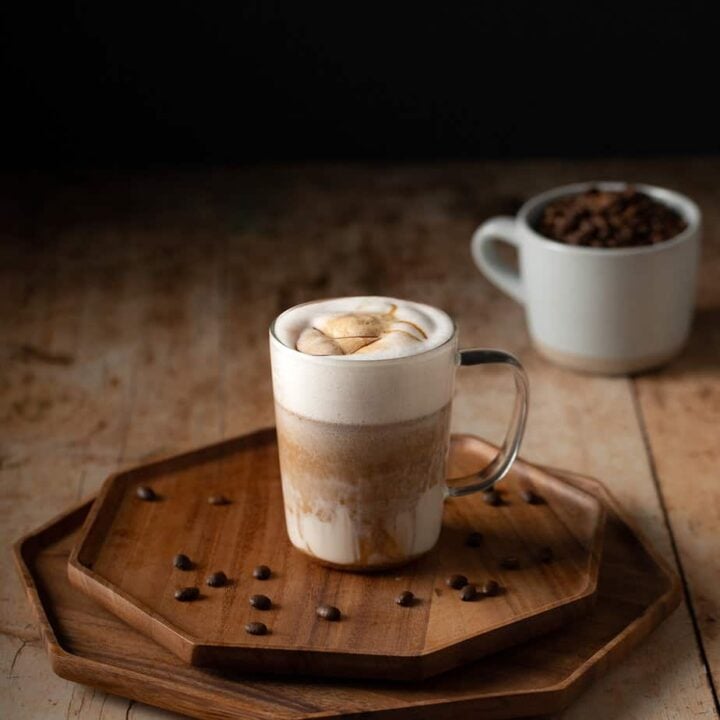 Caramel Macchiato
Try this homemade version of the Starbucks drink, the Caramel Macchiato. Foamed milk, espresso, and caramel drizzle make for a tasty drink.
Ingredients
8

ounces

milk of choice

1

ounce

vanilla syrup

2

ounces

espresso

caramel sauce

for drizzling
Instructions
Warm and froth your milk of choice. Pour in into a mug.

Brew your espresso into a separate cup. Add the vanilla syrup to the espresso.

Pour the espresso into the mug with the milk, pouring it through the foam on the top of the milk.

Drizzle caramel sauce on top of the foam.
Notes
I've made this recipe using cow's milk and oat milk, both with great success
 
Nutrition
Serving:
1
Calories:
216
kcal
Carbohydrates:
36
g
Protein:
9
g
Fat:
5
g
Saturated Fat:
3
g
Polyunsaturated Fat:
2
g
Cholesterol:
20
mg
Sodium:
263
mg
Sugar:
36
g
Disclaimer: Nutritional information is a generated estimate and is not guaranteed to be accurate.
📌 Pin this recipe for later!