Last Updated on April 27, 2021 by laurenpacek
Ever wanted to have some key lime pie... but in boozy drink form?
This Key Lime Pie Crush Cocktail is sweet, tart, and totally refreshing. It tastes just like a boozy piece of key lime pie, but in a glass!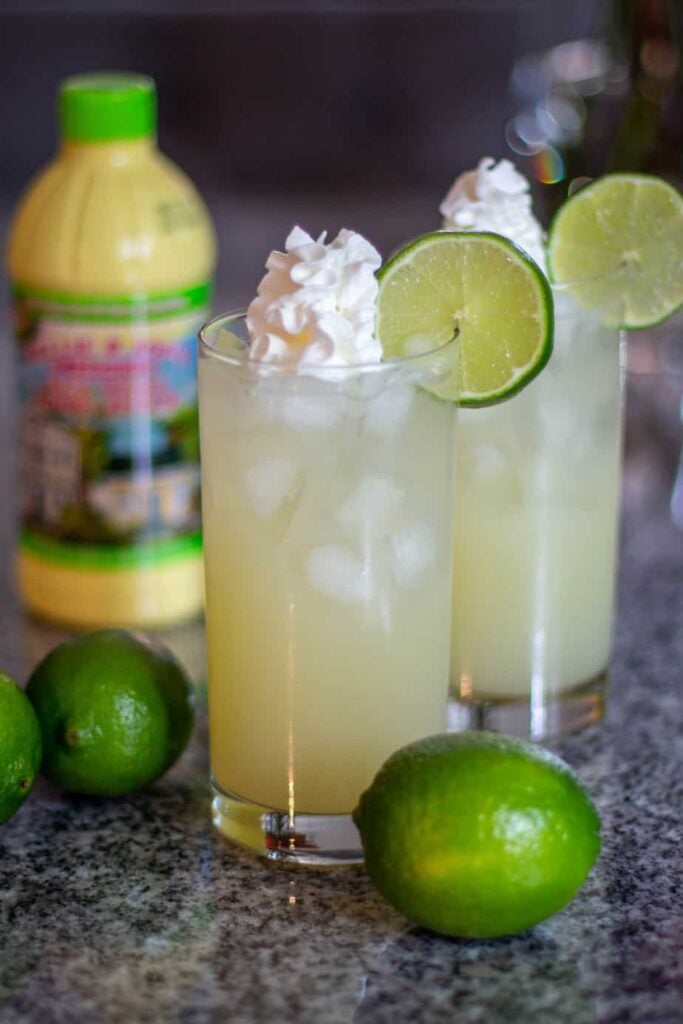 Are you familiar with Crush cocktails?
If you are, you know what the hype is all about.
If not... well, let me enlighten you. A Crush is a cocktail that's named for "the swift yanking of an industrial press juicer that flattens fresh orange halves sending frothy OJ plummeting into a pint glass filled with ice, vodka and triple sec." Orange is the OG Crush cocktail flavor, hence the previous description.
Basically, Crushes tend to be made up of a few key ingredients: fresh fruit juice, vodka (sometimes plain, sometimes flavored), triple sec (sometimes), and lemon lime soda. Oh, and lots of crushed ice, naturally. With that basic formula, you can achieve a variety of delicious flavors.
You'll find Crushes on the menu at bars and restaurants all over the Baltimore and DMV region (the area where Delaware-Maryland-Virginia meet). And for good reason. They're great all year round, but especially during the summer when the weather heats up and the humidity gets a bit out of control.
What goes into this Crush?
This one comes together with key lime juice (more on that in just a second), whipped cream vodka, lemon lime soda, and whipped cream and a lime wheel for garnish. You can juice a bunch of key limes if you can find them in stores (they're pretty small, so it takes quite a few), or feel free to use a good quality bottled variety of juice.
Given that key limes are often not available in stores (and how good the bottled juice can be), this is the one of the few instances where I'll give the okay to sub a bottled juice in place of fresh.
I like to use this one. I've found it to be readily available in Harris Teeter, Publix, and Safeway grocery stores. Hopefully your store will have it on hand, too. You can also use regular lime juice in a pinch, but the flavor won't be exactly the same as if you used key lime juice.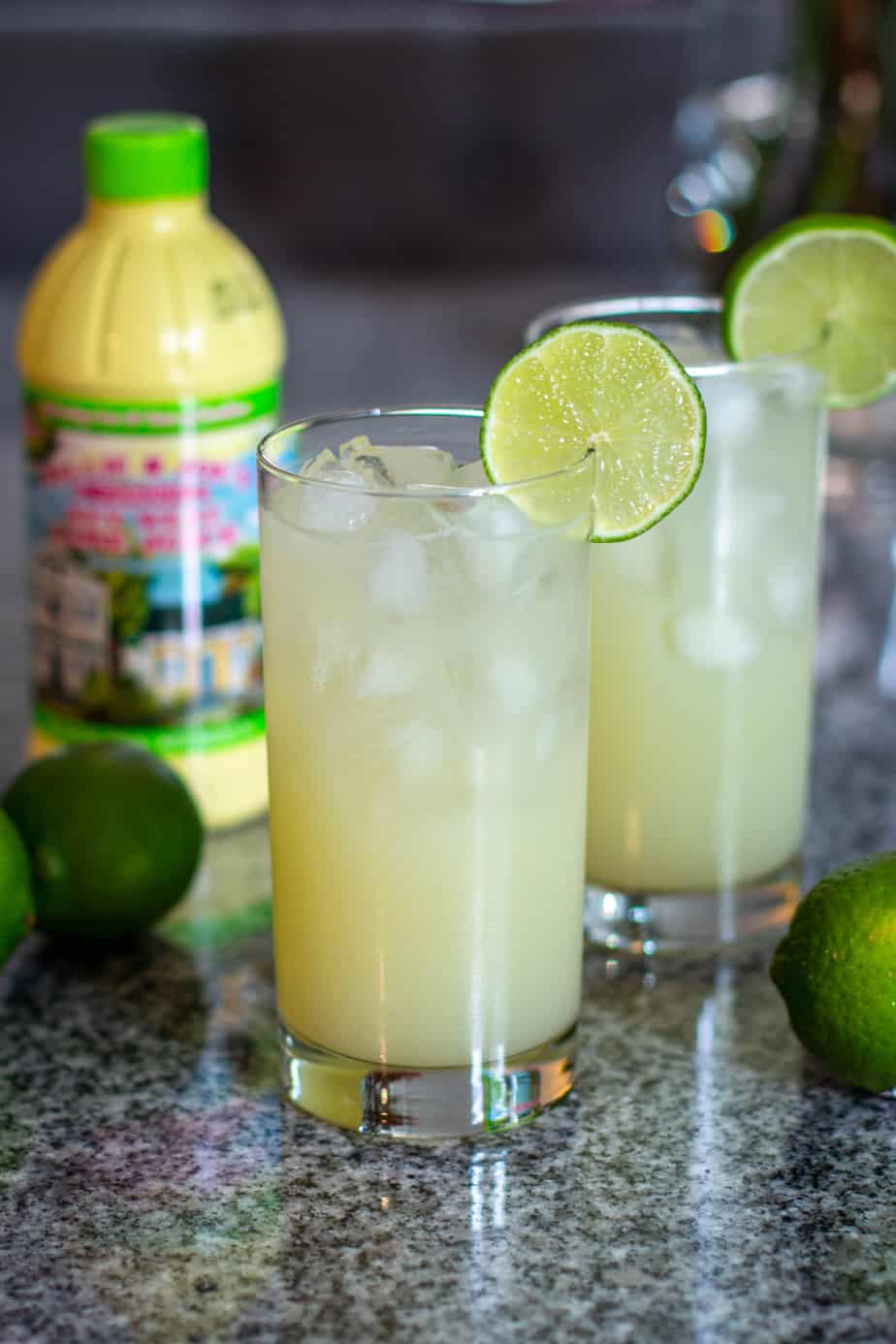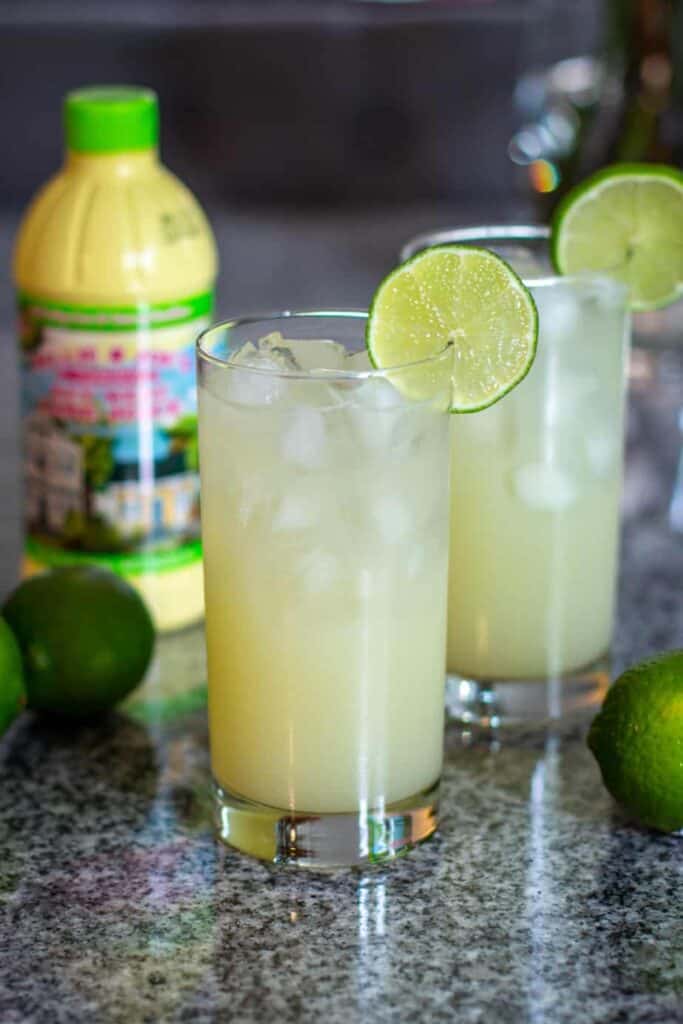 Want other key lime-flavored recipes?
I have a couple for you! These Key Lime Pie Cookies are delicious. They're a fun twist on a flavor that's usually only found in pies.
And, of course, here's a recipe for Key Lime Pie. I've made this time and time again. It's consistently a hit. And really, now that I think about it, I think it might be time to make it again.
Are you interested in trying other Crush recipes, too?
You owe it to yourself to try out as many as you can. They're so refreshing and delicious! Though I did say that regular orange is the OG flavor (a great option!), I haven't yet blogged about it. (Note to self: do that soon!)
HOWEVER, you can check out my Orange Creamsicle Crush, as well as my Grapefruit Crush recipe. Not to toot my own horn, but they're both so good that it's hard to pick a favorite between the two.
Better make both, along with this Key Lime Crush, and taste for yourself. You know, in the interest of science ;).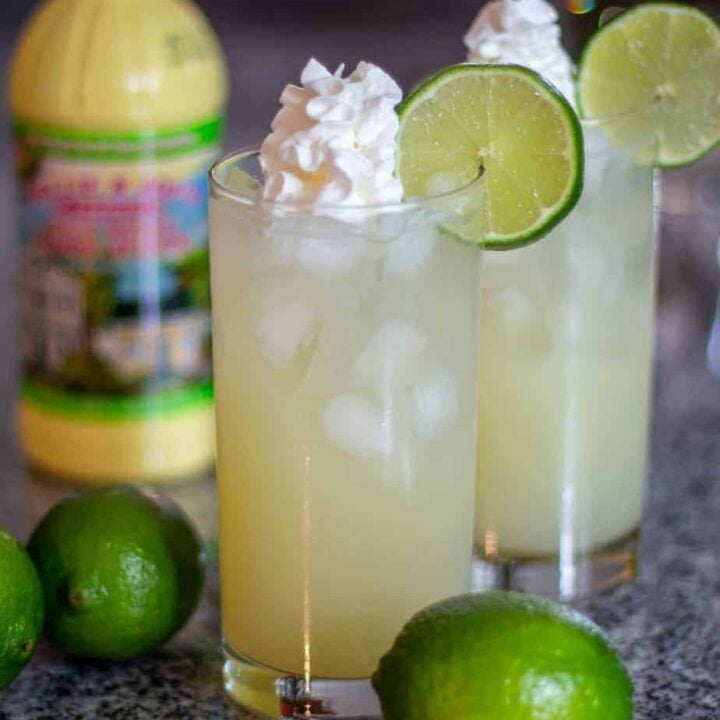 Key Lime Pie Crush
This Key Lime Pie Crush Cocktail is sweet, tart, and totally refreshing. It tastes just like a boozy piece of key lime pie, but in a glass!
Ingredients
lemon lime soda
whipped cream and lime wheel, for garnish (optional)
Instructions
Add the whipped cream vodka and key lime juice to a tall glass with ice.
Top with lemon lime soda and stir gently.
Garnish with whipped cream and a lime wheel, if desired.
Notes
Freshly squeezed OR store bought key lime juice can be used here. You can also use regular lime juice in a pinch.
Nutrition Information:
Yield:

1
Serving Size:

1
Amount Per Serving:
Calories:

409
Total Fat:

11g
Saturated Fat:

7g
Trans Fat:

0g
Unsaturated Fat:

4g
Cholesterol:

37mg
Sodium:

44mg
Carbohydrates:

57g
Fiber:

2g
Sugar:

44g
Protein:

3g
What should I have on hand in order to make this cocktail?
Pin this recipe for later!