Last Updated on November 16, 2022 by laurenpacek
This post may contain affiliate links. A Nerd Cooks may collect a share of sales or other compensation from the links on this page. More information can be found here.
Treat yourself to a Cranberry Moscow Mule this holiday season. They're sweet, tart, and oh so festive. Don't forget the copper mug!
Start with a classic Moscow Mule cocktail and add a bit of cranberry juice cocktail - that's all that it takes! They're also really quick and easy to throw together, making them a perfect drink for just yourself or for a crowd.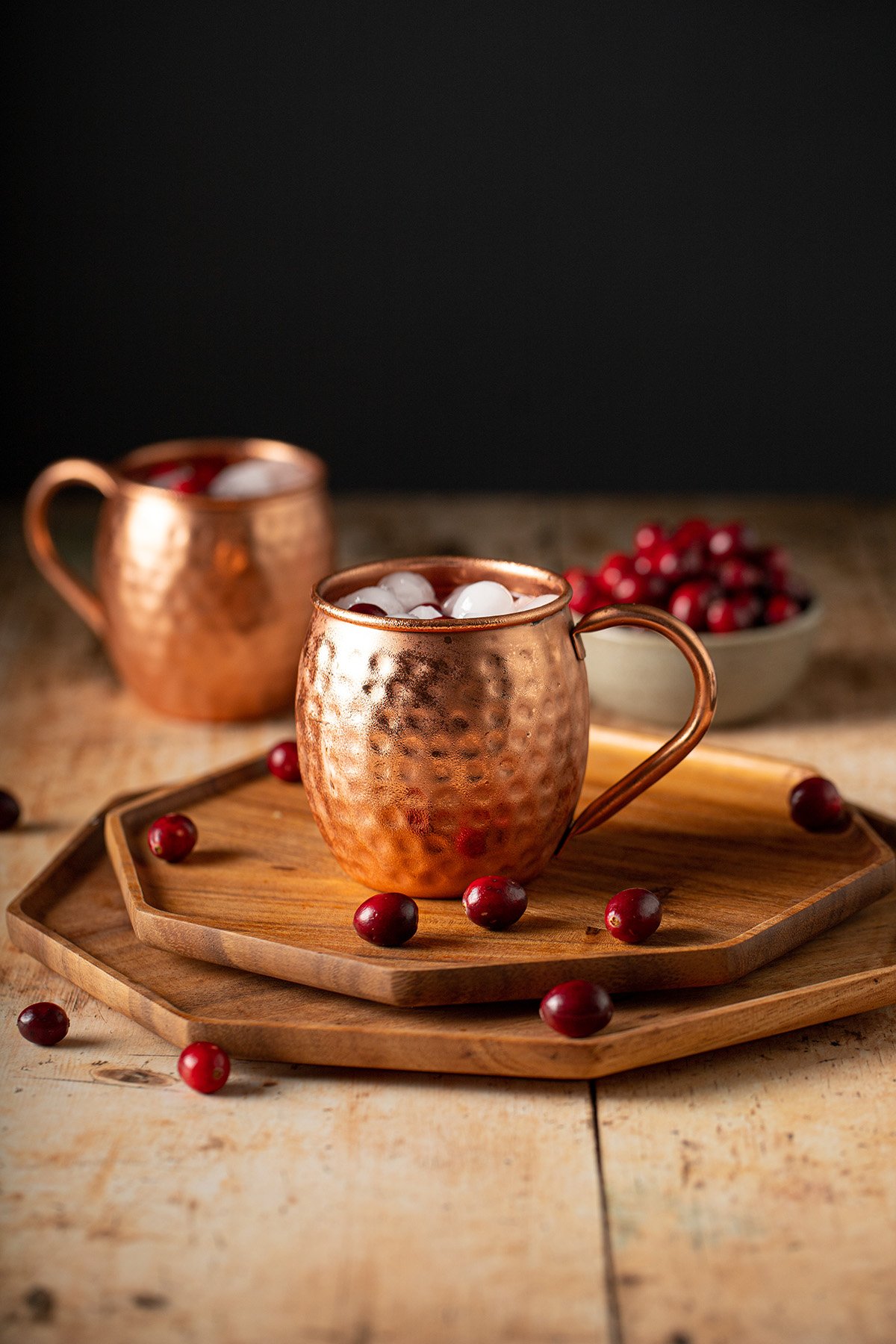 What is a Moscow Mule?
A Moscow Mule is a vodka-based cocktail that's traditionally served in a copper mug and dates back to the 1940s. Though the vodka and "Moscow" portion of the name might lead you to believe that it originated in Russia, that is a misconception.
The origin story alleges that the Moscow Mule is the product of brainstorming between a bartender who wanted to sell more vodka and a copper mug salesman. Is it true? I couldn't say for sure.
In addition to the vodka, the classic Mule also uses freshly squeezed lime juice and spicy ginger beer. The original is undeniably fabulous. There are, however, numerous variations on the classic. I have quite a few of them on this site; click here for other Moscow Mule recipes.
What is a Cranberry Moscow Mule?
A Cranberry Moscow Mule is one of the fun, tasty, variations on the classic Moscow Mule. This version keeps all of the classic ingredients, but adds cranberry juice cocktail (or pure cranberry juice) for beautiful color and seasonal flavor.
We'll walk through each of the ingredients in a little more detail below.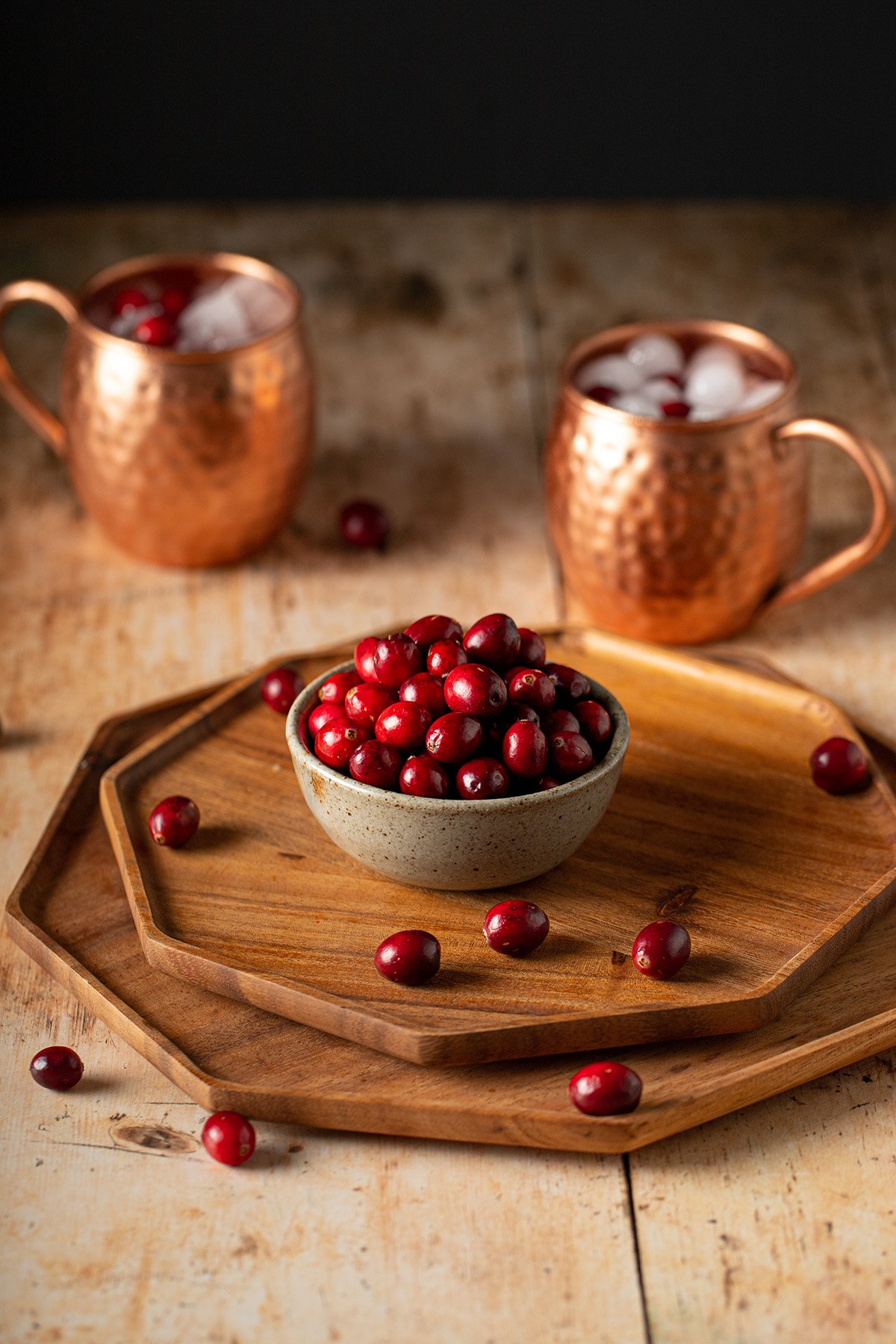 Ingredients
You only need four ingredients (plus an optional garnish) to make a delicious Cranberry Moscow Mule.
Lime juice: Freshly squeezed, please!
Cranberry juice: You can use either cranberry juice cocktail (this is what I opted to use) or pure cranberry juice. Keep in mind that the former will be much sweeter than the latter.
Vodka: Use an unflavored or cranberry flavored vodka (Smirnoff makes one) in this drink. I reach for something of good quality, but don't feel the need to break out the top shelf liquor.
Ginger beer: Use nonalcoholic ginger beer. Different brands vary in terms of sweetness and spiciness. Try a few and see what you like.
Garnish: This is optional, but I think that these mules look really nice when garnished with a few fresh cranberries. Look for them in the produce section.
How do you make a Cranberry Moscow Mule?
First, you'll start out by filling a copper mug with ice. Is a copper mug 100% necessary? Well, no. But it's traditional and I do prefer using one when making Mules. They're pretty and keep your drink very cold.
After that, add your lime juice, cranberry juice, and vodka to the mug. Top everything off with some fizzy ginger beer.
Last, if you're feeling it, just drop a few fresh cranberries onto the top of your drink. It's a pretty, easy, and edible (if you dare - they're pretty tart) way to make your drink pop.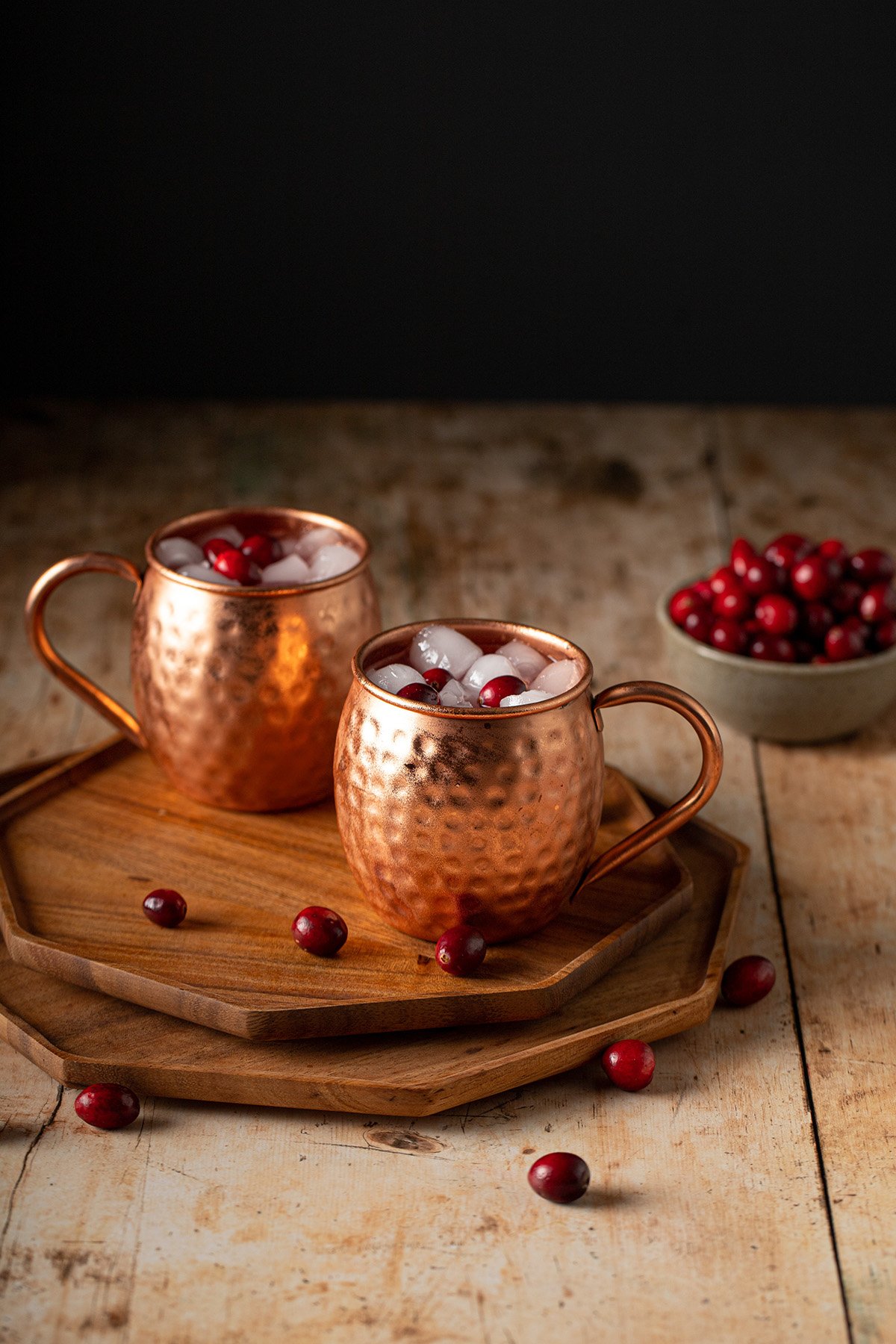 Recommended tools
Other Moscow Mule recipes
Looking for other Mule recipes? Of course you are. I got you.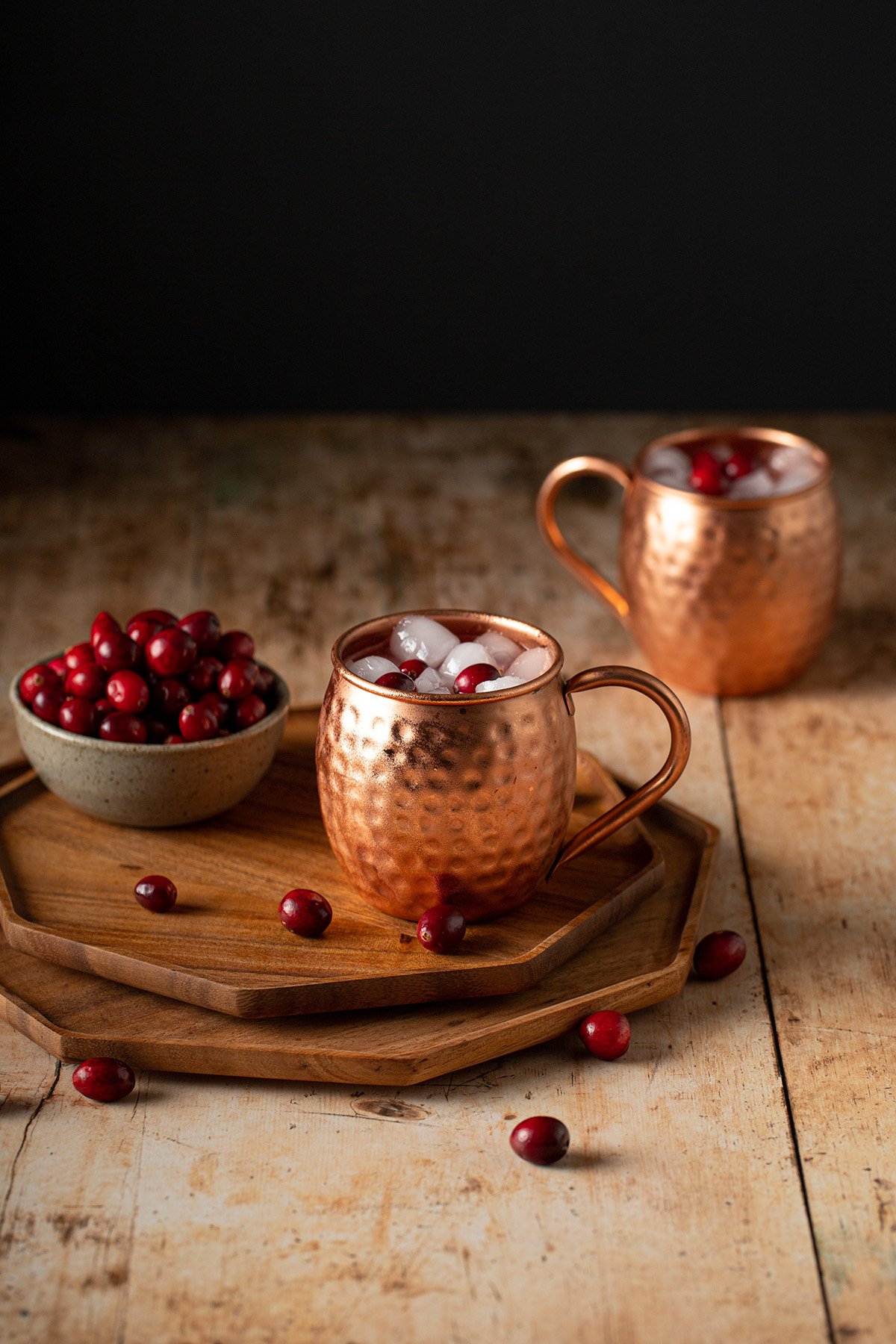 FAQs/Tips and tricks
Do I need to serve this in a copper mug?
No, you don't have to. Copper mugs are the classic/traditional serving presentation for any Mule cocktail. A copper mug will keep your Mule super cold... plus it looks really pretty! But you can serve these drinks in whatever vessel you desire.
What's the best vodka to use?
Basically, whatever vodka you prefer to drink! I like to use something that's at least decent, quality-wise. So stay away from well vodka.
What's the best ginger beer to use in a Moscow Mule?
It all depends on your tastes. Ginger beers can vary in sweetness and spiciness, depending on the brand. Try a few and see what you prefer! I'm a fan of Fever Tree, Goslings, and Bundaberg.
Can I use ginger ale instead of ginger beer?
Yes, but then the drink won't be a Mule. It will still be delicious, though.
Share your creations and follow me on social media!
Subscribe to the A Nerd Cooks Newsletter to have updates sent straight to your inbox.

I love seeing when you share my recipes! Please tag me on Instagram @anerdcooks so I can enjoy them virtually with you! You can also find me on Pinterest, Facebook, YouTube, and Twitter.

I'd love to know what you thought of this recipe! Don't forget to leave a comment and
⭐️ star rating below!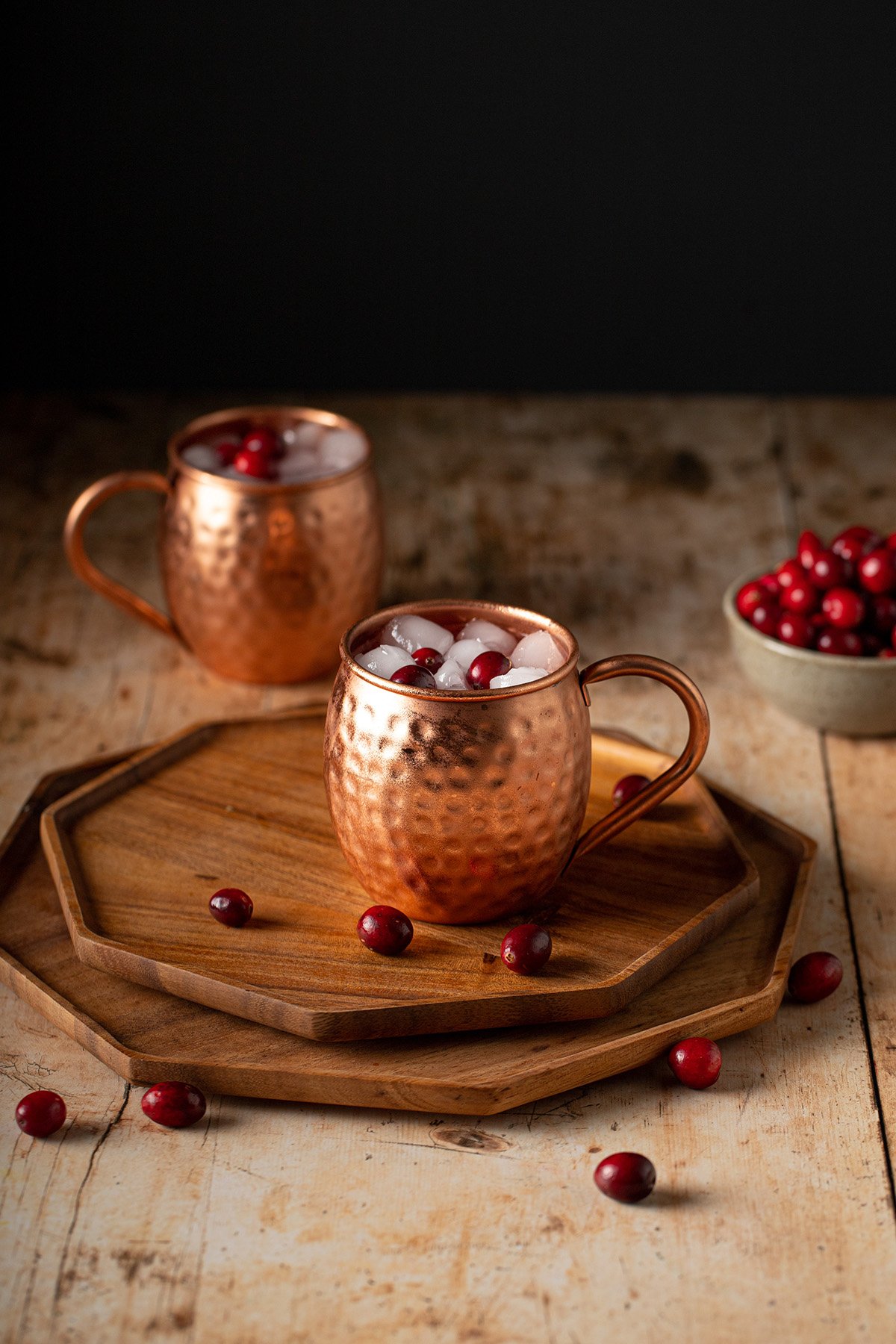 The Recipe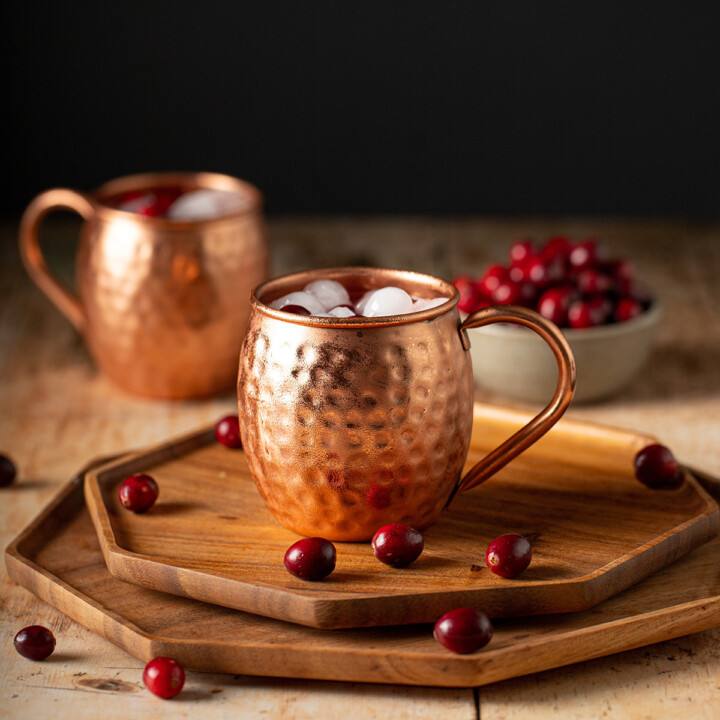 Cranberry Moscow Mule
Treat yourself to a Cranberry Moscow Mule this holiday season. They're sweet, tart, and oh so festive. Don't forget the copper mug!
Ingredients
0.5 ounce lime juice, freshly squeezed
3 ounces cranberry juice cocktail
2 ounces vodka
3 ounces ginger beer
fresh cranberries, for garnish (optional)
Instructions
Pour the lime juice, cranberry juice cocktail, and vodka to a copper mug with ice.
Top with ginger beer.
Garnish with fresh cranberries, if desired.
Nutrition Information:
Yield:

1
Serving Size:

1
Amount Per Serving:
Calories:

274
Total Fat:

0g
Saturated Fat:

0g
Trans Fat:

0g
Unsaturated Fat:

0g
Cholesterol:

0mg
Sodium:

11mg
Carbohydrates:

37g
Fiber:

4g
Sugar:

27g
Protein:

1g
Pin this recipe for later!