The Mexican (Tequila) Mule is a fun variation on the traditional cocktail. Simply swap out tequila for the usual vodka and you're in business!
Sounds easy, right? Luckily for you and me, it is! It's also delicious and extremely drinkable.
Need more Moscow Mule recipes? I have them! Try my Irish Mule and Caramel Apple Moscow Mules on for size.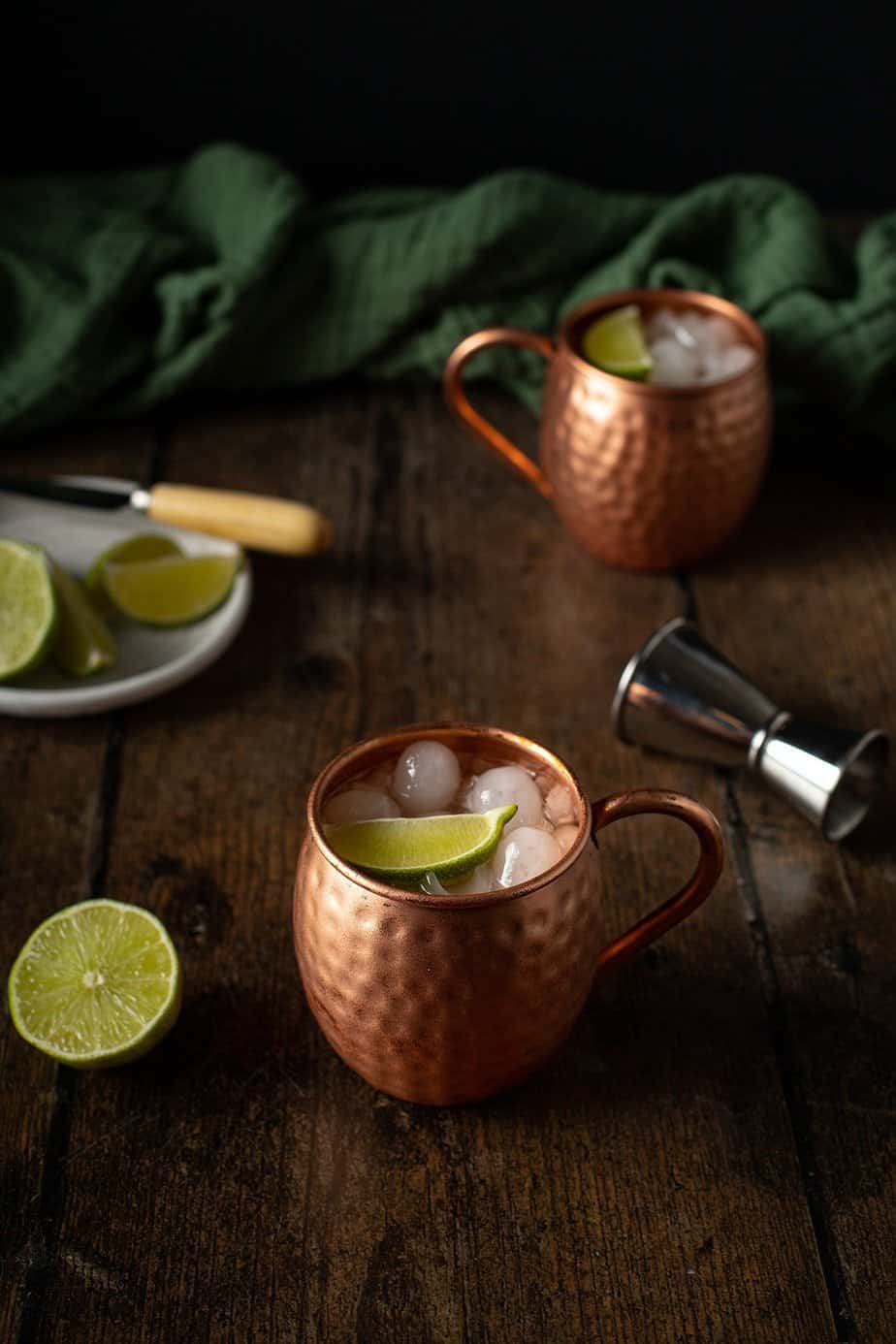 Jump to:
🌟 Why You'll Love This Recipe
It's so easy to make. If you can pour a few ingredients into a copper mug, then you can totally make this drink.
It is dangerously drinkable. One or two of these drinks goes down very smoothly.
It's a fun twist on a classic. This is a fun and easy twist on the classic Moscow Mule.
💭 What is a Mexican Mule?
Maybe we should first talk about what a classic Moscow Mule is. A Moscow Mule is a cocktail made up of vodka, lime juice, and ginger beer. Despite its name, it's actually thought that the drink originated in the U.S.
A Mexican Mule, on the other hand, is made with lime juice, ginger beer, and tequila. This is why the drink is also sometimes called a Tequila Mule.
📝 Ingredients
This is one of those great cocktails that only requires a handful of ingredients to make. Sometimes simpler is better, you know?
Tequila: In order to make a Tequila Mule, you need to use tequila. Use whatever you like, but I prefer tequila añejo or reposado.
Lime Juice: Freshly squeezed, please!
Ginger beer: The spicier the better, imho. I tend to prefer Fever Tree ginger beer. Keep in mind that some brands of ginger beer actually contain alcohol (Fever Tree does not). So, if you're using an alcoholic version, you're going to end up with a stronger drink than you may have originally intended.
Garnish: This isn't mandatory, but I love to garnish my Tequila Mule with a fresh lime wedge. Just plop it on top of the prepared drink. You can also squeeze the wedge into the cocktail before garnishing, if you want an extra hit of lime juice.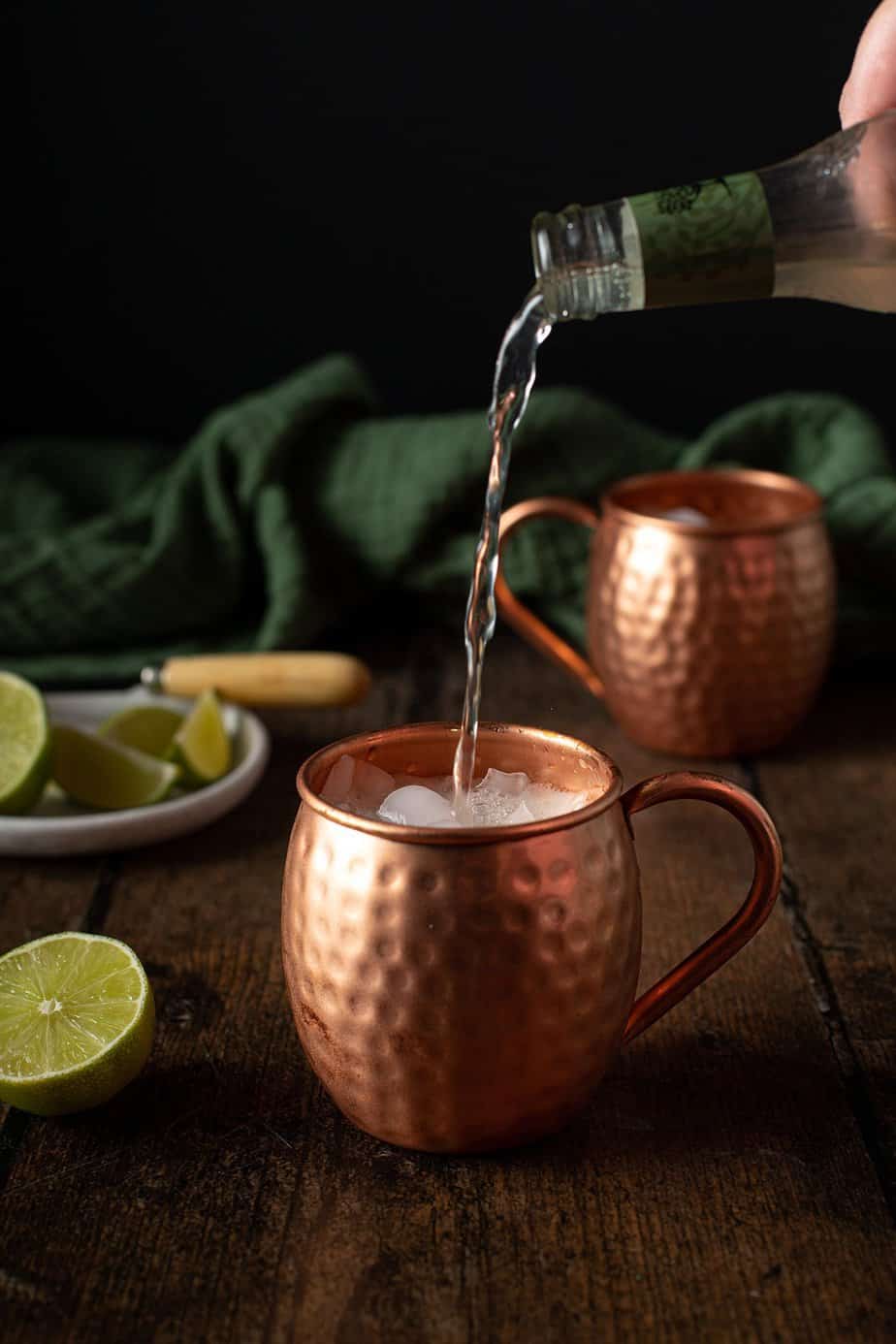 👩🏻‍🍳 How to make a Mexican Mule
Mexican Mules--much like pretty much all Moscow Mule varieties--get built directly in the glass that you'll drink them out of. I'm a big fan of this, because it means fewer dishes to wash!
To start, I recommend getting some copper mugs. It's the classic way to drink a Moscow Mule. The look is iconic, and using the copper mugs actually helps to keep your drink extra frosty cold for a longer period of time. Now, they're not mandatory, but if you're like me and frequently make Mule cocktails, I'd definitely recommend picking some up.
You'll start by taking your copper mug and filling it most of the way with ice. I often like to use crushed ice, but you'll see in the photos that I just went with whole ice cubes. Use whatever shape/kind of ice that you prefer.
Next, you'll pour your tequila and freshly squeezed lime juice over the ice. Top everything off with some bubbly, spicy ginger beer, give it a gentle stir, and garnish with a lime wedge.
There you have it!
🔗 Other Moscow Mule recipes
Looking for other Moscow Mule recipes? I have a TON on this blog, but I've also linked to couple of mine and a few from other bloggers below.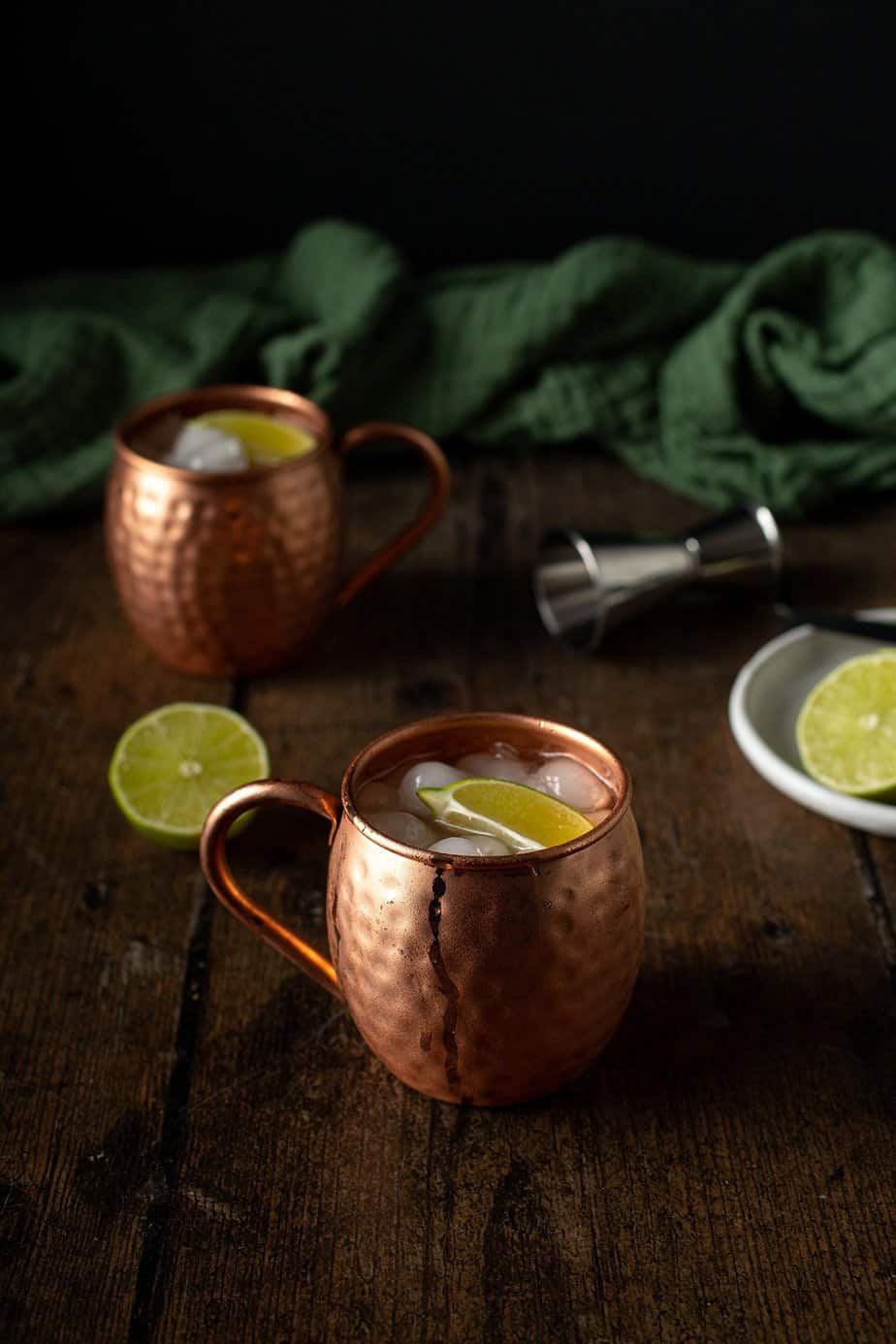 🔗 What about more tequila drinks?
Looking for other tequila-based drinks? Because I can show you more of those, too!
❓ FAQs/Tips and tricks
Do I need to serve this in a copper mug?
No, you don't have to. Copper mugs are the classic/traditional serving presentation for any Mule cocktail. A copper mug will keep your Mule super cold... plus it looks really pretty! But, in short, you can serve these drinks in whatever vessel you desire. They'll still be delicious.
What is the best tequila to use in a Tequila Mule?
Basically, whatever tequila you prefer to drink! I like to use something that's at least decent, quality-wise. So stay away from well tequila.
Best ginger beer for a Moscow Mule?
It depends on your tastes. Ginger beers can vary in sweetness and spiciness, depending on the brand. Try a few and see what you prefer! I'm a fan of Fever Tree, Goslings, and Bundaberg.
Can I use ginger ale instead of ginger beer?
Yes, but then the drink won't be a Mule. It will still be delicious, though.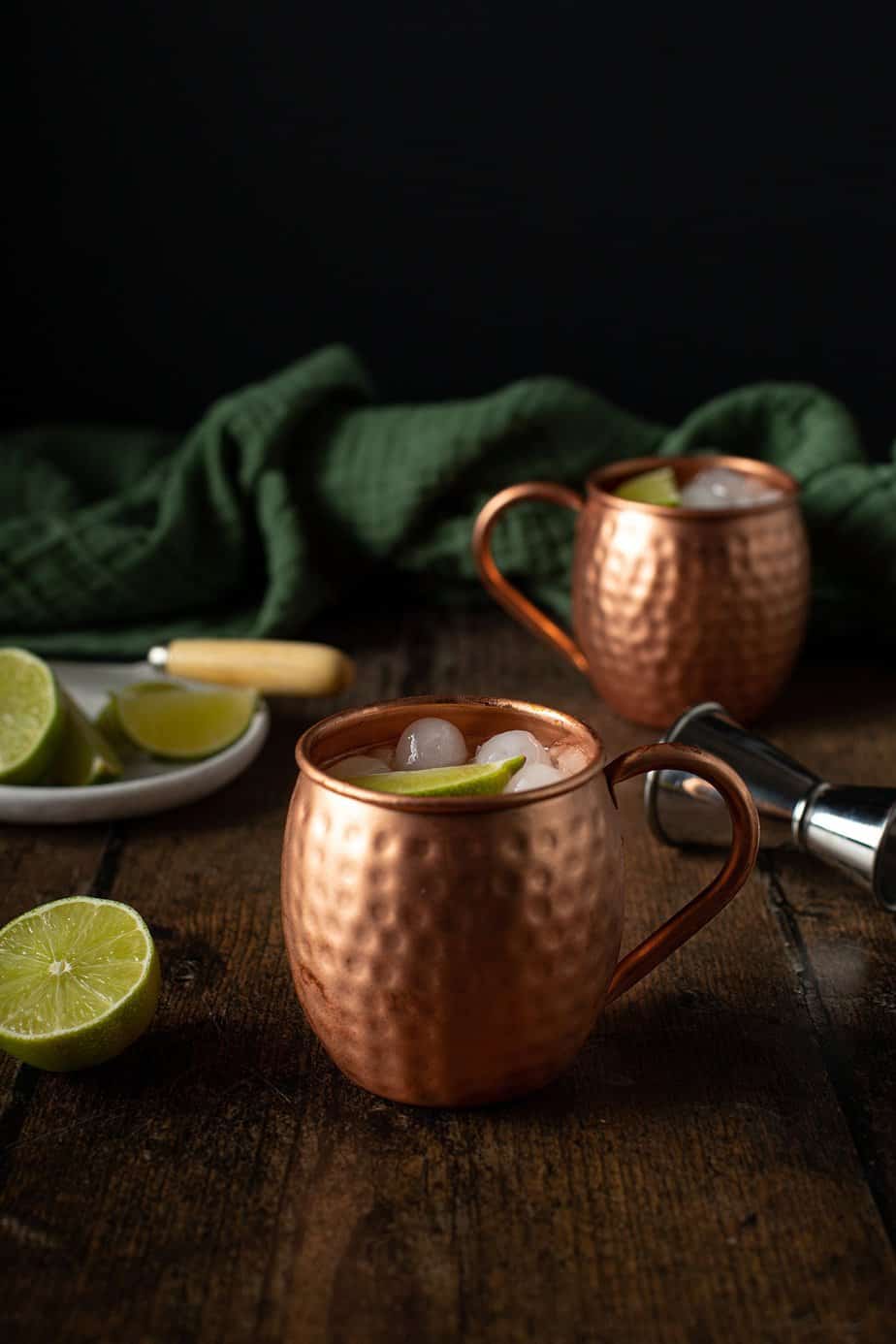 🖤 Share your creations and follow me on social media!
✨ Recipe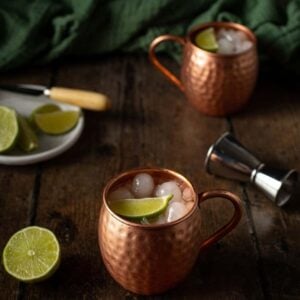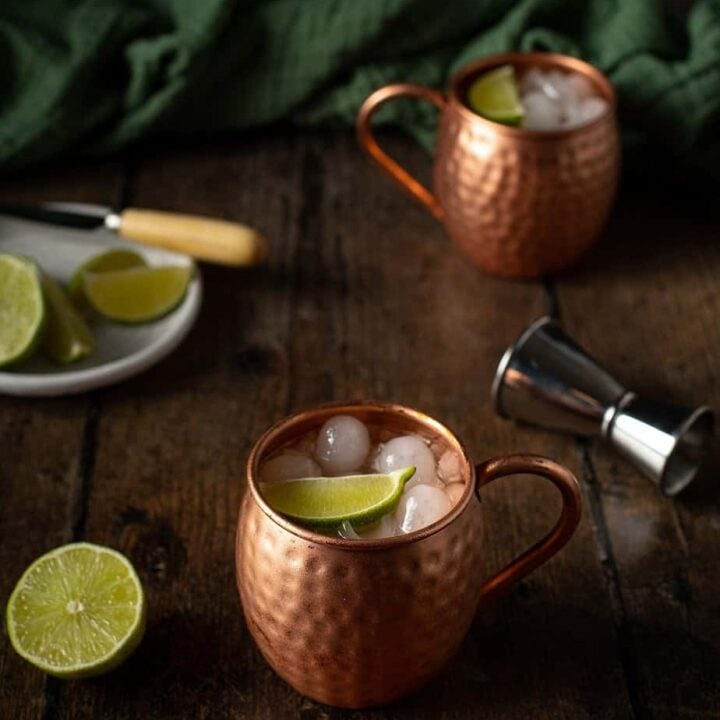 Mexican Mule
In order to make a Mexican Moscow Mule, all you have to do is swap in tequila for the usual vodka and you're in business!
Ingredients
2

ounces

tequila

½

lime

juiced

ginger beer

to fill glass

lime wedge

for garnish
Instructions
Pour the tequila into a copper mug filled with ice

Squeeze the half lime into the mug

Top with ginger beer

Garnish with a lime wedge
Notes
I like reposado or añejo tequilas, but use whatever you like!
Nutrition
Serving:
1
Calories:
244
kcal
Carbohydrates:
40
g
Protein:
1
g
Sodium:
19
mg
Fiber:
2
g
Sugar:
33
g
Disclaimer: Nutritional information is a generated estimate and is not guaranteed to be accurate.
📌 Pin this recipe for later!