The Irish Mule is a tasty twist on the classic Moscow Mule cocktail. Just like the original, this one is incredibly easy to make and refreshing to drink. Simply sub smooth Irish whiskey for vodka and you're in business!
I developed a deep appreciation for smooth, not-too-sweet Irish whiskey during our trip to Ireland a few years back. To be honest, I had never had Irish whiskey prior to our time there; I had always predominantly been a bourbon drinker. However, all it took was a couple of tastings during tours of whiskey distilleries, and I was hooked.
In general, I find it to be almost dangerously drinkable--in mixed drinks or on its own. And, in this case, the flavors are the perfect complement to bracing ginger beer and tart lime juice. While drinking this cocktail is definitely a fitting way to celebrate St. Patrick's Day, I implore you to not limit yourself to that single occasion. An Irish Mule is refreshing and delicious any time of the year.
Looking for more Moscow Mule recipes? Try my Cranberry Moscow Mule and Mexican Mule!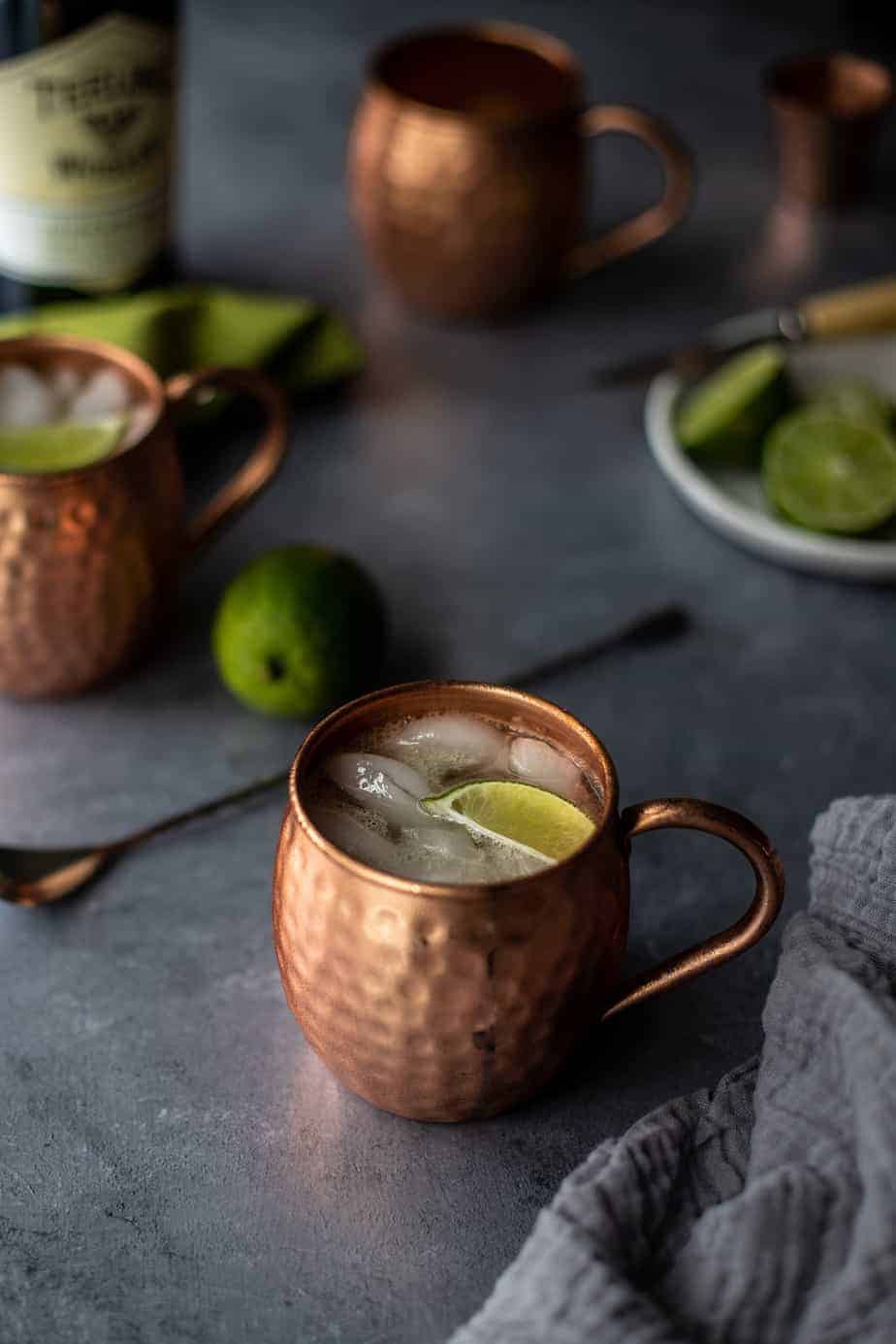 Jump to:
🌟 Why You'll Love This Recipe
It's easy to make. If you can pour a few ingredient into a copper mug, then you can make this recipe.
It tastes great. Smooth Irish whiskey and spicy ginger beer play well together.
It's a fun spin on a classic. It's a fun and easy riff on the classic Moscow Mule!
💭 What is an Irish Mule?
Irish Mule vs. Moscow Mule
The traditional Moscow Mule cocktail--believed to have originated in the U.S. in the 1940s--is composed of plain vodka, ginger beer, and fresh lime juice.
To make this drink an Irish Mule, however, you just swap the vodka for some good old Irish whiskey.
Why do they call the drink a Mule?
As is the case with many classic cocktails, there's a little bit of intrigue surrounding how and why the cocktail was dubbed the "Mule".
One story that I've heard is that the name "mule" was a random selection! Another says that it's called a Mule because the ginger beer gives the drink a "kick like a mule." <shrug> Feel free to go with whichever explanation your heart desires.
Since the classic preparation of this drink involves vodka, and people in the U.S. at the time associated vodka with all things Russian, "Moscow" was added to the name, as well.
Despite these possible explanations, it's really not known for certain how the drink got its name.
Why is a Moscow Mule in a copper cup?
The copper mug is part of the Moscow Mule origin story, as well. Legend has it that when first conceived, the drink wasn't selling well in the U.S. The drink's creator ended up meeting with a man who was also having difficulty selling his copper mugs.
The pair decided to combine the two ventures, serving the Mule in copper mugs. Marketing the drink in this way led to great success! From then on, the Mule was served in a copper mug. Or so the story goes.
Beyond that, the copper mugs are beautiful and distinctive. Copper is also an excellent conductor of cold (and heat, for that matter), which helps to keep the cocktail frosty and cold for a longer period of time.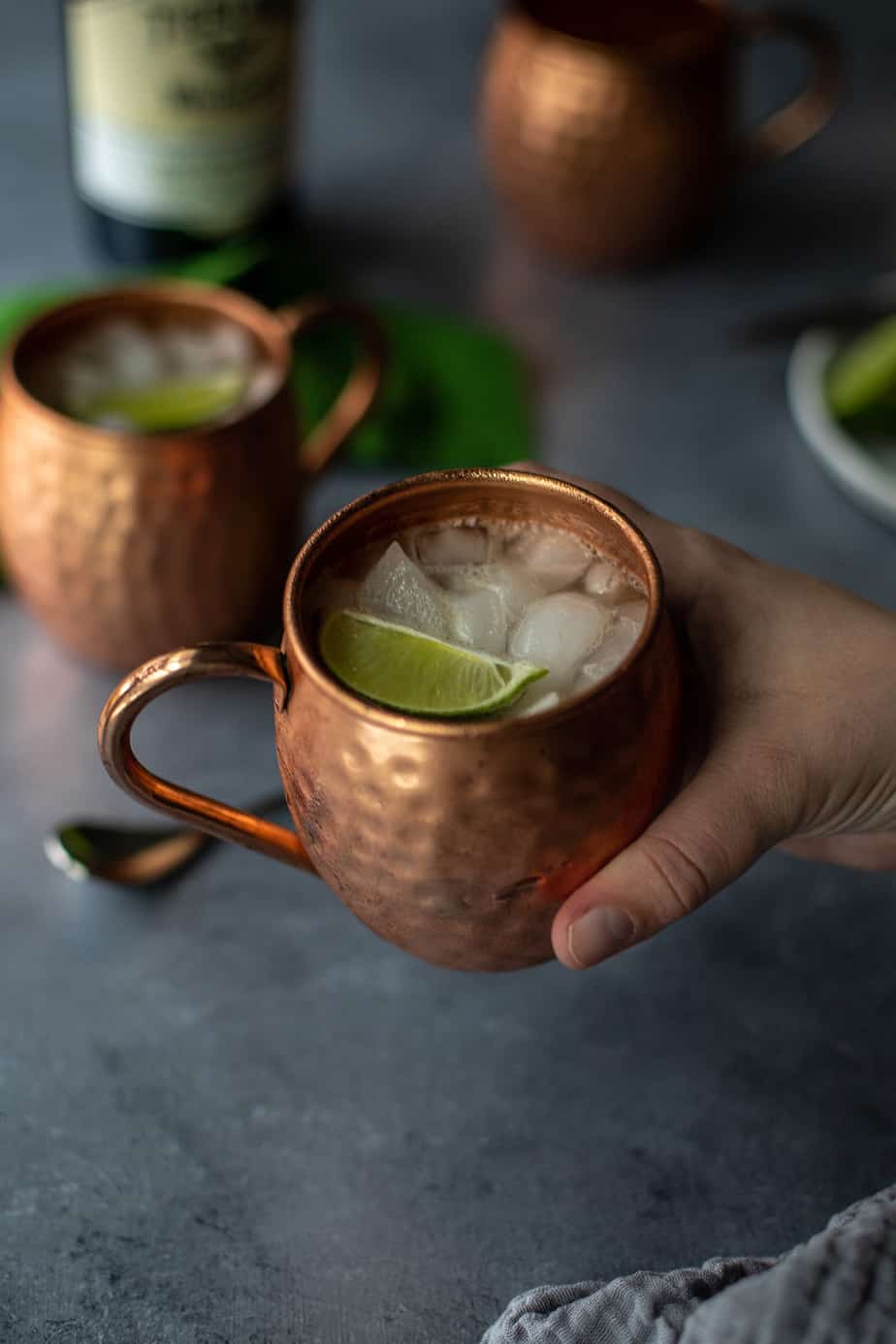 📝 Ingredients
Irish whiskey: In order to make this drink a proper Irish Mule, Irish whiskey is in order. Irish whiskey, in addition to being made in Ireland, differs from American whiskey in that it can be made with barley, whereas American whiskey can be corn, rye, or wheat. It also has off a lighter and less sweet flavor than American whiskey.
Ginger beer: The ginger beer used in a Moscow Mule is the non-alcoholic variety. I like my ginger beer on the spicier side (think Fever Tree), but use whatever ginger beer you please.
Lime juice: Freshly squeezed, please.
Lime wedge: This is optional, but I think that the garnish really makes the drink, in terms of presentation.
👩🏻‍🍳 How do you make an Irish Mule?
Fortunately for you and for me, an Irish Mule is very easy to make.
Though it's technically not mandatory, I highly recommend starting out with a copper mug. Like we talked about above, the copper mugs are: 1) pretty and distinctive; 2) traditional; and 3) they will keep your Mule colder longer. So, grab your copper mugs!
Fill the mug about ⅔ of the way full with ice. I tend to gravitate toward crushed ice, but you do you.
Add the Irish whiskey and freshly squeezed lime juice to the mug. Top it all off with some spicy ginger beer and give it a gentle stir with a bar spoon. You want to make sure that all of the ingredients get mixed up together, rather than sitting in their own layers within the mug.
Also not mandatory, but I like to plop a lime wedge into the top of my Mule. The garnish really makes it look nice, I think.
🔗 Other Mule variations
Looking for more Moscow Mule recipes? You know I have others! Click the photos below to check some of them out.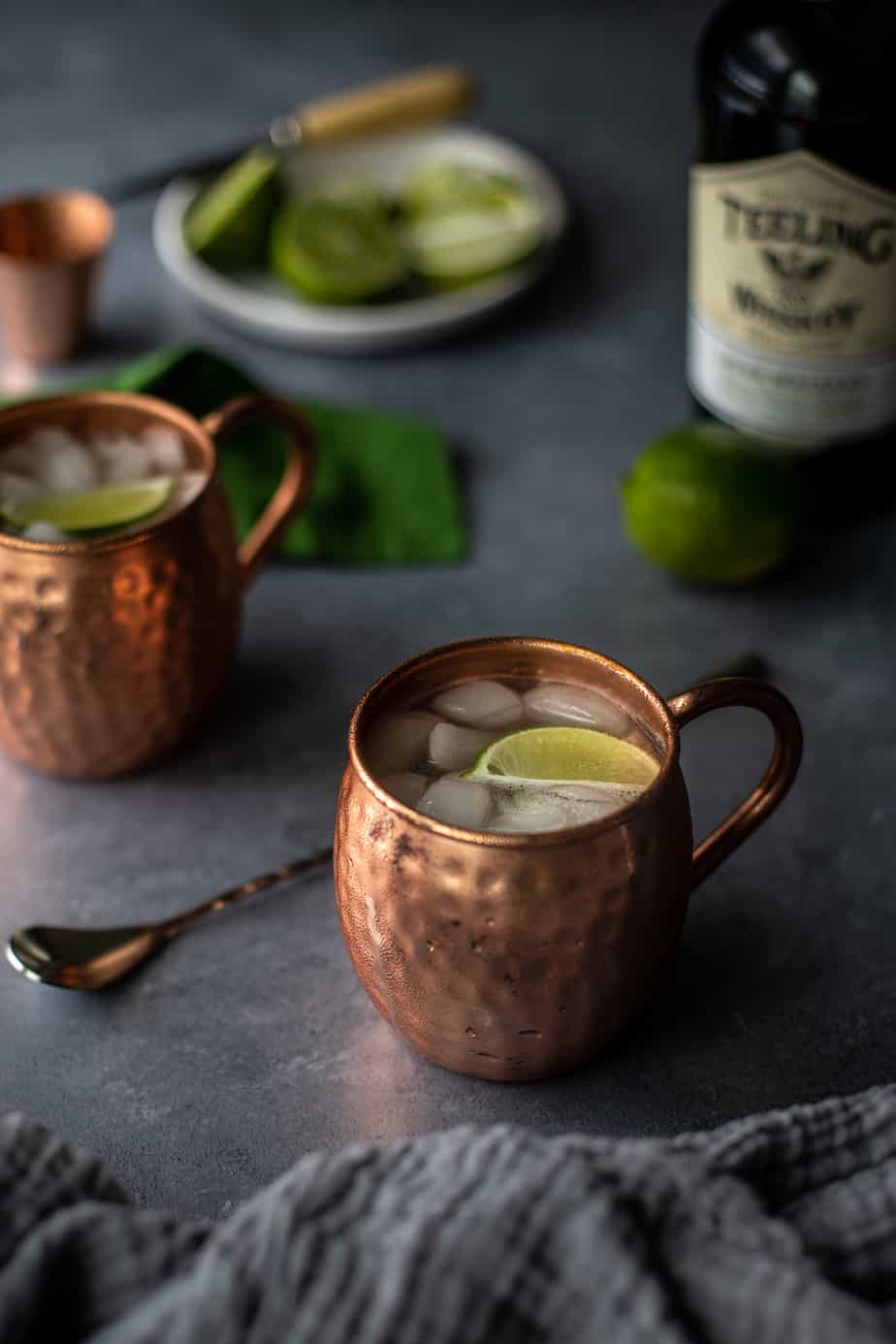 ❓ Frequently Asked Questions
Can I use other kinds of whiskey?
Sure can, but it won't be an Irish Mule if you don't use Irish whiskey. I have a really delicious Bourbon Moscow Mule recipe if you'd rather use bourbon.
Can I use ginger ale instead of ginger beer?
Yes, but then the drink won't be a Mule. It will, however, still be delicious.
What is the best whiskey to use in an Irish Mule?
In short, use whatever Irish whiskey you prefer! I have a particular affinity for Teeling.
🖤 Share your creations and follow me on social media!
✨ Recipe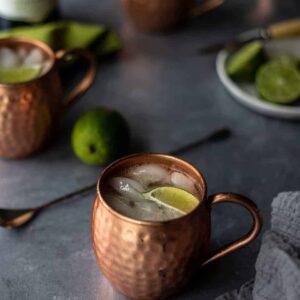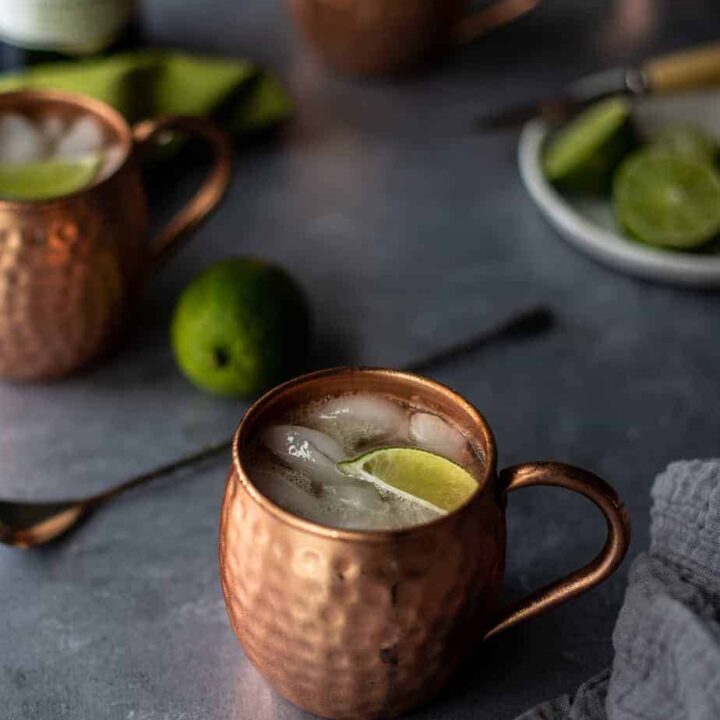 Irish Mule
The Irish Mule is a tasty twist on a classic Moscow Mule. Just like the original, it is incredibly easy to make and refreshing to drink.
Ingredients
2

oz

Irish whiskey

I like Teeling

½

lime

juiced

6

oz

ginger beer

lime wedge

for garnish (optional)
Instructions
Pour the Irish whiskey into a copper mug filled with ice

Add the lime juice

Top with ginger beer

Give everything a gentle stir

Garnish with a lime wedge
Notes
You don't need to use a copper mug; they just look pretty and keep your drink cold
Nutrition
Serving:
1
Calories:
245
kcal
Carbohydrates:
32
g
Protein:
1
g
Sodium:
15
mg
Fiber:
2
g
Sugar:
25
g
Disclaimer: Nutritional information is a generated estimate and is not guaranteed to be accurate.
📌 Pin this recipe for later!