Last Updated on April 11, 2021 by laurenpacek
Homemade Luxardo Cherries (aka Maraschino Cherries) can really elevate a cocktail. They add that special *something*.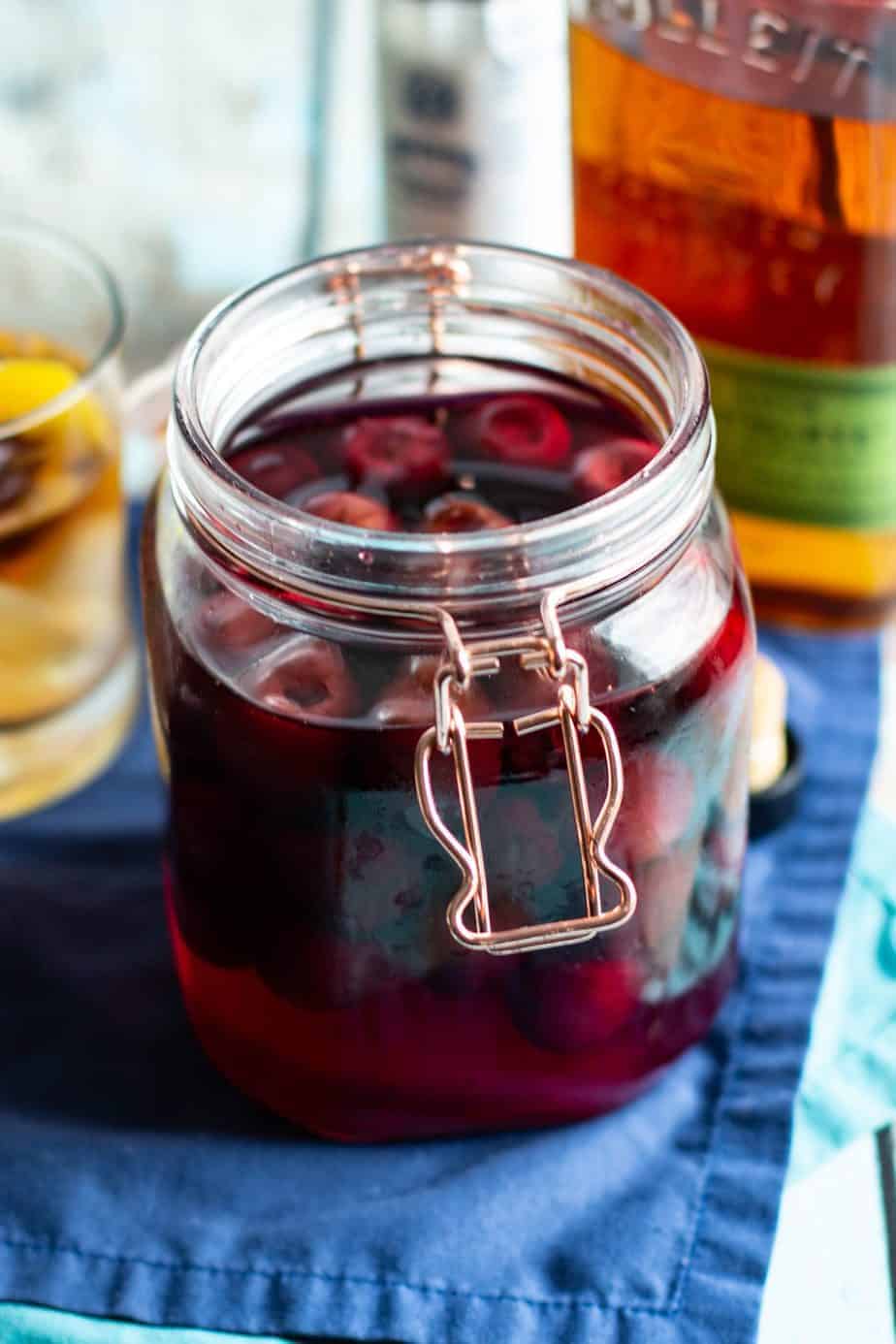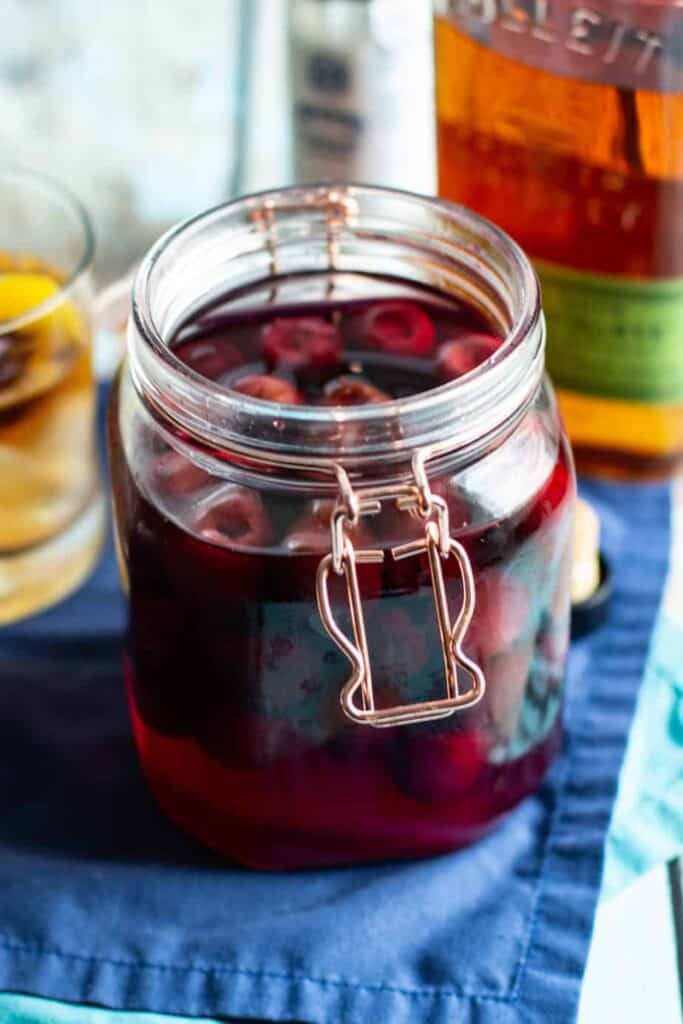 Have you ever had Luxardo Cherries?
I bet you have had Luxardo cherries if you've ever ordered a cocktail and it had a really delicious cherry in it as garnish. Either that or maybe it was a brandied cherry. Both are good.
So what makes these cherries so special?
I think many of us tend to think about the neon pink/red Maraschino cherries that you buy in the grocery store. These cherries are nothing like those.
So what makes them so different? First of all, they're delicious.
To achieve such a high level of deliciousness, Luxardo cocktail cherries take a bit of a warm bath in, and get their distinctive and delicious flavor from, Luxardo Maraschino liqueur (uyou can also buy it online HERE). Plus some sugar and spices, of course.
Speaking of cherries, what kind of cherries should you use?
I used regular old dark red sweet cherries that you'll find at just about any grocery store. You can use sour cherries if you want, too! It's really just a matter of personal preference. You do you.
If you want to use frozen cherries, please bear in mind that several readers have reported that while the flavor of these cherries will be the same as if you used fresh fruit, the texture will likely suffer. Folks have reported that using frozen cherries often results in mushy Luxardo cherries.
What's Luxardo Maraschino all about?
This liqueur is distilled from ripe marasca cherries (a kind of sour cherry), their crushed pits, branches and leaves, honey, and various other secret ingredients.
While it does have a cherry flavor, you'll also notice floral, piney, and nutty flavors, too. It's really interesting!
What should you do with these Luxardo cherries?
Personally, I'd recommend plopping them into a strong cocktail. As a bourbon lover, I happen to think that they are particularly good in an Old Fashioned.
Don't tell anyone, but I may also be known for eating them out of the jar. ¯_(ツ)_/¯
Can you
can

these cherries?

I haven't done it personally, but several readers report that these cherries can be canned! Make a bunch, can 'em, and enjoy homemade Luxardo cherries for a long time to come.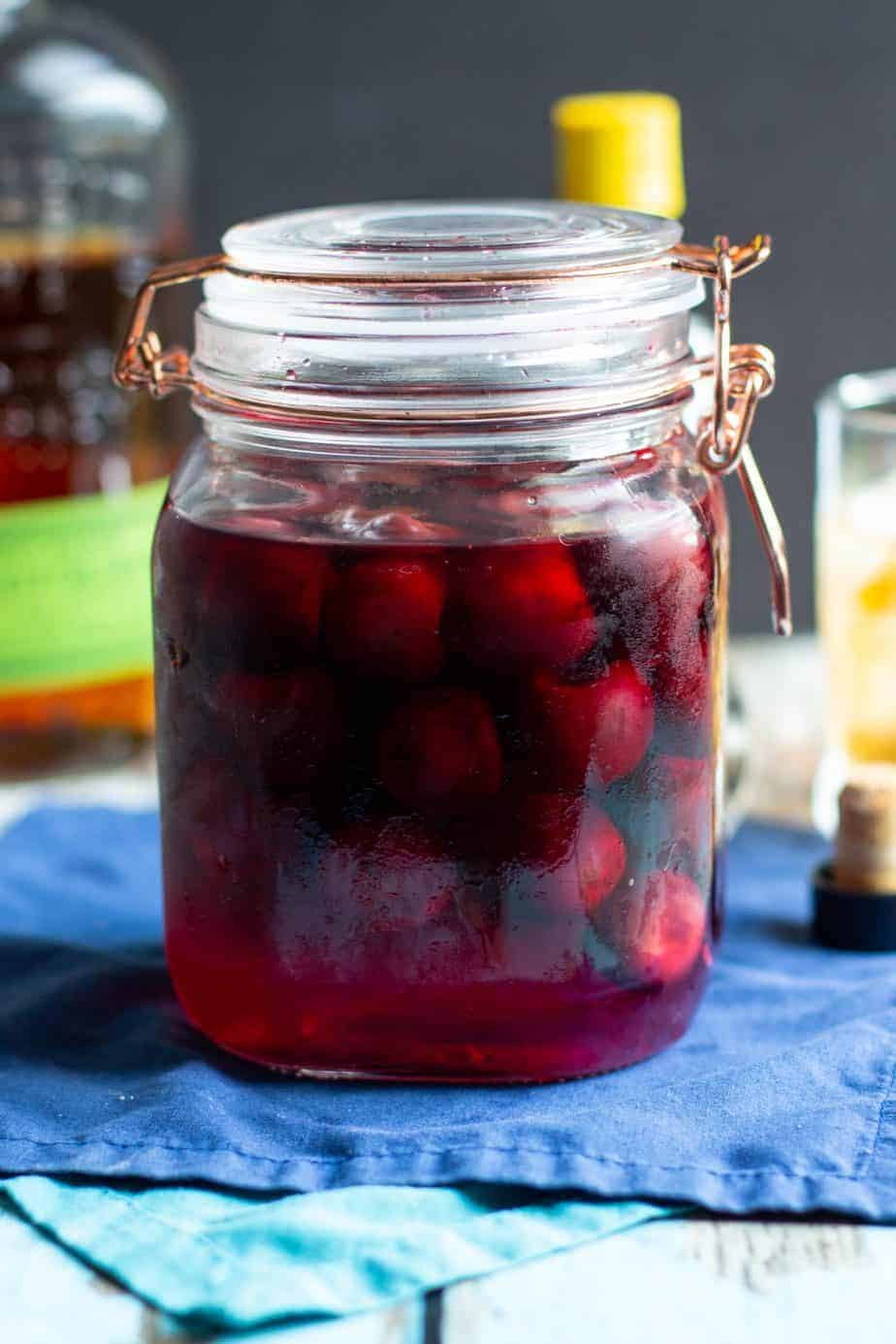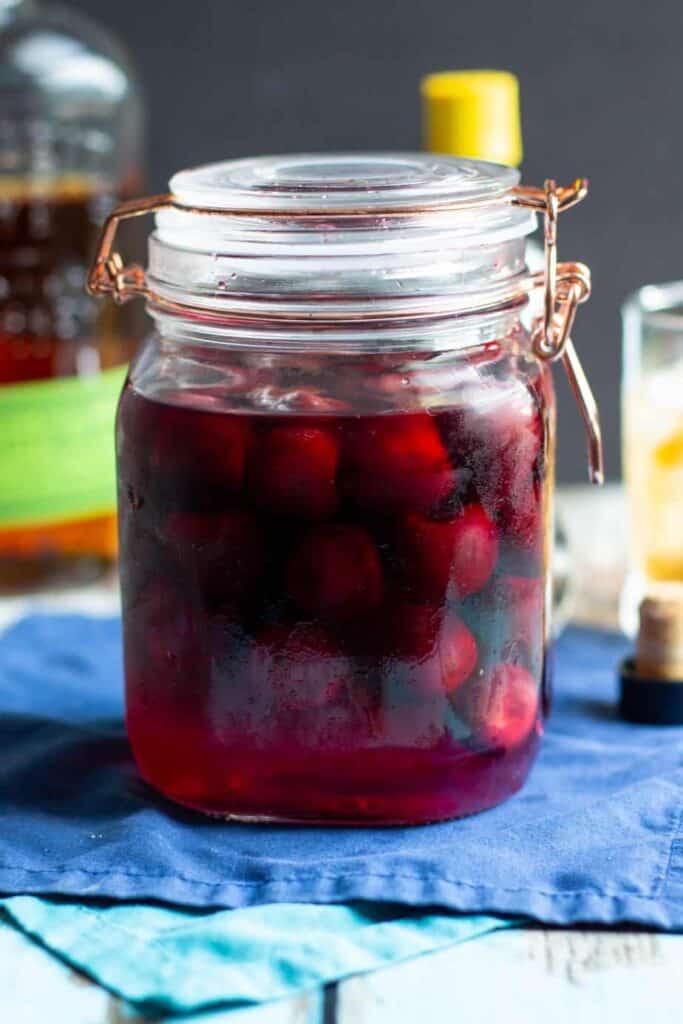 Worried about having leftover Luxardo Maraschino Liqueur?
Worry no longer! If you have leftovers, please consider making my Cheerwine Sangria. You will not regret it.
Or... And just hear me out here... Just make more Luxardo Cherries! They're delicious and great for gift giving. And like I said above, you can can them for later!
Where did this recipe come from?
This recipe was adapted every so slightly from the one found at Love & Victory.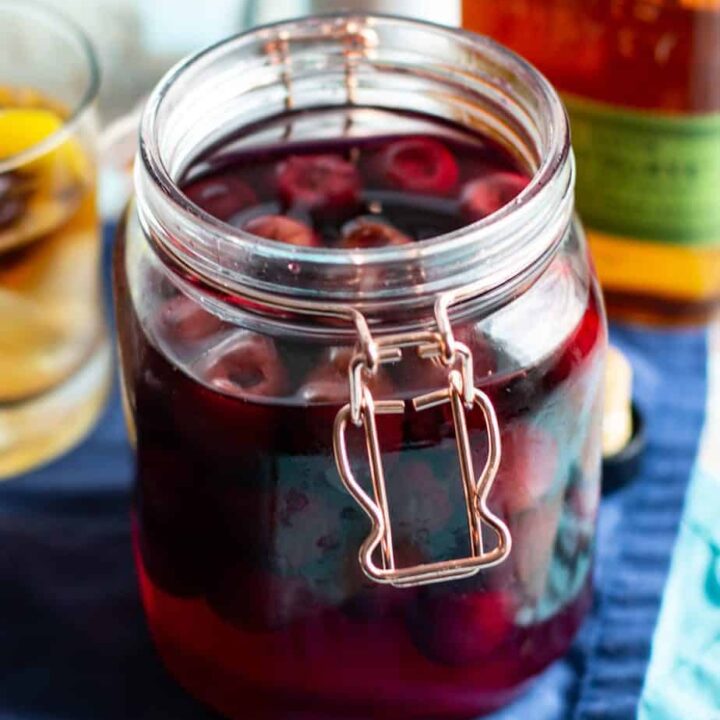 Homemade Luxardo Cherries
These Homemade Luxardo Cherries are delicious in a cocktail.
Ingredients
½ cup granulated sugar
½ cup water
1 cinnamon stick
¼ tsp ground nutmeg
1 pinch kosher salt
1 lb cherries, pitted and stemmed
Instructions
Combine water, sugar, cinnamon, nutmeg, and salt in a saucepan, and bring it to a simmer. Stir occasionally as the sugar dissolves.
Add the Luxardo Maraschino Liqueur and cherries. Stir to coat all of the cherries in the syrup. Cook for 5 minutes to soften the cherries slightly.
Turn off the heat and allow the cherries to cool. Once cooled, store in the fridge in a tightly sealed jar.
Notes
Readers have let me know that they've used frozen organic cherries in this recipe (instead of fresh) and that it has turned out well! So when cherries aren't in season, or maybe don't look so great, you can still make this recipe and enjoy!
Readers have also noted that you can make this with sweet or sour cherries, depending on your preferences.
Nutrition Information:
Yield:

1
Serving Size:

1 grams
Amount Per Serving:
Unsaturated Fat:

0g
What equipment will you need to make these cherries?
Not much that's out of the ordinary, but...
You can store them in Mason jars pretty easily
Sometimes it's hard to find cinnamon sticks in the regular grocery store (or they're expensive)
Looking for other delicious additions to your home bar?
Pin this recipe for later!