Homemade Luxardo Cherries (aka Maraschino Cherries) can really elevate a cocktail. They add that special *something*. They're the perfect addition to your home bar and to a cocktail. They are particularly good in an Old Fashioned or a Manhattan!
These cherries are sweet and syrupy, but aren't one-note in any way. They have complex flavors thanks to extracts, maraschino liqueur, and spices. I bet you'll find yourself eating them straight out of the jar.
Looking for more drink garnishes? I got 'em! Try my Sugared Cranberries, Bourbon Cherries, or Dried Orange Slices and add a little pizazz to your drinks!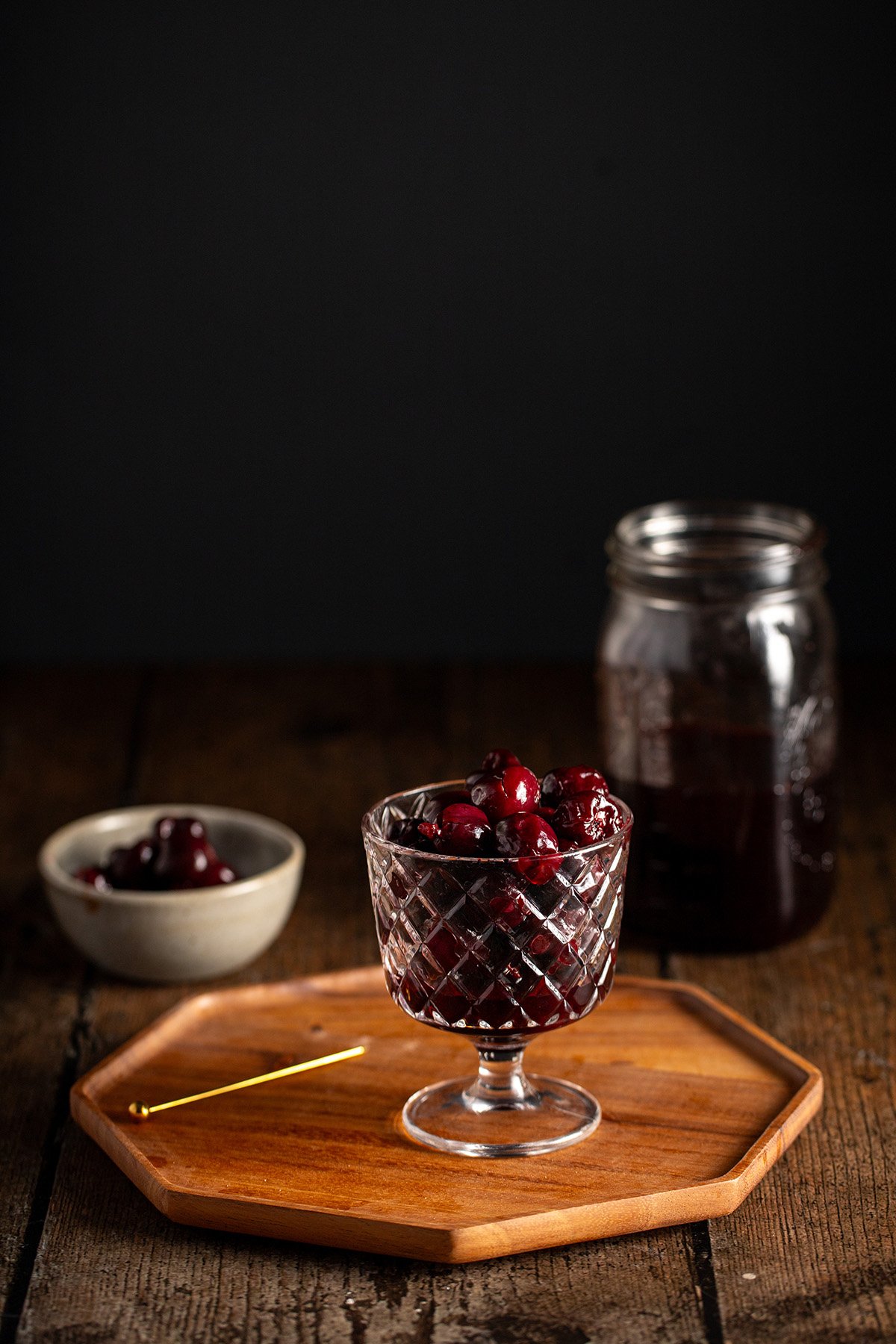 Jump to:
🌟 Why You'll Love This Recipe
These cherries taste delicious. They're syrupy and sweet, with complex flavors.
They're the perfect cocktail garnish. Use them in any cocktail that you please!
The recipe makes a lot. This recipe makes a big jar of cherries, so you'll have plenty for all of your drinks.
💭 What are Luxardo cherries?
Luxardo Cherries are the OG fancy cocktail garnish cherries.
I bet you have had Luxardo cherries if you've ever ordered a cocktail and it had a really delicious cherry in it as garnish. Either that or maybe it was a brandied or bourbon cherry. They're all quite good.
💫 What makes Luxardo cherries so special?
I think many of us tend to think about the neon pink/red Maraschino cherries that you buy in the grocery store. These cherries are nothing like those.
So what makes them so different? First of all, they're delicious.
To achieve such a high level of deliciousness, Luxardo cocktail cherries take a bit of a warm bath in, and get their distinctive and delicious flavor from, Luxardo Maraschino liqueur. Plus some other really delicious ingredients, of course.
🍸 What is Luxardo Maraschino Liqueur?
According to an article on Epicurious, Luxardo was once a distillery in present-day Croatia (at the time, the area was an Italian province). The company became famous for its cherry liqueur, called Maraschino (pronounced like "mar-uh-SKEE-no" in Italian), made from marasca cherries.
They distilled the liqueur from ripe marasca cherries (a kind of sour cherry), their crushed pits, branches and leaves, honey, and various other secret ingredients.
In the early 1900s, the distillery started selling selling cherries that were candied in a syrup of marasca cherry juice and sugar. And thus, the OG Luxardo cherry was born.
Following World War II, one of the Luxardo family members fled to the Veneto region of Italy, taking with him a marasca cherry tree sapling and the recipe for Luxardo liqueur. Ever since that time, Luxardo liqueurs and cherries have been made in that region of Italy!
While it does have a cherry flavor, you'll also notice floral, piney, and nutty flavors, too. It's really interesting! The pits of the marasca cherries are responsible for the nutty flavors you'll notice.
📝 Ingredients
See the recipe card for full information on ingredients and quantitites.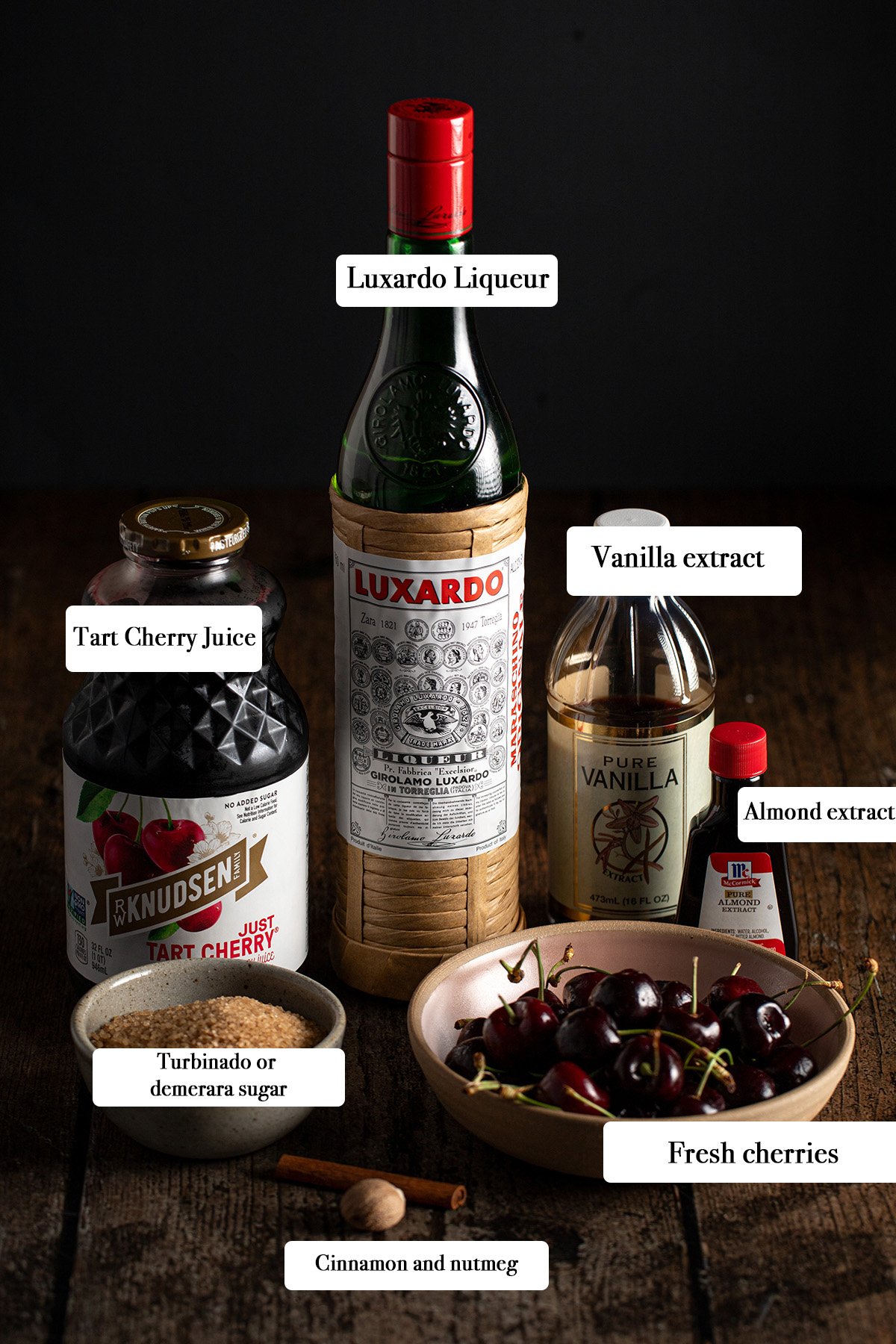 Sugar: I used turbinado sugar (a minimally-processed and refined, chunky, brown sugar), though demerara sugar would work well, too. I like the richer, more caramel-y flavors of this sugar, though you could also use white granulated sugar if that's what you have on hand.
Tart cherry juice: Luxardo cherries are historically made with marasca cherries, which are a variety of sour cherries. This tart juice provides flavor and also helps to preserve the color of the cherries, as the color can start to leach out of them over time if you use water instead.
Vanilla extract: A little vanilla helps to round out the flavors.
Almond extract: I think that almond extract is really key in this recipe. Luxardo cherries have a sweet almond flavor to them, and this extract really adds that.
Cinnamon: Just one whole cinnamon stick will do.
Nutmeg: You can use store bought, ground nutmeg or you can grate some fresh nutmeg into the mix.
Luxardo: Luxardo Maraschino Liqueur is an absolute must in this recipe. It's what makes these cherries Luxardo cherries.
Cherries: I used fresh sweet red cherries for this recipe. Let's talk about other options below.
🍒 What kind of cherries should you use?
I used regular old dark red sweet cherries that you'll find at just about any grocery store. You can use sour cherries if you want, too! It's really just a matter of personal preference. Several readers have commented that they've used sour cherries, with good results. You do you.
If you want to use frozen cherries, please bear in mind that several readers have reported that while the flavor of these cherries will be the same as if you used fresh fruit, the texture will likely suffer. Folks have reported that using frozen cherries often results in mushy Luxardo cherries.
🔀 Substitutions and Variations
Use frozen cherries. Readers have reported using frozen cherries instead of fresh. It's a tradeoff between convenience and texture, however. The texture won't be quite the same.
Use a different kind of cherries. You can use pretty much any variety of cherries that you prefer.
👩🏻‍🍳 How to make Luxardo Cherries
You'll start out by pitting all of your cherries. This isn't mandatory, but using a cherry pitter makes this process so fast and easy. Some other options for pitting can be found here.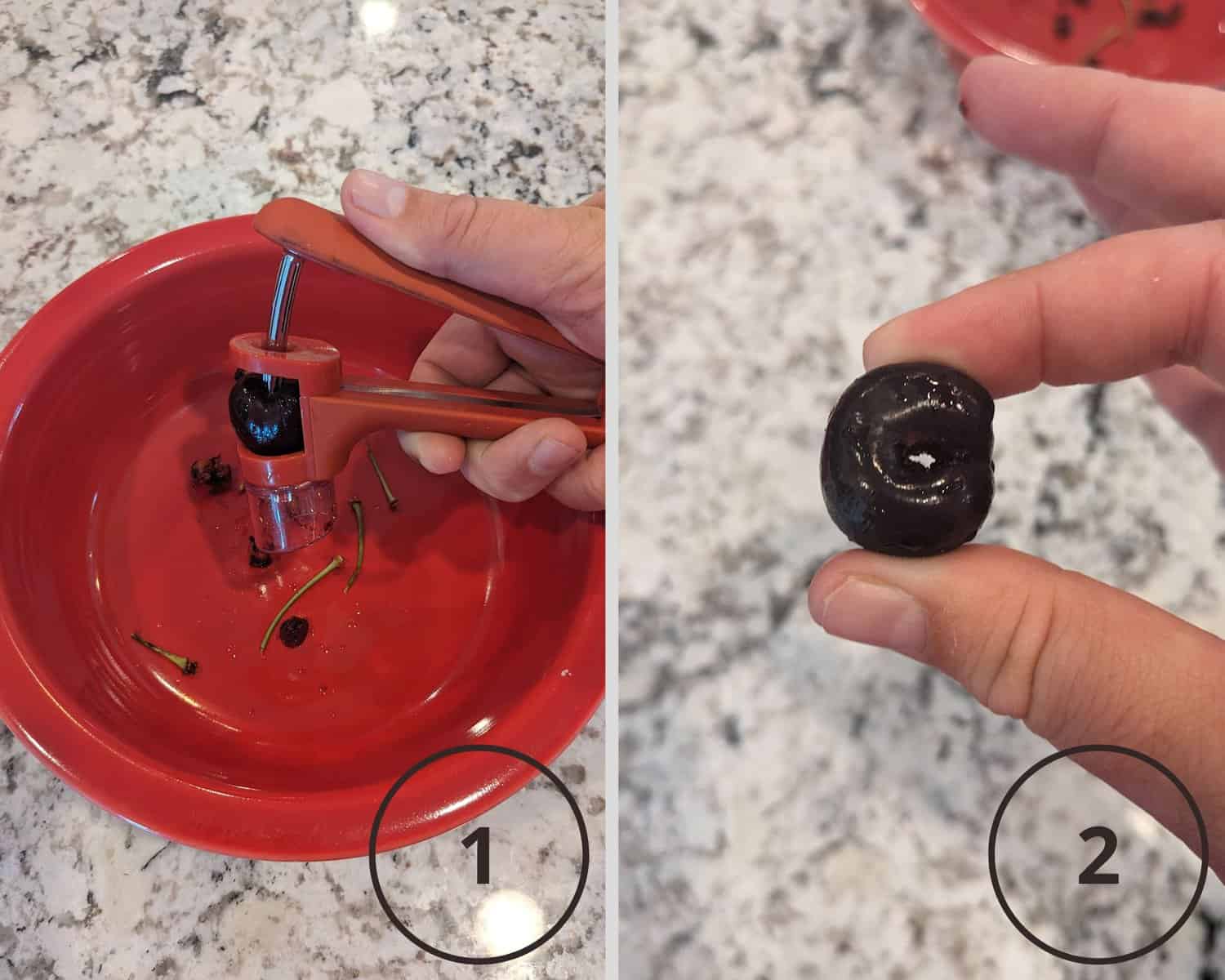 After you have pitted all of your cherries, set them aside.
In a heavy-bottomed saucepan, combine the sugar, juice, extracts, and spices. Whisk them all together. Bring everything to a simmer and ensure that all of the sugar has completely dissolved.
Once the sugar has dissolved, add the Luxardo liqueur, whisk it to combine, and add the cherries. Bring everything back up to a simmer and allow it to simmer for 10-15 minutes. This will soften the cherries and let the liquid cook down a bit so that it's more syrupy.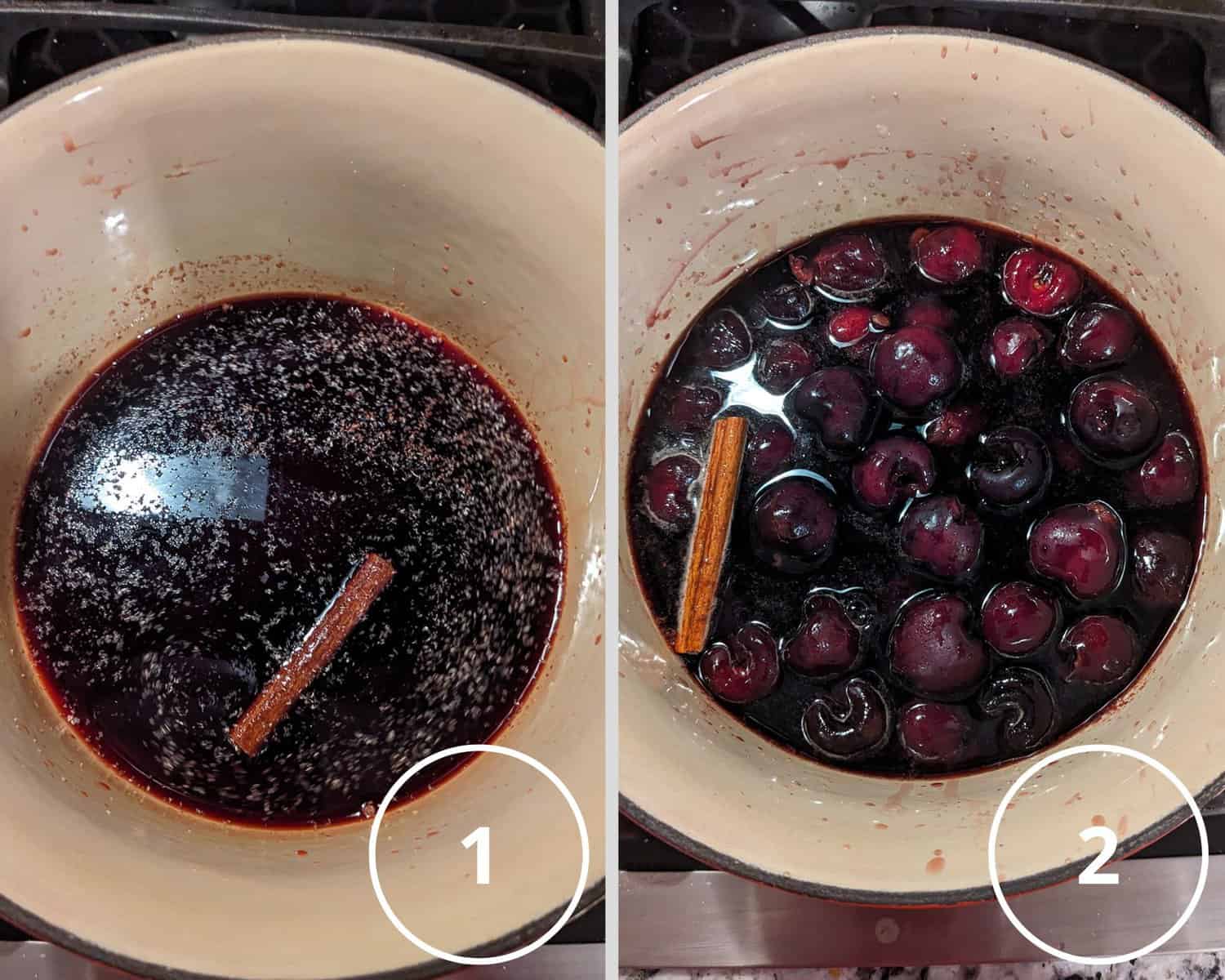 After 10-15 minutes, remove and discard the cinnamon stick and allow the cherries and syrup to cool. Store them in an airtight container in the fridge!
🥃 What should you do with these Luxardo cherries?
Personally, I'd recommend plopping them into a strong cocktail. As a bourbon lover, I happen to think that they are particularly good in an Old Fashioned.
If you are looking for a non-boozy drink, you can totally plunk these guys into a Shirley Temple. However, because these maraschino cherries are made with a liqueur, I probably wouldn't recommend serving this to your kids. Maybe make a Dirty Shirley for the adults instead?
Don't tell anyone, but I may also be known for eating them out of the jar.
🥫 Can you preserve these cherries?
I haven't done it personally, but several readers report that these cherries can be canned! Make a bunch, can 'em, and enjoy homemade Luxardo cherries for a long time to come.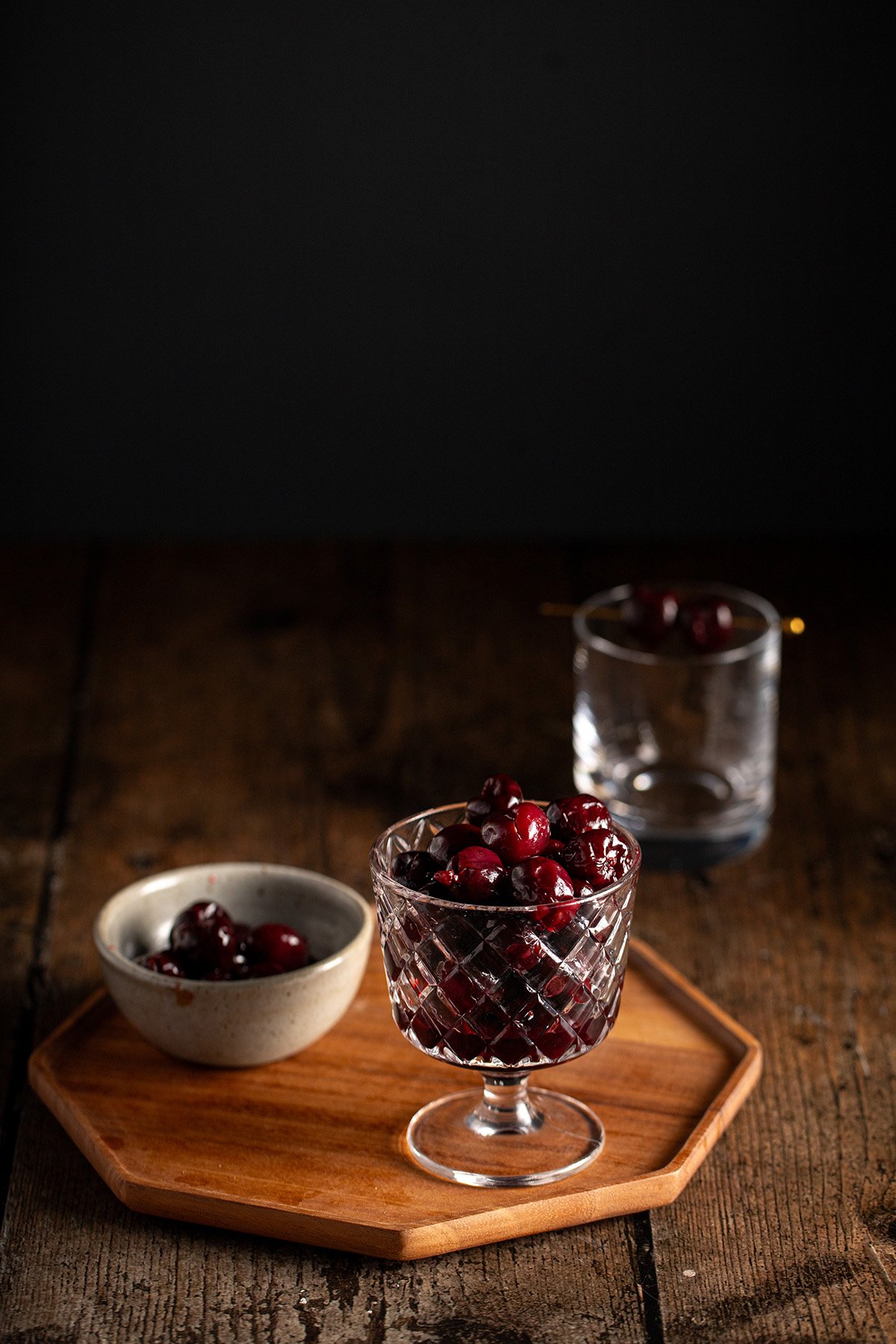 🛠️ What should you make with leftover Luxardo liqueur?
Worry no longer! If you have leftovers, please consider making my Cheerwine Sangria. You will not regret it. Or make a classic Last Word cocktail! *chef's kiss*
Or... And just hear me out here... Just make more Luxardo Cherries! They're delicious and great for gift giving. And like I said above, you can can them for later!
🔗 More drink garnish recipes
Need more fun drink garnishes? Click on any of the photos below to be taken straight to the recipes!
❓ Recipe FAQs
What kind of cherries should I use?
I used fresh, sweet red cherries. Use whatever variety of cherry that you prefer. You can even use frozen cherries, though the texture of the cherries won't be quite the same.
Can I can or preserve these cherries?
I haven't done it, but some readers have said that you can can these cherries in order to preserve them.
What's the best way to use these cherries?
As a garnish for cocktails, of course! Use them any time a recipe calls for a cocktail cherry. You can also just pop 'em in your mouth, too.
I'd love to know what you thought of this recipe! Don't forget to leave a comment and ⭐️ star rating below!
✨ Recipe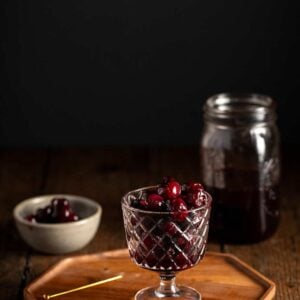 Homemade Luxardo Cherries
These Homemade Luxardo Cherries are the perfect addition to your home bar and to a cocktail. They are particularly good in an Old Fashioned!
Ingredients
½

cup

turbinado sugar

½

cup

tart cherry juice

1

teaspoon

vanilla extract

1

teaspoon

almond extract

1

cinnamon stick

¼

teaspoon

ground nutmeg

1

pinch

kosher salt

1

pound

sweet red cherries

pitted and stemmed
Instructions
Combine sugar, cherry juice, vanilla and almond extracts, cinnamon, nutmeg, and salt in a saucepan, and bring it to a simmer. Stir occasionally as the sugar dissolves.

Add the Luxardo Maraschino Liqueur and whisk to combine. Add the pitted cherries. Stir to coat all of the cherries in the syrup. Simmer for 10-15 minutes to soften the cherries slightly. 

Turn off the heat, discard the cinnamon stick, and allow the cherries to cool. Once cooled, store in the fridge in a tightly sealed jar. 
Notes
Readers have let me know that they've used frozen organic cherries in this recipe (instead of fresh) and that it has turned out well! So when cherries aren't in season, or maybe don't look so great, you can still make this recipe and enjoy!
Readers have also noted that you can make this with sweet or sour cherries, depending on your preferences.
Though I haven't done it, readers say that you can can these cherries in order to preserve them.
Nutrition
Serving:
1
Calories:
20
kcal
Carbohydrates:
4
g
Protein:
0.1
g
Fat:
0.02
g
Saturated Fat:
0.004
g
Polyunsaturated Fat:
0.003
g
Monounsaturated Fat:
0.003
g
Sodium:
1
mg
Potassium:
18
mg
Fiber:
0.2
g
Sugar:
4
g
Vitamin A:
4
IU
Vitamin C:
0.5
mg
Calcium:
2
mg
Iron:
0.04
mg
Disclaimer: Nutritional information is a generated estimate and is not guaranteed to be accurate.