Smoked Ice is an interesting and smoky addition to any cocktail or mocktail. It's easy to make and is a fun way to jazz up your drinks.
Interested in more drink garnishes? I have them! Try my Sugared Cranberries or Homemade Luxardo Cherries.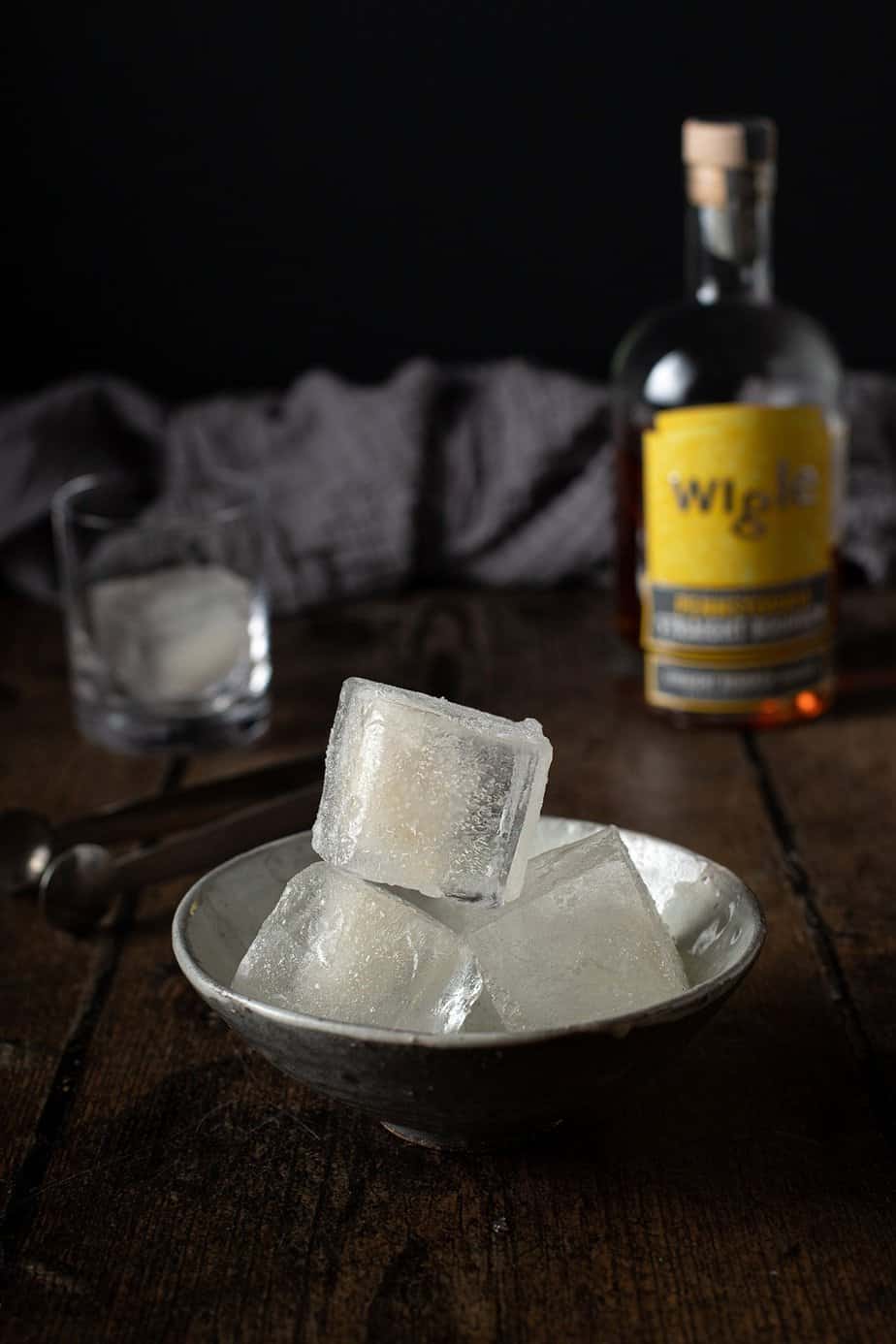 Jump to:
🌟 Why You'll Love This Recipe
It's an interesting way to jazz up your cocktails. Smoky ice cubes are the perfect, unexpected garnish.
It's easy to make. The process is essentially hands off!
You only need a single ingredient. Just good old plain water.
💭 What is smoked ice?
Smoked ice is ice or water that has been subjected to smoke, allowing it to take on smoky flavor and aroma. That's pretty much it!
It's a fun addition to drinks, especially those that would benefit from a bit of smoky flavor. I tend to think of drinks like scotch or other whiskey-based drinks. But get a little creative and try different combinations!
📝 Ingredients
This is going to be a short list...
Water: Regular tap water or filtered water works here.
Smoke: You will be infusing the ice/water with smoke; the smoke comes from a smoker. I own a Traeger pellet smoker, and prepared and tested this recipe on that piece of equipment.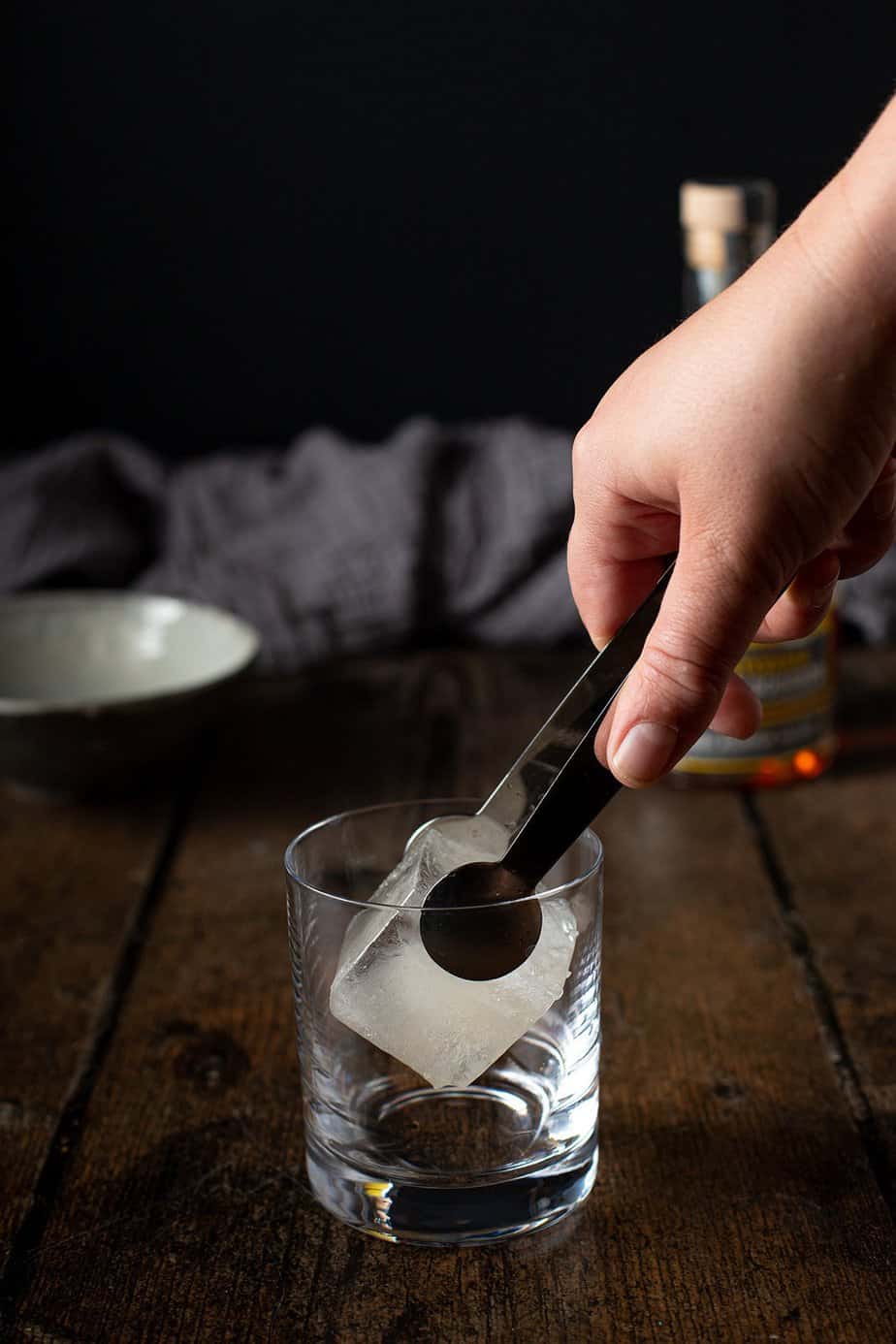 👩🏻‍🍳 How do you make smoked ice?
It's actually a pretty simple process, in terms of the number of steps that you need to take.
First, you'll make some ice. I know, I know. It seems counterintuitive. We'll talk about it below, though.
Place your ice cubes in a disposable aluminum pan and set that pan on the grill grates of your preheated smoker. Close that lid and allow everything to smoke for about half an hour. During this time, the ice cubes will melt and the water will become infused with the flavor and aroma of the smoke.
Make sure that the ice is the ONLY thing smoking on the smoker at this time. You don't want juices from meats or anything else to splash into the water.
After a half an hour, you'll turn the smoker off, but leave the pan inside of it. Let the smoker and the pan cool down until you can handle it safely (be safe and use your best judgement).
Pour the cooled (and now smoked) water into your ice cube molds and freeze them until solid. You can use your smoked ice in whatever drinks you like right away, or you can store them in a zip top bag until you're ready.
Do I really need to make ice before smoking?
I know that it seems silly to make ice, smoke it and let it melt, and then make ice again. Why not just smoke some water and then freeze that?
I hear you.
My brother (who heard this from his boss) was the one who suggested making ice first, then smoking, and then re-freezing. Supposedly the resulting ice ends up being smokier than if you just smoked some water and then froze it
I am, first of all, a scientist. I couldn't pass up the opportunity to test both methods and make comparisons. So, I smoked two pans side-by-side: one that started out as just water, and another that contained ice cubes that would be allowed to melt down and smoke.
Interestingly, it turns out that the ice that started out as ice, was allowed to melt, and then was re-frozen took on MUCH more smoke flavor and aroma. If you want truly smoky ice cubes, definitely start out with ice cubes. If you want a much much milder flavor and aroma, start with water.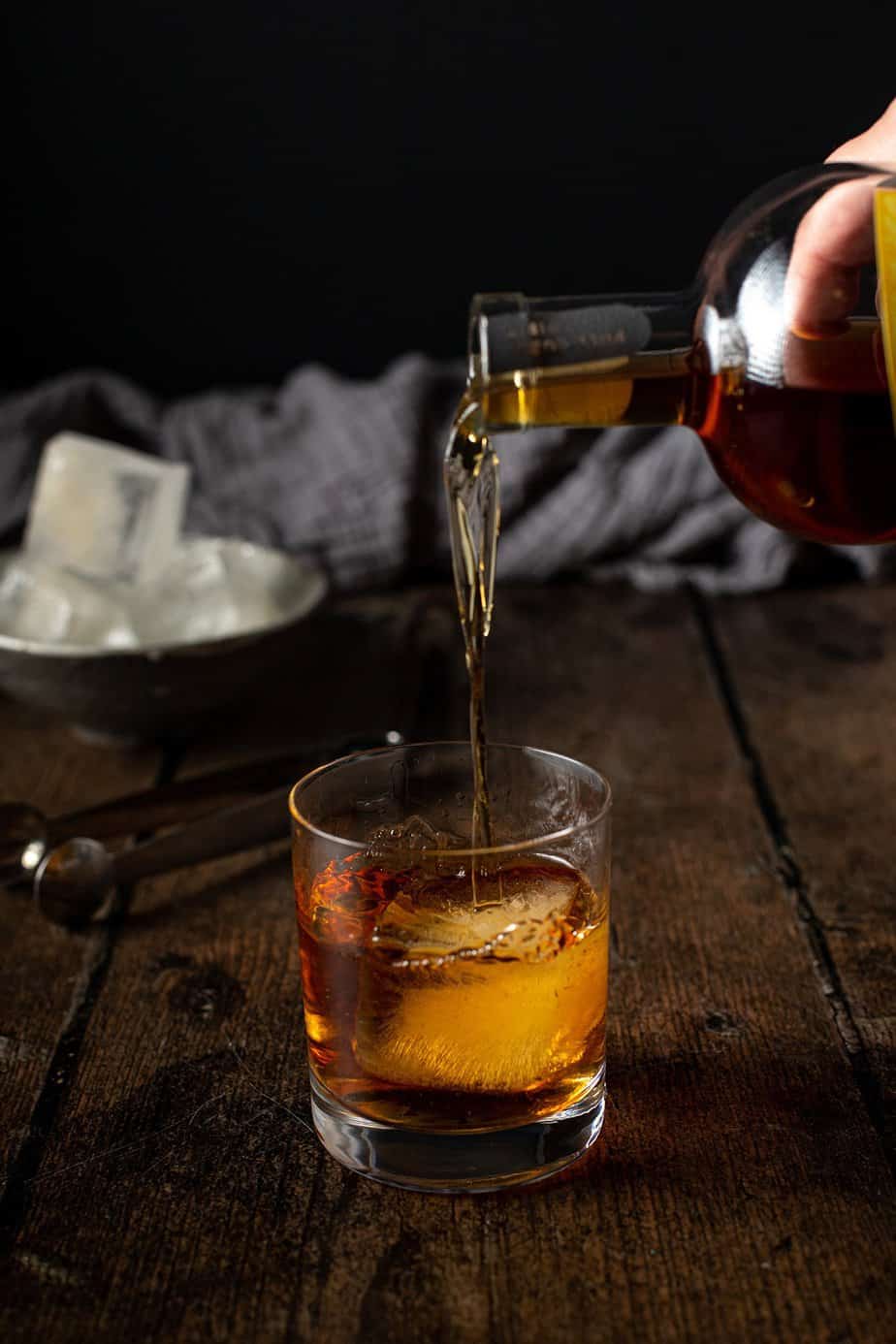 🔗 Other garnishes for drinks
Looking for other fun garnishes for your drinks? I've listed a couple more from my blog, plus other recipes from other bloggers, below.
❓FAQs/tips and tricks
Do I need to make ice before smoking and then re-freezing?
You don't need to, but I strongly recommend it. Scroll up to the "How do you make smoked ice?" section for an explanation.
How should I use these ice cubes?
You can use them in whatever drinks you'd like. I recommend using them in drinks with liquors that either already have smoky flavors, or would be complemented by them. Think scotch, bourbon, other whiskeys, etc.
🖤 Share your creations and follow me on social media!
✨ Recipe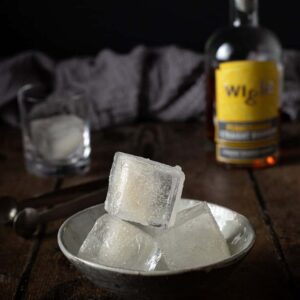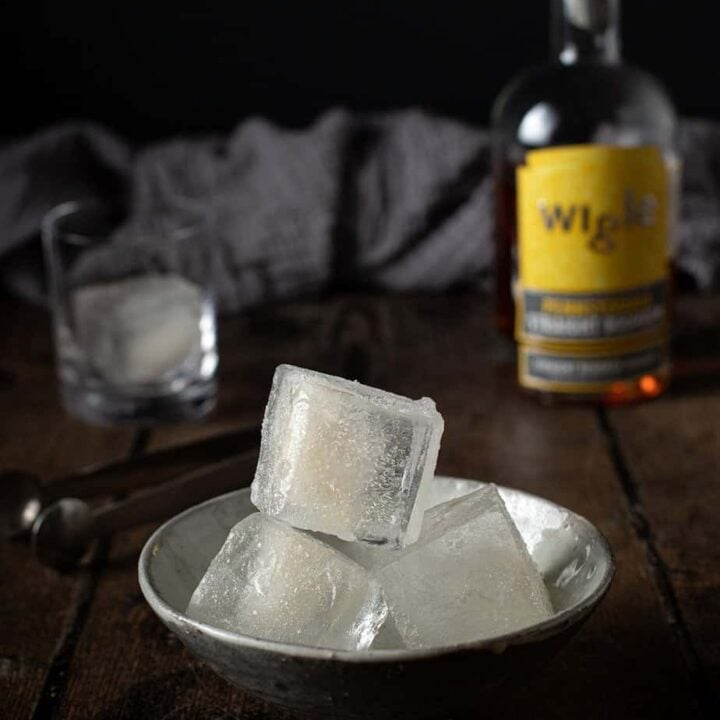 Smoked Ice
Smoked Ice is an interesting and smoky addition to any cocktail or mocktail. It's easy to make and is a fun way to jazz up your drinks.
Ingredients
2

cups

water

frozen into ice cubes
Instructions
Preheat your smoker to 200° Fahrenheit.

Place the ice cubes in a disposable aluminum pan and place the pan on the grill grates of the smoker. Close the lid.

Smoke for 30 minutes, allowing the ice cubes to melt and for the water to be infused with smoke.

Turn the smoker off and allow the pans to cool until they are cool enough to handle.

Pour the smoked water into ice cube molds and freeze.

Use the ice cubes in the drink of your choice.
Notes
This recipe was tested and prepared using a Traeger Pro 575 pellet smoker
Nutrition
Serving:
1
Calories:
0
kcal
Sodium:
12
mg
Calcium:
7
mg
Disclaimer: Nutritional information is a generated estimate and is not guaranteed to be accurate.
📌 Pin this recipe for later!