Jalapeño Tequila has just the right amount of spicy kick that you need to take your cocktails up a notch. It takes on the flavor and heat of fresh jalapeño peppers, making it the perfect addition to drinks when you wanna bring the heat.
You can sip on this infused tequila on its own, if you'd like, or add it to a mixed drink! I'd like to recommend adding it to a margarita or maybe a paloma. You can't go wrong!
Want more recipes for infused alcohols? Try my Basil Vodka or Sous Vide Limoncello!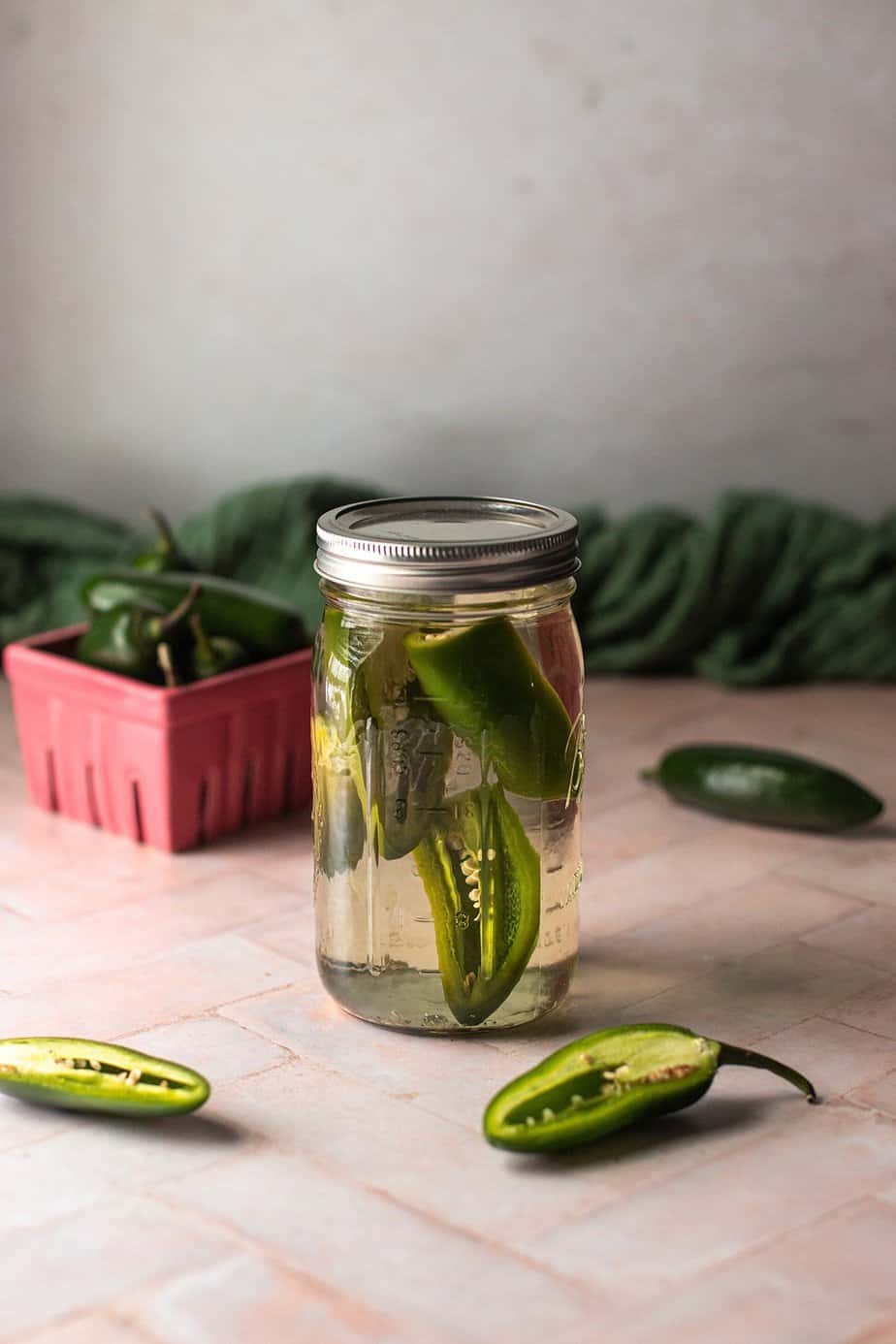 Jump to:
🌟 Why You'll Love This Recipe
It's very easy to make. This recipe is almost entirely hands-off. All you need to do is add some jalapeños to a container with tequila and let it sit!
It tastes great. This tequila is infused with the heat and flavor of jalapeños.
It's delicious in cocktails. This tequila is a fabulous addition to margaritas and palomas.
💭 What is Jalapeño Infused Tequila?
Jalapeño Tequila is just tequila that has been infused with the flavor and heat of jalapeño peppers.
Thanks kind of it.
In addition to taking on the flavor of the jalapeños, the originally silver tequila takes on a bit of the color of the peppers, too. You can see it a bit in the photos above. The once clear liquor will end up being a translucent pale yellow/green color.
You can sip it on its own or add it to mixed drinks (like margaritas or palomas!).
📝 Ingredients
Only TWO ingredients are needed! Does it get any simpler than that?
Tequila: I like to use something sort of middle-of-the-road here. No need to break the bank for something top shelf, but you also don't want to be infusing liquor that you wouldn't want to drink on its own. Think, Jose Cuervo. Perfectly drinkable, but not über expensive. I used Jose Cuervo Silver Tequila.
Jalapeños: Fresh jalapeños, please! You can remove the ribs and seeds if you want, but I kept them in. Leaving them in will impart a little extra heat.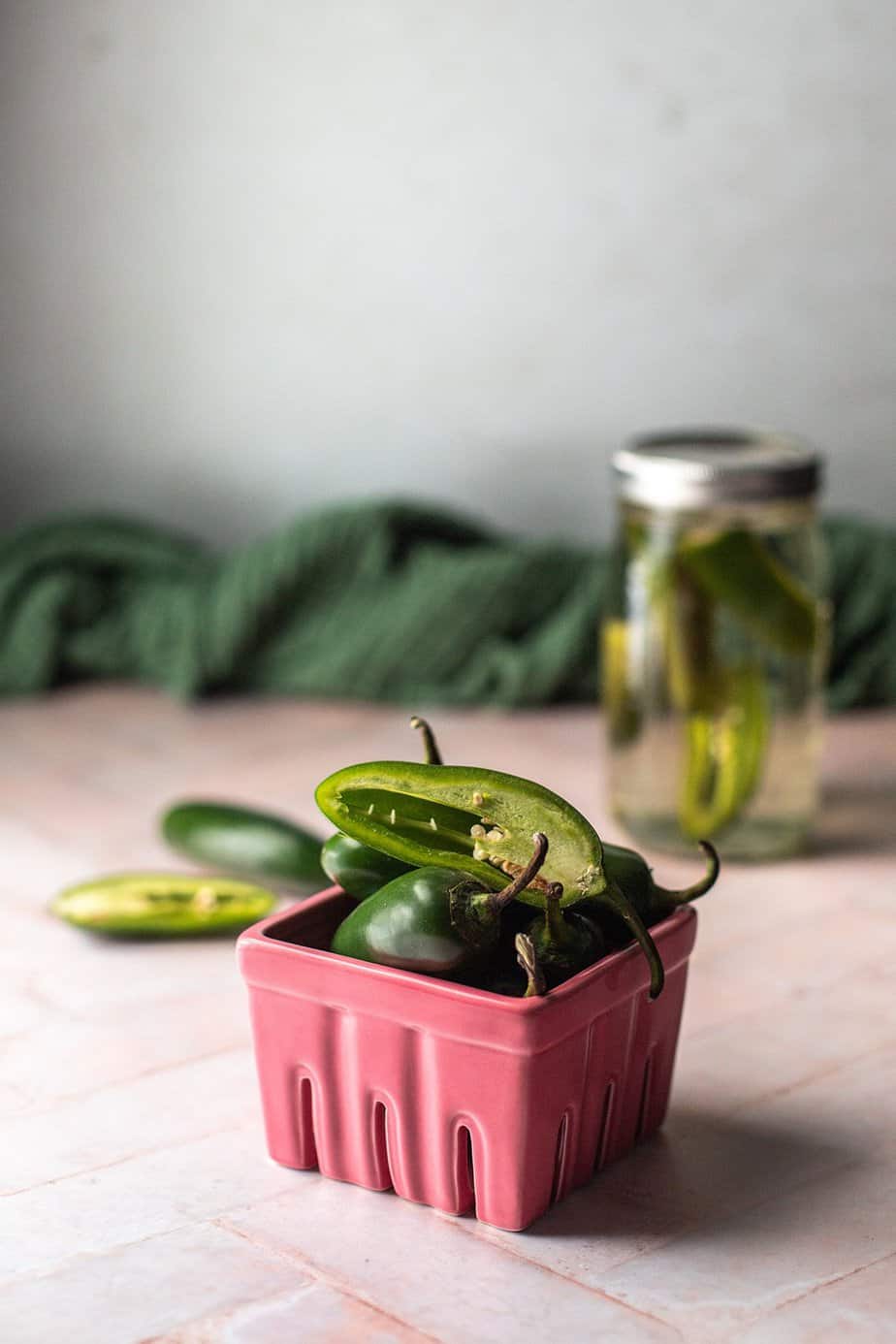 👩🏻‍🍳 How do you make it?
This is infused tequila is incredibly easy to make. First, you'll start by slicing the jalapeños in half. You could also slice them into rings or quarters or whatever. I just went with halves because it was less work.
You can also choose to remove the ribs and seeds of the peppers or leave them in. I opted to leave the ribs and seeds intact to increase the overall spiciness of the infusion.
Toss your sliced peppers into a Mason jar (or some other airtight container) and add the tequila. I used a 32 oz. Mason jar, and with the jalapeños in there, it held the contents of a 750 mL bottle of tequila pretty much perfectly.
Seal the jar (or other container) and leave it sit in a cool, dry place for at least 12 hours, or until it reaches the desired level of spiciness. I left mine sit for somewhere between 24 and 36 hours. I would highly recommend tasting the tequila periodically.
Once you're happy with the flavor and spiciness, simply strain out the jalapeños. You can store your infused tequila in the same vessel in which it was infused, or you can pour the liquid back into the original tequila bottle (this is what I ultimately did).
🔗 Other infused alcohol recipes
Looking for more infused alcohol recipes? Check out the photos and links below to find a new favorite.
❓ Tips and tricks/FAQs
What if I don't want this tequila to be so spicy?
Make sure to taste the tequila periodically and just stop infusing the tequila whenever it has reached your desired level of spiciness.
Can I use a different kind of pepper?
Sure, you can use whatever kind of peppers you'd like. Just keep in mind that different peppers have different levels of heat.
Can I use a different kind of liquor?
Sure can, but then it won't be jalapeño tequila. You could try using mezcal, instead if you are looking for a smokier flavor.
🖤 Share your creations and follow me on social media!
Subscribe to the A Nerd Cooks Newsletter to have updates sent straight to your inbox.

I love seeing when you share my recipes! Please tag me on Instagram @anerdcooks so I can enjoy them virtually with you! You can also find me on Pinterest, Facebook, YouTube, and Twitter.

I'd love to know what you thought of this recipe! Don't forget to leave a comment and ⭐️ star rating below!
✨ Recipe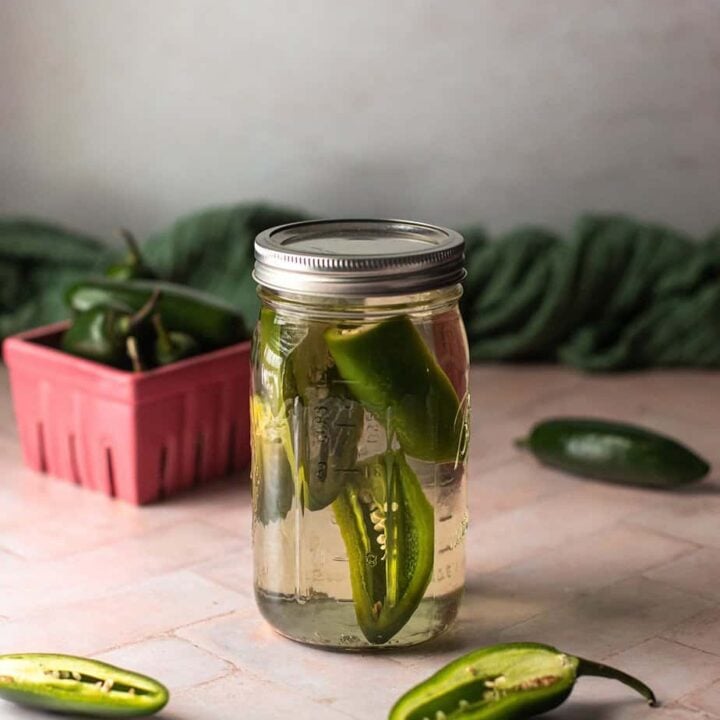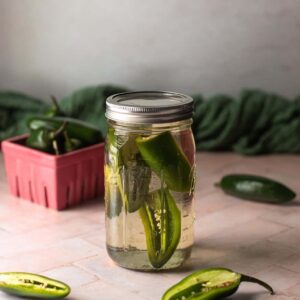 Jalapeño Tequila
Jalapeño Tequila has just the right amount of spicy kick that you need to take your cocktails up a notch. It's so easy to make, too.
Ingredients
2

jalapeño peppers

sliced (see notes)

750

mL

silver tequila
Instructions
Place your sliced jalapeño peppers in a Mason jar or other airtight container.

Fill the jar or container with tequila. Seal it and set it aside in a cool, dry place.

Allow the peppers to infuse the tequila for at least 12 hours. Test the tequila periodically until it reaches the desired level of flavor and heat.

Strain the jalapeños out and store the infused tequila in an airtight container.
Notes
You can slice the jalapeños in half, into coins, or whatever you want to do.
You can also remove the ribs and/or seeds from the peppers or leave them in. Leaving them in will result in some additional heat.
Nutrition
Serving:
1
Calories:
75
kcal
Disclaimer: Nutritional information is a generated estimate and is not guaranteed to be accurate.
📌 Pin this recipe for later!