Last Updated on December 22, 2020 by laurenpacek
Making homemade limoncello using your sous vide is so easy!
Seriously, making Sous Vide Limoncello couldn't be easier. You also only need 4 ingredients. AND it's delicious!
Making limoncello using the sous vide means that it will come together SO much more quickly than when using traditional methods. Using conventional methods, you would allow the lemon zest to infuse the vodka for weeks or months.
And sure, it's delicious when made that way, too. But sometimes we want our limoncello and we want it now. Or, like 2 hours from now.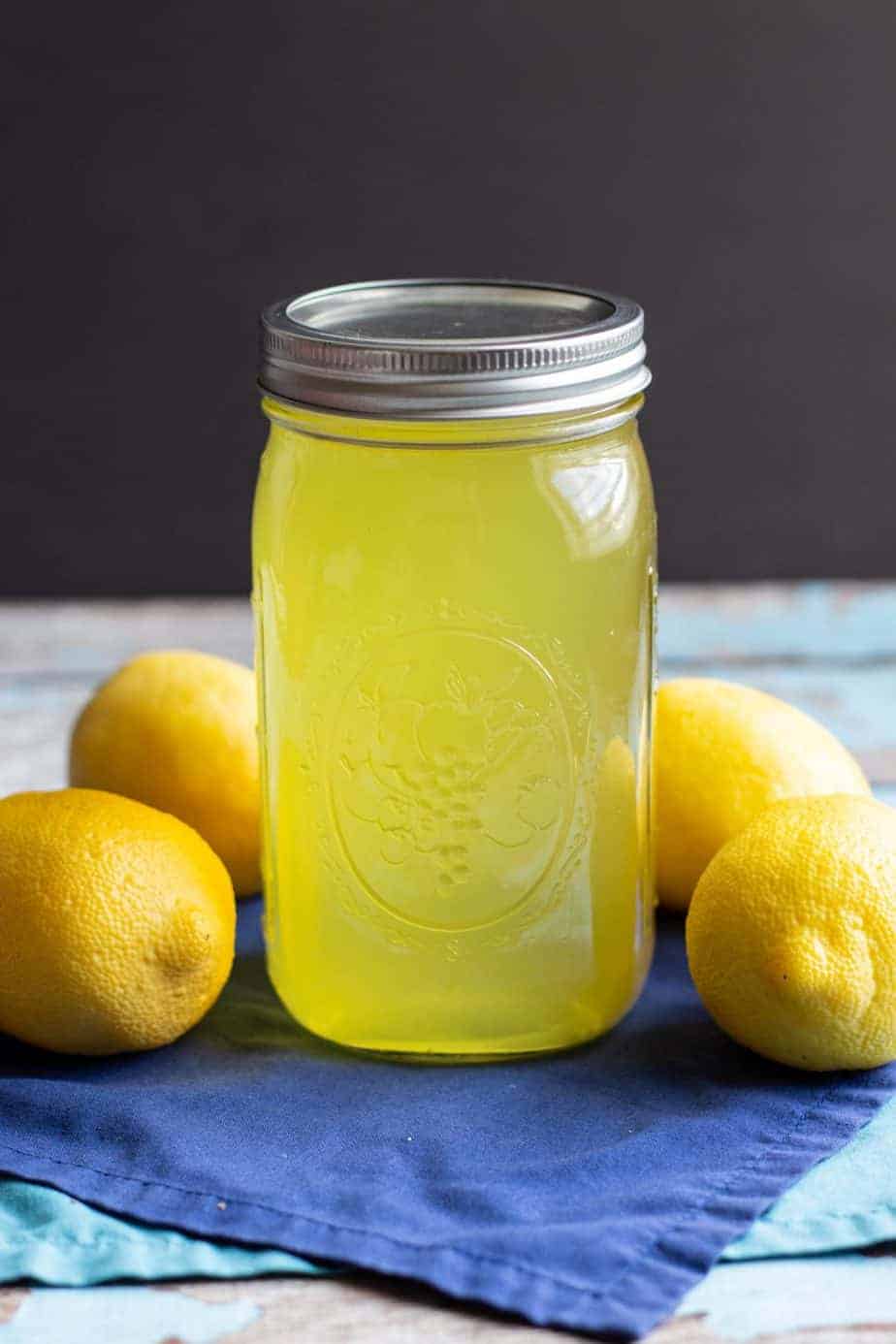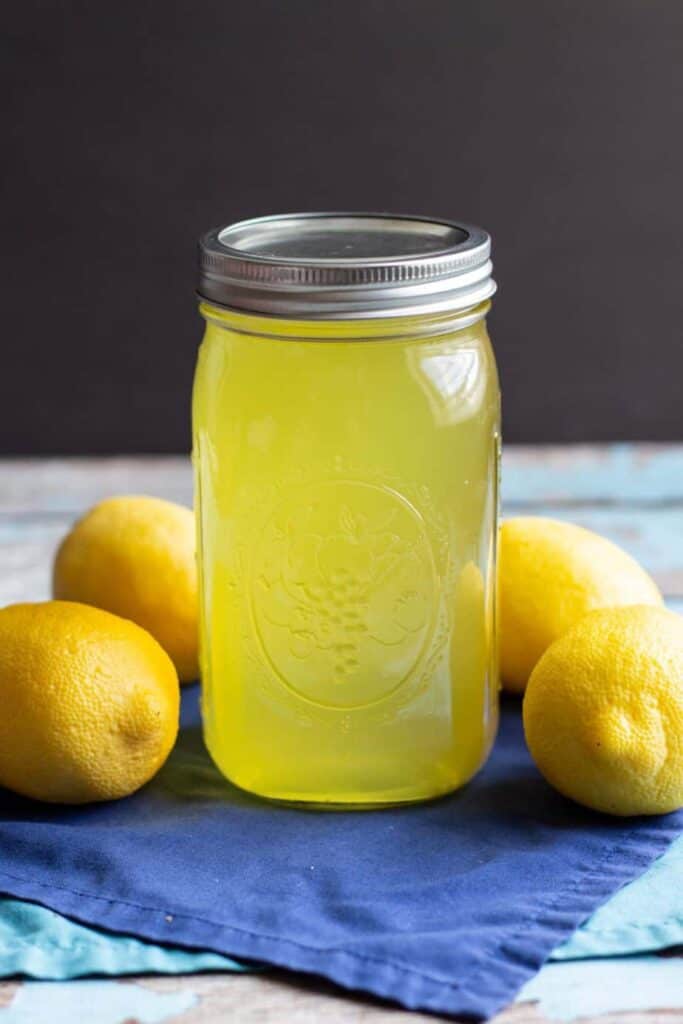 So how do you do it?
You'll want to start by washing and scrubbing your lemons really well. This is because most lemons that you'll get at the grocery store are coated in wax.
Once your lemons are squeaky clean, you'll want to remove the zest from all of the lemons. You can either use a microplane to zest the lemons or a vegetable peeler. Whichever method you use, try to make sure that you're only removing the yellow zest, and not the bitter white pith that's underneath.
Place all of the zest in the bottom of a quart Mason jar. I use a wide-mouth variety, and really like them.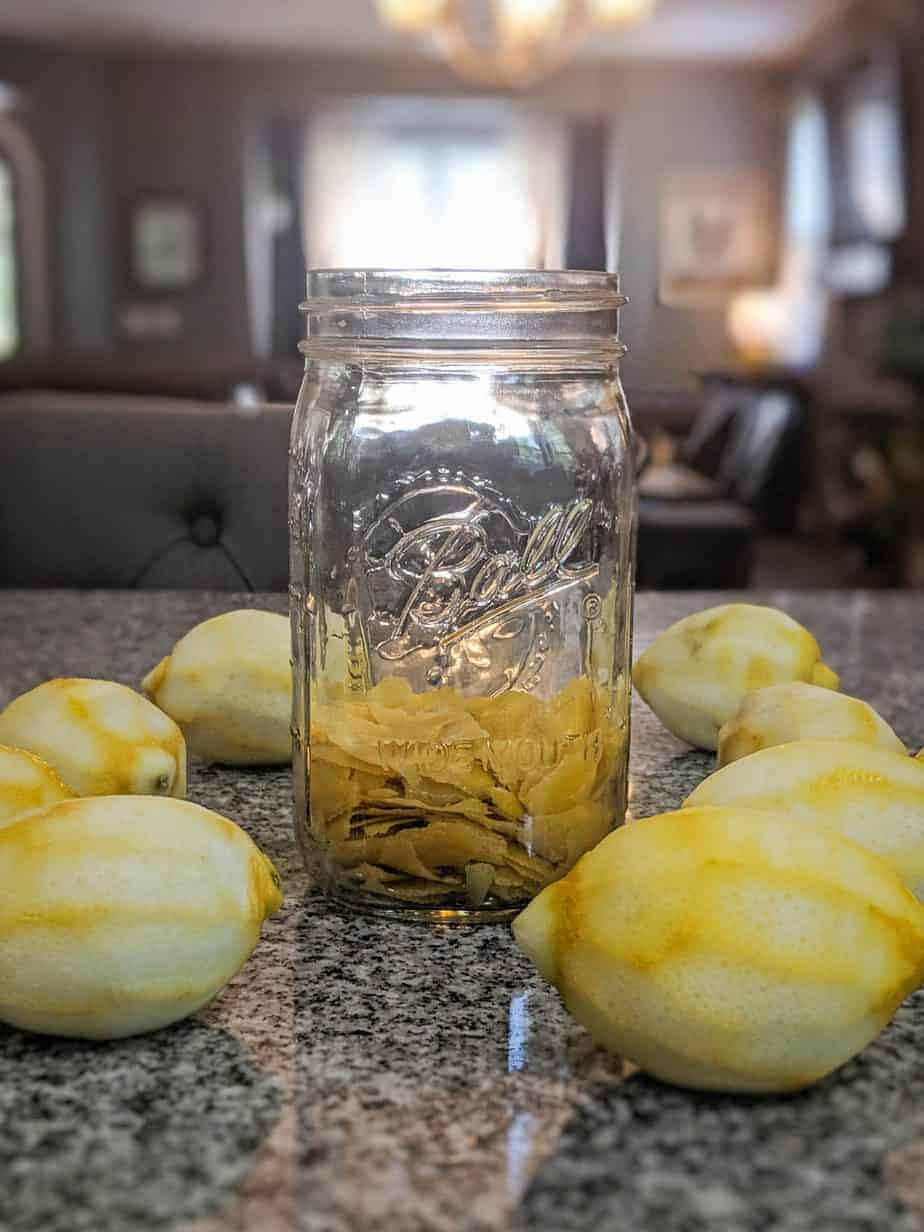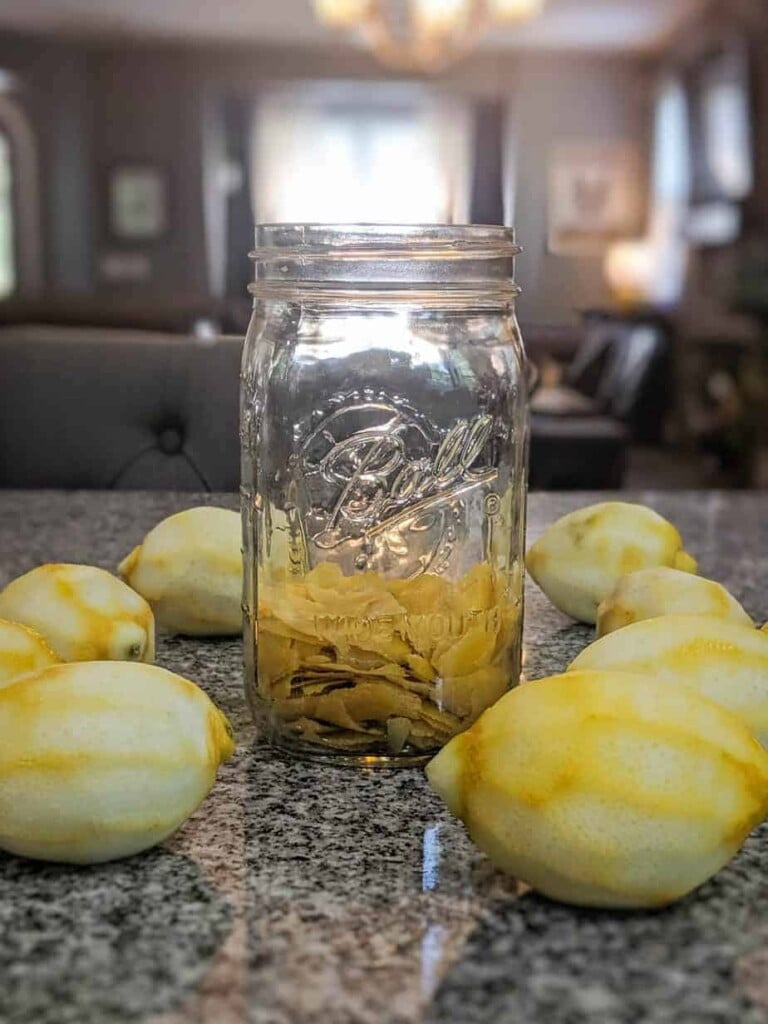 Next: add the vodka
Once the lemons have been zested, you'll fill the Mason jar with plain vodka.
I'm of the opinion that you don't necessarily need to use top shelf vodka here. No need to break out the Grey Goose or Belvedere (though I'm sure both would yield a lovely end product). I tend to stick with a more middle-of-the-road, but still good quality vodka, like Smirnoff. Use something that you would feel good about using in a mixed drink.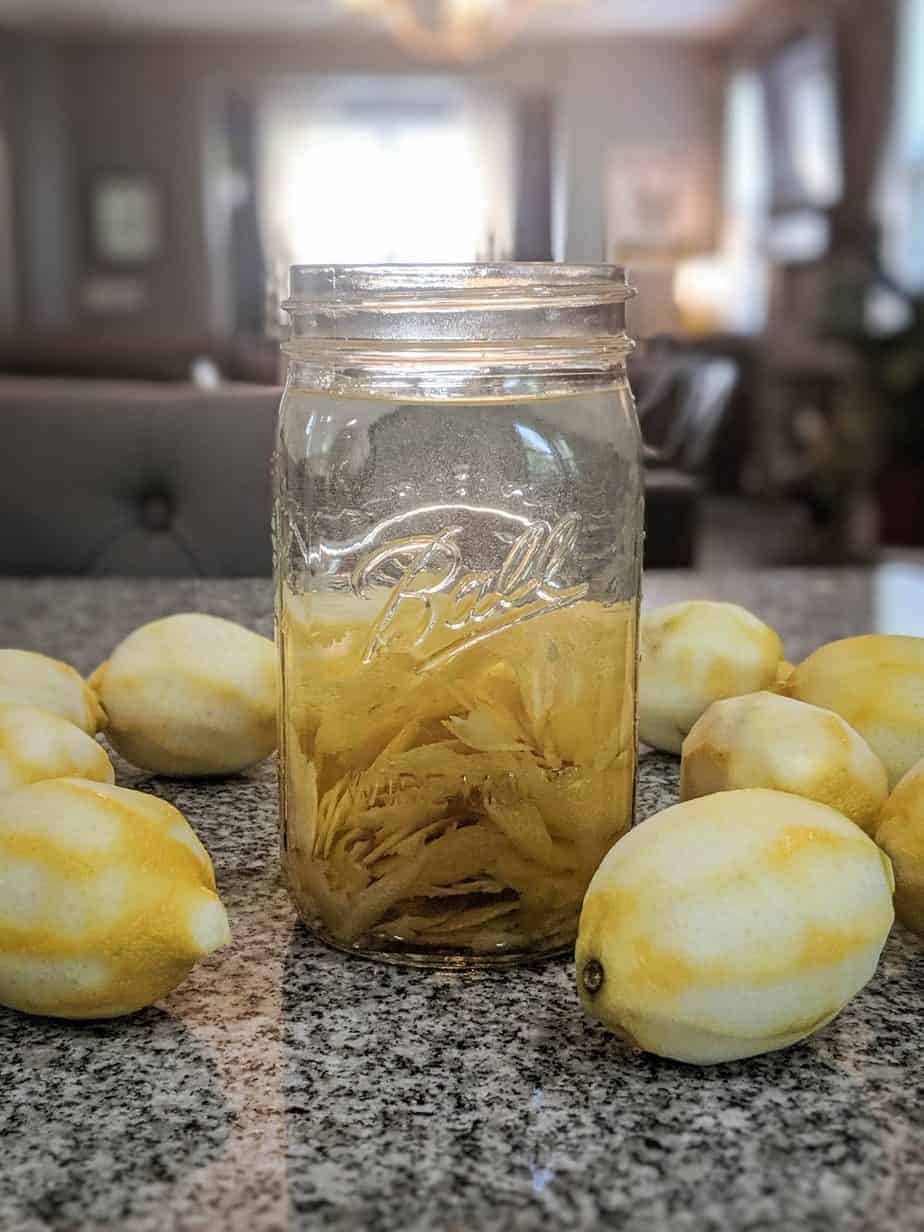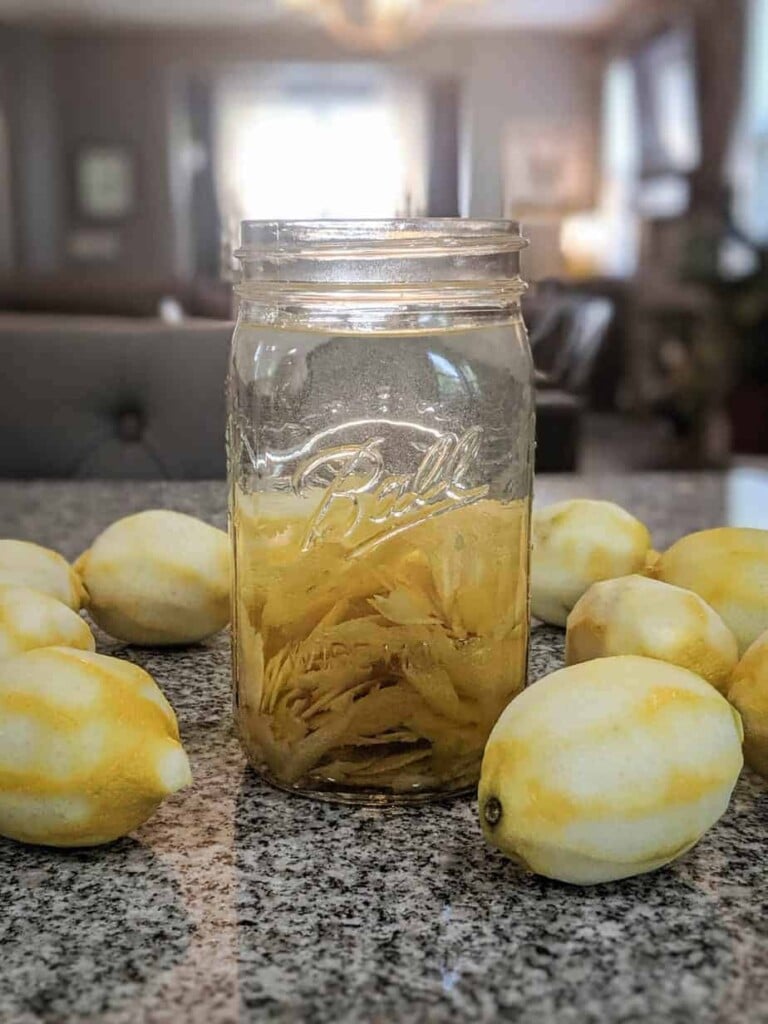 It's time for the Mason jar to take a dip!
You'll start by screwing a lid onto the Mason jar, finger tight. Preheat your water bath to 135 degrees F and submerge the jar in the water. "Cook" for 2 hours.
If you're looking for a sous vide/immersion circulator, check out this one from Anova. I have the model that was available just before this one.
After that, the process is as simple as allowing the contents of the jar to cool, straining out and discarding the peels, and mixing the vodka with simple syrup.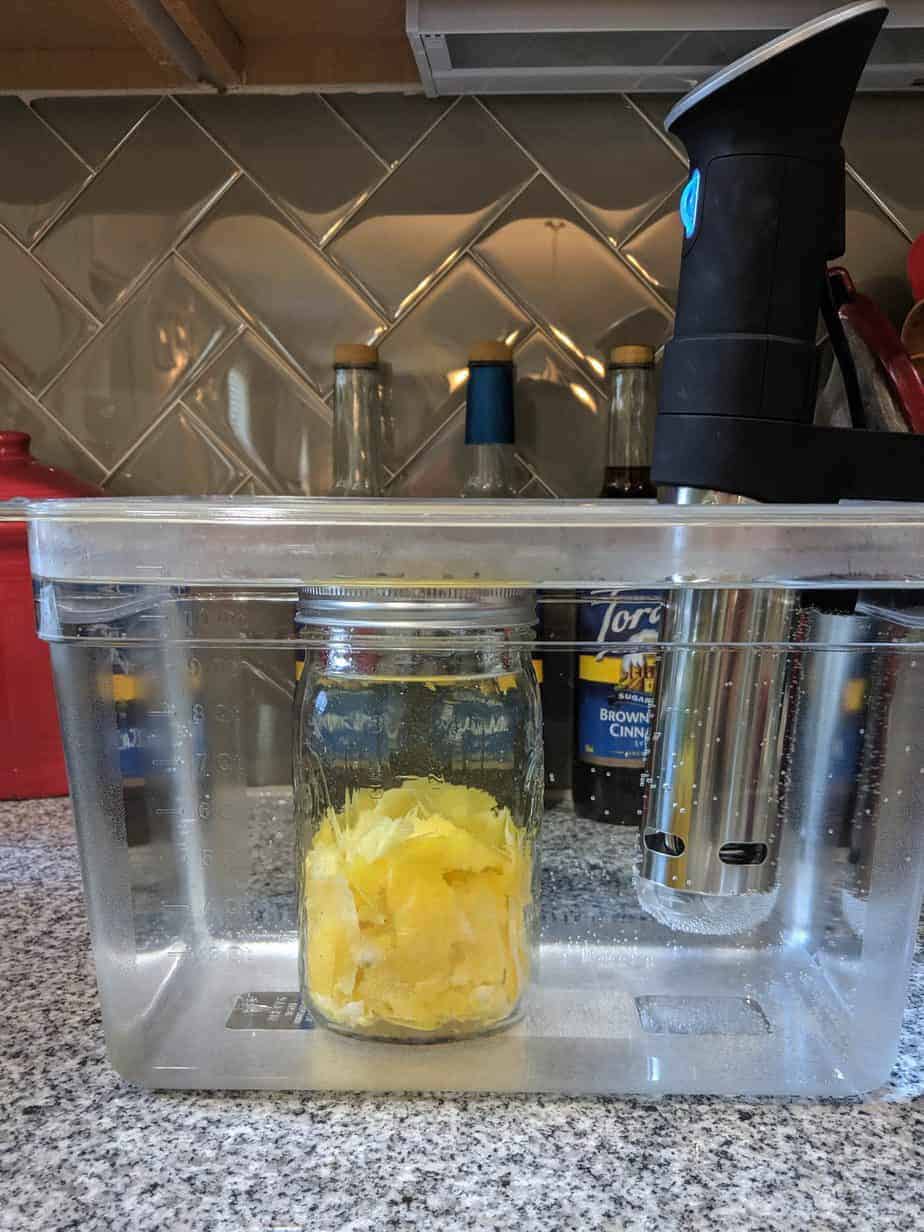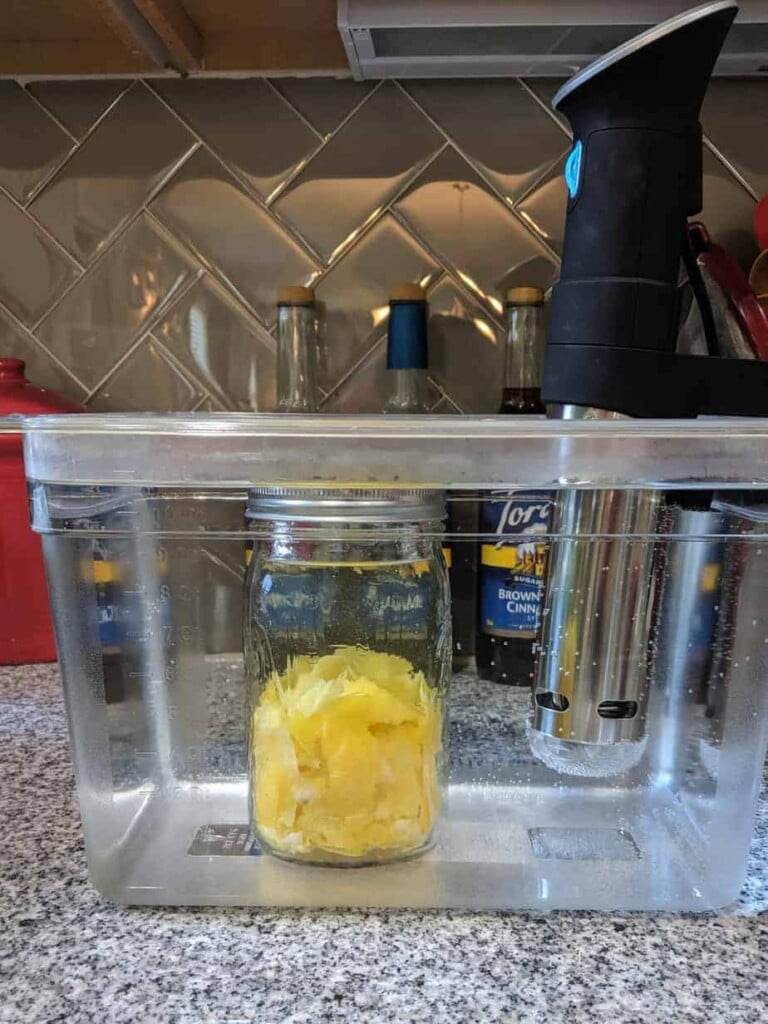 What should I do with all of those lemons that I zested?
This Sweet and Tart Homemade Lemonade is a good place to start! Homemade Lemon Curd is also a good bet, though you will need to zest a few more lemons.
The Hollandaise sauce on these Crab Cakes Eggs Florentine also use a little lemon juice. AND the Hollandaise is made with the sous vide.
Sous Vide Limoncello
Yield:
6 cups (32 - 1.5 oz servings)
Total Time:
2 hours
20 minutes
Ingredients
zest of 10 lemons (see notes)
4 cups vodka (see notes)
2 cups water
2 cups granulated sugar
Instructions
Place the lemon zest in a quart Mason jar. Fill with vodka. Place the lid on the jar and tighten to finger tight.
Set your sous vide to 135 degrees F.
Once preheated, place the Mason jar in the water and cook for 2 hours.
After 2 hours, allow the limoncello to cool to room temperature.
While it cools, combine the water and sugar in a saucepan (you're making a simple syrup). Bring to a boil, whisking so that the sugar dissolves completely. Remove the mixture from the heat.
Strain the lemon zest from the limoncello and combine the vodka mixture and simple syrup.
Refrigerate in an airtight container.
Notes
Make sure to really scrub the lemons in order to remove the wax that's on the skin.
Personally, I don't think that you need to go all out and use top shelf liquor. However, I wouldn't use well vodka, either. Something middle of the road (that you'd feel good about using in a mixed drink) will work. I used Smirnoff.
Nutrition Information:
Yield:

32 shot-sized (1.5 oz) servings
Serving Size:

1
Amount Per Serving:
Calories:

120
Total Fat:

0g
Saturated Fat:

0g
Trans Fat:

0g
Unsaturated Fat:

0g
Cholesterol:

0mg
Sodium:

2mg
Carbohydrates:

15g
Fiber:

1g
Sugar:

13g
Protein:

0g
What should I buy in order to make this recipe?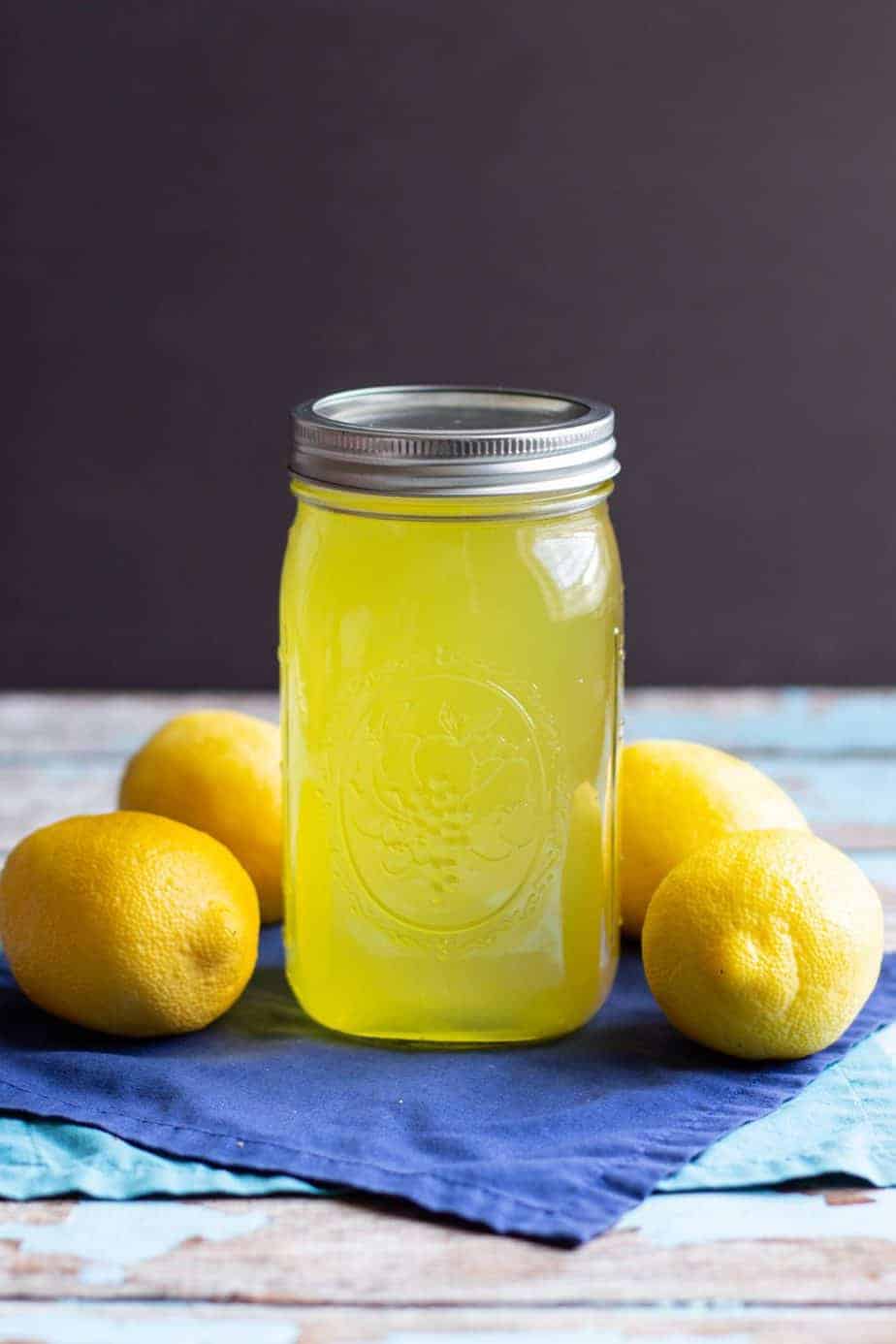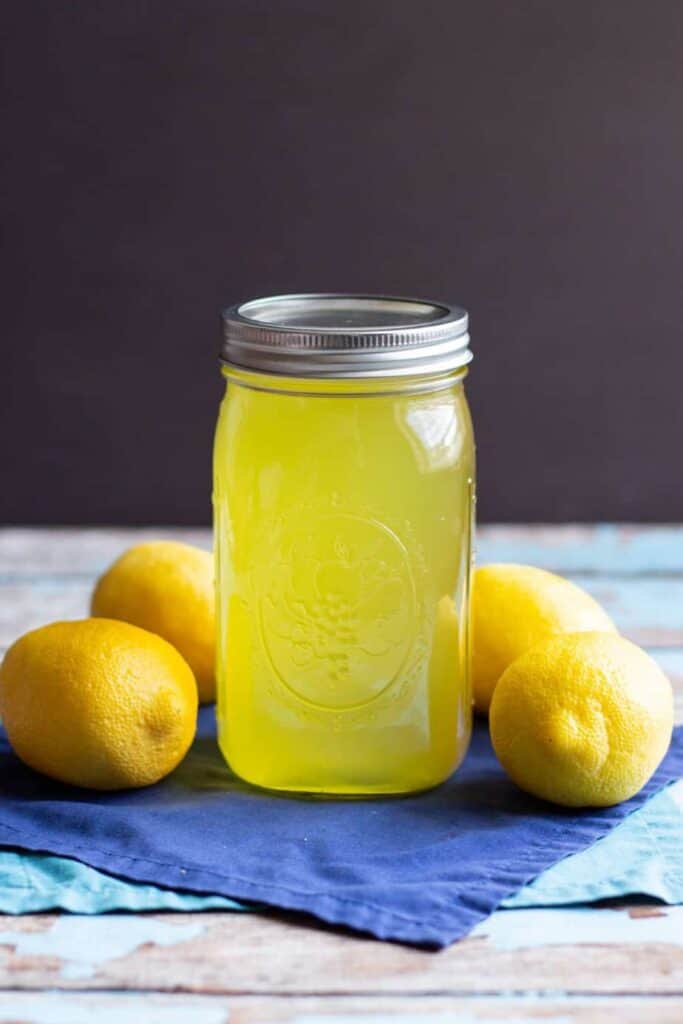 Pin this recipe for later!