Crab Cake Eggs Florentine is a delicious, decadent, and downright fancy brunch dish. Sous vide-ing the hollandaise sauce and eggs makes things so much easier!
Even though you might not immediately know what the difference between Eggs Benedict and Eggs Florentine is, you're probably familiar with both of these popular brunch dishes. They both involve a toasty English Muffin, poached egg, and hollandaise sauce. Florentine has spinach instead of Canadian bacon or ham (a la Benedict). Now you know.
Both options are so good. I opted for Eggs Florentine here. That spinach means it's healthy, right? No? Okay.
I figured that pretty much the only thing that could make this dish better is the addition of a crab cake. And don't forget the Old Bay. I professed my deep love of Old Bay here, in this post about Air Fryer Chicken Wings.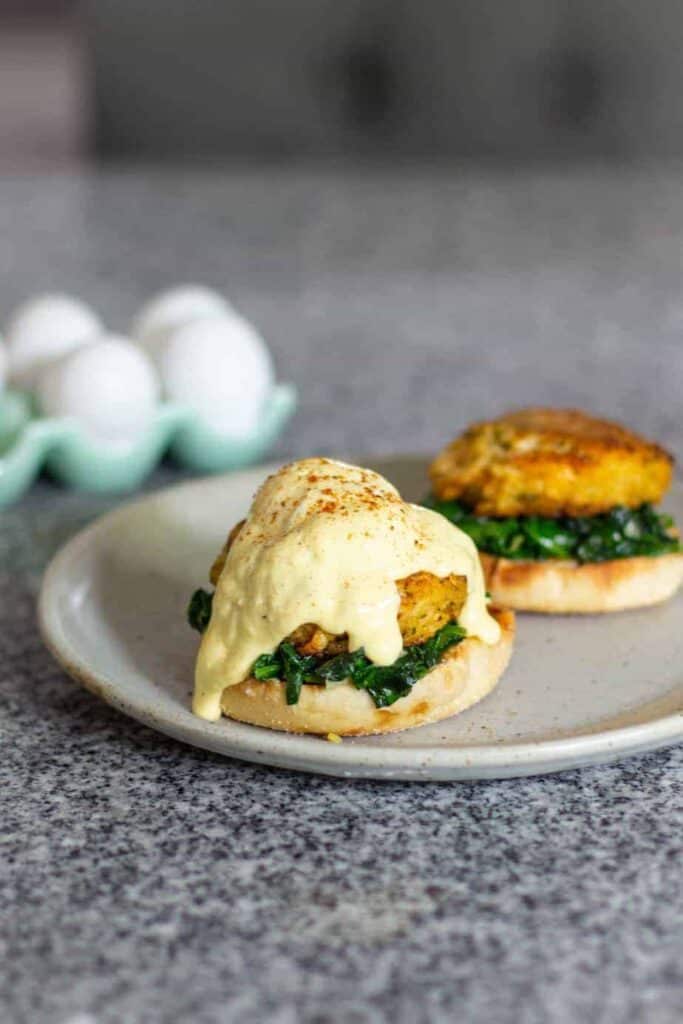 This is the first sous vide recipe on this blog!
So, what is sous vide? Sous vide means "under vacuum". Basically what you do is place uncooked plastic pouch (and vacuum all of the air out) or maybe a glass jar and cook the food in a water bath at a precise temperature. I know, it sounds kind of weird. But if you have more questions, I suggest that you head over to the blog A Duck's Oven. She's an expert!
After a little hemming and hawing, I ended up getting this Anova model. I've been really happy with it. So far, we've made steaks (several times), stuffed burgers, along with the hollandaise sauce and soft poached eggs in this post.
I'm pretty excited to share this first sous vide recipe with you all. Stay tuned for more in the future!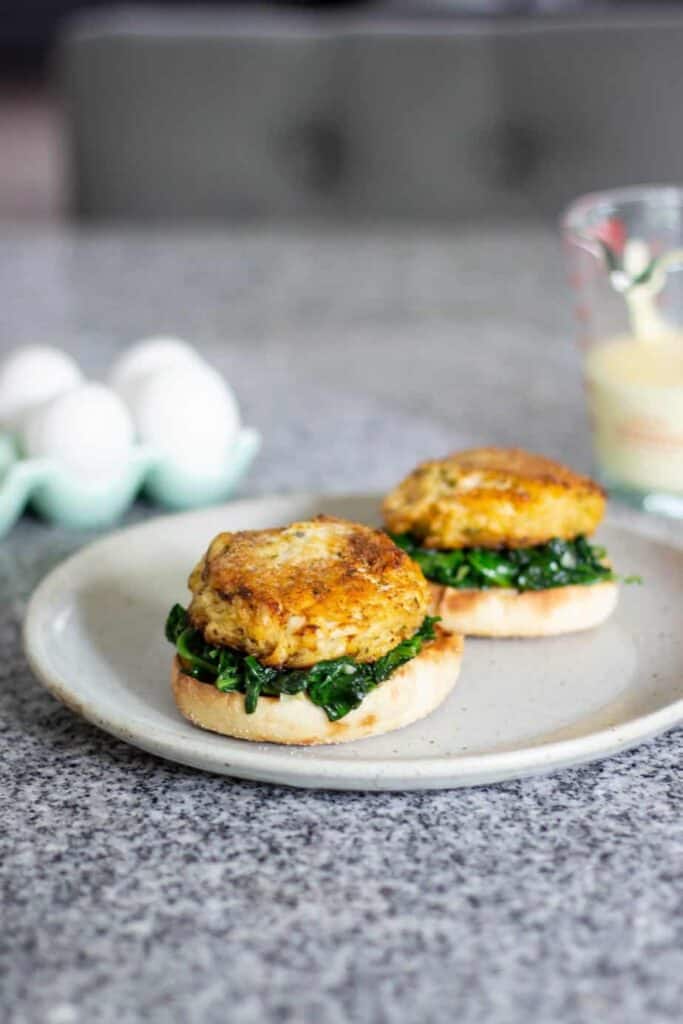 This is a fancy looking recipe, but don't be daunted!
I know that there are kind of a lot of steps involved in making this recipe. Despite this, all of the steps are very easy. Even the hollandaise sauce is super easy. Basically, all you do is dump the ingredients in a jar, let them cook in the water bath, and blend! Easy peasy. And honestly, the payoff at the end of this recipe is sooo worth it.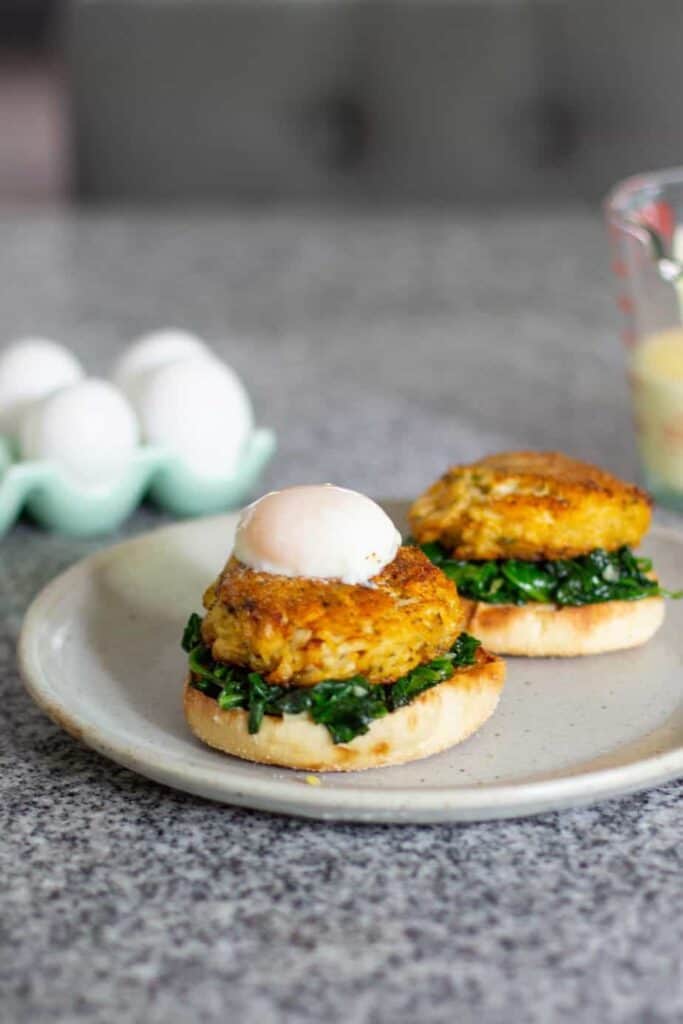 Before we get to the recipe, I need to make a couple of plugs:
The beautiful plate in these photos was made by Matt Hallyburton. Please head over to Hallyburton Pottery and check out what he has to offer!
The recipe for the sous vide hollandaise sauce comes from Chelsea over at A Duck's Oven. Go check her blog out for lots of tasty recipes (especially those involving sous vide)!
✨ Recipe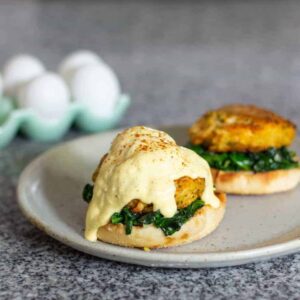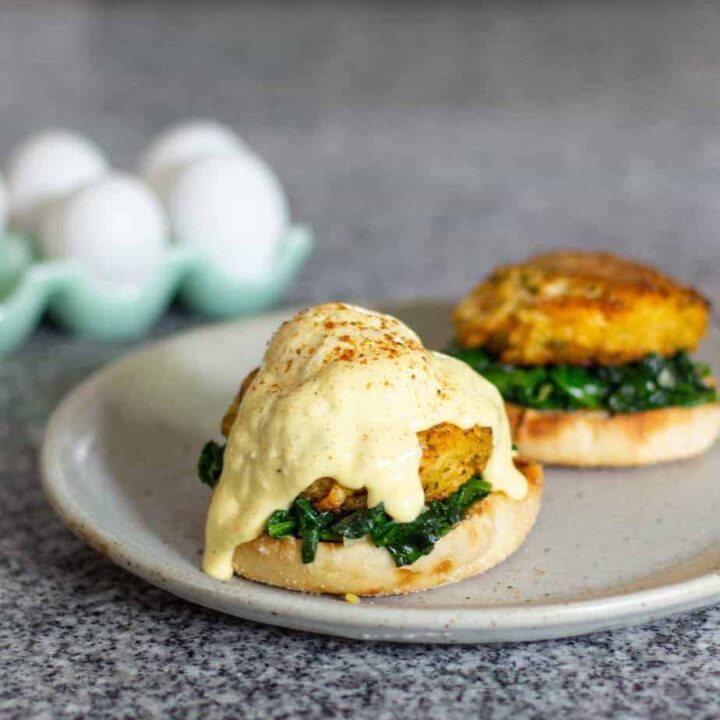 Crab Cake Eggs Florentine (Sous Vide)
Crab Cake Eggs Florentine is a delicious, decadent, and downright fancy brunch dish. Making the hollandaise sauce and eggs using sous vide makes things so much easier!
Ingredients
Sous Vide Hollandaise Sauce
1

tbs

apple cider vinegar

1

tbs

shallot

minced

10

tbs

unsalted butter

4

egg yolks

2

tbs

lemon juice

½

teaspoon

kosher salt

2

tbs

water
Garlicky Spinach
1

tbs

olive oil

2

garlic cloves

minced

4

cups

baby spinach

loosely packed
Everything Else
4

prepared crab cakes

4

English muffins
Instructions
To make the Sous Vide Hollandaise Sauce
Using your immersion circulator, preheat the water bath to 167 degrees F.

Add all of the ingredients to a wide-mouthed Mason jar. Screw the on lid to just "finger-tight."

Once the water has preheated, add the jar. Make sure all of the ingredients are completely submerged under the water line. You might have to stack a mug or something on top of the jar to keep it from floating up and around in the water bath. Cook for 30 minutes.

Remove the jar from water bath. Remove the lid. Insert the immersion blender into the jar and blend until the hollandaise is smooth and thick (should take about 2 minutes).

If you'd like to thin it out a bit, you can add some water and blend again.

To make the Sous Vide Soft Poached Egg

Using a slotted spoon, gently slide the eggs into the bottom of the preheated (167 degrees F) water bath.

Allow them to cook in the water bath for 12 minutes.

Again using the slotted spoon, remove the eggs to an ice bath (to stop the cooking) for a about 1 minute.

To make the Garlicky Spinach

Heat the olive oil in a medium-sized skillet over medium heat.

Add the garlic and sauté just until fragrant.

Add the baby spinach, one handful at a time (and stirring occasionally), until wilted.

Season with kosher salt, to taste.

To assemble everything

Heat the prepared crab cakes according to package directions.

Toast the English muffins and place ¼ of the cooked spinach on the bottom half of each English muffin. Reserve the tops for sopping up the egg yolks and hollandaise.

Place a crab cake on top of the spinach.

Place one soft poached egg on top of each crab cake. To remove the eggs from their shells, you want to gently crack into the bottom of each egg. Once you peel away the shell at the bottom of the egg, the soft poached eggs will slide right out.

Drizzle some hollandaise on top of the poached egg and dust with a little Old Bay seasoning.
Notes
If you prepare the crab cakes, spinach, and English muffins while the hollandaise sauce and eggs cook, you can have this fancy brunch on the table in about 30 minutes of active cooking time!
Hollandaise sauce cannot be reheated. Trust.
Nutrition
Serving:
1
Calories:
665
kcal
Carbohydrates:
45
g
Protein:
38
g
Fat:
37
g
Saturated Fat:
7
g
Polyunsaturated Fat:
27
g
Cholesterol:
529
mg
Sodium:
2131
mg
Fiber:
4
g
Sugar:
4
g
Disclaimer: Nutritional information is a generated estimate and is not guaranteed to be accurate.
Looking for other breakfast and brunch recipes?
Pin this recipe for later!