Last Updated on December 3, 2021 by laurenpacek
This English Muffin Breakfast Casserole is packed full of delicious cheese and bacon, fluffy eggs, and English muffins that end up being both soft and crispy.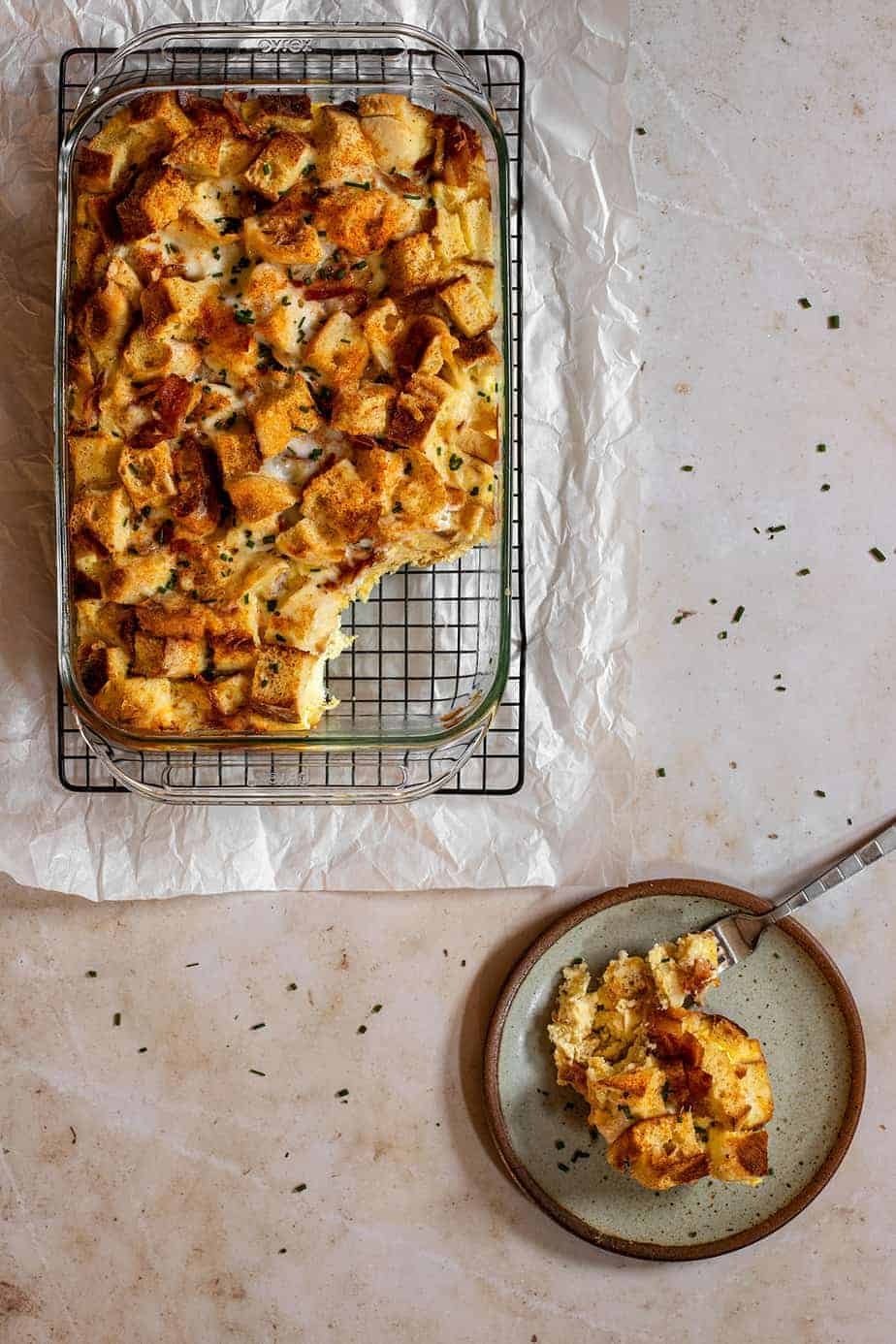 What ingredients go into this breakfast casserole?
Let's talk about it! Check out the picture and list below.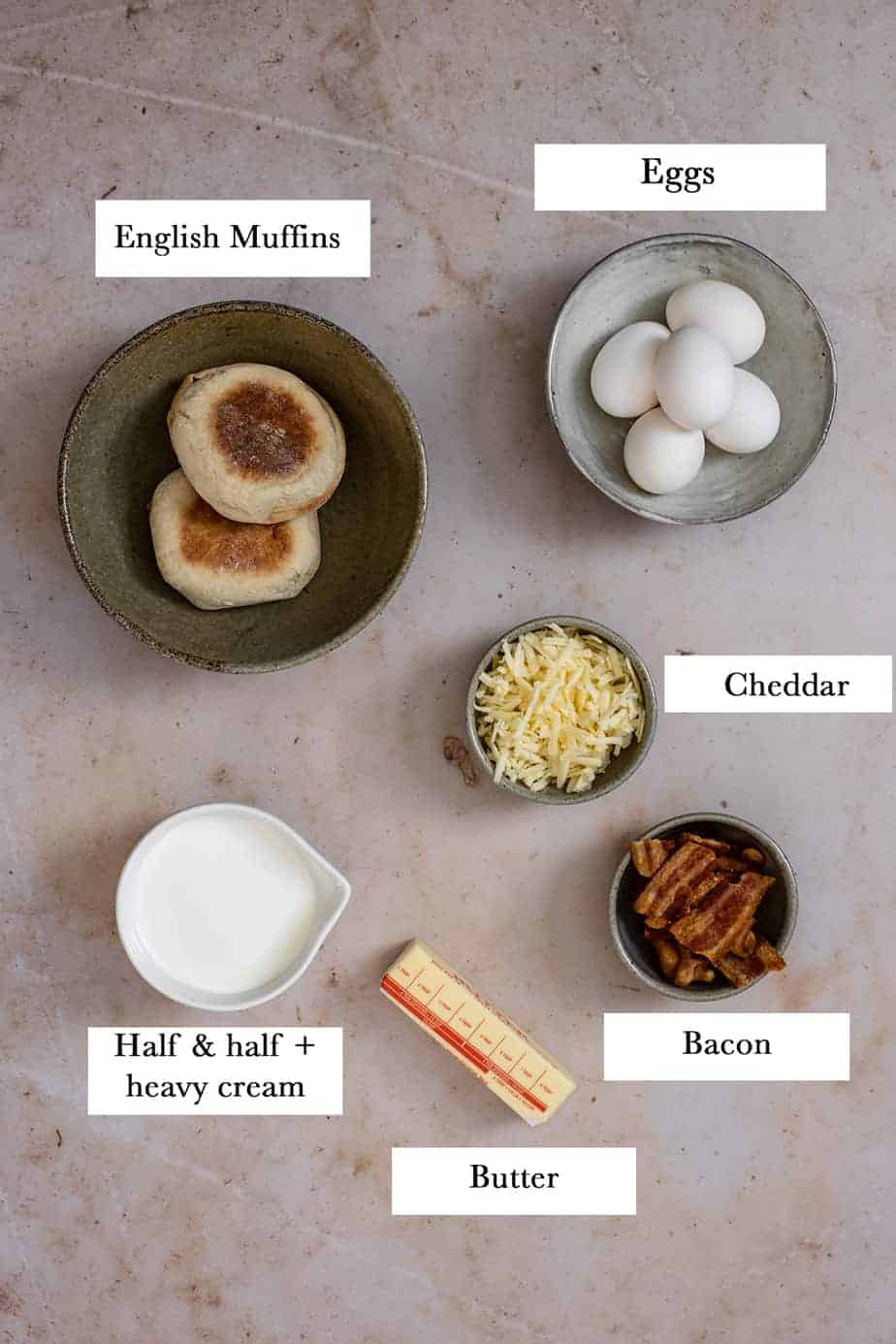 English muffins: Just some regular old English muffins from the store. Nothing too terribly fancy
Eggs: Gotta have eggs in a breakfast casserole!
Cheese: I went with sharp cheddar (freshly grated). But you do you. Do you like gruyere? Maybe gouda is more your thing? Feel free to use those!
Liquid dairy: I used a combination of half and half as well as heavy cream - equal parts of each. But if you want to use all heavy cream (or half and half), do that. You could also use a combo of milk and cream, milk and half and half, all milk, etc. Feel me? I haven't tried making this with non-dairy milks, however.
Butter: I like to use unsalted butter.
Bacon: Salty, crispy bacon, cooked and chopped into pieces. You could also sub Canadian bacon or sausage, if desired. Or omit the meat altogether.
Chives: For garnish (not pictured because I forgot).
Spices: Kosher salt, black pepper, paprika, and garlic powder. Also not pictured because I had a brain fart when taking the picture. <shrug>
How does this recipe come together?
Start by cutting or tearing the English muffins into pieces. I used a serrated bread knife to do this. The pieces don't have to be exactly the same size, but aim for something close to bite-sized. Dump them into your prepared baking dish.
I then took this opportunity to mix about half of the grated cheese and all of the chopped cooked bacon throughout the English muffin pieces. This helps to ensure that the good stuff will be evenly distributed throughout the casserole.
Next, you'll want to combine the eggs, dairy, and spices. I like to whisk these together in a very large Pyrex measuring cup. But a bowl will do the trick, too. Just make sure to whisk everything until it's basically a homogenous mixture. A few streaks of distinct yolks or whites are fine, but try to whisk it very well.
Pour the egg mixture all over the English muffins, cheese, and bacon in the prepared dish. Sprinkle the remaining cheese over everything. Now all that's left is to bake the breakfast casserole and give it a little garnish once it comes out of the oven.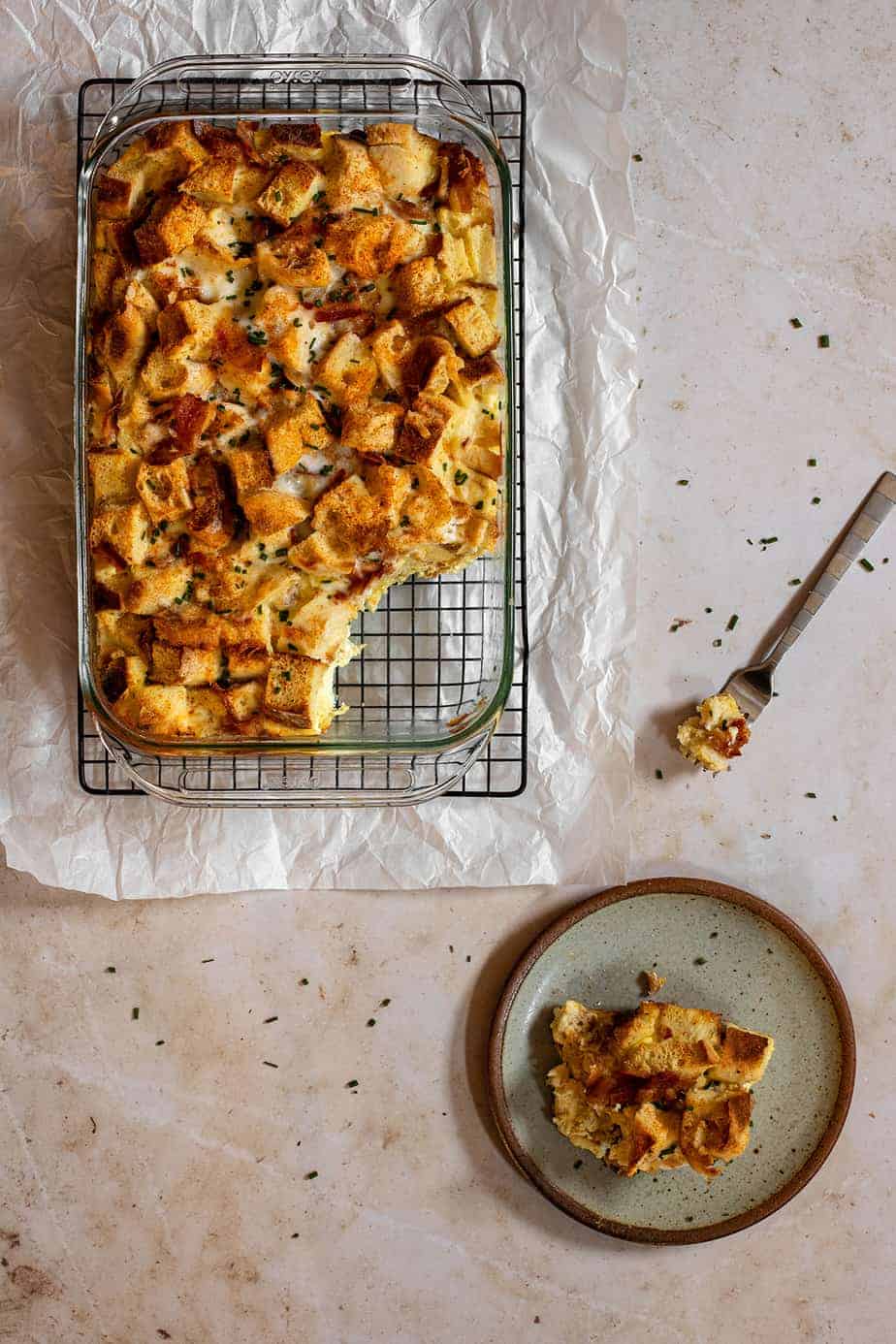 Looking for other breakfast/brunch recipes?
Because I got 'em!
My Crab Cakes Eggs Florentine (with Hollandaise Sauce that's made using sous vide!) is crazy good, if I do say so myself. Make it for guests or for yourself when you're feeling a little fancy. Baked Garlic Cheese Grits are decadent and easy to throw together, too!
Make-Ahead Cinnamon Rolls are *chef's kiss* the perfect way to kick of a lazy weekend or holiday morning. Pumpkin Banana Bread is another delicious baked good option for breakfast, brunch, or a snack!
Speaking of pumpkin, check out my Pumpkin Bread Pudding, too!
If you're looking for something on the healthier side, my Instant Pot Oatmeal (made with steel cut oats) is just the thing you need.
Perhaps you need a cocktail to go with your brunch?
Of course you do. Mimosa Moscow Mules are a fun twist on both a mimosa and Moscow Mule. And speaking of mimosas... Orange Creamsicle Mimosas are delicious, too!
Please do not overlook these amazing Rossini Cocktails (sometimes called Strawberry Bellinis)! They are as delicious as they are pretty.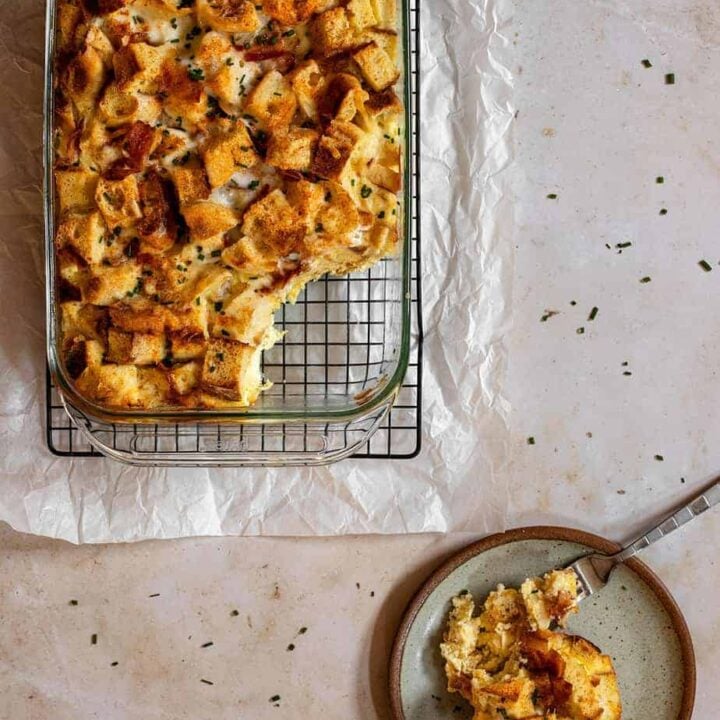 English Muffin Breakfast Casserole with Bacon
Total Time:
1 hour
15 minutes
This English Muffin Breakfast Casserole is full of cheese and bacon, fluffy eggs, and English muffins that end up being both soft and crispy. 
Ingredients
8 tablespoon unsalted butter, cut into cubes
10 English muffins
10 strips of bacon, cooked and roughly chopped
18 large eggs
1 ½ cups half and half
1 ½ cups heavy cream
1 ½ teaspoon garlic powder
1 ½ teaspoon kosher salt
1 teaspoon black pepper
½ teaspoon paprika
2 cups sharp cheddar cheese, grated
1 tablespoon fresh chives, minced (for garnish)
hot sauce, optional
Instructions
Preheat the oven to 375 degrees F. Grease a 9x13-inch baking dish and set aside.
Cut or tear the English muffins into bite-sized pieces and scatter them in an even layer in the prepared baking dish.
Mix the half of the shredded cheddar and all of the chopped bacon throughout the English muffin pieces.
Whisk the eggs, half and half, heavy cream, and spices together. Pour egg mixture over the English muffins pieces/cheese/bacon.
Scatter the cubes of butter over the top of the casserole and top everything with the remaining grated cheese.
Cover the casserole with foil and bake for 30 minutes. Remove the foil and bake for an additional 30 minutes.
Remove the casserole from the oven and top with the minced chives.
Add some hot sauce (optional, but definitely recommended) to your portion before eating.
Notes
The casserole is done when the top is golden brown and the middle is only just slightly jiggly.
This dish reheats well, if you have leftovers. Just pop it in the microwave for a bit.
Nutrition Information:
Yield:

10
Serving Size:

1
Amount Per Serving:
Calories:

658
Total Fat:

47g
Saturated Fat:

25g
Trans Fat:

1g
Unsaturated Fat:

19g
Cholesterol:

446mg
Sodium:

1116mg
Carbohydrates:

31g
Fiber:

2g
Sugar:

3g
Protein:

27g
What equipment will I need to have on hand?
Pin this recipe for later!