Last Updated on December 3, 2021 by laurenpacek
This Pumpkin Banana Bread is moist, sweet, and warmly spiced. It comes together quickly and easily. Best yet? It makes TWO loaves!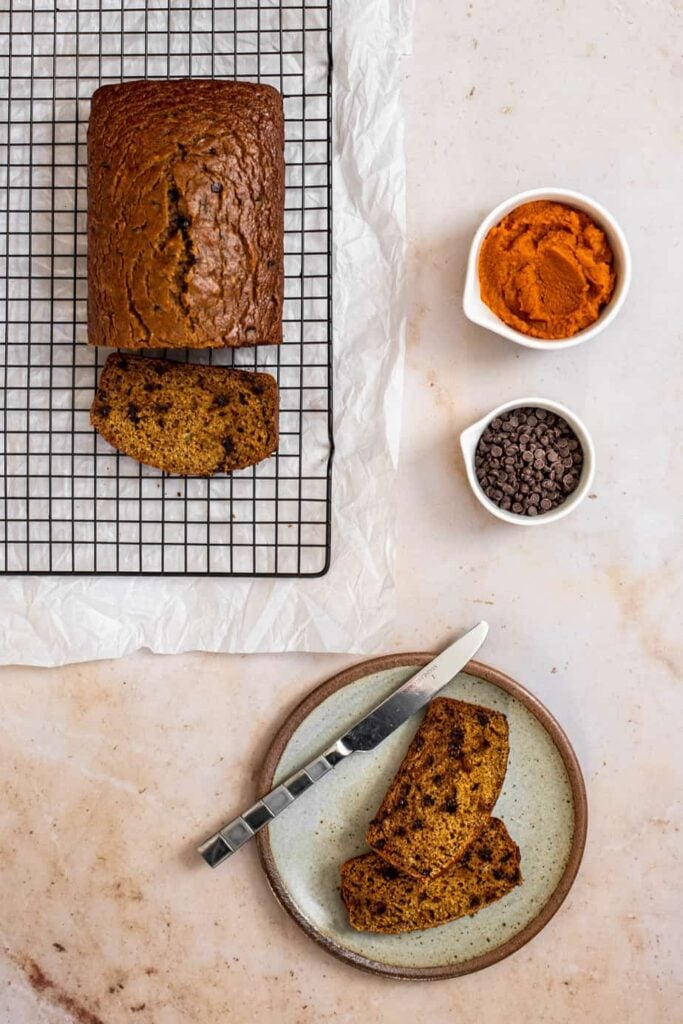 What ingredients go into this recipe?
Let's talk it through! This recipe uses common, easy to find, ingredients. But still, let's go over them. You'll find them in photo and list format, below.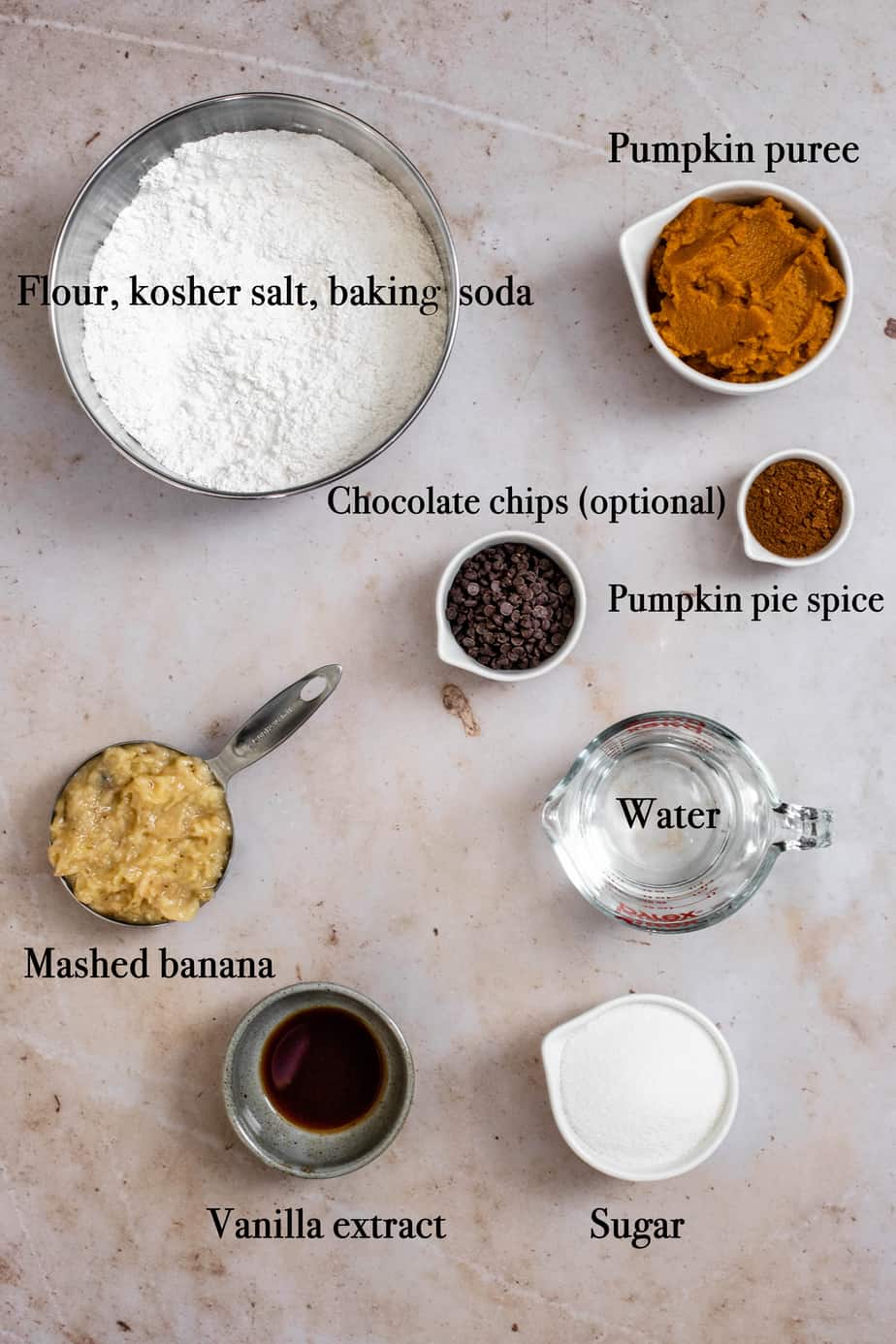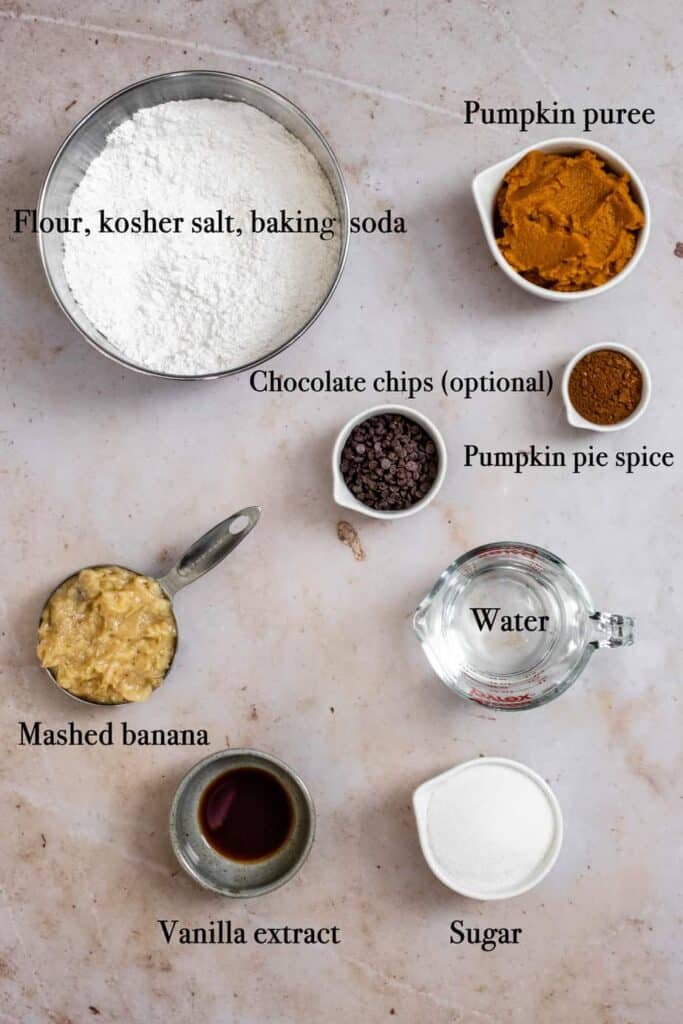 Flour - All-purpose, please. Nothing fancy here.
Baking soda - NOT baking powder. Double check before you scoop and add to the dry ingredients 😉
Salt - I prefer kosher salt for all of my baking (and cooking) needs. Something about table salt is too... salty. Which I realize sounds ridiculous.
Pumpkin pie spice mix - You can feel free to use a variety of individual spices (for example, cinnamon, ginger, cloves, and nutmeg), a store bought spice mix, OR you could make a big batch of your own. Here's how.
Pumpkin puree - Please make sure that you're using pumpkin puree, and not pumpkin pie filling. The canned pie filling contains spices and whatnot, and you're already adding them.
Bananas - Very ripe (to the point of being too ripe) bananas are perfect for this recipe.
Sugar - White granulated sugar!
Water - Not much to say about this one.
Vanilla extract - Use store bought or, if you're like me and feeling extra, make your own!
Eggs - There are also eggs in this recipe. I just forgot to include them in this photo. ¯\_(ツ)_/¯
Chocolate chips - Technically optional but so recommended! I used mini chocolate chips because that's what I had on hand and the bag was already opened.
How does this come together?
Pretty easily, to be honest!
Start by combining all of the wet ingredients (plus the sugar). Set them aside. Combine the dry ingredients (minus the chocolate chips) and add them to the wet, little by little. Add those chocolate chips, if you're using them (you should).
Pour the batter into prepared loaf pans and bake. That's about it!
Can I freeze this bread?
YES! This recipe freezes beautifully, in fact. This is particularly important since the recipe actually yields two loaves. Enjoy one loaf now, toss the other in the freezer, and enjoy it later on!
It's very easy to do, too. Take your fully cooled loaf, wrap it tightly in two layers of plastic wrap, then in two layers of aluminum foil, and then stick it in the freezer. Simply pull it from the freezer and place it in the fridge overnight when you'd like to eat it.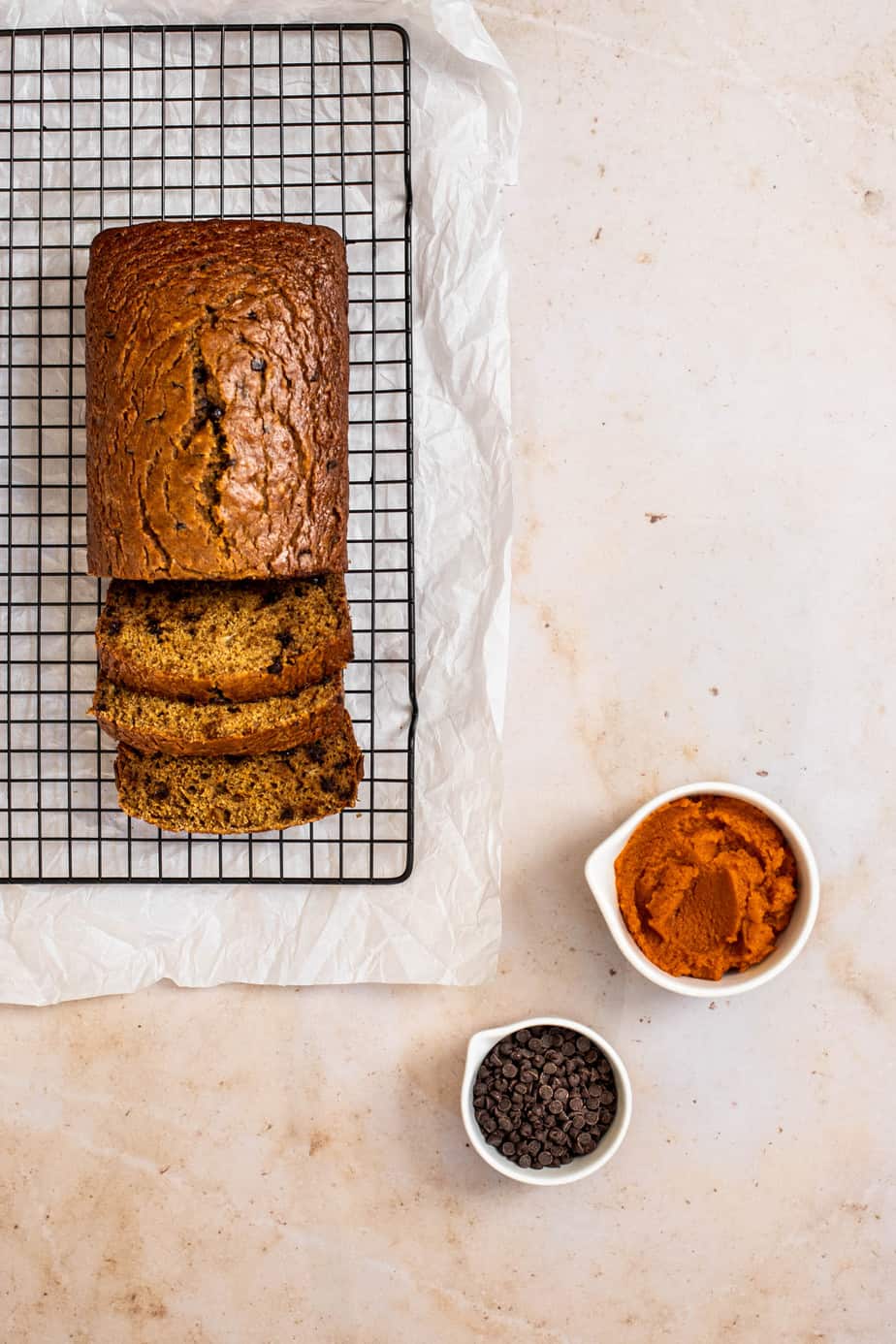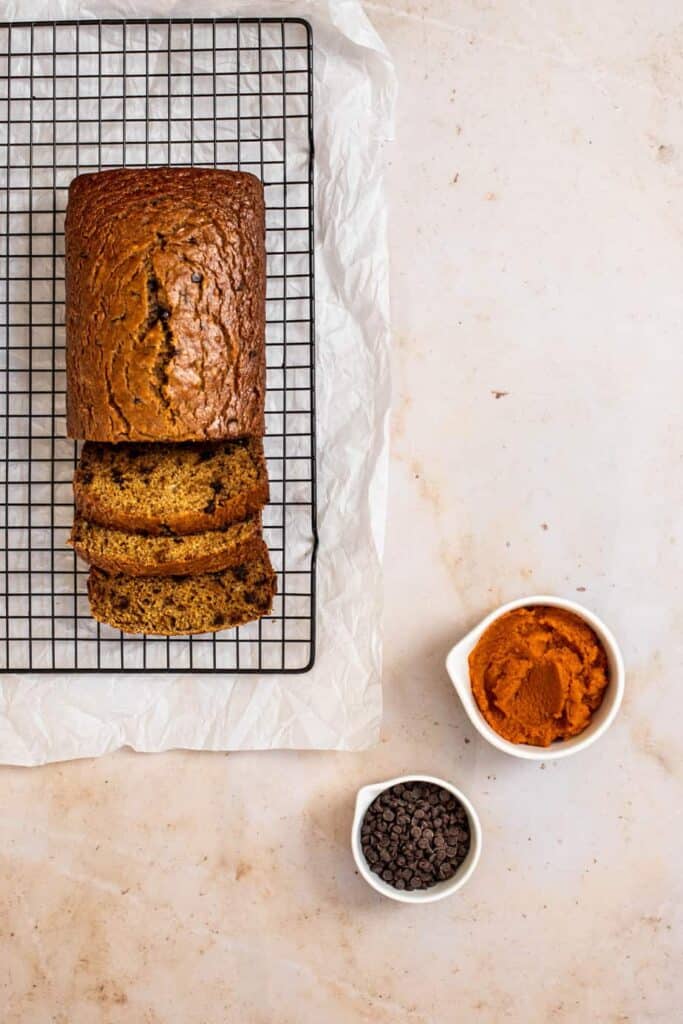 Looking for other pumpkin-y recipes?
Let's start off with this Pumpkin Streusel Bread! It's actually the recipe on which this one is based. To make this one, I omitted the streusel, dialed back the sugar a bit, subbed banana for the oil (gotta make sure that your pumpkin bread is moist!), and added some chocolate. *chef's kiss*
Pumpkin Pie Moscow Mules are great, too. Trust. Also, if savory is more your deal, you should give this Pumpkin and Sausage Pasta Bake a try. It's hearty and super comforting.
These Pumpkin Spice Chocolate Chip Cookies don't have any actual pumpkin in them, but they are full of pumpkin spices!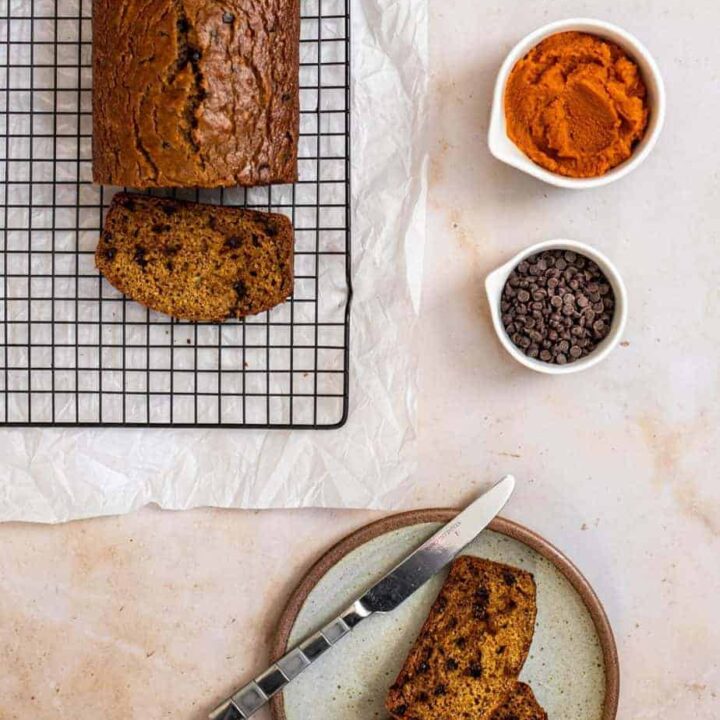 Pumpkin Banana Bread
Cook Time:
1 hour
10 minutes
Total Time:
1 hour
25 minutes
This Pumpkin Banana Bread is moist, sweet, and warmly spiced. It comes together quickly and easily. Best yet? The recipe makes TWO loaves!
Ingredients
15 oz pumpkin puree (see notes)
4 eggs
1 cup mashed banana (about 3 medium bananas)
⅔ cup water
2 cups granulated sugar
3 ½ cups all-purpose flour
2 teaspoon baking soda
1 ½ teaspoon kosher salt
1 cup chocolate chips, optional
Instructions
Preheat the oven to 350 degrees F.
Spray two 9x5-inch loaf pans with cooking spray before lining them with parchment paper. Spray the parchment paper with a bit more cooking spray. Set aside.
Combine the pumpkin puree, eggs, vanilla extract mashed bananas, water, and sugar in a medium-sized bowl. Mix until combined.
In another medium-sized bowl, whisk together the flour, baking soda, salt, and pumpkin pie spice. In several additions, add the dry ingredients to the wet, stirring until everything is just combined.
Add the chocolate chips, if desired, and mix until they are distributed throughout the batter.
Pour equal amounts of the batter into each of the prepared loaf pans. A kitchen scale can be helpful.
Bake for 60-70 minutes, or until a toothpick, when inserted into the center of the loaves, comes out clean.
Notes
Make sure that you use pumpkin puree and not pumpkin pie filling
I used mini chocolate chips, but feel free to use whatever you have on hand and/or prefer
Nutrition Information:
Yield:

20 slices
Serving Size:

1
Amount Per Serving:
Calories:

233
Total Fat:

4g
Saturated Fat:

2g
Trans Fat:

0g
Unsaturated Fat:

2g
Cholesterol:

37mg
Sodium:

318mg
Carbohydrates:

47g
Fiber:

2g
Sugar:

27g
Protein:

4g
What should I have on hand in order to make this recipe?
Pin this recipe for later!