Homemade vanilla extract comes together quickly and easily via sous vide
This sous vide vanilla extract is just what you need to kick start your holiday baking! Make it with vodka OR bourbon, depending on your preference!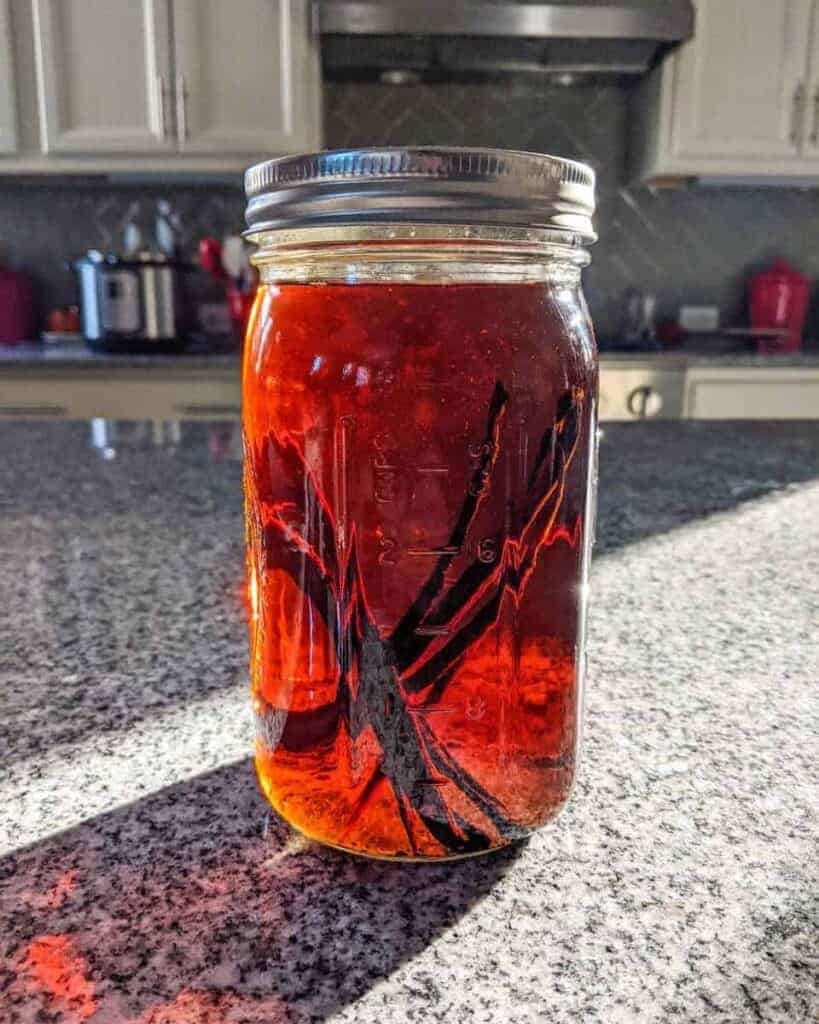 Every baker needs a good quality vanilla extract in their pantry
This is true no matter what time of year it is. BUT! The holiday season is upon us!
If you're like me, there will be a lot of baking going on at this time of year. And just about every recipe for baked goods lists vanilla extract as an ingredient.
"Why is that?", you might be asking. Well, vanilla extract's role in baked goods is sort of the same as salt in savory foods (though you should definitely also use salt in all of your baked goods... a lecture for another day): It enhances all of the other flavors in the recipe.
Since it's an integral ingredient, you might as well make it a good quality one!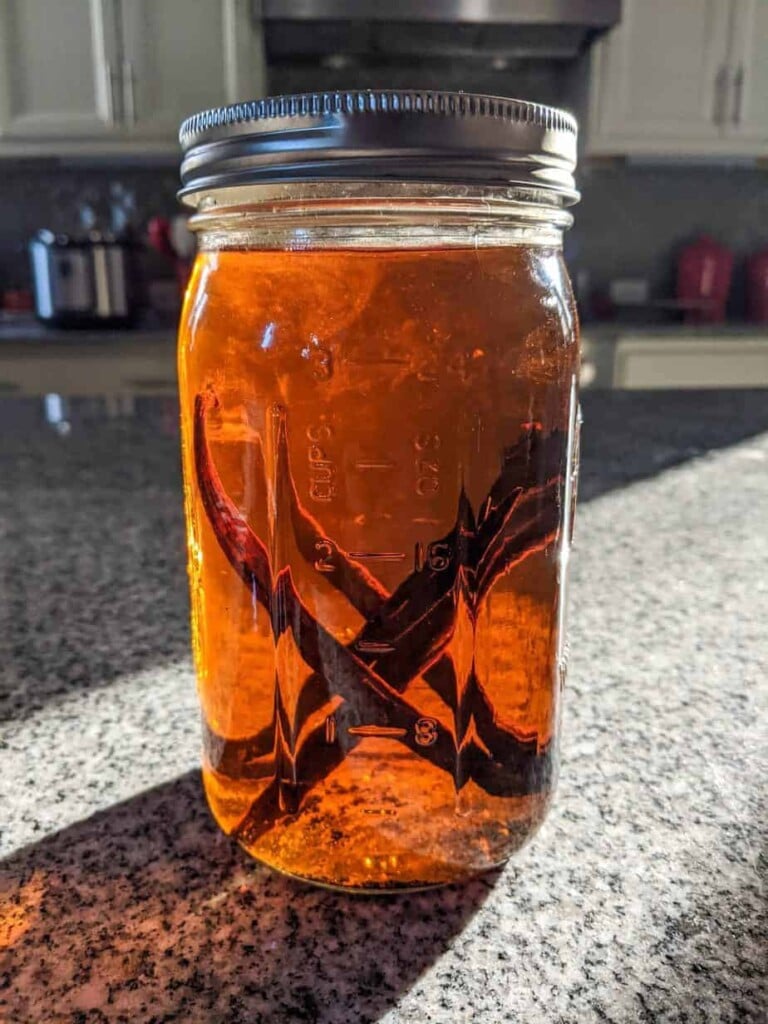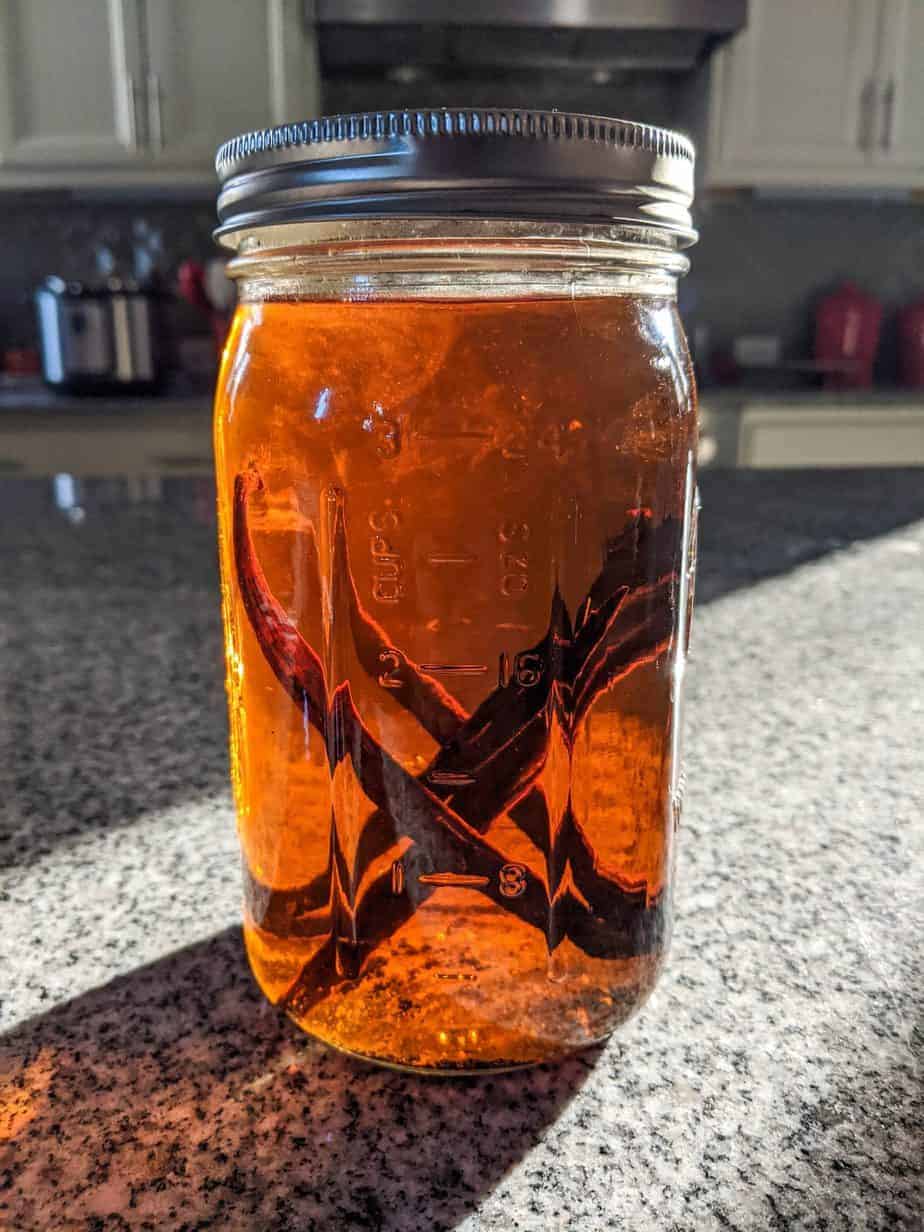 Why make it yourself instead of buying it at the store?
Sure, you can buy vanilla extract at the store. I do it sometimes. BUT I'd argue that there are some pretty good reasons for making your own at home.
Cost
One of the biggest reasons (that I can think of) to make homemade vanilla extract is the cost savings! Think about it, decent quality vanilla extract is at least $6 per OUNCE at the grocery store.
Now, let's talk about this homemade version. Let's assume that you're making this with a mid-range vodka (Smirnoff; which costs about $0.42 per oz), quart Mason jars (32 oz), and vanilla beans that cost about $3 per bean. You with me?
So...: 32 oz Mason jar * $0.42 per oz vodka = $13.44
Using 1 vanilla bean per 8 oz of vodka means $3 per bean * 4 = $12
$13.44 + $12 = $25.44
NOW, take the total amount of $25.44 and divide that by 32 oz and you get... approximately $0.80 PER OUNCE. That's 7.5 times less expensive than the store bought stuff. 7.5 times cheaper!
So, yeah. It's way cheaper. Also, sorry for doing math on a food blog. ¯_(ツ)_/¯
Customization; Flavor and quality
You can customize your vanilla extract to meet your preferences. Take each of the preparations in this recipe, for instance. I think the more typical preparation would involve the use of plain vodka. It's great that way.
BUT I tend to prefer my vanilla made with bourbon. Y'all know that I have a serious affinity for the stuff. Just take a look around my blog.
Basically, you do you. Make one, or both! Either way, you know it's going to be great quality stuff that tastes fantastic.
Speed! (thanks to sous vide)
Making homemade vanilla extract the old fashioned way (putting split vanilla beans in a container with liquor and then stashing it away) can take weeks or months to make.
When you make it with sous vide, you're done within a matter of hours! That means you can start baking that much quicker.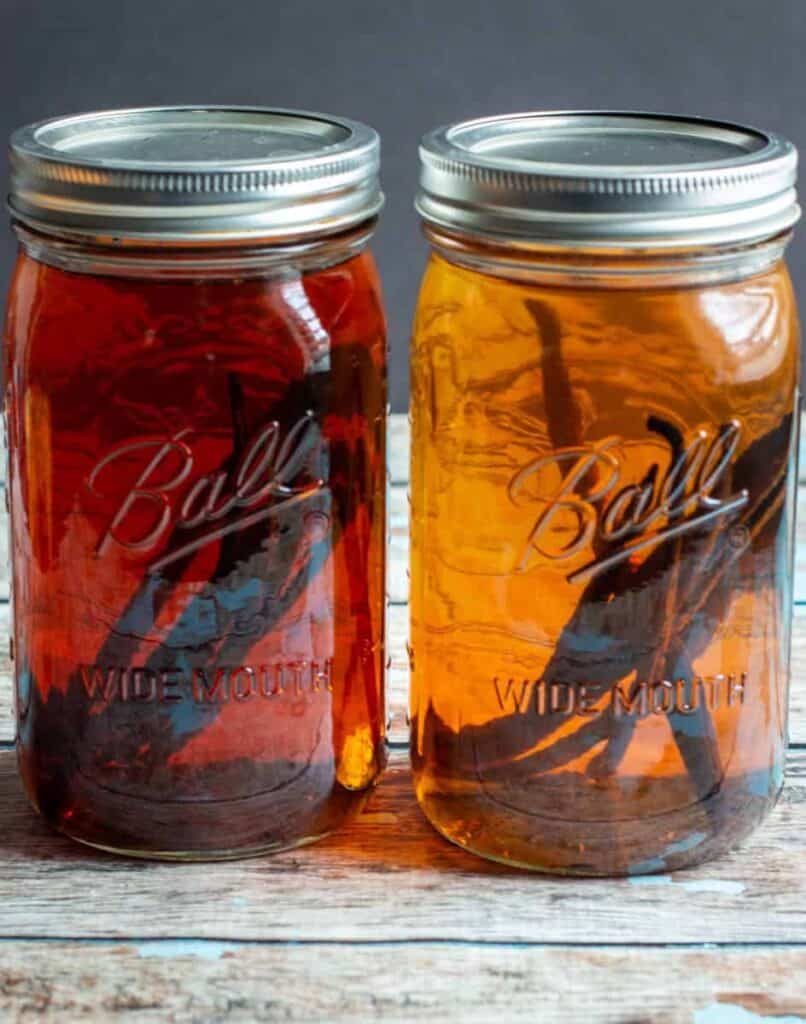 What should I make with this homemade vanilla extract?
Lots of things! Use this homemade vanilla extract in every baked good that calls for vanilla extract!
If I may, allow me to make one specific suggestion. The bourbon version of this homemade vanilla extract would be particularly good when baked into these Maple Bourbon Chocolate Chip Pecan Cookies. There cannot be enough bourbon flavor.
Looking for other recipes that can be made using sous vide?
I made some really delicious Homemade Sous Vide Limoncello earlier this year. Peel some lemons, add some vodka, and sous vide for a couple of hours before mixing with some simple syrup. Boom. Done.
And let's not forget my Crab Cake Eggs Florentine! The hollandaise sauce was made using the sous vide. It seriously couldn't have been easier. If you're having people over for brunch, I'd definitely recommend this method for making hollandaise. Please also don't forget about these Sous Vide Eggs. They are impossibly creamy and velvety in texture, not to mention delicious. They're perfect for meal prepping, too.
OH! And don't forget about my Sous Vide Chocolate Cheesecakes. You can even make them with this vanilla extract.
When talking sous vide I always need to give a shoutout to Chelsea over at A Duck's Oven. Her blog is fab, and her sous vide cookbook is 10/10!
AND if you're looking to invest in an immersion circulator/sous vide, consider this one from Anova. I have the model that was available prior to this newer one, and really like it.
✨ Recipe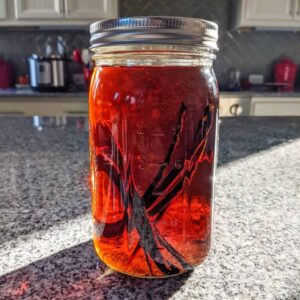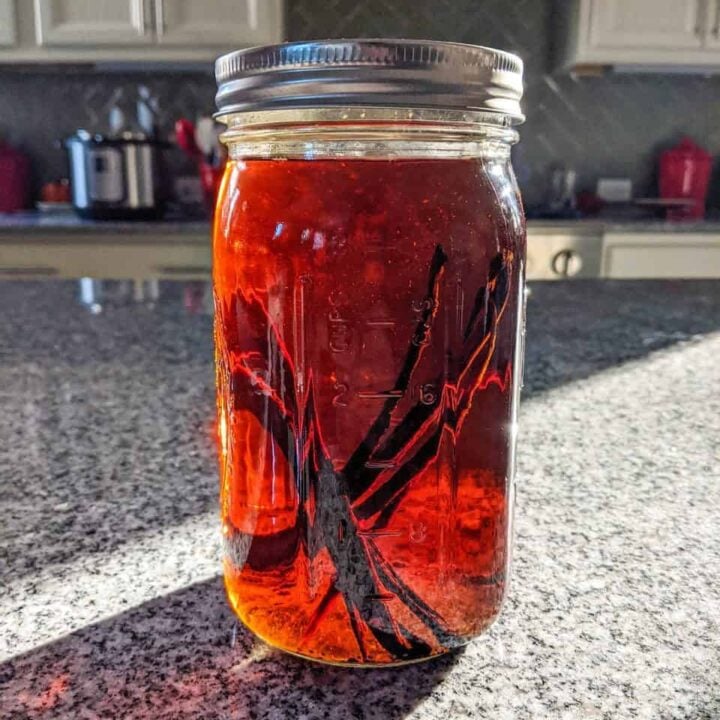 Sous Vide Vanilla Extract
This sous vide vanilla extract is just what you need to kick start your holiday baking! Make it with vodka OR bourbon, depending on your preference!
Ingredients
4

vanilla bean pods

totaling ~4 oz; see notes

4

cups

plain vodka OR bourbon
Instructions
Split the vanilla beans down the center. Add them to a quart Mason jar.

Add the plain vodka or bourbon to the Mason jar. Tighten the lid to finger tight.

Set your sous vide for 135 degrees F.

Once the water had preheated, add the Mason jar to the water and cook for at least 4 hours (see notes).

Allow the vanilla extract to cool to room temperature.
Notes
Use a mid-range liquor. Think Smirnoff, not Grey Goose.
Use at least one vanilla bean for every cup of liquor
Let your extract cook for at least 4 hours. I ended up letting mine go for about 6 to achieve the color that you see in the photos.
You can either remove the vanilla beans from the Mason jar or leave them in; it's up to you!
I've had some readers say that they didn't have luck when making this in smaller batches; specifically, a reader indicated that when making it with 1 vanilla bean and 1 cup of vodka, the extract didn't turn a nice brown color. Though I had the results that you see in the photos with 4 beans and 4 cups of vodka, you may want to use more than 1 vanilla bean if you're just making 1 cup of extract.
Related to the point above, vanilla beans vary in size. Ideally, you want to use about 1 oz of vanilla bean(s) for every 1 cup of liquor. So, if your beans are smaller than 1 oz, you should consider using more per 1 cup of liquor.
Nutrition
Serving:
1
Calories:
34
kcal
Disclaimer: Nutritional information is a generated estimate and is not guaranteed to be accurate.
What kind of gear will I need to make this vanilla extract?
Pin this recipe for later!