Looking for the most delicious flank steak EVER?
This Sous Vide Flank Steak is hands down, without a doubt, my favorite way to prepare a flank steak. It's unbelievably tender, super flavorful, and cooked perfectly to your specifications.
FYI - I partnered with Porter Road to make this recipe and blog post. However, as always, all opinions are my own.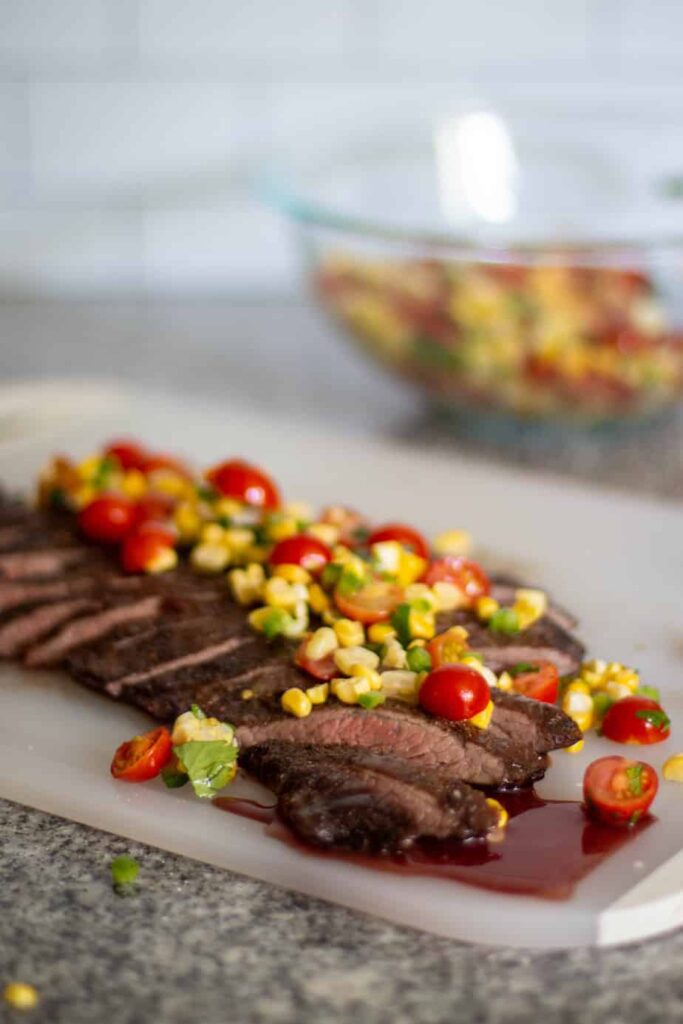 Jump to:
Before we get into the cooking method, let's talk about meat for just a second
I got my flank steak from Porter Road, an online butcher shop that delivers meat to folks in the contiguous United States. They source from farmers whose animals are pasture-raised, never given added hormones or antibiotics, and only fed non-GMO feed.
In addition to all of that good stuff, the meat is just really good. I've purchased their curated boxes in the past as gifts. My dad was the recipient of a box full of goodies for grilling (burgers and the like) one Father's Day, and both he and my mom were very pleased with it. 10/10, would gift (to others AND myself) again.
You can buy a few cuts of meat or a box as a one-off, or sign up for a subscription. So, lots of great options here.
Why cook a flank steak using sous vide?
I know that I've certainly just made my steaks entirely on the grill. It tastes great. So, why bother with sous vide?
Welllllll in short, it's kind of a game-changer. I now exclusively cook my steaks using sous vide.
Sous vide allows you to have total control over the doneness of the meat. It completely takes the guesswork out of whether your steak is medium-rare or medium. Or maybe you goofed and it's accidentally well-done -- despite your best efforts -- but you don't know it until you slice into the steak. This is not something that you need to worry about when sous vide-ing your steaks.
Not only that, but your steak will be whatever level of doneness from edge to edge, not just the desired doneness in the center of the steak. AND it's crazy tender (pretty much no matter how well-done you decide to cook it).
And even though it may sound like it's a stuffy or fussy way to cook, it really isn't! It's very easy to do. Essentially, you cook the meat in a water bath before searing it on a grill or the stovetop. I'll walk you through it below, step-by-step.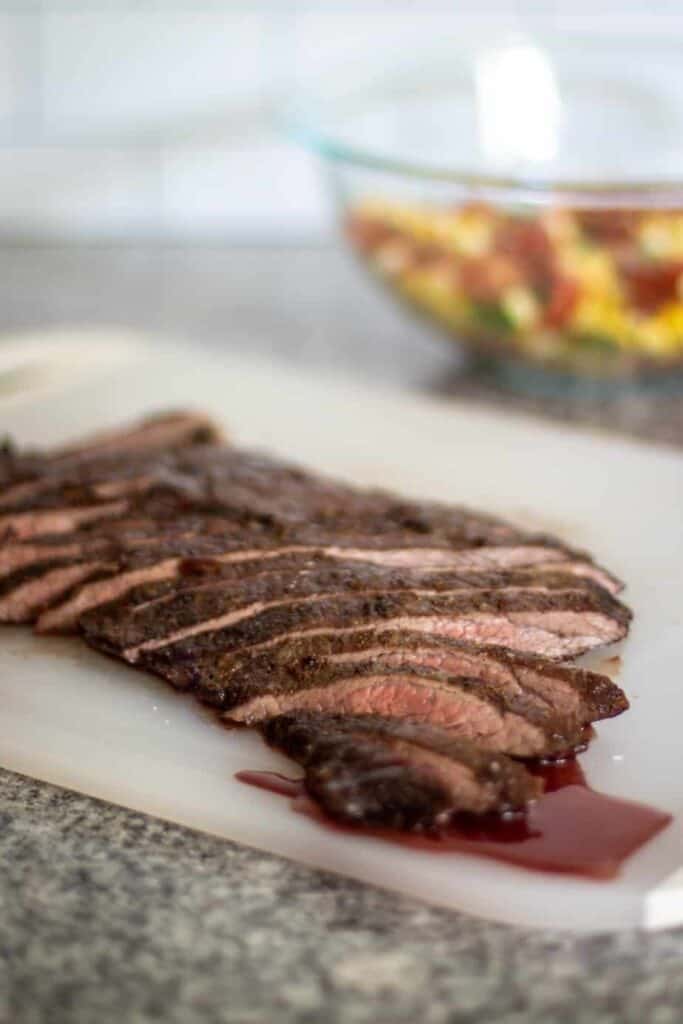 How does this come together, anyway?
There are multiple steps, but I promise that it isn't actually that difficult. Plus, the flavor and texture payoff is so huge.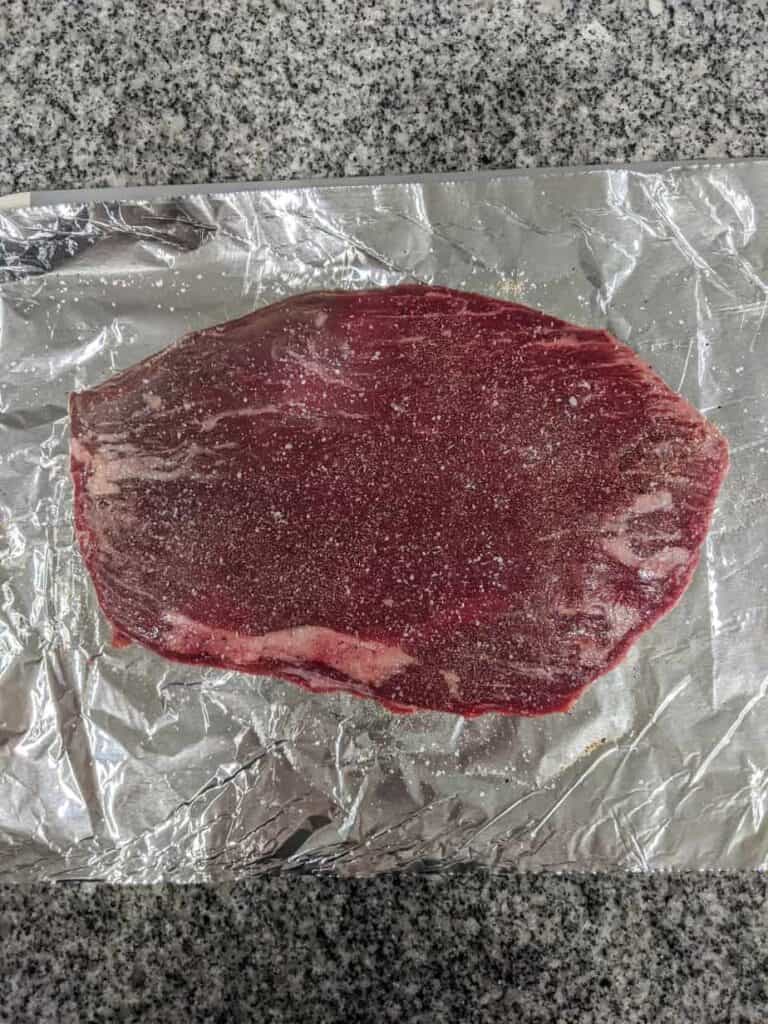 Step 1: Season the flank steak
First, I start by taking the flank steak out of its packaging and laying it on a cutting board that is lined with foil. I line it with foil so that I can just crumple the foil up, leaving a clean surface on which to slice the steak once it is cooked.
I season the flank steak on both sides with kosher salt, freshly ground black pepper, and a little garlic powder. But use whatever feels right to you (just don't skip the salt and pep).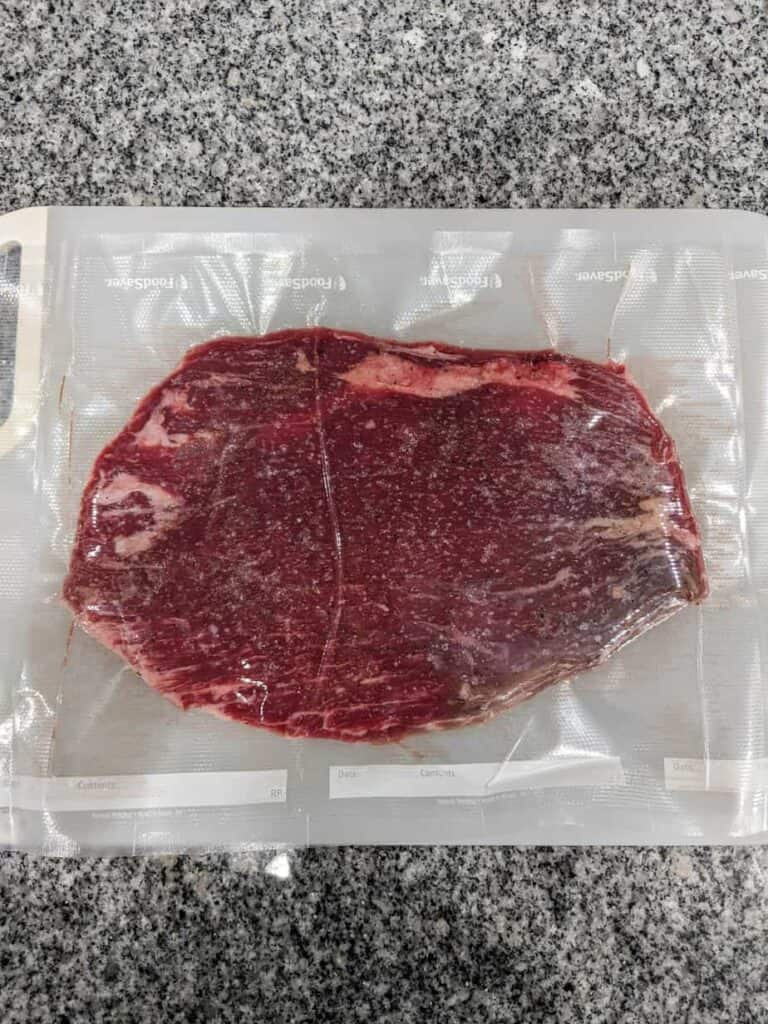 Step 2: Seal the steak in a bag
Next, in preparation for putting it into the water bath, I vacuum seal the flank steak. You can use a zip top bag, too, if you prefer or if that's what you have to work with. Just make sure that you remove as much air from the bag as possible.
You can remove excess air from the bag using a water displacement method. Here's how to do that, if you're curious.
Regardless of the method that you use, make sure to seal the bag tightly. You don't want any water to get into the bag with the steak.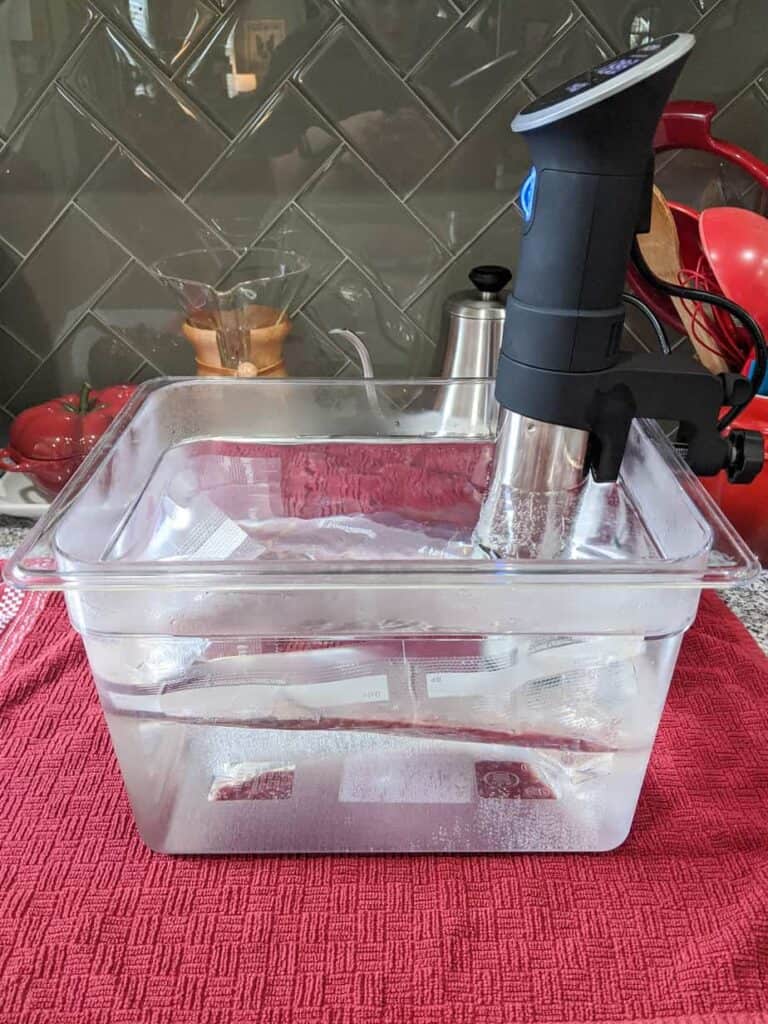 Step 3: Put the steak into the water and cook!
Preheat your water, set the timer, and submerge the steak. Time to walk away!
This is what my setup looks like whenever I cook anything sous vide. I put a towel under the Cambro (the plastic container) just in case I do any accidental sloshing around and make a mess.
When I'm making them at home, I like my steaks somewhere between medium and medium-well. One of the great things about using sous vide to cook a flank steak is that you're going to end up with something that's super tender, even if you cook it to well done. I know because I made steaks while pregnant, and you aren't supposed to eat any meat that isn't cooked to well done.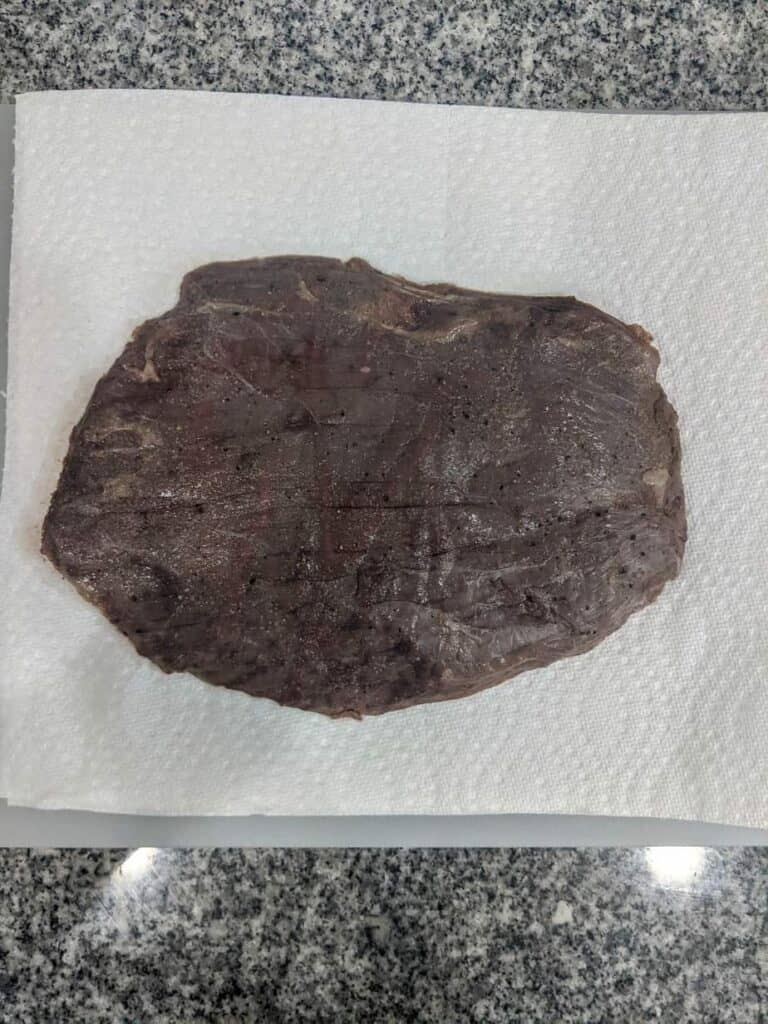 Step 4: Pat the meat dry and re-season (a bit)
I know that it doesn't look terribly appetizing at this point (it's a little grey and bleh looking, right?), but trust me, it's gonna get soo much better. Once your meat is cooked through, provided that you want to eat it that day, you will want to take it out of the bag and pat both sides dry.
I line the cutting board with paper towels, lay the meat on top, and pat it dry. Then, because you've likely patted away some of the seasonings that you applied before cooking the steak in a water bath (and because "more salt" is almost always the answer, in my opinion), you can re-season both sides of the steak.
I like to let the flank steak sit for just a bit (~5 minutes or so), ensuring that the surface really dries off. A dry steak = a good sear.
At the very end of the cooking time, I start to get the grill ready.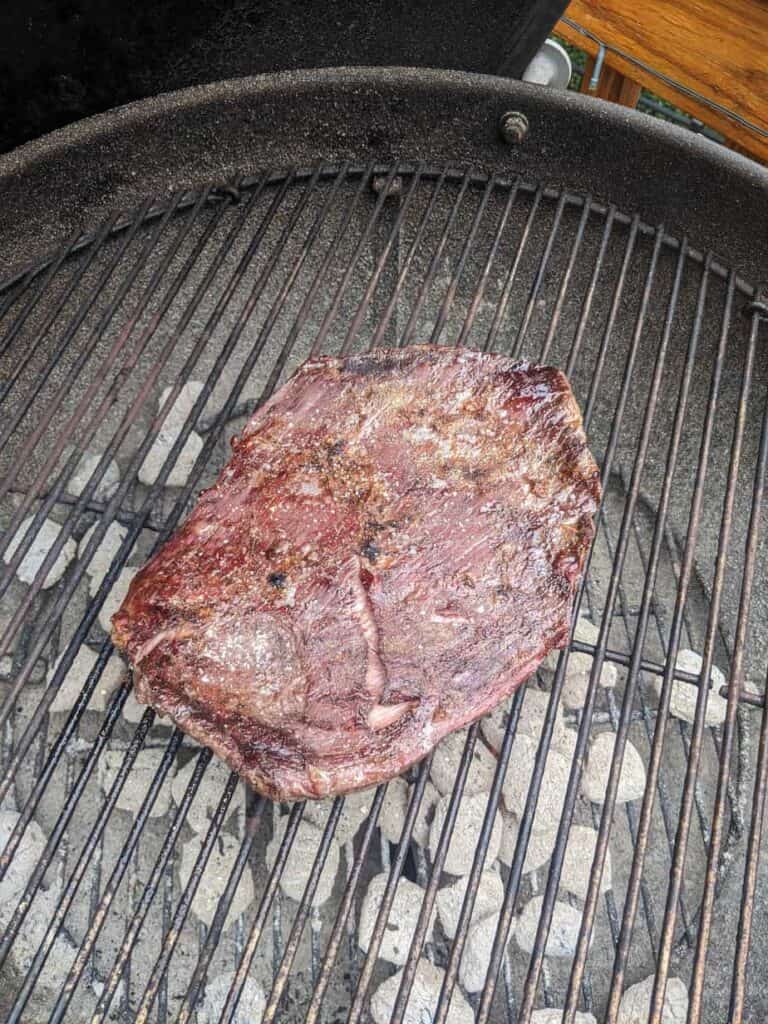 Step 5: Sear that meat!
You can sear your flank steak in a cast iron pan, if that's more your style. I have been known to do that with strip steaks and ribeyes from time to time. But, because it's summertime and I'm a sucker for meat cooked over charcoal, I opted to sear my steak on the grill.
You'll get your grill going (whether that be charcoal or gas) in the way that you usually do. Then, sear it for just a minute or two on each side until the steak is browned and it has a bit of a crust.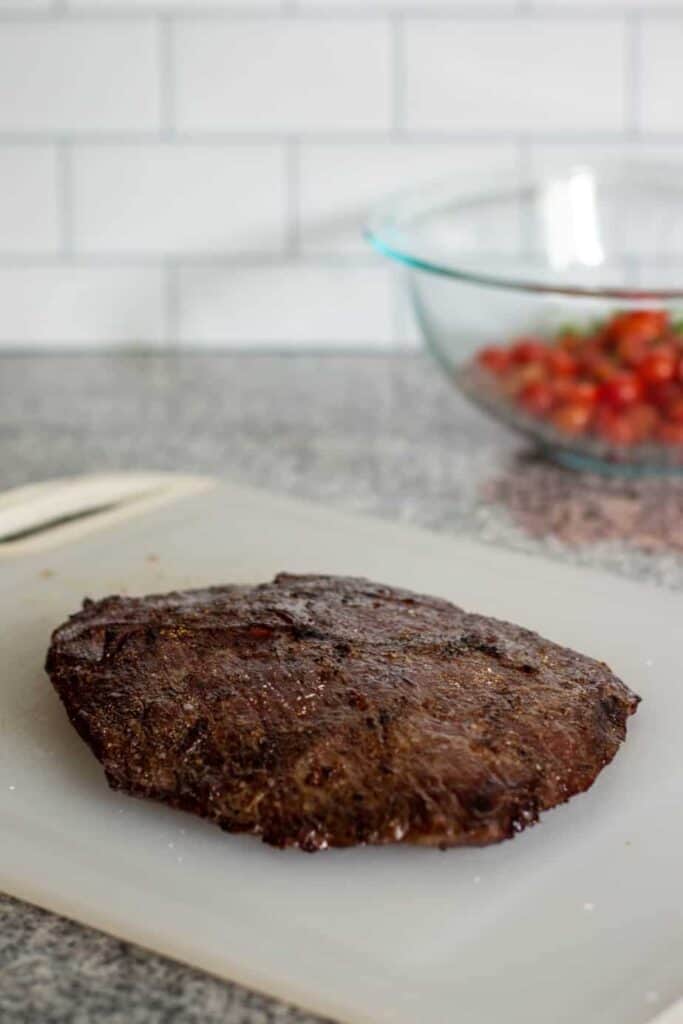 Step 6: Let the meat rest
Once the flank steak comes off of the grill, let it rest. Just set it on the cutting board and leave it alone for like 5 minutes. Let those juices redistribute a bit.
I know that you'll be very ready to eat at this point. But it's worth the wait.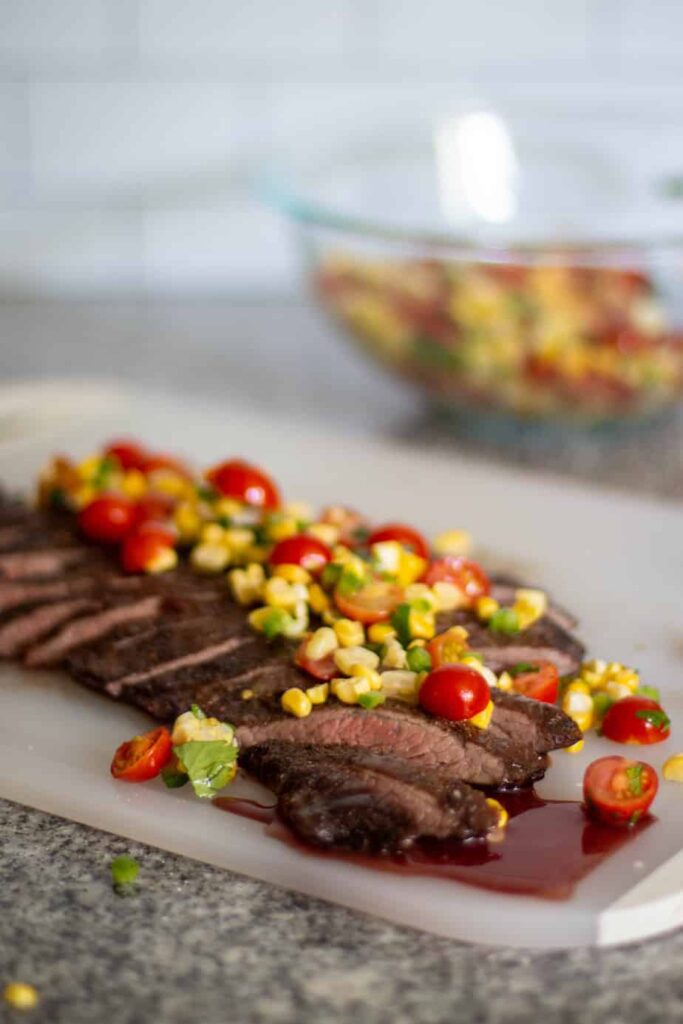 Step 7: Slice, garnish, eat!
Slice the flank steak against the grain and top it with the salsa. You can totally eat this steak as it is now, and it will be delicious. Talk about late Summertime perfection, am I right? Maybe pair it with some garlic and rosemary roasted potatoes and a green salad?
However, I tucked mine, along with the salsa and some crumbled queso fresco, into warm corn tortillas and ate it as tacos. It was *chef's kiss* perfect.
Looking for other sous vide recipes?
Check out my Sous Vide Limoncello and Sous Vide Vanilla Extract (made with vodka or bourbon)! I also made hollandaise sauce and poached some eggs a la sous vide for this crazy good Crab Cakes Eggs Florentine.
OH! And don't forget about these awesome Sous Vide Chocolate Cheesecakes. Or these Sous Vide Eggs. They're impossibly creamy and velvety in texture, not to mention delicious. They're perfect for meal prepping, too.
Please also check out the beautiful and delicious sous vide (and other!) recipes on the blog A Duck's Oven. Chelsea's blog is the reason that I started to get into sous vide.
✨ Recipe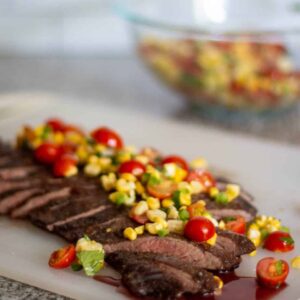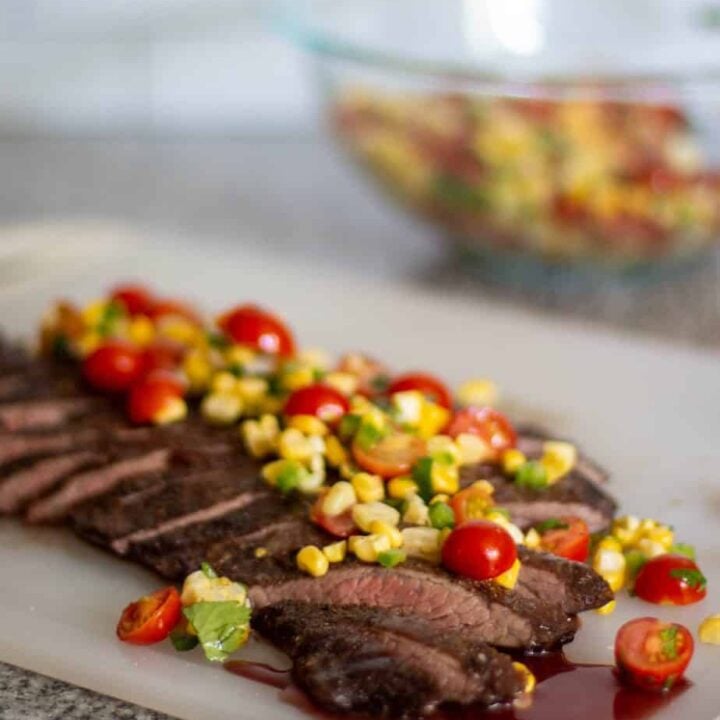 Sous Vide Flank Steak with Grilled Corn Salsa
This Sous Vide Flank Steak is hands down, without a doubt, my favorite way to prepare a flank steak. It's unbelievably tender, super flavorful, and cooked perfectly to your specifications.
Ingredients
For the flank steak
1.5 - 2

lb

flank steak

kosher salt and black pepper

to taste

½

teaspoon

garlic powder
For the grilled corn salsa
4

ears corn

shucked

1

tbs

olive oil

1

pint

cherry tomatoes

halved

1

jalapeño

ribs and seeds removed, minced

3

tbs

cilantro

chopped

1

lime

juiced

kosher salt and black pepper

to taste
Instructions
To make the flank steak
Preheat the sous vide water bath to 135 degrees F for a flank steak cooked to medium (see notes).

Season the flank steak on both sides.

Vacuum seal the flank steak. Add it to the water bath and cook for 2-3 hours.

Once cooked, remove it from the water bath and the vacuum seal bag. Pat both sides of the steak dry with paper towels. Re-season, if desired.

Sear the steak on both sides until browned (see notes).

Allow the steak to rest for 5 minutes before slicing.

To make the grilled corn salsa
Lightly brush the ears of corn with olive oil. Grill, rotating periodically, until lightly charred.

Cut the corn kernels from the cob. Add to a medium-sized bowl.

Add the remaining ingredients to the bowl and toss to combine.

Serve over the sliced flank steak.

Notes
Use the following temperatures to arrive at different levels of doneness: 123 degrees F for rare; 129 degrees F for medium-rare; 135 degrees F for medium; 143 degrees F for medium-well
You can sear the steak over a charcoal or gas grill or in a screaming hot pan (cast iron preferred)
Nutrition
Serving:
1
Calories:
834
kcal
Carbohydrates:
26
g
Protein:
100
g
Fat:
36
g
Saturated Fat:
13
g
Polyunsaturated Fat:
18
g
Cholesterol:
278
mg
Sodium:
755
mg
Fiber:
4
g
Sugar:
7
g
Disclaimer: Nutritional information is a generated estimate and is not guaranteed to be accurate.
What do I need in order to make this recipe?
Pin this recipe for later!