Last Updated on December 3, 2021 by laurenpacek
Pumpkin Spice Chocolate Chip Cookies are perfect for Fall. They're full of melty dark chocolate and warm pumpkin pie spices.
They are heavily inspired by the delicious Chai Spice Chocolate Chip Cookies from Shweta on the blog Masala and Chai. Make the chai spice version after you make these!
To be clear, these cookies do not have actual pumpkin in them - just the delicious pumpkin pie spices. If you're looking for chocolate chip cookies that do have pumpkin, I can help you out with that, too.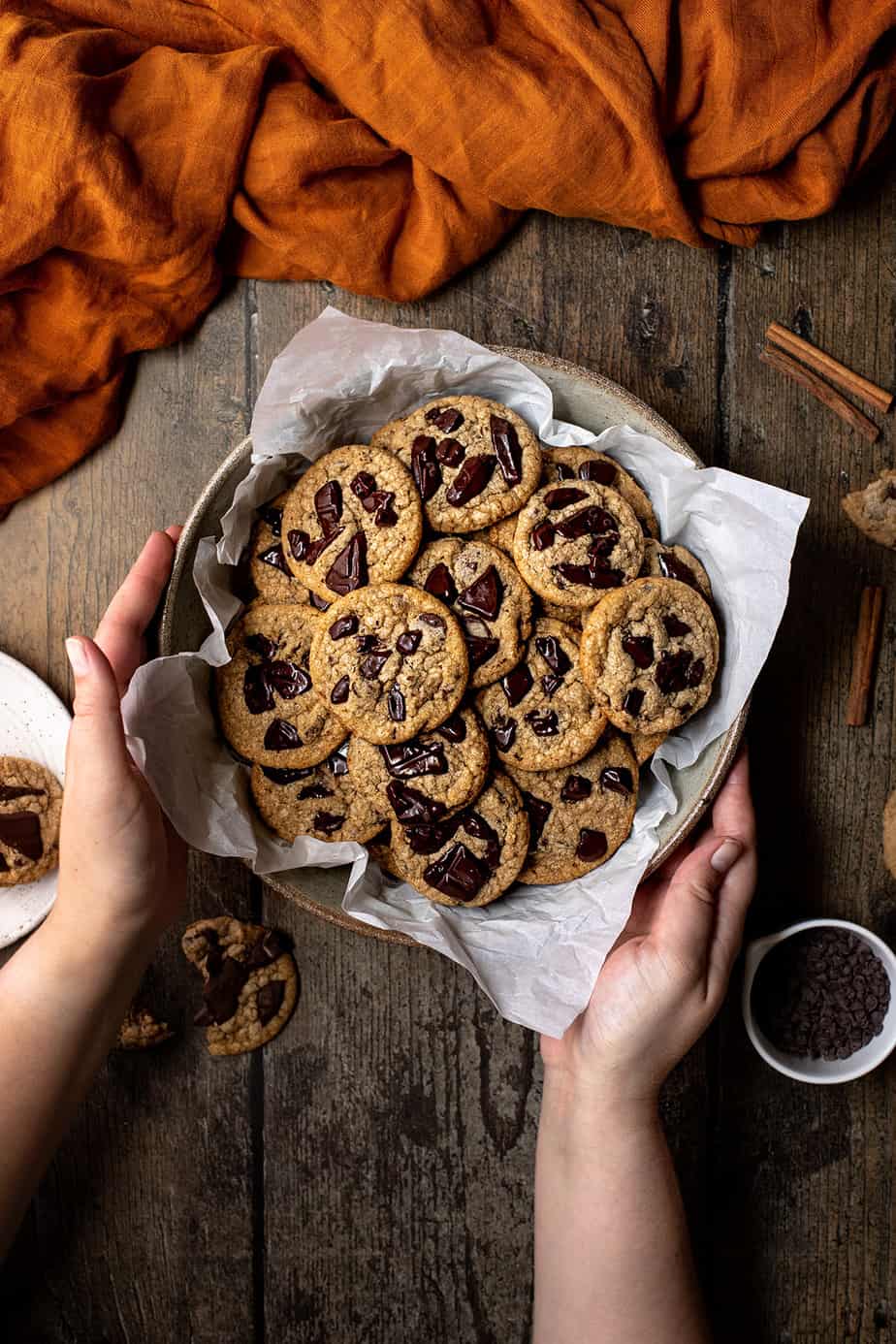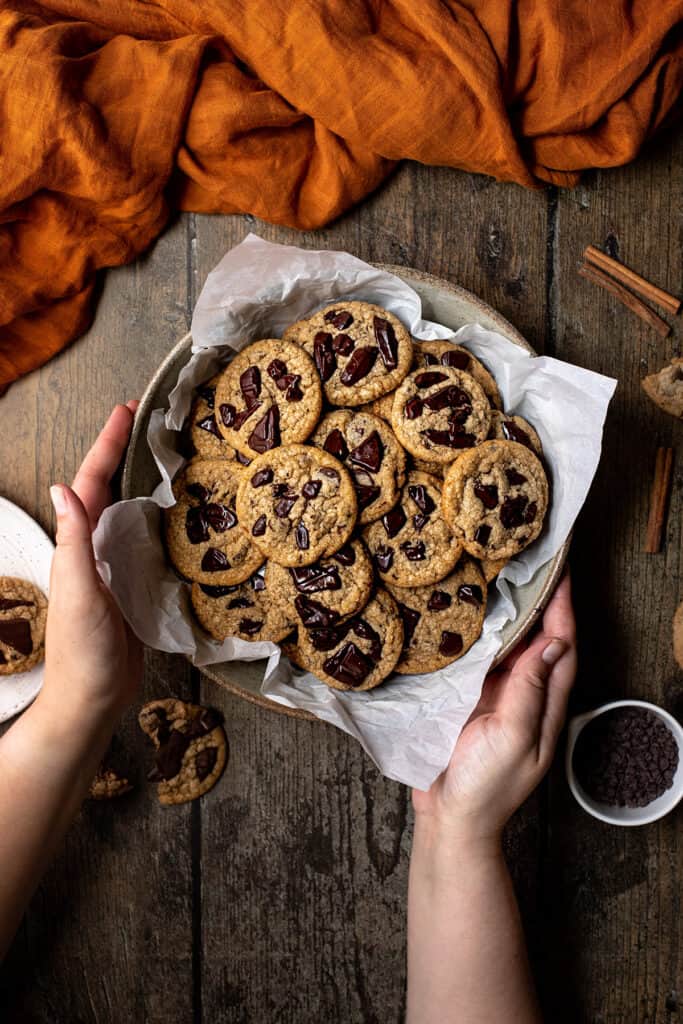 What is pumpkin pie spice?
You know pumpkin pie spice (sometimes just called "pumpkin spice"). It's everywhere during the Fall. I think it has gotten a bad rap as being "basic".
IN FACT... If you'll indulge me just a little bit while I briefly step onto a soapbox, this tweet from 2016 really encapsulates how I feel about the matter.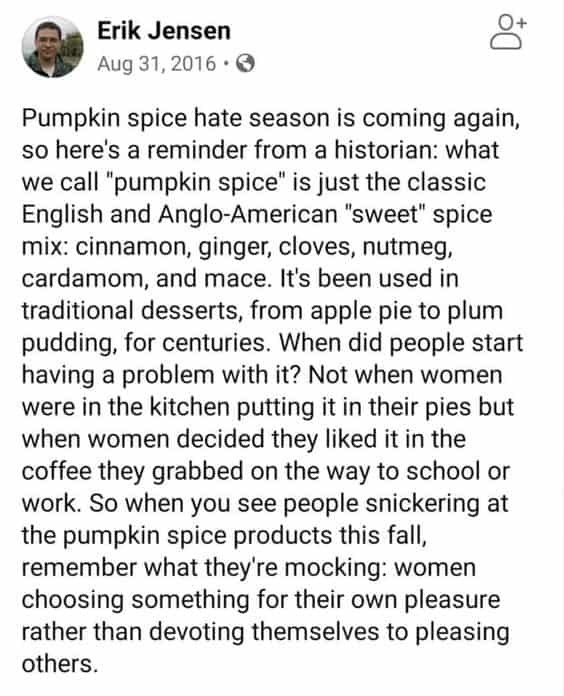 But, to get back to the original question of what pumpkin pie spice actually is... it's a mixture of the following ground spices:
Cinnamon
Nutmeg
Ginger
Cloves or allspice (I use cloves)
Even though it's called pumpkin pie spice, it can be used in a variety of dishes. Not just pumpkin pies. Think: cookies (like these cookies!!), muffins, blondies, scones, and on and on and on. You could even use a bit in a savory pumpkin dish, too! I certainly add some or all of these spices to my pumpkin risotto.
What ingredients are in Pumpkin Spice Chocolate Chip Cookies?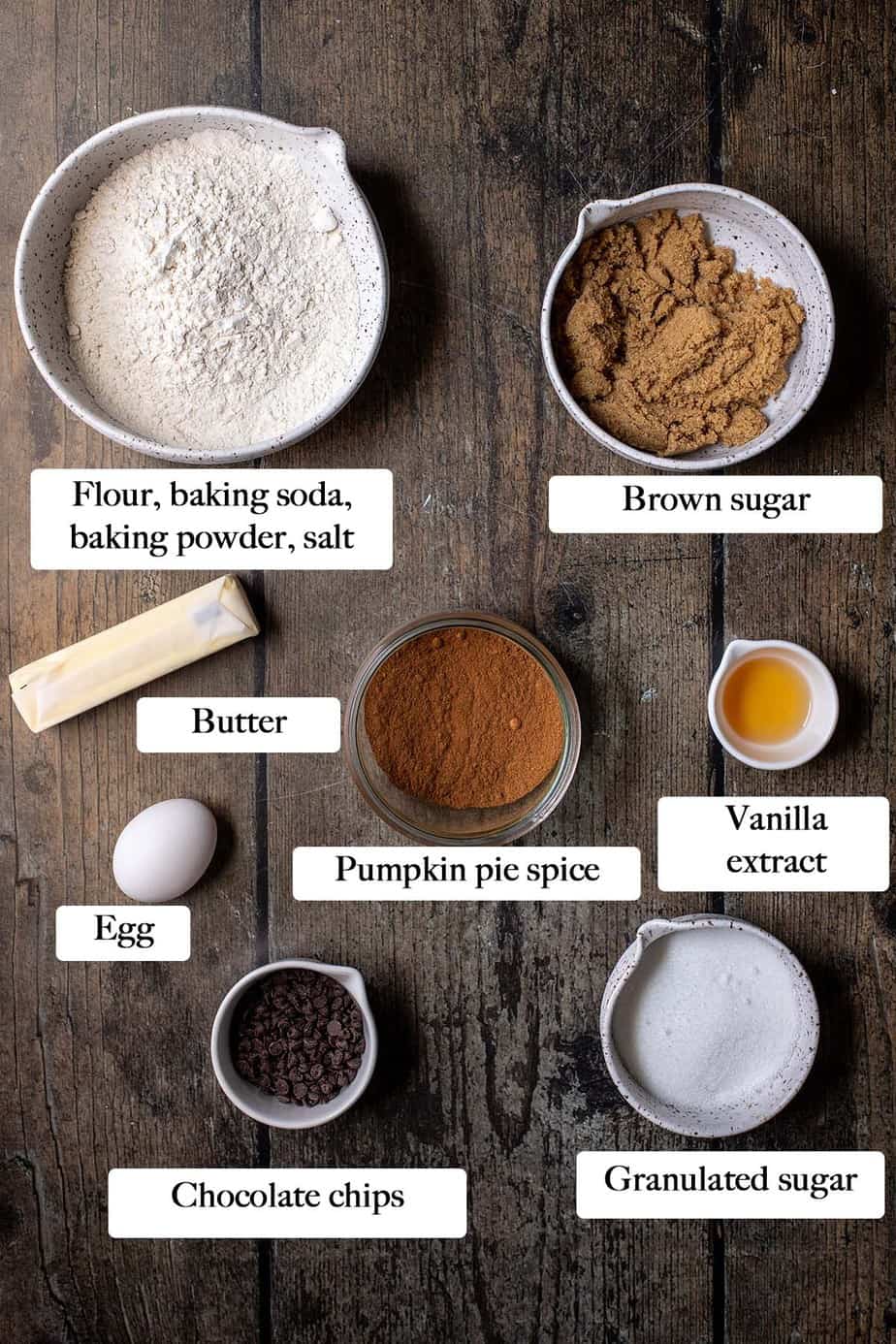 Butter: Unsalted butter, please!
Sugar: You'll need both white granulated sugar and brown sugar for this recipe.
Vanilla: You can use homemade or store bought, but whatever you use, make sure it's of good quality.
Egg: Just a regular old chicken egg.
Flour: All-purpose flour!
Baking soda and baking powder: Just a little of both.
Salt: I prefer kosher salt for all baking (and cooking, really).
Pumpkin pie spice: You can pick some up at the grocery store or mix up a batch of your own!
Chocolate: I used dark chocolate chips and chopped dark chocolate. But use whatever suits you. Maybe you're more of a semi-sweet kinda person? Use that! Only want to use chocolate chips? Do it.
Notice that pumpkin spice is absent from the ingredient list. These are just pumpkin spice cookies, not pumpkin cookies.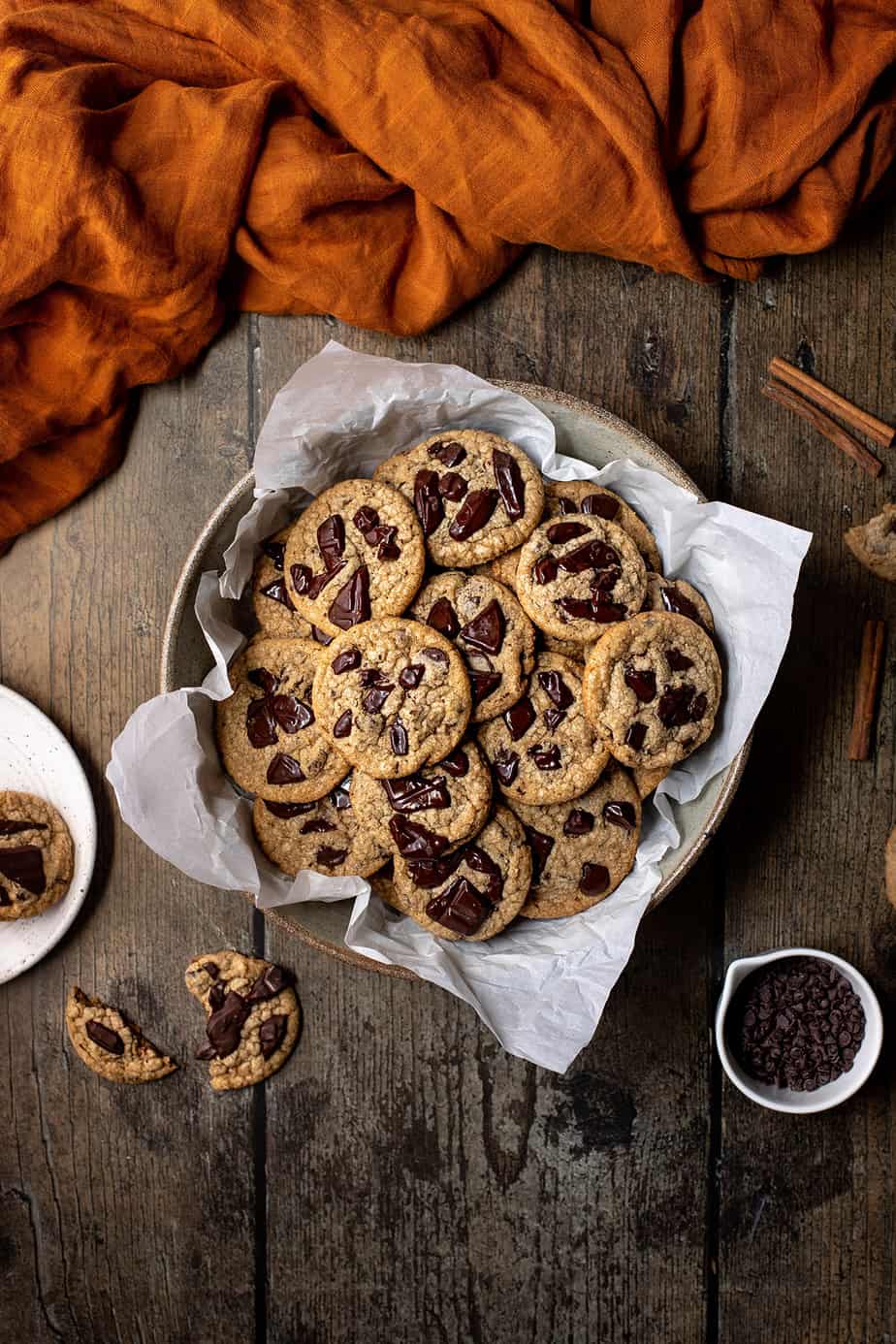 How to make Pumpkin Spice Chocolate Chip Cookies
These cookies come together in a pretty standard way: Wet ingredients get creamed together in a stand mixer until light and fluffy. Next, the dry ingredients meet the wet until cookie dough forms. A healthy dose of chocolate chips round things out.
Next, it's important to chill the cookie dough. Rather than chilling the bowl of dough, I recommend scooping balls of dough onto a baking sheet and chilling the dough balls. If you chill the entire bowl of dough, it can be difficult to scoop. Scoop first. Chill second.
Once you're ready to bake the cookies, divvy the chilled dough balls up onto baking sheets and bake! Pretty much as soon as they come out of the oven, press some chopped chocolate into the tops. Not only does it make the cookies look really pretty, but... more chocolate! You can't lose!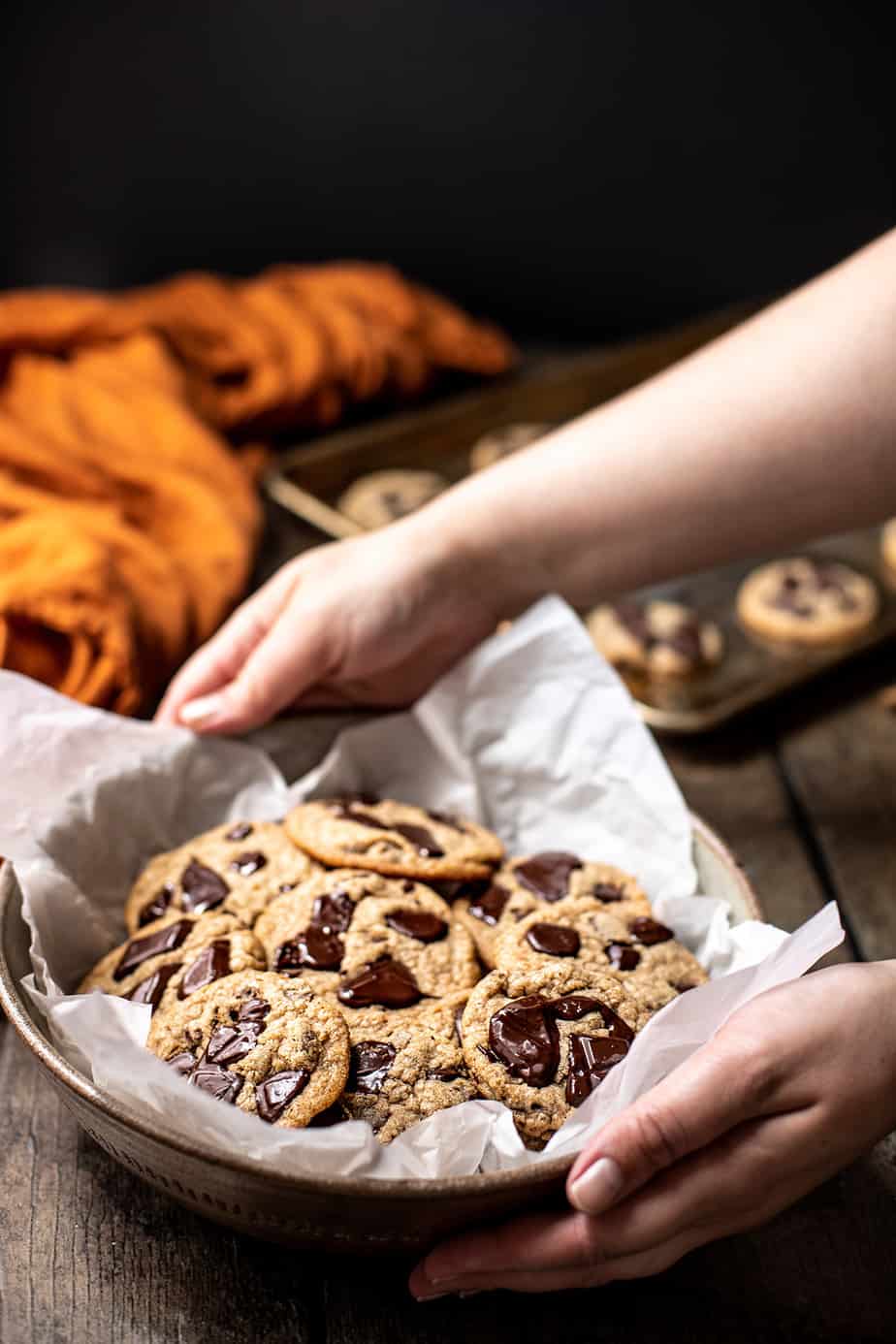 More recipes that use pumpkin and pumpkin pie spice
If you're anything like me, you're game for more pumpkin and pumpkin pie spice recipes. Well, I got 'em. The ones listed below are just a subset of what I can share with you. Click here to see all of the pumpkin recipes on A Nerd Cooks!
If sweet pumpkin recipes are your jam, well... Pumpkin Banana Bread and Pumpkin Streusel Bread are both solid quick bread choices. Pumpkin Blondies and Pumpkin Chocolate Chip Muffins are winners, too.
If you want savory pumpkin recipes, check out: My Pumpkin and Sausage Pasta Bake, Pumpkin Risotto, and Turkey White Bean Pumpkin Chili.
You can also drink your pumpkin and pumpkin spice flavor, too!! Check out my Bourbon Pumpkin Shrub, Pumpkin Pie Moscow Mule, and Homemade Pumpkin Spice Cold Brew Coffee!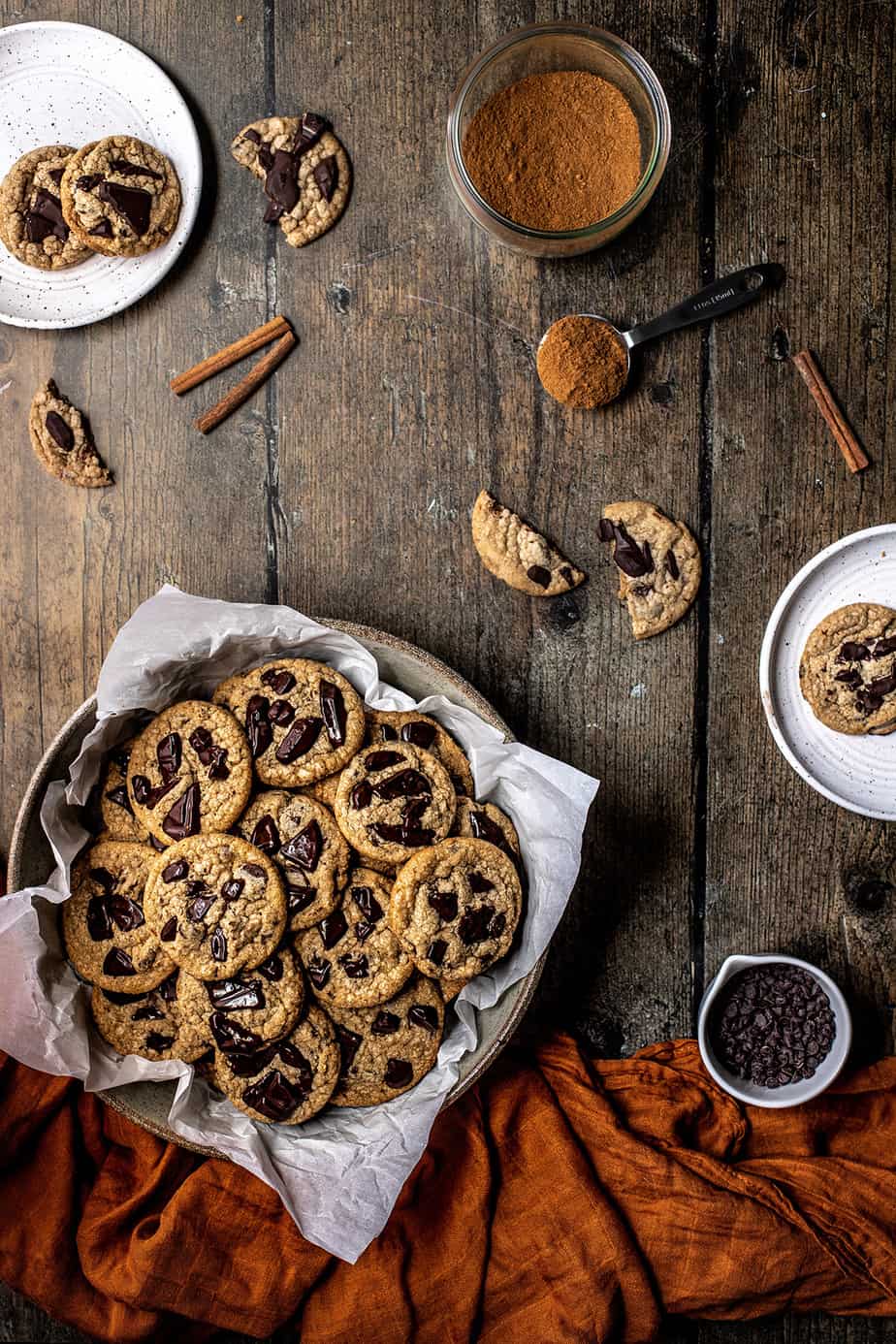 Frequently Asked Questions
What is pumpkin pie spice, anyway?
Pumpkin pie spice, or just pumpkin spice, is a mixture of ground cinnamon, nutmeg, ginger, and cloves or allspice.
Do I really need to chill the cookie dough?
Yep, sorry. Otherwise the cookies will spread way out while baking them.
What kind of chocolate should I use?
I opted for dark chocolate, but you should use whatever kind you like best. Semi-sweet or even milk chocolate would be nice in these cookies, too.
How should I store these cookies?
Keep them in an airtight container at room temperature.
Can I freeze the cookie dough?
Sure can! Make the dough according to the recipe. Once you get to the step where you're supposed to chill the dough in the fridge, pop the balls of dough onto a baking sheet in a single layer and stick it in the freezer instead. This initial step ensures that they balls of dough won't end up in a giant frozen mass of dough. After about an hour, you can transfer the frozen dough balls to a freezer bag and stash them back in the freezer for up to 3 months. When you're ready to bake the cookies, transfer the dough balls to a baking sheet, lined with parchment paper, and pop them into the oven. Just add like 3-4 minutes to the baking time.
Don't forget to follow me and share your creations on social media!
Subscribe to the A Nerd Cooks Newsletter to have updates sent straight to your inbox.

I love seeing when you share my recipes! Please tag me on Instagram @anerdcooks so I can enjoy them virtually with you! You can also find me on Pinterest, Facebook, YouTube, and Twitter.

I'd love to know what you thought of this recipe! Don't forget to leave a comment and
⭐️ star rating below!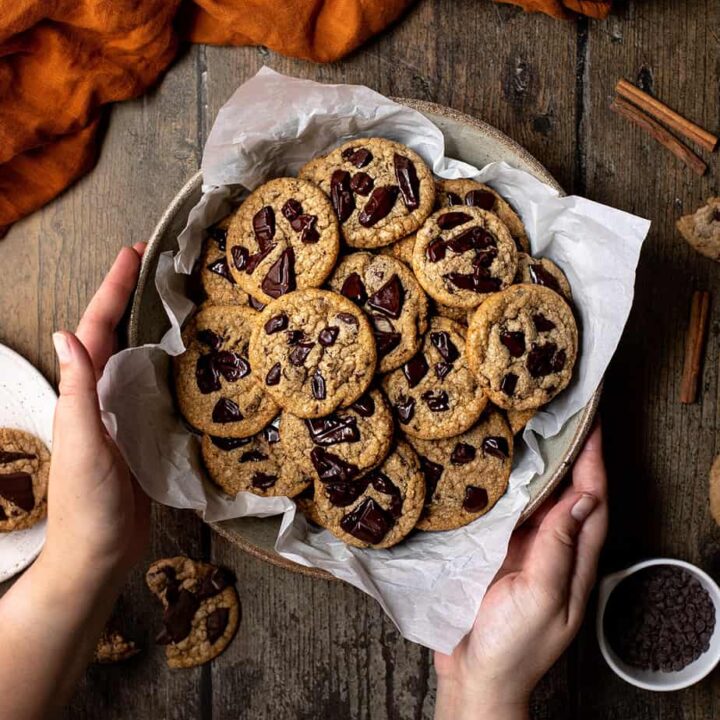 Pumpkin Spice Chocolate Chip Cookies
Total Time:
1 hour
35 minutes
Pumpkin Spice Chocolate Chip Cookies are perfect for Fall. They're full of melty dark chocolate and warm pumpkin pie spices.
Ingredients
2 cups all-purpose flour
½ teaspoon baking powder
½ teaspoon baking soda
¾ teaspoon kosher salt
16 tablespoon unsalted butter, room temperature
½ cup granulated sugar
¾ cup brown sugar, packed
1 egg
6 oz dark chocolate chips (see notes)
8 oz dark chocolate, chopped (see notes)
Instructions
In a medium-sized bowl, whisk the flour, pumpkin pie spice, baking powder, baking soda, and salt together. Set aside.
Add the butter and sugars to the bowl of a stand mixer. Cream them together until the mixture is light and fluffy. Scrape down the sides of the bowl as needed.
Add the egg and vanilla extract, mixing until well combined.
A little bit at a time, add the dry ingredients to the wet. Mix between additions. Scrape down the sides of the bowl as needed.
Add the chocolate chips and mix until they are distributed throughout the dough.
Using a 1 tablespoon cookie scoop, scoop the dough onto a baking sheet lined with parchment paper. Chill the dough in the fridge for at least an hour (and up to overnight). This will help to prevent the dough from spreading excessively.
Once you're ready to bake the cookies, preheat your oven to 350 degrees F. Line a couple of baking sheets with parchment paper. Place the chilled balls of dough on the prepared baking sheets. You will need to do this in batches. I baked 9 cookies per baking sheet.
Bake the cookies for 13-15 minutes, or until the edges are just turning golden.
Remove them from the oven and immediately press the chopped dark chocolate into the tops of the cookies.
Allow the cookies to cool on the baking sheets for 5 minutes before removing them to a wire rack to finish cooling.
Notes
The chocolate chips get mixed into the dough itself
The chopped dark chocolate is for pressing into the tops of the cookies once the come out of the oven
Nutrition Information:
Yield:

30
Serving Size:

1
Amount Per Serving:
Calories:

190
Total Fat:

11g
Saturated Fat:

6g
Trans Fat:

0g
Unsaturated Fat:

4g
Cholesterol:

24mg
Sodium:

69mg
Carbohydrates:

22g
Fiber:

1g
Sugar:

14g
Protein:

2g
What equipment should I have in order to make these cookies?
Pin this recipe for later!