Last Updated on February 20, 2021 by laurenpacek
It's that time of year again! This pumpkin risotto is creamy, savory, and delicious. Though this risotto is undeniably a savory dish, the slight sweetness of the pumpkin still shines through.
This risotto will definitely put in in an Autumn state of mind.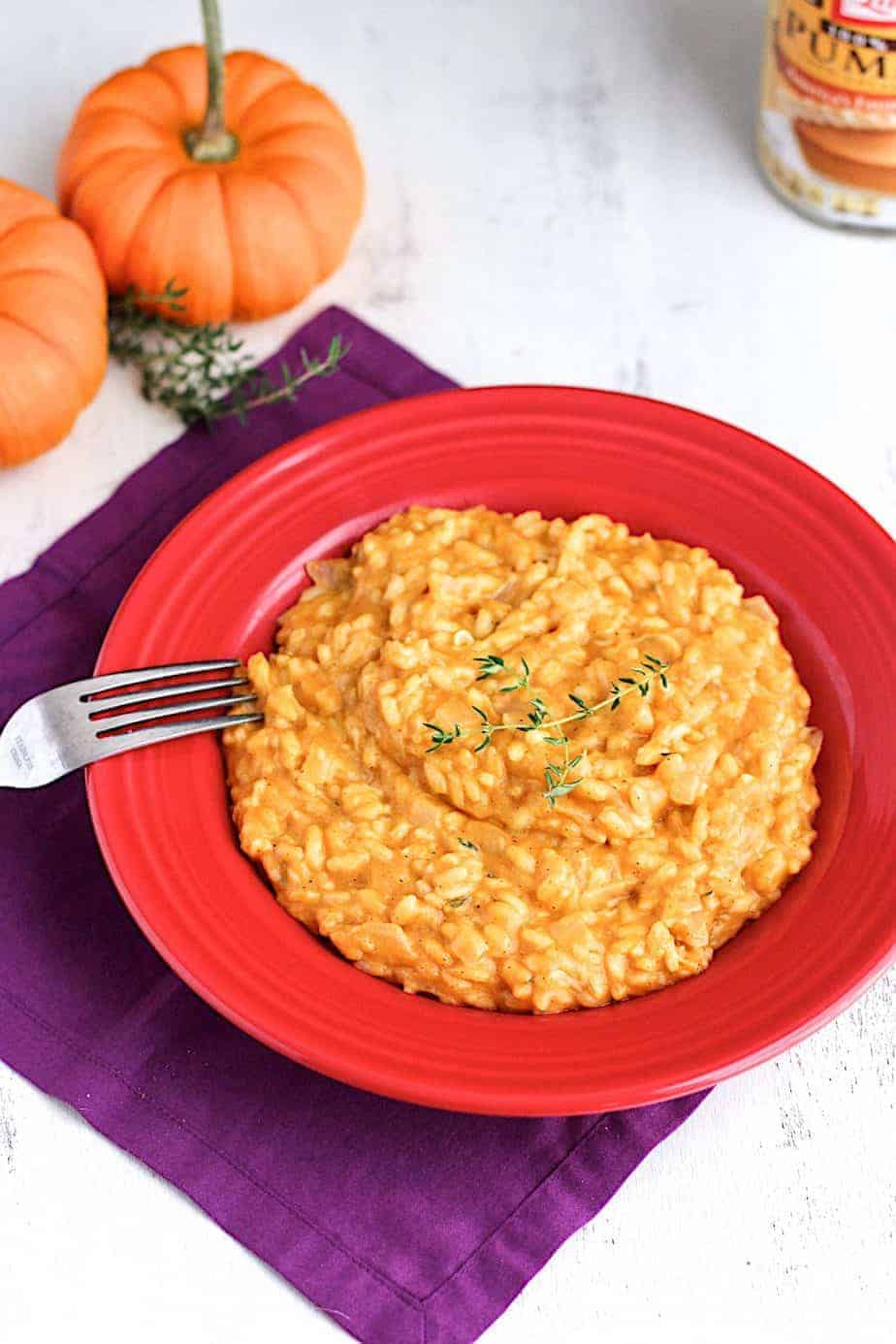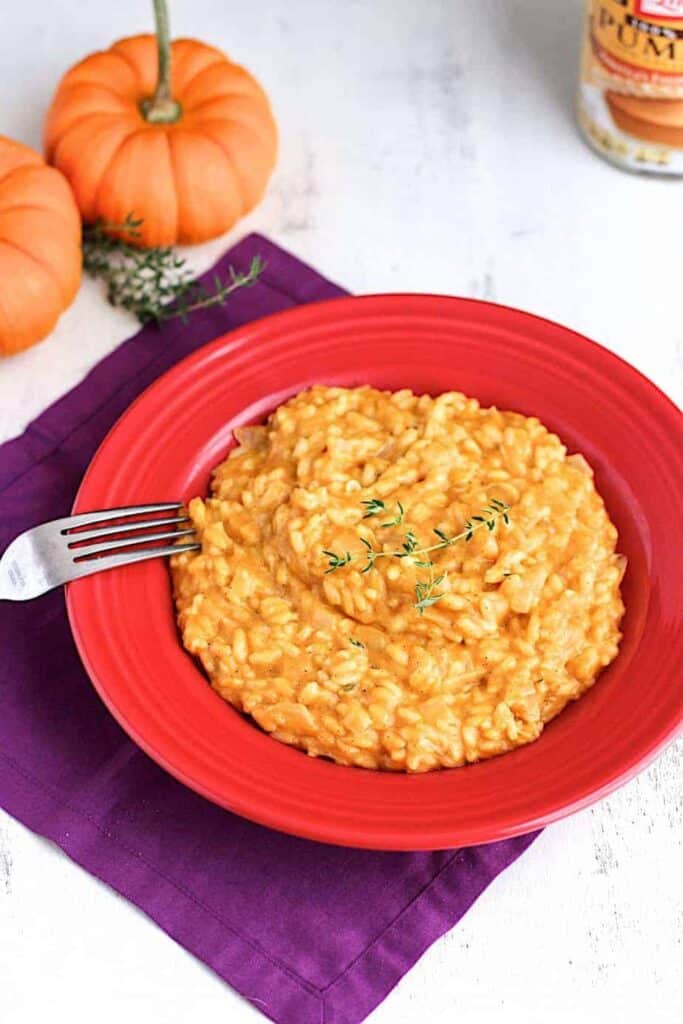 Love pumpkin? (Of course you do.) Ever tried it in a savory dish? If you haven't, you definitely should!
Personally, I love using pumpkin in savory applications. Yes, of course I enjoy a Pumpkin Chocolate Chip Cookie or some Pumpkin Blondies as much as the next guy. But pumpkin actually makes a really nice flavor base for pasta sauces and risotto.
Plus, look at that gorgeous orange color. Does it get better than this?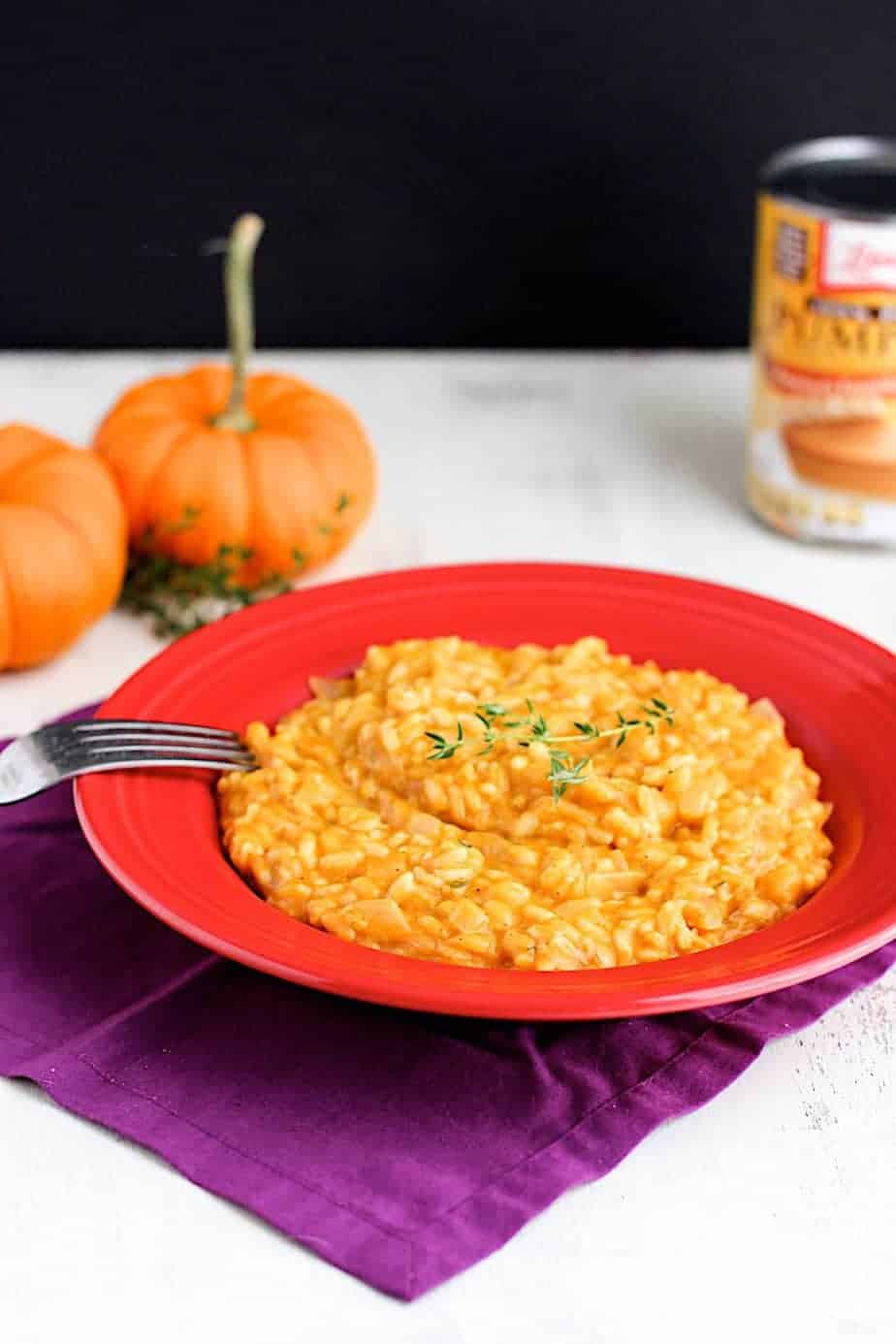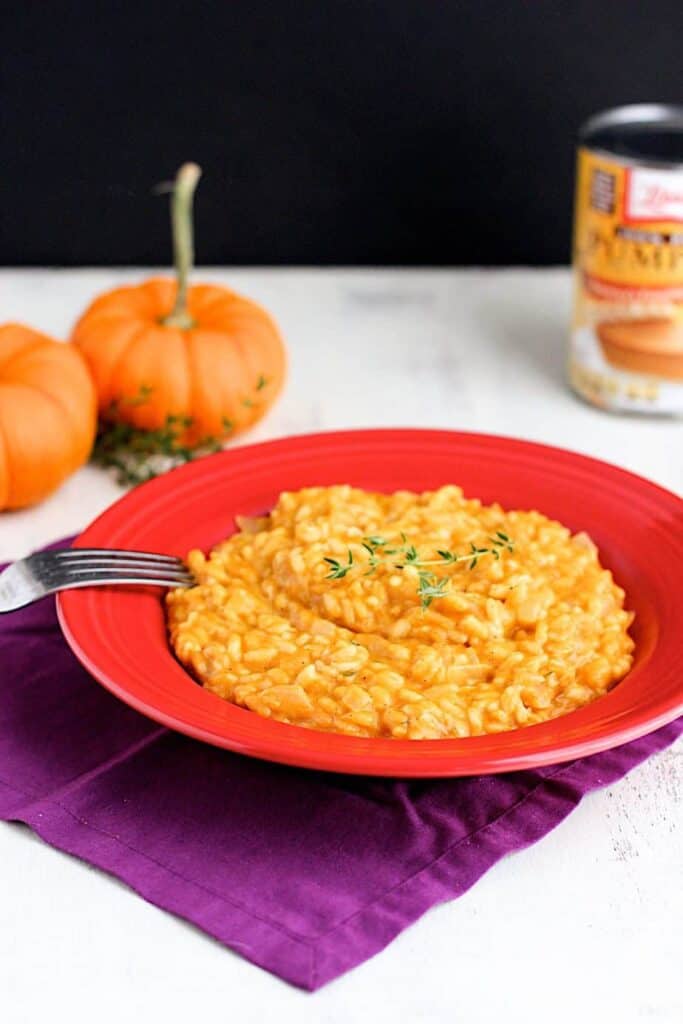 In addition to tasting and (in my opinion) looking great, risotto is outwardly very impressive while actually being quite simple to prepare. Can you chop some vegetables, stir stir stir, and have a bit of patience? If yes (Of course you can), you can definitely make risotto.
This favorable difficulty-to-impressiveness ratio is why risotto is one of my go-to moves when making dinner for someone other than my husband and myself.
Need more risotto recipes? Check out my Sweet Corn Risotto with Roasted Cherry Tomatoes. Or how about Beet Risotto with Goat Cheese?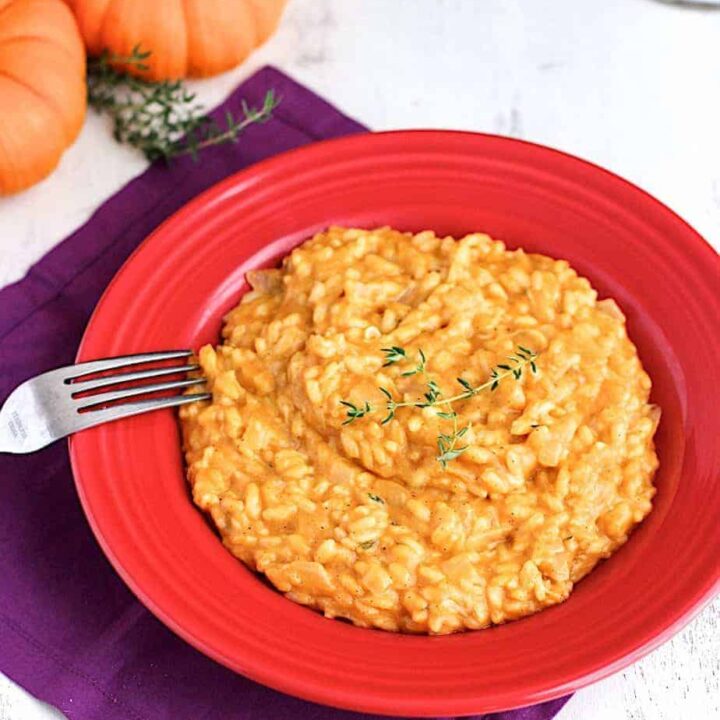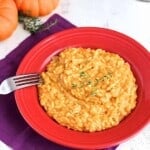 Pumpkin Risotto
Cuisine:
American, Italian
Ingredients
5

cups 

chicken or vegetable stock/broth

2

tbs

olive oil

2

tbs

butter

1

onion,

chopped

3

cloves

garlic,

minced

2

tsp

fresh thyme leaves

1 ½

cups

arborio rice

15

oz.

pumpkin puree

½

tsp

cinnamon

¼

tsp

ground nutmeg

1 cup

cup

parmesan cheese,

shredded

kosher salt and pepper,

to taste
Instructions
In a medium pot over medium-high heat, bring the broth/stock to a simmer.

In a large, heavy bottomed pot over medium heat, add the olive oil and butter over medium heat. Once the butter is melted, add the onion, garlic, and thyme, stirring occasionally. Cook until the onions are soft and translucent.

Add the rice, stirring to coat each grain with the butter and oil. Stirring fairly constantly, wait until you smell a nutty aroma. That lets you know that the rice has been toasted a bit.

A couple of ladles at a time, add the warmed broth/stock to the rice. Stir constantly. Once the liquid has been absorbed, add another couple of ladles. More stirring. Repeat this until most or all of the liquid had been incorporated and absorbed, and the rice has a nice tender bite to it.

Add the pumpkin puree, stirring to incorporate well. Add the spices and cheese. Stir to combine. Add salt and pepper to taste.