Last Updated on February 21, 2021 by laurenpacek
The flavors of sweet corn, tangy roasted cherry tomatoes, and fresh basil make this Sweet Corn Risotto with Roasted Cherry Tomatoes taste just like summer in a bowl.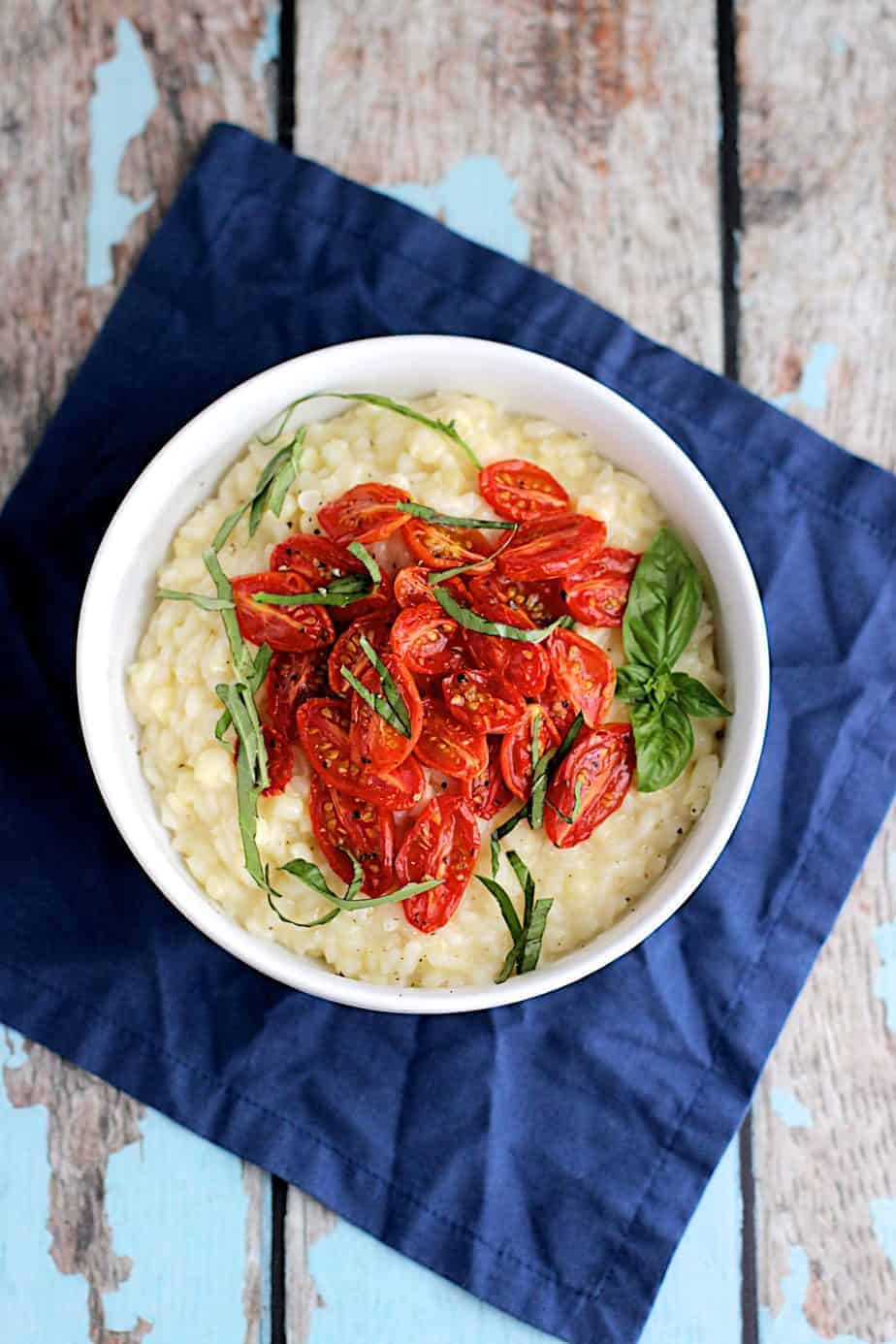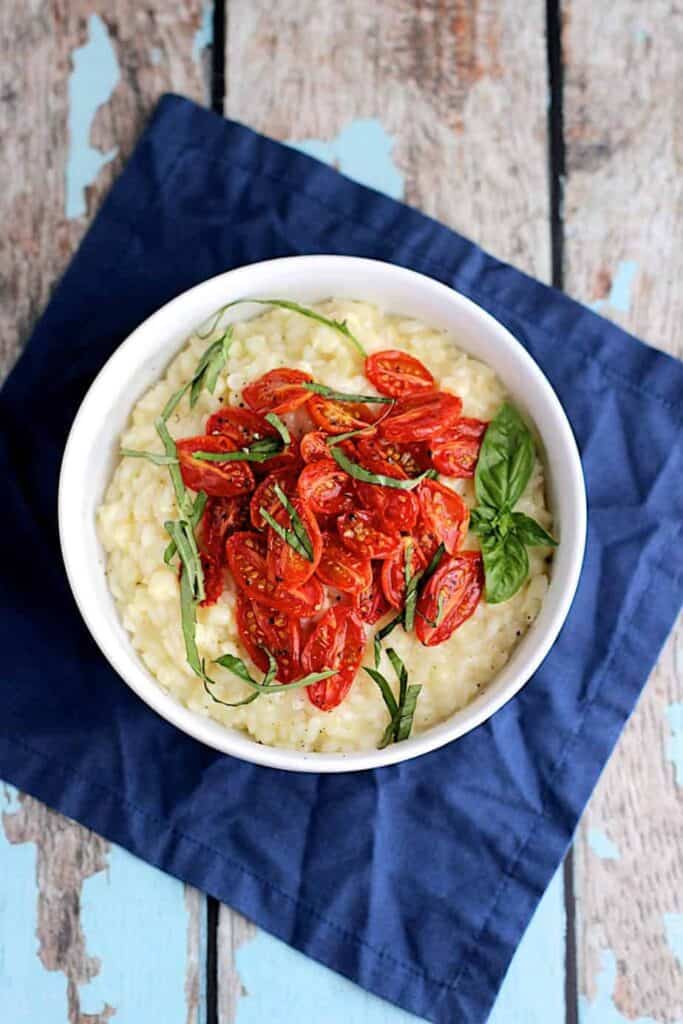 This risotto is summery AF. There's no way around it.
Sweet corn, perfectly ripe cherry tomatoes, and fresh basil play so, so well together.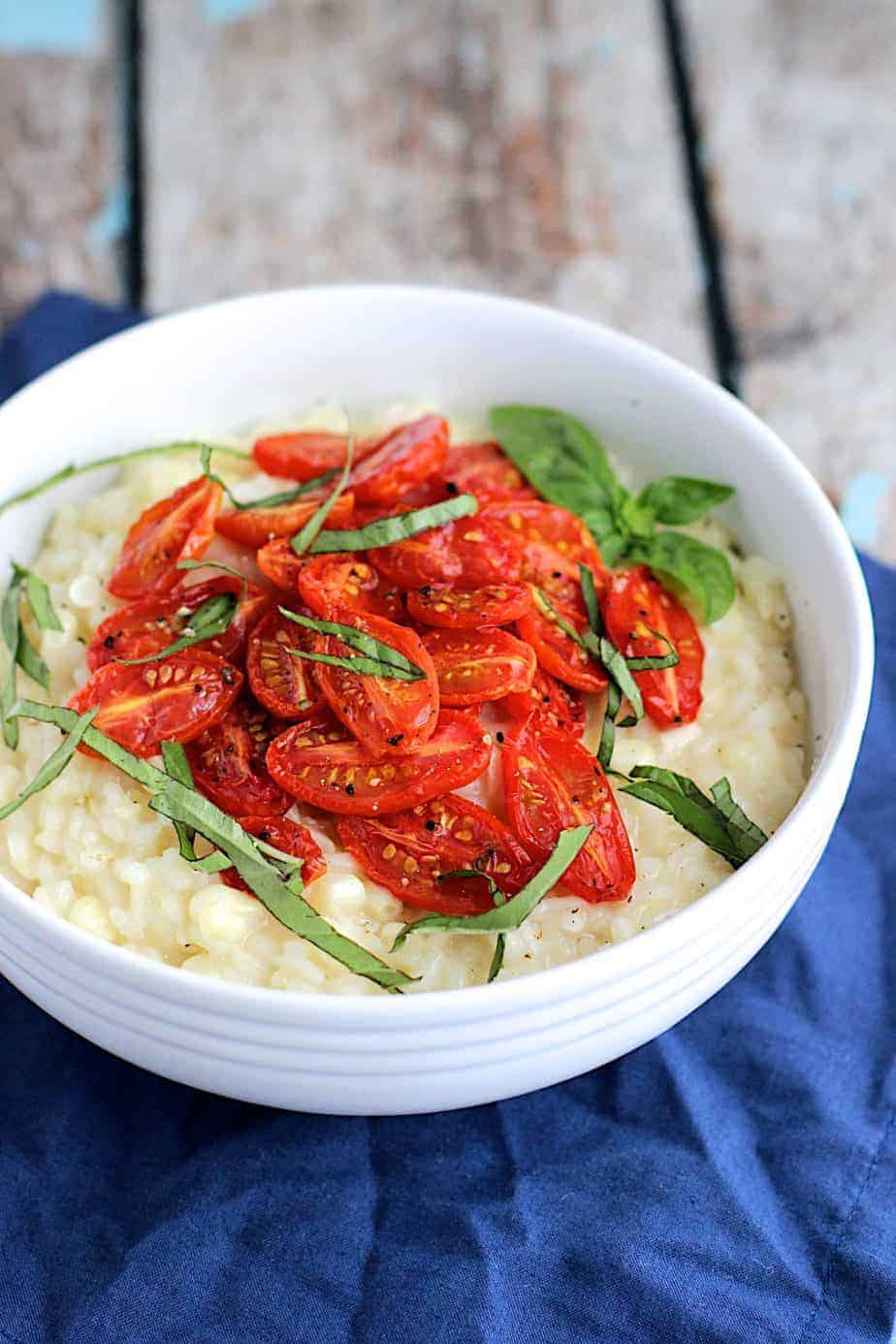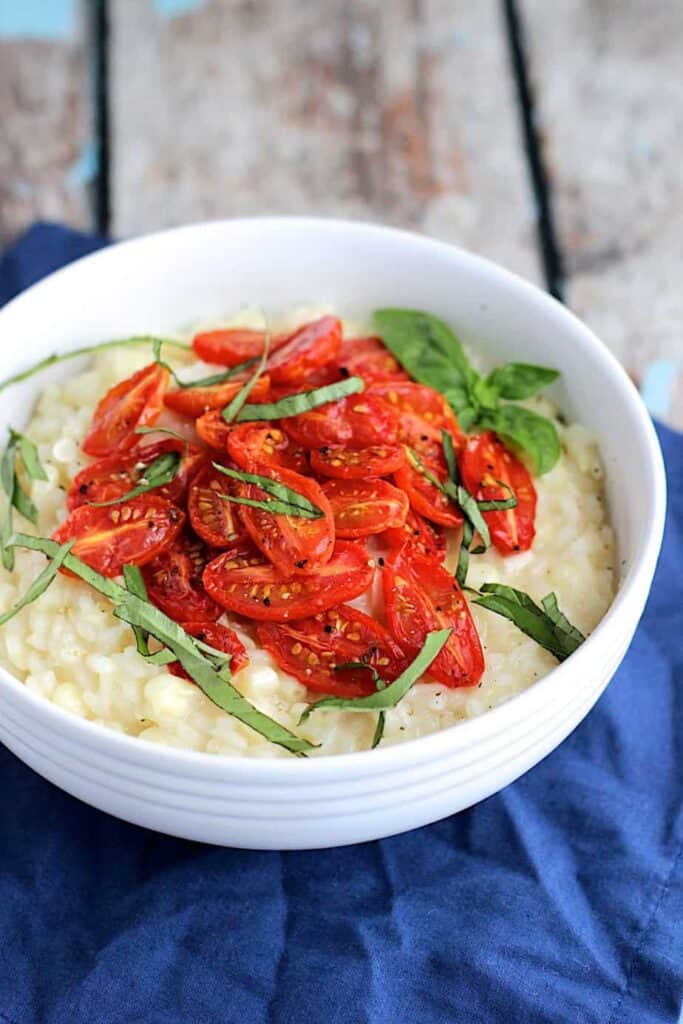 The sweet corn flavor factor is amplified in this risotto, because in addition to using corn kernels, I also used about a cup of pureed corn in place of some of the broth. It takes up a little extra time, but is well worth it.
In search of even more risotto goodness? This Avocado and Corn Risotto is also pretty dang summery. You can't go wrong with Beer, Cheddar, and Sausage Risotto, IMO. And, really. Pumpkin Risotto is appropriate at all times of the year, no matter what anyone else says.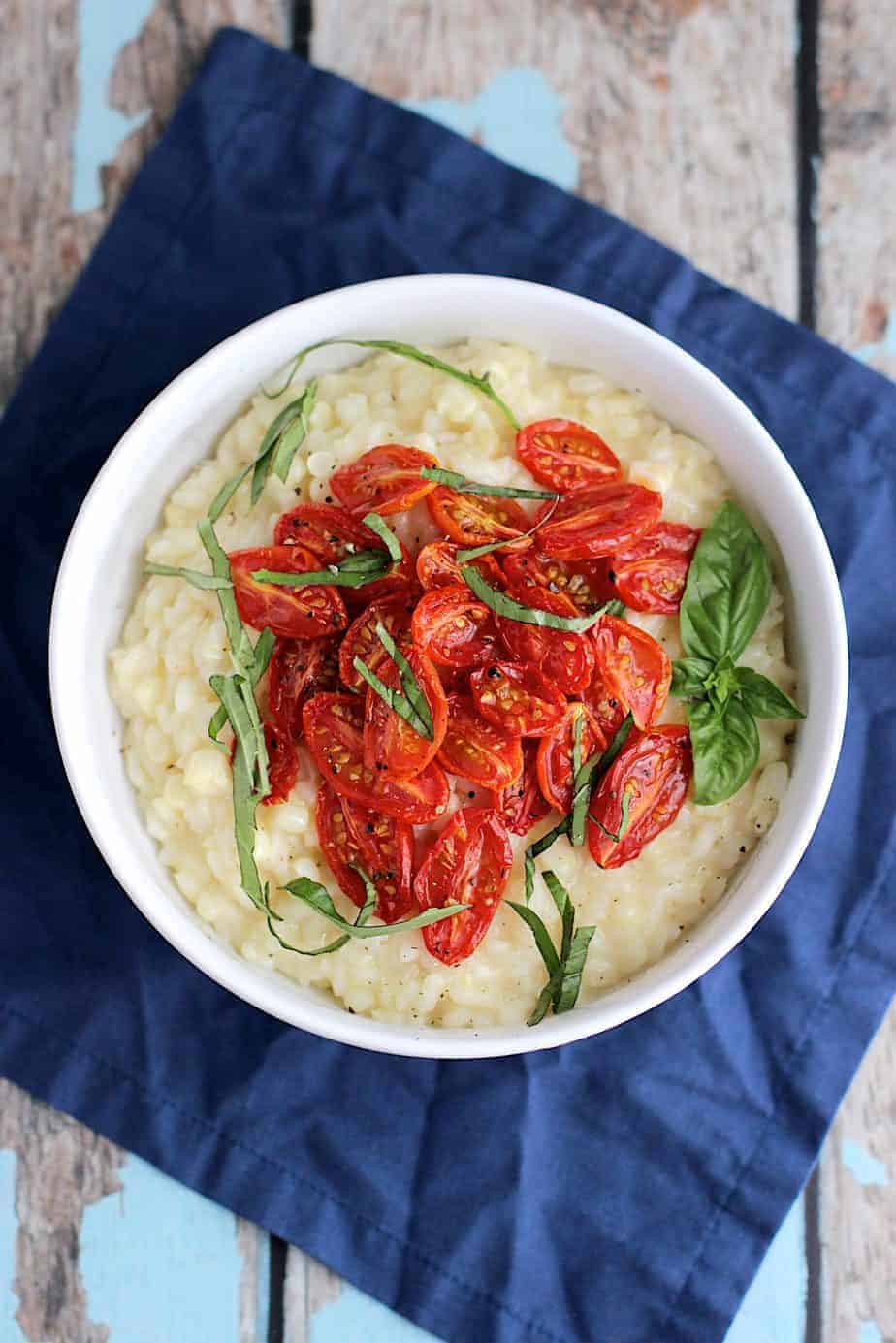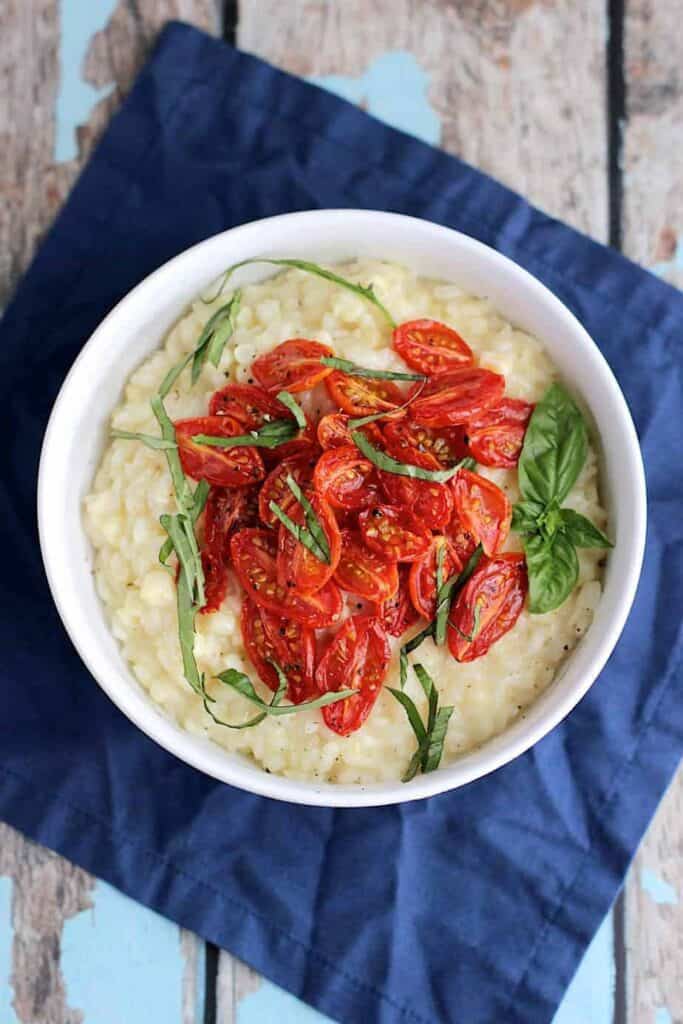 The flavors of this risotto was inspired by this recipe found on Celebrating Sweets.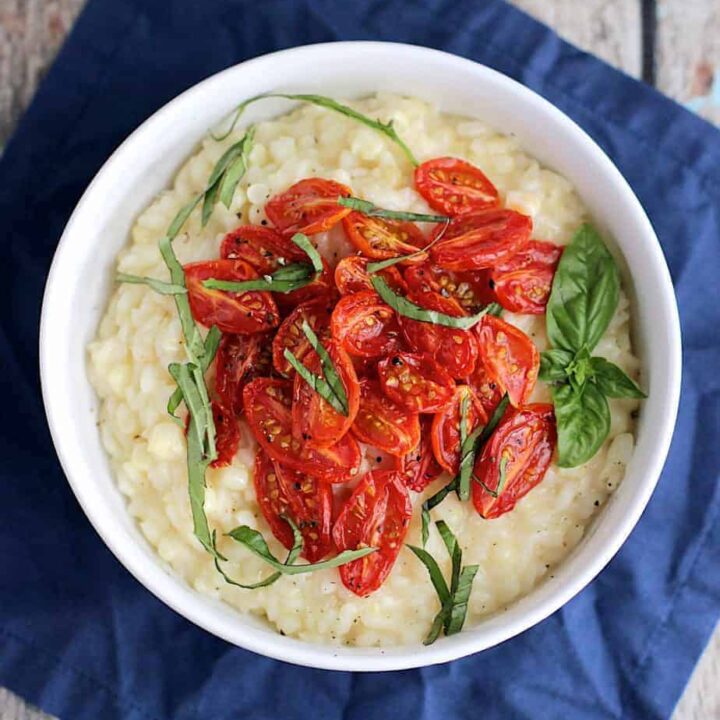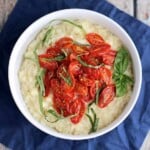 Sweet Corn Risotto with Roasted Cherry Tomatoes
Cuisine:
American, Italian
Ingredients
For the roasted tomatoes
1

pint

cherry tomatoes,

halved

2

tbs

olive oil

salt and pepper,

to taste
For the corn
4

ears of fresh sweet corn,

shucked

2-4

tbs

vegetable or chicken broth
For the risotto
5

cups

vegetable or chicken broth

1

tbs

olive oil

1

tbs

butter

3

cloves

garlic,

minced

1 ½

cups

Arborio rice

1

cup

Parmesan cheese

salt and pepper,

to taste

fresh basil,

cut into ribbons
Instructions
To make the roasted tomatoes
Preheat the oven to 300 degrees F. Line a baking sheet with foil.

Combine the halved cherry tomatoes, olive oil, and salt and pepper on the prepared baking sheet. Roast for 1 hour, checking after 30 and 45 minutes, to ensure that they aren't burning. Set aside to cool once done.
To make the corn
Cut the kernels off of the 4 corn cobs.

Blend ~1 cup of the kernels in a blender or food processor with 2-4 tbs of broth. Use just enough broth to make a mostly smooth puree. Set the pureed corn and other kernels aside for a few minutes.
To make the risotto
Heat the 5 cups of broth in a medium sauce pan over medium heat. Bring it to a simmer and then turn it to low.

In a heavy-bottomed pan or Dutch oven, heat the olive oil and butter until the butter melts. Add the garlic and remaining corn kernels. Sauté until the garlic is very fragrant.

Add the Arborio rice and stir so that every grain gets coated in the olive oil and butter. Allow the rice to toast a bit, stirring occasionally. Once it starts to smell nutty, add the pureed corn. Stir occasionally until almost all of the puree has been absorbed by the rice.

Turn the heat off under the broth, and add a couple of ladles to the rice. Stir occasionally until, again, almost all of the liquid is absorbed. Repeat this process until the risotto is creamy and the rice is no longer al dente.

Add the Parmesan cheese, stirring until it has been incorporated. Add salt and pepper, to taste.

Top the risotto with roasted cherry tomatoes and fresh basil.
Recipe Notes
Notes:
You can substitute ~3-4 cups of frozen corn (thawed) for the fresh corn, if needed
You may or may not need to use all of the broth
To test whether the rice is still al dente, take a bite