Last Updated on November 30, 2021 by laurenpacek
This risotto is undeniably delicious.
Avocado and Corn Risotto is one of my very favorite ways to prepare risotto. The avocado is creamy and buttery, while the corn kernels provide a pop of color and sweetness.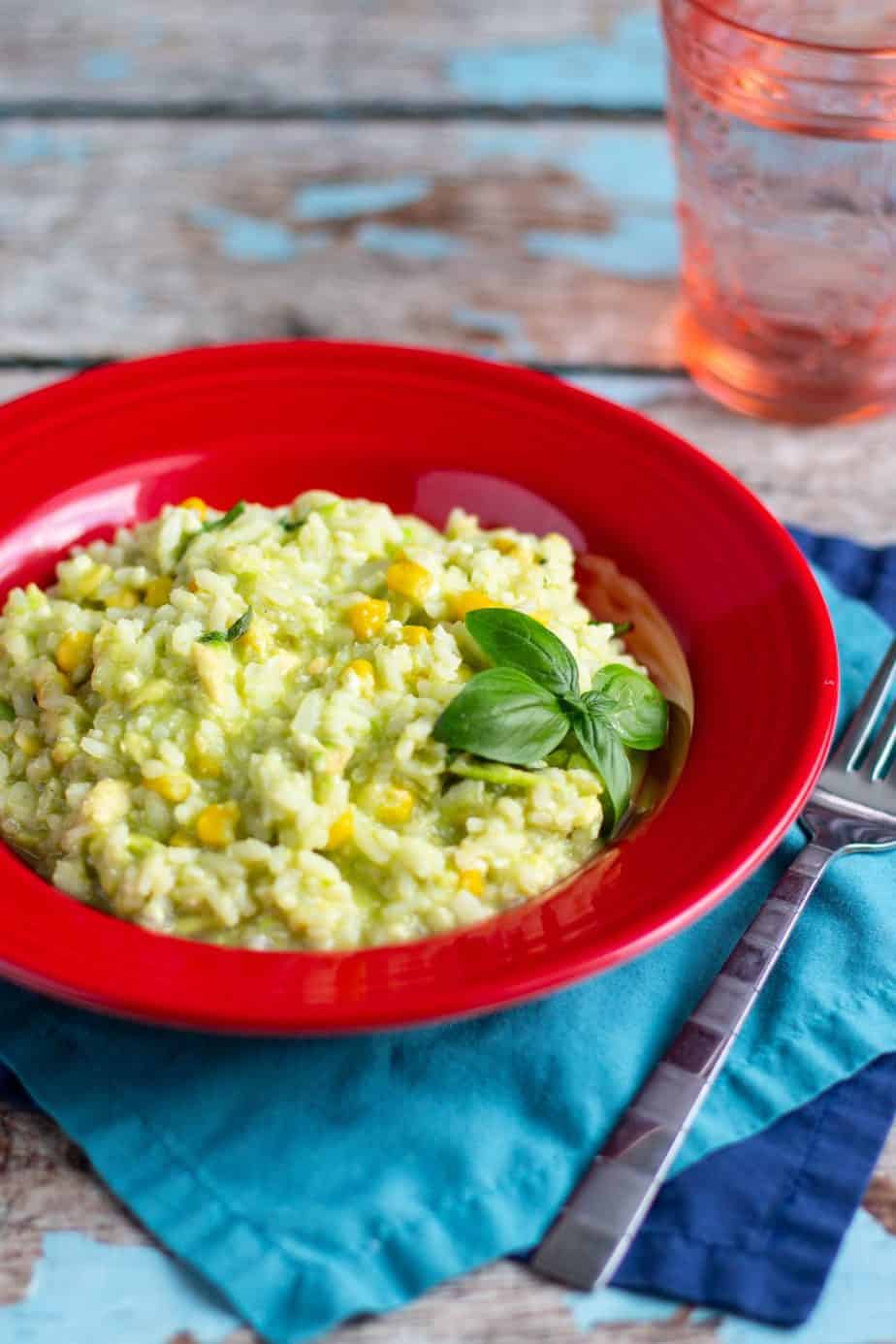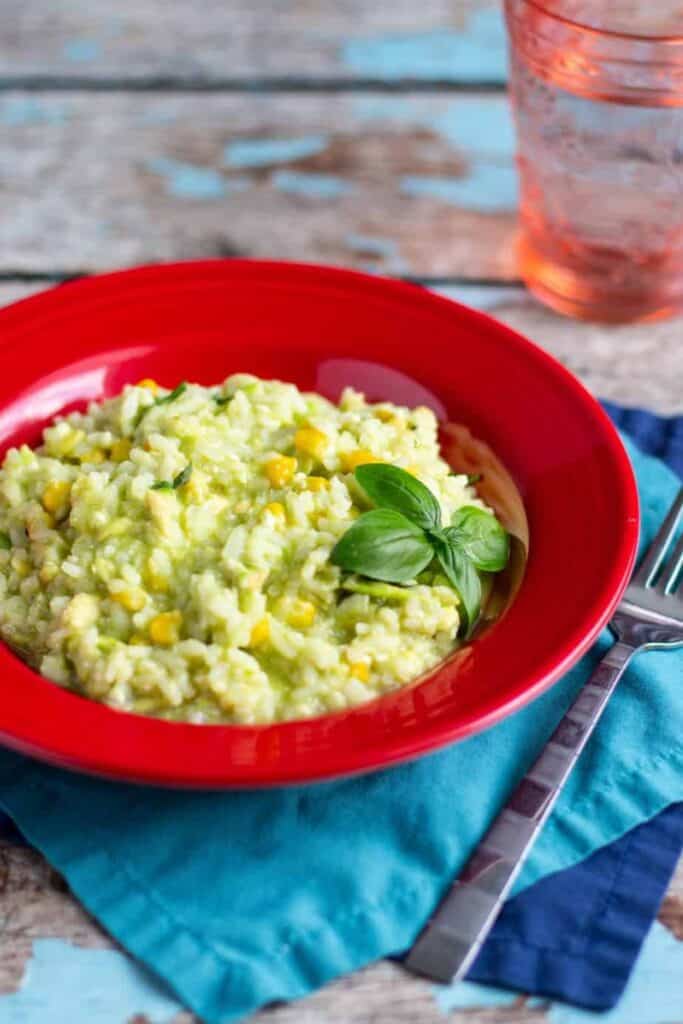 Have you ever thought about putting avocado in your risotto?
No? Well, start thinking about it! Seriously, though. It's pretty great.
I know that it's pretty natural to have avocado in cold or room temperature dishes, right? Think guacamole, topping on a taco, in a salad ... But adding it to warm/hot dishes might not be most people's first instinct.
But it really works! Avocado is buttery and creamy, which lends itself well to risotto. It's also a great backdrop for additional flavors and textures, like fresh basil and sweet corn kernels.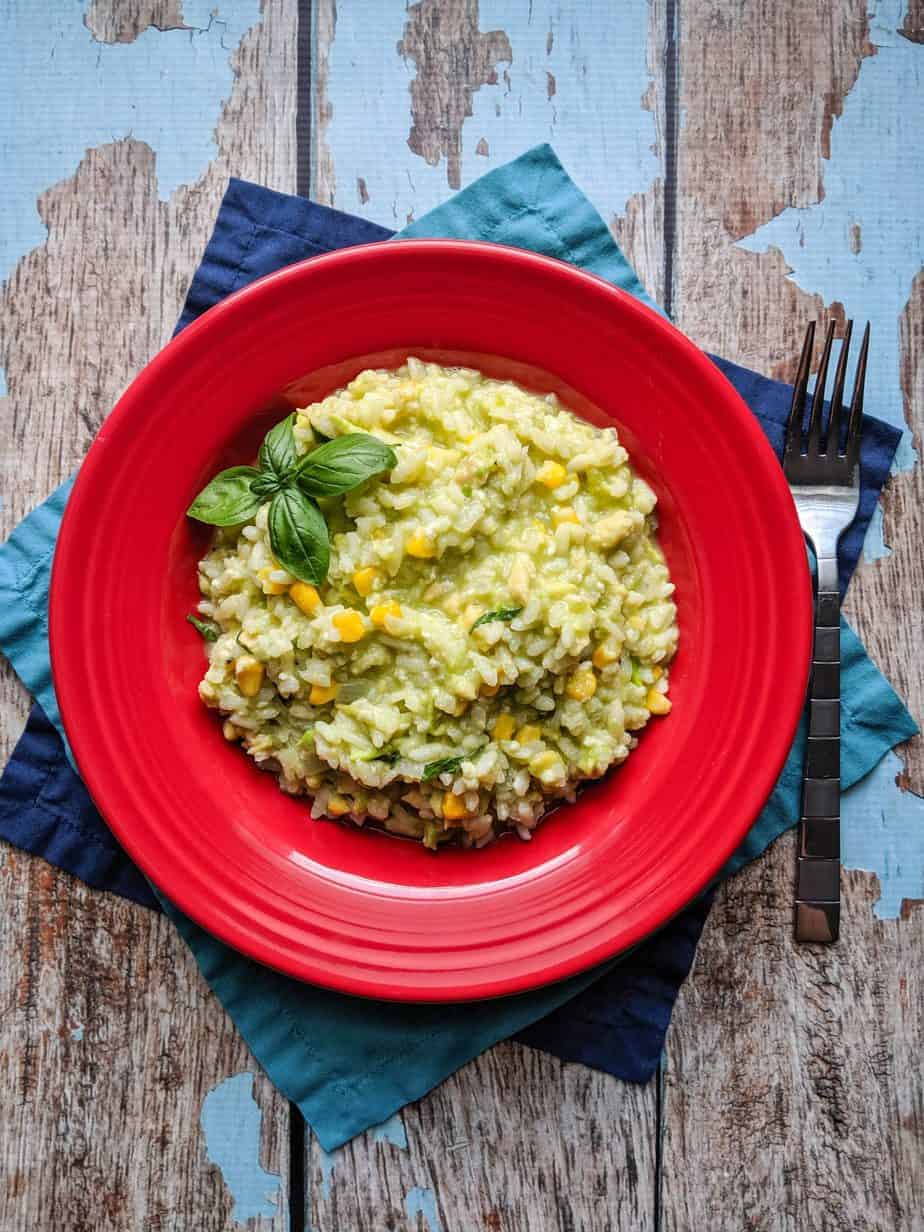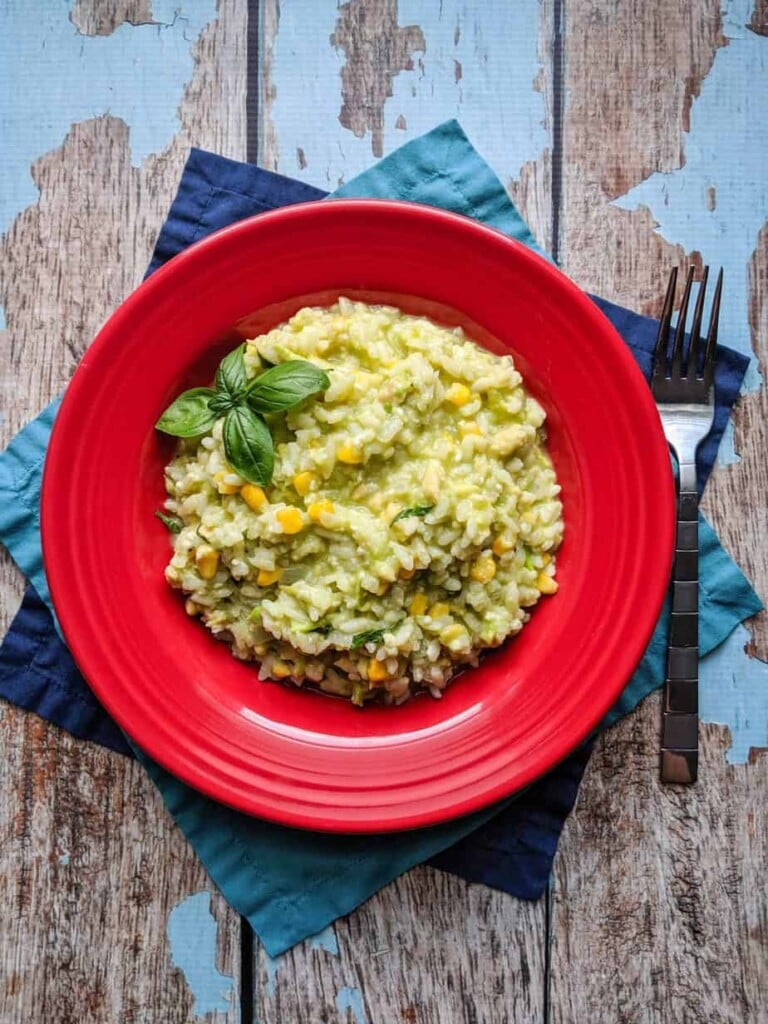 Risotto is one of my favorite things to cook and eat
I mean, yes of course it's delicious. We can all agree on that, right?
But there's something about the act of making it that is supremely relaxing. There's just something about the process of standing over the stove and stirring, stirring, stirring. It's slow and methodical.
And I dig that.
Risotto is also pretty endlessly customizable
I've shown you more than my fair share of risotto recipes on this blog. Check these out: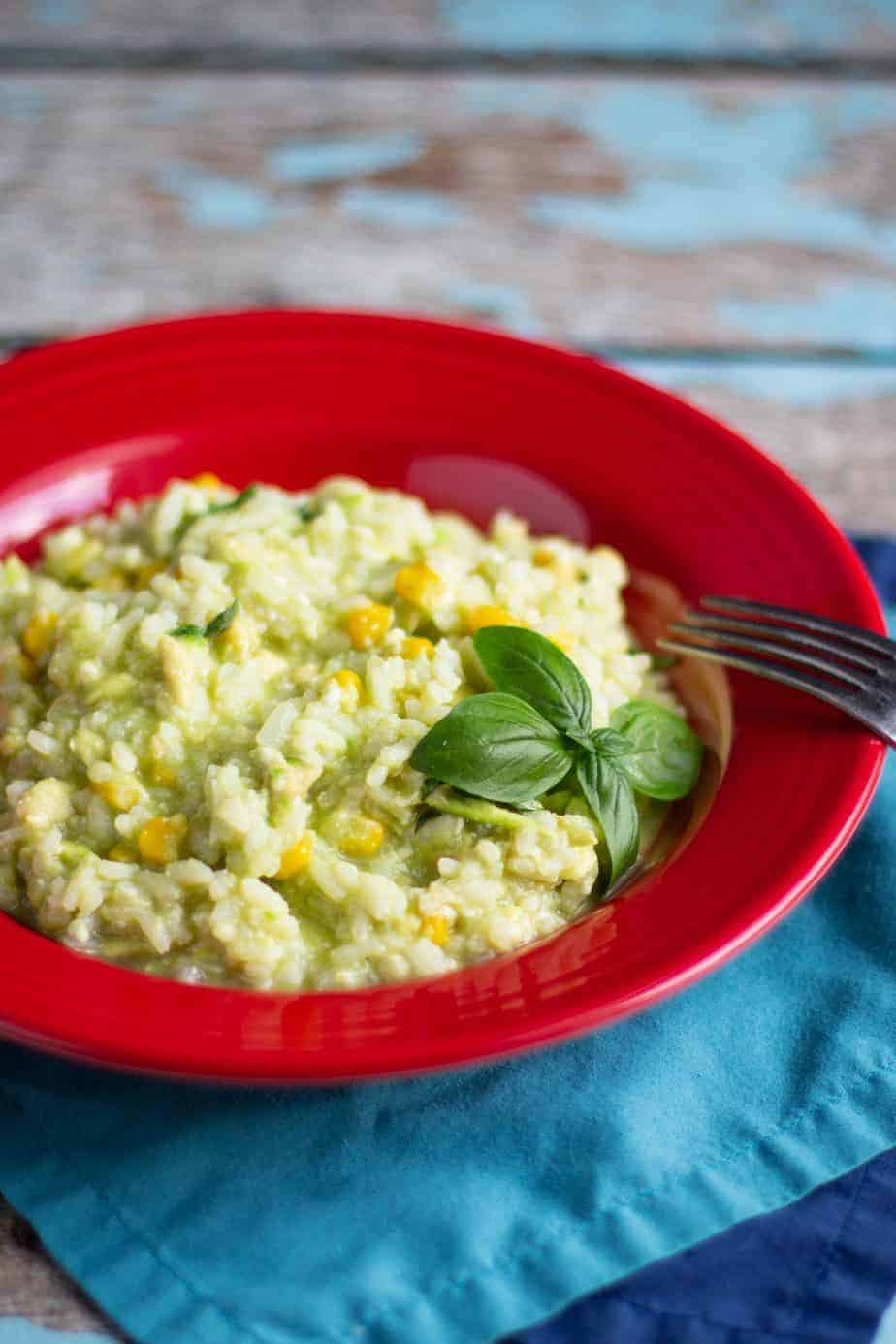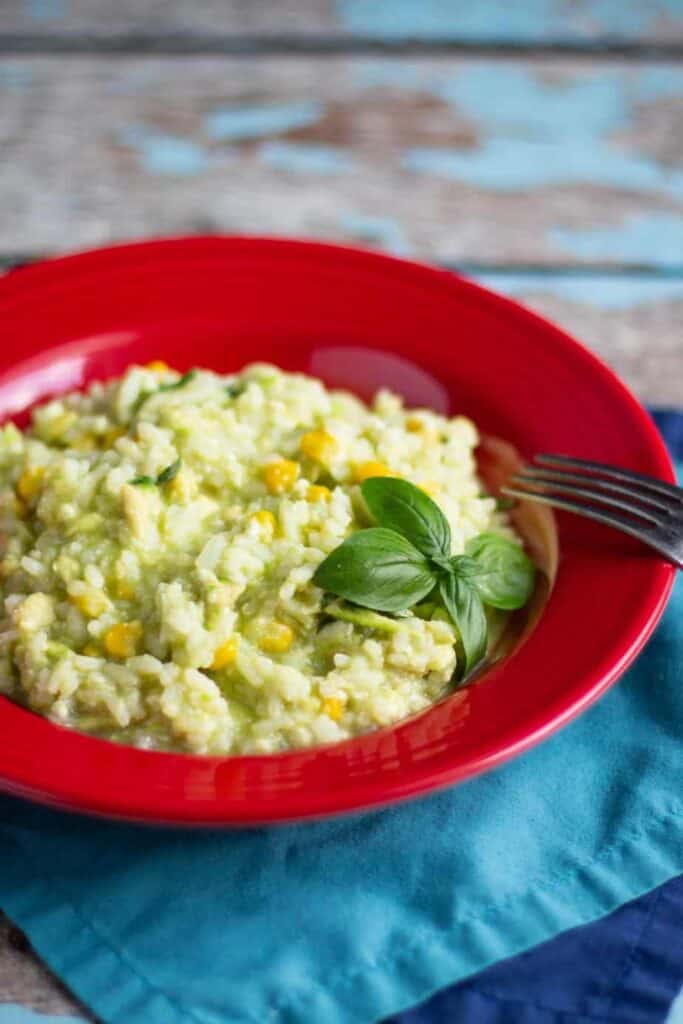 What inspired this recipe?
This recipe was inspired by the avocado risotto at Joe Squared in Baltimore. If you're in the Baltimore area and haven't gone there, do yourself a favor and go immediately. Everything there is really, really good.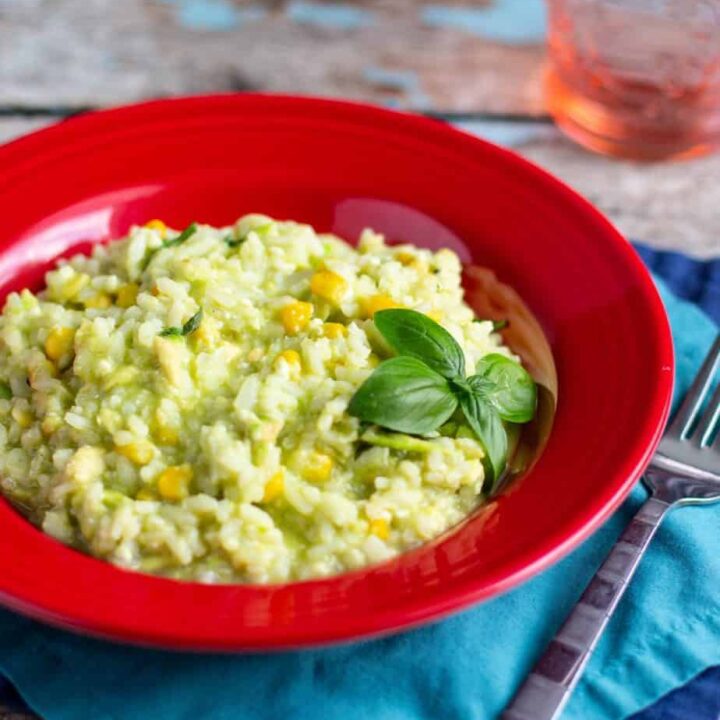 Avocado and Corn Risotto
Buttery and creamy avocado gets together with fresh basil and sweet corn to make one delicious risotto!
Ingredients
5 cups vegetable or chicken broth
2 medium-sized ripe avocados
1 tbsp olive oil
1 tbsp unsalted butter
1 small onion, diced
2 cloves garlic, minced
1 ½ cups arborio rice
1 cup corn kernels, frozen or fresh
1 cup parmesan cheese, shredded
salt and pepper, to taste
fresh basil, cut into ribbons
Instructions
Heat the 5 cups of broth in a medium sauce pan over medium heat. Bring it to a simmer and then turn it to low.
In a small bowl, mash the avocados and set aside.
In a heavy-bottomed pan or Dutch oven, heat the olive oil and butter until the butter melts. Add the onion and garlic. Sauté until the garlic is very fragrant and the onions are beginning to become translucent.
Add the arborio rice and stir so that every grain gets covered in the oil and butter.
Turn the heat off under the broth, and add a couple of ladles to the rice. Stir almost constantly until almost all of the liquid is absorbed. Repeat this process until the risotto is creamy and the rice is no longer al dente.
Add the corn and cheese and stir to combine.
Turn the heat off and add the mashed avocados to the risotto, stirring to combine.
Add the basil, salt, and pepper.
Notes
While cooking, take a bite of the risotto to see if it's still al dente!
You may not need to use all 5 cups of broth.
Nutrition Information:
Yield:

4
Serving Size:

1
Amount Per Serving:
Calories:

506
Total Fat:

20g
Saturated Fat:

7g
Trans Fat:

0g
Unsaturated Fat:

12g
Cholesterol:

23mg
Sodium:

729mg
Carbohydrates:

65g
Fiber:

15g
Sugar:

10g
Protein:

19g
Will I need any special equipment for this recipe?
Pin this recipe for later!