This Butternut Squash Risotto is hearty, creamy, and full of Fall flavor. It's even the perfect color for Fall food (IMHO).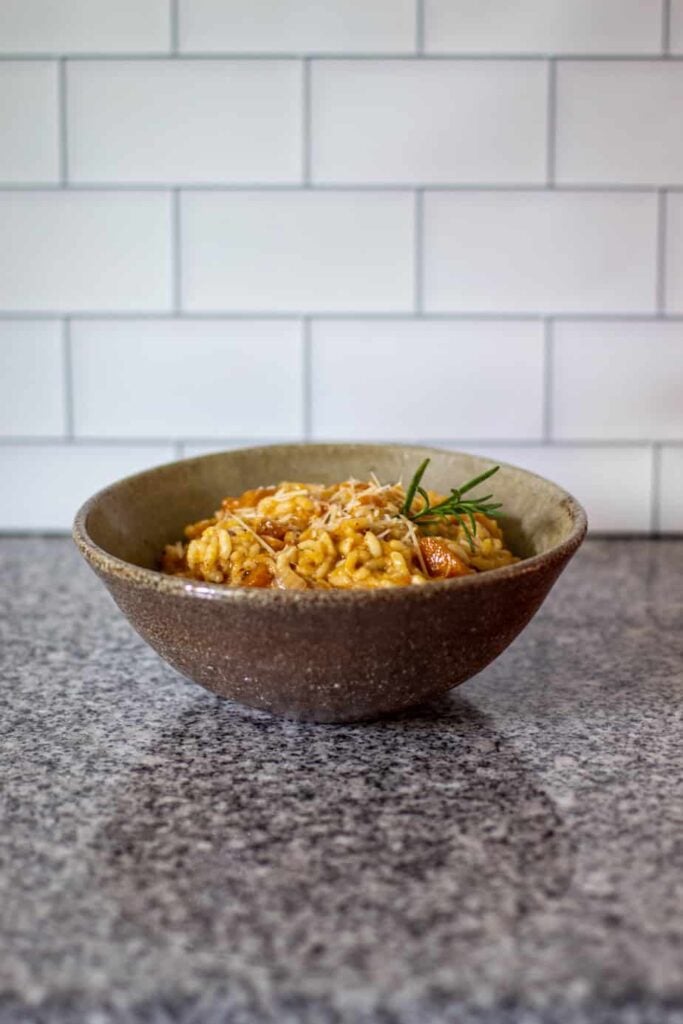 Jump to:
Risotto is perfect cooler weather food
Though I really enjoy risotto at any time of the year, I do have to say that it's particularly good when the weather turns a bit cooler. Risotto is creamy and filling, sticks to your ribs, and ideal for Fall when it includes warmly spiced butternut squash. And thankfully it's finally feeling like Fall in North Carolina.
I find that risotto is also supremely relaxing to make. Am I alone in this? There's chopping and all kinds of meditative stirring going on. Maybe it's just me. ¯_(ツ)_/¯
How does this recipe come together?
You'll start out by chopping up and roasting a butternut squash. If you're unsure of how to go about peeling and disassembling a squash, just keep reading. I walk you through it below (you got this).
Apart from that, you're just making a basic risotto. You'll heat some butter and olive oil, sauté some vegetables and herbs, toast some rice, and alternate adding broth with lots and lots of stirring.
You'll finish things off by adding the roasted squash and lots of cheese.
How do you peel and cut up a butternut squash?
Let me tell you. (It's not very hard!) I have a few step-by-step photos below. I'll talk you through it, going left to right.

So, starting with the leftmost picture above, you have a whole ass butternut squash. Congrats.
Peel the whole thing with a sharp peeler (middle photo above). I use an inexpensive y-shaped vegetable peeper.
Next, lop off the top and bottom of the squash (rightmost picture above).

As depicted in the leftmost picture above, cut the "neck" of the butternut squash from the more bulbous part.
Slice the bulbous part in half, lengthwise (middle photo). Next, use a spoon to scoop the seeds from the squash (rightmost picture). You can save them or keep them to roast them.
After that, you just chop it up like you would any vegetable (think potatoes, or something along those lines). I like to shoot for bite-sized cubes.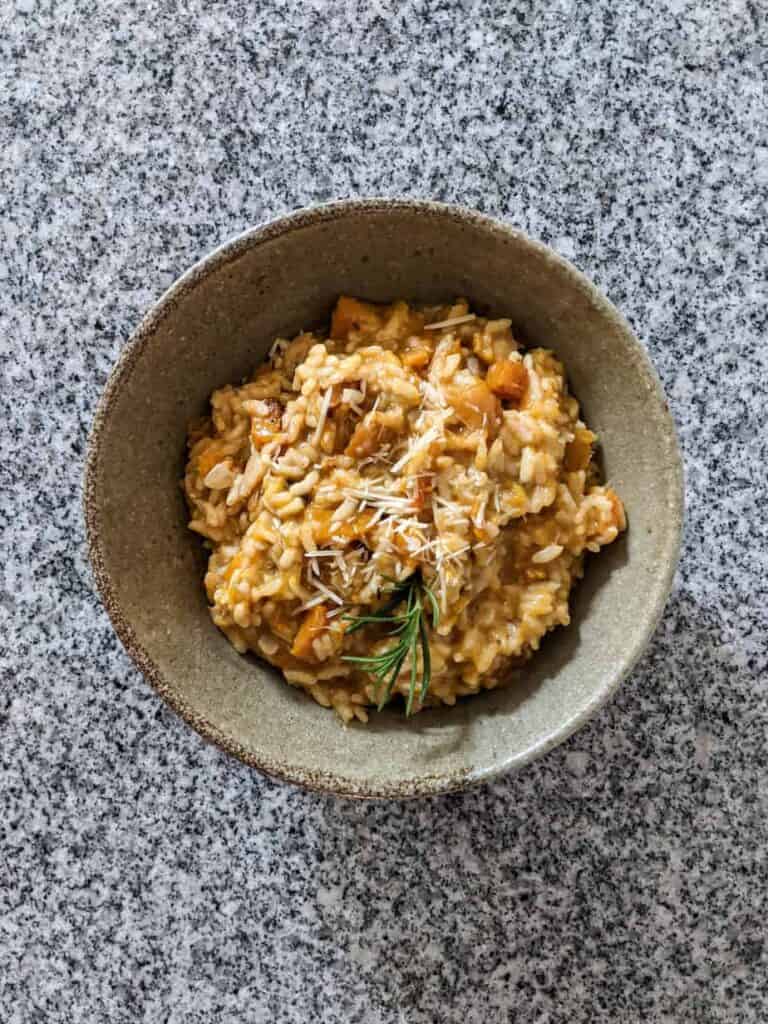 Looking for other Fall risotto recipes?
This Pumpkin Risotto feels particularly relevant. It's similar to this Butternut Squash Risotto, but a bit sweeter and creamier. Mushroom Risotto and Beer, Cheddar, and Sausage Risotto are other great cooler weather options.
Search "risotto" over on the righthand side of the page for other recipes!
✨ Recipe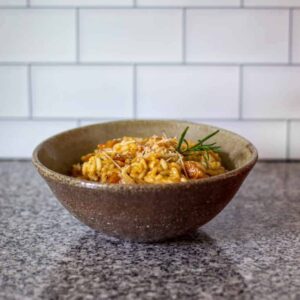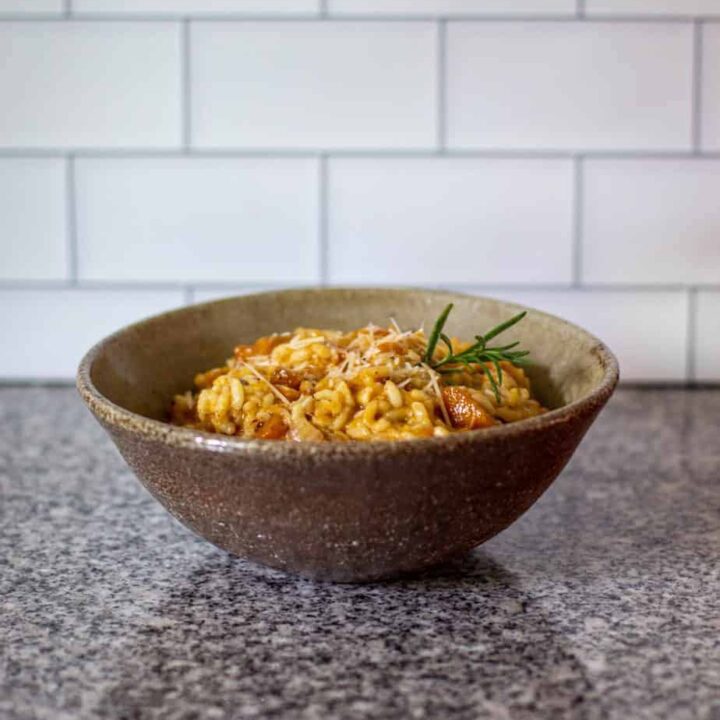 Butternut Squash Risotto
This Butternut Squash Risotto is hearty, creamy, and full of Fall flavor. It's even the perfect color for Fall food.
Ingredients
For the roasted butternut squash
2

lbs

butternut squash

peeled, seeds removed, and chopped

1

tablespoon

olive oil

1

teaspoon

chili powder

½

teaspoon

garlic powder

½

ground cumin

kosher salt and pepper

to taste
For the risotto
5

cups

vegetable or chicken broth

1

tablespoon

olive oil

3

tablespoon

butter

divided

1

medium onion

chopped

2

garlic cloves

minced

1

tablespoon

fresh rosemary

minced

1.5

cups

Arborio rice

¾

cup

parmesan cheese

shredded

¾

cup

mozzarella cheese

shredded

kosher salt and pepper

to taste
Instructions
To make the roasted butternut squash
Preheat the oven to 400 degrees F. Line a baking sheet with foil and spray it with cooking spray. Set it aside.

Add all of the ingredients for the roasted squash to a large zip top bag. Toss everything around until the squash is coated in the spices.

Spread the squash onto the prepared baking sheet in an single layer.

Roast for 30 minutes, tossing the squash around halfway through.

Once the roasted squash has cooled slightly, mash approximately ⅔ of it, leaving the remaining ⅓ as clearly-defined cubes. Set it aside.
To make the risotto
In a medium pot over medium-high heat, bring the broth to a simmer.

In a large, heavy bottomed pot over medium heat, add the olive oil and butter. Once the butter has melted, add the onion, garlic, and minced rosemary, stirring occasionally. Cook until the onions are soft and translucent.

Add the rice, stirring to coat each grain with the butter and oil. Stirring fairly constantly, wait until the rice smells nutty. That lets you know that the rice has been toasted a bit. And this means flavor.

A couple of ladles at a time, add the warmed broth to the rice. Stir constantly. Once the liquid has been absorbed, add another couple of ladles. More stirring. Repeat this until most or all of the liquid had been incorporated and absorbed, and the rice has a nice tender bite to it. You may not use all of the broth.

Add the mashed squash, stirring to incorporate. Add the cheeses, stirring to combine. Add salt and pepper to taste, along with the cubed squash.

Garnish with fresh rosemary, if desired.



Nutrition
Serving:
1
Calories:
612
kcal
Carbohydrates:
79
g
Protein:
22
g
Fat:
25
g
Saturated Fat:
12
g
Polyunsaturated Fat:
12
g
Cholesterol:
52
mg
Sodium:
943
mg
Fiber:
18
g
Sugar:
13
g
Disclaimer: Nutritional information is a generated estimate and is not guaranteed to be accurate.
What should I have on hand in order to make this?
Pin this recipe for later!