This dish is hearty, comforting, and delicious
This Mushroom Risotto is delicious, full of rich and savory flavors, and a perfect cold weather meal. It's also an excellent option for Meatless Monday!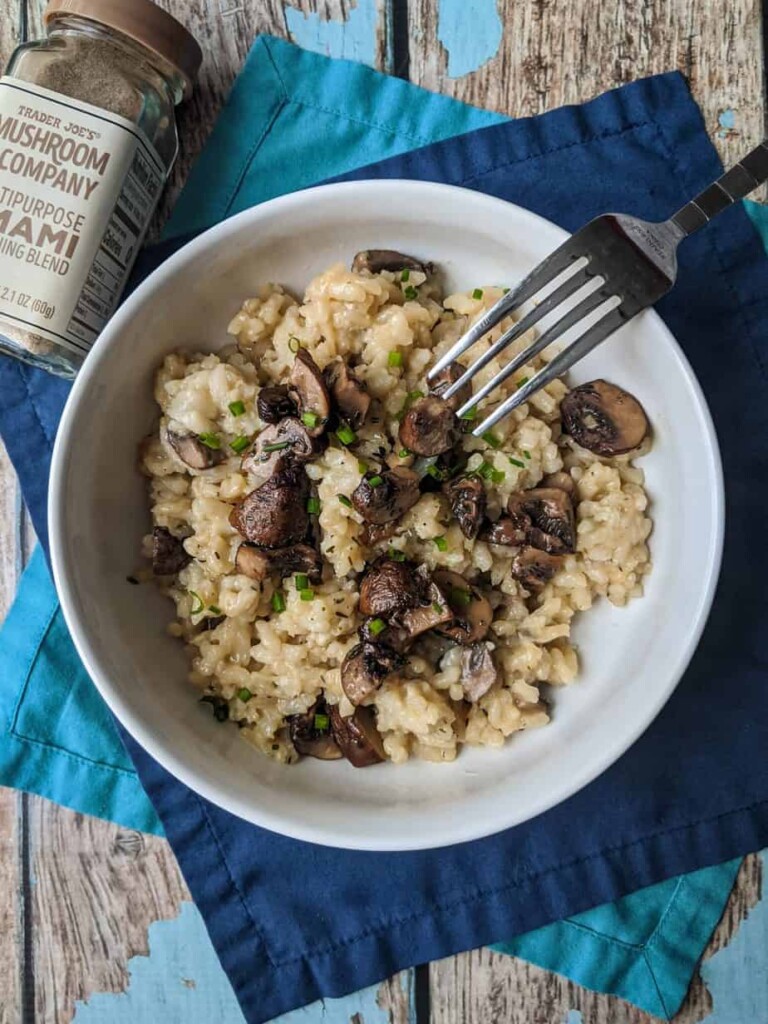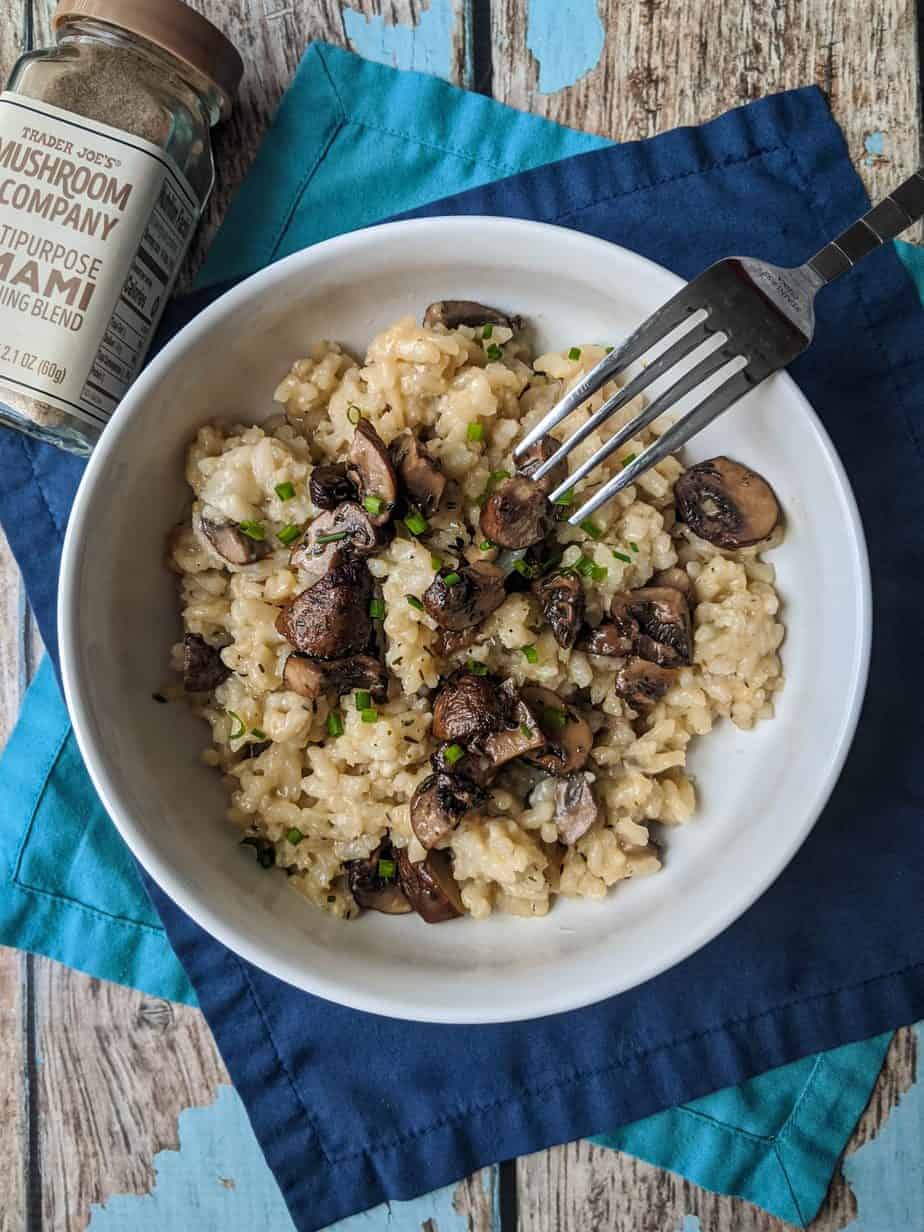 Need something delicious for dinner?
Look no further. This risotto is creamy and cheesy, savory, and full of delicious Garlic & Thyme Roasted Mushrooms.
It's an excellent choice no matter what day of the week it is, but it's an especially good choice for Meatless Monday! The "meaty" mushrooms and savory flavors of the mushroom powder ought to please pretty much anyone, including carnivores.
What's the deal with the mushroom powder?
Trader Joe's has this Mushroom & Company Multipurpose Umami Seasoning Blend.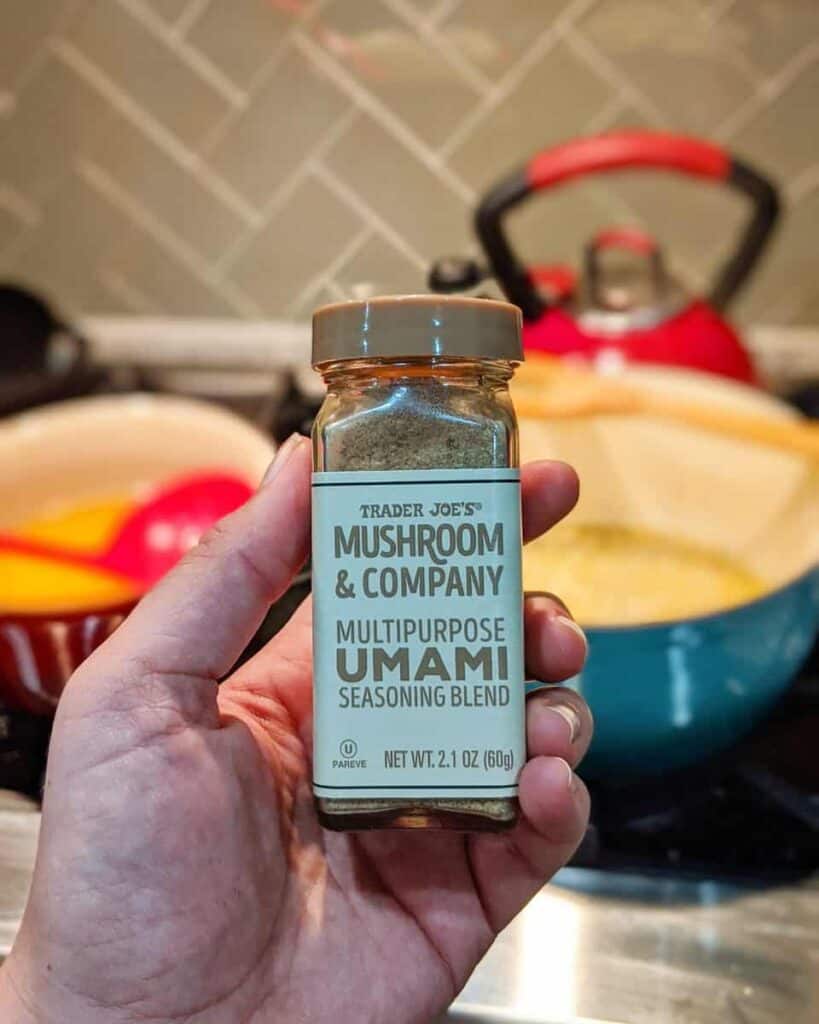 And no, this is not an ad or sponsored content. I just really like it. But, Trader Joe's, if you're out there. Hit me up. It would be a dream to work with you.
Anyway, this spice mix has kosher salt, black pepper, red pepper, mushroom powder, and mustard seed. It really brings out a deep, savory umami flavor in dishes. It's especially good in things like beef stew. I've been using it in a recipe for beef tips and it's 10/10. And, of course, it's fabulous in this risotto!
If you have a TJ's near you, definitely pick some up. You can also buy it on Amazon (scroll down below the recipe for a link).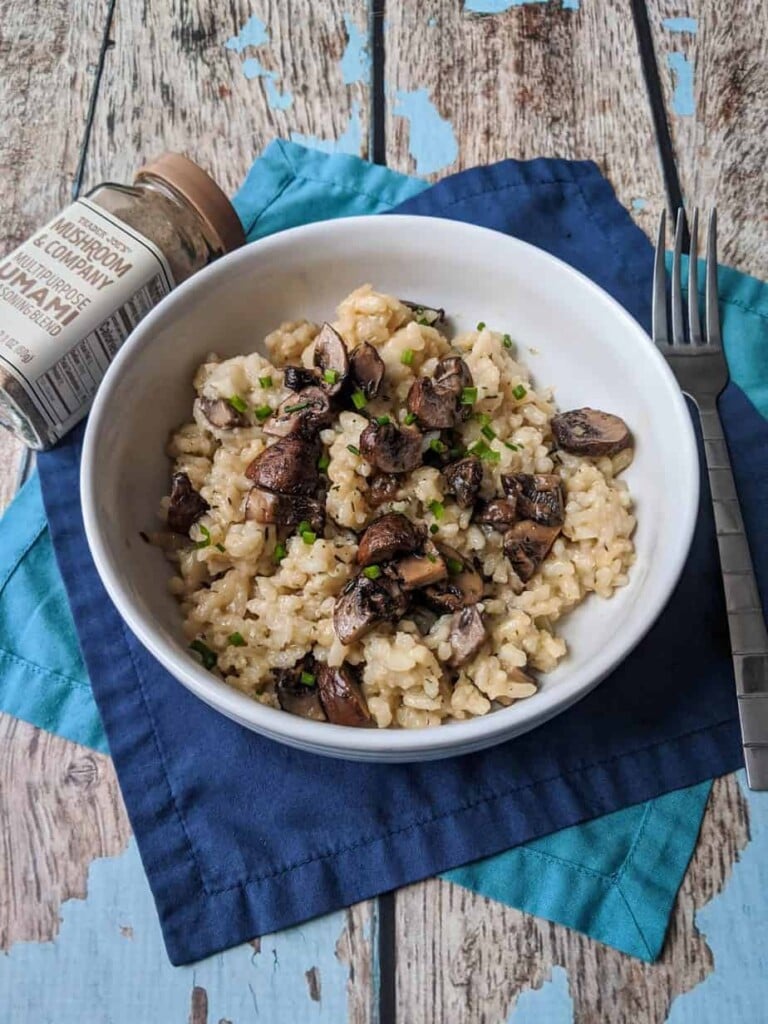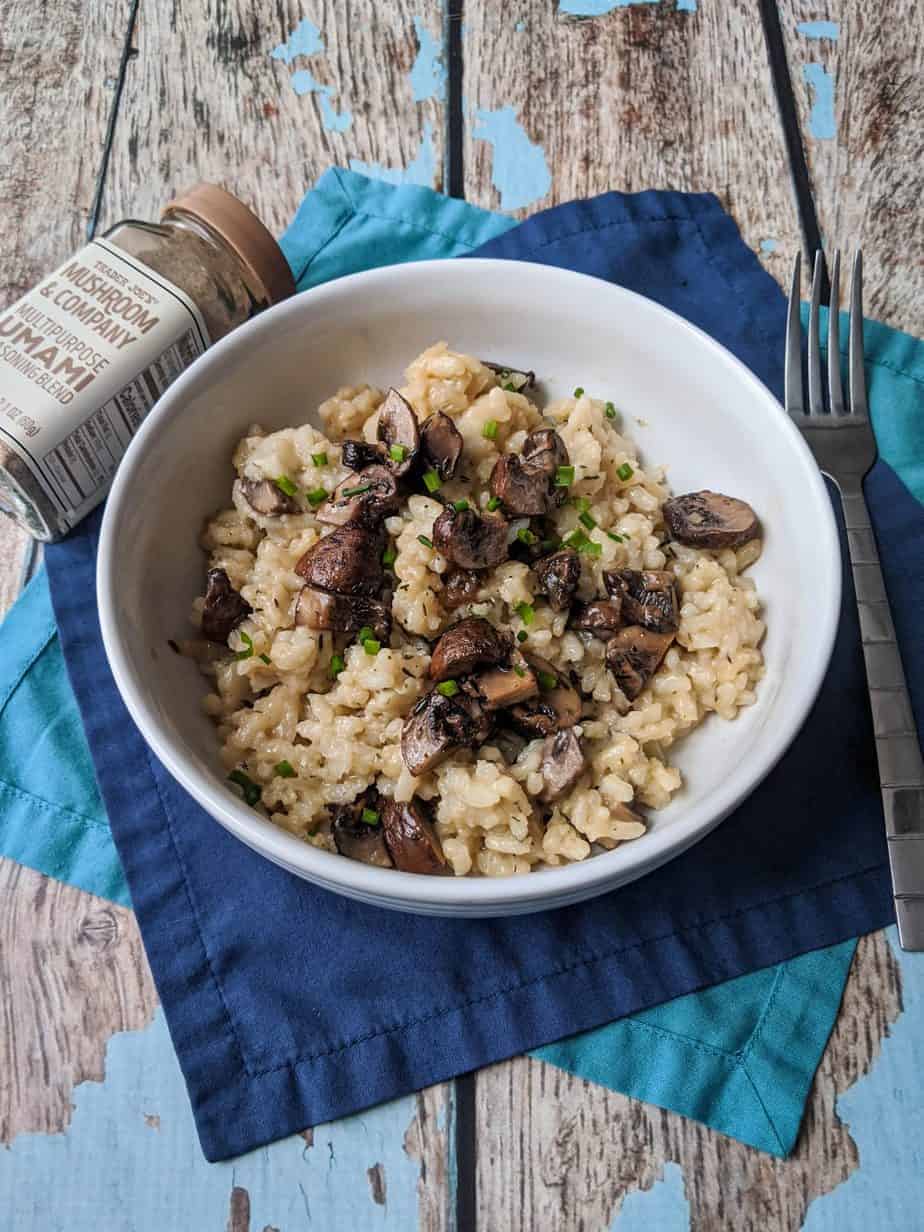 How does this all come together?
You'll start out by making a slightly scaled down version of my Garlic & Thyme Roasted Mushrooms that I've shared with you before. They're so so good. They're good on their own as a side, in a salad, and perfect in this risotto.
While those are roasting up, you'll get started on a pretty standard risotto. However, there is one small difference. Once the garlic and onions soften up in the butter and oil, you'll add dried thyme and some of the mushroom powder before proceeding.
You'll toast the Arborio rice up in the butter and oil before adding a little warm broth and stirring and stirring and stirring. Once the it is soaked up, you'll add more broth, stir stir stir, and repeat until the rice is just past al dente.
From there, you'll add the cheese and mushrooms, then garnish with chives. And you're done!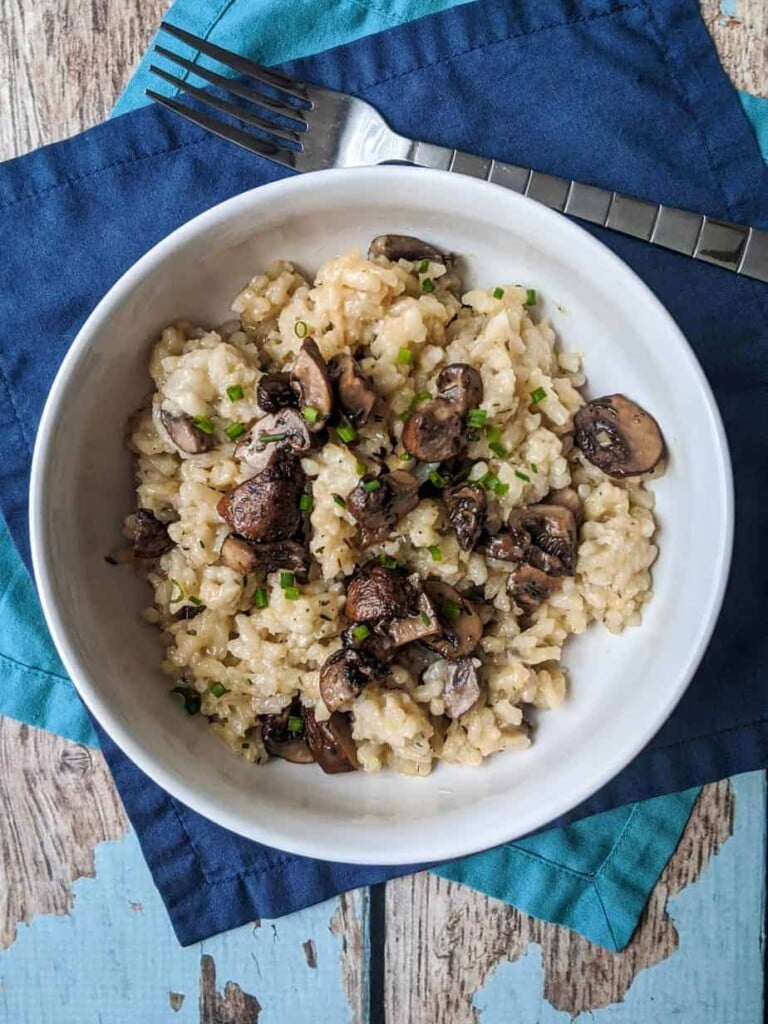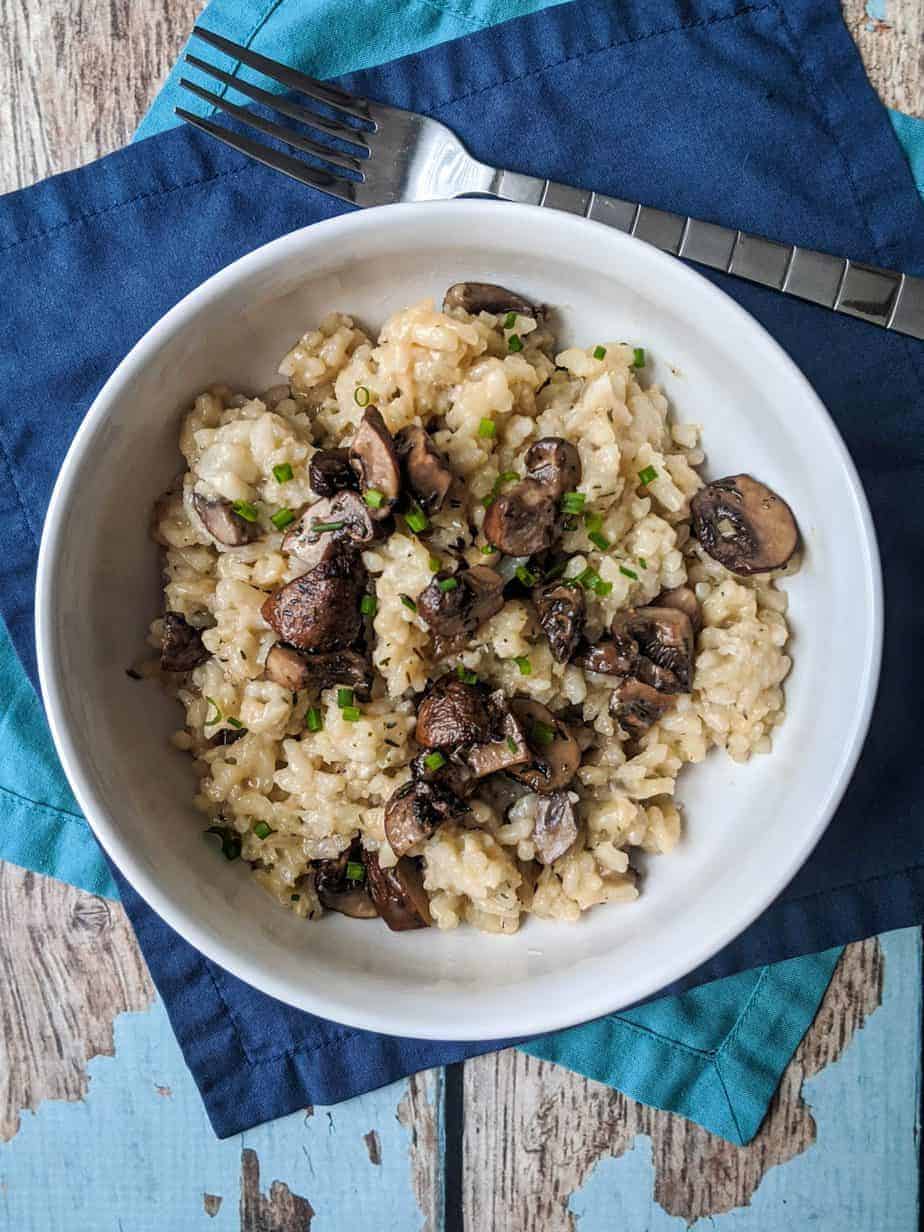 Looking for more risotto recipes?
You know that I have your back. Most of my risotto recipes are vegetarian or can be easily made vegetarian by using vegetable broth instead of chicken. I just usually have chicken broth in my pantry, which is why I tend to use it more often.
If you're leaning toward a vegetarian dish, check out my Sweet Corn Risotto with Roasted Cherry Tomatoes, Beet Risotto with Goat Cheese, Pumpkin Risotto, and Avocado and Corn Risotto!
Looking for something a little more meaty? I also have a great Beer, Cheddar, and Sausage Risotto recipe for you.
✨ Recipe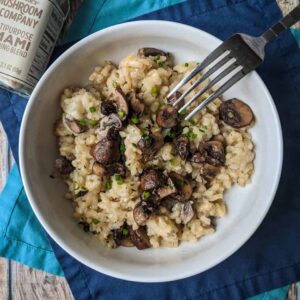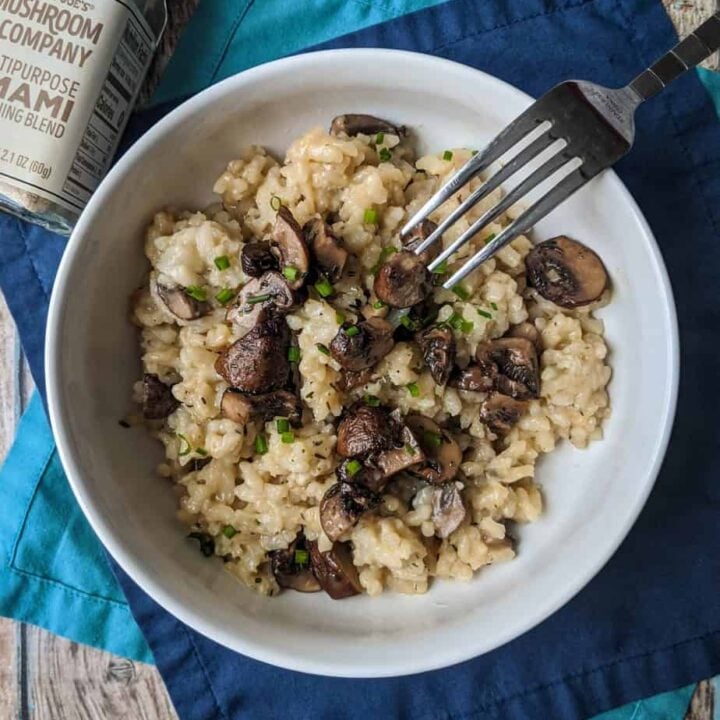 Mushroom Risotto
This Mushroom Risotto is delicious, full of rich flavors, and a perfect cold weather meal.
Ingredients
For the Roasted Mushrooms
16

oz

cremini mushrooms

1

tbs

olive oil

1.5

teaspoon

dried thyme

2

cloves

garlic

minced

kosher salt and pepper

to taste
For the Mushroom Risotto
5

cups

vegetable broth

1

tbs

olive oil

1

tbs

butter

2

cloves

garlic

minced

1

medium-sized onion

chopped

1

teaspoon

dried thyme

1.5

cups

Arborio rice

1

cup

parmesan cheese

kosher salt and black pepper

to taste

roasted mushrooms

from above

minced chives

for garnish (if desired)
Instructions
To make the Roasted Mushrooms
Preheat the oven to 400 degrees F. Line a baking sheet with foil and set aside.

Add the mushrooms to the prepared baking sheet. Drizzle with olive oil and sprinkle with dried thyme. Toss to coat.

Roast for 20 minutes, tossing around halfway through.

Sprinkle the minced garlic, salt, and pepper over the partially roasted mushrooms. Toss to combine.

Roast for 10 additional minutes.
To make the Mushroom Risotto
Heat the 5 cups of broth in a medium sauce pan over medium heat. Bring it to a simmer and then turn it to low.

In a heavy-bottomed pan or Dutch oven, heat the olive oil and butter until the butter melts. Add the garlic and onions. Sauté until the onions begin to become translucent.

Add the dried thyme and Mushroom & Company Multipurpose Umami Seasoning Blend to the pot. Stir to combine.

Add the Arborio rice and stir so that every grain gets coated in the olive oil and butter. Allow the rice to toast for a few minutes, stirring occasionally.

Turn the heat off under the broth, and add a couple of ladles to the rice. Stir occasionally until almost all of the liquid is absorbed. Repeat this process until the risotto is creamy and the rice is no longer al dente.

Add the Parmesan cheese, stirring until it has been incorporated. Add salt and pepper, to taste. 

Add the roasted mushrooms and stir to distribute them throughout the risotto.

Top the risotto with minced chives, if desired.



Nutrition
Serving:
1
Calories:
383
kcal
Carbohydrates:
38
g
Protein:
14
g
Fat:
21
g
Saturated Fat:
7
g
Polyunsaturated Fat:
12
g
Cholesterol:
29
mg
Sodium:
1638
mg
Fiber:
3
g
Sugar:
6
g
Disclaimer: Nutritional information is a generated estimate and is not guaranteed to be accurate.
What do I need to have on hand in order to make this?
Pin this recipe for later!