This creamy mushroom pasta is hearty without being too heavy, creamy, and just what you want at the end of a long day. Savory crispy mushrooms put this meatless dish over the top.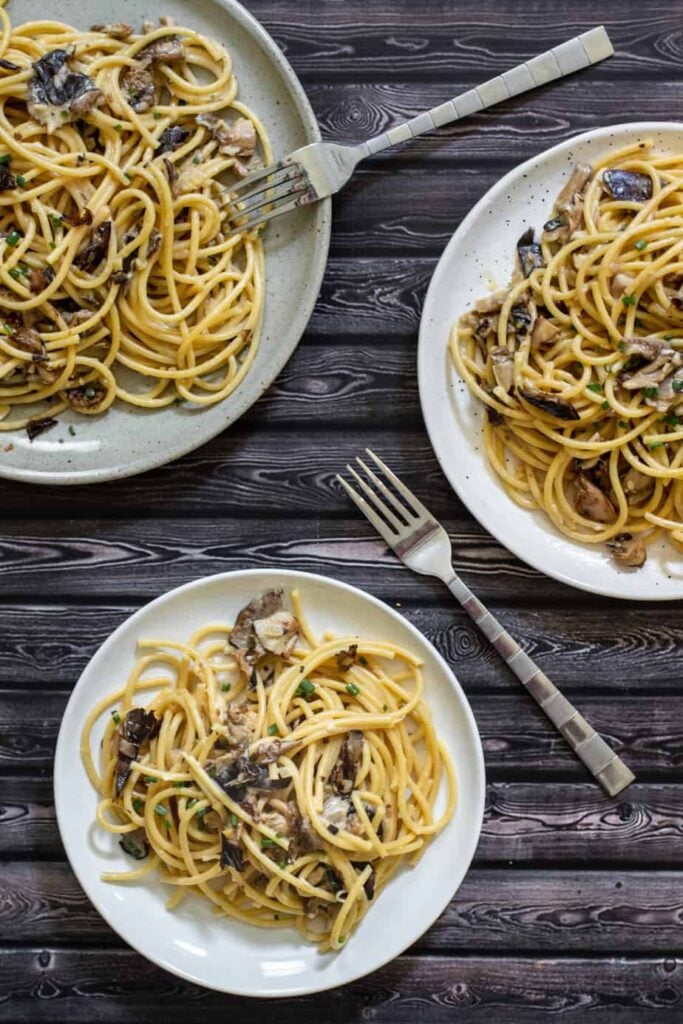 Jump to:
What kind of mushrooms should I use?
The short answer is: use whatever you like. The longer answer involves suggestions to use a variety of mushrooms, and maybe trying something new!
I used a mixture of blue oyster, shiitake, lion's mane, and cinnamon cap mushrooms for this pasta. I ordered a 4 quart mix from a local mushroom farm, Haw River Mushrooms. If you're in the Triangle area, I highly recommend that you check them out. If you're within a certain distance from the farm, they even deliver!
Anyway, if all you can get your hands on at the grocery store are some cremini mushrooms, or maybe some shiitakes, don't sweat it! Use those! This pasta will still be very tasty. But if you have access to a variety, use a few different kinds. It's really interesting how, even when the mushrooms are torn up into bite-sized pieces, the different varieties impart distinct textures and flavors. Plus, I just tend to think that the different kinds of mushrooms are sort of fun.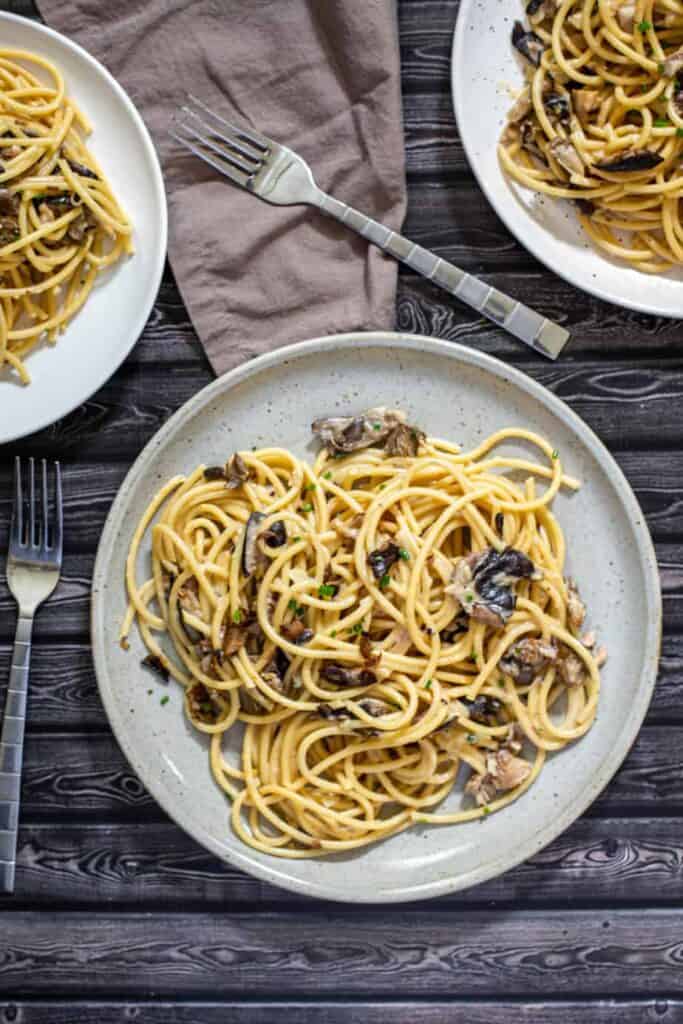 What goes into preparing this pasta?
You gotta crisp those mushrooms
This creamy mushroom pasta requires a few steps, but is well worth it. First, you need to crisp up your mushrooms. All you need to do is tear your (clean) mushrooms into bite-sized pieces with your (again, clean) fingers. Let them sizzle and crisp in some olive oil.
The key here is to let them sizzle for several minutes without disturbing them. I fully understand the desire to want to move the mushrooms around in the pan, the desire to keep them from burning. Trust in the process! Let the mushrooms sizzle in a single layer for like 3 minutes before moving them around a bit and letting them sizzle for a bit longer. You will be rewarded with crispy goodness.
And while we're at it, PLEASE do not skimp on the kosher salt once you've crisped your mushrooms. Salt is your friend.
Cook some long pasta
"Long pasta" sounds strange, I realize. But I'm just talking abut something like bucatini (fat spaghetti that's hollow), fettuccine, or regular old spaghetti. Whatever kind you cook, promise me that you'll do it in a pot of salty boiling water. Salt = flavor!
Shortly before the pasta is done, you want to reserve some of the starchy pasta water. Just scoop some out with a liquid measuring cup and set it aside.
Make dat sauce
This will involve all of the crispy mushrooms, a shallot, garlic, pasta water, pasta water, and half and half. Oh, lemon zest, lemon juice, chives, butter, and parm, too! The half and half, starchy water, butter, and parmesan cheese make the sauce creamy enough, while the lemon flavor really really cuts through the richness. Shallots, garlic, and chives bring some bright flavors, too.
All of these ingredients will get tossed around in the pan that you used to cook the mushrooms. I recommend using some tongs. It makes the sauce-making business a little easier, and is pretty convenient when it comes time to plate your pasta, too.
Your cooked pasta will be added back into the pan while you're making your sauce, too.
Eat!
Twirl some long pasta onto a plate or into a bowl, top with more chives and/or more parm, and dig on in to this delicious and creamy mushroom pasta.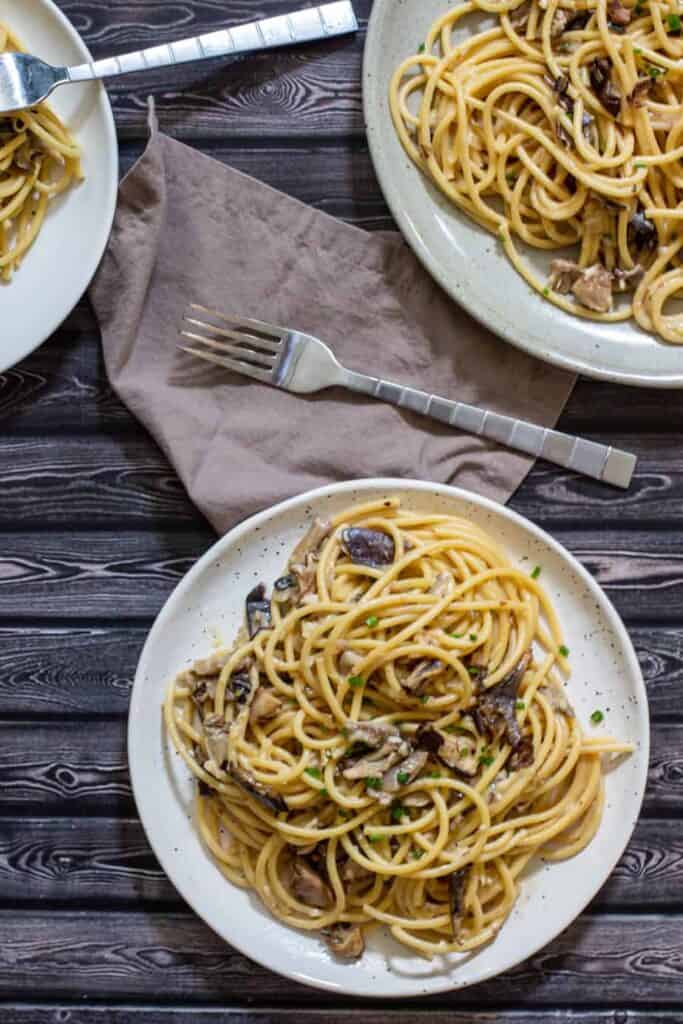 Looking for other mushroom-heavy recipes? Because I have some more!
What about other pasta recipes?
What inspired this recipe?
I took this recipe for Creamy Pasta with Crispy Mushrooms from Bon Appétit and riffed on it just a little bit.
✨ Recipe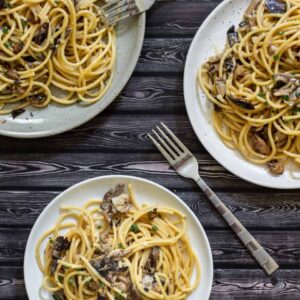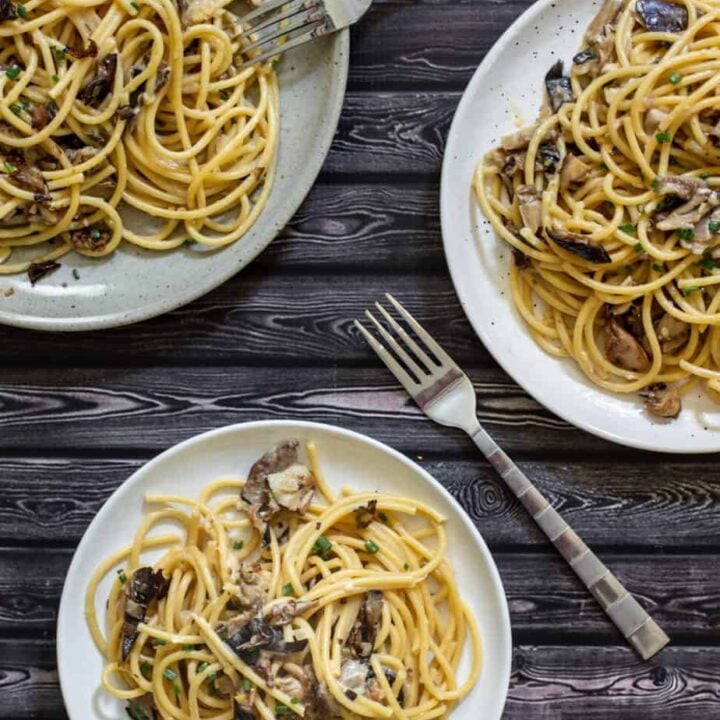 Creamy Bucatini with Crispy Mushrooms
This creamy mushroom pasta is hearty without being too heavy, creamy, and just what you want at the end of a long day. Savory crispy mushrooms put this meatless dish over the top.
Ingredients
4

tbs

olive oil

1

lb

assorted mushrooms

torn into bite-sized pieces (see notes)

kosher salt

1

shallot

or half onion, minced

2

cloves

garlic

minced

1

lb

bucatini

see notes

½

cup

half and half

¼

cup

fresh chives

minced (reserve some for garnish)

1

lemon

zested

½

lemon

juiced

2

tbs

unsalted butter

½

cup

parmesan cheese

shredded (plus more for garnish)

kosher salt and black pepper

to taste
Instructions
Heat 2 tablespoon of the olive oil in a large, heavy-bottomed pot over medium-high heat. Add half of the mushrooms and cook them in a single layer until the edges are brown and starting to crisp (about 3 minutes). Don't mess with them during this time. Let them cook undisturbed.

While the mushrooms are cooking, cook the bucatini in a large pot of salted water according to package directions. Toward the end of the cook time, reserve 1 cup of pasta water.

Toss the mushrooms and continue to cook them, tossing occasionally, until they are brown and crisp on all sides (3-5 additional minutes).

Transfer the crispy mushrooms to a plate using a slotted spoon and then season them with kosher salt. Repeat steps 1-3 with the remaining 2 tablespoon of oil, mushrooms, and salt.

Reduce the heat to medium-low and return all of the mushrooms to the pot. Add the shallot and garlic to the pot and cook, stirring often, until the shallot is translucent and softened and the garlic is fragrant (about 2 minutes).

Strain the pasta and add it to the pot with the mushrooms and add half and half and 1 cup of the pasta water. Turn the heat up to medium and bring everything o a simmer. Cook the pasta, tossing constantly, until the liquid has thickened slightly (about 3 minutes).

Remove the pot from heat. Add the lemon zest and juice, chives, butter, shredded parmesan cheese, and kosher salt and pepper, to taste, and toss everything to combine. Taste and season again, if needed.

Divide the pasta among plates or bowls and top with more chives and parmesan cheese, if desired.
Notes
I used a combination of blue oyster, shiitake, lion's mane, and cinnamon cap mushrooms.
I've made this using dried bucatini and fresh fettuccine pastas. Both are lovely. You could also use spaghetti if that's what you have on hand.
Nutrition
Serving:
1
Calories:
465
kcal
Carbohydrates:
46
g
Protein:
14
g
Fat:
26
g
Saturated Fat:
10
g
Polyunsaturated Fat:
16
g
Cholesterol:
33
mg
Sodium:
489
mg
Fiber:
5
g
Sugar:
6
g
Disclaimer: Nutritional information is a generated estimate and is not guaranteed to be accurate.
What gear should I have on hand to make this?
Pin this recipe for later!