This Broccoli Pesto is bright in color and flavor. Fresh broccoli adds some volume and nutritional value to traditional pesto sauce. Toss it with pasta or eat it as a dip!
It's delicious in its own right (which for me is reason enough to make this pasta) but you can also use it to sneakily boost the vitamin content of your dinner.
Need to sneak some veggies into an otherwise veggie-averse individual? This pasta sauce may be JUST what you need. It tastes almost just like regular pesto (which is to say "delicious"!). Make this and no one will be the wiser.
If you need to be convinced further, my husband and 13-month-old devoured this pasta.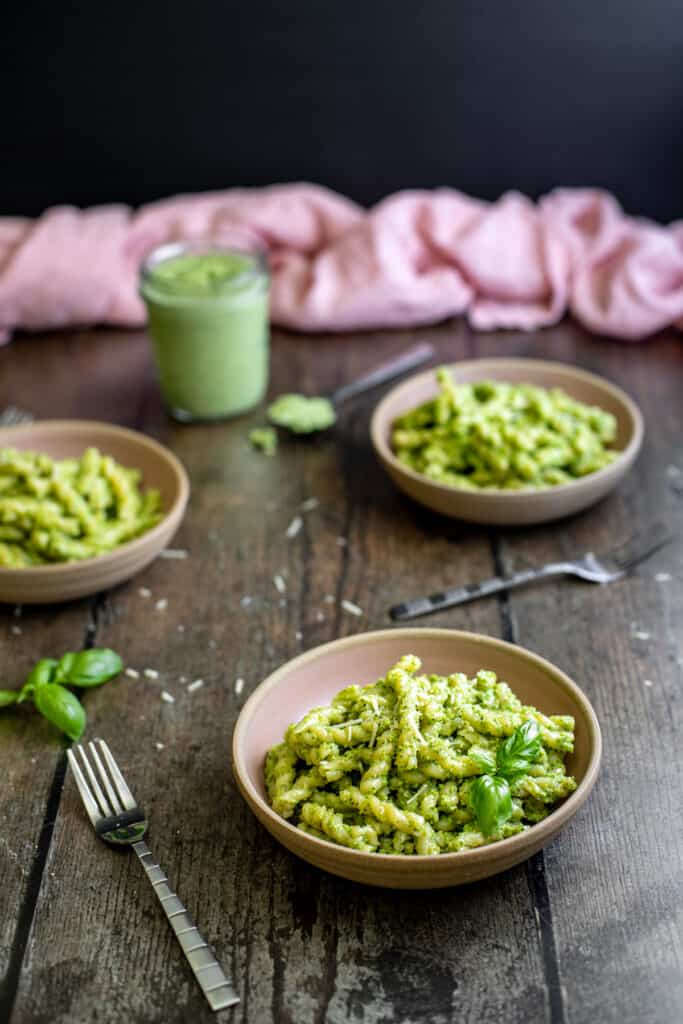 Jump to:
How is broccoli pesto different than regular pesto?
Pesto (or pesto alla genovese) is a traditional Italian sauce that hails from the city of Genoa. It's traditionally made with basil, pine nuts, garlic, salt, parmesan cheese, and olive oil.
Broccoli pesto keeps all of the traditional ingredients and adds (you guessed it) fresh broccoli to the mix. That and a little salty, starchy water from your pasta.
Why make pesto with broccoli?
Personally, I don't find the flavor of broccoli to be terribly prominent. Not that I don't love broccoli, so it wouldn't be a problem even if it was. BUT I say this because you might be able to use this recipe to sneak some vegetables into the vegetable-averse individuals in your life.
The broccoli makes the pesto a lighter, brighter shade of green (very pretty!) and just generally provides bulk to the sauce. It's a bit looser than traditional pesto, and is really ideal for easily tossing with pasta.
What ingredients go into broccoli pesto?
Check 'em out in the photo and bulleted list below.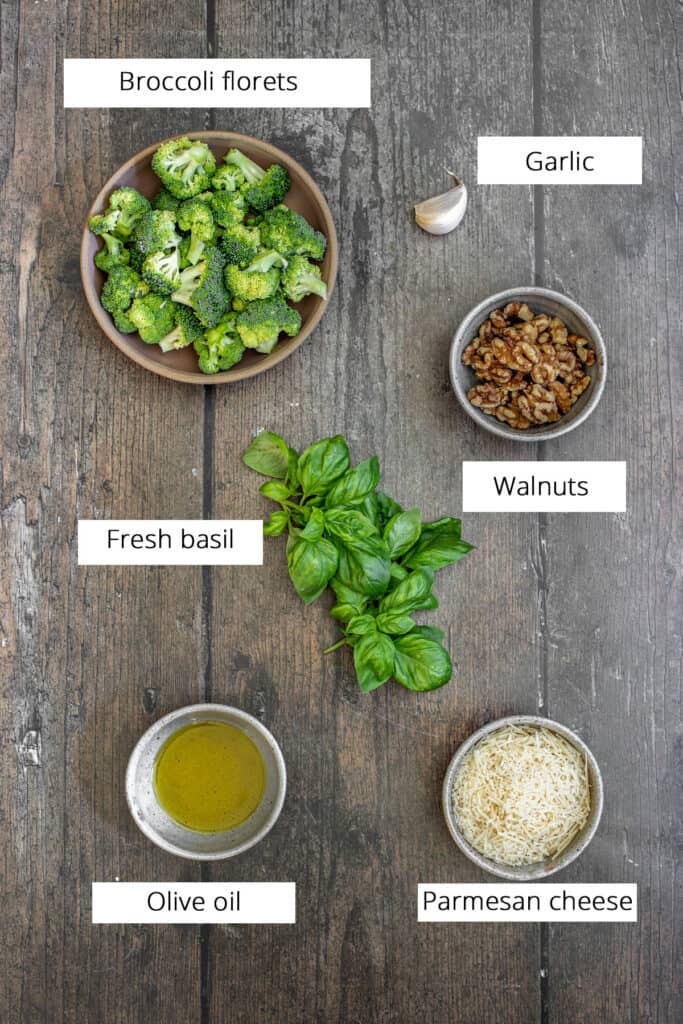 Broccoli: This recipe calls for fresh broccoli florets. You can buy the pre-chopped stuff or buy stalks of broccoli and cut your own florets depending your preference.
Basil: There's no substitute for fresh basil here. If you're lucky enough to have a garden, this is a great way to use up some of summer's bounty.
Garlic: Just one clove of garlic.
Nuts: I used walnuts in my broccoli pesto, but you can use a variety of nuts, depending on what you prefer and/or have on hand. Pine nuts are the traditional option, but I've also used pecans with great success. Regardless of what you use, make sure to toast them lightly beforehand. If you need to go nut-free, you can do that, too!
Olive oil: Use a decent to good quality extra virgin olive oil.
Cheese: There's nothing like parmesan cheese in pesto. Sure, you can riff a bit and use something like Romano or Pecorino, too. Use nutritional yeast if you need to go cheese-free.
Salt and pepper (not pictured): I blanked and forgot to include freshly cracked black pepper and kosher salt in the photo, but they're important ingredients!
Pasta (not pictured): You can use whatever pasta shape floats your boat. I'm (most often) a short cut pasta kind of gal when it comes to pesto. I used some gemelli for this recipe.
Pasta water (not pictured): When your pasta is just about done, you'll want to scoop out about a half cup (a little more is fine) of starchy pasta water and use that to thin out the pesto.
Looking for other pasta recipes?
If we want to talk about other traditional Italian sauces, look no further than this Bucatini Cacio e Pepe or Bucatini all'Amatriciana! Here's some Risotto Cacio e Pepe, too.
If we're going a little less traditional (but no less delicious), might I suggest a creamy pasta with crispy mushrooms? Check out my Pumpkin and Sausage Pasta Bake, too!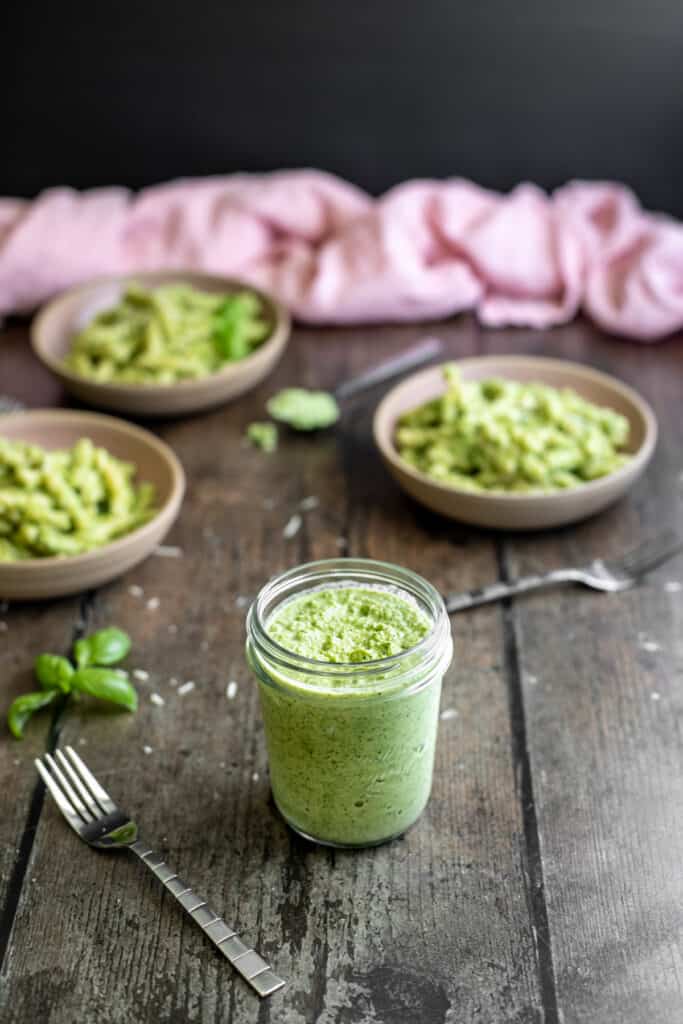 Frequently asked questions
What kind of nuts should I use? Do I have to use nuts at all?
You can use pine nuts, walnuts, pecans, cashews... whatever floats your boat! Though I probably wouldn't use peanuts here. You can also omit the nuts entirely if desired.
What kind of cheese should I use?
Parmesan is traditional (and preferred here), but Romano or Pecorino would be nice alternatives. If you can't or don't want to have dairy, nutritional yeast is an option, too.
Can you freeze broccoli pesto?
Sure can! Pop it in a Mason jar, cover the surface with some olive oil to prevent browning, and stash it in the freezer.
How should I use this pesto?
I'd recommend using it as a pasta sauce. BUT you can also throw it into some risotto or even use it as a dip.
Is broccoli pesto healthy?
Healthy...ish? Maybe? You definitely have the broccoli going for you, health-wise, in this recipe. But it's still full of olive oil and cheese. <shrug> So I'd say it's probably a little better for you than traditional pesto, but it's not strictly health food, by any means.
✨ Recipe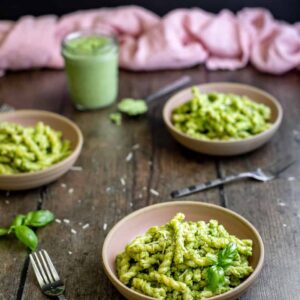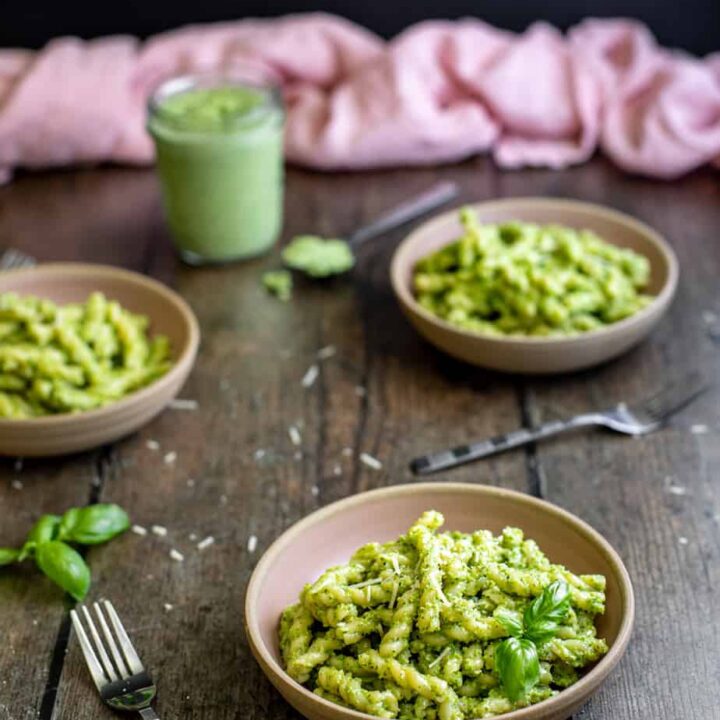 Broccoli Pesto Pasta
This Broccoli Pesto is bright in color and flavor. Fresh broccoli adds some volume and nutritional value to traditional pesto sauce. Toss it with pasta or eat it as a dip!
Ingredients
½

lb

broccoli florets

1

lb

pasta

1

cup

fresh basil

1

clove

garlic

¼

cup

walnuts

toasted (see notes)

⅓

cup

parmesan cheese

grated (see notes)

⅓

cup

olive oil

½

cup

starchy pasta water

see notes

kosher salt and freshly ground black pepper

to taste
Instructions
Bring a large pot of water to a boil. Salt it pretty liberally.

Add the broccoli florets to the boiling water and cook for 2 minutes. Scoop the broccoli out of the water and into a colander, then run cold water over the broccoli to stop the cooking. DO NOT drain the cooking water.

Return the water to a boil, if needed, and add the pasta to the water. Cook according to package directions.

Just prior to the pasta being done, scoop ½ cup of starchy pasta water out and set it aside. Drain the pasta and set aside.

Put the cooked broccoli, basil, garlic, walnuts, and cheese into the bowl of a food processor or blender. Pulse until everything is finely chopped. Scrape down the sides of the bowl.

Turn the food processor on again, and stream the olive oil in.

Slowly stream some of the starchy pasta water into the pesto until you have reached your desired consistency.

Season with kosher salt and black pepper to taste.

Toss with the cooked pasta and enjoy.
Notes
You can use various nuts (pecans, pine nuts, etc.) if you don't enjoy walnuts. Or omit the nuts entirely if you want to.
You can use Pecorino or Romano instead of parmesan. Alternately, use nutritional yeast if dairy isn't your jam.
It won't hurt if you scoop more than ½ cup of the pasta water. You may not use all of it, either.
Nutrition
Serving:
1
Calories:
307
kcal
Carbohydrates:
31
g
Protein:
8
g
Fat:
17
g
Saturated Fat:
3
g
Polyunsaturated Fat:
13
g
Cholesterol:
5
mg
Sodium:
167
mg
Fiber:
3
g
Sugar:
1
g
Disclaimer: Nutritional information is a generated estimate and is not guaranteed to be accurate.
What equipment should I have to make this pesto?
Pin this recipe for later!