Last Updated on February 20, 2021 by laurenpacek
This Pasta all'Amatriciana takes me right back to our trip to Italy. I can vividly remember sitting across from Sean in a small Roman restaurant, eating this pasta.
This is one of the things that I really love about food. Sure, at its most basic, food fuels us and can be quite delicious. But it can also function as a time machine, transporting you to treasured memories past.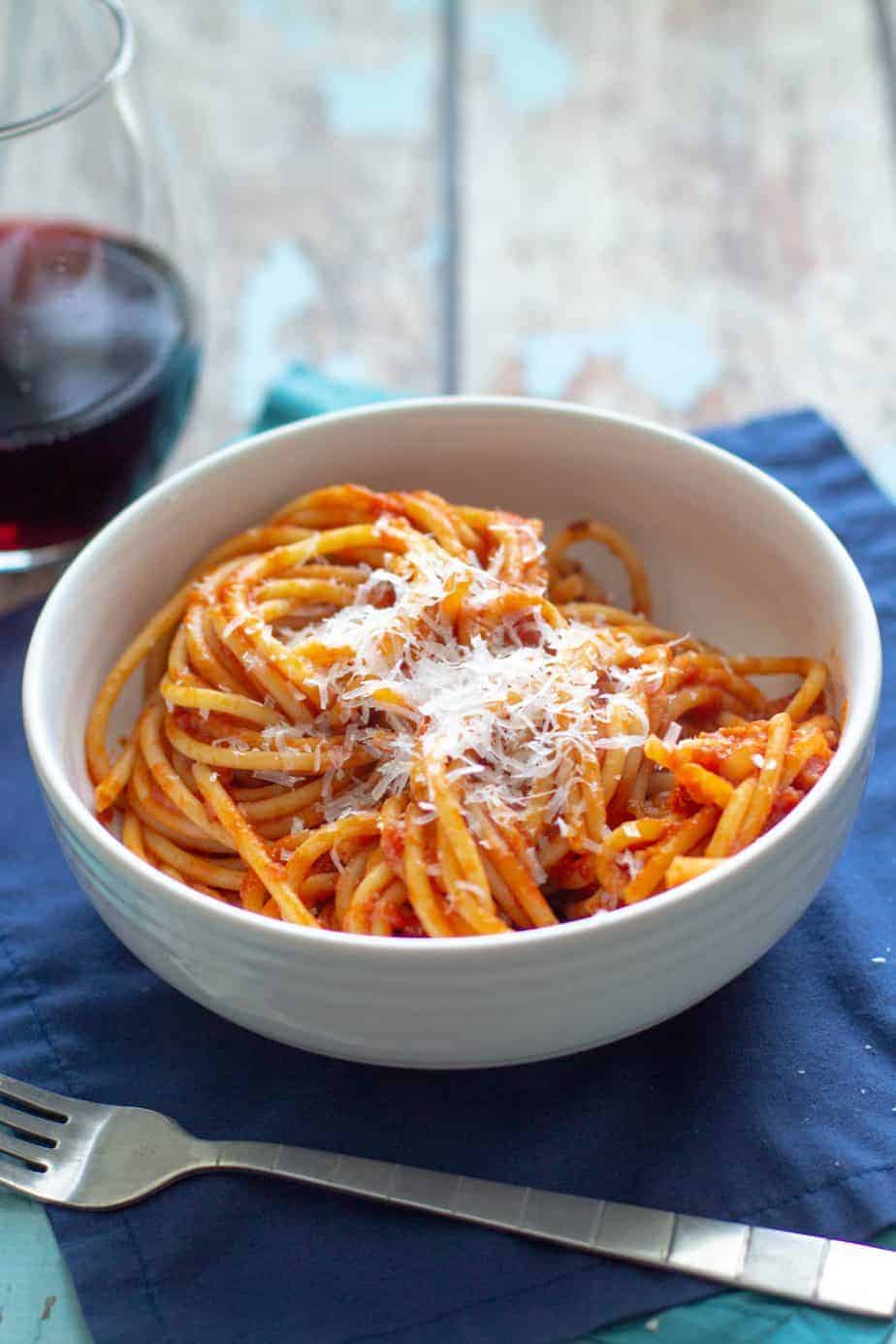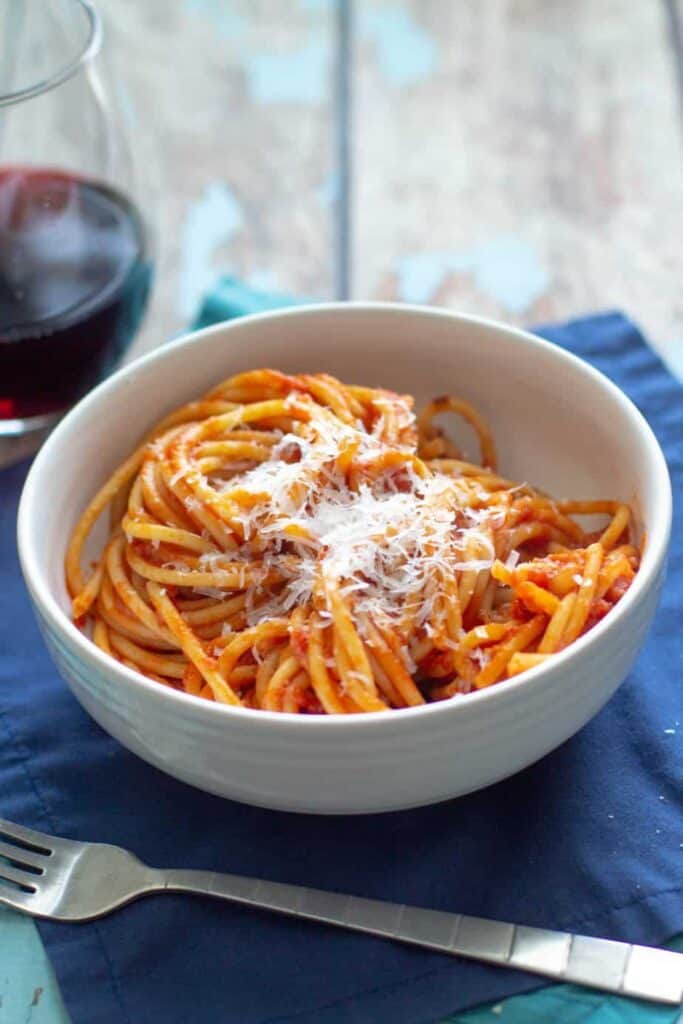 After seeing photos pop up on my Facebook feed during the 1-year anniversary of our trip to Rome and Florence in mid-March (click the links to see pictures!), I got to thinking about how I hadn't really drawn on any culinary inspiration from our trip and applied it to my own cooking. This must change.
Enter: Pasta all'Amatriciana. It sounds fancy (and can be a little tough to say), but is actually really simple to make. Sauté some guanciale or pancetta (I used pancetta) in olive oil, add some spices, then add crushed tomatoes and simmer for a bit. That's basically it. All that's left is to cook some pasta, toss it with the sauce, and top generously with cheese.
I have plans to make some other classic Italian pasta and sauce combinations, as well as an idea about basil and honey ice cream that's based on some amazing gelato that I ate in Rome. Stay tuned!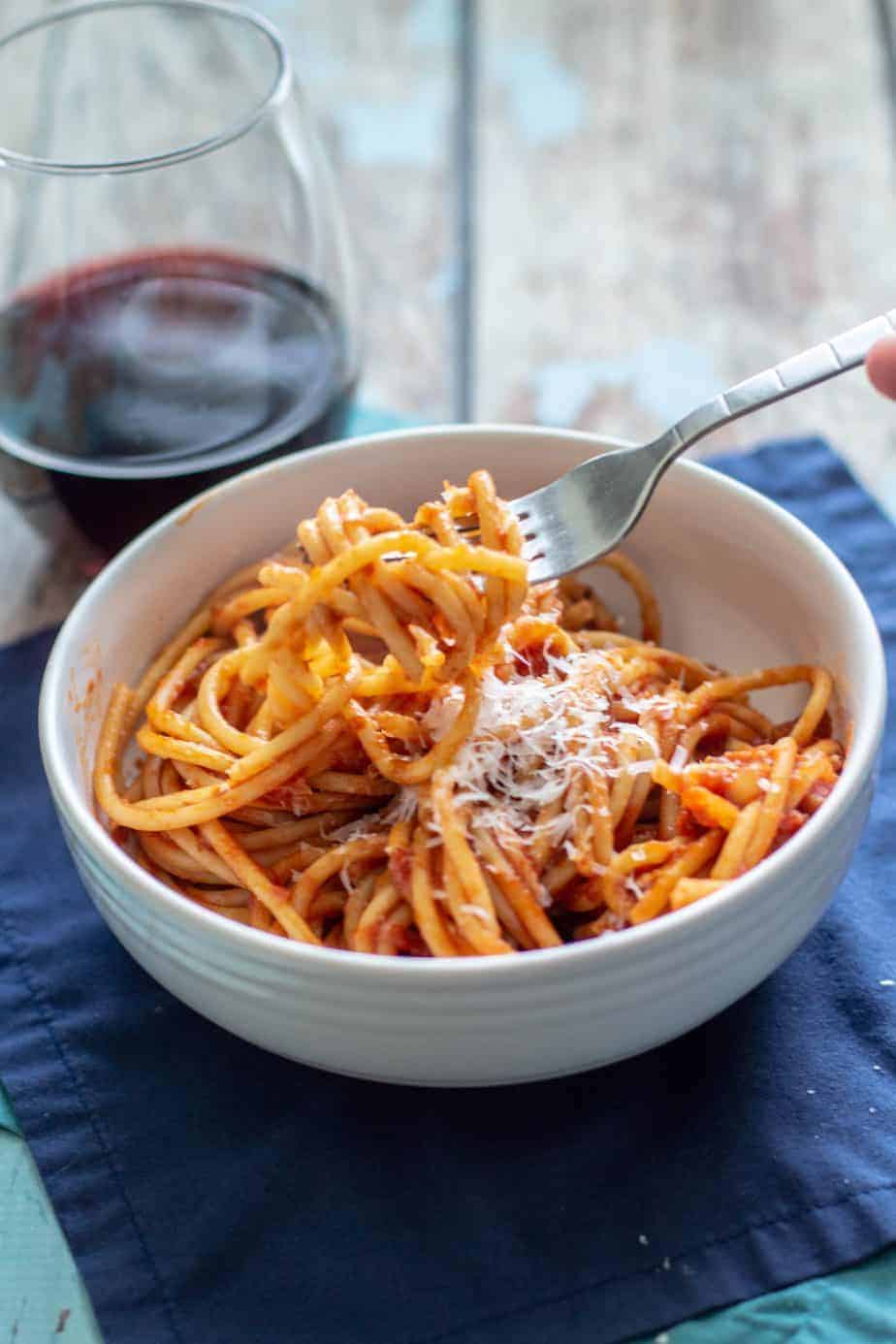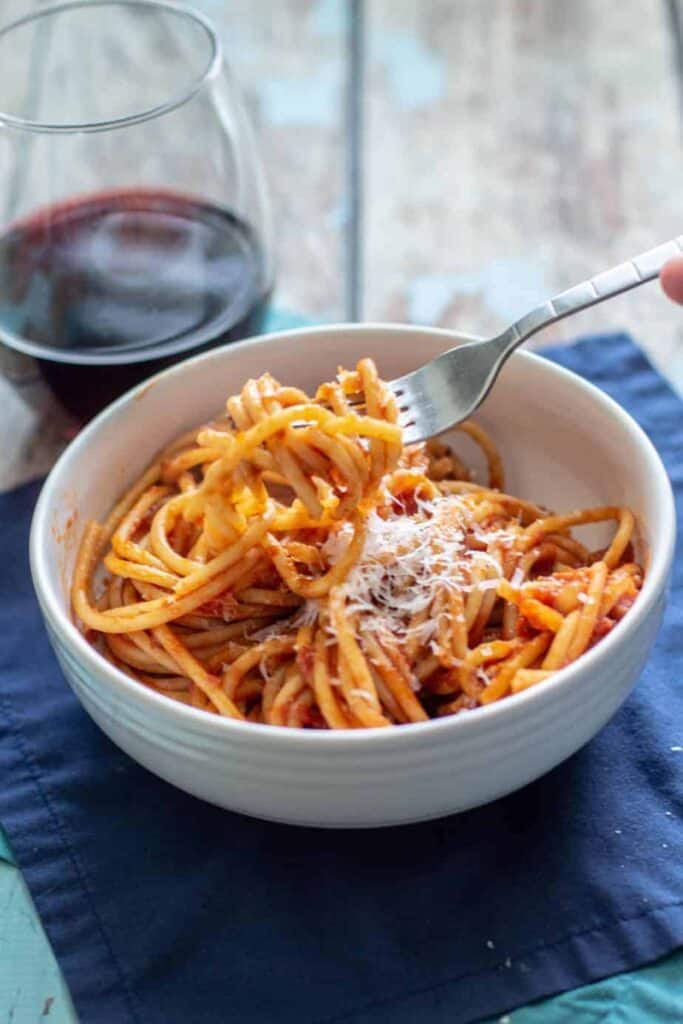 This recipe comes from Bon Appétit.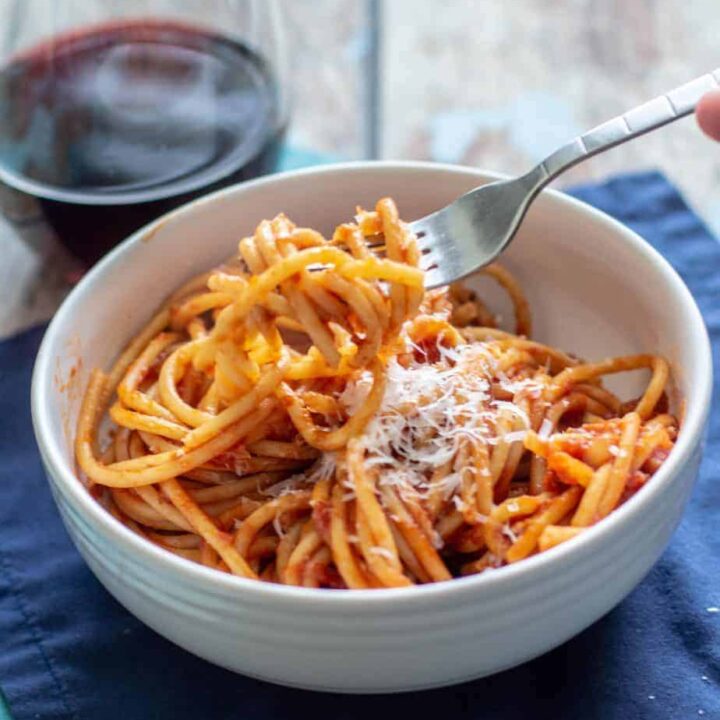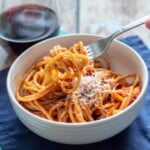 Pasta all'Amatriciana
Ingredients
2

tbs

extra virgin olive oil

4

oz

guanciale, pancetta, or unsmoked bacon,

diced

½

tsp

crushed red pepper flakes

½

tsp

black pepper,

freshly ground

1

small

onion,

minced

2

cloves

garlic,

minced

28

oz

crushed tomatoes

kosher salt,

to taste

12

oz

dried bucatini or spaghetti

¼

cup

Pecorino Romano,

finely grated
Instructions
Heat the oil in a large heavy skillet over medium heat. Add guanciale/pancetta/bacon and sauté until crisp and golden.

Add the red pepper flakes and black pepper, stirring to combine. Add the onion and garlic. Cook, stirring often, until the onions are soft.

Add the crushed tomatoes and reduce the heat to low. Cook, stirring occasionally, until the sauce thickens (15-20 minutes).

While the pasta sauce simmers, bring a large pot of water to a boil. Season the water with salt. Add the pasta and cook, stirring occasionally, until 2 minutes before al dente.

Reserve 1 cup of pasta cooking water. Drain the pasta.

Add the drained pasta to the sauce in the skillet and toss vigorously with tongs to coat.

Add about ½ cup of the reserved pasta water and cook until the sauce coats the pasta and the pasta is al dente, about 2 minutes. You can add a little more pasta water if the sauce is too dry.

Transfer the pasta to bowls and top with cheese.