Risotto Cacio e Pepe tastes just like the classic pasta dish, but with risotto rice instead of the pasta. It's creamy, peppery, and entirely delicious. Close your eyes, take a bite, and you'll swear that you're in Rome.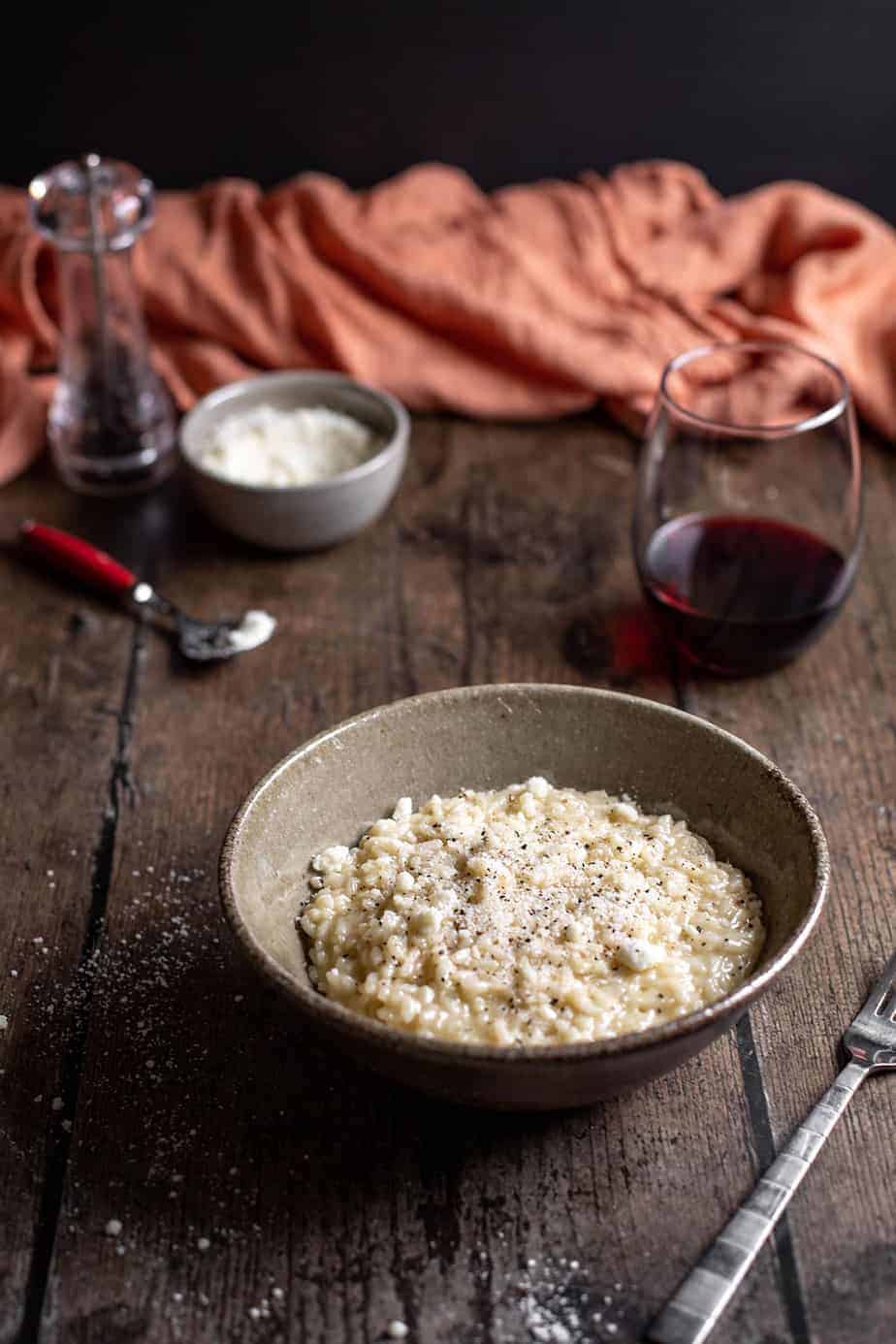 Jump to:
What does "cacio e pepe" mean?
Basically, in Italian, "cacio e pepe" means "cheese and pepper".
Cacio = cheese
e = and
Pepe = pepper
Cacio e pepe--hailing from Rome, Italy--is traditionally made as a pasta dish, usually with spaghetti or tonnarelli pasta. I've made it with bucatini, too. We'll talk about the specific ingredients for this risotto in just a minute, but in addition to pasta, the traditional recipe uses Pecorino Romano cheese (and some parmesan), black pepper, and some starchy pasta water to bind everything together. And that's it!
Why turn a pasta dish into risotto?
Why not??
I really love risotto, for one thing. It's creamy and comforting to eat, and there's something about all the stirring that goes into preparing it that I find really soothing.
PLUS when I saw Masala and Chie with Shweta posting an orzo cacio e pepe, a lightbulb went off. I knew I could turn this classic pasta dish into a risotto. And I did! And I'm not sorry about it at all.
What ingredients go into this risotto?
Just a handful of very good ones. I tried to keep things as true to the original pasta recipe as possible. Let's walk through them!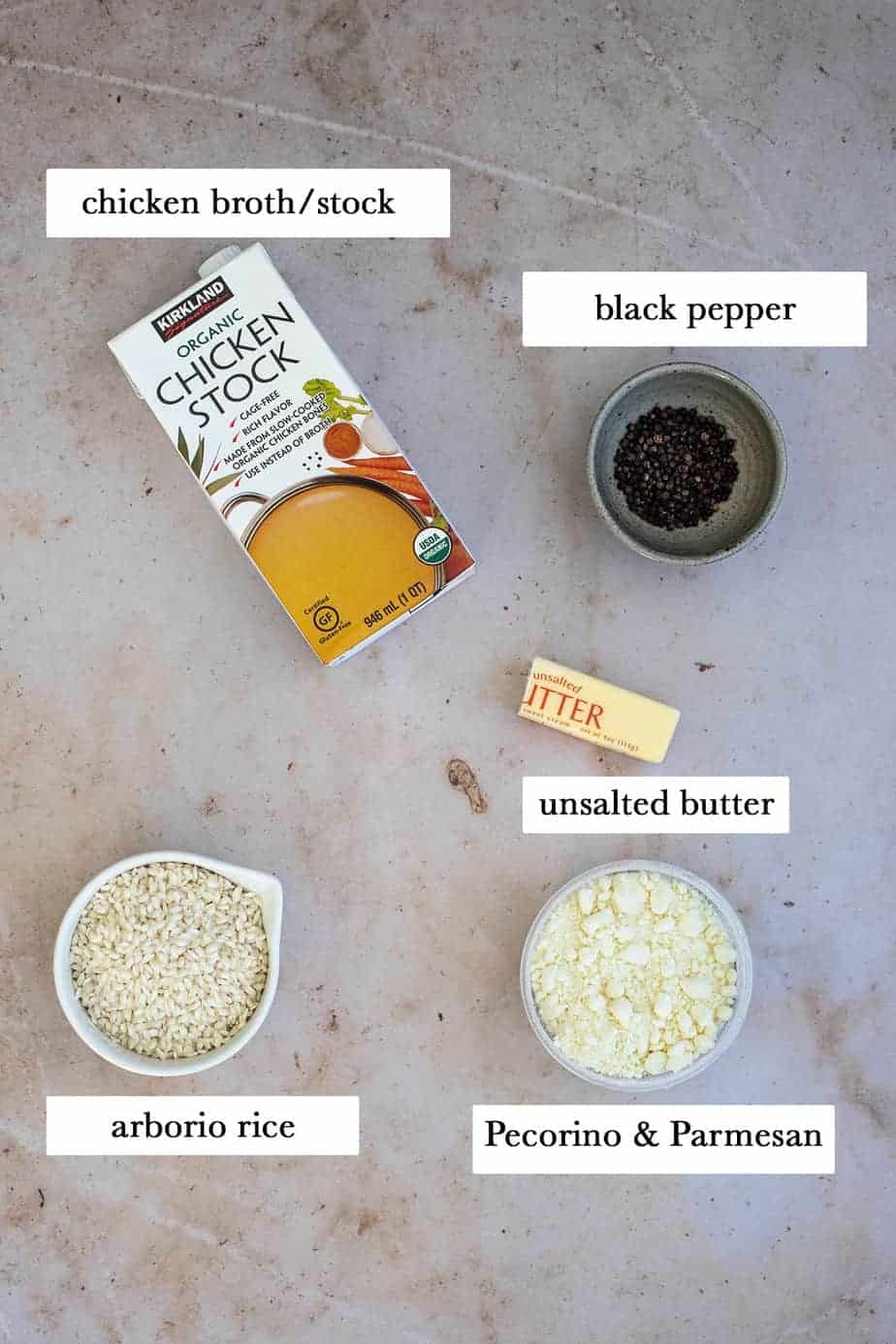 Chicken broth: I always have chicken/broth stock on hand, and no one in my house is vegetarian or vegan, so this is what I always use when making risotto. But should you prefer to use vegetable broth/stock, this would work very well, too.
Unsalted butter: You'll use the butter at the very beginning and the end of this recipe. Using unsalted butter gives you more control over the saltiness of the dish.
Rice: Arborio (what I used), carnaroli, or vialone nano would all work well here.
Pecorino and Parmesan cheeses: Cacio = cheese, so these cheeses are key. Pecorino, especially, contributes the recognizable flavor of this dish. Try to find cheeses that are finely grated, or grate them finely yourself.
Black pepper: Pepe = pepper. Another vital ingredient. Freshly ground black pepper will work best.
Kosher salt (not pictured, oops): My b. You'll also season your risotto with some kosher salt, to taste.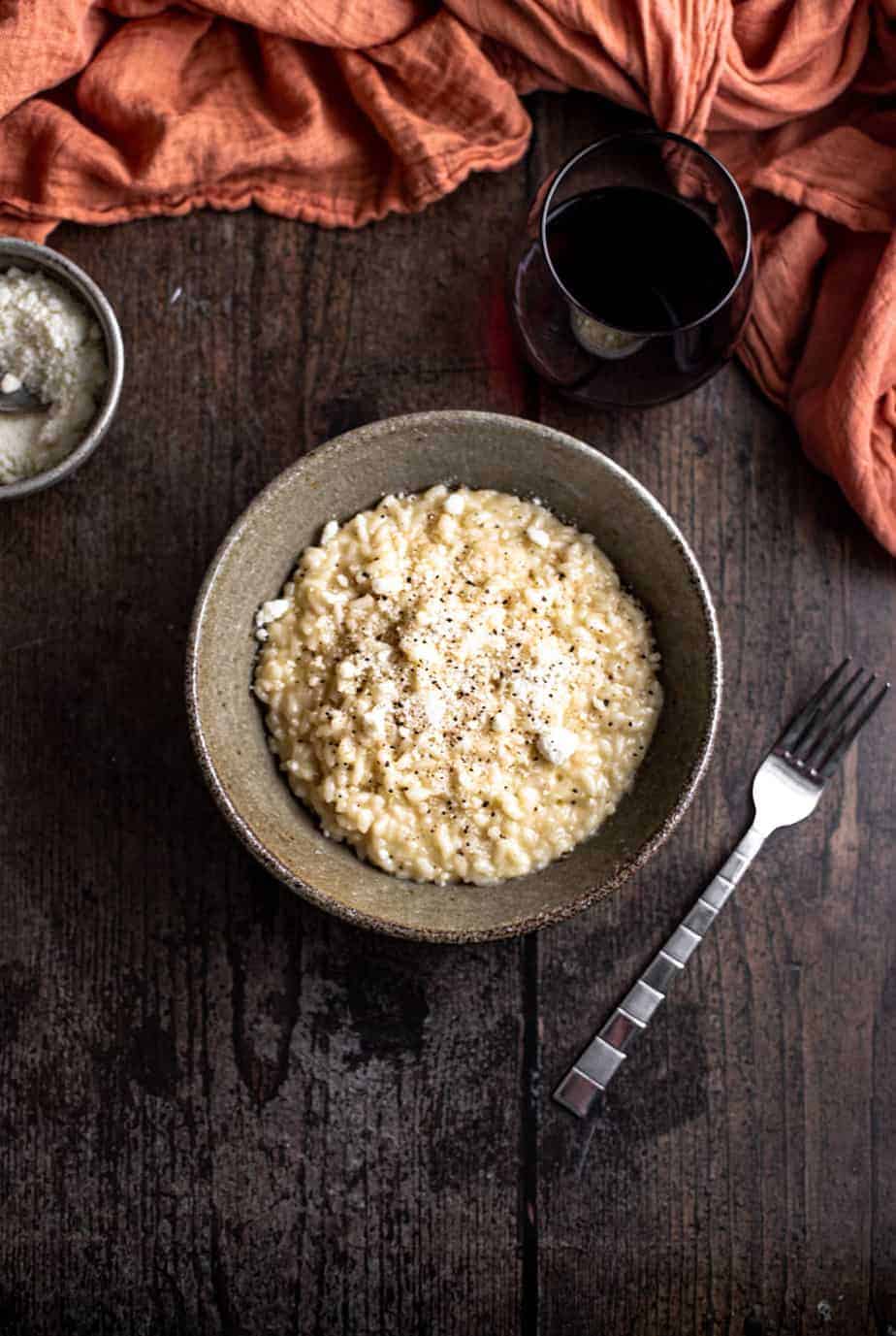 How does this risotto come together?
In many ways, it comes together in exactly the same way that any other risotto would. However, in the interest of staying as true to the classic cacio e pepe recipe, I've omitted a few ingredients that I'd normally include in a risotto.
To start, butter is melted in a heavy-bottomed pot and risotto rice is toasted in that melted butter. Warmed stock is added to the rice a few ladles at a time, with lots of stirring. It's crucial that the stock be warm, otherwise it will really slow down your cooking time.
Once the rice has absorbed all of the stock, you can go ahead and add the cheeses and freshly ground black pepper. Don't forget some kosher salt and a knob of butter to finish the risotto, too!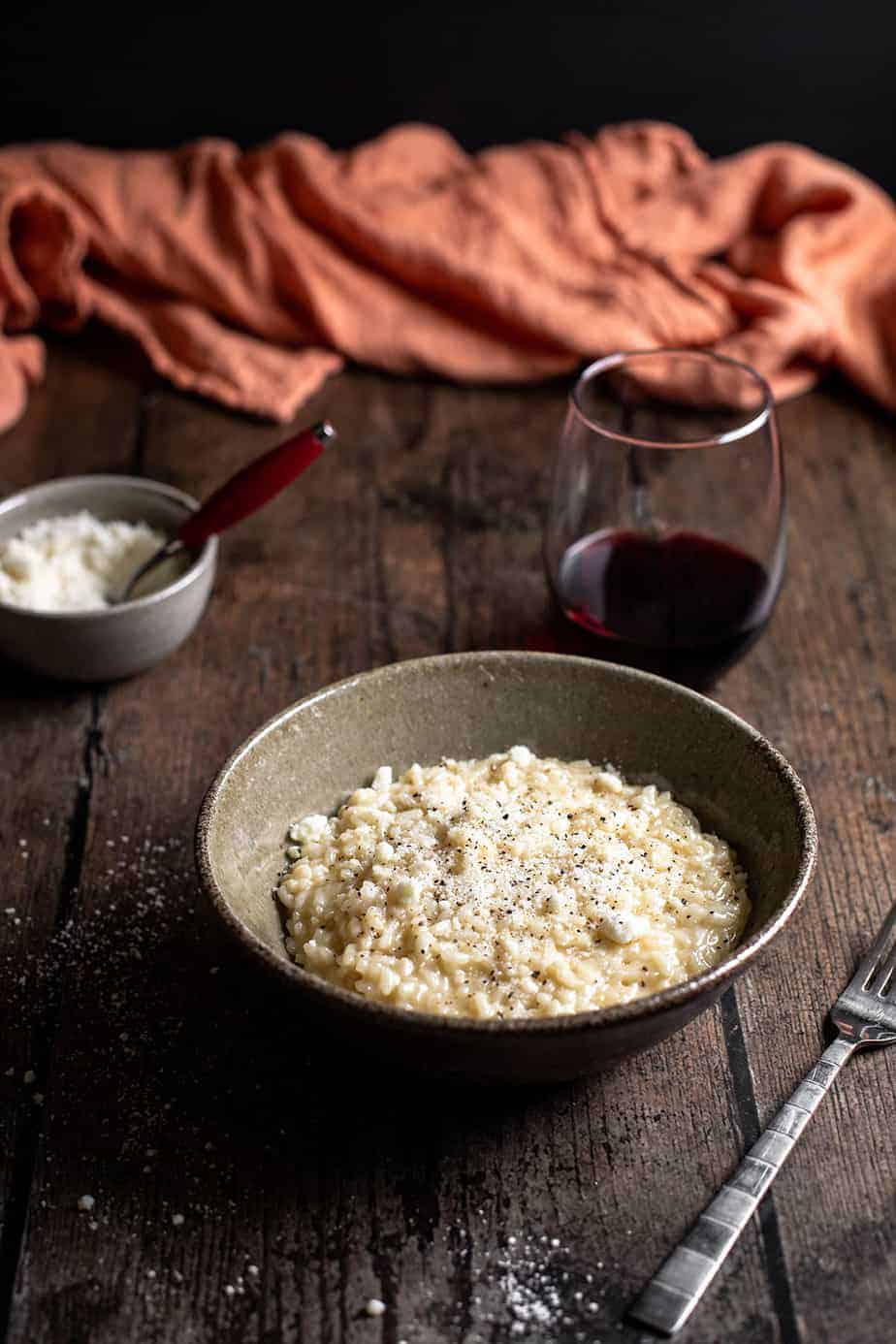 Looking for other related recipes?
As mentioned up above, I shared traditional Cacio e Pepe pasta with y'all before. It's so simple and so so good.
I've also shared more than a few risotto recipes. Check out my Mushroom Risotto, Butternut Squash Risotto, and Beet Risotto with Goat Cheese for a few examples!
✨ Recipe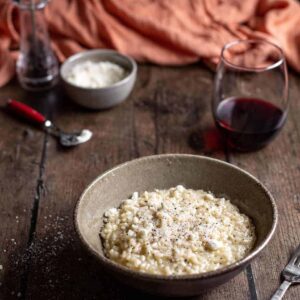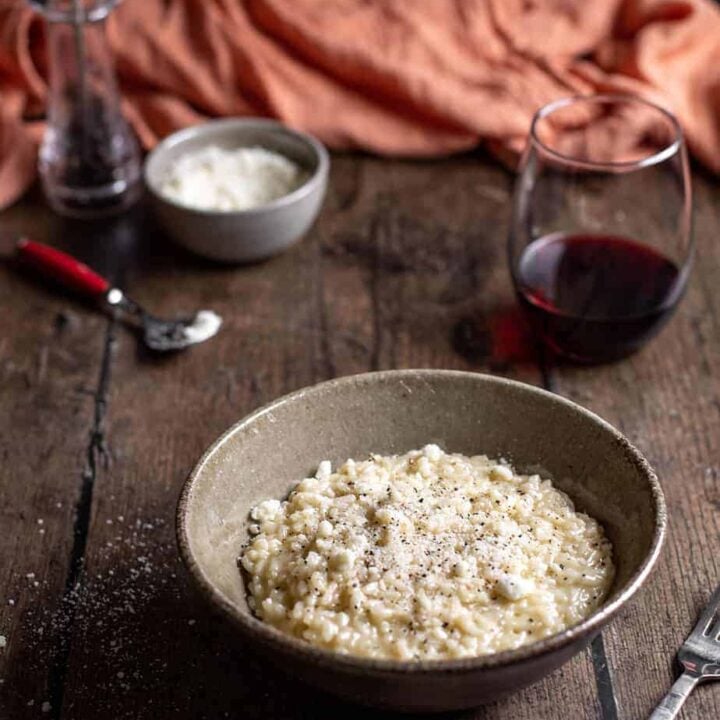 Risotto Cacio e Pepe
Risotto Cacio e Pepe tastes just like the classic pasta dish, but with risotto rice instead of the pasta. It's creamy, peppery, and entirely delicious. Close your eyes, take a bite, and you'll swear that you're in Rome.
Ingredients
5

cups

chicken broth

see notes

3

tablespoon

unsalted butter

divided

1 ½

cups

Arborio rice

see notes

1

cup

Pecorino cheese

finely grated

½

cup

Parmesan cheese

finely grated

1-2

teaspoon

black pepper

freshly ground

kosher salt

to taste
Instructions
In a medium-sized saucepan, bring the broth to a simmer. Turn the heat down to low.

Add 2 tablespoon butter to a heavy-bottomed pot over medium heat. Allow the butter to melt.

Add the Arborio rice to the melted butter, stirring it around so that every grain of rice is coated in the butter. Stirring often, allow the rice to toast a bit. You'll notice that the exterior of the grains of rice become translucent, while the interior remains white.

A couple of ladles at a time, add the warmed broth to the rice. Stir constantly. Once the liquid has been absorbed, add another couple of ladles. More stirring. Repeat this until most or all of the liquid had been incorporated and absorbed, and the rice has a nice tender bite to it. You may not use all of the broth.

Turn off the heat and add both of the cheeses to the rice. Stir until they have melted and are incorporated throughout.

Add the black pepper and kosher salt, stirring to incorporate, as well. Taste and adjust seasonings as necessary.

Just before serving, add the remaining 1 tablespoon of butter to the risotto, allow it to melt, and stir it throughout.
Notes
I always have chicken stock on hand, so that's what I tend to use for risotto. If you'd like to make this vegetarian, you can opt for vegetable stock
Also, related to the stock, you definitely want to take the little bit of extra time to heat it up. Adding cold or even room temperature stock to the rice will cool things down and really extend your cooking time.
In lieu of Arborio rice, you can also use Carnaroli or Vialone Nano rices.
Nutrition
Serving:
1
Calories:
319
kcal
Carbohydrates:
25
g
Protein:
14
g
Fat:
18
g
Saturated Fat:
11
g
Polyunsaturated Fat:
6
g
Cholesterol:
61
mg
Sodium:
1814
mg
Sugar:
2
g
Disclaimer: Nutritional information is a generated estimate and is not guaranteed to be accurate.
What equipment will I need?
Pin this recipe for later!