This Corn and Jalapeño Risotto is creamy, flavorful, and makes great use of seasonal summertime produce. Top it with burrata for a truly decadent meal.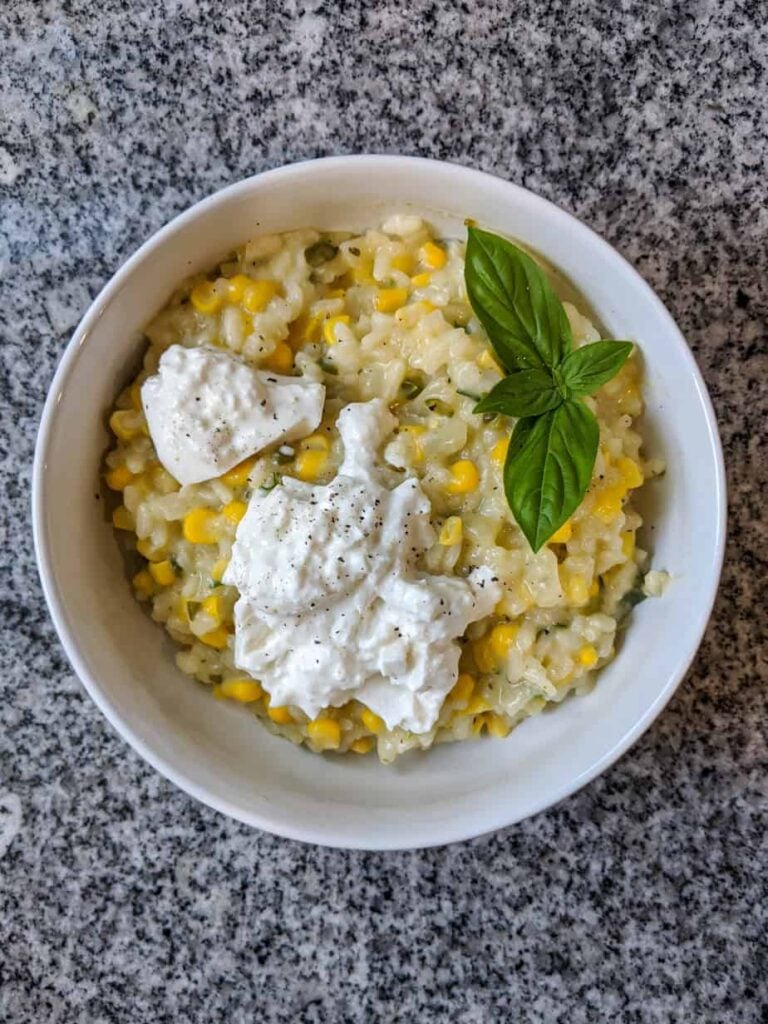 Jump to:
What inspired this recipe?
There's a pizza place in Durham, NC called Pie Pushers. We like them anyway, but during this period of social distancing, they've started delivering to our neighborhood (normally we're way outside of their delivery radius) on a biweekly basis. So we've been partaking ... on a biweekly basis. It's been great.
Anyway, one of their pizzas is called the Pace Car and has quickly become one of my favorites. It has olive oil, sweet corn, basil, jalapeños, and mozzarella. I tried to take these flavors and turn them into a pasta, which didn't quite work out like I'd hoped. HOWEVER, when I tried them in a risotto, I knew that I was onto something delicious.
How does this risotto come together?
Really, the method is pretty standard. Start out by sautéing shallots, garlic, and other vegetables in butter and olive oil, toasting the rice, and adding the broth little by little while stirring, stirring, stirring. Add some cheese at the end, and you're in business.
In this recipe, we're using shallots and garlic (nothing out of the ordinary here), fresh sweet corn, and four jalapeños. I know that that may seem like a lot, but it's not. Trust me. The flavor is great. We also throw a little dried thyme in the pot as well as lots of fresh basil, too.
We use Arborio rice, as always, and I've opted to use chicken broth. You can use vegetable broth if you'd prefer, but I always have chicken in my pantry. In terms of cheese, we go with shredded mozzarella AND creamy burrata.
Is the burrata 100% necessary? Probably not. Is it highly highly recommended? Absolutely.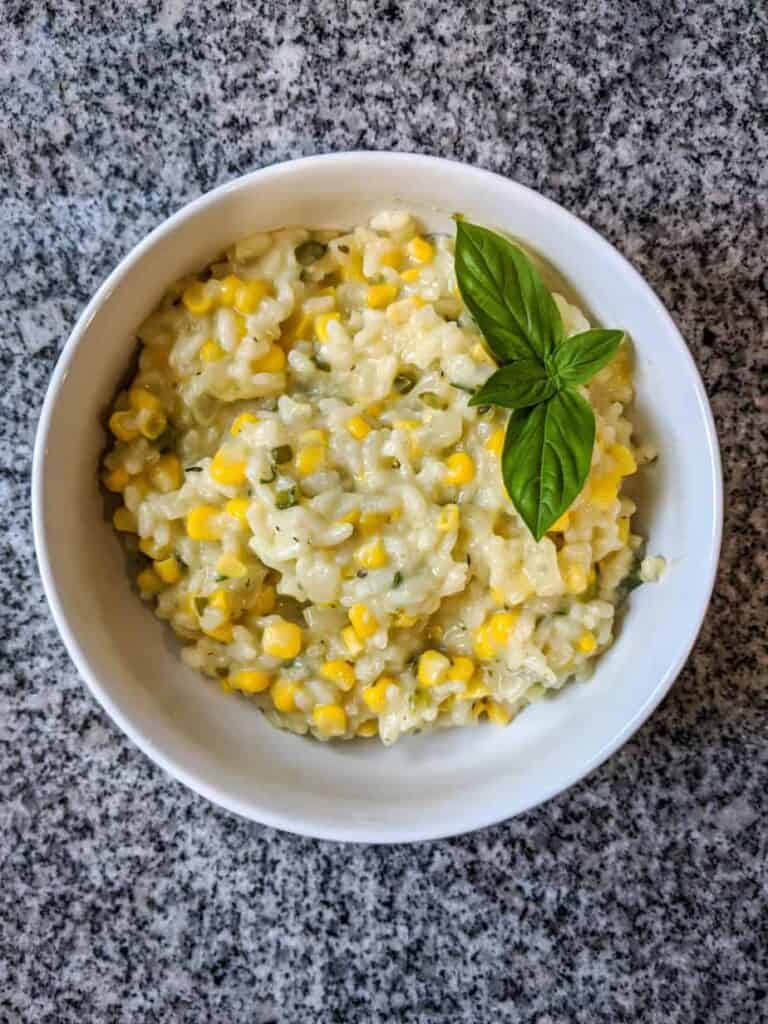 Looking for other corny recipes?
I cannot stress enough how delicious and decadent this Creamy Corn and Bucatini with Burrata is. Make it while the summer corn is sweetest.
If you're in the mood for more risotto, there's also my Sweet Corn Risotto with Roasted Cherry Tomatoes and Avocado and Corn Risotto.
What about other risotto recipes?
I know that I just listed a couple risotto recipes above, but there are more. Don't miss out on my savory Mushroom Risotto. My husband doesn't like mushrooms, so I tend to get this one all to myself (much to my delight).
Then, there's also my super vibrant Beet Risotto with Goat Cheese. Great year round, but it's especially good for Valentine's Day. You know, if you're into celebrating that sort of thing. But really, even if you aren't, I recommend making it.
I also have an (what I'd categorize as) under-appreciated Beer, Cheddar, and Sausage Risotto. Honestly, beer, cheese, and pork. In a carby risotto? Yeah, it's great. And of course, I'd bre remiss if I didn't tell you about my Pumpkin Risotto. Creamy, savory and slightly sweet, perfect all the time (but especially during the Fall when we're indulging in pumpkin everything).
✨ Recipe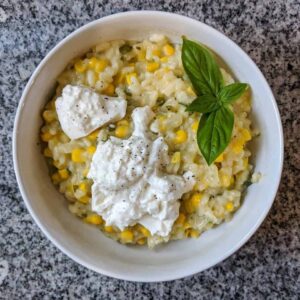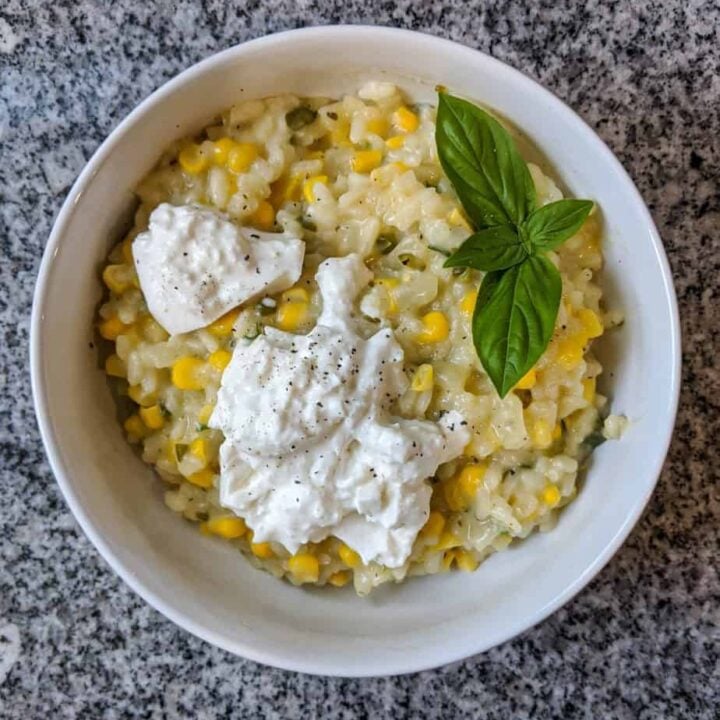 Corn and Jalapeño Risotto
This Corn and Jalapeño Risotto is creamy, flavorful, and makes great use of seasonal summertime produce. Top it with burrata for a truly decadent meal.
Ingredients
5

cups

vegetable or chicken broth

1

tbs

olive oil

1

tbs

butter

2

cloves

garlic

minced

1

shallot

diced

4

jalapeño peppers

seeds and ribs removed, diced

1

teaspoon

dried thyme

4

ears of fresh corn

kernels removed from cob

1.5

cups

Arborio rice

2

cups

shredded mozzarella cheese

kosher salt and pepper

to taste

large handful of fresh basil

chopped

4

oz

burrata

optional but highly recommended
Instructions
Heat the broth in a medium sauce pan over medium heat. Bring it to a simmer and then turn it down to low.

In a heavy-bottomed pan or Dutch oven, heat the olive oil and butter until the butter has melted. Add the garlic, shallot, and jalapeños. Sauté them until the shallot begin to become translucent and the jalapeños start to soften.

Add the dried thyme and corn kernels to the pot, as well. Stir to combine.

Next, add the Arborio rice and stir it around so that every grain gets coated in the olive oil and butter. Allow the rice to toast for a few minutes, stirring occasionally.

Turn the heat off under the broth and add a couple of ladles of it to the rice. Stir occasionally until almost all of the liquid is absorbed. Repeat this process until the risotto is creamy and the rice is no longer al dente.

Once all of the broth has been added and incorporated, add the mozzarella cheese, stirring well. Add the kosher salt and pepper, to taste. 

Add the fresh basil and stir to distribute it throughout the risotto.

Top the risotto with hunks of burrata, if desired and if you're feeling extra.
Nutrition
Serving:
1
Calories:
516
kcal
Carbohydrates:
57
g
Protein:
25
g
Fat:
23
g
Saturated Fat:
11
g
Polyunsaturated Fat:
10
g
Cholesterol:
59
mg
Sodium:
856
mg
Fiber:
8
g
Sugar:
11
g
Disclaimer: Nutritional information is a generated estimate and is not guaranteed to be accurate.
What should I have on hand in order to make this recipe?
Pin this recipe for later!