These Orange Cookies are super soft and full of orange flavor. They're covered in a sweet icing, too. If your grandma, like mine, used to make these, eating one will induce some nostalgia.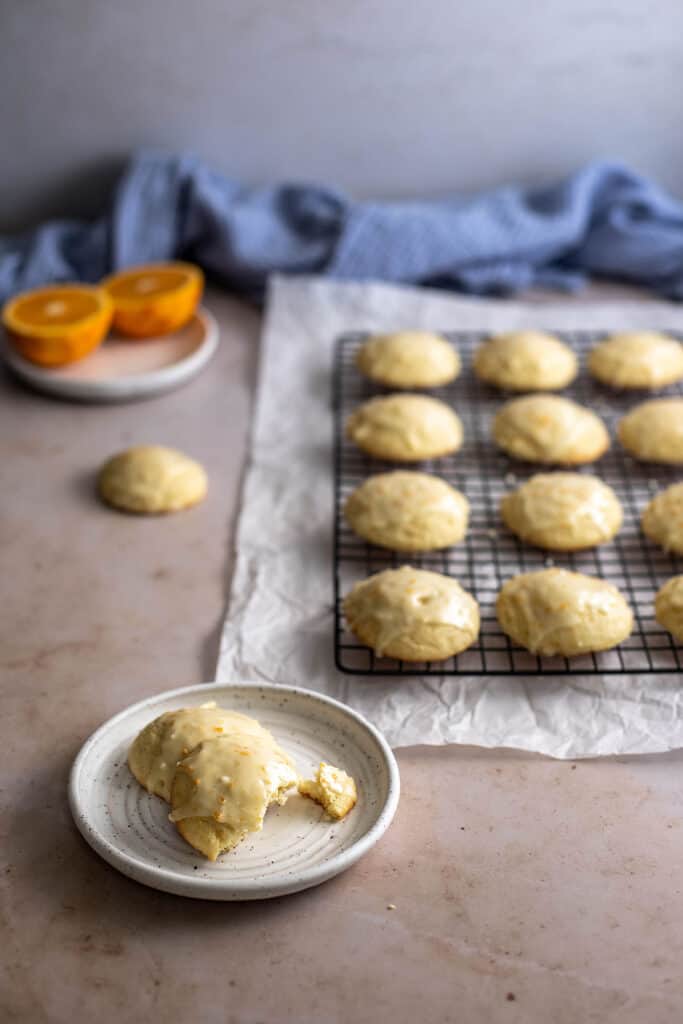 Jump to:
Ingredients in these cookies
The ingredients in these cookies are shown in the picture below, as well as in the list below that.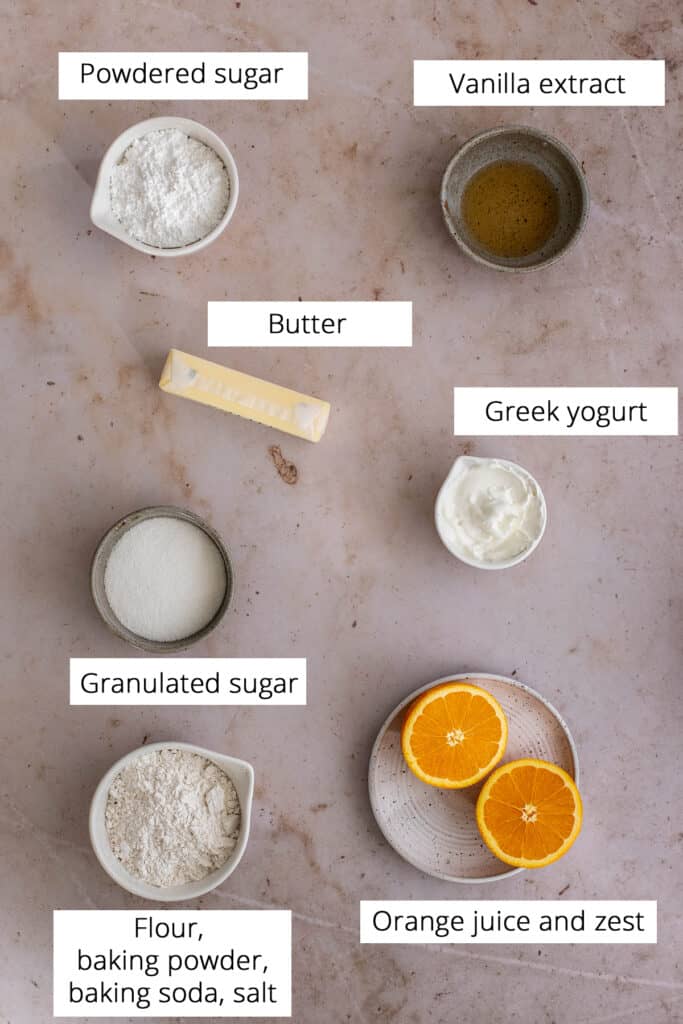 Flour: Regular all-purpose flour is called for here.
Baking soda and baking powder: These ingredients give the cookies a bit of lift!
Salt: Kosher salt, please.
Butter: I always prefer to use unsalted butter in my baking. It allows you to really control the sodium content of your final product.
Sugar: Regular granulated sugar goes into the cookies and powdered sugar is used for the icing.
Eggs: Just some chicken eggs.
Vanilla extract: You can use either store bought or homemade vanilla extract. Whatever you use, please use a good quality extract.
Greek yogurt: Plain Greek yogurt (full fat, if possible) or sour cream would work well here.
Orange juice and zest: Gotta have that orange flavor!
How to make these orange cookies
You'll start out by creaming room temperature butter and sugar together until light and fluffy. To that, you'll add your eggs and vanilla extract. Yogurt and orange juice and zest enter the bowl after that.
Next, little by little, dry ingredients meet the wet until the dough comes together.
After that, you'll need to scoop the dough onto cookie sheets and chill. that. dough. Don't be like me and try to skip this step. If you do, you'll end up with one single, massive cookie. It will still taste good. It just won't be very nice looking.
After baking and cooling the cookies completely, mix up the easy icing and slather it on. You can take a bite right away or wait for the icing to harden.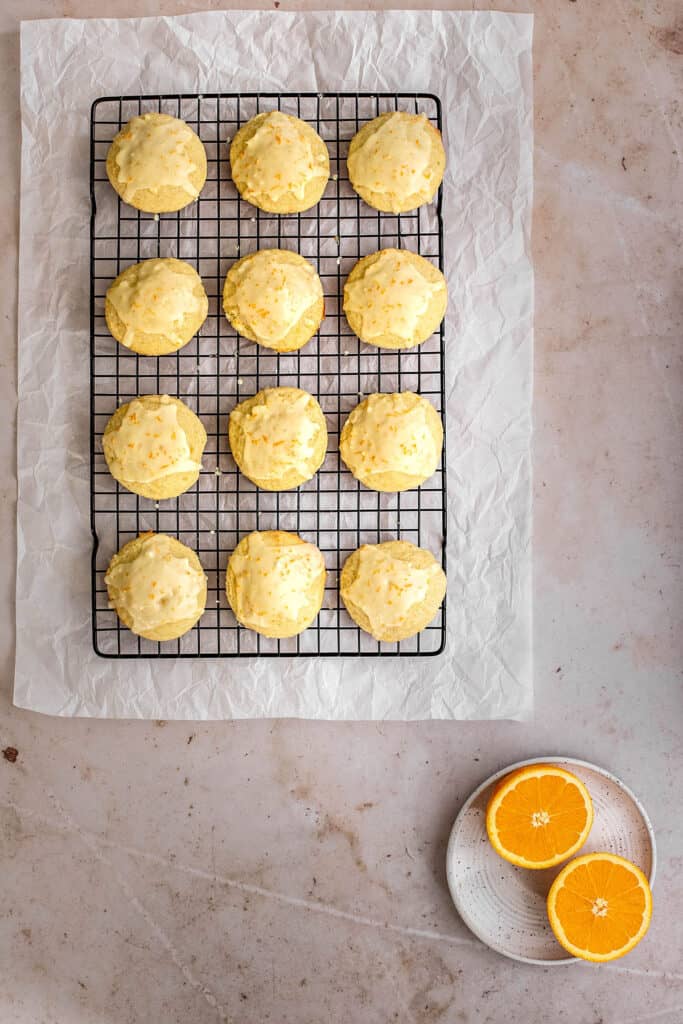 Other cookie recipes
Are you in need of other delicious cookie recipes? If so, you can check out alllll of the cookies on this blog by clicking here.
But let me highlight a few that I'm particularly into at the moment: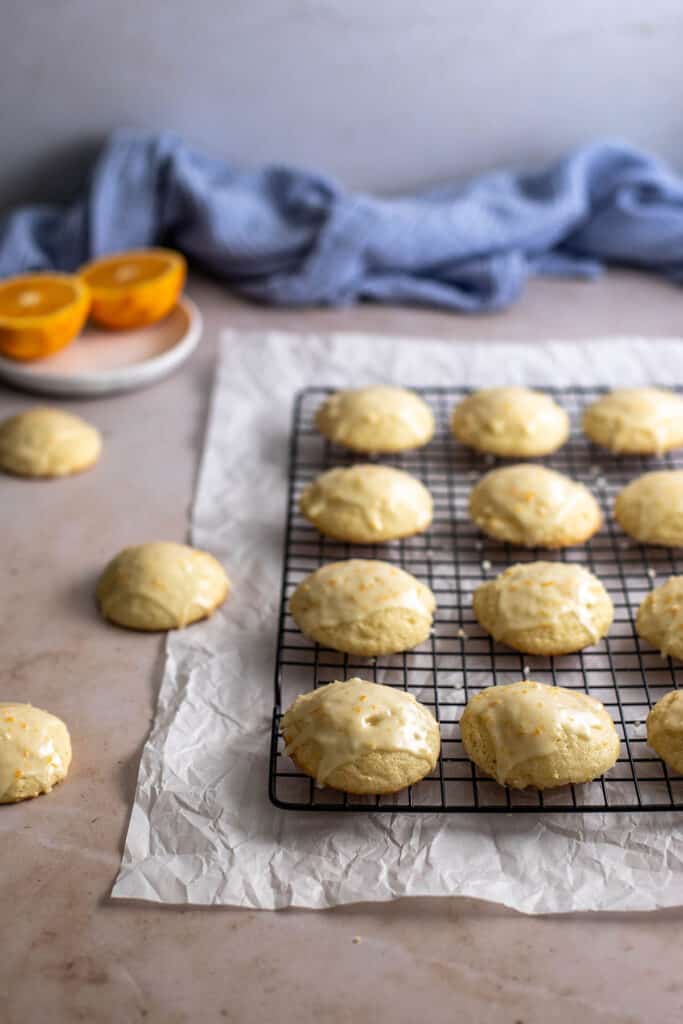 Frequently Asked Questions
Do I really need to chill the dough? What happens if I don't do it?
Yes, you do. I'm no fan of chilling cookie dough when I don't absolutely need to. But in this case, it's pretty important. If left the dough is baked without being chilled first, the cookies will spread way way out. You may even end up with one, giant, cookie blob instead of pretty individual cookies. I am unfortunately speaking from experience here.
Can I substitute sour cream for Greek yogurt?
Yep! They'll work pretty much interchangeably in this recipe.
How do I store these cookies?
These cookies can be stored at room temperature (either iced or un-iced) in an airtight container for 3-4 days. If you ice them, make sure to let the icing harden fully before you store them, especially if you plan on stacking cookies on top of one another.
Can I freeze these cookies?
Yep! Again, you can do this with either iced or un-iced cookies. A zip top freezer safe bag works well. When it comes time to eat them, allow them to defrost at room temperature in a single layer.
The recipe for the orange cookies themselves originates from an old church cookbook that belonged to my grandmother, as well as the blog NeighborFood. I followed my heart and food brain to whip up the icing.
✨ Recipe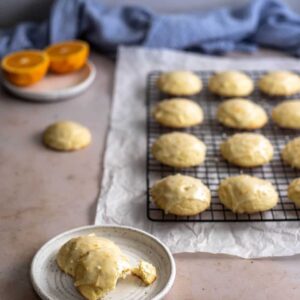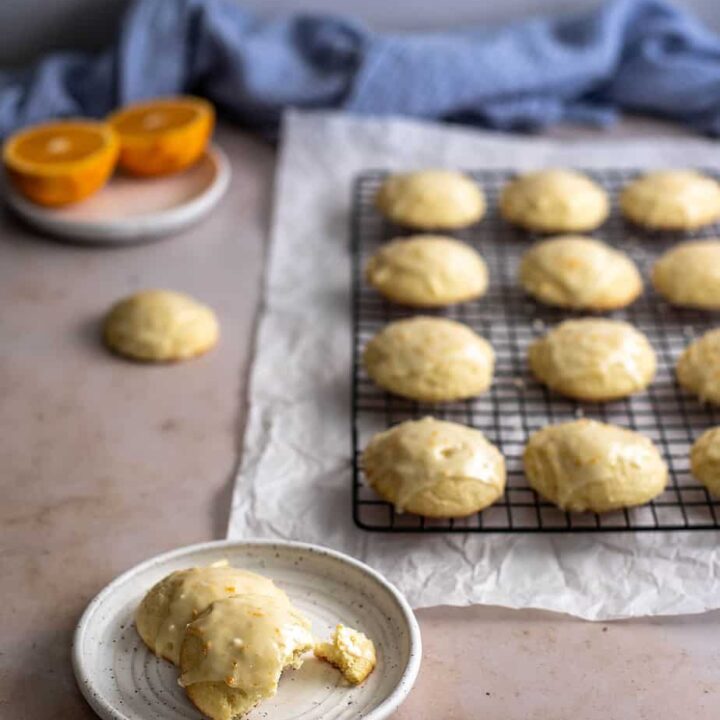 Orange Cookies
These Orange Cookies are super soft and full of orange flavor. They're covered in a sweet icing, too. If your grandma, like mine, used to make these, eating one will induce some nostalgia.
Ingredients
For the cookies
3

cups

all-purpose flour

1

teaspoon

baking powder

1

teaspoon

baking soda

½

teaspoon

kosher salt

16

tablespoon

unsalted butter

room temperature

1 ½

cups

granulated sugar

2

eggs

½

teaspoon

vanilla extract

1

cup

Greek yogurt or sour cream

zest and juice of 1 orange
For the icing
2

cups

powdered sugar

zest and juice of 1 orange
Instructions
Line two cookie sheets with parchment paper. Set aside.

To make the cookies
In a medium-sized bowl, whisk together the flour, baking powder, baking soda, and salt. Set aside.

In the bowl of a stand mixer, cream the butter and sugar together on medium speed until light and fluffy.

One at a time, add the eggs, beating to incorporate after each addition. Add the vanilla.

Reducing the speed to low, add the yogurt and orange zest and beat until just combined.

Little by little, add the flour mixture to the bowl of the stand mixer. Beat on low speed until each addition is combined.

Using a cookie scoop, scoop the dough into roughly 36 balls onto the prepared cookie sheets. Refrigerate the dough for at least 1 hour, and up to overnight.

When ready to bake, preheat the oven to 375 degrees F. Distribute the chilled cookie dough balls such that there are 12 dough balls per cookie sheet.

Bake for 13-15 minutes, or until the edges of the cookies are *just* golden.

Remove from the oven and let the cookies cool on the pan for 5 minutes before removing them to a wire rack to finish cooling completely.
To make the icing
Whisk the powdered sugar, orange zest, and orange juice together until a pourable icing (though still fairly thick) comes together.

Spoon the icing over the cooled cookies.

Notes
Chilling the cookie dough is mandatory for this recipe. Otherwise the cookies will spread wayyyy out.
You can thin the icing out with milk, if desired.
Nutrition
Serving:
1
Calories:
159
kcal
Carbohydrates:
25
g
Protein:
2
g
Fat:
6
g
Saturated Fat:
3
g
Polyunsaturated Fat:
2
g
Cholesterol:
24
mg
Sodium:
82
mg
Sugar:
17
g
Disclaimer: Nutritional information is a generated estimate and is not guaranteed to be accurate.
What gear should I have in order to make these cookies?
Pin this recipe for later!