Last Updated on November 30, 2021 by laurenpacek
Fall means sweet and spicy treats are in order
This Pumpkin Streusel Bread is sweet, full of Fall spices, and incredibly moist. Add a crumbly streusel topping and you have the perfect Fall treat!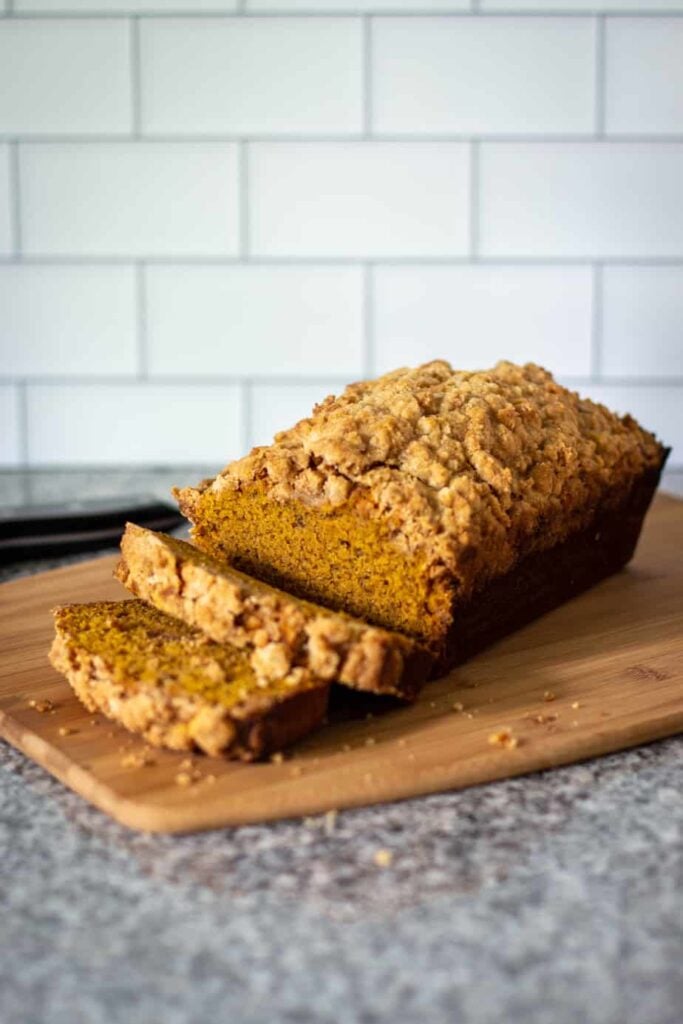 Once September rolls around, pumpkin is king
Love it or hate it, you can't get away from pumpkin treats during this time of year. I have posted more than my fair share of them on this blog.
A couple that feel particularly relevant to this Pumpkin Streusel Bread include Pumpkin Streusel Muffins and Pumpkin Streusel Donuts. Streusel on streusel on streusel...
Please don't overlook my Pumpkin Spice Cold Brew Coffee, either. I mean, it's still pretty warm in most places in the U.S. Not that we actually need warm weather to consume cold coffee. I know that I certainly don't.
You know what? I'm going to recommend that you just type "pumpkin" into the search bar over there and see what comes up. Lots of good stuff, that's what.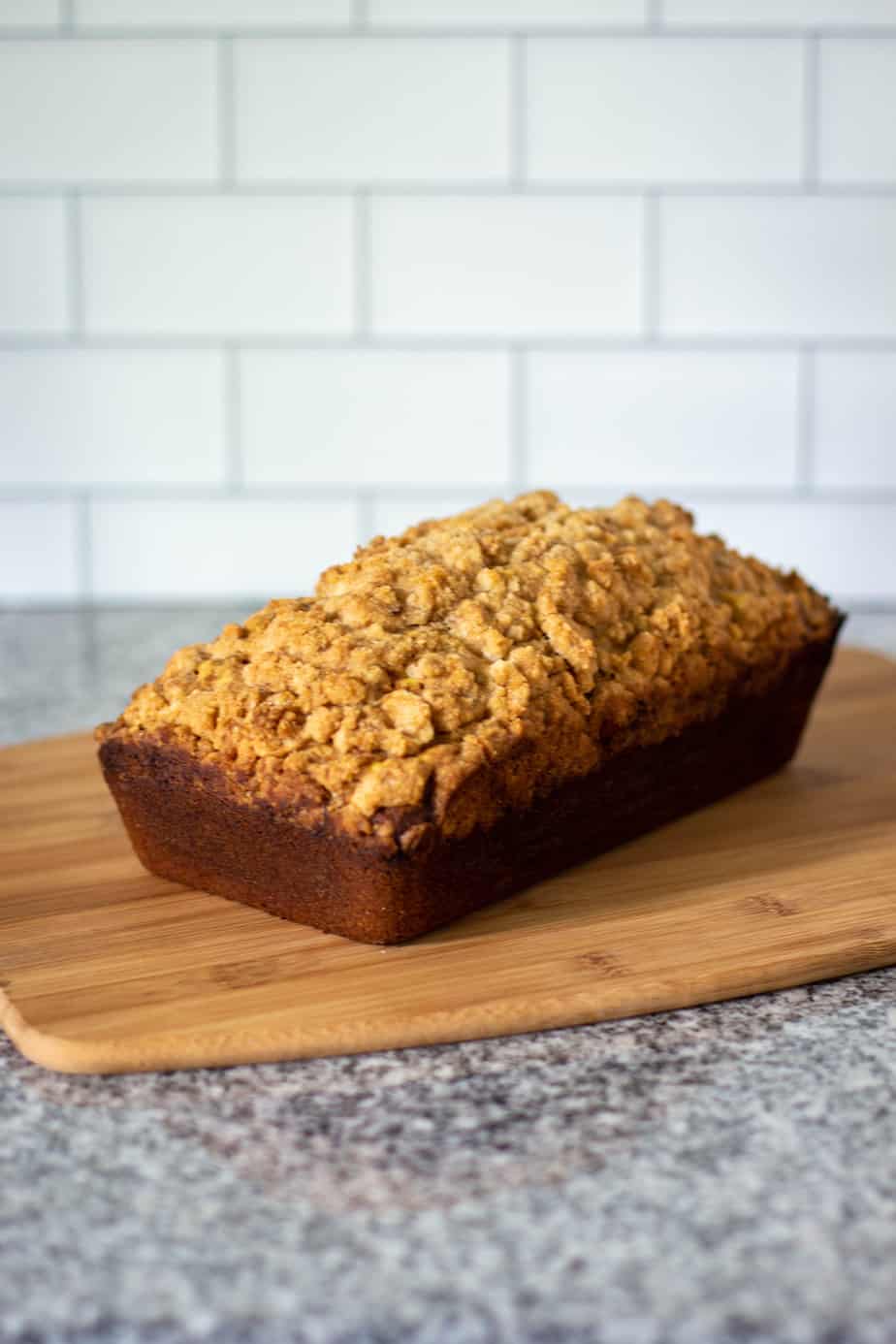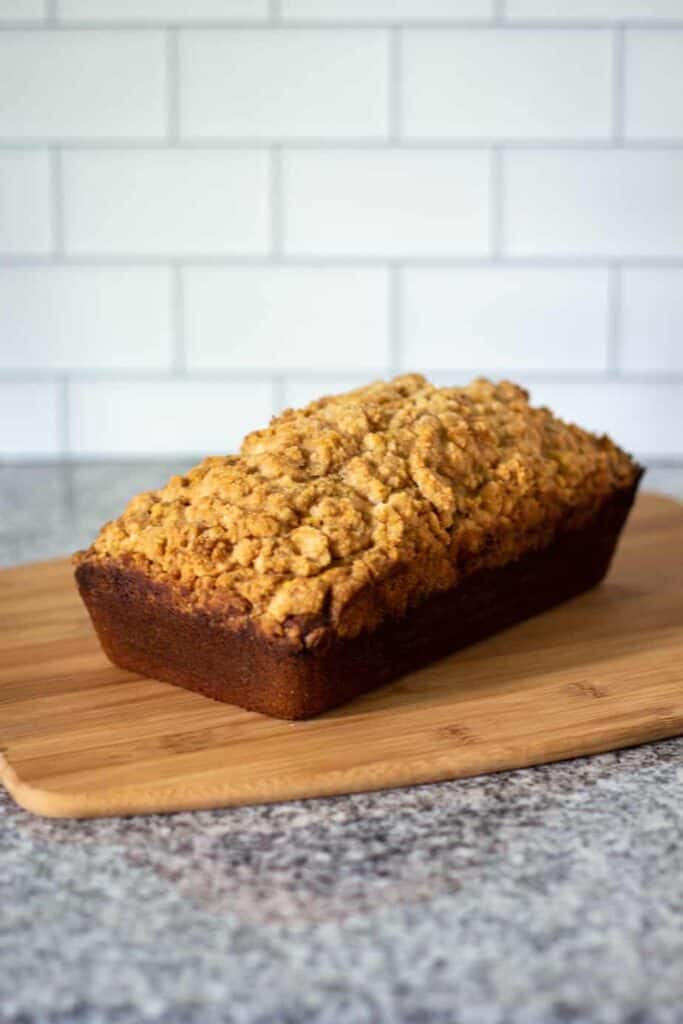 With this bread, minimal effort leads to major payoff
It's really very simple to make this pumpkin bread. You don't even need to break out your stand mixer or hand mixer if you don't feel like it. It's easy enough to combine all of the ingredients by hand.
Here's how it all goes down: Combine your wet ingredients, combine your dry ingredients, now combine the two. Divvy up the batter equally. Combine the streusel topping, sprinkle it over the batter. Bake, aaaaaand done.
I mean, there's maybe a little more to it than that, but honestly, not much.
And after that little bit of effort you're left with two beautiful and delicious loaves of pumpkin streusel bread! Enjoy one now and freeze the other for later, if you're so inclined.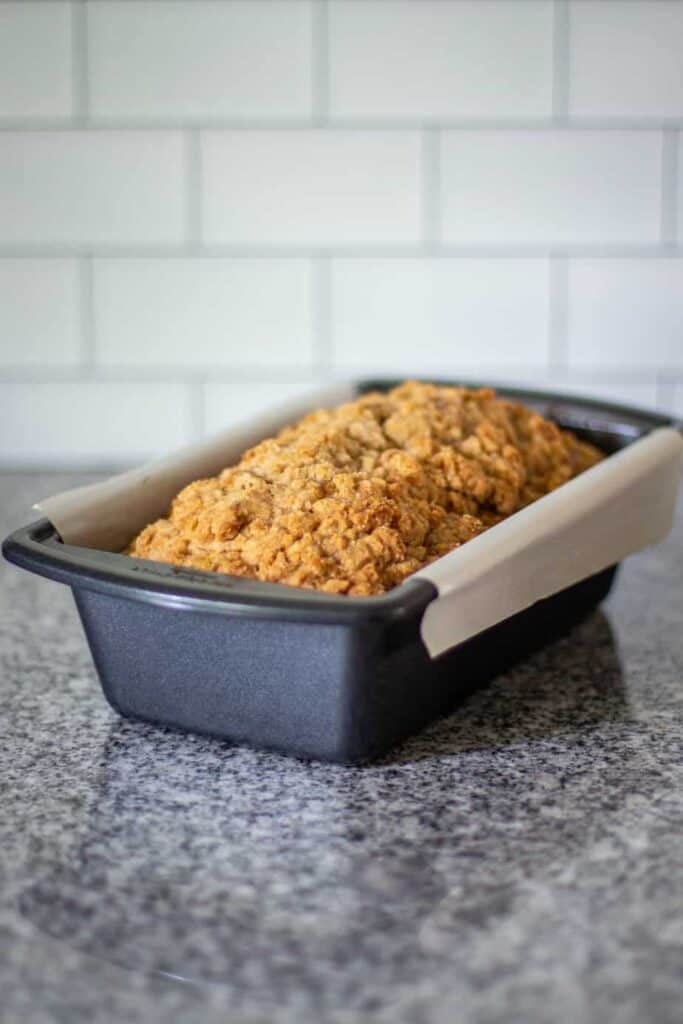 What inspired this recipe?
I wish I could take credit for the whole thing, but this recipe is from the blog My Baking Addiction, though I decided to make an addition and include a streusel topping on mine. But, I mean, pumpkin bread. Who doesn't love it? Especially at this time of year.
I've been making this recipe for 8 (EIGHT) years now. I even made a couple of loaves when doing some meal prep before my son was born.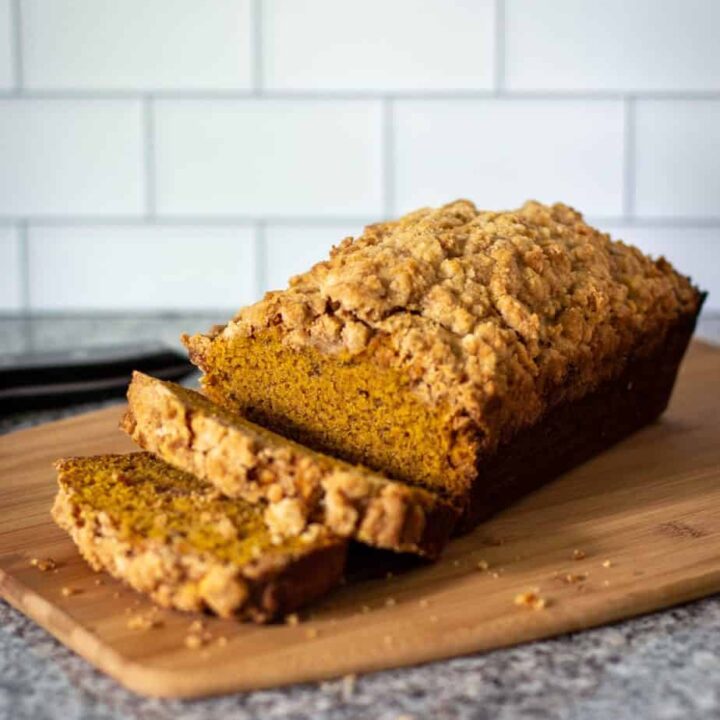 Pumpkin Streusel Bread
Cook Time:
1 hour
10 minutes
Total Time:
1 hour
25 minutes
This Pumpkin Streusel Bread is sweet, full of Fall spices, and incredibly moist. Add a crumbly streusel topping and you have the perfect Fall treat!
Ingredients
For the Streusel
8 tbsp butter, melted and cooled slightly
1 cup all-purpose flour
½ cup granulated sugar
¼ cup brown sugar, packed
¼ tsp kosher salt
For the Pumpkin Bread
15 oz pumpkin puree (see notes)
4 eggs (see notes)
1 cup vegetable oil
⅔ cup water
2 ½ cups granulated sugar
3 ½ cups all-purpose flour
2 tsp baking soda
1 ½ tsp kosher salt
Instructions
To make the Streusel
Combine all Streusel ingredients in a medium-sized bowl.
Stir together until a crumbly mixture is formed.
Set aside.
To make the Pumpkin Bread
Preheat the oven to 350 degrees F.
Spray two 9x5-inch loaf pans with cooking spray before lining them with parchment paper. Let there be a bit of overhanging parchment paper on the long sides of the loaf pans. This will allow you to use them as handles when removing the bread from the pans. See the 3rd picture in this blog post for an example. Spray the parchment paper with a bit more cooking spray. Set aside.
Combine the pumpkin puree, eggs, vanilla extract vegetable oil, water, and sugar in a medium-sized bowl. Mix until combined.
In another medium-sized bowl, whisk together the flour, baking soda, salt, and pumpkin pie spice. In several additions, add the dry ingredients to the wet, stirring until just combined.
Pour equal amounts of the batter into each of the prepared loaf pans.
In an even layer, sprinkle the Streusel topping over the batter.
Bake for 60-70 minutes, or until a toothpick, when inserted into the center of the loaves, comes out clean.


Notes
Make sure that you're using pumpkin puree, and not pumpkin pie filling.
I have successfully substituted mashed bananas for some of the eggs. So, that's an option if you find that you are out of eggs but still want to make this bread.
This bread freezes really well. Wrap it in two layers of cling wrap and 1 layer of foil before stashing it in the freezer. Let it sit in the fridge overnight when you want to thaw it out.
Nutrition Information:
Yield:

20
Serving Size:

1
Amount Per Serving:
Calories:

389
Total Fat:

17g
Saturated Fat:

4g
Trans Fat:

0g
Unsaturated Fat:

12g
Cholesterol:

49mg
Sodium:

383mg
Carbohydrates:

56g
Fiber:

1g
Sugar:

33g
Protein:

4g
I approximated 10 slices per loaf, with 1 slice being a serving.
What should I have on hand in order to make this recipe?
Pin this recipe for later!