Last Updated on December 3, 2021 by laurenpacek
Pumpkin Bread Pudding--sometimes called Pumpkin French Toast Casserole--is a sweet and delicious breakfast for a crowd! Pumpkin, maple syrup, and warm pumpkin pie spices make it a perfect dish for Fall.
Tell me, what's better on a cool Fall or Winter morning than a plate of this sweet, warm Pumpkin Bread Pudding? Okay, a hot cup of coffee would be great, too. But, this bread pudding is a close second.
This dish feeds about 8 people, so it would be a great option for when you have a house full of people to feed. Think: Thanksgiving morning!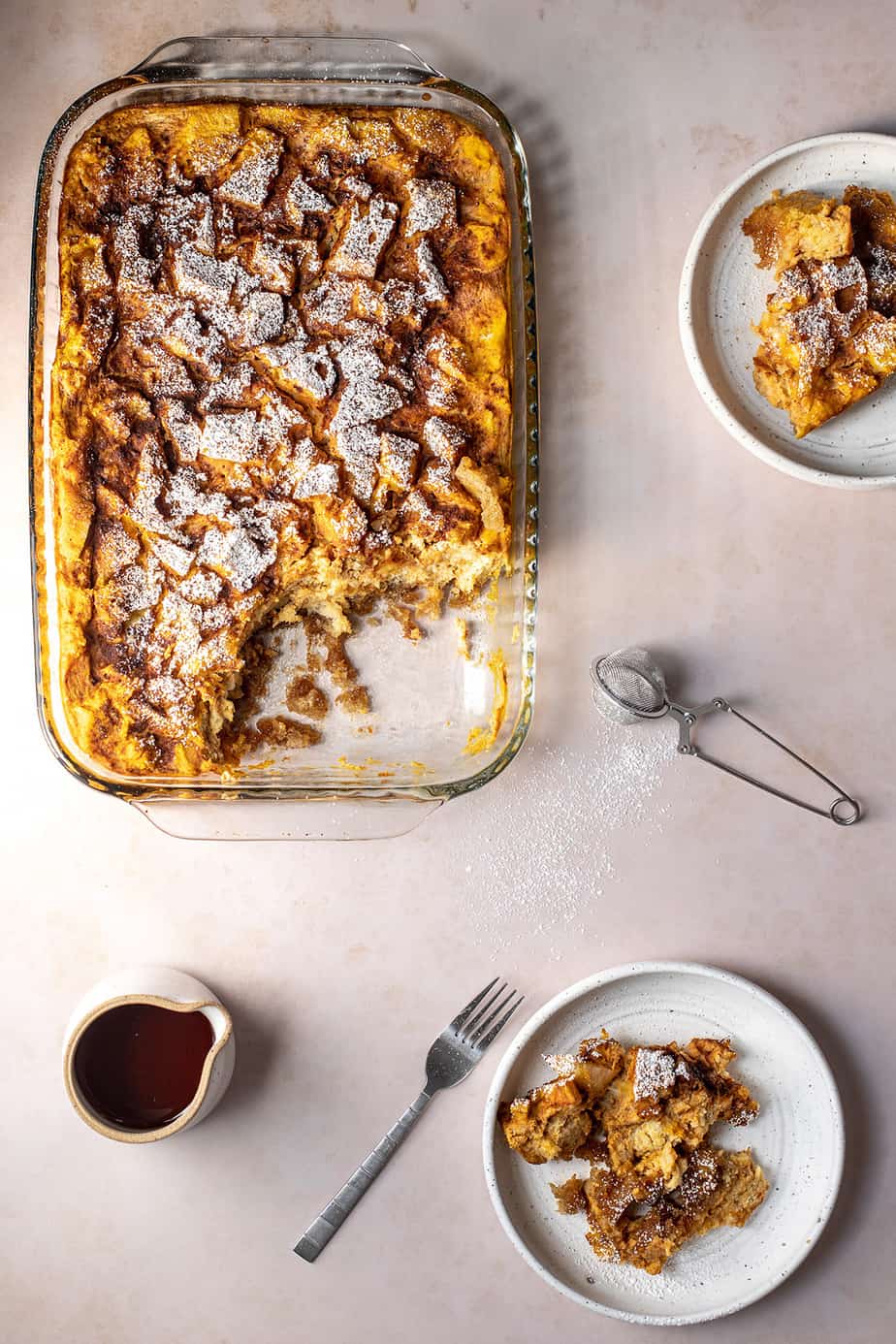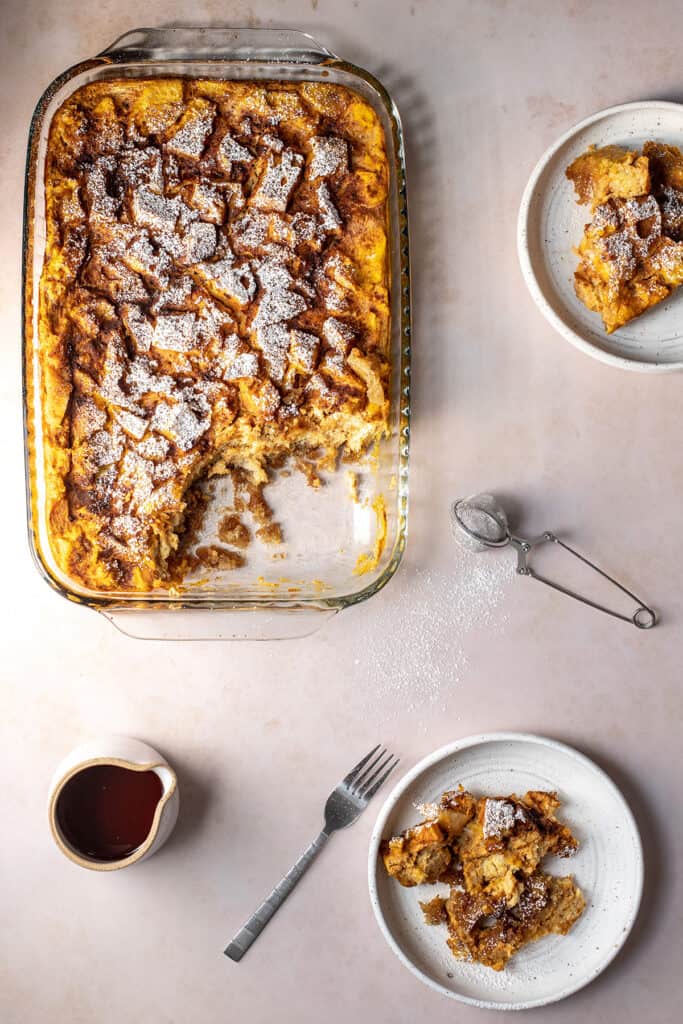 What is bread pudding?
Bread pudding is generally composed of bread (it's a great way to use up stale bread), eggs, some form of dairy, and a variety of other ingredients depending on how you want to flavor it. All of the ingredients get combined in a baking dish and baked until the bread pudding is set in the center.
Savory bread puddings are sometimes served as a main course, while sweet bread puddings are usually reserved for dessert. However, a bread pudding can also stand in as a delicious breakfast option (like this one!).
Ingredients
So, what goes into this pumpkin bread pudding? Let's walk through the ingredients!
Butter: Using unsalted butter allows you to control the amount of salt in the recipe.
Maple syrup: Make sure that you use the good stuff (i.e., real maple syrup), and not the super sugary fake stuff.
Brown sugar: Regular old brown sugar is all you need. It doesn't really matter if it's dark or light brown sugar.
French bread: A decent loaf of French bread would be perfect in this recipe. It doesn't even matter if it's stale, either!
Milk: I've tried this recipe with a variety of dairy milks, including whole, 2%, and half and half. All have worked very well.
Eggs: Regular chicken eggs, please.
Pumpkin: Make sure to use pumpkin puree, not pumpkin pie filling.
Vanilla extract: Whether you use store bought or homemade vanilla extract, use something good!
Pumpkin pie spice: Use homemade or a store bought mix.
Salt: Salt is a critical component to sweet recipes! I always use kosher salt.
Powdered sugar: This isn't 100% mandatory, but I think that a dusting on top of the finished product makes it look very pretty.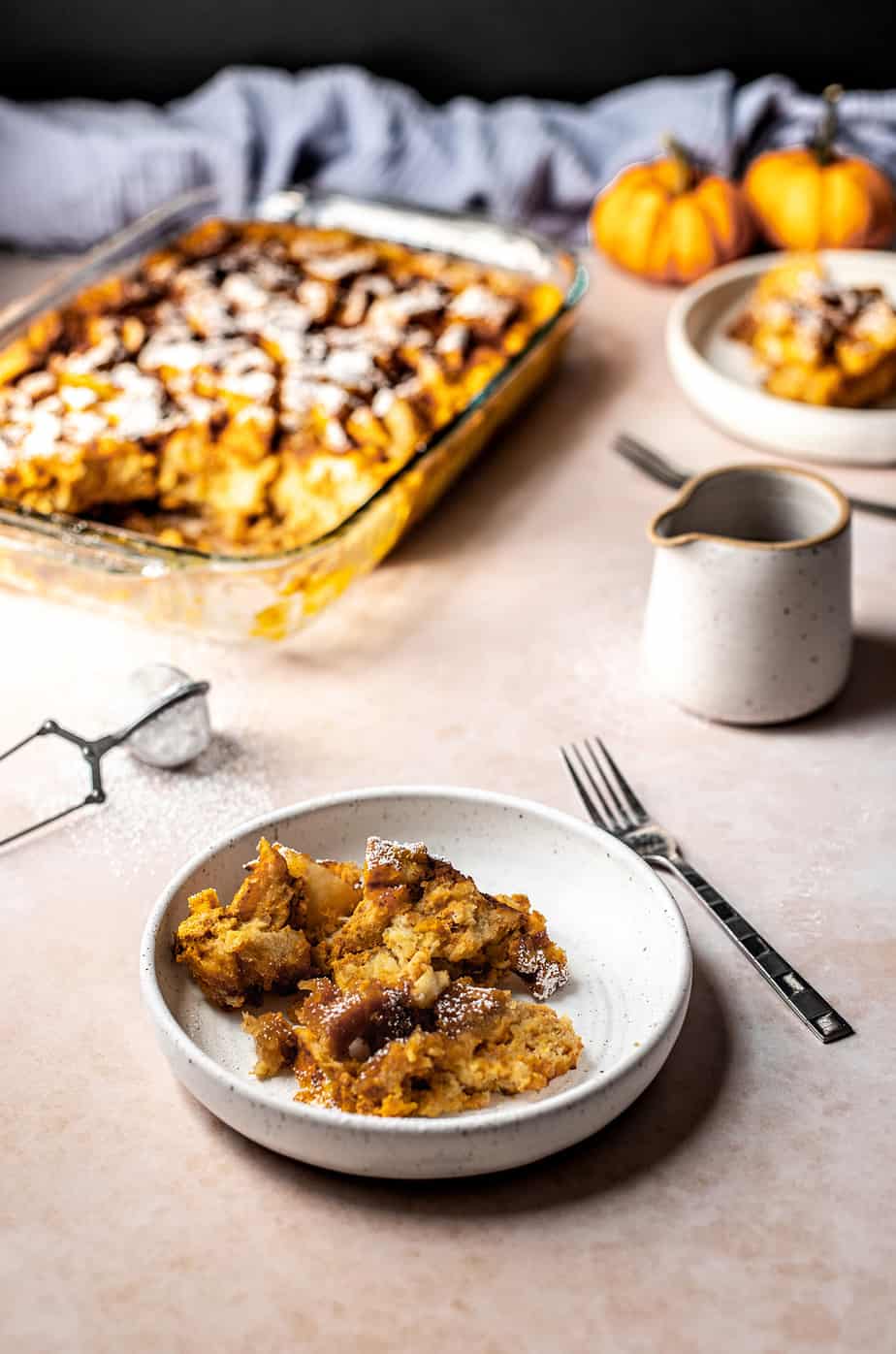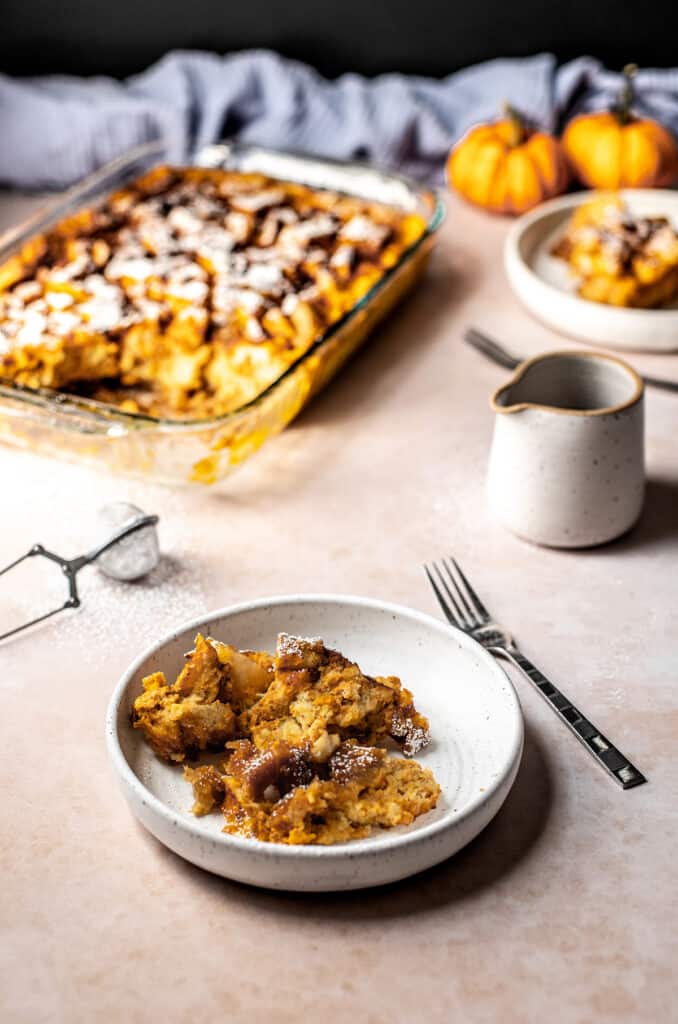 How to make this Pumpkin Bread Pudding
You'll start out by melting some butter and combining it with maple syrup and brown sugar. This creates a crazy delicious, almost caramelized, layer on the bottom of this bread pudding. That sticky mixture gets poured into the bottom of a baking dish and topped with cubed French bread.
Next, you'll whisk the remaining ingredients (minus powdered sugar) together in a bowl or a large container with a spout. The spout makes it much easier to pour everything into the baking dish. I like to use a really big Pyrex measuring cup.
Once everything is really well combined, you'll pour it over the cubed bread, making sure to soak all of the bread in the egg/milk/pumpkin mixture. Press it down with a spatula, if need be, to make sure that all of the bread is moistened.
At this stage, the bread pudding can be stashed in the fridge for a couple of hours, or up to overnight, if you're looking to make it ahead of time. Either way, right before it goes into the oven, sprinkle some brown sugar and pumpkin pie seasoning on top.
Bake it off, sprinkle with powdered sugar, and dig in! I like to drizzle a little extra maple syrup on top of my serving, too.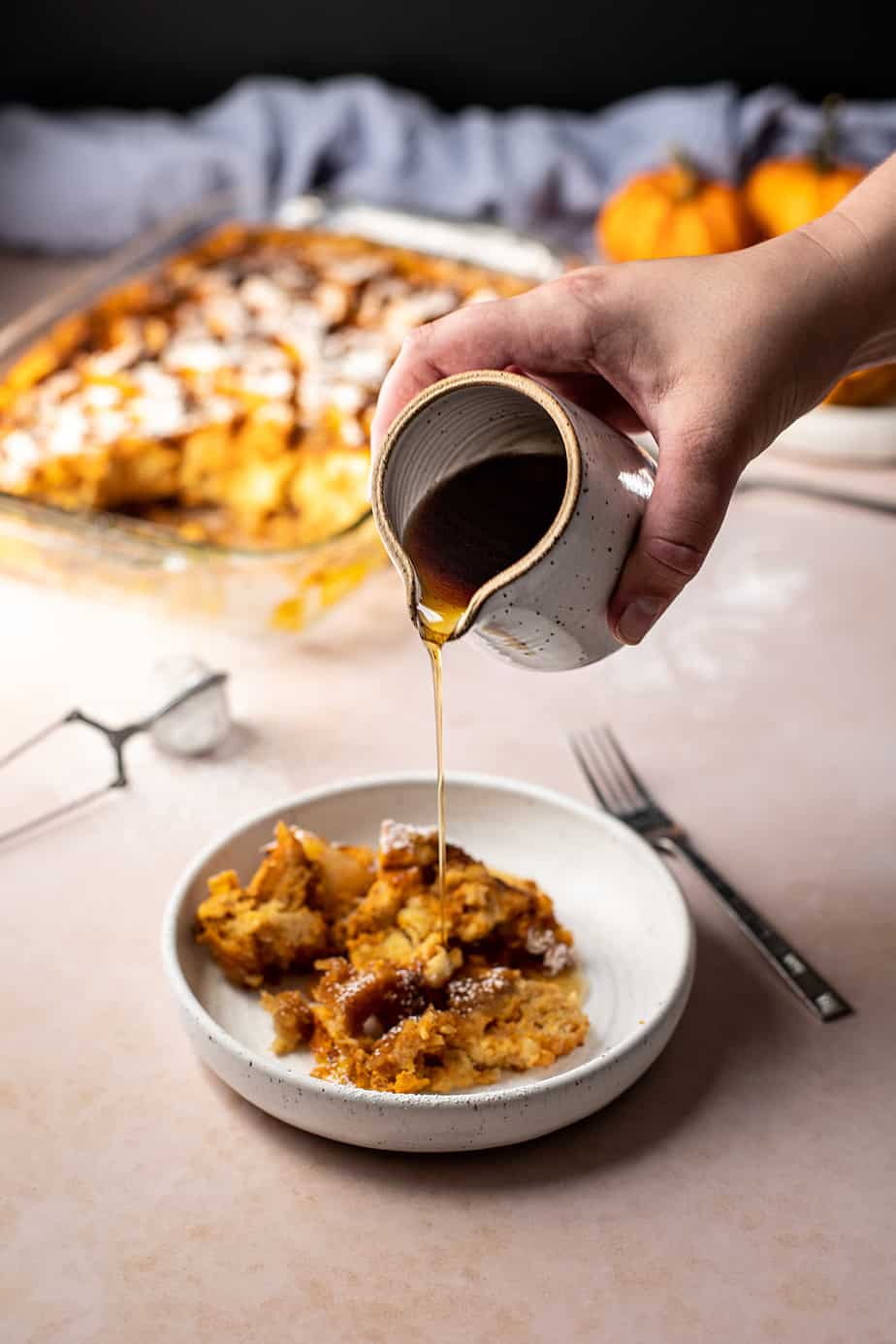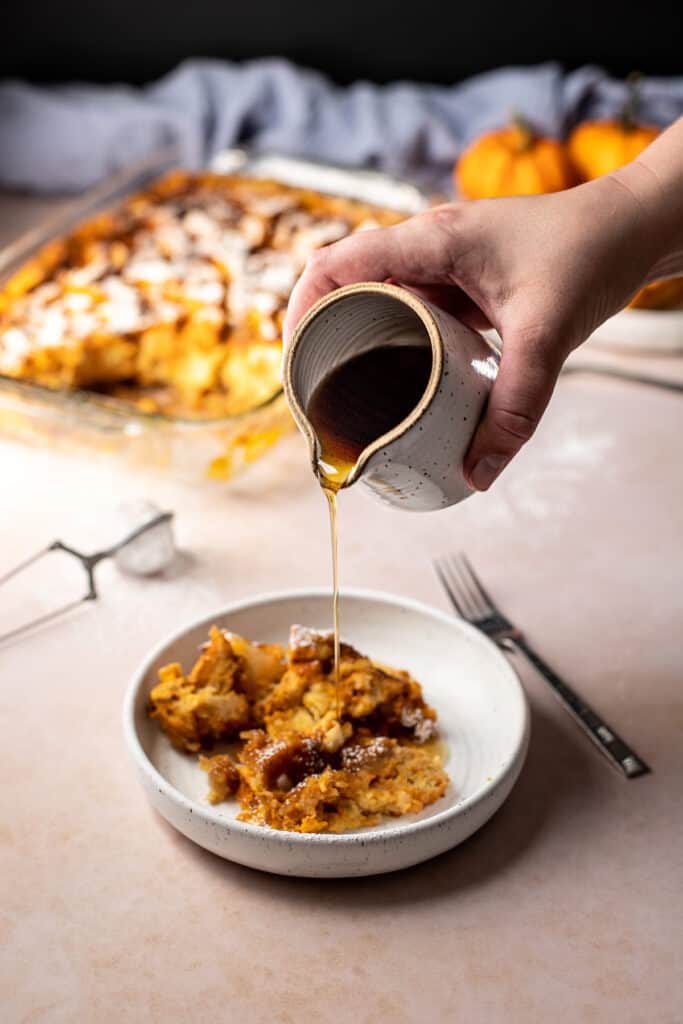 Other pumpkin recipes
You know that I have other pumpkin recipes. Maybe too many depending on who you ask. I am a basic white girl, if nothing else. Check all of my pumpkin recipes out by clicking on the link.
Pumpkin Banana Bread is so moist and delicious. Plus, the recipe makes TWO loaves! Eat one now and stash the other in the freezer, if you're so inclined. Pumpkin Cinnamon Rolls are another tasty baked treat.
Pumpkin isn't just for sweet dishes, don't forget! This Pumpkin and Sausage Pasta Bake is a fabulous dinner during the cooler months.
Aaaand you can even incorporate pumpkin into your cocktails! These Pumpkin Pie Moscow Mules are made with pumpkin butter and are *chef's kiss*
Other breakfast recipes
Need more recipes for brekkie? Sure you do. We all do. Breakfast food is some of the best food.
My English Muffin Breakfast Casserole with Bacon is full of (you guessed it) bacon, eggs, and cheese. It's a great option for when you need to feed a crowd!
If you're into sous vide, I recommend trying my Sous Vide Eggs. They're also great for feeding a crowd and for meal prepping! My Crab Cake Eggs Florentine also uses sous vide hollandaise sauce!
Instant Pot Steel Cut Oats are also a quick, easy, and healthy (not to mention delicious) breakfast option.
Frequently Asked Questions
What kind of milk should I use?
I used 2% cow's milk, but whole milk or even half and half or heavy cream (if you're feeling really decadent) would work! I did not test this recipe with non-dairy milks.
Can I make this recipe ahead?
Sure! You can assemble this bread pudding (minus the brown sugar and spices on top) ahead of time and stash it in the fridge for a few hours or up to overnight. Add the brown sugar and pumpkin pie spice just before popping it into the oven.
How long will this dish keep once baked?
This dish is best eaten within about 3 or 4 days once it's been baked and then refrigerated.
How should I reheat any leftovers?
You can pop the whole baking dish into the oven until heated through, or you can heat your individual portion(s) in the microwave.
Don't forget to follow me and share your creations on social media!
Subscribe to the A Nerd Cooks Newsletter to have updates sent straight to your inbox.

I love seeing when you share my recipes! Please tag me on Instagram @anerdcooks so I can enjoy them virtually with you! You can also find me on Pinterest, Facebook, YouTube, and Twitter.

I'd love to know what you thought of this recipe! Don't forget to leave a comment and
⭐️ star rating below!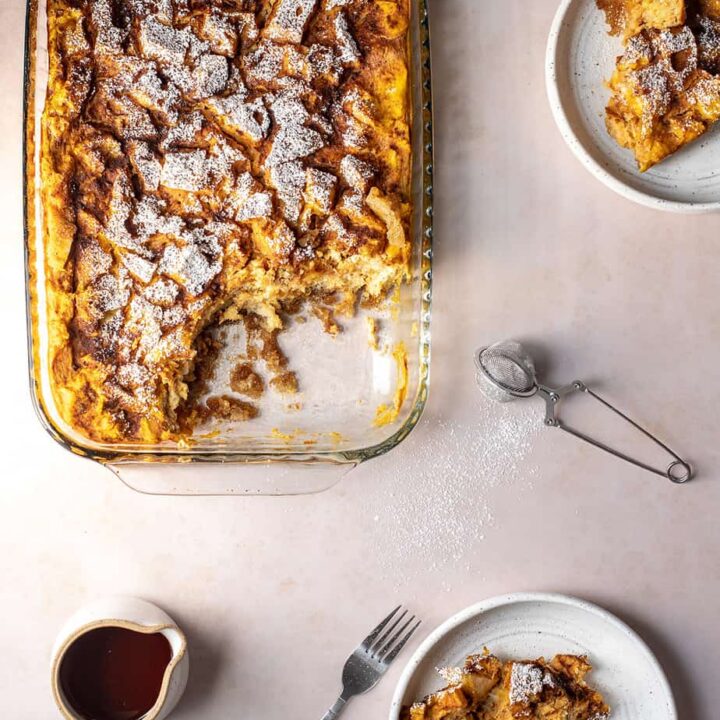 Pumpkin Bread Pudding (French Toast Casserole)
Pumpkin Bread Pudding--sometimes called Pumpkin French Toast Casserole--is a sweet and delicious breakfast for a crowd! Pumpkin, maple syrup, and warm pumpkin pie spices make it a perfect dish for Fall.
Ingredients
8 tablespoons unsalted butter
½ cup real maple syrup
½ cup brown sugar, plus 1 tablespoon, divided
16 oz French bread, cubed or torn into bite-sized pieces
2 cups milk (see notes)
6 eggs
15 oz pumpkin puree
pinch of kosher salt
powdered sugar, for dusting
Instructions
Melt the butter in a heavy-bottomed sauce pan over medium heat. Add the maple syrup and brown sugar, whisking to combine. Pour the mixture into the bottom of a 9x13-inch baking dish.
Place the cubed bread on top of the butter/sugar mixture in an even layer.
Whisk the milk, eggs, pumpkin, vanilla extract, 1 teaspoon of the pumpkin pie spice, and a pinch of kosher salt together until very well combined. Pour the mixture over the cubed bread, making sure to soak all of the bread. Press the bread down into the milk mixture with a spatula, if necessary, to ensure that all of the bread is moistened.
If making this ahead of time, cover the dish and stash it in the fridge. When you're ready to bake the bread pudding, preheat the oven to 350 degrees F.
When ready to bake, sprinkle 1 tablespoon of brown sugar and the remaining 1 teaspoon of pumpkin pie spice over the top of the bread pudding in an even layer.
Bake for 30-40 minutes, or until the center is set and reaches 160 degrees F.
Remove it from the oven and dust the top with powdered sugar. Drizzle additional maple syrup over the top, if desired.
Notes
I've used whole and 2% cow's milk, as well as half and half. All of these work well. I haven't tried this with non-dairy milks.
Nutrition Information:
Yield:

8
Serving Size:

1
Amount Per Serving:
Calories:

519
Total Fat:

18g
Saturated Fat:

10g
Trans Fat:

0g
Unsaturated Fat:

7g
Cholesterol:

175mg
Sodium:

444mg
Carbohydrates:

77g
Fiber:

3g
Sugar:

46g
Protein:

14g
What equipment do I need?
Pin this recipe for later!