Last Updated on November 30, 2021 by laurenpacek
These pumpkin cinnamon rolls are sweet and warmly spiced. They're also slathered in some sweet maple cream cheese icing. What could be better?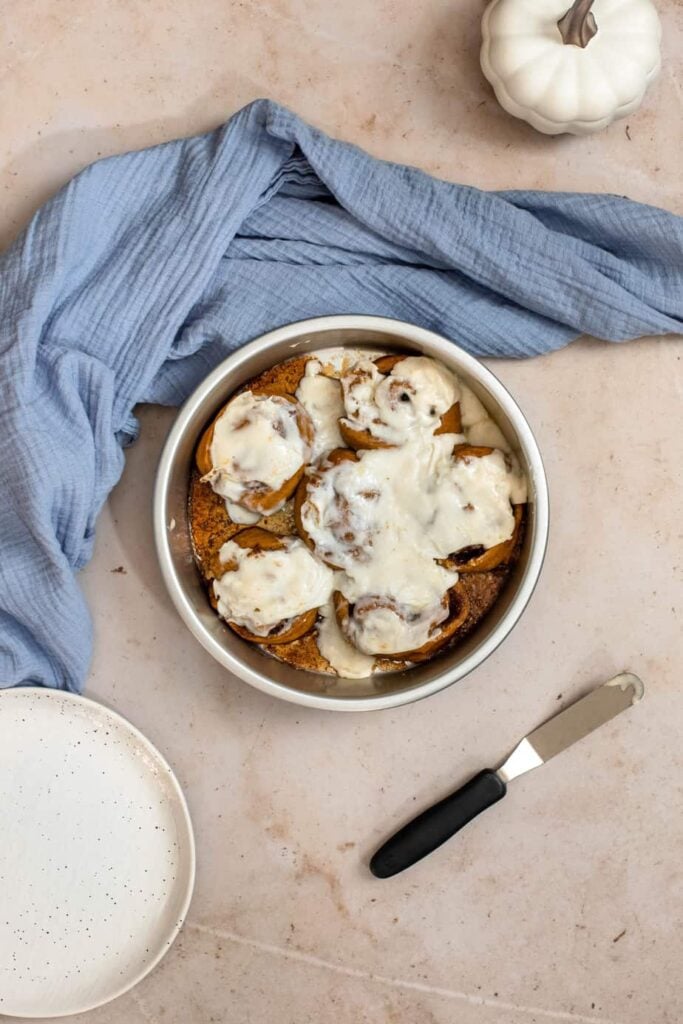 What ingredients will you need to make these cinnamon rolls?
I know that the list of ingredients might look a little overwhelming. And, yeah. It's kind of long. BUT it's all pretty accessible stuff! Let's walk through it.
Flour - Your run-of-the-mill (pun totally not intended) all-purpose flour will work here.
Active dry yeast - You can either scoop some out of the little jar or cut into one of the little 2 ¼ tsp-sized packets.
Granulated sugar - This is just your normal white sugar. What you're probably envisioning when someone says "sugar". You'll need this for both the cinnamon roll dough and the filling.
Brown sugar - Light or dark brown sugar will work just fine. I used light, but that's only because that's what I happened to have in my pantry. Again, you'll need this for both the cinnamon roll dough and the filling.
Pumpkin pie spice mix - This spice mix will go into both the dough and the filling. Though there can be some variation, pumpkin pie spice typically includes ground cinnamon, ginger, cloves, and nutmeg. You can dole these spices out individually, or whip up a jar of your own! Here's my recipe for pumpkin pie spice mix.
Buttermilk - If you don't have buttermilk on hand (I never do), make your own by adding a little distilled white vinegar or lemon juice to whole or 2% milk. Here's how.
Pumpkin puree - NOT pumpkin pie filling. You want the stuff without spices.
Unsalted butter - This will make its way into the dough, filling, and icing. I like to use unsalted butter so that I can control the salt content of my baked goods.
Vegetable/canola oil - Pretty standard. Use either one.
Egg - One large egg.
Cream cheese - This will be used for the icing. Let it sit out on the counter for a little bit so that it softens.
Maple syrup - Please please use the good stuff here. Real maple syrup only, please.
Vanilla extract - Feel free to use store bought, but if you are in the market for a way to make your own, I've got you.
Powdered sugar - Sometimes called icing sugar. You don't need a ton, but I'd definitely recommend using powdered sugar over granulated sugar so that you can get a nice, light, and smooth icing. Other sugars will leave the icing a bit grainy (but still perfectly edible and tasty).
See? It's a lot, but all basic stuff. You got this.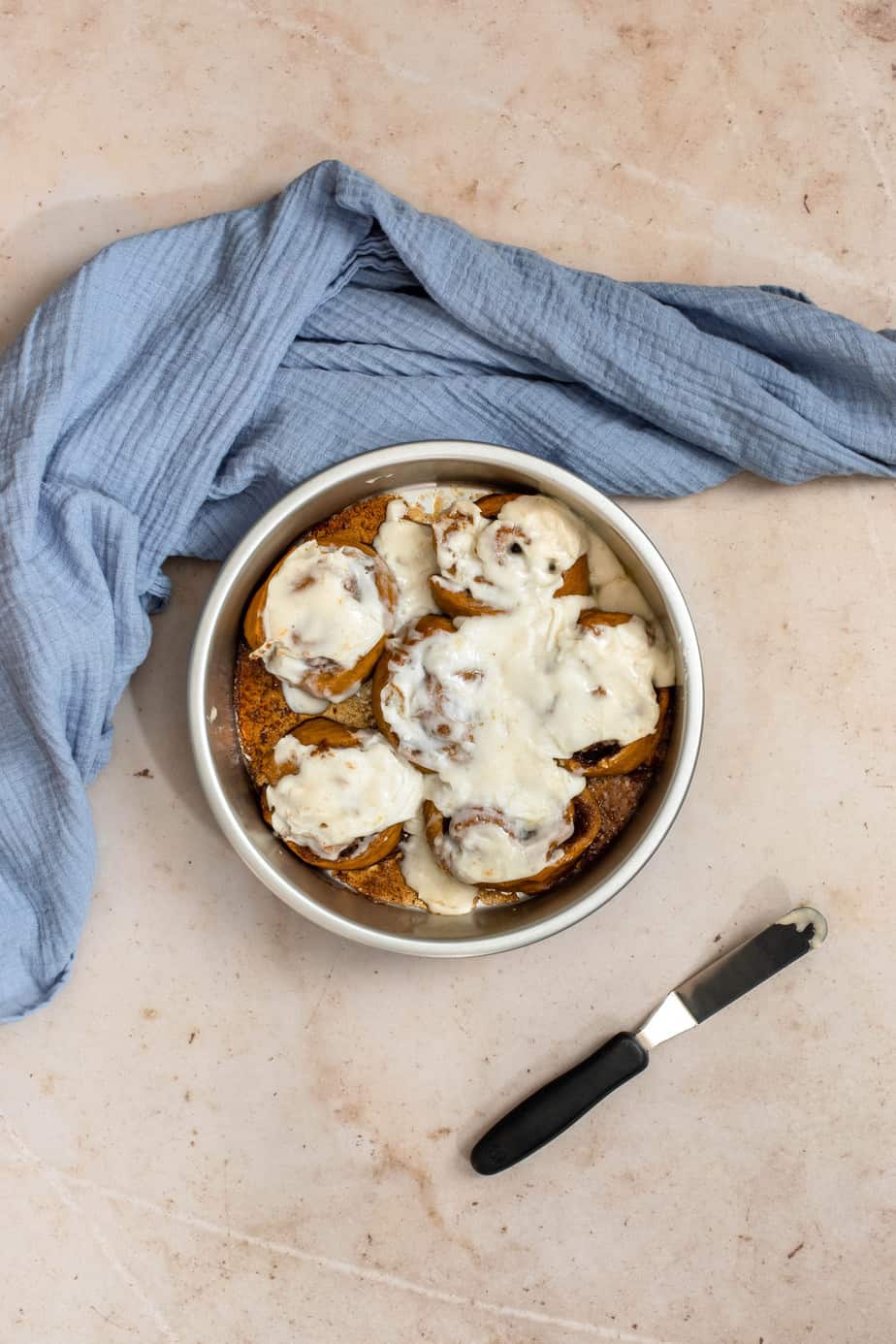 How do they come together?
It's a multi-step process. But stick with me, please! It's not hard at all, and is totally worth it in the end.
First, make the dough
You'll start by combining all of the dry ingredients in the bowl of a stand mixer, mixing them well, and ensuring that everything is well-combined. Wet ingredients will be combined in a microwave-safe bowl and given a little zap in the microwave.
Next, wet ingredients will be added to the dry, mixed to combine, and then kneaded until a shaggy dough ball forms. You'll let the newly formed dough rise until it has approximately doubled in size.
Next, make the filling
The filling comes together in 2 steps. First, you'll want to combine the dry ingredients. Next, melt the butter. You don't need these things just yet, so set both components aside for a bit.
Then... Make the cinnamon rolls!
Now that your dough has doubled in size, you'll turn it out onto a floured surface and roll it out into a rectangle that's approximately 12x10 inches in size. It doesn't have to be perfectly exact.
Pour that melted butter onto the rolled out dough and use a pastry brush to spread it allll around. Next, take the sugar/spices that you mixed up and sprinkle that in an even layer over the melted butter.
Now it's time to roll everything up. Starting on a long edge, roll the dough up as tightly as you can into a cylinder. Cut the dough into 12 rolls and plunk them into a baking dish. Let the dough rise a second time (Unless you're making them ahead of time! If so, see instructions on that below) before baking them until puffed and golden brown.
Make the icing
While the cinnamon rolls bake, you'll want to make the icing. Basically, you just combine all of the ingredients and beat until combined.
Spread the icing onto the warm cinnamon rolls once they come out of the oven. at and enjoy!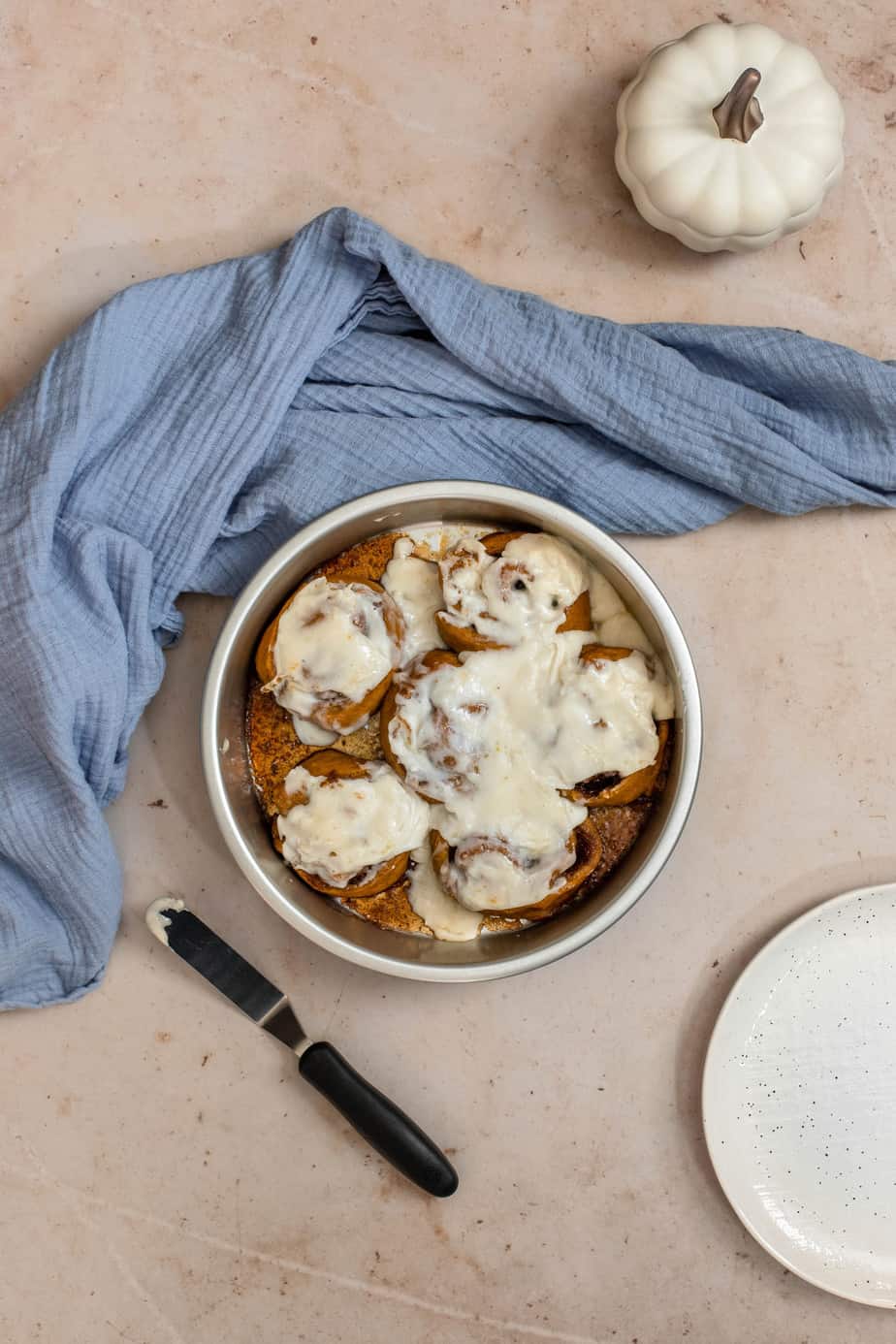 Can I make these the night before?
You sure can! In fact, it's my preferred way of making cinnamon rolls.
If you want to save yourself some effort for the following morning, do this: The night before you want to eat delicious pumpkin cinnamon rolls, you'll want to follow all of the instructions up through putting the sliced (unbaked) rolls into a baking pan. Cover the baking pan with plastic wrap and stash it in the fridge.
The next morning, let the rolls sit on the counter for a bit to rise a little. Take this time to make yourself some coffee. Once the cinnamon rolls have risen a bit more, pop them in the oven and proceed with the instructions as normal.
Looking for other cinnamon roll recipes?
I gotchu!
Take a look at these regular, plain Make Ahead Cinnamon Rolls. If you want something a little fancier (and Mardi Gras-appropriate), I also have King Cake Cinnamon Rolls!
Where does this recipe come from?
This recipe comes from the cookbook Cooking with Pumpkin.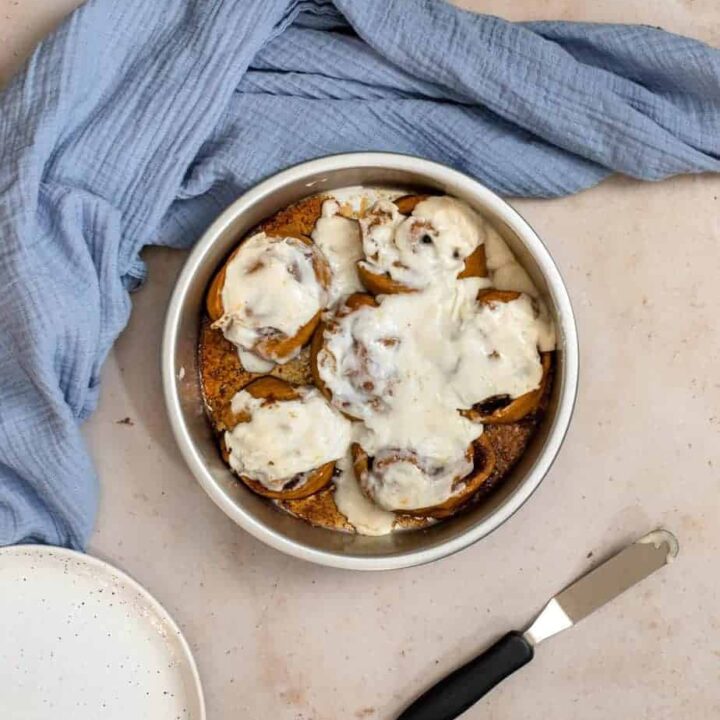 Pumpkin Cinnamon Rolls Recipe
Total Time:
3 hours
55 minutes
These pumpkin cinnamon rolls are sweet and warmly spiced. They're also slathered in some sweet maple cream cheese icing. What could be better?
Ingredients
For the dough
2 ½ cups all-purpose flour
2 ¼ tsp active dry yeast
2 tbsp granulated sugar
2 tbsp brown sugar, packed
⅓ cup buttermilk
¾ pumpkin puree
2 tbsp unsalted butter, cut into chunks 
1 tbs vegetable or canola oil
1 egg
For the filling
½ cup brown sugar, packed
¼ cup granulated sugar
4 tbsp unsalted butter, melted
For the icing
4 oz cream cheese, room temperature
2 tbsp unsalted butter, room temperature
¼ cup real maple syrup
1 tsp vanilla extract
2 cups powdered sugar
Instructions
To make the dough
Add the all-purpose flour, yeast, brown and white sugar, and pumpkin pie spice mix to the bowl of a stand mixer. Mix it all together so that things are well-combined.
In a microwave safe bowl, heat the buttermilk, pumpkin puree,
butter, and oil for 1 minute. Whisk it all together until well-combined.
Fold the warm pumpkin mixture into the dry ingredients and
add the egg. On low speed, knead the dough for 5-7 minutes. If the dough looks too soft, and things haven't combined well enough, add up to ½ cup of additional flour. The dough will be pretty shaggy, and this is okay. Just make sure that there are no pockets of flour hiding under the ball of dough, especially at the bottom of the bowl. Mix those in with a spatula.
Scoop the dough out onto a piece of parchment paper. Spray the bowl of the stand mixer with cooking spray. Return the
ball of dough to the now lubricated bowl. Cover the bowl with plastic wrap, and cover the plastic wrap with a clean kitchen towel.
Put the bowl in a warm, draft-free place, and let it rise until doubled in size (about 2 hours).
When the dough is nearly done rising, line a 9x13-inch pan
with parchment paper, spray it with cooking spray, and set it aside. Alternatively, spray two 9-inch round cake pans, and set aside.

To make the filling
Mix all of the filling ingredients in a small bowl. Set aside.
Melt the butter in another bowl. Set aside.

To make the cinnamon rolls
Once it has risen, turn the dough out onto a floured surface. I used a silicone baking sheet with a little bit of flour. Knead it lightly for about 1 minute.
Using a rolling pin, roll the dough into a 12x10-inch rectangle. Drizzle the melted butter evenly over the dough, and use a pastry brush to help spread it around. Sprinkle the filling over the dough in an even layer.
Starting on one of the long edges, roll the dough into a
long cylinder, as tightly as possible.
Using a sharp knife, or a bench scraper, cut the cylinder of dough into 12 evenly-sized rolls.
Place the 12 rolls into the prepared pan(s). Cover the pan(s) with plastic wrap and let it rest in a warm, draft-free place for about an hour. The rolls should approximately double in size.
Preheat the oven to 350 degrees F. Bake the rolls for 20-25 minutes, or until golden brown and set.
Allow the rolls to cool in the pan a bit before serving. If you're
going to frost them, you should frost the rolls while they're still pretty warm.

To make the icing
Cream the cream cheese, butter, maple syrup, and vanilla extract together until smooth.
Add 1 cup of the powdered sugar and beat until combined. Add as much of the 2nd cup of powdered sugar as you'd like, until the icing reaches the desired consistency.
Slather the rolls with the icing.




Notes
These cinnamon rolls can also be assembled made the night before, to cut down on prep time in the morning. to do that:
Follow all of the instructions up to the point of placing the cinnamon rolls in the prepared pan(s).
Cover the pan(s) with plastic wrap and stash them in the fridge overnight.
In the morning, remove the prepared pan(s) and let them sit on the counter for 45-60 minutes.
Resume the instructions above at step #6 under "to make the cinnamon rolls" (preheating the oven).
Nutrition Information:
Yield:

12
Serving Size:

1
Amount Per Serving:
Calories:

377
Total Fat:

13g
Saturated Fat:

7g
Trans Fat:

0g
Unsaturated Fat:

5g
Cholesterol:

46mg
Sodium:

56mg
Carbohydrates:

62g
Fiber:

2g
Sugar:

39g
Protein:

5g
What gear should I have in order to make this recipe?
A stand mixer will make your life a lot easier when making this recipe. Mine is red.
Silicone spatulas (I have so many of these)
I like to use a bench scraper when cutting the dough into the individual rolls
Pin this recipe for later!