Last Updated on July 5, 2022 by laurenpacek
This post may contain affiliate links. A Nerd Cooks may collect a share of sales or other compensation from the links on this page. More information can be found here.
This Lavender Latte is creamy, floral, and delicious. It's somehow calming and energizing all at the same time.
Buzzy espresso, creamy milk, and herbaceous lavender syrup come together to create a seriously tasty and cozy latte. If you're a lavender lover, you'll be a huge fan of this drink.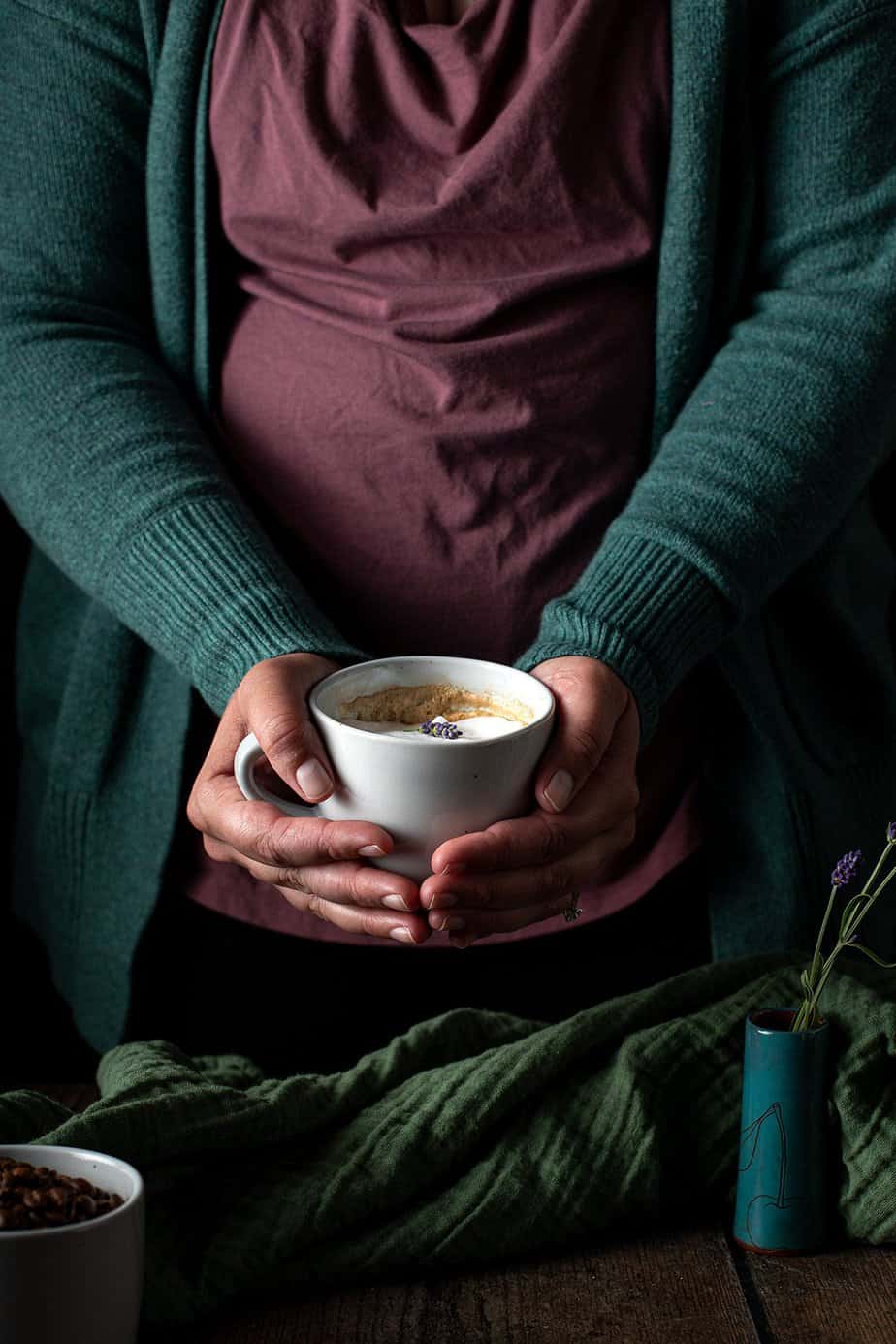 What is a Lavender Latte?
Before we get into that, maybe we should start with the question...
What is a latte?
A latte is an Italian coffee beverage made with espresso and steamed milk. The Italian term caffè latte literally translates to "coffee and milk." While Italian purists will likely only add some sugar, if anything at all, you can also sweeten and flavor your latte with a wide variety of flavored syrups.
Additionally, in the United States, you can order your latte either hot or iced, whereas you'll likely only find the hot version in Italy.
A Lavender Latte is...
Just a latte that has been flavored with lavender syrup!
Ingredients
Espresso: Make your espresso using whatever method you prefer: espresso machine, Moka pot, AeroPress, French press... I use my Nespresso Vertuo machine.
Lavender syrup: You can use either homemade or store bought lavender syrup. If you go the store bought route, I like Torani.
Milk: I've used 2% and whole cow's milk, as well as oat milk, in lattes with great success. My advice is to use whatever you like. However, I'd avoid cream or half and half.
Garnish: I floated a fresh lavender flower on top of my latte, but you could also use dried lavender.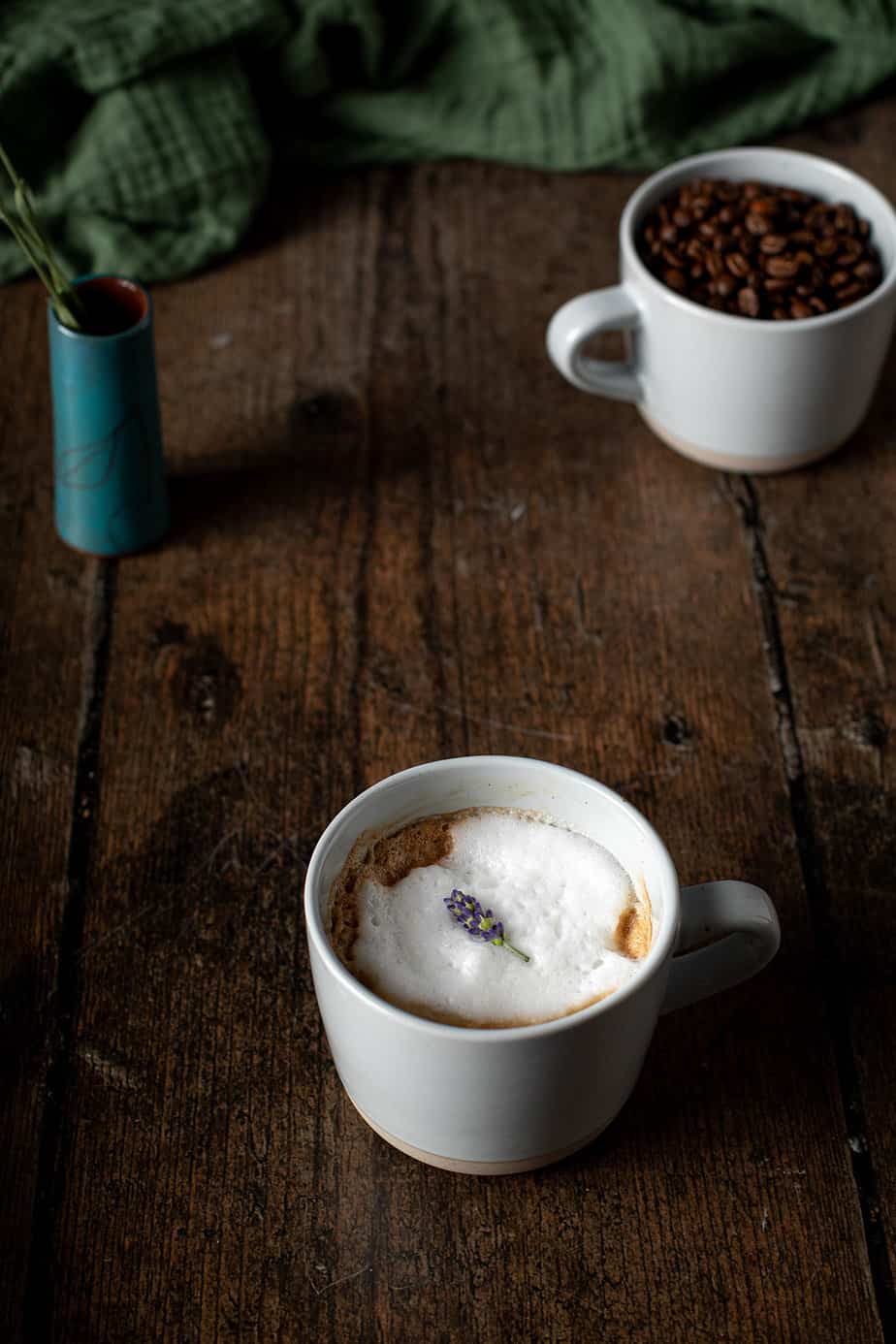 How do you make a Lavender Latte?
To start, you'll brew a double shot of espresso by whatever means you prefer. As mentioned above, I use my Nespresso Vertuo machine to make my espresso.
Next, add your homemade lavender syrup (store bought will work, too) to the brewed espresso.
After that, you'll want to warm and froth your milk. I use the milk frother that comes with my Nespresso. Don't have one? No problem! This article can give you a few options for how to froth milk. Once your milk has been frothed, pour it carefully into your prepared (and sweetened) espresso. Be sure to float some of the foam on top of the espresso!
Last, all you'll need to do (and this isn't mandatory) is garnish your mug with a little fresh or dried lavender. It lets the drinker know what sort of flavor to expect when they take their first sip. Plus, it's pretty!
Recommended tools
Other latte recipes
FAQs/Tips and Tricks
What if I don't have an espresso machine?
You have a couple of other options: Use some really strong coffee (probably the next best choice if actual espresso isn't an option) or instant espresso (not the first recommended choice, but could work in a pinch).
What kind of milk should I use?
I have used oat milk (Oatly full fat and Chobani Extra Creamy; my preferences), 2% cow's milk, and whole cow's milk. All have worked very well. Though I haven't tried it, I imagine that almond milk would work well, too. My one recommendation would be to consider avoiding cream and/or half and half, if only from a calorie perspective.
How do I froth milk?
You have a number of options here. You can use a milk frother (like this one that came with my Nespresso), or this stick frother). If using a stick frother, you'll need to heat the milk before frothing. The one that comes with the Nespresso heats and froths at the same time. You can even use a French Press or a whisk! This post can tell you more.
Can I make an iced lavender latte?
You sure can. Follow the instructions in my Iced Latte recipe, adding the lavender syrup in Step 3.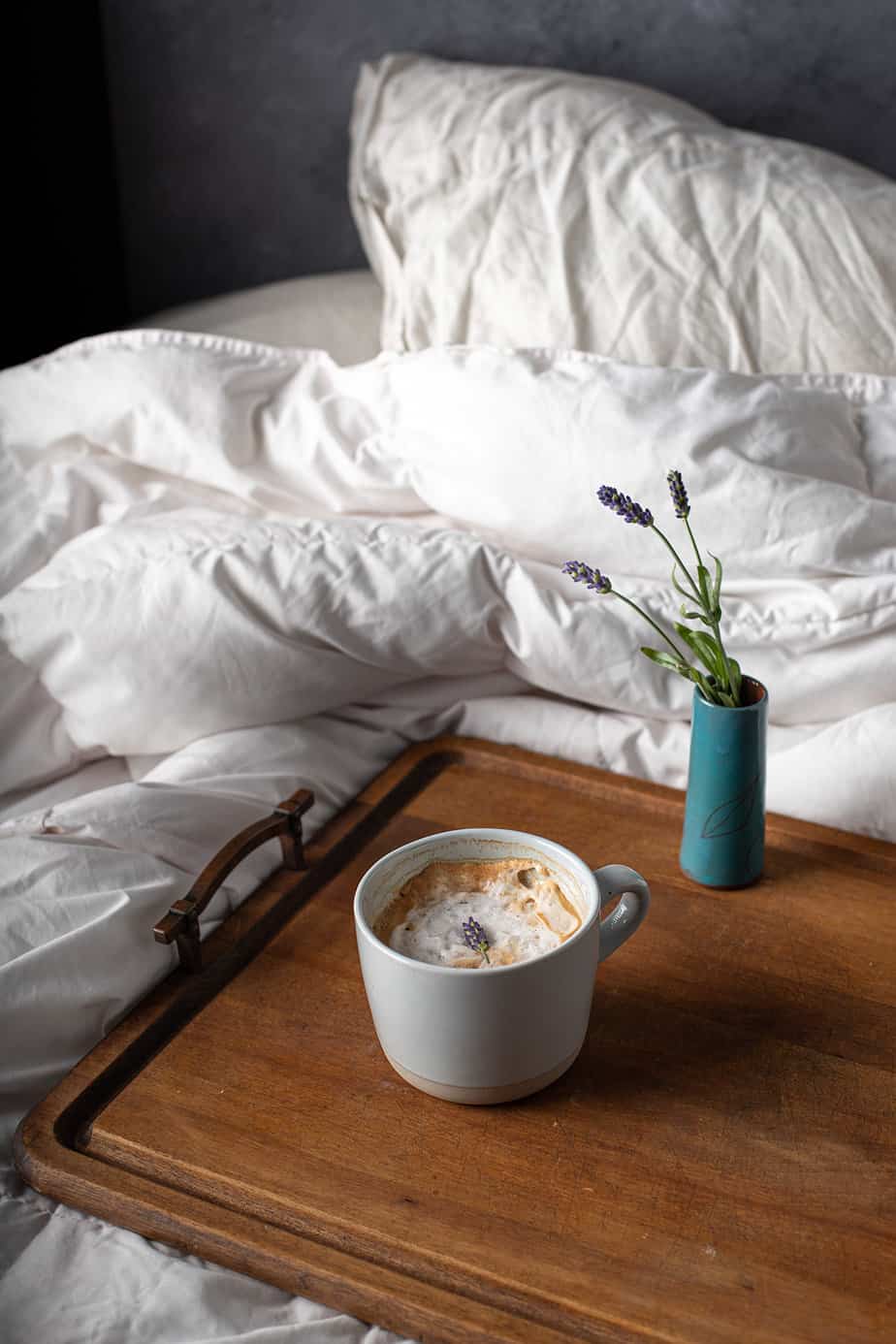 Share your creations and follow me on social media!
Subscribe to the A Nerd Cooks Newsletter to have updates sent straight to your inbox.

I love seeing when you share my recipes! Please tag me on Instagram @anerdcooks so I can enjoy them virtually with you! You can also find me on Pinterest, Facebook, YouTube, and Twitter.

I'd love to know what you thought of this recipe! Don't forget to leave a comment and
⭐️ star rating below!
The Recipe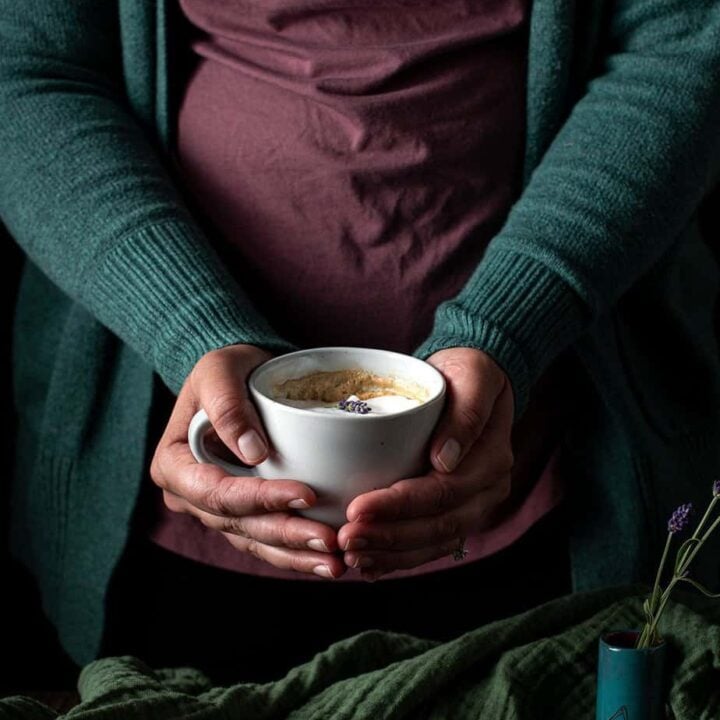 Lavender Latte
This Lavender Latte is creamy, floral, and delicious. It's somehow calming and energizing all at the same time.
Ingredients
2 shots espresso (about 3 ounces)
4 ounces milk, see notes
fresh or dried lavender, for garnish (optional)
Instructions
Brew your espresso according to your preferred method. Add the lavender simple syrup to the espresso.
Warm and froth the milk. Pour it into the espresso, being careful to end with the light foam on top of the drink.
Garnish with a fresh lavender flower or dried lavender buds, if desired.
Notes
Use whatever milk you prefer. I've used oat, 2%, and whole milk.
Nutrition Information:
Yield:

1
Serving Size:

1
Amount Per Serving:
Calories:

704
Total Fat:

4g
Saturated Fat:

2g
Trans Fat:

0g
Unsaturated Fat:

1g
Cholesterol:

10mg
Sodium:

112mg
Carbohydrates:

167g
Fiber:

4g
Sugar:

157g
Protein:

8g
Pin this recipe for later!