This Blonde Vanilla Latte is made with light and smooth blonde espresso. It's warm, comforting, and energizing. It's even better than the vanilla latte that you can get at Starbucks!
I say that it's even better than Starbucks because you won't have to wait in line to get it, and making it at home will save you so much money. It also tastes great, of course.
Read on to find out how to make this hot Blonde Vanilla Latte, as well as variations on it. Consider making this an iced vanilla latte (also made with blonde espresso!), a skinny vanilla latte (see the FAQs section for this one), or switch up the kind of espresso and milk that's used (also in the FAQs). No matter what variation you choose, I'm confident that you'll love it.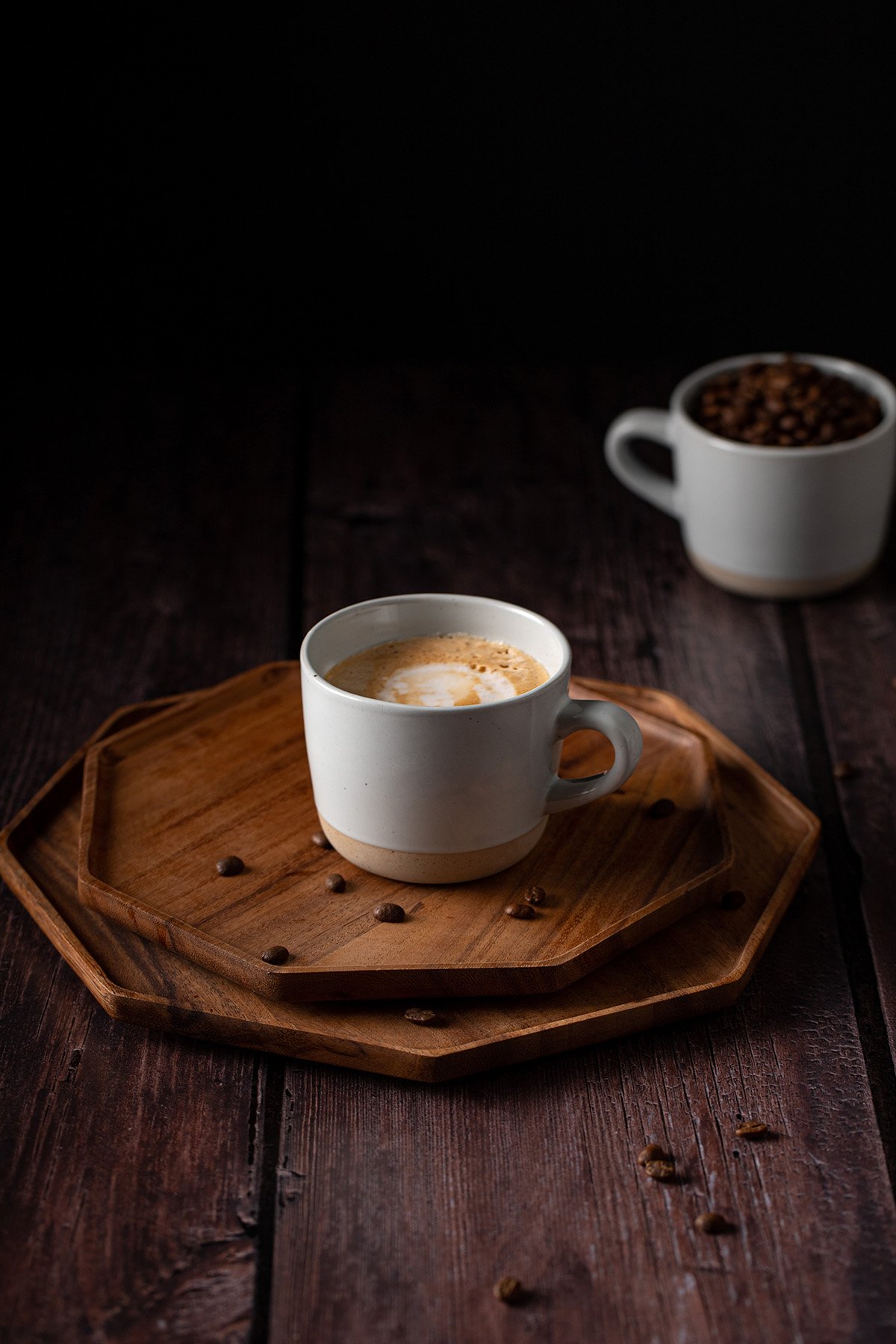 Jump to:
🌟 Why You'll Love This Recipe
It only requires three ingredients. Only three ingredients stand between you and a warm, energizing, latte.
It tastes just like the latte from Starbucks. Save yourself some time and $$ by making this at home and avoiding the Starbucks drive thru.
It's easy to make. All you need to do is brew some espresso and warm some milk. You can do this!
💭 What is a Blonde Vanilla Latte?
A latte is made up of espresso, steamed and frothed milk, and flavoring, if desired.
A Blonde Vanilla Latte is a latte, flavored with vanilla syrup, and made with blonde espresso. We'll get into what blonde espresso is in a second.
What is blonde espresso?
Blonde espresso is a name for espresso made from beans with a coffee bean roast profile that is at the lighter end of the roasting scale.
This lighter roast results in higher acidity (i.e., brightness) and a lighter body. Despite the lighter roast, the caffeine content in blonde and regular espresso are pretty comparable (though lighter roasts can actually have higher caffeine contents!).
If you're a fan of Starbucks coffee, you may be familiar with the blonde roast, as they've had it on their menu for a little while now.
📝 Ingredients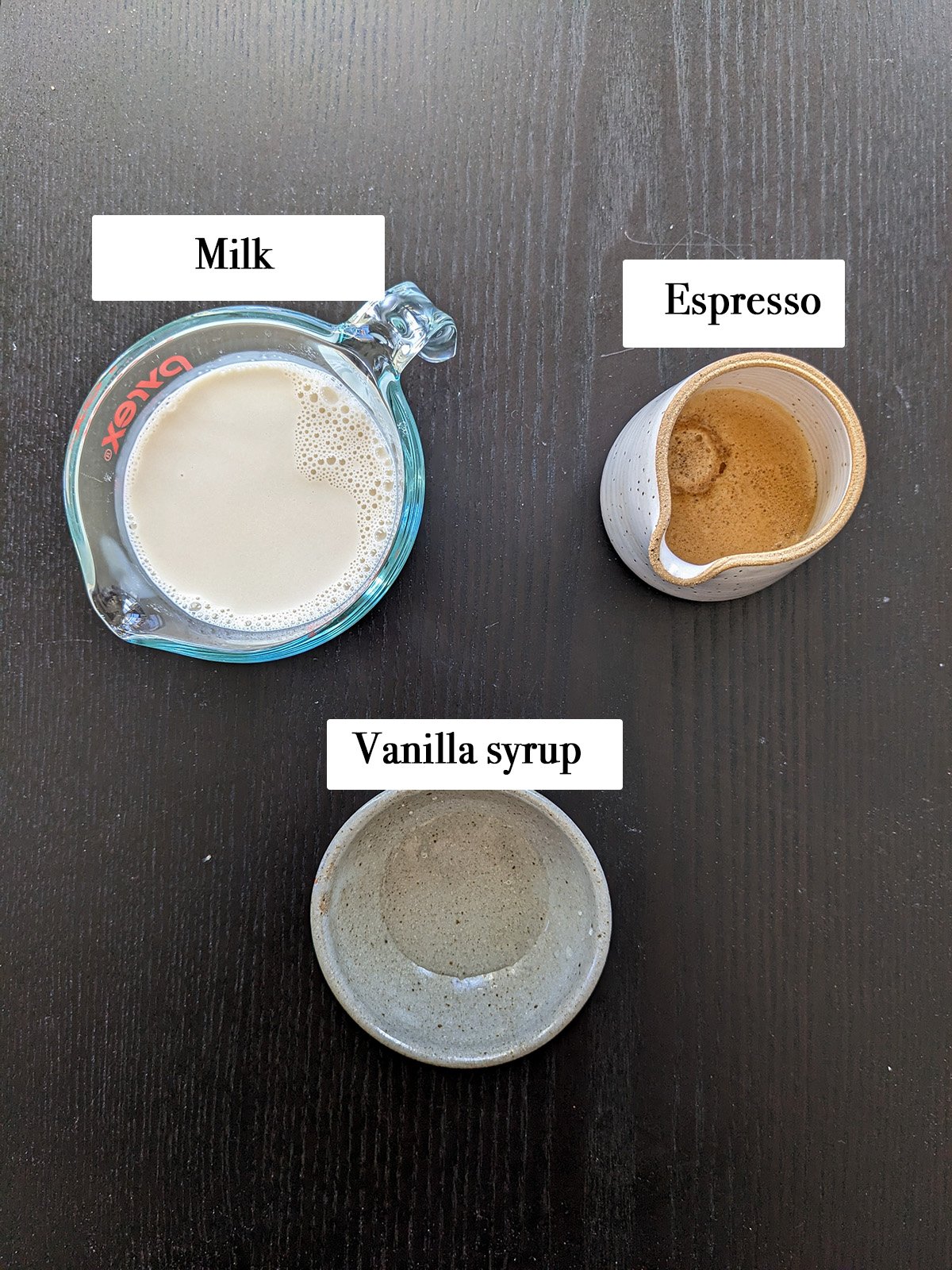 Espresso: This recipe calls for blonde espresso. You can make your espresso using whatever method you prefer: espresso machine, Moka pot, AeroPress, French press... I use my Nespresso Vertuo machine. I picked up some Starbucks Nespresso Vertuo blonde espresso pods for this purpose.
Vanilla syrup: You can use store bought or homemade vanilla syrup. It's so easy to make your own (and it tastes so good) that I urge you to give it a try.
Milk: You can use whatever milk you prefer for this recipe. I tend to favor oat milk, but almond and cow's milks also work very well in this recipe.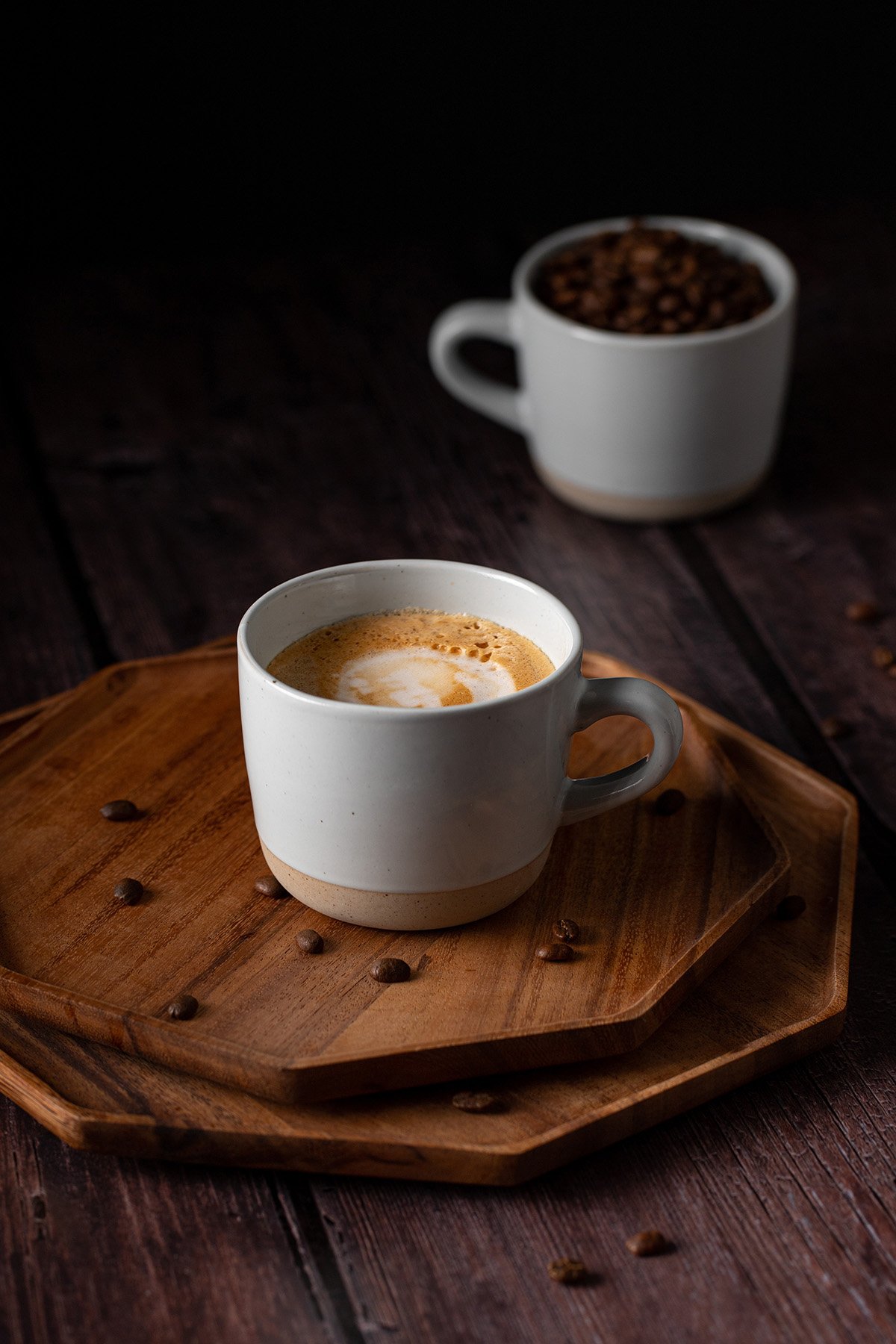 👩🏻‍🍳 How to make a Blonde Vanilla Latte
We'll walk through the steps below:
With an espresso maker and milk frother
Brew your espresso either into a separate vessel or into the cup or mug out of which you plan to drink your latte. If you brew it into a different container, pour it into the mug that you'll be drinking out of.
Next, add your vanilla syrup to the espresso.
After that, you'll warm and froth your milk. You can do that by either warming the milk separately and using a stick milk frother, or you can use the kind of frother that warms and froths at the same time. Pour the warmed and frothed milk into the mug with the espresso, being careful to float the foam on top of the drink.
Without an espresso maker
If you don't own an espresso maker, the next best choice would be to brew some really strong coffee. It won't be exactly the same, but will work in a pinch.
You could also use instant espresso. It comes in powdered form, and all you need to do is add hot water. It wouldn't be my first choice, but is another option for you to consider.
Without a milk frother
If you aren't an owner of some form of milk frother, you can still froth your milk for this latte! A couple of options include using a French press or a whisk. Check out this post to learn more.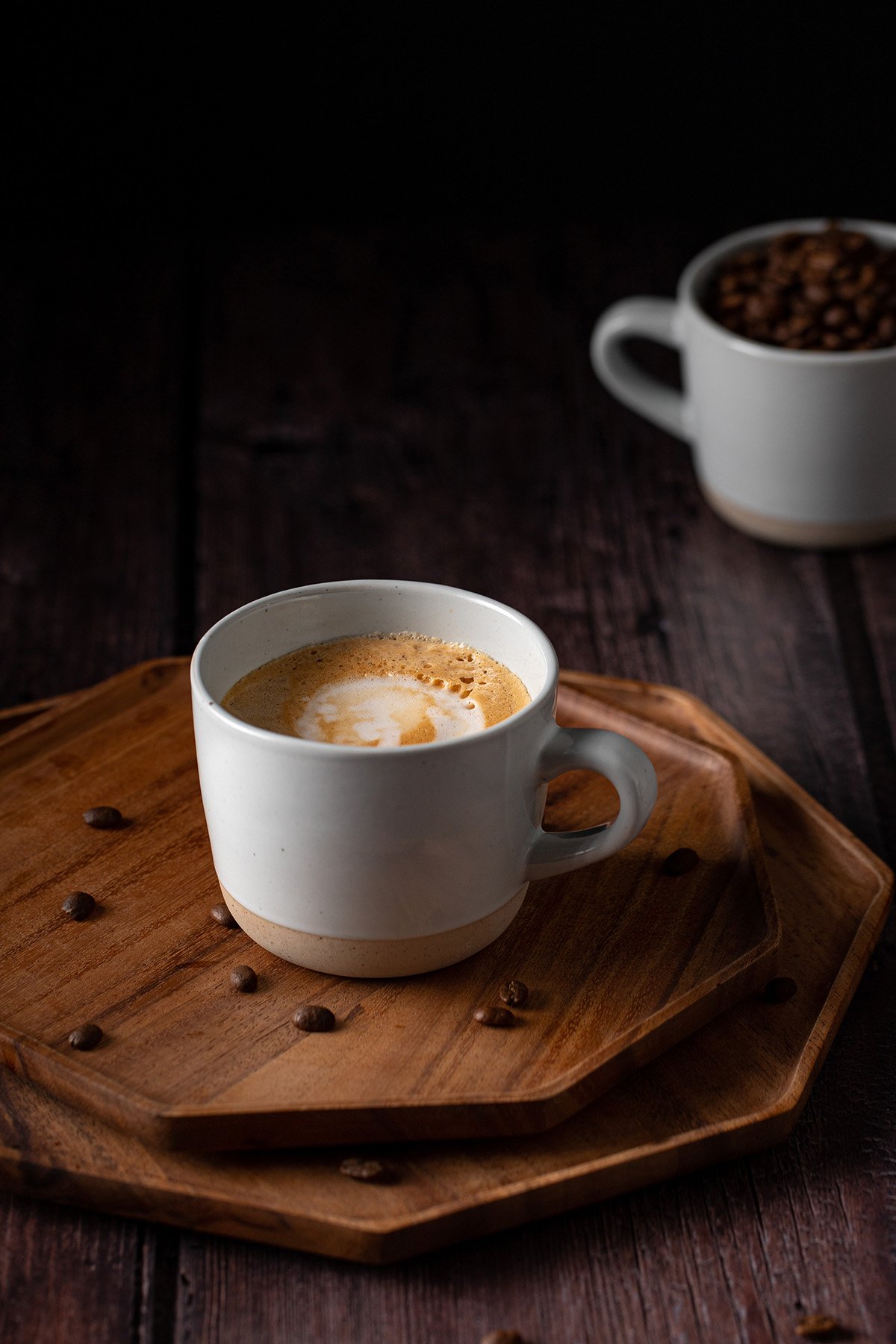 🔗 Other Starbucks and latte recipes
Looking for more Starbucks copycat recipes? Maybe more lattes? Check out the photos and links below for some more recipes from this blog, as well as some recipes from other bloggers!
❓ FAQs/Tips and tricks
Can I make an Iced Blonde Vanilla Latte, instead?
Absolutely! You can make this an iced vanilla latte instead of a hot one.
What if I don't have an espresso machine?
You can use strong coffee or instant espresso instead.
What if I don't have a milk frother?
Check out this post to learn more.
What kind of milk should I use?
Whatever kind of milk that you prefer! I like oat milk, but you do you.
Starbucks Vanilla Latte calories
According to the calorie calculator in my recipe card, this drink contains 176 calories!
How to make a Starbucks Skinny Vanilla Latte?
You can cut down on the calories in this latte even further by using a lower fat milk and sugar free vanilla syrup.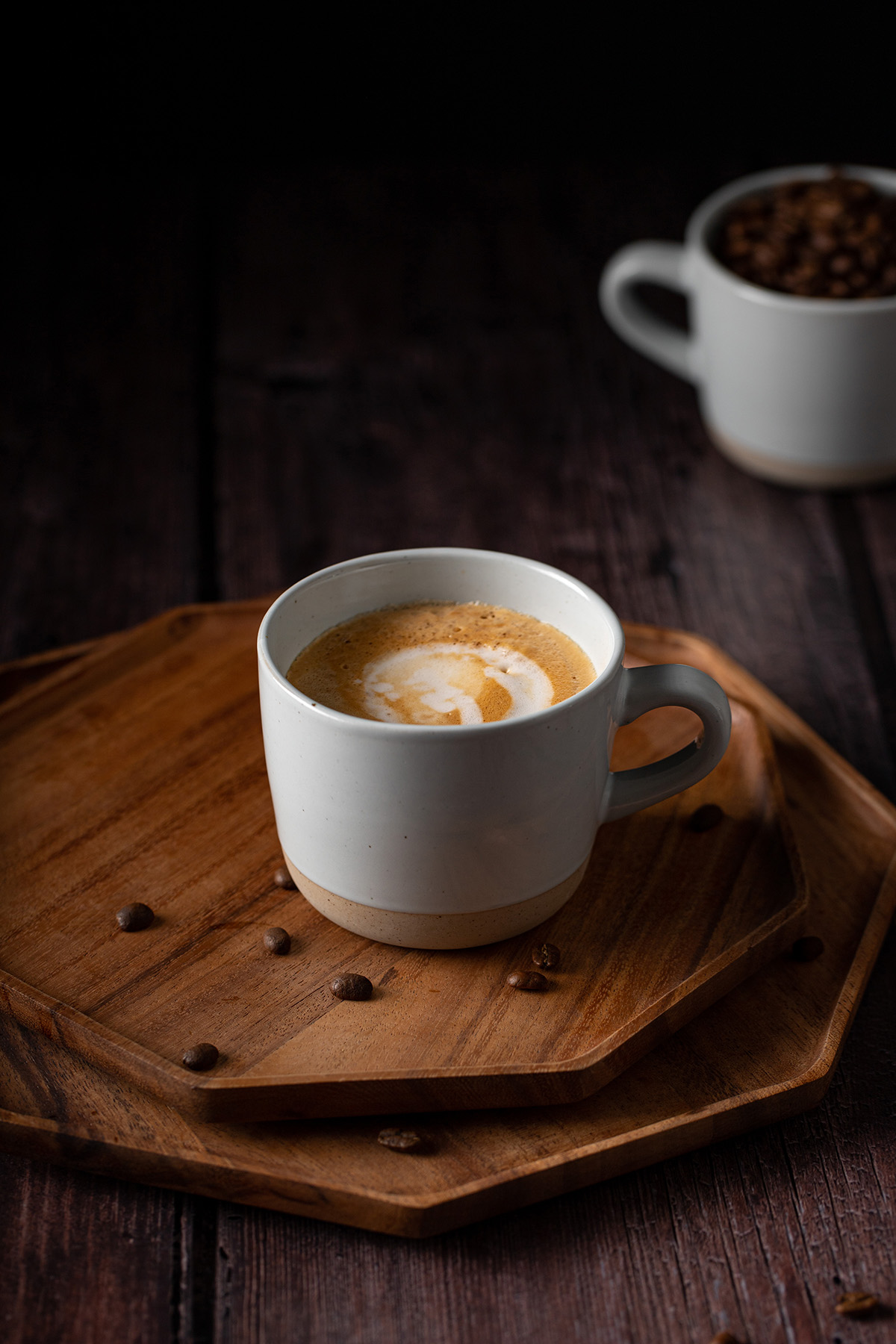 🖤 Share your creations and follow me on social media!
✨ Recipe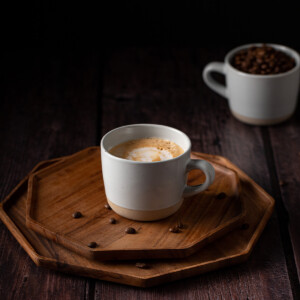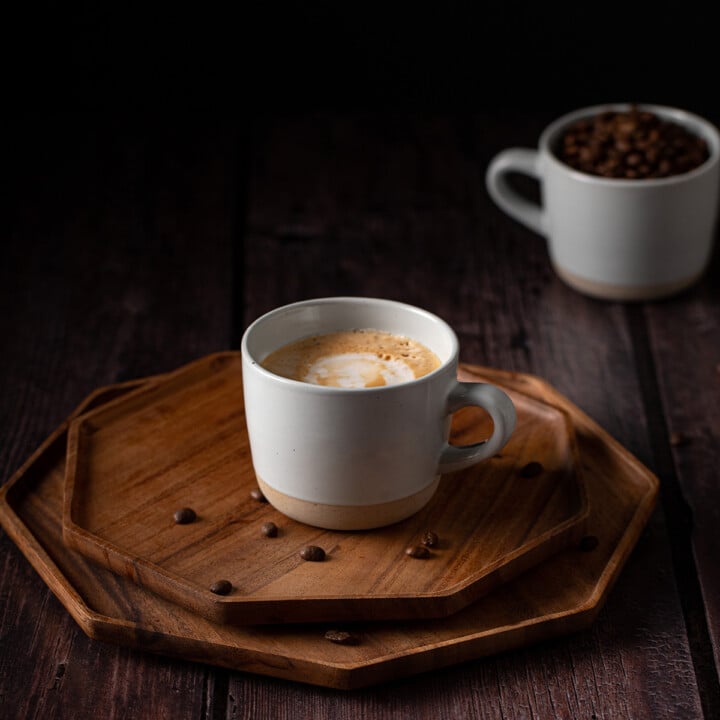 Blonde Vanilla Latte
This Blonde Vanilla Latte is made with light and smooth blonde espresso. It's warm, comforting, and energizing. Better than Starbucks!
Ingredients
2

shots espresso

1

ounce

vanilla syrup

or to taste

¾

cup

milk of choice
Instructions
Brew the espresso into a mug, or whatever vessel you plan to drink out of.

Warm and froth the milk. Pour it over the brewed espresso.
Notes
Use whatever milk you prefer. I tend to use oat milk, but have also used almond and cow's milk with great success.
If you prefer cold coffee drinks, you can also make an Iced Blonde Vanilla Latte.
Nutrition
Serving:
1
Calories:
176
kcal
Carbohydrates:
30
g
Protein:
6
g
Fat:
4
g
Saturated Fat:
2
g
Polyunsaturated Fat:
1
g
Cholesterol:
15
mg
Sodium:
98
mg
Sugar:
29
g
Disclaimer: Nutritional information is a generated estimate and is not guaranteed to be accurate.
📌 Pin this recipe for later!