This Iced Vanilla Latte (made with blonde espresso) is a sweet and refreshing way to get your caffeine fix! It tastes just like Starbucks. Only this latte is better, because you don't have to wait in line and it's a fraction of the cost because you're making it at home!
There's something so comforting about this iced latte, regardless of the time of year. I know that cold coffee drinks and Summer go hand in hand, but I really love a cold coffee all year round. No matter when you decide to imbibe, I know that you'll love it.
If you'd like more Starbucks copycat recipes, I have them! Try an Iced Cinnamon Dolce Latte or Iced Pumpkin Spice Latte! And don't forget a little treat for your dog, like a Pup Cup!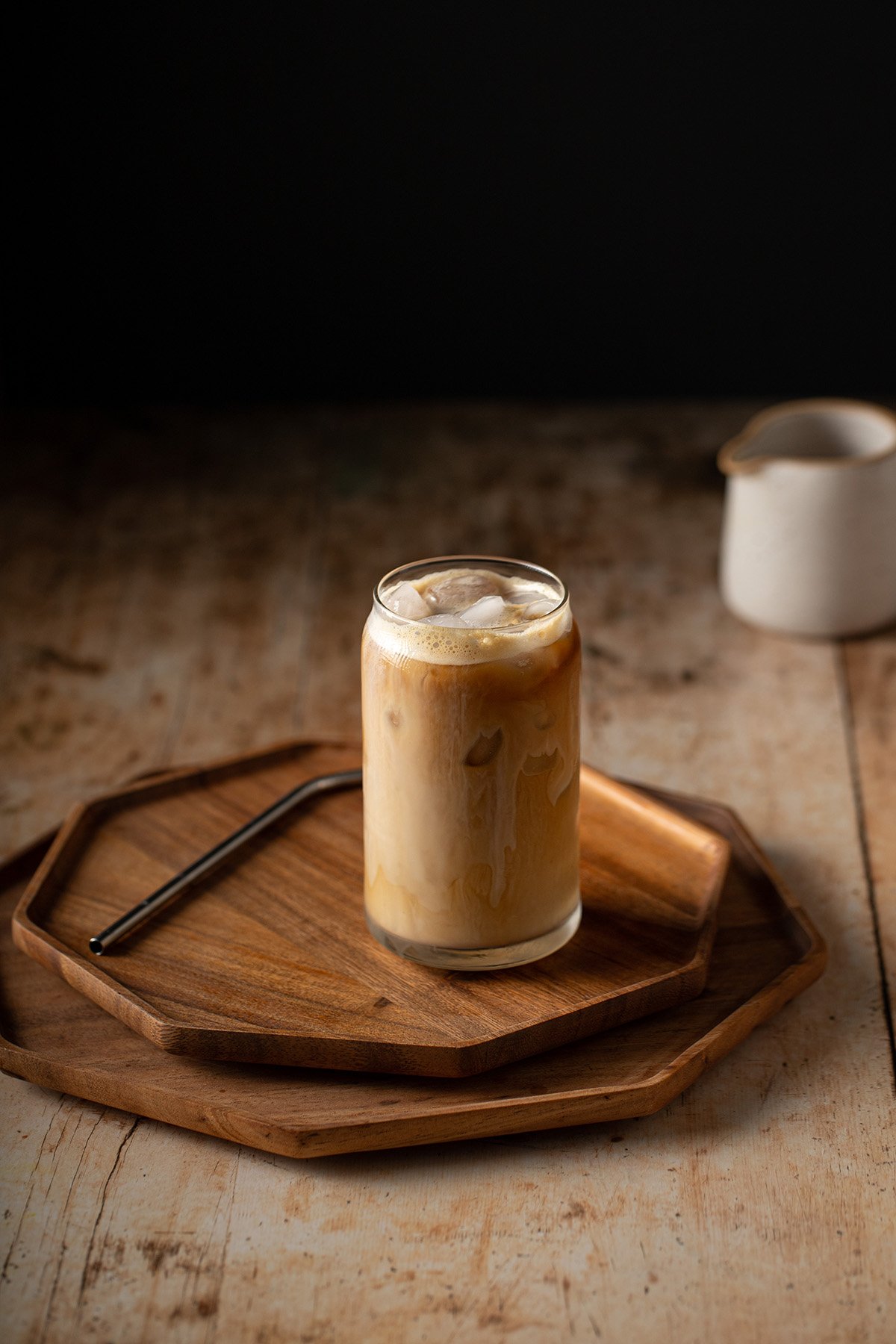 Jump to:
🌟 Why You'll Love This Recipe
It tastes just like the iced latte from Starbucks. This is a Starbucks copycat recipe, so it will taste just like your favorite Starbucks treat. Save time and money by making yours at home!
It's easy to make. Can you brew some espresso and pour liquid into a glass? Then you can 100% make this drink.
It's sweet and refreshing. Sweet, cold, and caffeinated. This latte is sure to please.
💭 What is an Iced Vanilla Latte?
An iced vanilla latte is a cold espresso drink made up of (you guessed it) espresso, vanilla syrup, and milk. You can use whatever milk you prefer, as well as whatever espresso you like. Use a blonde roast espresso to make an iced blonde vanilla latte, if that's what you like!
Iced latte vs. iced coffee
An iced latte is made with espresso, which is different than iced coffee. Iced coffee is just regular drip coffee that has been brewed over ice. Espresso is thicker and more intense than coffee, due to a finer grind, lower grounds to water ratio, and pressurized brewing method.
Espresso is preferred in this recipe, but you can use strong iced coffee or cold brew coffee, if that's all that you have available.
📝 Ingredients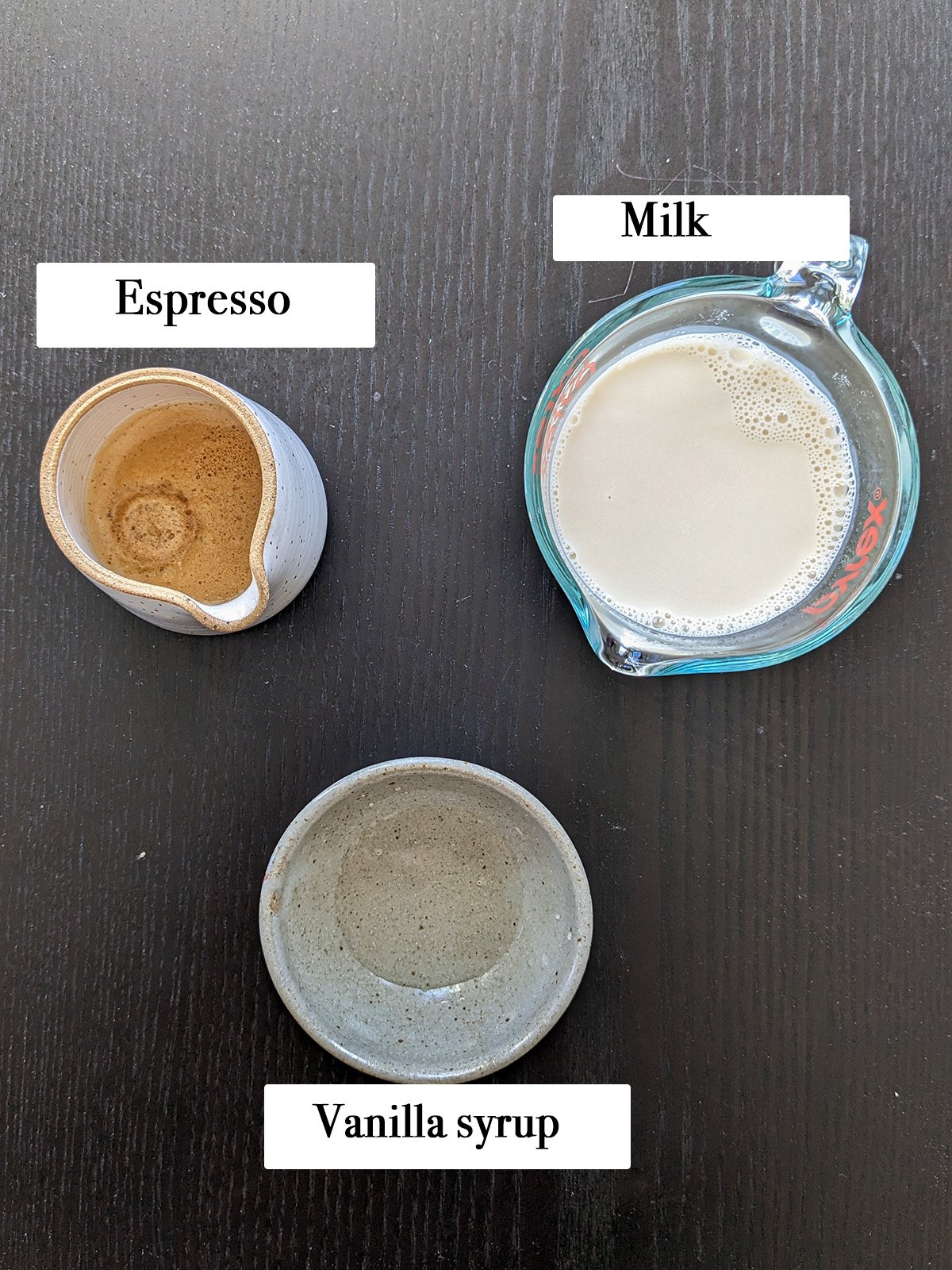 Espresso: Ideally you'll use espresso made using an espresso machine. I have a Nespresso Vertuo, and love it. Your next best option would be to use really strong coffee.
Vanilla syrup: You can use a store bought variety, as well as a homemade vanilla syrup. It's so easy to make (and so good!) that I highly recommend making your own.
Milk: Use whatever milk you prefer: cow, almond, oat, etc. I almost exclusively use oat milk (Chobani or Oatly, with a preference for the full fat variety). You do you!
👩🏻‍🍳 How to make an Iced Vanilla Latte
You'll start out by filling a cup (or whatever you plan to drink out of) with ice.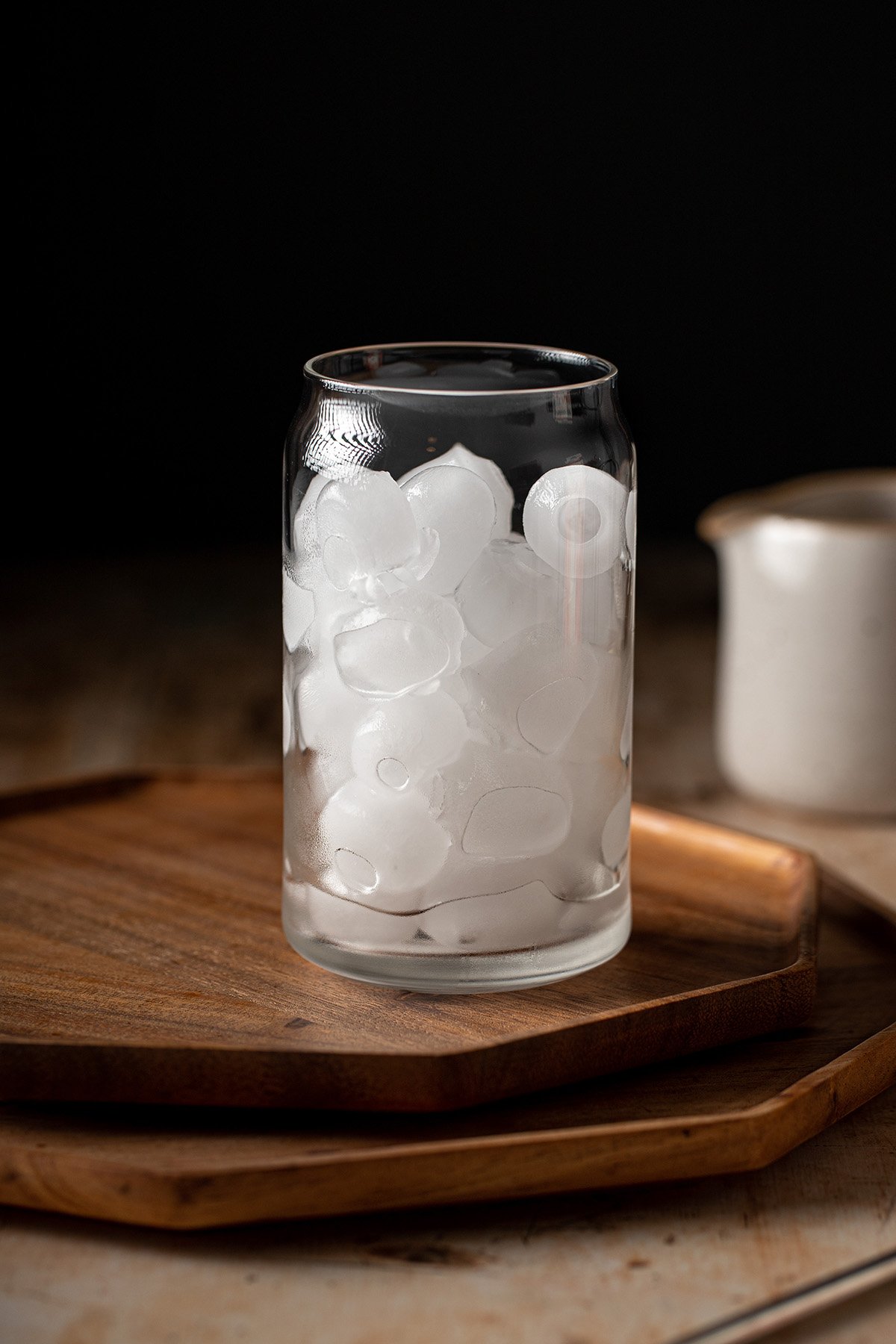 Next, brew your espresso. You can brew it into another vessel (like I did) or straight into the glass filled with ice. Your choice. Add your vanilla syrup to the glass with espresso and ice.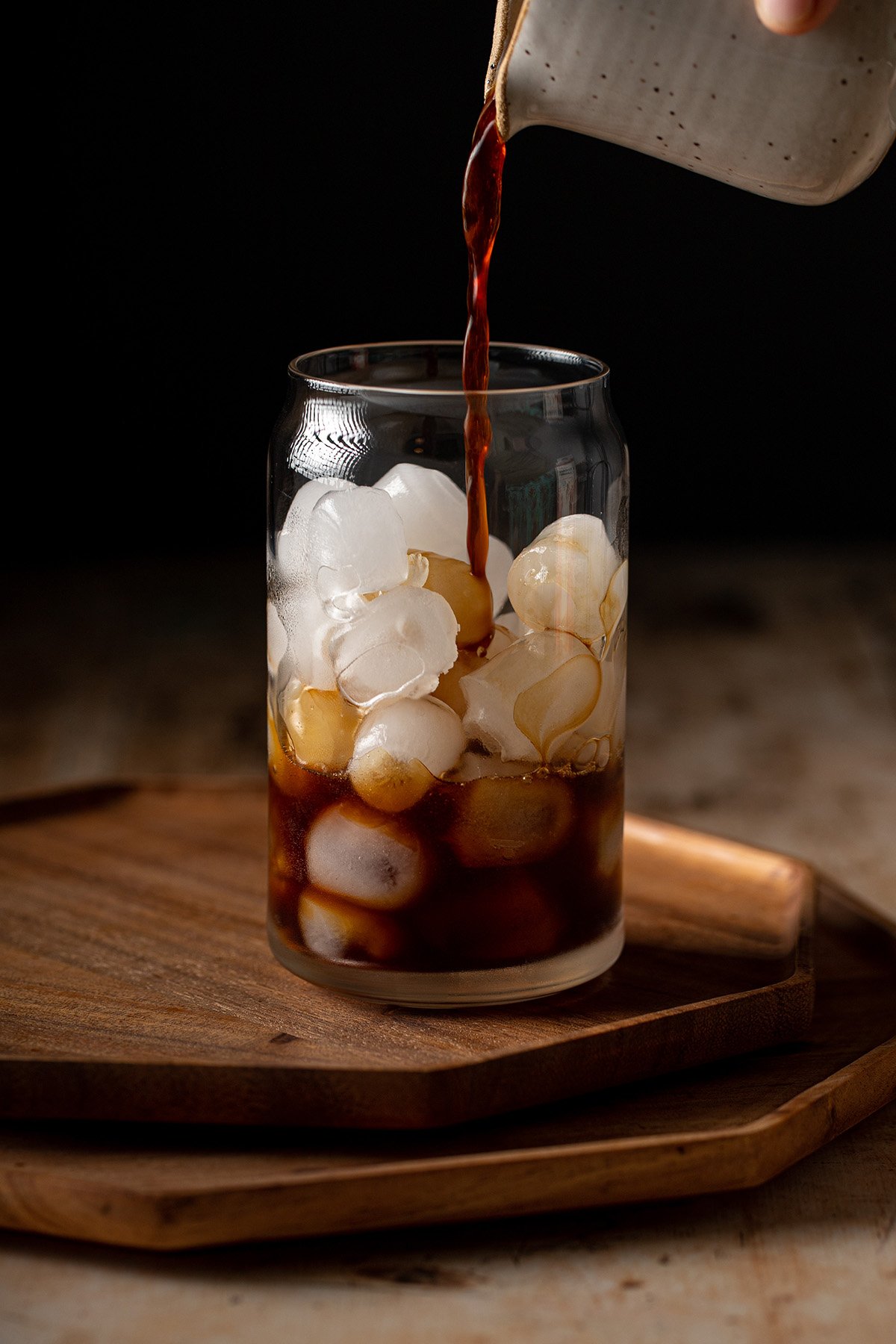 After that, top everything off with your milk of choice. Please don't be like me and spill the milk everywhere.
I almost always use oat milk, but use whatever you prefer. I've made iced lattes with oat milk, almond milk, and cow's milk, all with great success.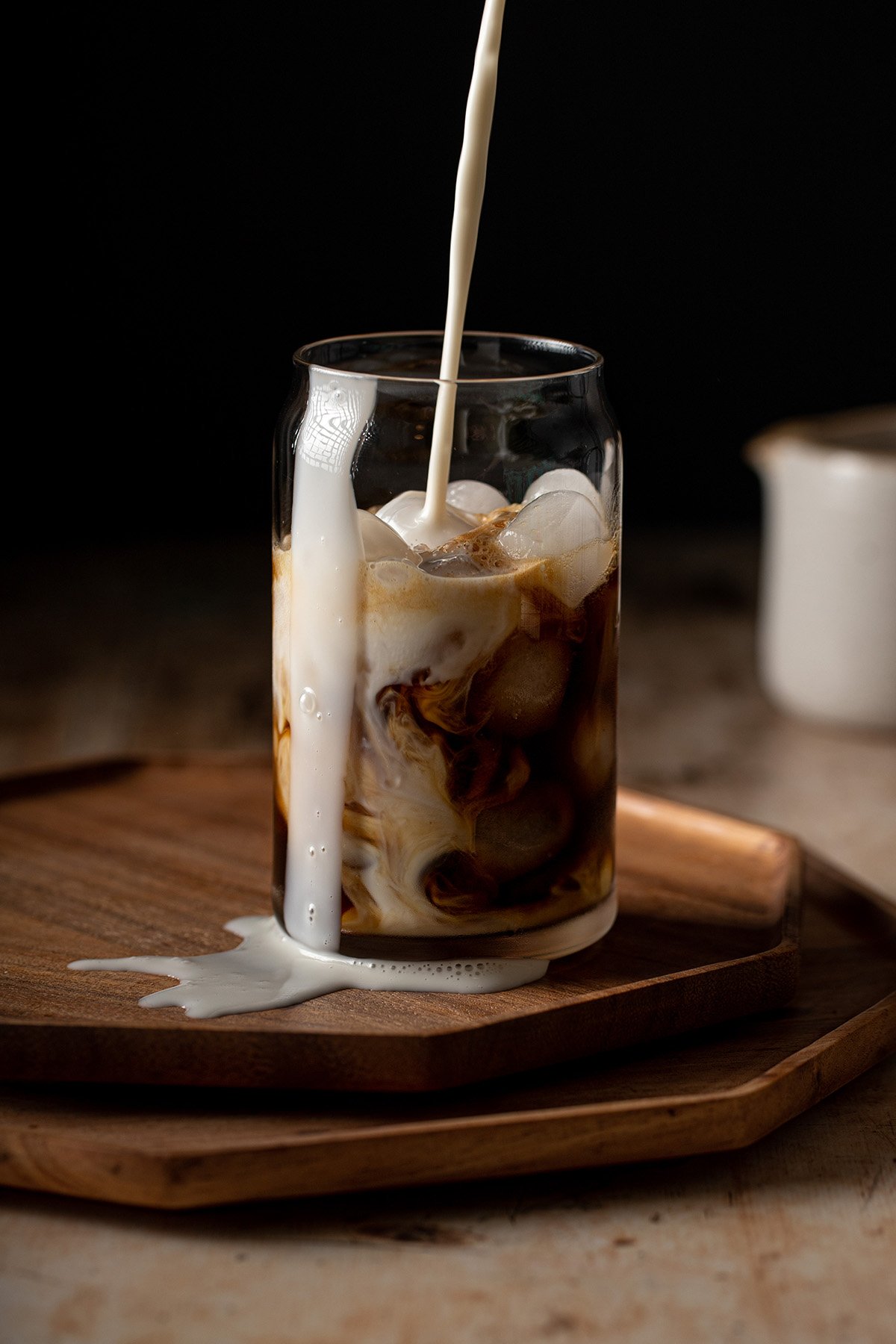 🔗 Other Starbucks and iced latte recipes
If you're looking for more Starbucks copycat recipes, along with other iced latte recipes, check out the photos and links below.
❓ FAQs/Tips and tricks
What if I don't have an espresso machine?
You still have a couple of options. You can use some really strong coffee (probably the next best choice) or instant espresso (not the first recommended choice, but could work).
What kind of milk should I use?
Whatever you like. I have used oat milk (Oatly and/or Chobani full fat/extra creamy) and 2% cow's milk. Both have worked beautifully.
Will this taste like the Iced Vanilla Latte from Starbucks?
Yes! This is a Starbucks copycat recipe, so it will taste like the iced vanilla latte from Starbucks.
Do I have to use blonde espresso?
Not if you don't want to! If you use something else, it won't be an iced blonde vanilla latte. But it will still be delicious.
Can I make a hot blonde vanilla latte?
Yes! You can definitely make this into a hot vanilla latte, instead.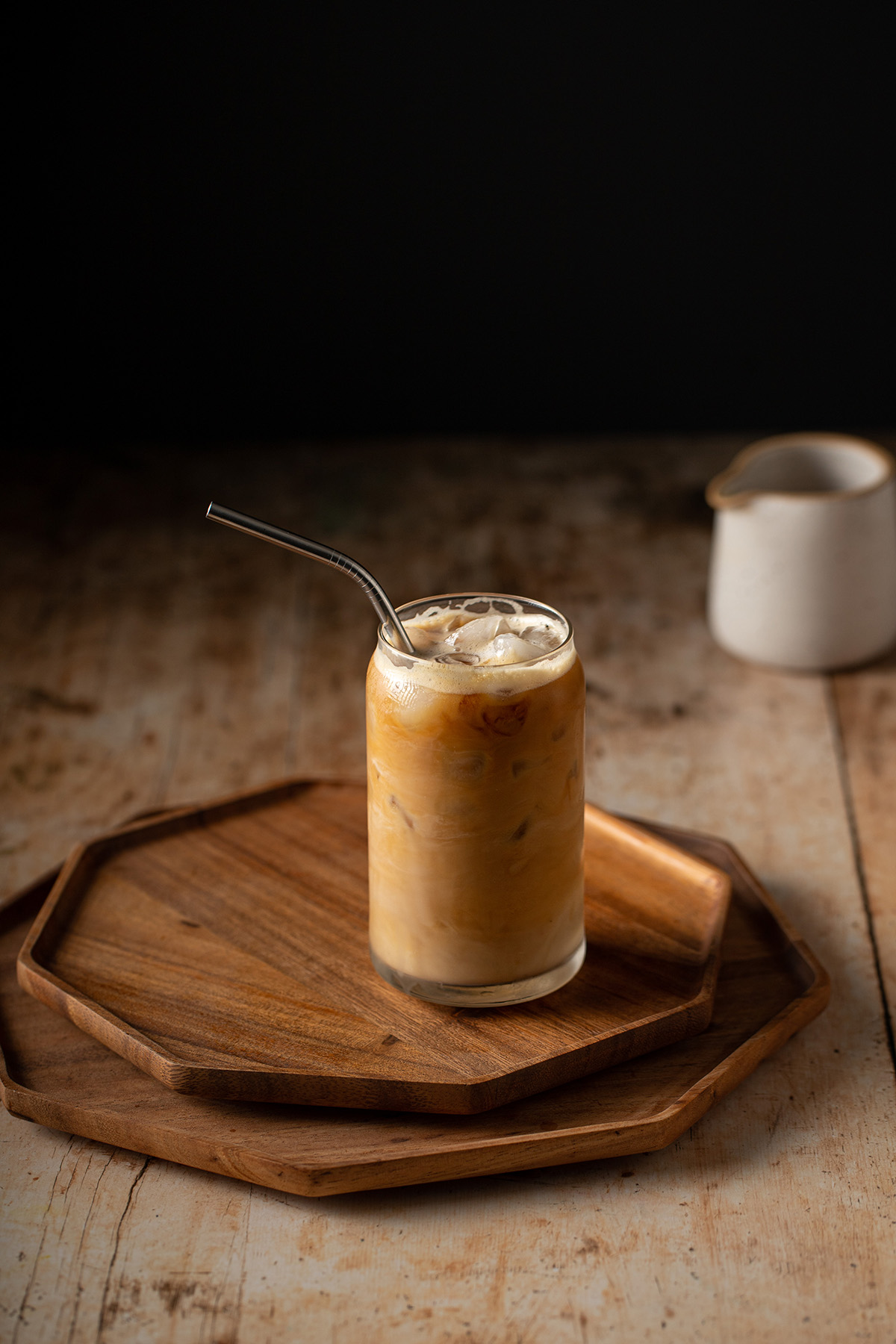 I'd love to know what you thought of this recipe! Don't forget to leave a comment and ⭐️ star rating below!
✨ Recipe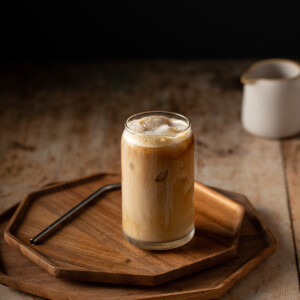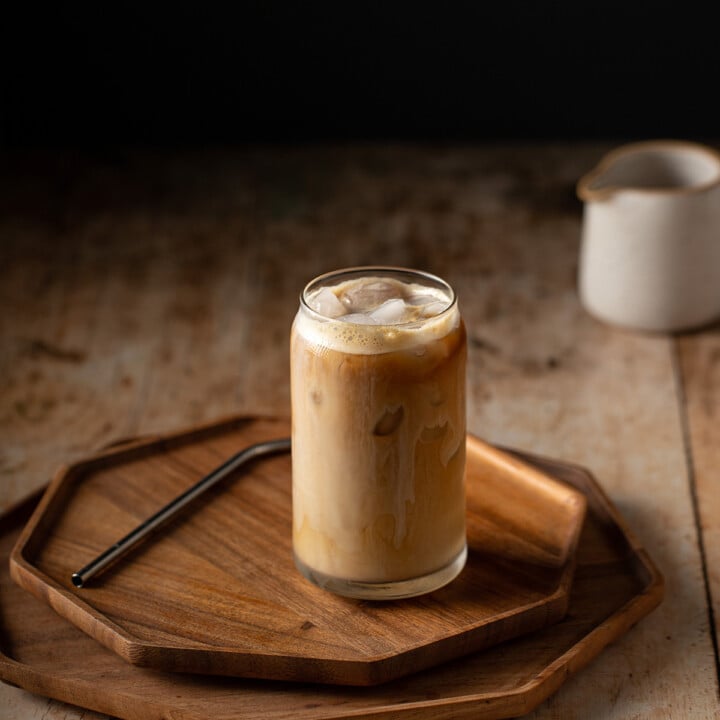 Iced Vanilla Latte
This Iced Vanilla Latte (made with blonde espresso) is a sweet and refreshing way to get your caffeine fix! It tastes just like Starbucks.
Ingredients
2

shots espresso

about 2 ounces

1

ounce

vanilla syrup

¾

cup

milk of choice
Instructions
Fill a glass with ice and set aside.

Brew the espresso into a separate cup, or directly into the glass with ice.

Add the vanilla syrup.

Top the latte off with milk. Stir gently.
Notes
Use whatever milk you prefer. I tend to use oat milk.
If you prefer a hot latte, you can make a hot Blonde Vanilla Latte
Nutrition
Serving:
1
Calories:
176
kcal
Carbohydrates:
30
g
Protein:
6
g
Fat:
4
g
Saturated Fat:
2
g
Polyunsaturated Fat:
1
g
Cholesterol:
15
mg
Sodium:
98
mg
Sugar:
29
g
Disclaimer: Nutritional information is a generated estimate and is not guaranteed to be accurate.
📌 Pin this recipe for later!