It could seriously not be easier to make cold brew coffee at home. All it takes is two ingredients and a little time.
Homemade cold brew coffee is amazing. For the vast majority of you out there, this will not be new information. But I only recently discovered this. I've never been a coffee drinker. Like not at all. I realize that this is pretty unusual. In the past, I've even made efforts to like it. I was obviously doing something wrong.
Enter: cold brew. Don't get me wrong, I still love my Iced Chai Lattes. They're delicious. But they can't come close to the cracky goodness that cold brew provides.
Looking for more coffee recipes? Try an Iced Vanilla Latte and my Chocolate Cream Cold Brew!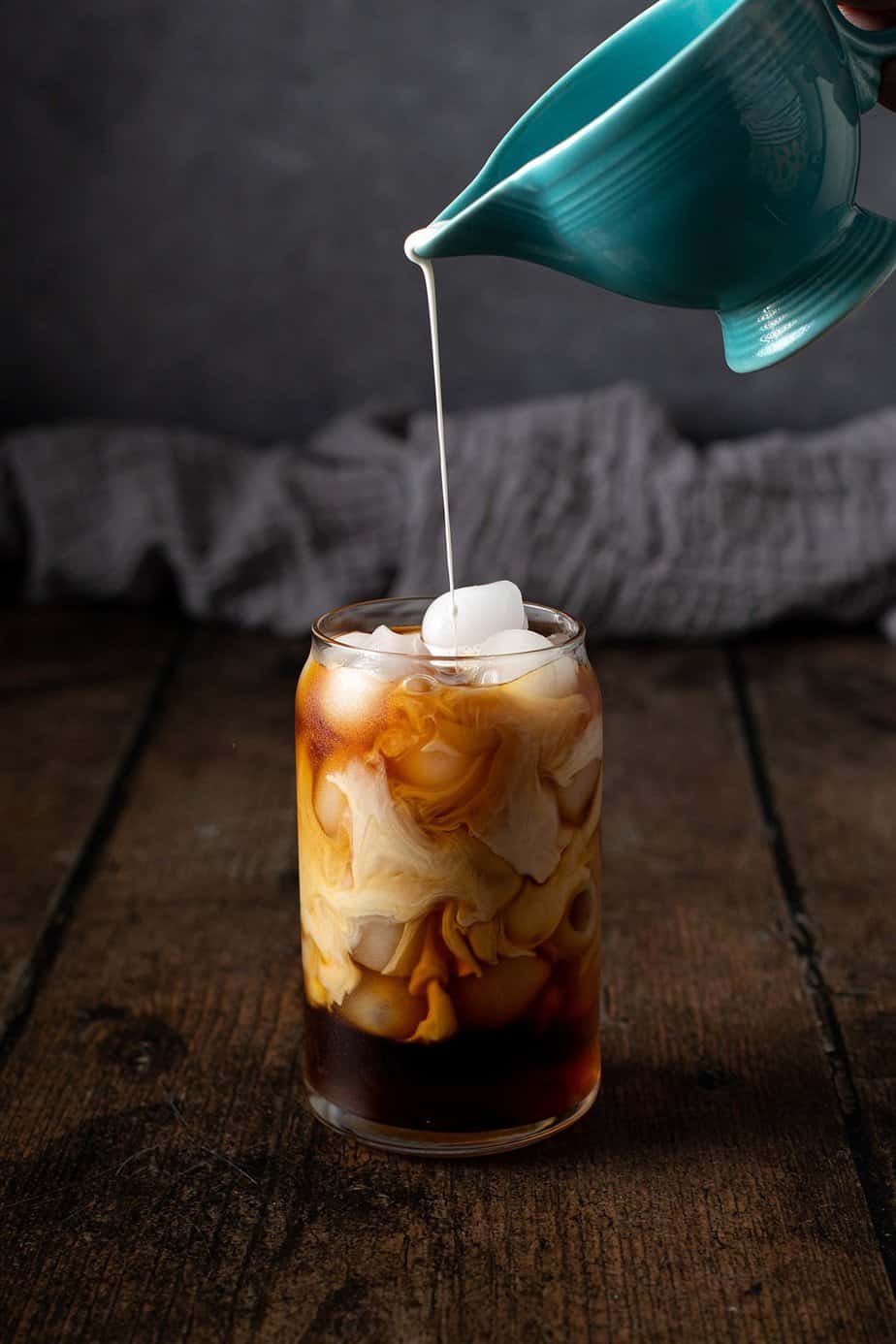 Jump to:
🌟 Why You'll Love this Recipe
It makes a big batch. This recipe makes a pitcher of cold brew coffee to help you get your day and week off to a good start.
It's so easy to make! There's very little effort involved in making this cold brew. If you can stir some ground coffee into water, then strain it out later on, you can totally make this.
You can customize it however you'd like. Once you have your cold brew, you can flavor and sweeten your drink in any way that you like.
💭 What is Cold Brew Coffee?
When making regular, hot, drip coffee, it's brewed by passing hot water through ground coffee beans. This results in your regular old cup of joe that we're all familiar with.
Cold Brew Coffee, on the other hand, is made by infusing ground coffee into cold or room temperature water. No heat is ever involved!
Because no heat gets applied when making cold brew, you have to instead rely on time. It takes quite a bit of time for cold brew to be ready to drink: anywhere from 12-24 hours, depending on how strong you like your brew.
📝 Ingredients
You only need TWO ingredients to make this cold brew coffee.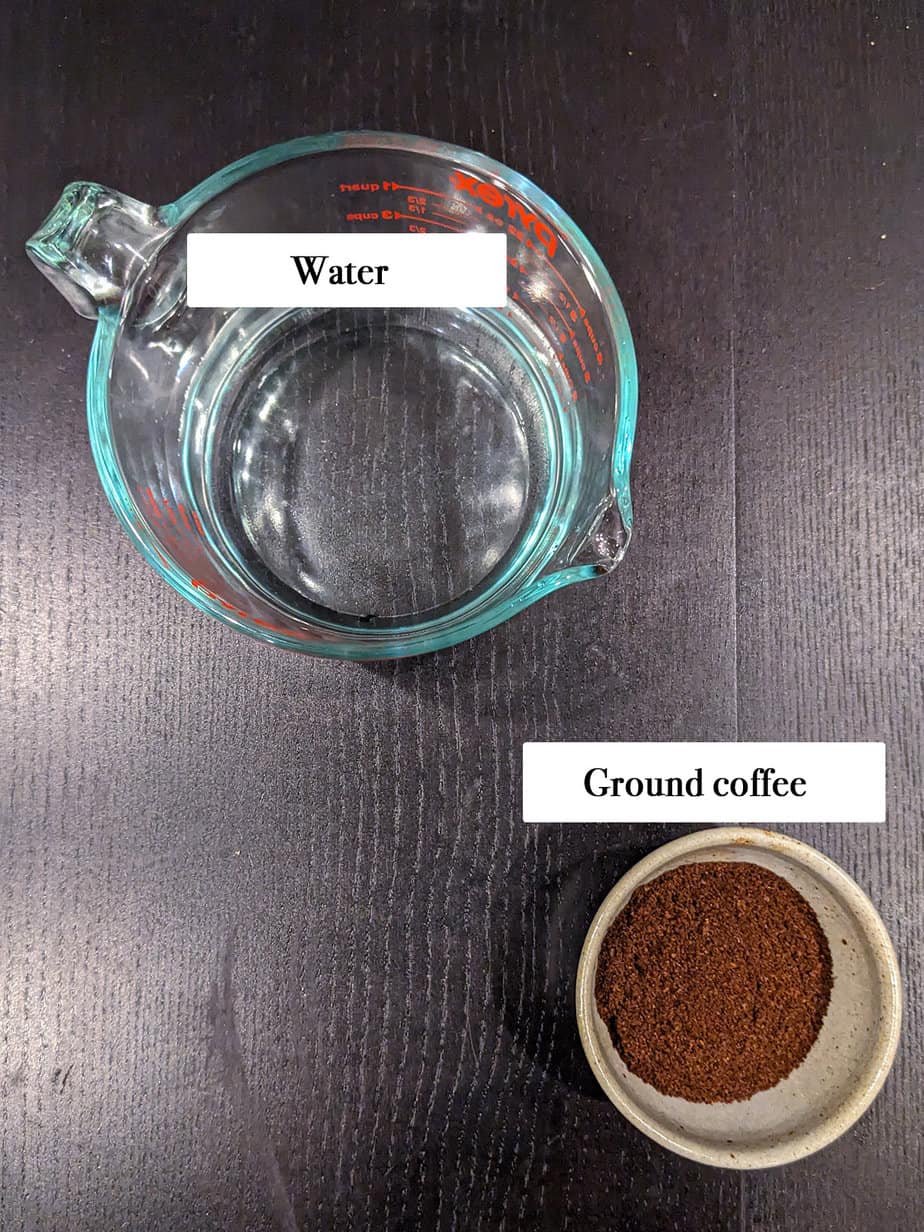 Water: Just plain old water will do. I prefer to use filtered water (just the stuff that comes out of the dispenser in the door of my fridge) when making coffee. I use it in my espresso maker, when I a pour over, and when I make cold brew. I find that it results in a better tasting product.
Ground coffee: You can either grind your own beans or use a pre-ground coffee. I've done both with good results. If you grind your own, you want to go with a course grind. I've also relied on pre-ground coffee; use your preference. I've used Dunkin' Donuts and it works out well!

You can use just regular coffee, or seek out beans that are roasted specifically for cold brew. I love this brand, which is based in North Carolina. This isn't an affiliate link. I just really like them.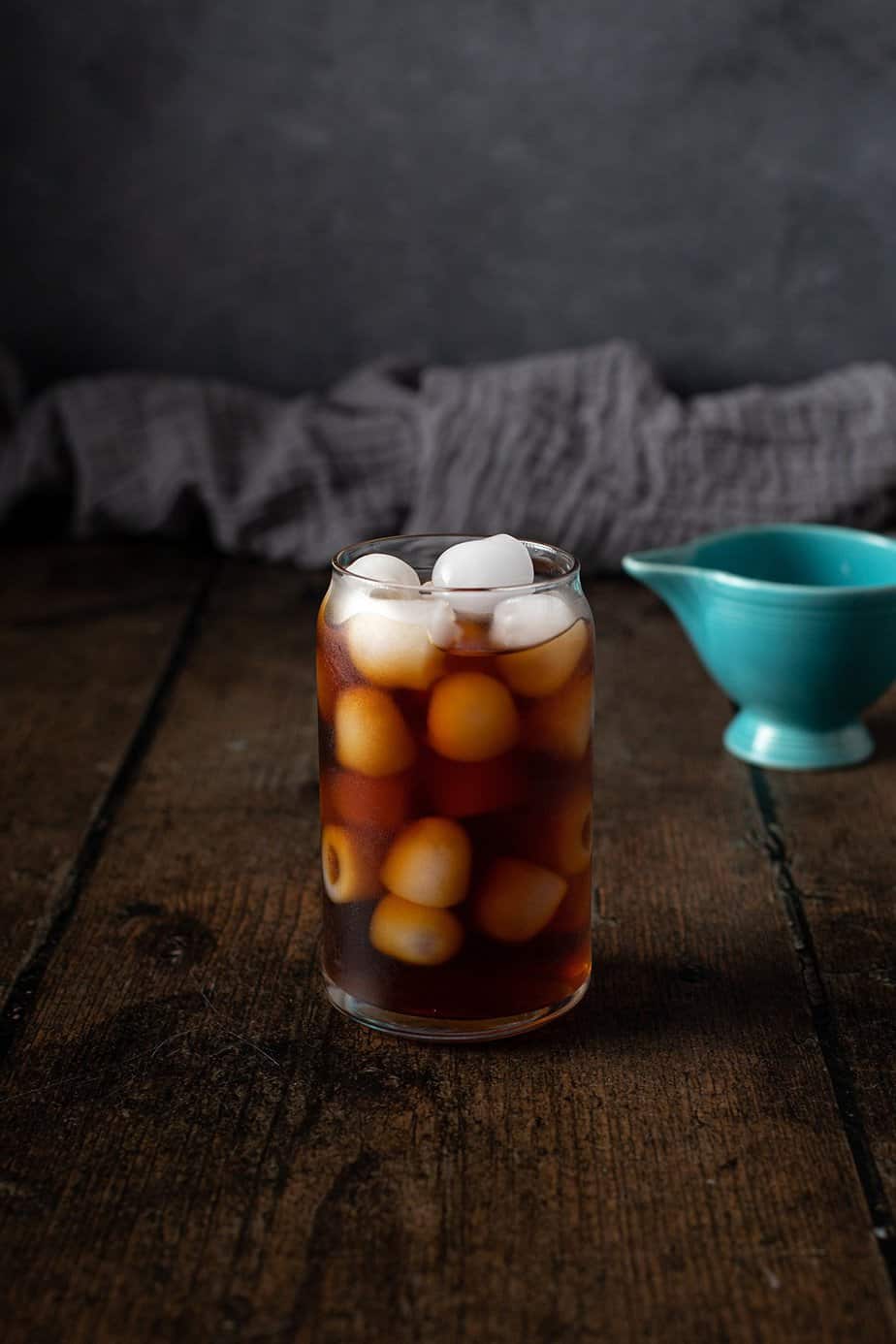 👩🏻‍🍳 How do you make cold brew coffee?
It's very simple to make! All you need to do is add your ground coffee to water and mix it all up to ensure that the coffee is fully submerged in the water. Stash it in the fridge or leave it on your counter top. Once it has "brewed," you just need to strain out the grounds and dispose of them. That's it!
You can make your cold brew in a pitcher, a Mason jar, or in a container that's made especially for making cold brew. I have this pitcher, and am kind of in love with it.
Doctor it up however you like!
Once you have your cold brew, you can jazz it up however you'd like.
My MO is to pour some cold brew over (lots of) ice, add a splash of half and half and a bit of salted caramel syrup. Do this and I'll be in caffeinated heaven.
If you like to drink it black, have at it. You can add whatever milk (dairy or otherwise) you'd like, and sweeten it (or not) to your heart's content. It might also be fun to freeze some cold brew into ice cubes and use that instead of regular old watery ones, that way your cold brew never gets diluted!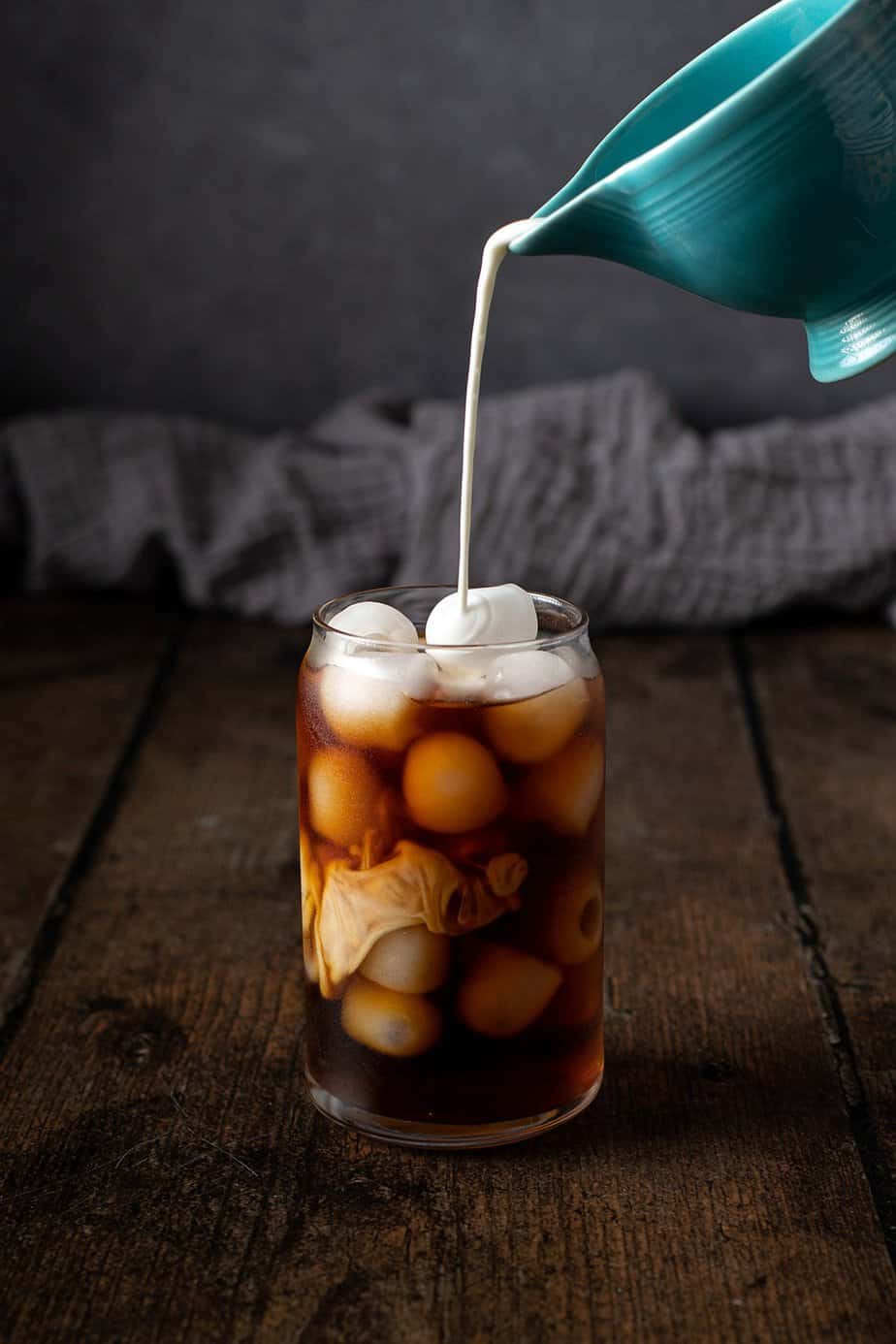 🔗 Other coffee recipes
Needing other coffee recipes? Because you know I gotchu. Check out the recipes below from my blog, as well as from other fantastic bloggers.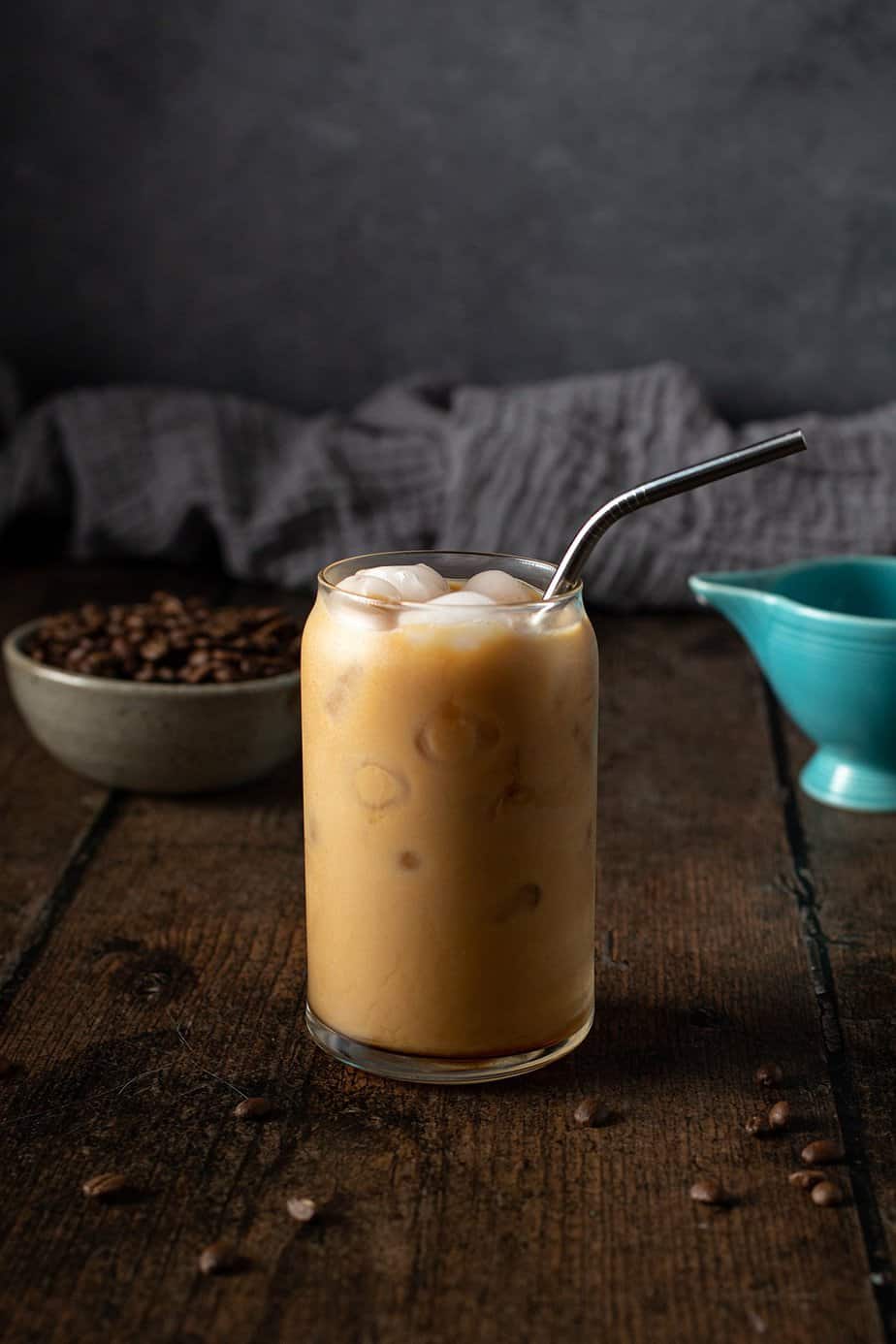 ❓ FAQs/tips and tricks
How long will this coffee keep?
This cold brew will keep in the fridge for about 2 weeks. But let's be honest, you'll be making a new batch sooner than that.
What kind of coffee should I use?
You can grind your own beans or you can use a pre-ground coffee. You can also use any flavor or roast that you like!
How should I prepare this coffee once it's been brewed?
However you like! I like to add some half and half and a little flavored syrup. But you do you.
🖤 Share your creations and follow me on social media!
✨ Recipe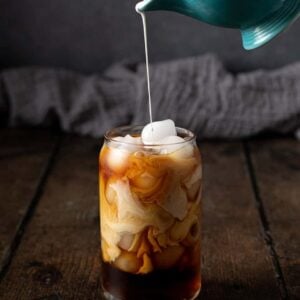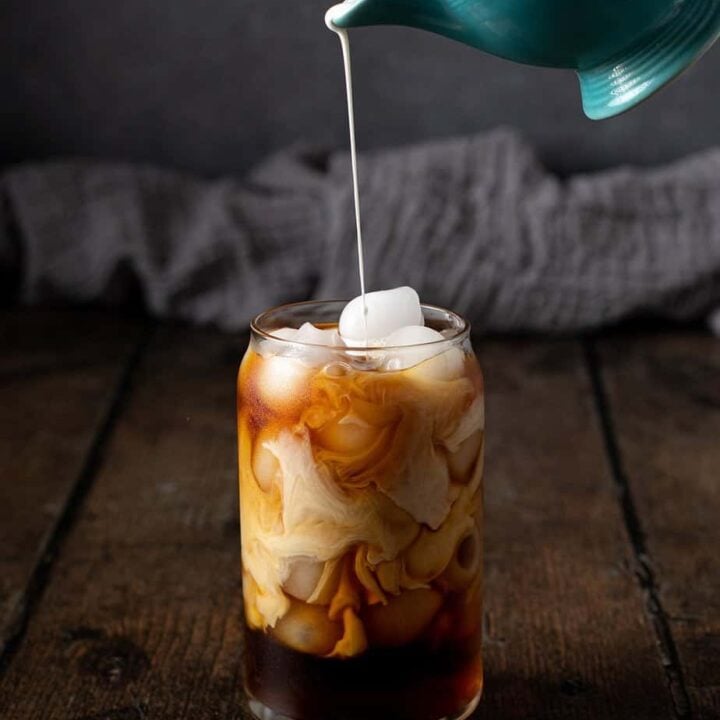 Homemade Cold Brew Coffee
It could seriously not be easier to make cold brew coffee at home. All it takes is two ingredients and a little time.
Ingredients
1

cup

coffee

coarsely ground

8

cups

filtered water
Instructions
To make the cold brew
Combine the ground coffee and filtered water in a large container with a lid. I use a plastic pitcher.

Let the coffee sit for 12 hours (or longer, if you'd like stronger cold brew) at room temperature.

Strain the cold brew (see notes) into whatever container you plan to store it in. Refrigerate it until you're ready to use it.
When you're ready to drink your cold brew
Pour the desired amount of cold brew over ice.

Add your desired amount of milk/creamer/half and half/etc. and/or sweetener.
Notes
You can use whatever ground coffee that you prefer. To be honest, I most often use some ground Dunkin Donuts coffee from the grocery store.
I like to strain the cold brew through a fine mesh sieve lined with a coffee filter.
My current favorite way to drink my cold brew is with a splash of half and half and little bit of flavored simple syrup.
Nutrition
Serving:
1
Calories:
0.3
kcal
Protein:
0.04
g
Fat:
0.01
g
Monounsaturated Fat:
0.01
g
Sodium:
12
mg
Potassium:
15
mg
Calcium:
8
mg
Iron:
0.003
mg
Disclaimer: Nutritional information is a generated estimate and is not guaranteed to be accurate.
📌 Pin this recipe for later!