Last Updated on August 2, 2021 by laurenpacek
It could seriously not be easier to make cold brew coffee at home. All it takes is two ingredients and a little time.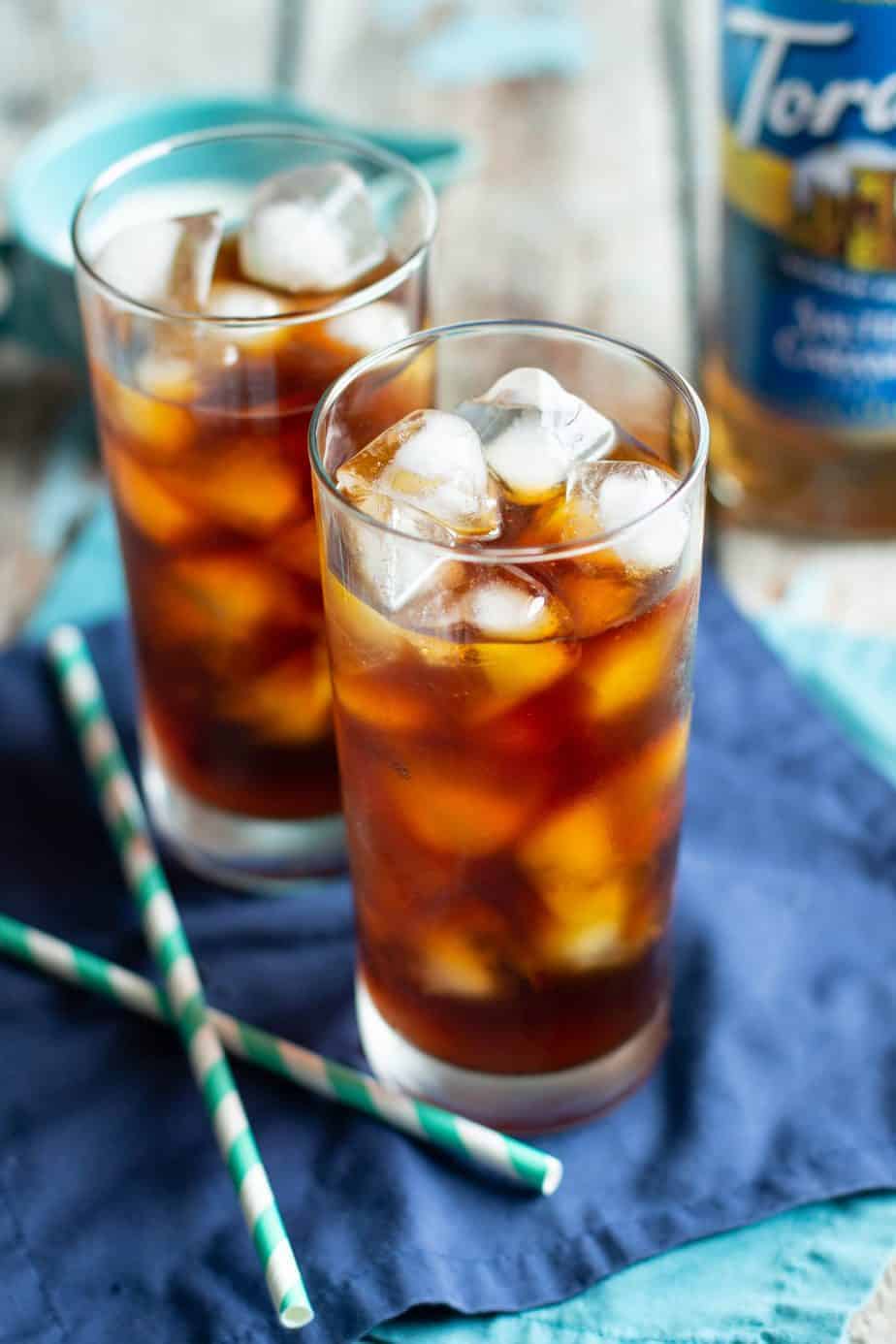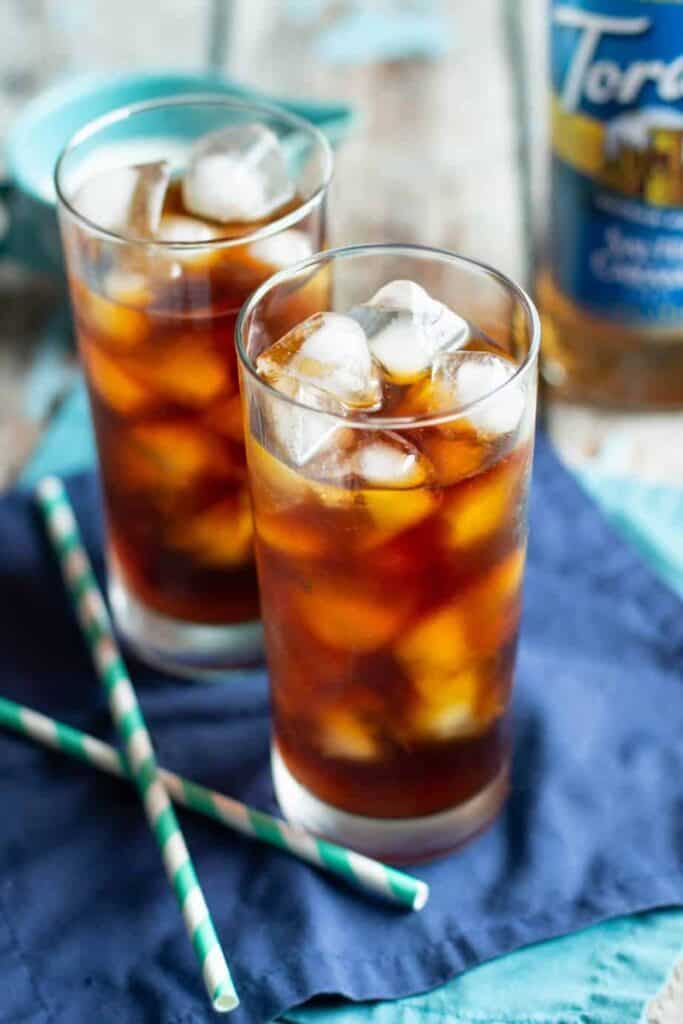 Cold brew coffee is nothing short of amazing
Homemade cold brew coffee is amazing. For the vast majority of you out there, this will not be new information. But I only recently discovered this.
I've never been a coffee drinker. Like not at all. I realize that this is pretty unusual. In the past, I've even made efforts to like it. I was obviously doing something wrong.
Enter: cold brew.
Don't get me wrong, I still love my Iced Chai Lattes. They're delicious. But they can't come close to the cracky goodness that cold brew provides.
Doctor it up however you like!
My MO is to pour some cold brew over (lots of) ice, add a splash of half and half and a bit of sugar free syrup (salted caramel, please). Do this and I'll be in caffeinated heaven.
If you like to drink it black, have at it. You can add whatever milk (dairy or otherwise) you'd like, and sweeten it (or not) to your heart's content. It might also be fun to freeze some cold brew into ice cubes and use that instead of regular old watery ones, that way your cold brew never gets diluted!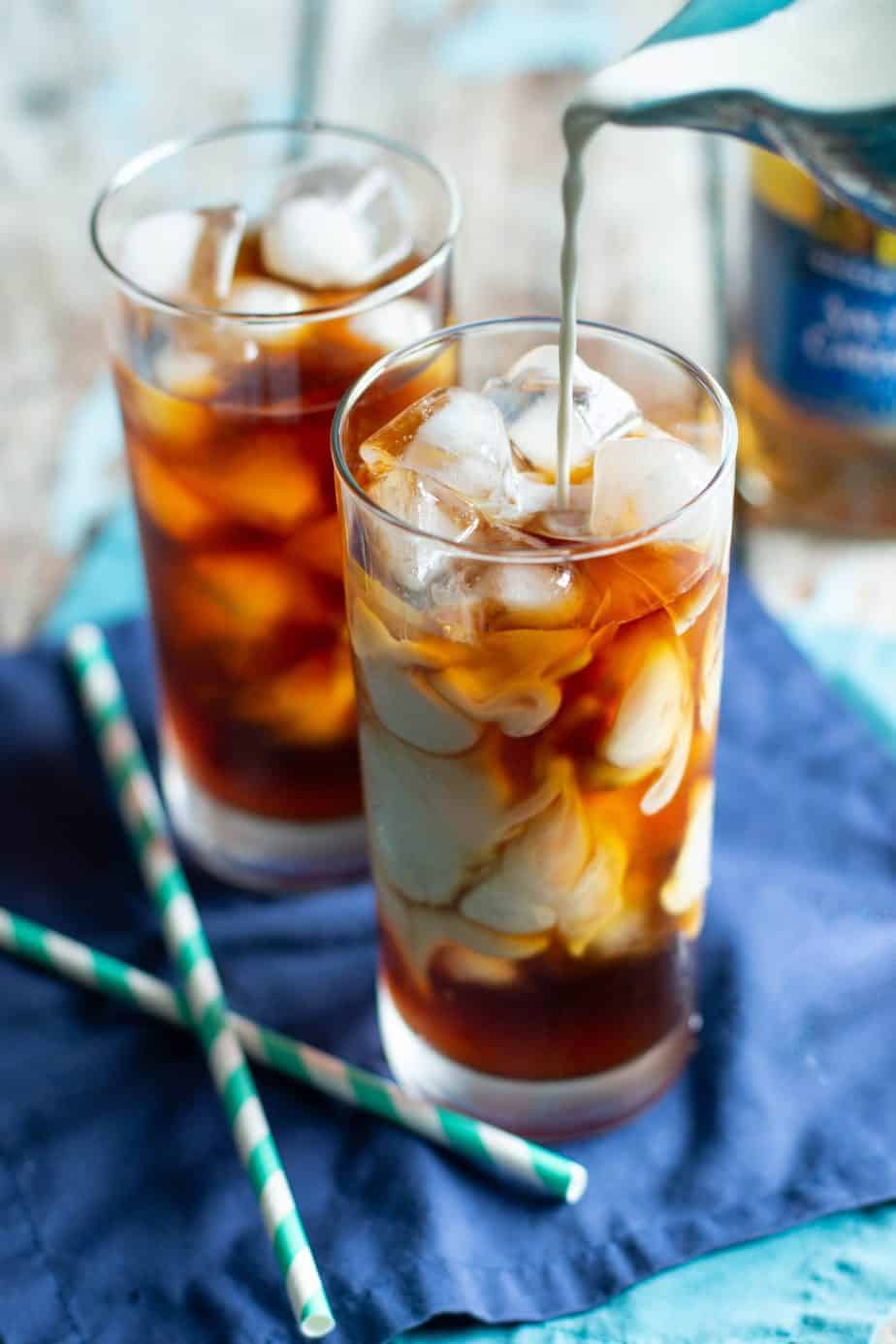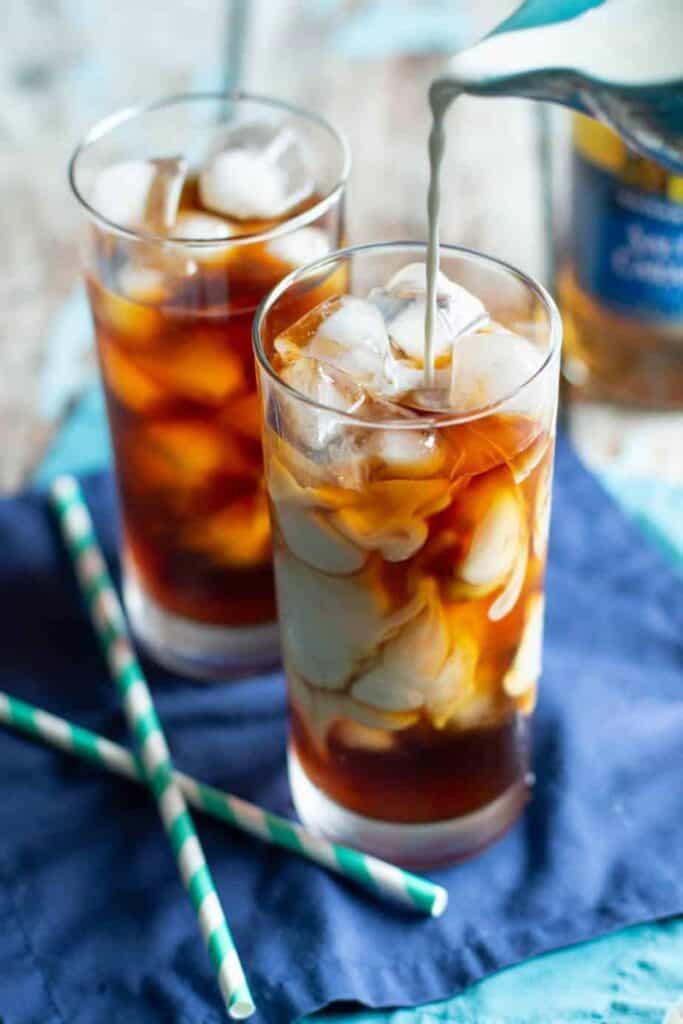 Cold brew is very easy to make, but requires some planning
Making a batch of homemade cold brew requires you to think ahead just a little bit. It's not quite as easy as brewing up a hot pot of coffee and pouring it over some ice. You'll want to let it sit for 12 hours at room temperature before straining and drinking. Let it sit even longer if you'd like a stronger brew.
Letting your coarsely ground coffee steep for a long period of time, in room-temperature (or sometimes cold) water, results in a less acidic product as compared to brewing methods that require hot water. Basically, cold brew is smoo0oth and delicious.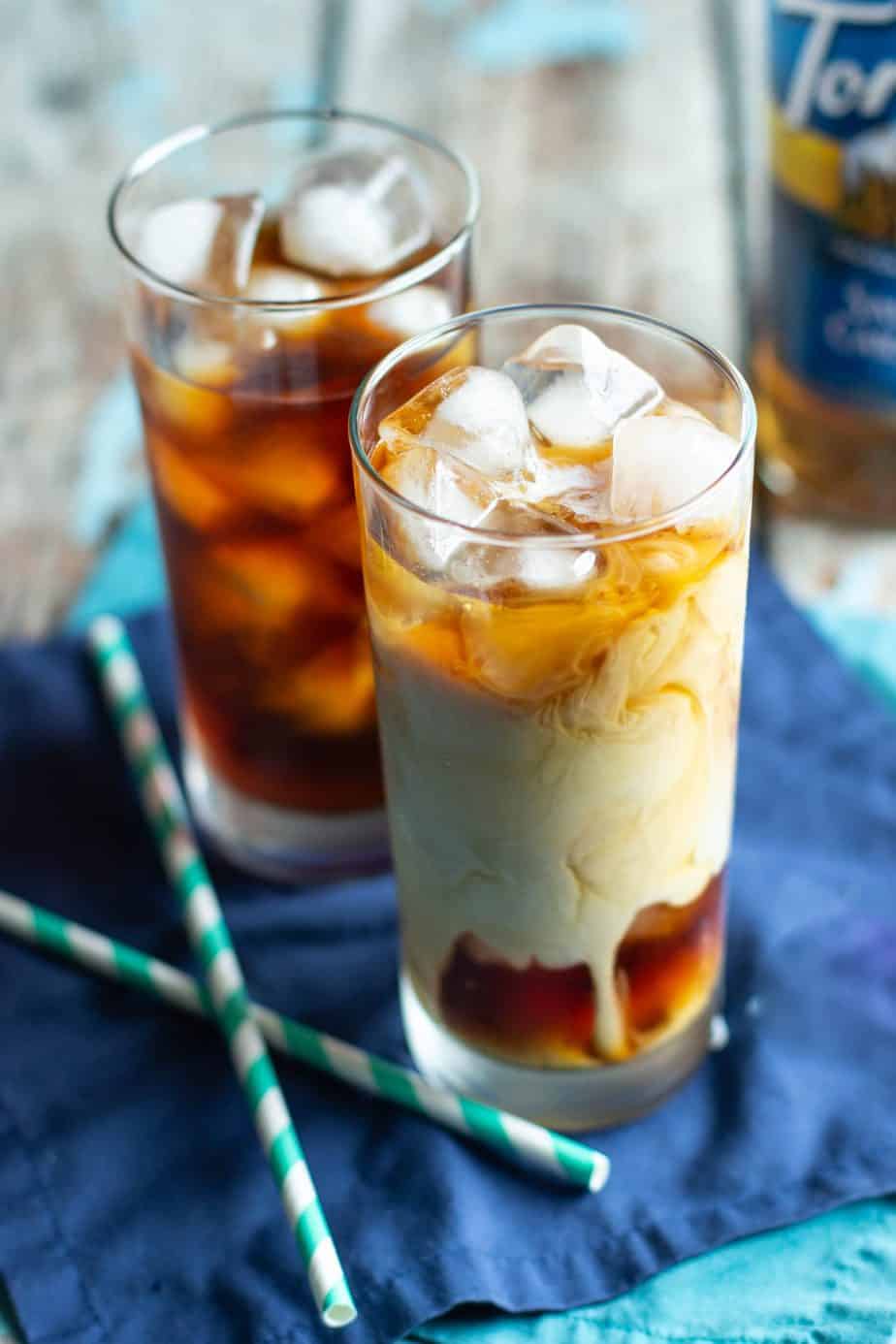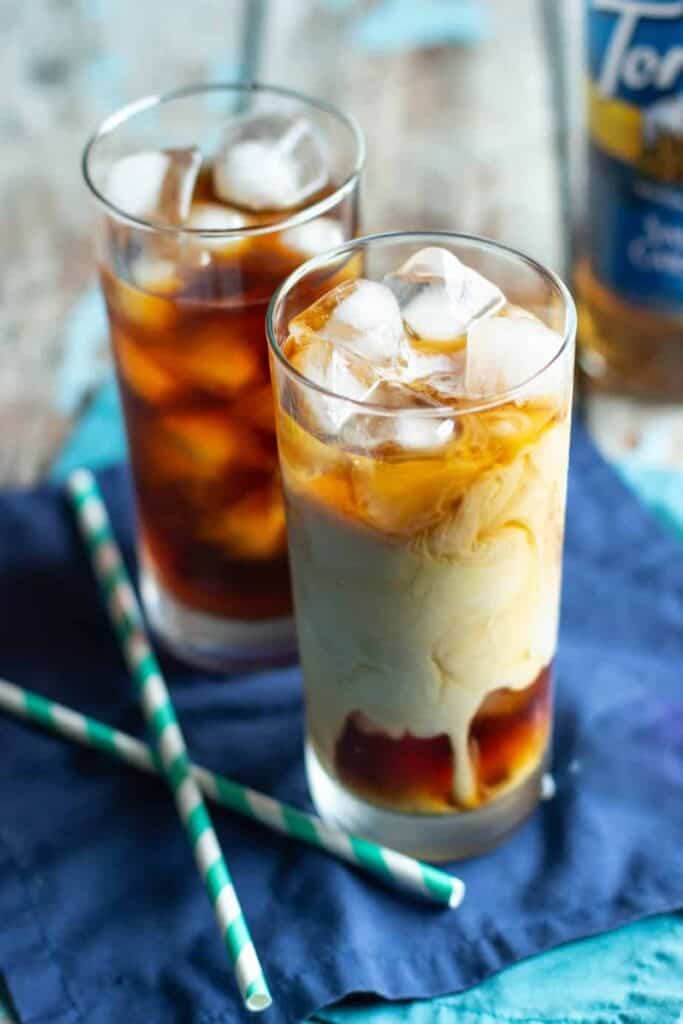 How long will this coffee keep?
This cold brew will keep in the fridge for about 2 weeks. But let's be honest, you'll be making a new batch sooner than that.
Want another cold coffee recipe?
I have one for you! Pumpkin Spice Cold Brew Coffee will give you your iced PSL fix no matter what time of year it happens to be. Homemade Iced Lattes will scratch your cold coffee itch, too!
If you're looking for something a little boozy, but with a coffee kick, check out my Espresso Martinis and Baileys Iced Coffee!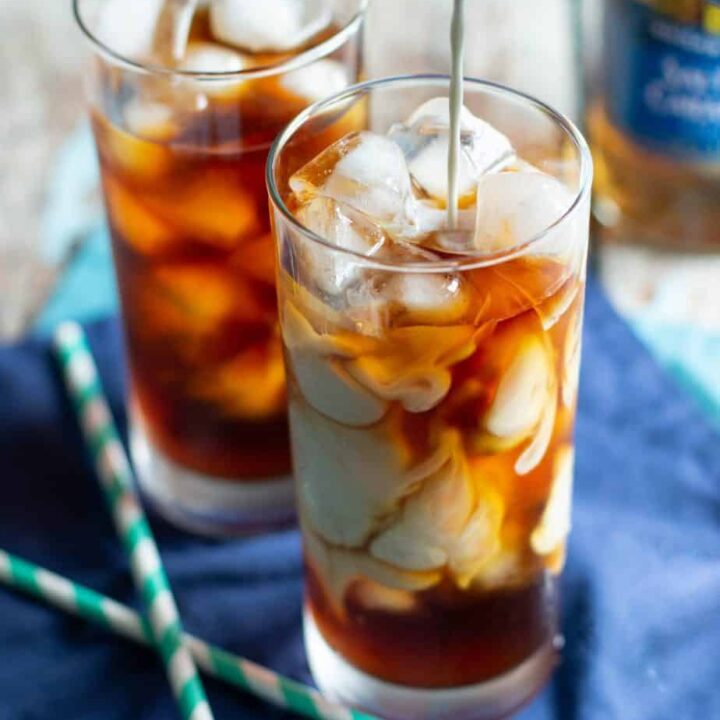 Homemade Cold Brew Coffee
Cold brewing time:
12 hours
Total Time:
12 hours
5 minutes
It could seriously not be easier to make cold brew coffee at home. All it takes is two ingredients and a little time.
Ingredients
1 cup coffee, coarsely ground
8 cups filtered water
Instructions
To make the cold brew
Combine the ground coffee and filtered water in a large container with a lid. I use a plastic pitcher.
Let the coffee sit for 12 hours (or longer, if you'd like stronger cold brew) at room temperature.
Strain the cold brew (see notes) into whatever container you plan to store it in. Refrigerate it until you're ready to use it.
When you're ready to drink your cold brew
Pour the desired amount of cold brew over ice.
Add your desired amount of milk/creamer/half and half/etc. and/or sweetener.
Notes
Notes:
I like to strain the cold brew through a fine mesh sieve lined with a coffee filter.
My current favorite way to drink my cold brew is with a splash of half and half and little bit of sugar free salted caramel syrup.
Nutrition Information:
Yield:

8
Serving Size:

1
Amount Per Serving:
Calories:

0
Total Fat:

0g
Saturated Fat:

0g
Trans Fat:

0g
Unsaturated Fat:

0g
Cholesterol:

0mg
Sodium:

10mg
Carbohydrates:

0g
Fiber:

0g
Sugar:

0g
Protein:

0g
Pin this recipe for later!