Last Updated on July 17, 2021 by laurenpacek
These Iced Chai Lattes are better than Starbucks, I swear. Save money by making them at home and have one whenever you like!
Iced Chai Lattes are EXACTLY what you want for a caffeine kick on a hot day
Since the weather is warming up, I've had to trade my morning mug of hot tea for homemade iced chai lattes. I usually consume my morning caffeine at my desk at work, right after I get there. However, it's just not that relaxing to come in from the hot hot outdoors and drink a hot beverage.
Fortunately, these Iced Chai Lattes are delicious, caffeinated, and cold.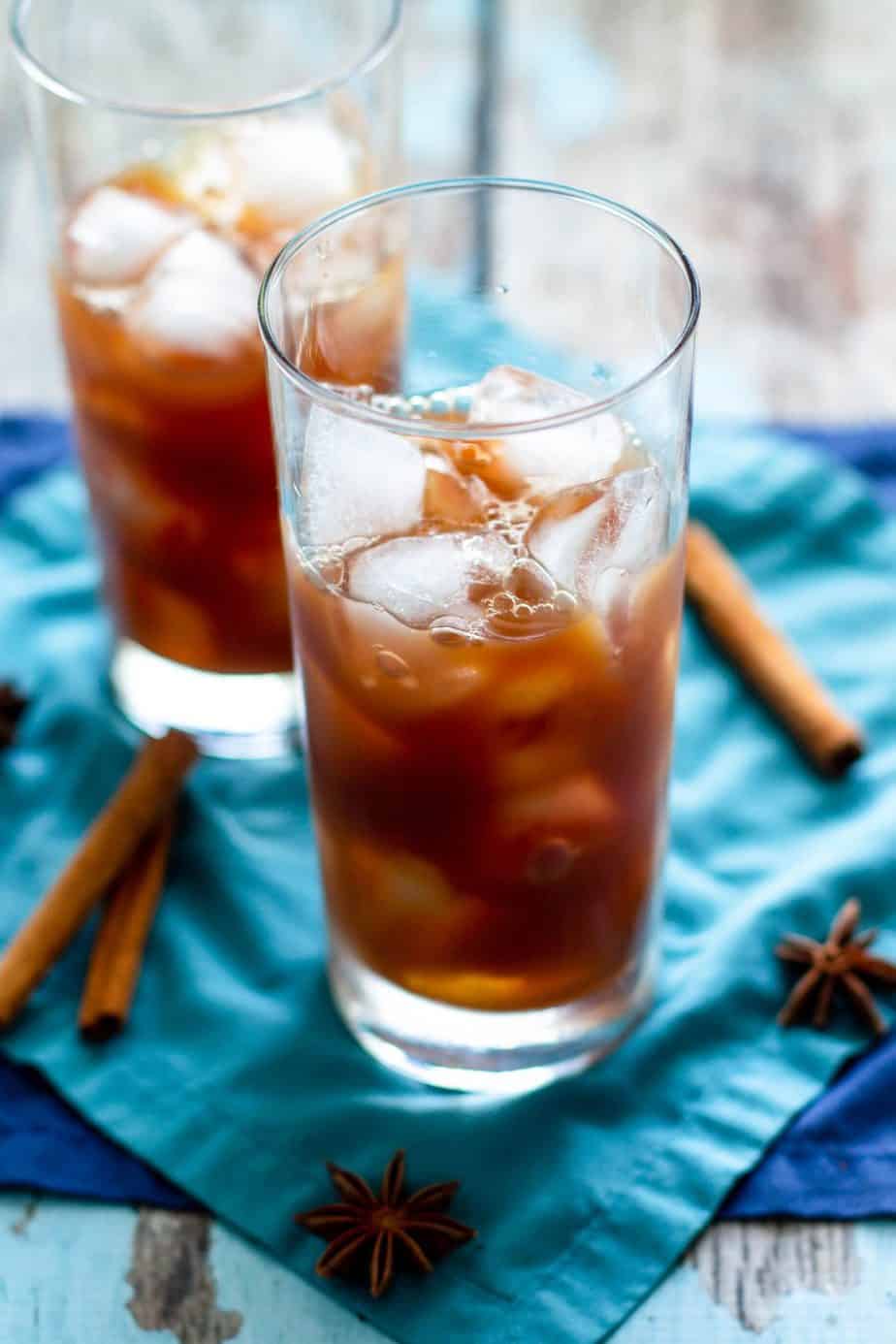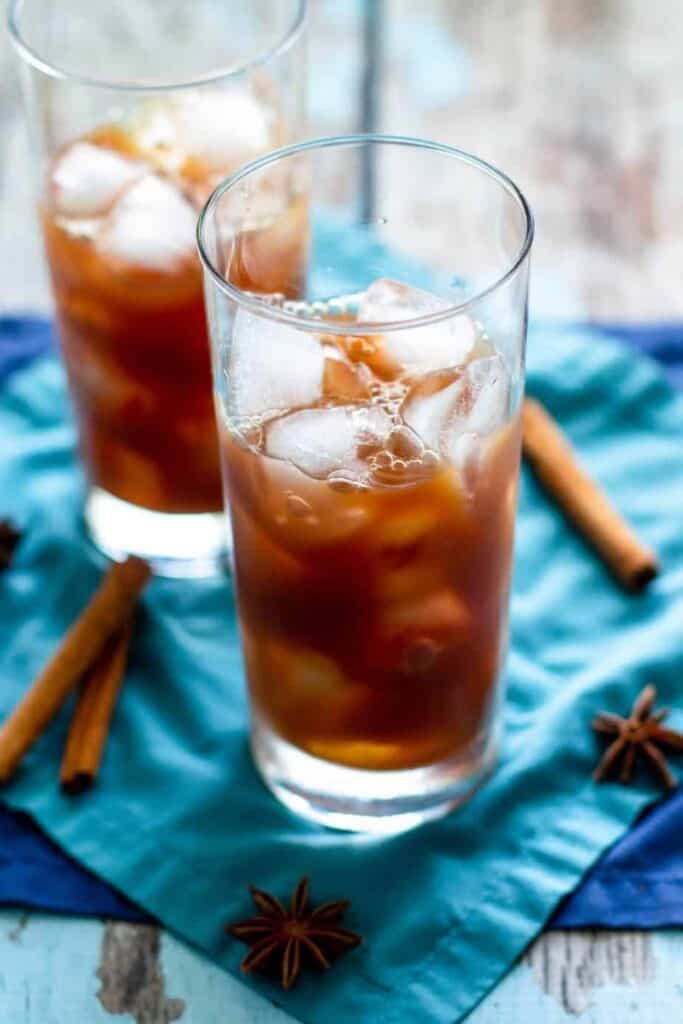 Sure, you can buy them at Starbucks. But they're so easy to make!
I used to get iced chai lattes from Starbucks, loved them, and assumed that they were really complicated to make. But, as it turns out, they're just... get this... spiced black tea and milk.
So, so simple!
And let's not forget how much money you'll save!
Buying an iced chai latte as a one-off at Starbucks might only cost a few bucks. But if this is a daily thing, multiply that out! Making your own lattes at home can help save you some dough.
Most of the ingredients used in this recipe are pretty inexpensive: milk, black tea bags, sugar, etc.
I'll admit that some of the spices used in this recipe might be a little pricey, but they'll go a long way. In the long run, you'll be saving yourself some serious money.
How do they come together?
You start out by bringing water with some fragrant chai spices (more about that below) and sweetener to a boil.
I like to sweeten mine with sugar. But you do you. Want to use a non-sugar substitute? Do it. Honey or maple syrup? Have at it.
Steep some black tea bags in this mixture and allow it to cool. Pour over ice and add the milk of your choice. Et voila!
I typically use almond milk, but please use whatever you prefer. It's great with cow's milk, too.
Let's talk about chai spices!
You can use a pre-made chai spice mix, if that's easier for you. But if you have the means (and the Internet can help with this), I'd recommend buying some whole spices and creating your own mix. Not only does it taste great, but it also allows you to customize your chai latte experience.
In case your local grocery store doesn't carry some of the spices, consider looking online. I've included links to some of the potentially harder to find spices below: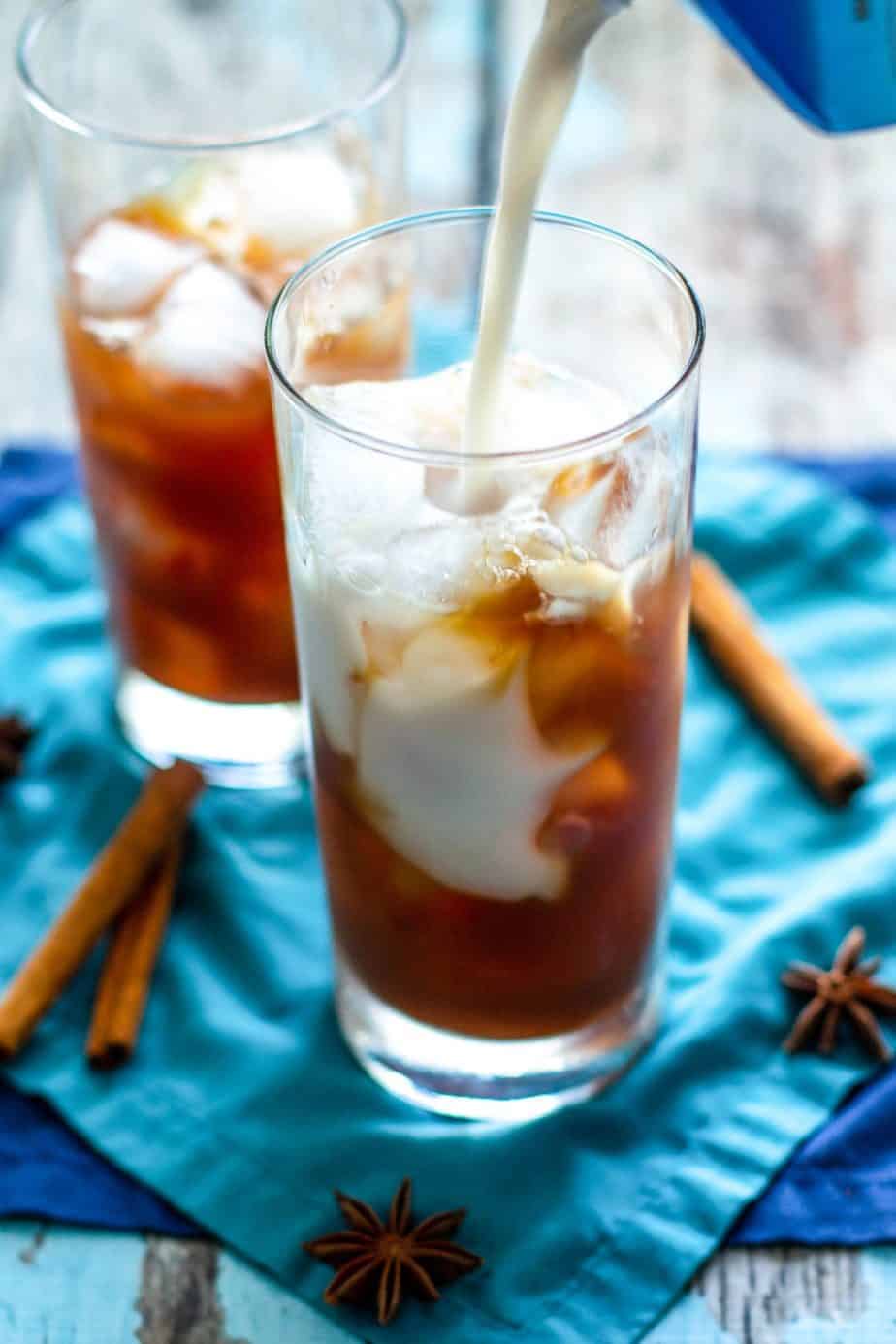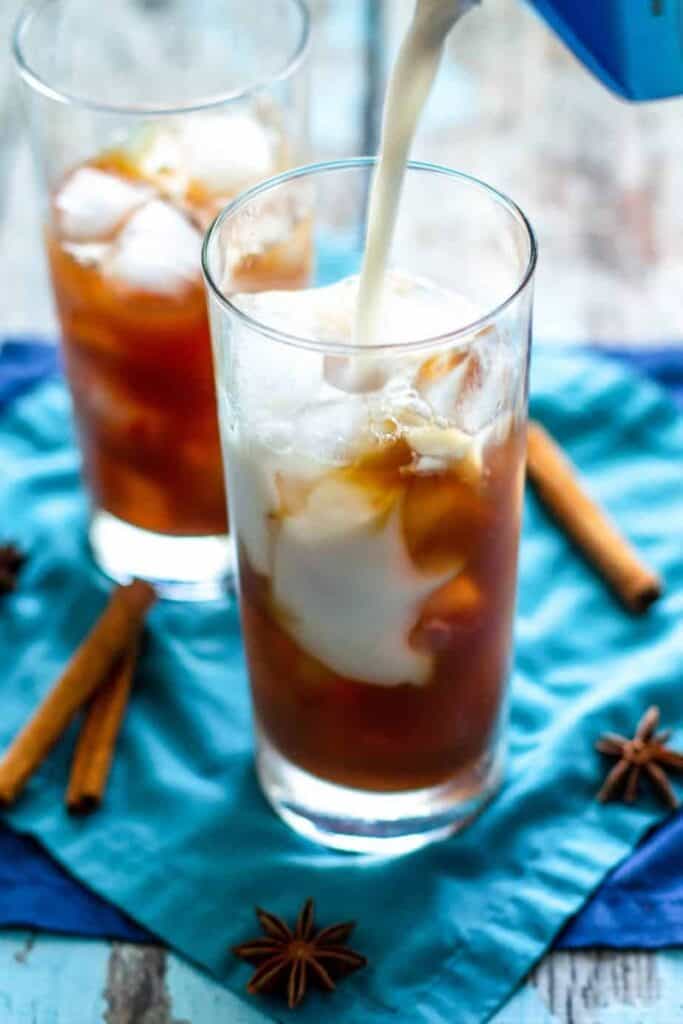 Looking for other recipes?
Need more caffeinated goodness? Check out my Homemade Cold Brew Coffee! I truly cannot recommend it enough. And if you wanna get a little fancy, please check out my Pumpkin Spice Cold Brew Coffee!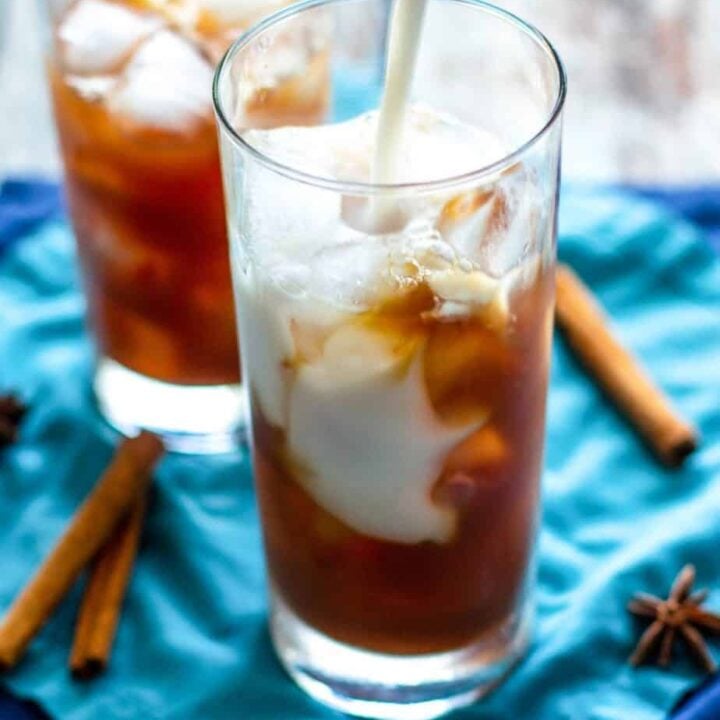 Iced Chai Lattes
These Iced Chai Lattes are better than Starbucks, I swear. Save money by making them at home and have one whenever you like!
Ingredients
6 cups water
½ cup sugar, see notes
2, 3-inch cinnamon sticks
4 star anise
2 inches fresh ginger, peeled
1 tsp black peppercorns
1 tsp coriander seeds
10 whole cloves
2 tsp cardamon seeds
8 teabags black tea
milk, see notes
Instructions
Combine the water, sugar, and spices in a medium-sized saucepan over medium heat.
Bring to a boil, and allow the mixture to simmer for 10 minutes.
Turn the heat off and add the teabags to the saucepan. Allow the tea to steep for 20 minutes. Remove the tea bags and allow the tea to cool completely.
In whatever proportions you desire, pour the cooled tea over ice and top with milk.
Notes
Notes:
You can increase or decrease the amount of sugar to suit your tastes. I've used both brown and white granulated sugar with success.
I have used cows milk and almond milk. I can't speak to how these iced lattes turn out when using another kind.
Nutrition Information:
Yield:

4
Serving Size:

1
Amount Per Serving:
Calories:

139
Total Fat:

1g
Saturated Fat:

1g
Trans Fat:

0g
Unsaturated Fat:

1g
Cholesterol:

5mg
Sodium:

48mg
Carbohydrates:

31g
Fiber:

1g
Sugar:

25g
Protein:

2g
The calories and other nutritional facts will vary based on what kind/how much milk you use.
Do I need any special equipment to make these chai lattes?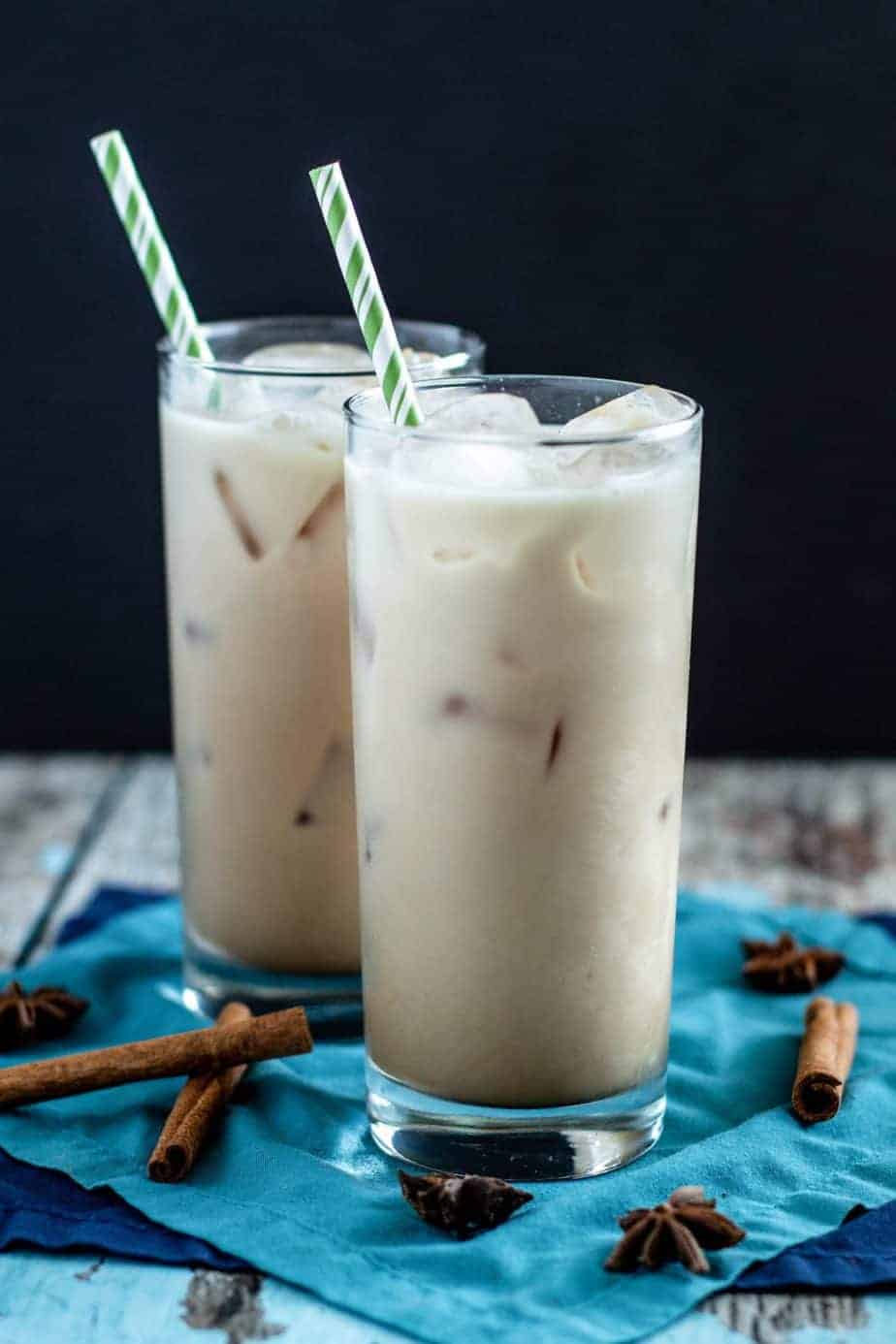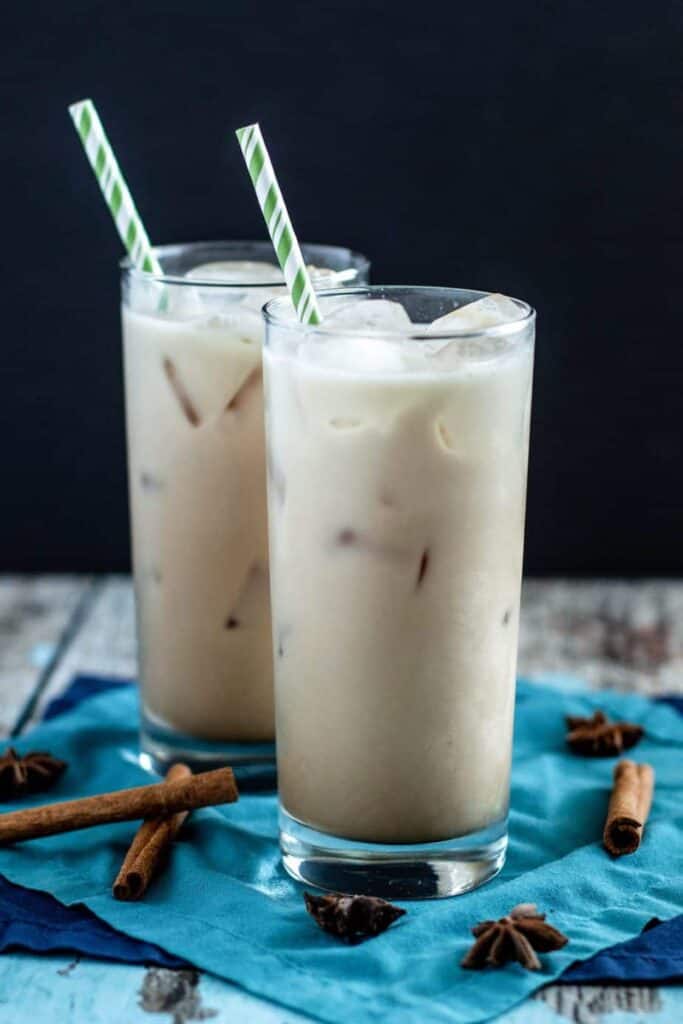 Pin this recipe for later!