This Iced Chai Tea Latte is better than Starbucks, I swear. Save money by making it at home and have one whenever you like!
Need more Starbucks copycat recipes? Because I have more! Try my Starbucks Caramel Apple Spice or Iced Pumpkin Spice Latte! Or throw some Pumpkin Cream Cold Foam on top of this chai latte and have yourself an Iced Pumpkin Cream Chai Tea Latte!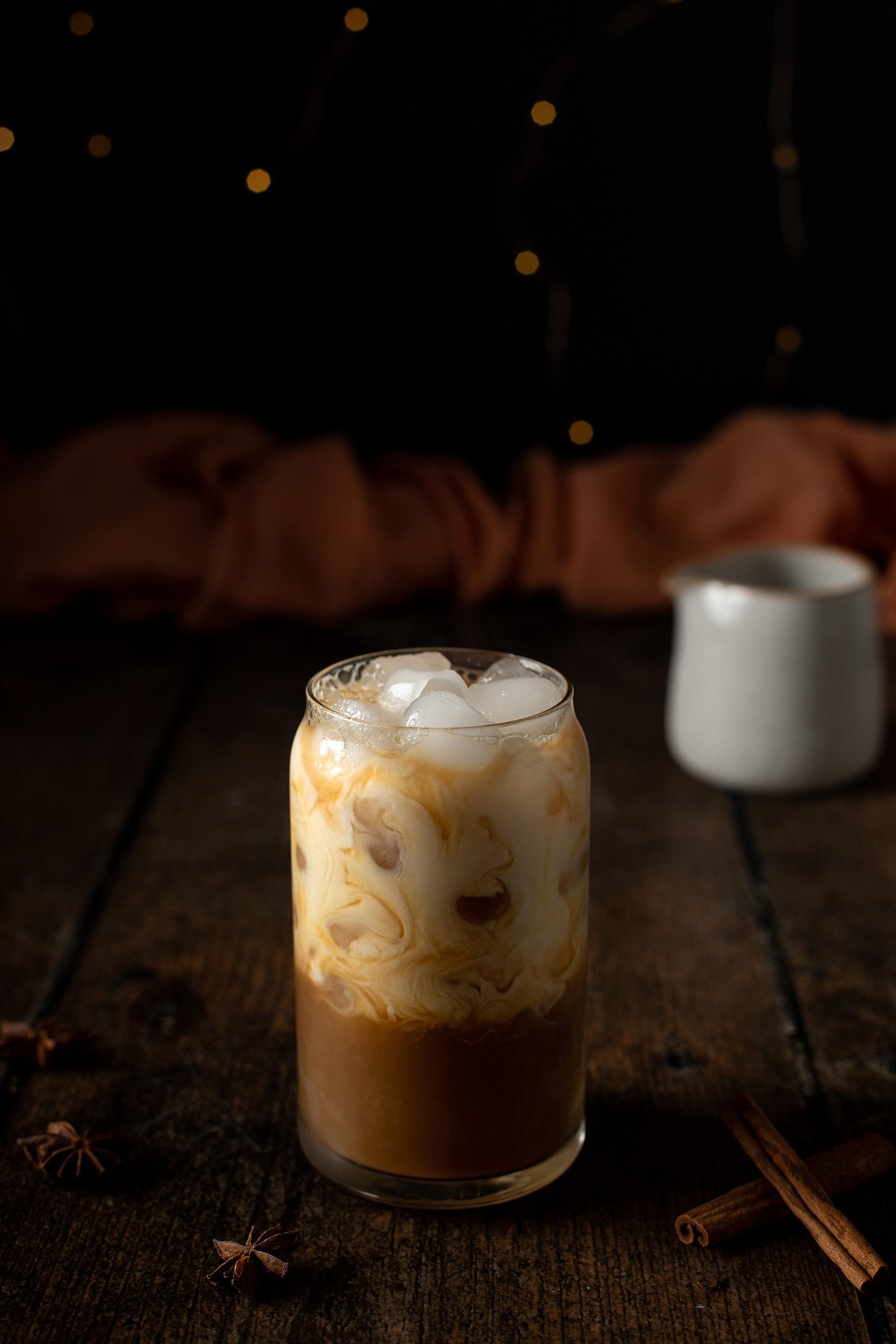 Jump to:
🌟 Why You'll Love This Recipe
It's indulgent yet refreshing. An iced chai feels so decadent, at yet it's caffeinated and refreshing.
It's easy to make. Despite a longish list of ingredients (especially if you make your own tea), it's very easy to make.
It tastes like the latte from Starbucks.This drink tastes like your favorite Starbucks treat!
💭 What is an Iced Chai Latte?
An Iced Chai Latte is a sweet, spicy, caffeinated drink that's made with three things: chai concentrate, milk, and ice!
When the weather warms up, I often trade my morning mug of hot coffee for homemade iced chai lattes. Iced Chai Lattes are exactly what you want for a caffeine kick on a hot day. Fortunately, these Iced Chai Lattes are delicious, caffeinated, and cold.
And sure, you can buy these at Starbucks. But they're so easy to make. I used to get iced chai lattes from Starbucks, loved them, and assumed that they were really complicated to make. But, as it turns out, they're just... get this... spiced black tea and milk. So, so simple!
And let's not forget about how much money you can save!
Buying an iced chai latte as a one-off at Starbucks might only cost a few bucks. But if this is a daily thing, multiply that out! Making your own lattes at home can help save you some dough.
☕️ What is chai?
So, what is chai? Chai means "tea." So this is a tea latte.
But please don't call it a "chai tea latte." I know that it's sometimes common to hear it referred to in this way, especially in the U.S. But when you say that, you're really saying "tea tea latte." And you're better than that. Trust.
But back to chai. It's made with black tea and is usually sweetened. It's flavored with a whole host of warm spices. We'll talk about some of the potential spices below, but chai spice mixes can vary. One of the cool things about making your own chai concentrate is that you get to customize it to your specific tastes. So play around and find out what you like!
And yes I know that I titled this post "iced chai tea latte" BUT before you come for me... that's the search term that people are using 😂 I'm just trying to lead as many folks as possible to this delicious recipe.
📝 Ingredients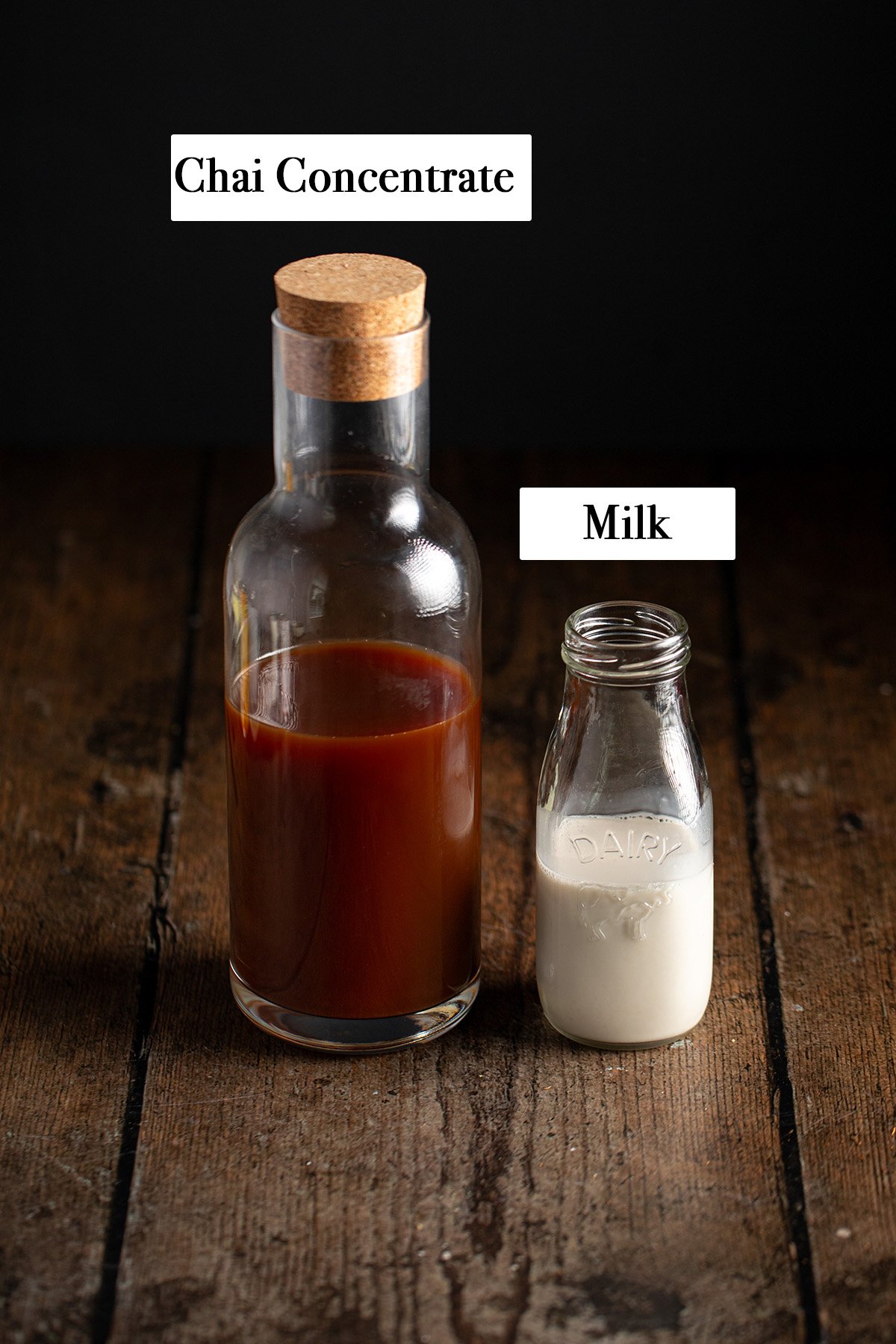 Chai concentrate: Chai concentrate is a batched mix of black tea, water, spices, and sweetener.
Milk: You can use whatever sort of milk that you prefer. I'm an oat milk kinda gal (Oatly or Chobani full fat, please), but I've also used almond or even 2% cow's milk in a pinch. It's all good.
Garnishes: This is optional, but you can garnish your iced chai lattes with a cinnamon stick or a whole star anise, if you're feeling a little extra.
🔀 Substitutions or Variations
Use store bought chai concentrate. While my homemade chai concentrate recipe is really tasty and easy to make, you can also use a store bought concentrate.
Top it with pumpkin cream cold foam. Treat yourself to an Iced Pumpkin Cream Chai Tea Latte!
Use your favorite milk. Make this drink your own.
Serve it hot. Chai concentrate and milk are great together as a hot chai latte, too.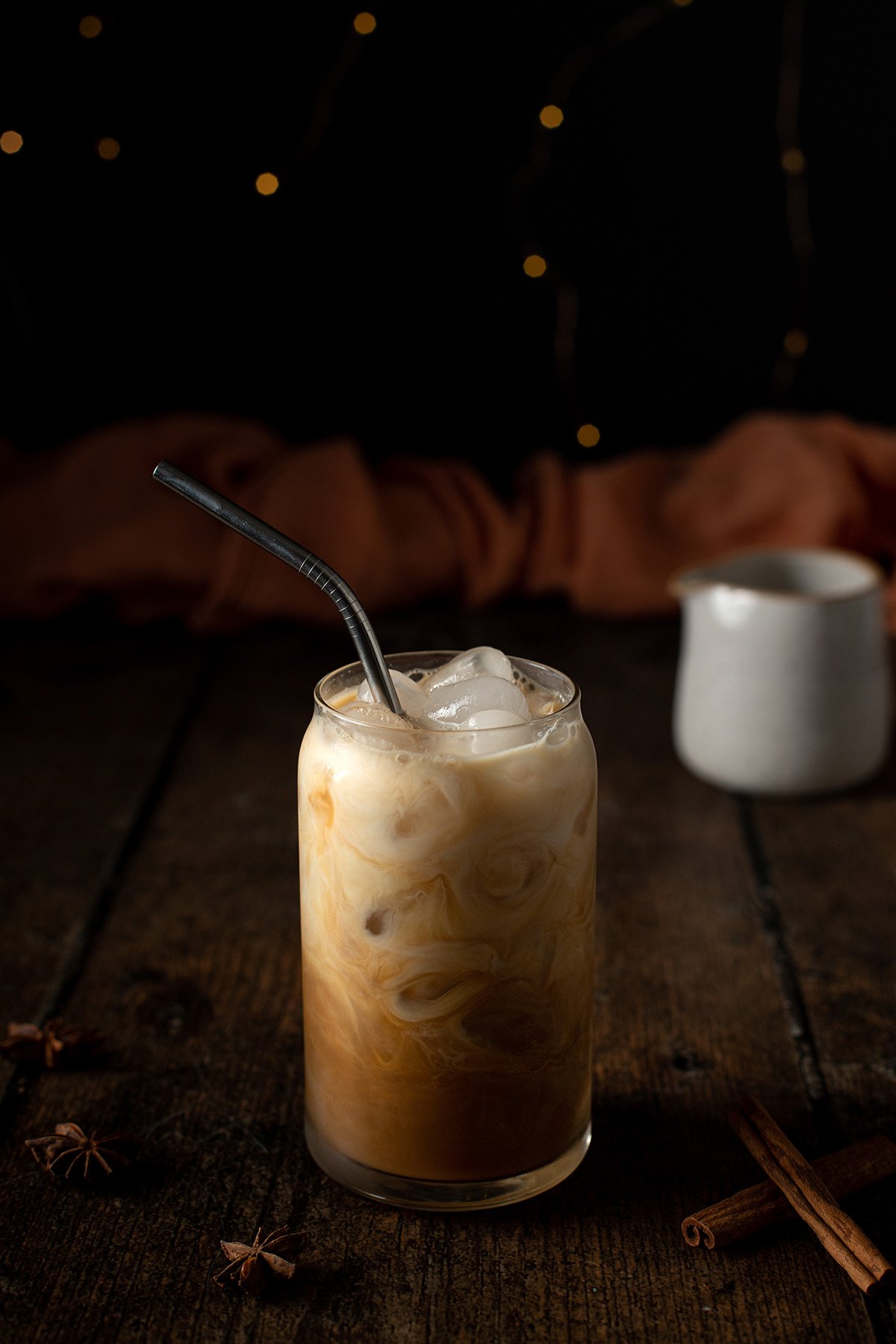 👩🏻‍🍳 How do you make an Iced Chai Latte?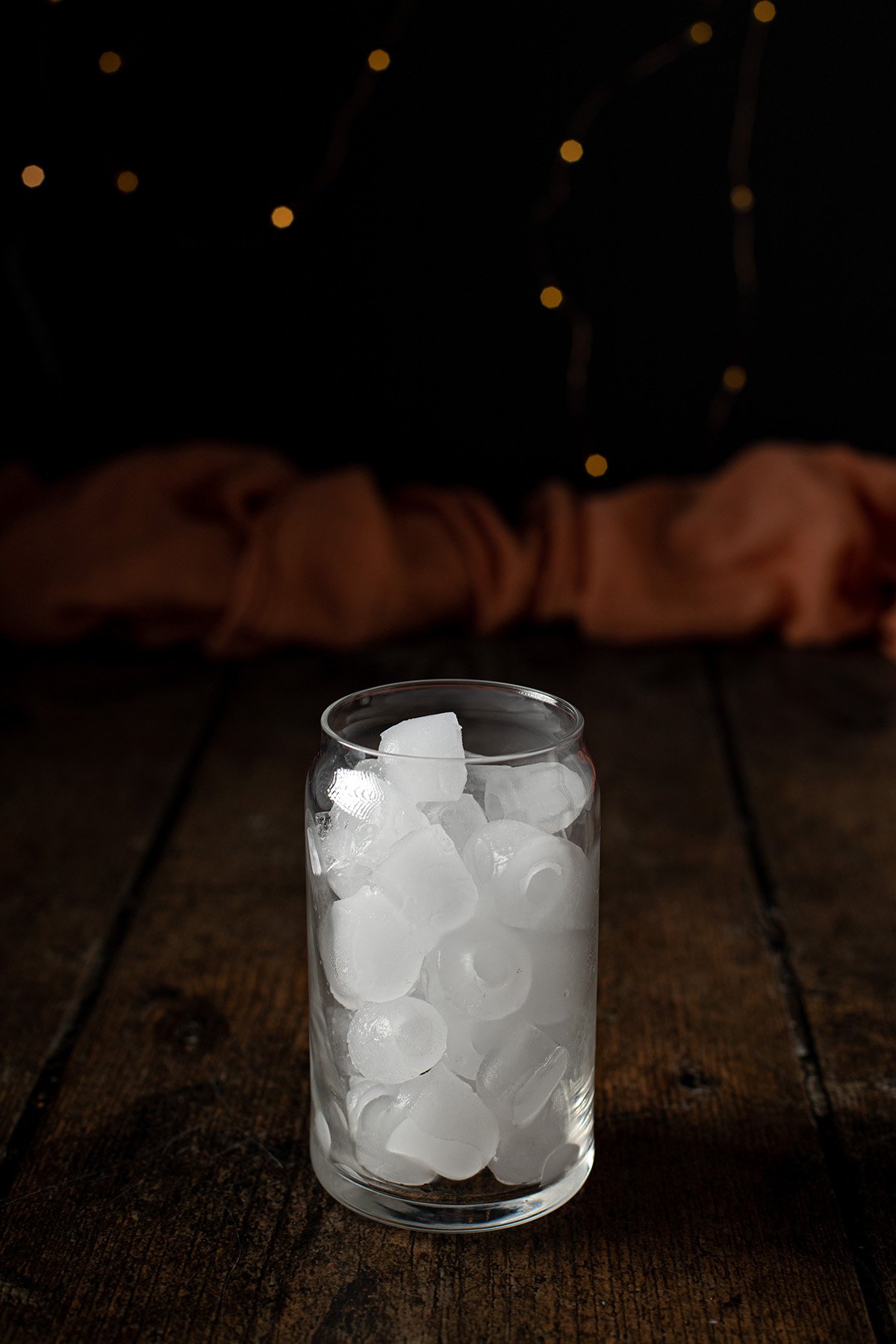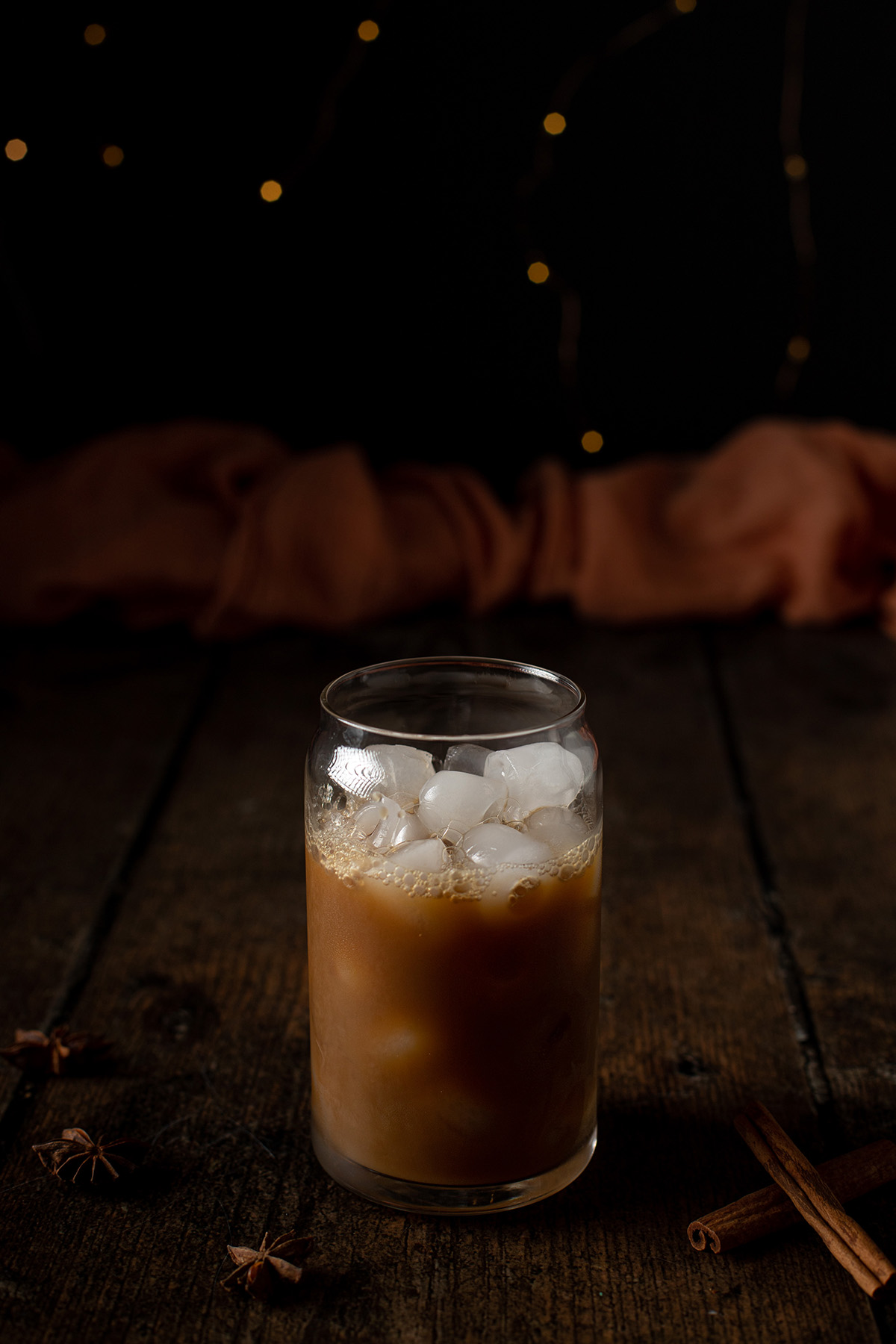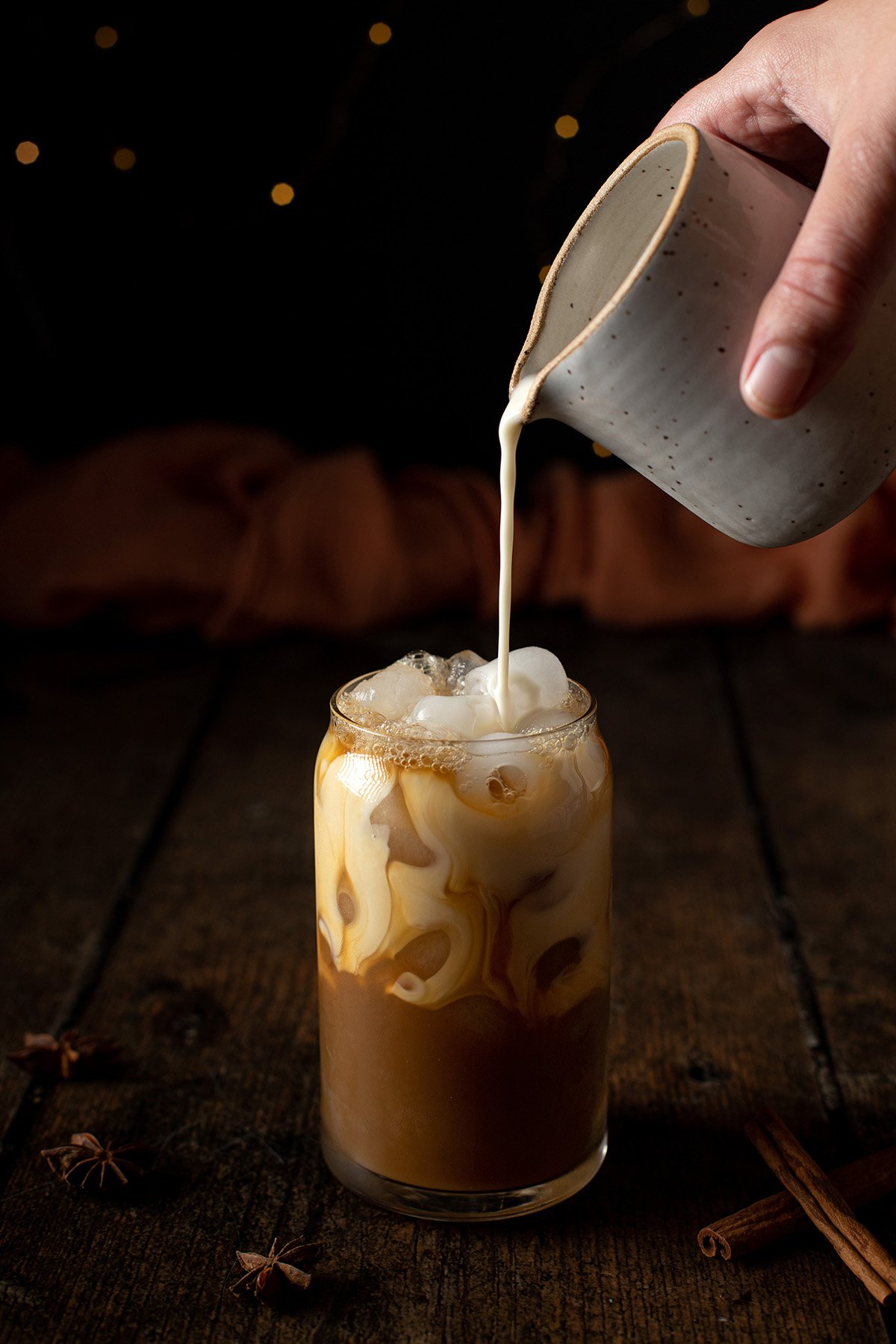 ❓ FAQs/Tips and tricks
What kind of milk should I use?
Pretty much whatever kind you like. I like oat milk, but you do you.
What ratio of chai concentrate to milk should I use?
Play around and see what you like! I used a 1:1 ratio for this recipe.
Can I make this ahead of time?
Sure. You can mix up a batch and stash it in the fridge for a few days.
Isn't it a chai tea latte?
No! Chai means "tea." So when you say "chai tea latte," you're really saying "tea tea latte."
Will this taste like the Iced Chai Lattes at Starbucks?
Yep, they will be quite similar!
Does chai tea have caffeine?
Yes. Chai is made with black tea, which has about 47 mg of caffeine per bag.
🔗 Other tea recipes
Looking for more tea-based recipes? Check out the photos and links below!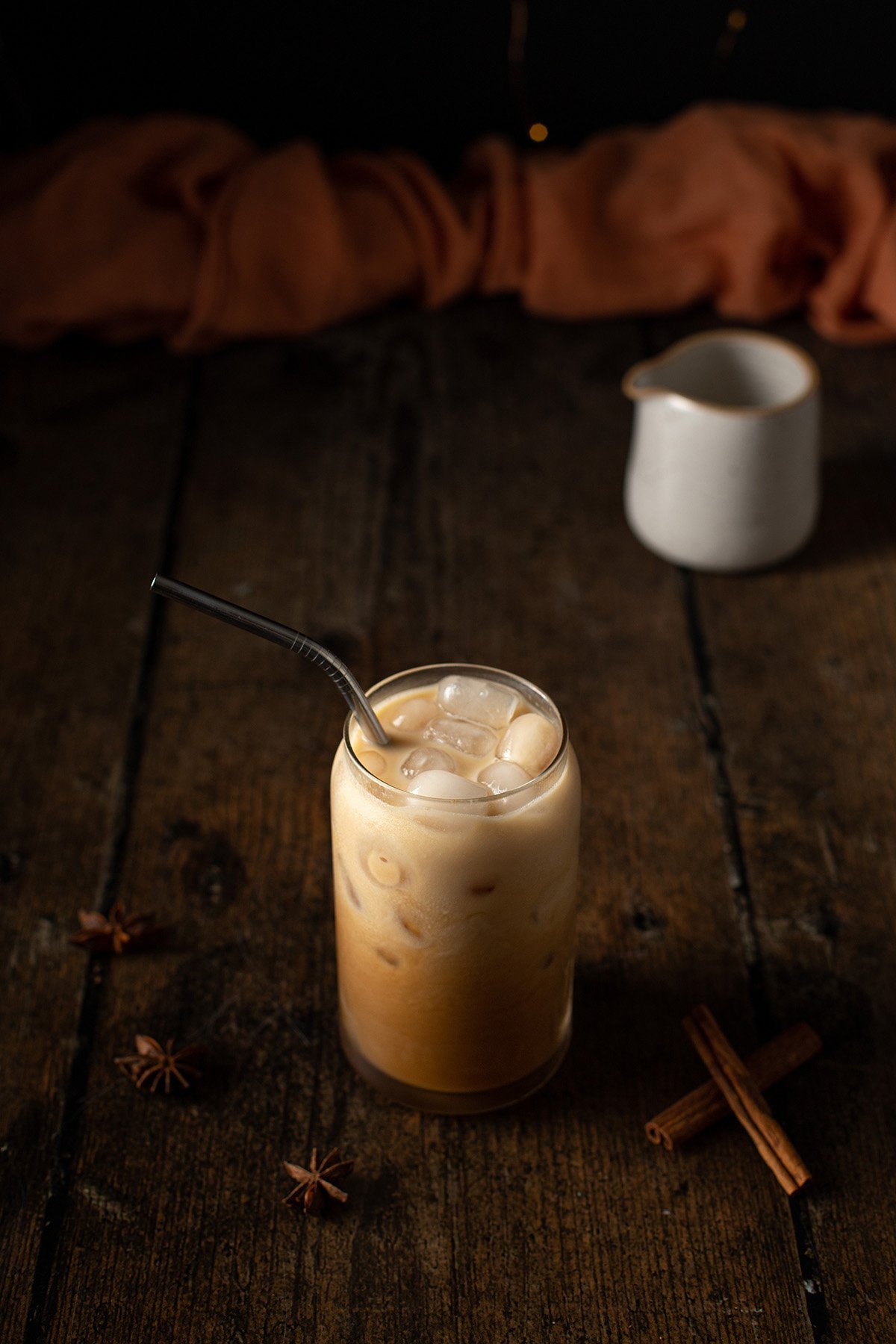 I'd love to know what you thought of this recipe! Don't forget to leave a comment and ⭐️ star rating below!
✨ Recipe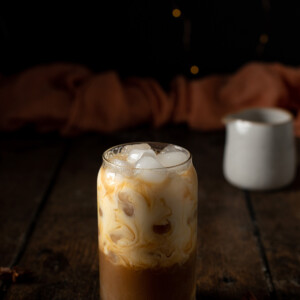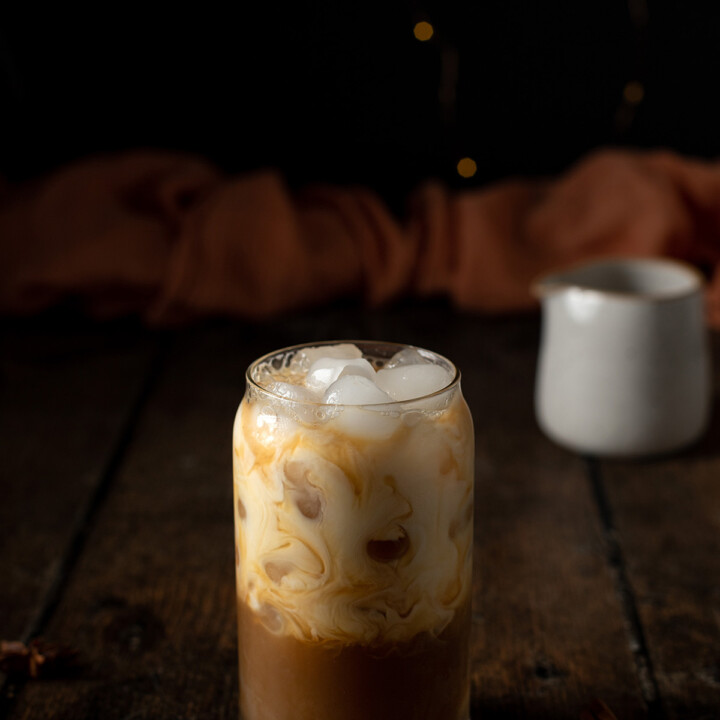 Iced Chai Tea Latte
This Iced Chai Tea Latte is better than Starbucks, I swear. Save money by making them at home and have one whenever you like!
Instructions
Combine the chai concentrate and milk over ice.

Garnish with a cinnamon stick or star anise, if desired.
Notes
I have used oat milk, cow's milk, and almond milk. I can't speak to how these iced lattes turn out when using another kind.
Nutrition
Serving:
1
Calories:
17
kcal
Carbohydrates:
1
g
Protein:
1
g
Fat:
1
g
Saturated Fat:
1
g
Polyunsaturated Fat:
0.03
g
Monounsaturated Fat:
0.2
g
Cholesterol:
3
mg
Sodium:
12
mg
Potassium:
53
mg
Sugar:
1
g
Vitamin A:
46
IU
Calcium:
35
mg
Iron:
0.01
mg
Disclaimer: Nutritional information is a generated estimate and is not guaranteed to be accurate.