It's so easy to make a delicious batch of Chai Concentrate at home! Use it in all of your favorite chai-based drinks, whether they're hot or iced.
Looking for ways to use this concentrate? Try my Dirty Chai Latte and Iced Chai Latte recipes! Maybe treat yourself to an Iced Pumpkin Cream Chai Tea Latte if you're really feeling like indulging with some Fall flavors.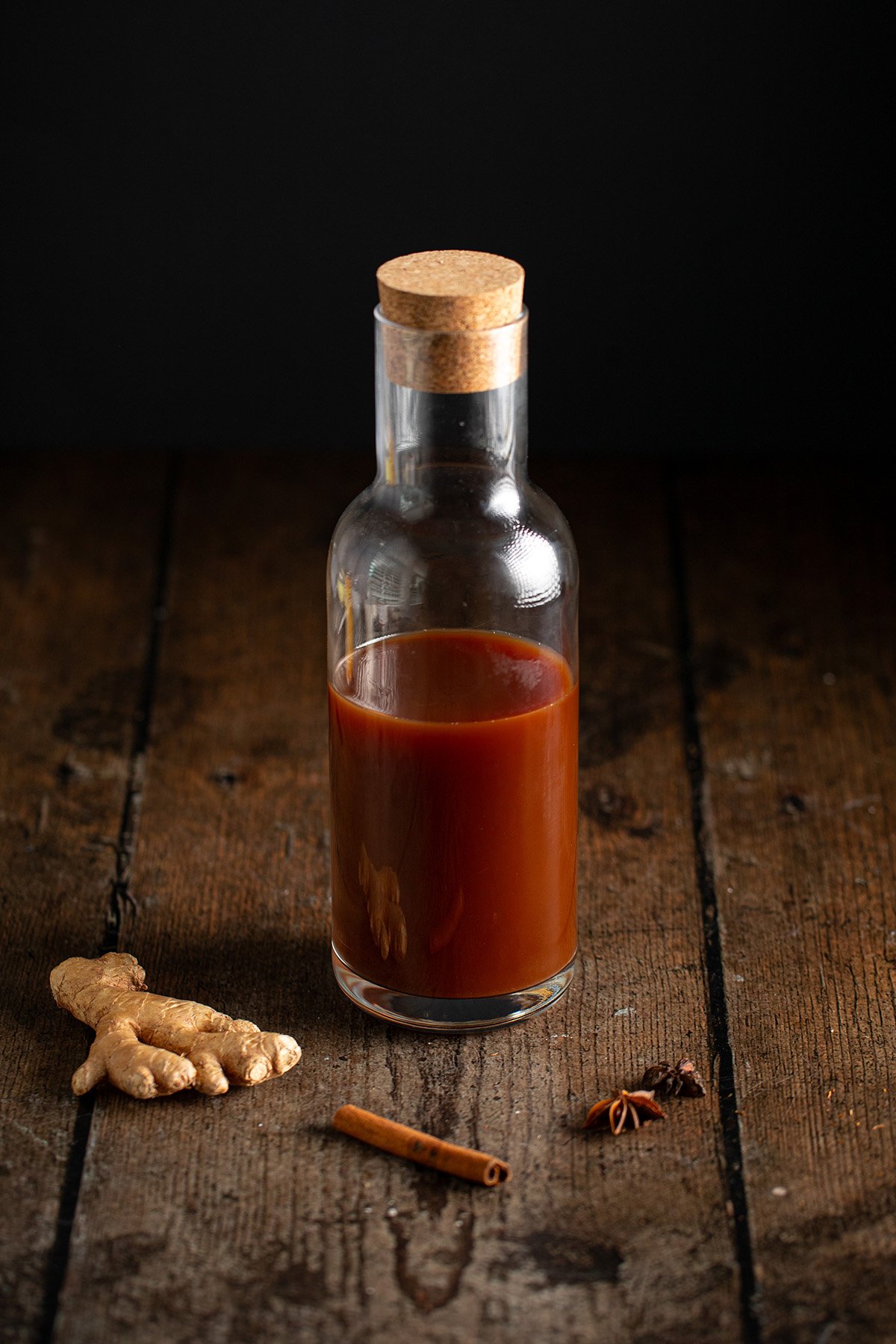 Jump to:
🌟 Why You'll Love This Recipe
It makes a big batch. It makes 8 servings! Now you have your chai situation sorted for the whole week.
It tastes great. No two ways about it. This chai concentrate is delicious.
You can make it your own. You can feel free to tinker with the amounts of the different spices according to your preferences. Make it more or less sweet, too!
💭 What is Chai Tea?
First of al... "Chai" means "tea" in Hindi. So, if you're saying "chai tea," what you're really saying is "tea tea."
Now that that's out of the way... When we say "chai" in the U.S., we're probably talking about masala chai. Masala chai is a milky black tea that's often spiced ("masala" means spice) with cardamom, cinnamon, ginger, cloves, star anise, among other things.
It's warm and cozy, and is somehow perfect as a caffeinated pick-me-up as it is for wrapping yourself in a big fuzzy blanket and taking relaxing sips.
💭 What is Chai Concentrate?
You may be familiar with store bought chai concentrates, like Oregon Chai or Tazo chai concentrate. It comes in a little carton, and all you need to do is add milk to it.
Chai Concentrate is black tea that has been brewed in a small batch with spices and a touch of sugar. You can serve it hot or iced, depending upon your preference.
📝 Ingredients
Don't be intimidated by the length of the ingredients list: it's mostly spices. See the recipe card for full information on ingredients and quantities.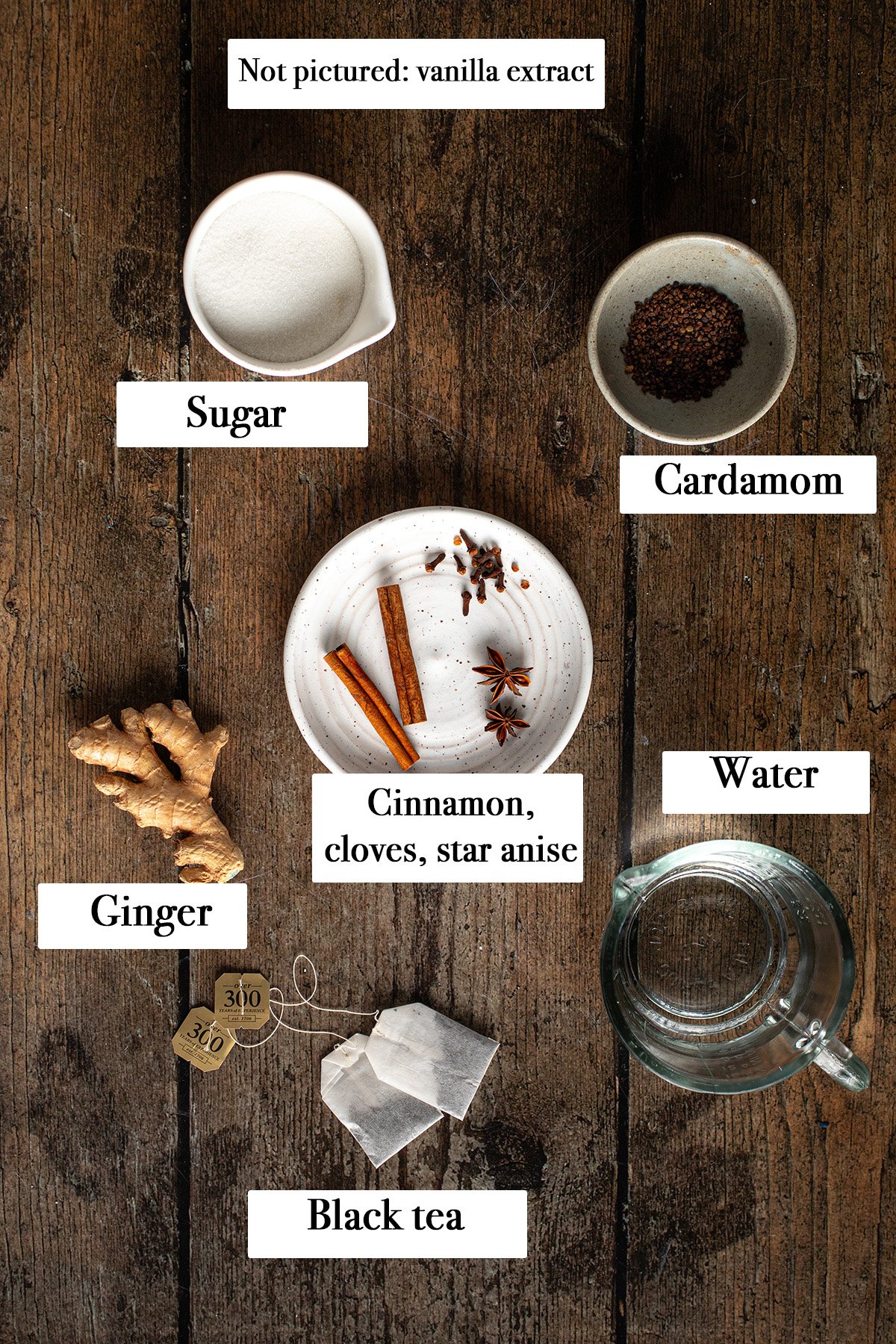 Spices: This recipe calls for a cinnamon stick, star anise, whole cloves, cardamom pods (or seeds), and fresh ginger. I recommend splurging a bit for the whole spices, rather than using ground spices.
Tea: You can use tea bags or loose leaf tea, depending on what you have on hand. This recipe calls for black tea (English Breakfast, Assam, Darjeeling);

do not

use flavored black tea like Earl Grey.
Vanilla extract: I forgot to include vanilla in the ingredients photo, but you want to use a splash of good quality vanilla extract to help round out the flavors of your chai concentrate.
🔀 Substitutions or Variations
Use a different kind of sugar. You can use brown, demerara, turbinado, or some other kind of sugar, if you prefer. You can also make it more or less sweet, depending on your preference.
Make it sugar free. If you prefer your chai unsweetened, just omit the sugar.
Change the amount of different spices. Maybe you really like cinnamon: throw another cinnamon stick in. Have a thing for cardamom? Use some more!
Make a bigger batch. Double or triple this recipe if you want to make a lot of concentrate.
👩🏻‍🍳 How to make Chai Concentrate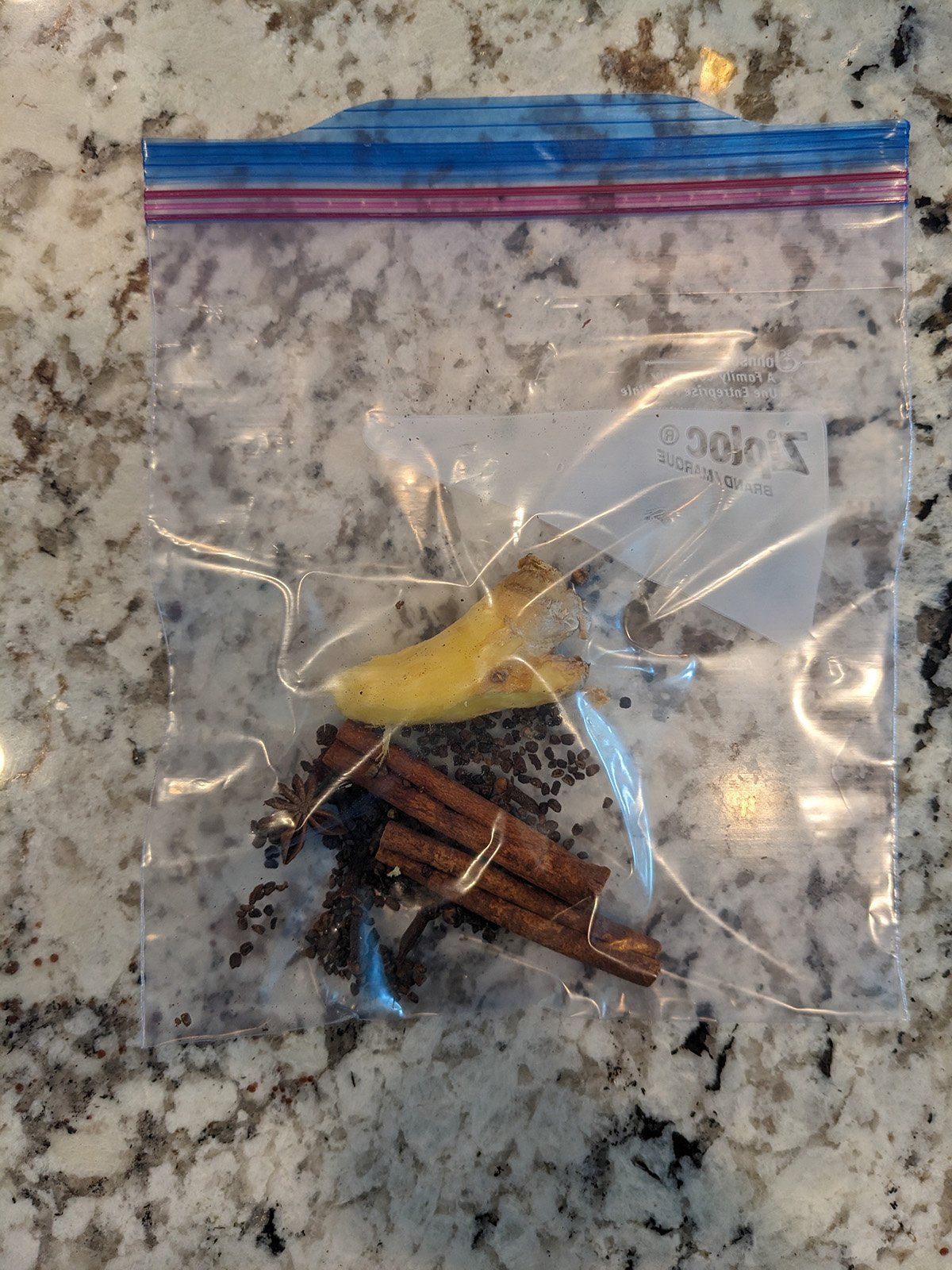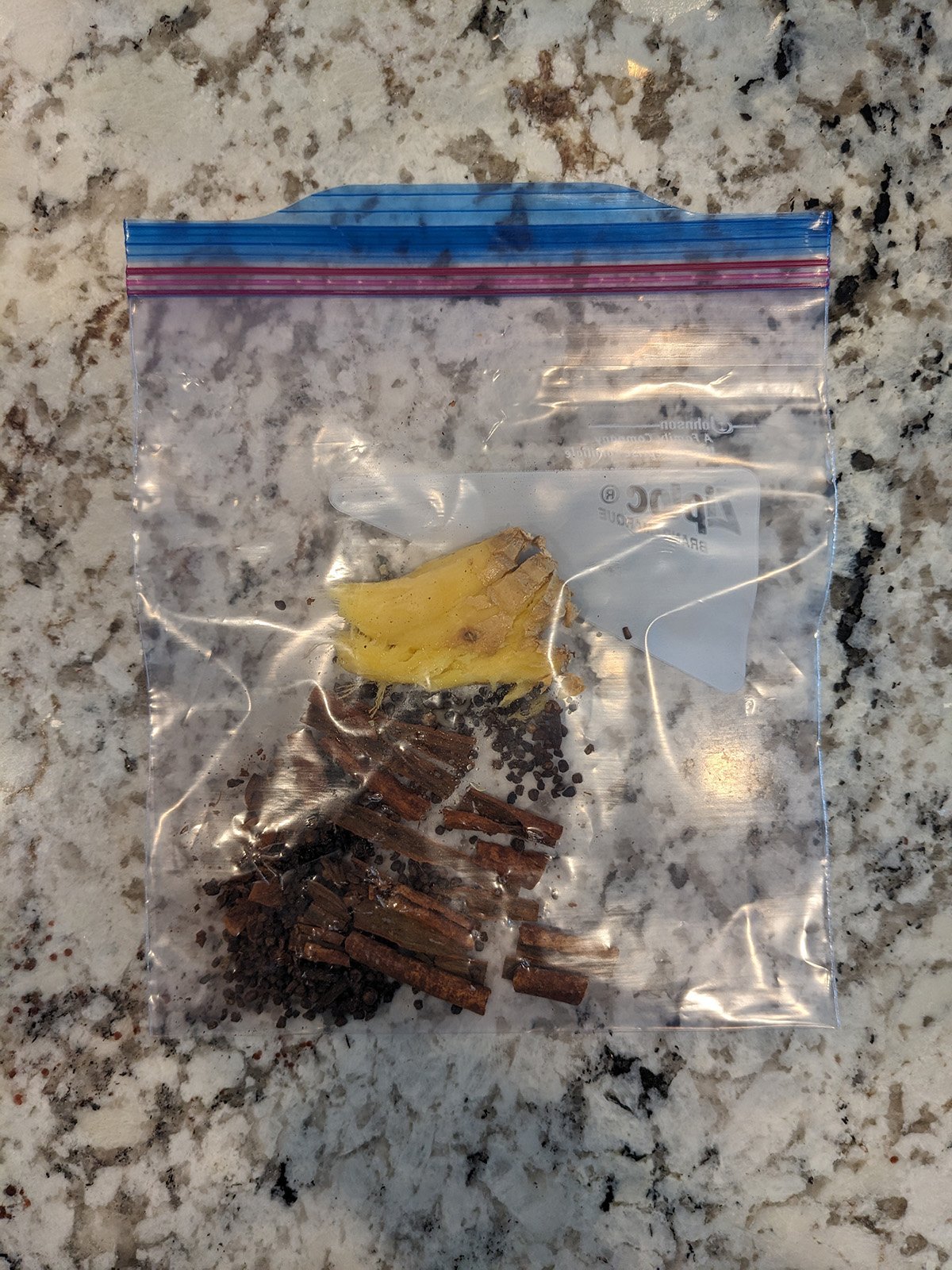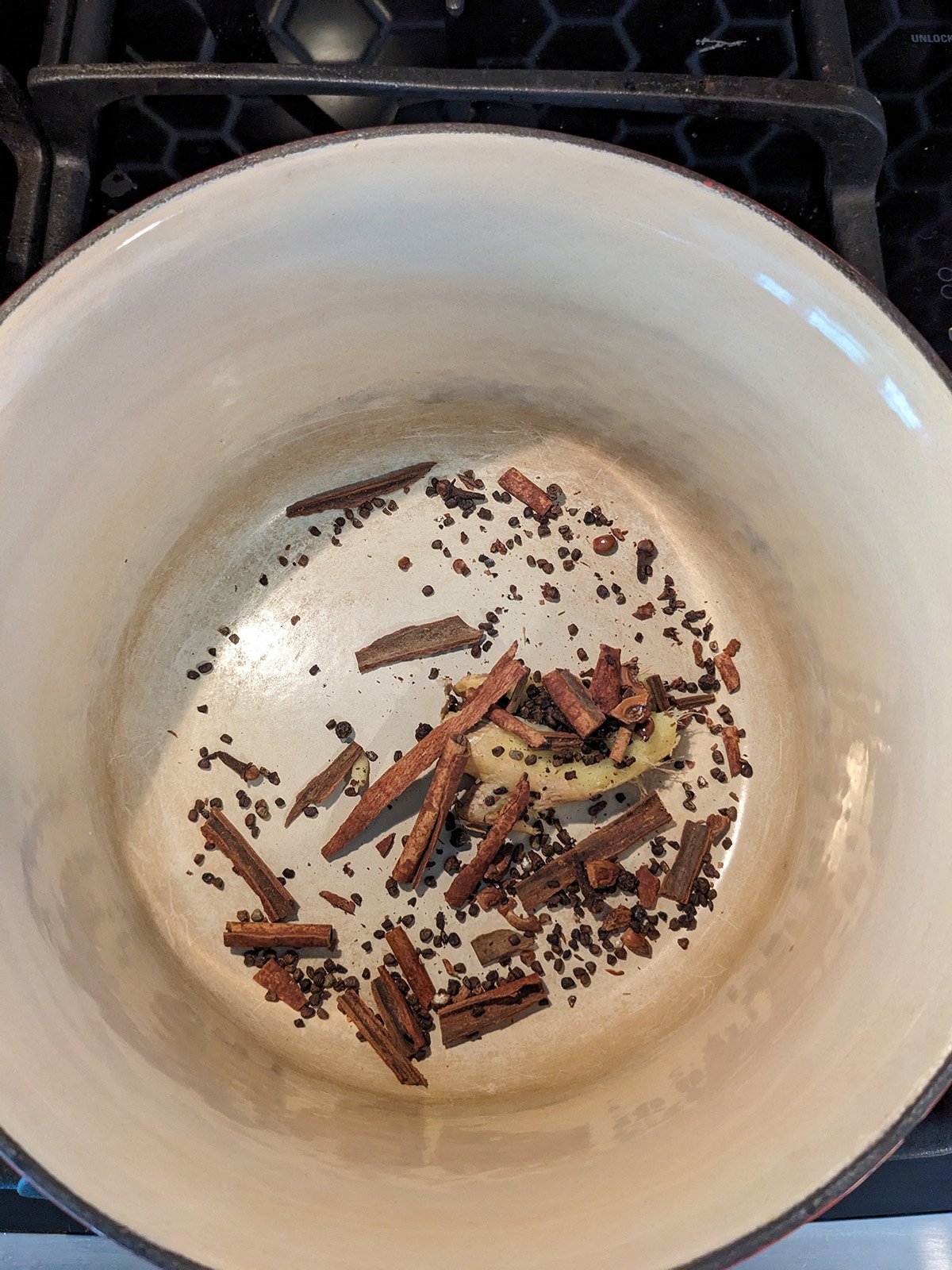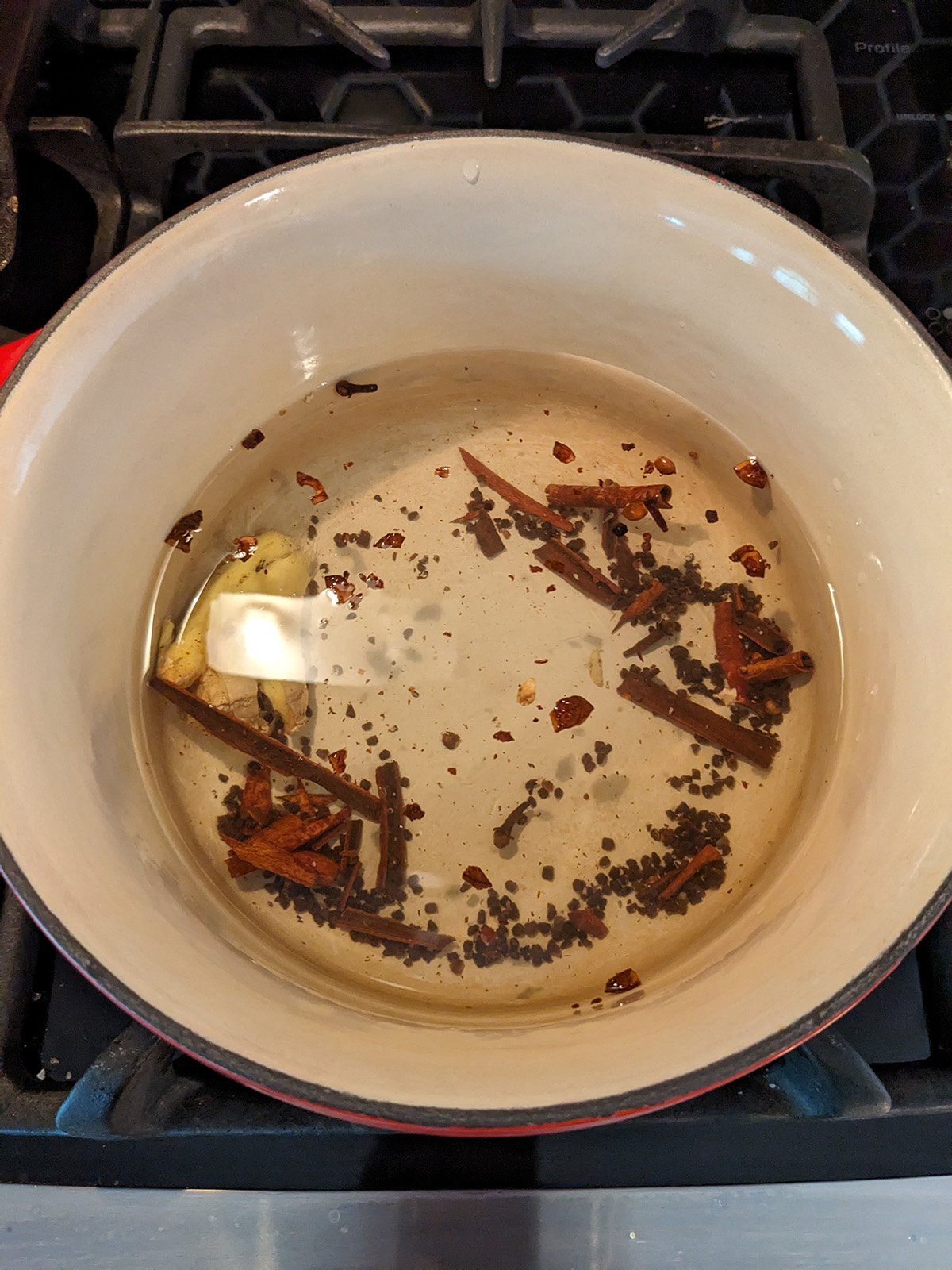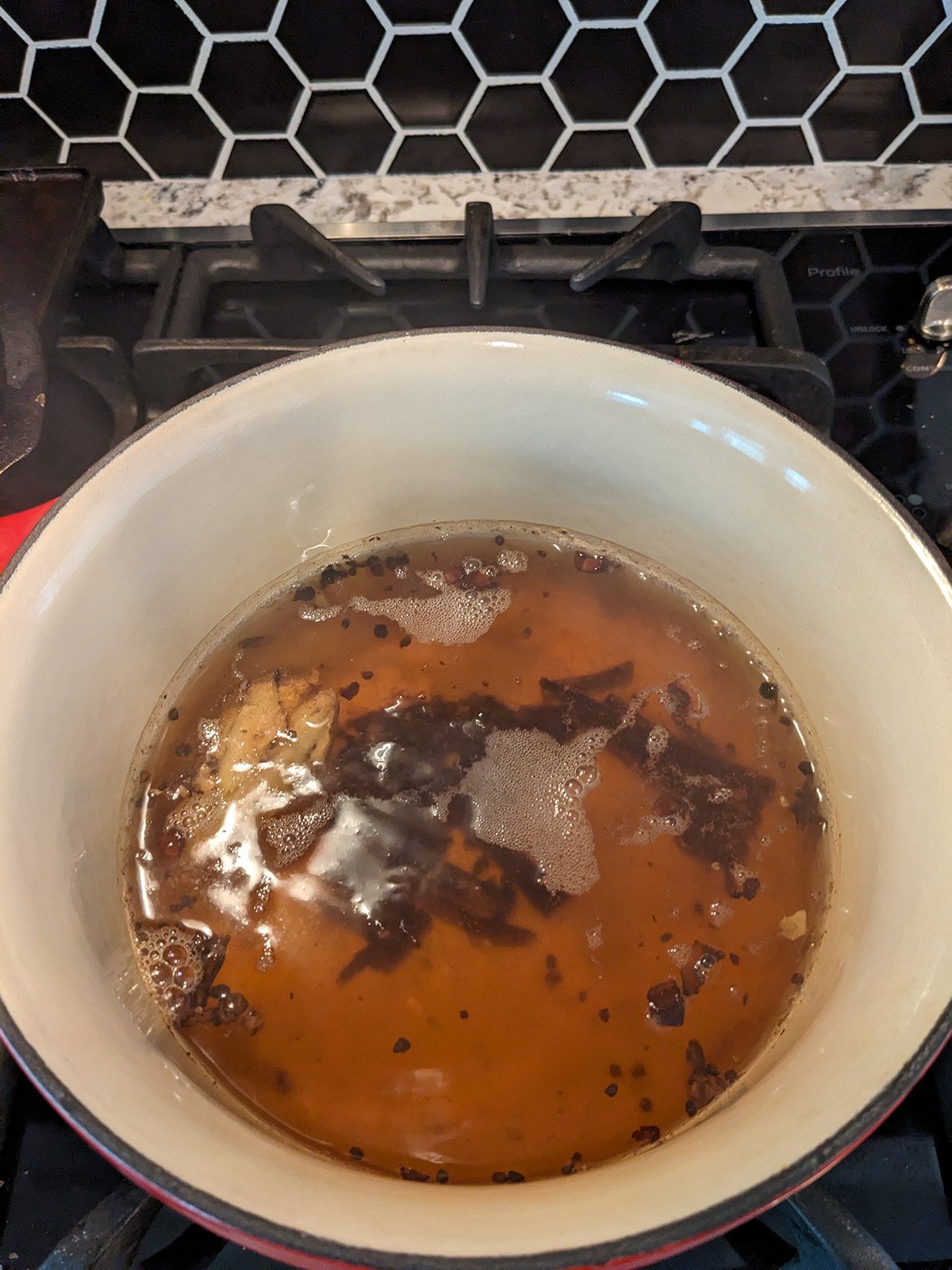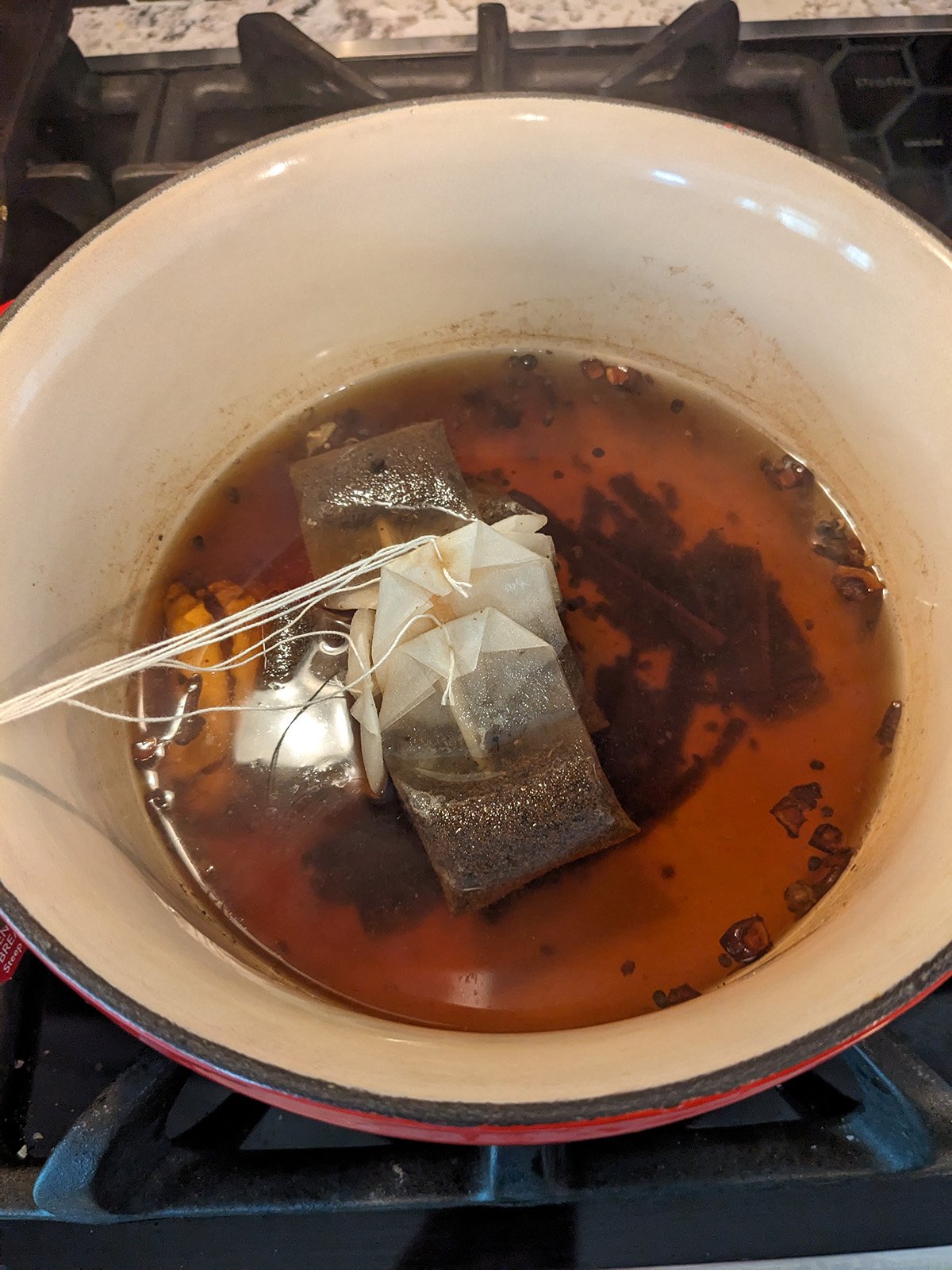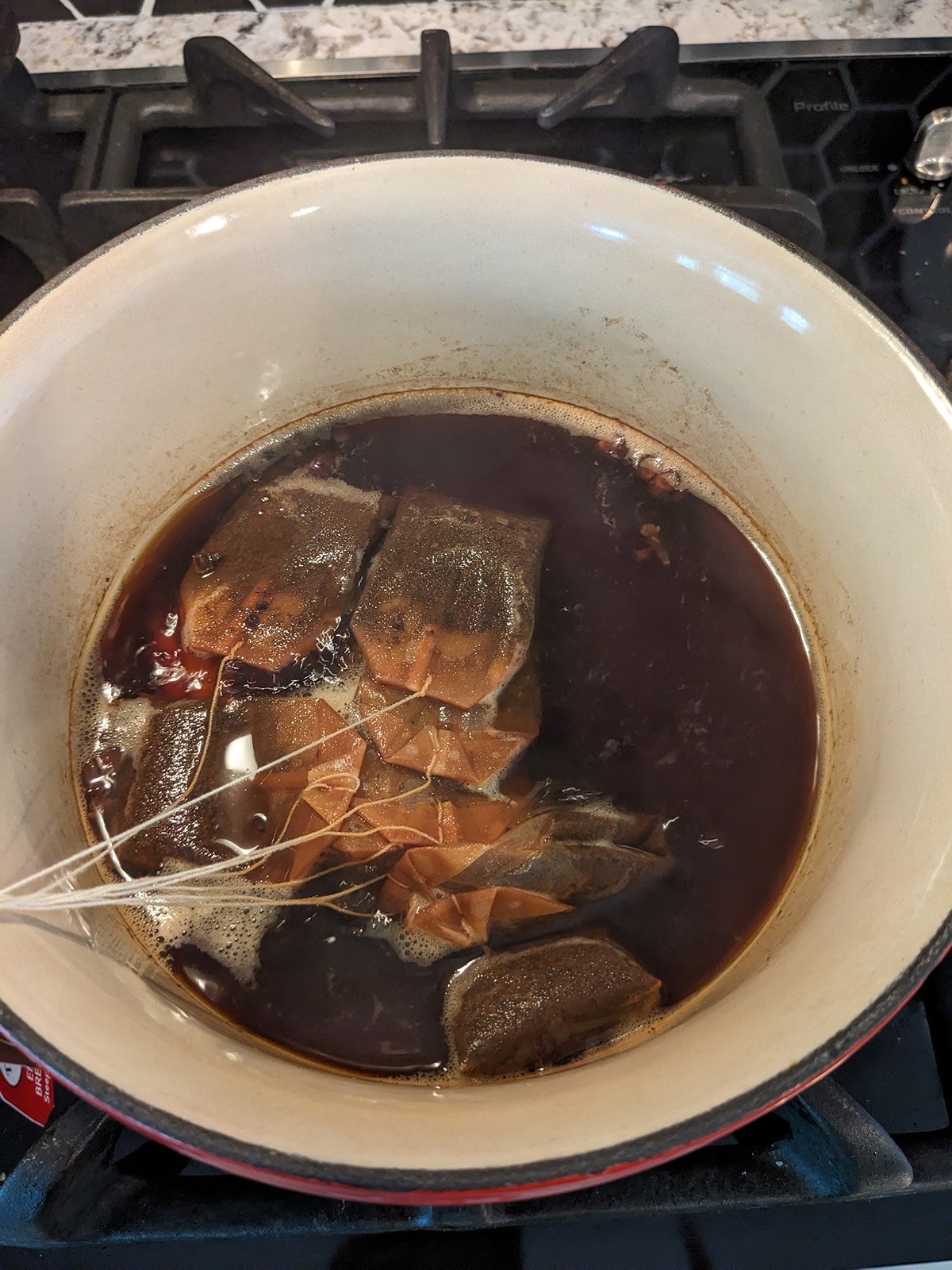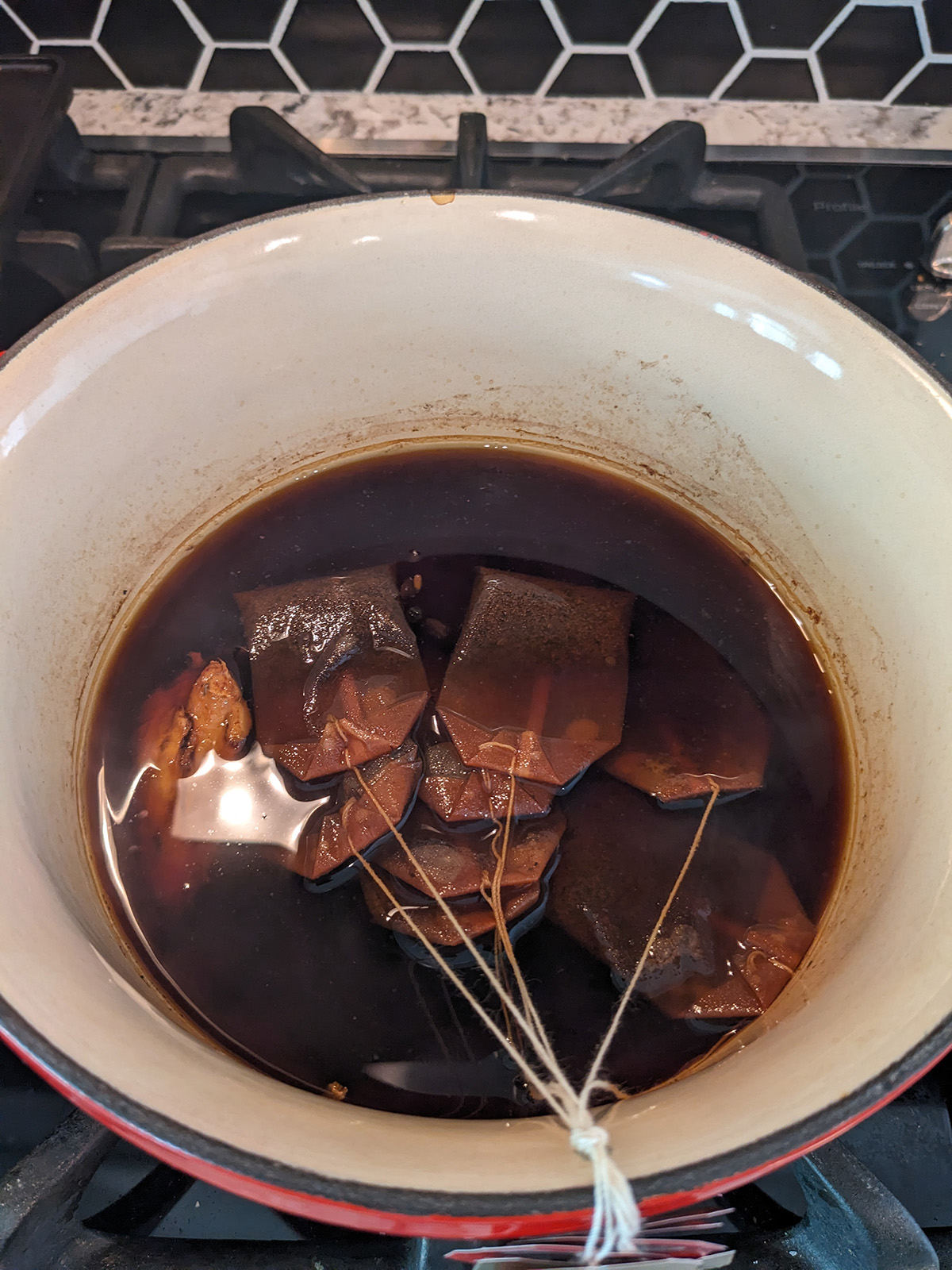 ⚒️ How to use this Chai Concentrate
You can use it to make a classic Masala Chai or an Iced Chai Latte. You can also make a Dirty Chai Latte if you really want to kick things up.
If you're really in the Fall spirit, treat yourself to my Starbucks copycat recipe for an Iced Pumpkin Cream Chai Latte.
❓ Recipe FAQs
What kind of tea should I use?
Use a black tea like Assam, Darjeeling, or English Breakfast. Do not use a flavored tea like Earl Grey. You can use tea bags or loose leaf tea.
Can I double this recipe?
Yes! Scale it up or down according to your needs.
Do I need to use whole spices?
I highly recommend it. You'll get a better flavor with whole spices, versus using pre ground spices from a jar.
🔗 Other tea-based recipes
I'd love to know what you thought of this recipe! Don't forget to leave a comment and ⭐️ star rating below!
✨ Recipe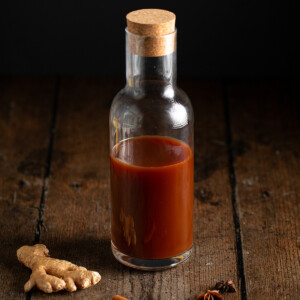 Chai Concentrate
It's so easy to make a delicious batch of Chai Concentrate at home! Use it in all of your favorite chai-based drinks.
Ingredients
2

cinnamon sticks

1

inch

fresh ginger

peeled

1

star anise

6

cloves

1

teaspoon

cardamom seeds

see notes

1

teaspoon

vanilla extract

4

cups

water

8

black teabags

see notes

½

cup

granulated sugar
Instructions
Crush the spices and ginger a bit using a mortar and pestle. Alternately, place the ginger and spices in a zip top bag, seal it, and use a meat mallet or rolling pin to gently crush the ingredients.

Add the crushed spices to a heavy-bottomed saucepan. Over medium heat, toast the spices until they are very fragrant. Stir frequently.

Add the water to the spices and bring to a boil. Once boiling, reduce the heat to a simmer; simmer for 10 minutes.

Add the tea bags and continue to simmer for 5 more minutes.

Turn the heat off and allow the tea to steep for another 10 minutes.

Remove the tea bags and add the sugar. Whisk to combine. Allow the mixture to cool before straining out the spices and storing it in an airtight container in the fridge.
Notes
You can use a different kind of sugar (e.g., brown, demerara) instead of white sugar, if desired.
Substitute approximately 8-10 cardamom pods for the teaspoon of cardamom seeds
Use English Breakfast or some other unflavored black tea. Stay away from something like Earl Grey.
You can also use loose leaf tea instead of tea bags. For 8 tea bags, use about 8 teaspoons of loose leaf tea.
Nutrition
Serving:
1
Calories:
53
kcal
Carbohydrates:
13
g
Protein:
0.1
g
Fat:
0.1
g
Saturated Fat:
0.01
g
Polyunsaturated Fat:
0.02
g
Monounsaturated Fat:
0.02
g
Sodium:
1
mg
Potassium:
15
mg
Fiber:
0.4
g
Sugar:
13
g
Vitamin A:
3
IU
Vitamin C:
0.1
mg
Calcium:
8
mg
Iron:
0.2
mg
Disclaimer: Nutritional information is a generated estimate and is not guaranteed to be accurate.