Demerara Syrup--a variation of simple syrup--is made with demerara sugar and has a rich, sweet, caramel and molasses flavor.
Looking for more syrup recipes? Try my Grenadine Syrup and Irish Cream Syrup!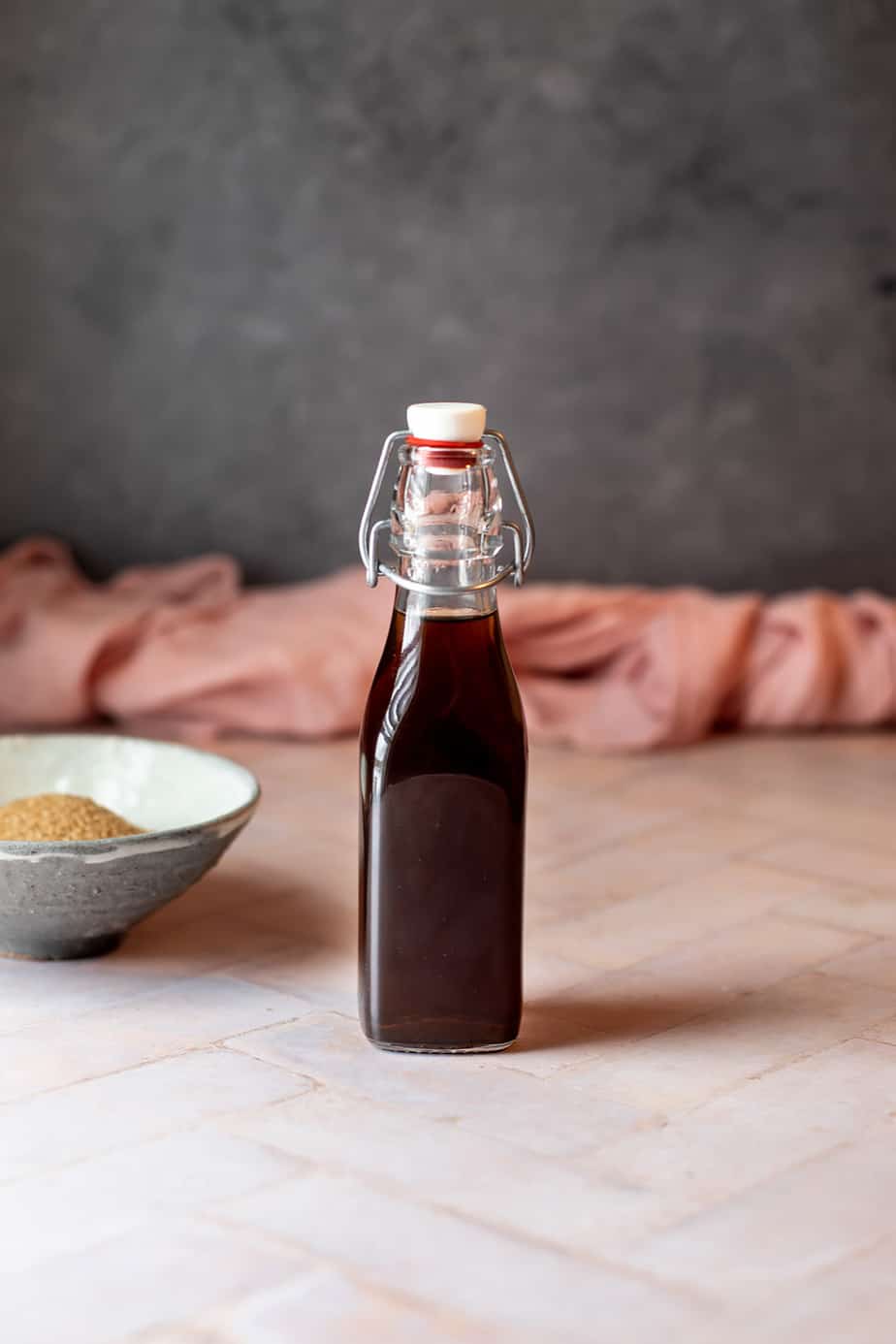 Jump to:
🌟 Why You'll Love This Recipe
It's very easy to make. If you can simmer water, you can make this syrup.
It only requires two ingredients. That's it!
It's an easy way to elevate a regular simple syrup. It's exactly as easy as making a regular simple syrup, but this is an easy way to turn things up a notch.
💭 What is Demerara Syrup?
Demerara syrup is a rich syrup that is made from Demerara sugar and water.
Now, what is demerara sugar, you might ask? It's a raw sugar that's extracted from sugarcane. It's minimally processed, so it had large, coarse grains, a crunchy texture, and a golden-brown hue.
Both the color and flavor come from the higher molasses content of the sugar. It's similar in appearance to turbinado sugar, but is more molasses-y in flavor and has grains that are slightly larger in size than turbinado.
These flavors in demerara sugar give the demerara syrup a rich, molasses and caramel flavor.
📝 Ingredients
You only need two ingredients to make this syrup!
Demerara sugar: You can very likely find some Demerara sugar at your local grocery store. If not, take a peek on Amazon. You'll definitely find some there.
Water: Regular old tap water will do just fine!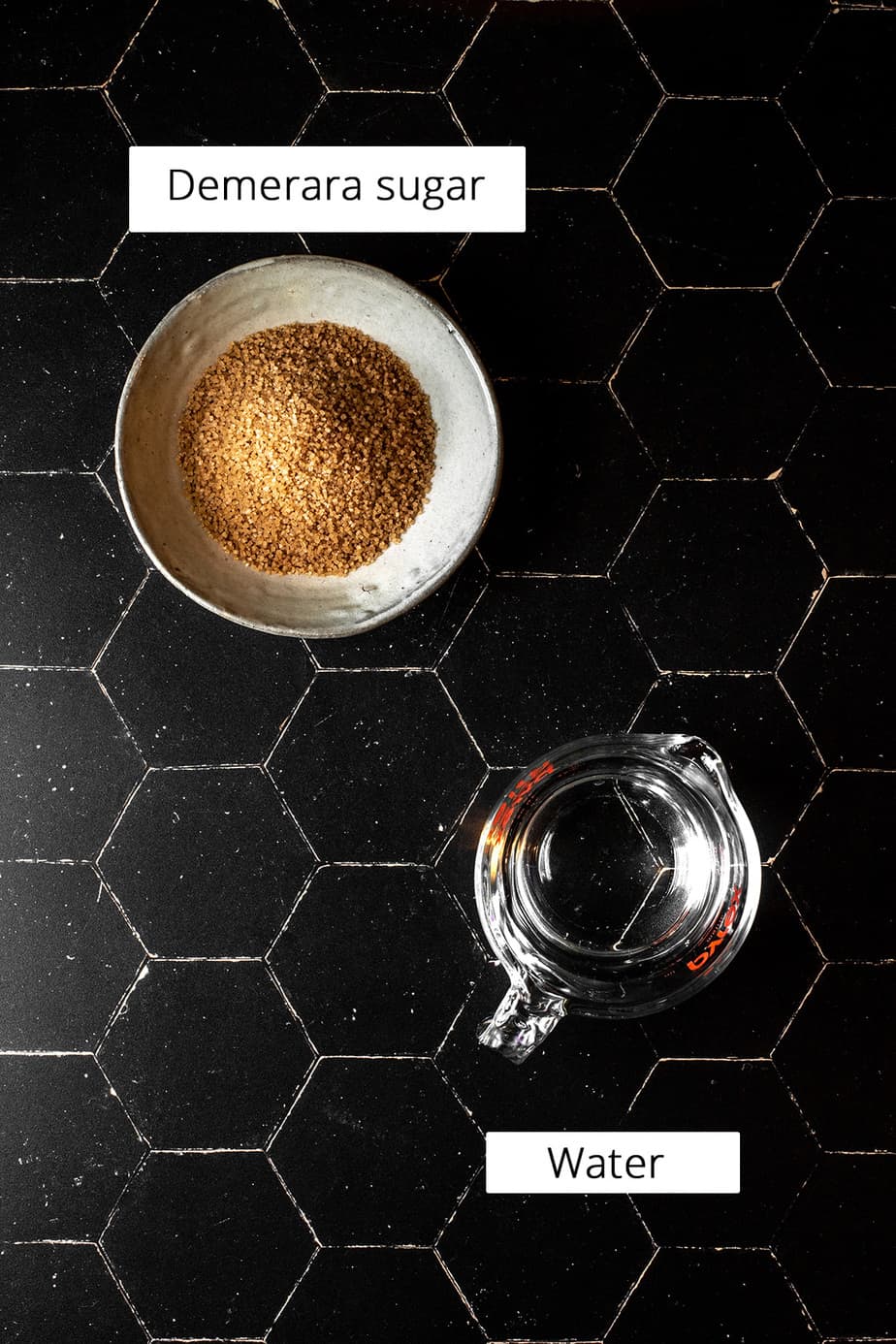 👩🏻‍🍳 How to make Demerara syrup
You'll start by adding equal parts of the sugar and water to a heavy-bottomed saucepan (Step 1). Turn the heat up to medium, and whisk the sugar and water together (Step 2).
You'll want to bring the water up to a simmer; keep whisking occasionally. Simmer for 2-3 minutes, then turn the heat off.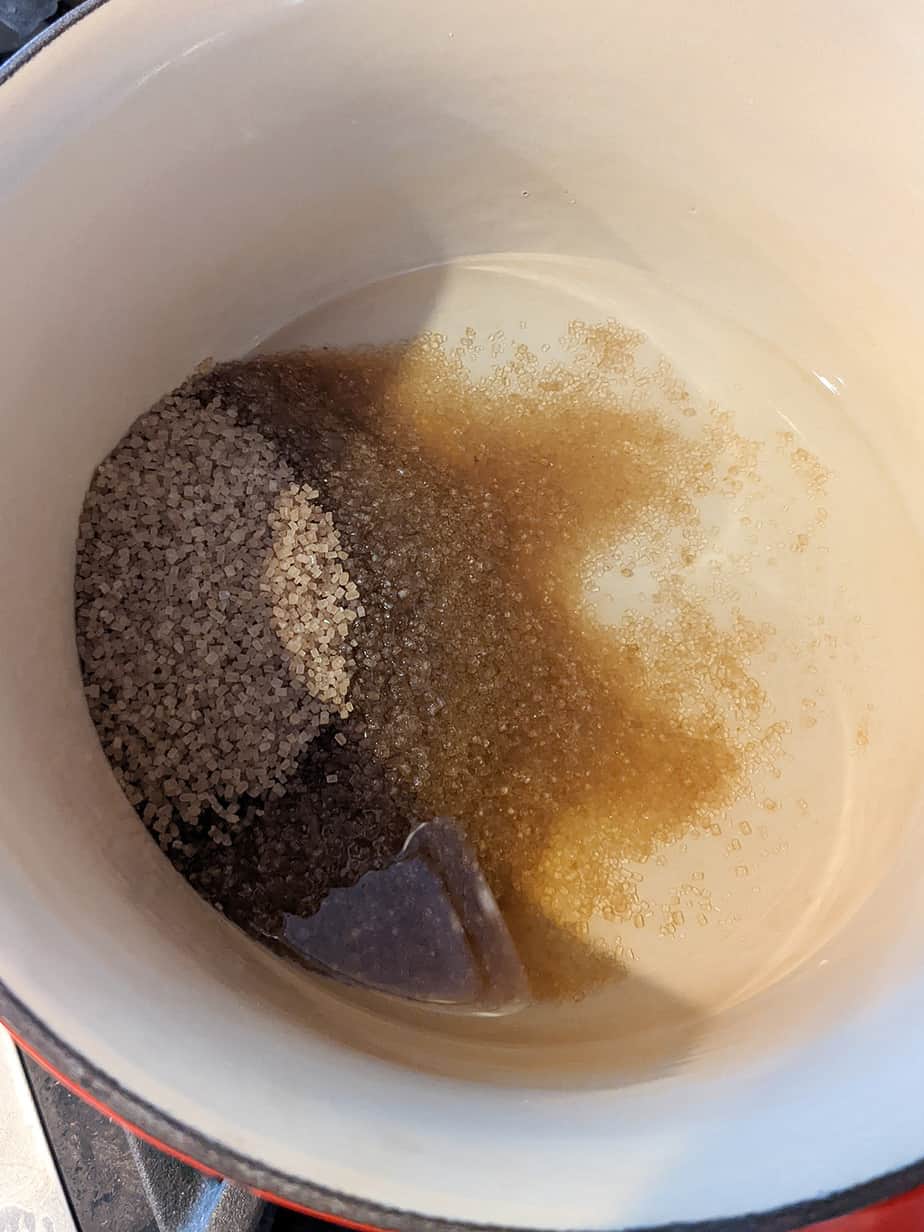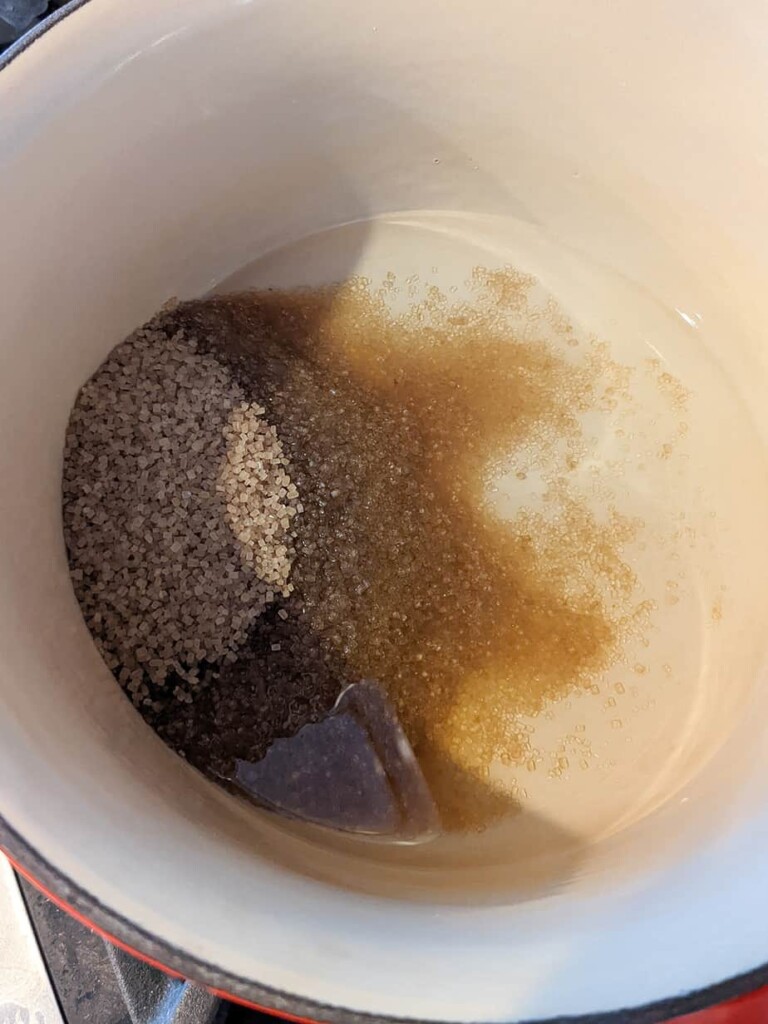 Allow the syrup to cool completely before transferring it to an airtight container and stashing it in the fridge. Get ready to use it in all kinds of cocktails and mocktails!
🛠️ How to use Demerara syrup
My recommendation would be to use this syrup in cocktails. The first one that comes to mind is an Old Fashioned. The molasses and caramel notes in the syrup would play very well with bourbon.
It would also be very good in a variety of tiki drinks, many of which are rum-based. A Jungle Bird or a Zombie are great examples.
Of course, you can feel free to use this syrup in mocktails, tea, or in whatever your heart desires!
🔗 Other syrup recipes
Need more flavored syrup recipes? Click through the photos below to find a new favorite.
❓ Frequently Asked Questions
Can I use another kind of sugar?
I mean, yes. You can. BUT it wouldn't be Demerara syrup, now would it? But if you have something else on hand, you can totally make a syrup with another kind of sugar. Just keep in mind that the flavor profile won't be the same.
Can I make a bigger or smaller batch of this syrup?
Yep! Since the syrup is made using proportional amounts of sugar and water, just scale the amounts of both ingredients up or down according to how much syrup you'd like to end up with.
How long will this syrup keep?
You can store your Demerara syrup in an airtight container in the fridge for about 2 weeks. If you'd like to hang onto it longer than that, you can add 1 teaspoon of vodka to the mixture (this will help to inhibit the growth of mold).
Is Demerara syrup the same thing as simple syrup?
Close, but nope! Simple syrup is made with white granulated sugar, while Demerara syrup is made with... you guessed it... Demerara sugar.
🖤 Share your creations and follow me on social media!
Subscribe to the A Nerd Cooks Newsletter to have updates sent straight to your inbox.

I love seeing when you share my recipes! Please tag me on Instagram @anerdcooks so I can enjoy them virtually with you! You can also find me on Pinterest, Facebook, YouTube, and Twitter.

I'd love to know what you thought of this recipe! Don't forget to leave a comment and ⭐️ star rating below!
✨ Recipe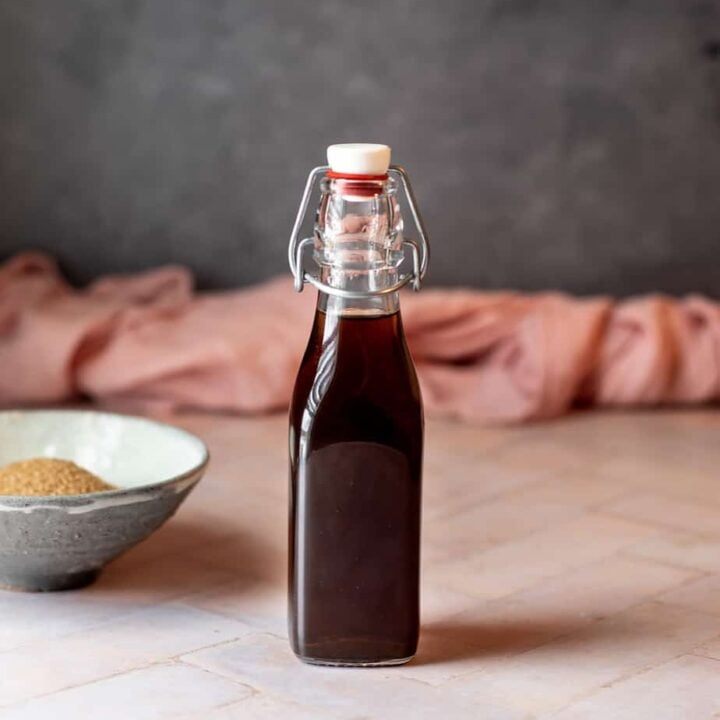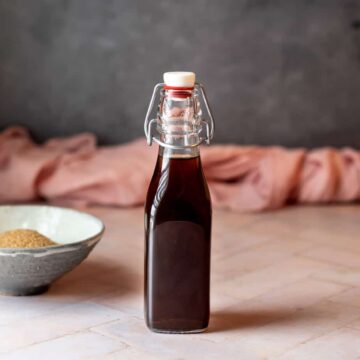 Demerara Syrup
Demerara Syrup--a variation of simple syrup--is made with demerara sugar and has a rich, sweet, caramel and molasses flavor.
Ingredients
1

cup

demerara sugar

1

cup

water
Instructions
Combine the sugar and water in a heavy-bottomed saucepan over medium heat. Whisk to combine.

Bring to a simmer, whisking occasionally. Allow to simmer for 2-3 minutes.

Turn off the heat and allow the syrup to cool completely.

Store in an airtight container in the refrigerator for up to 2 weeks.
Notes
You can prolong the shelf life of this syrup a bit by adding about half an ounce of plain vodka to the syrup
Nutrition
Serving:
1
Calories:
65
kcal
Carbohydrates:
17
g
Sodium:
1
mg
Sugar:
17
g
Disclaimer: Nutritional information is a generated estimate and is not guaranteed to be accurate.
📌 Pin this recipe for later!